OUR RATING OF THE Halo Versa 16 PIZZA OVEN
The good.
Dual burner system.
Rotating cooking surface.
The hinged top opens up allowing easy cleaning and maintenance.
The bad.
Pizzas take closer to 5 minutes to cook due to the lower heat (~750 - 800F)
Where to get the Halo Versa 16
The Halo Versa 16 Outdoor Pizza Oven is another solid entrant into the world of outdoor pizza ovens and is a great choice for both beginners and professional chefs. The Versa 16 won the 2022 Retailer's Choice Award and has a number of unique features that improve on some of the other pizza ovens we've reviewed. The most unique features of the Halo Versa are the dual burners and the rotating pizza stone. The two burners and rotating cordierite stone work together to give a consistent and hands-free cooking experience. Plus, it's portable, so you can take it with you wherever you go.
However, after thoroughly reviewing this pizza oven, I realized that it suits a certain style of pizza more than another. Let's do a deep dive into the Halo Versa 16 to see if this pizza oven is the ideal choice for you.
Halo Versa 16 Coupon Code
Get the Halo Versa 16 pizza oven for 10% OFF with coupon code PALAPIZZA. You'll also get free shipping direct from Halo Products Group.
Background on Halo
Halo Products Group, the team behind the Versa, go out of their way to stand behind their product. "Effort and pride goes into every product that earns the Halo badge," they say. "Halo Products Group started with the belief that if something could be done in a better way, then it was worth doing differently, even if it means doing it yourself." Halo explains that they make products their employees love and believe that translates to better customers. "At our core, we believe in true authenticity. And really, we're all like you in some ways: we're travelers, parents, entertainers, and just regular old foodies. We love this stuff, and we want to share it with you."
Unboxing and Assembly
I've never seen a product packaged as well as this; you'll be spending a good amount of time removing packing materials! This pizza oven would have to be dropped from a plane before hitting your doorstep in order to receive a damaged product. And when I say there is hidden packing materials everywhere, I do mean everywhere. Be certain to flip the pizza oven over and remove the styrofoam inserts before lighting.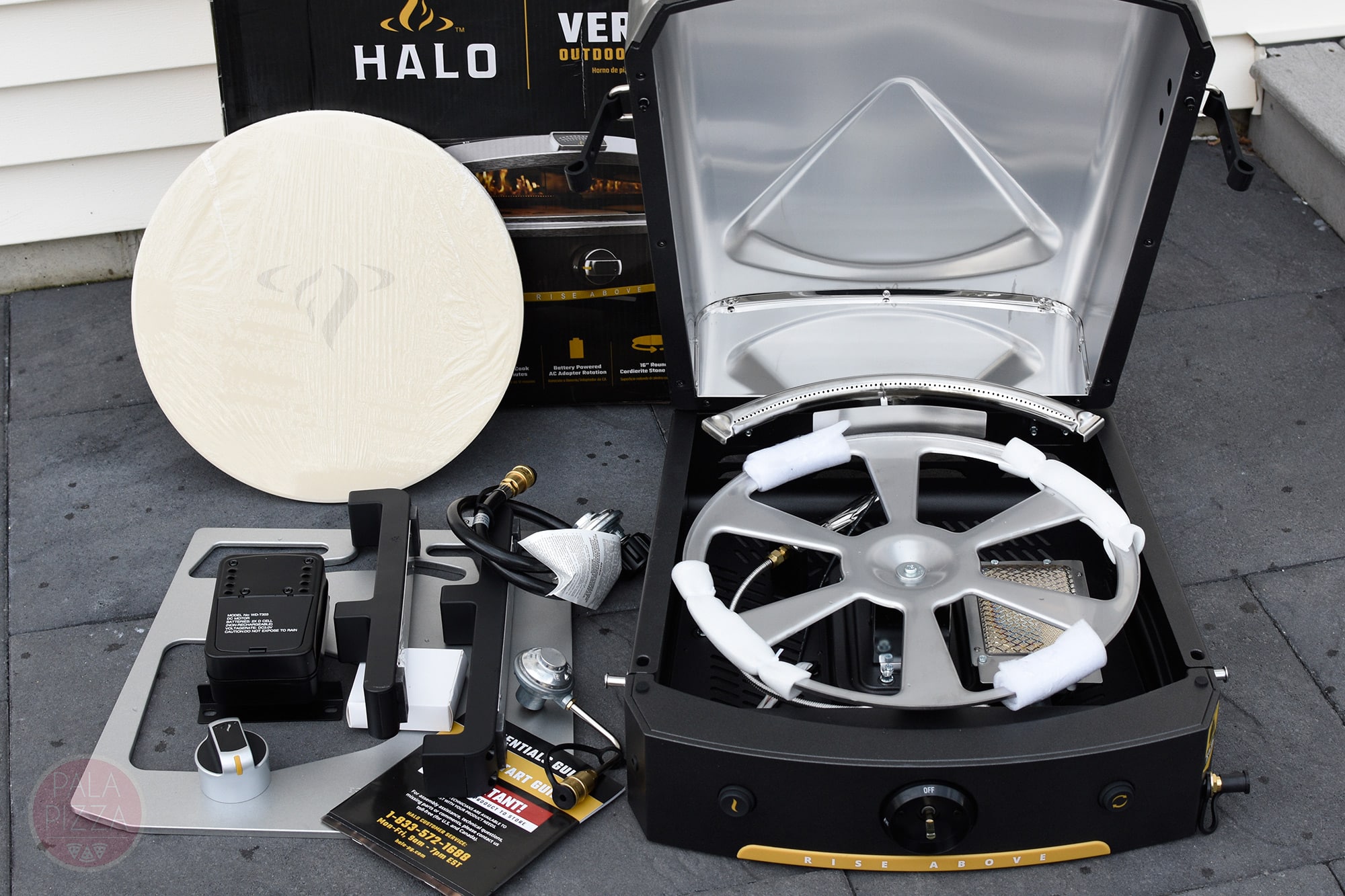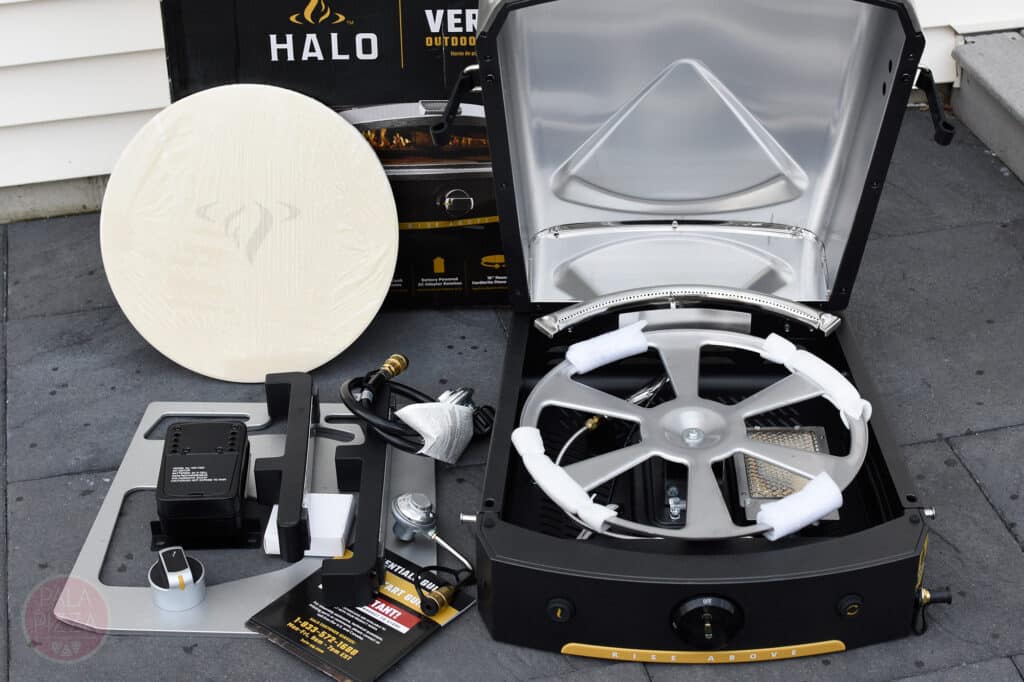 Assembling the Halo Versa 16
The Versa 16 is one of the more involved setups I've encountered when testing ovens. Nothing was difficult, and their quick start guide was incredibly helpful for a successful setup, but it does take a good 20 minutes to complete. Included in the box are:
The pizza oven body and legs
Stone rotator assembly and motor
Pizza stone
Debris guard
1 lb. propane canister adapter
20 lb. propane tank hose and fitting assembly
Screws
Quick Start Guide to help with assembling the Versa 16
Essentials Guide – includes care and cleaning instructions, recipes, instructions, and more
Be sure not to lose track of the pack of screws which will be used to secure the legs to the body and to secure the rotator motor underneath the oven. Note: it does not include batteries for the rotator motor (two D batteries) or the rotator switch (one AA).
At first glance, I love how accessible everything is and how easy it will be to clean with the hinged lid. This is a very practical setup that encourages portability without hindering the design itself.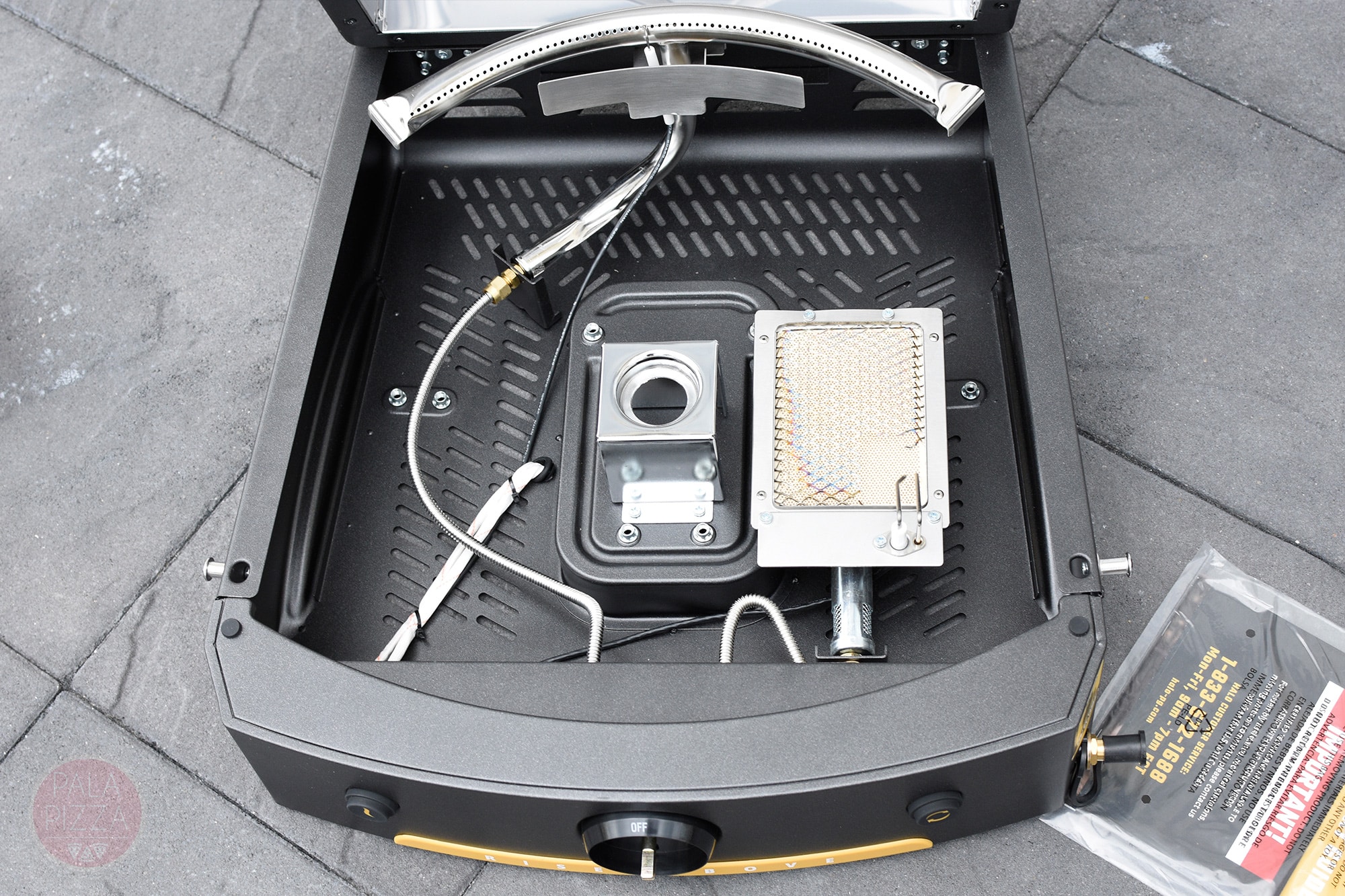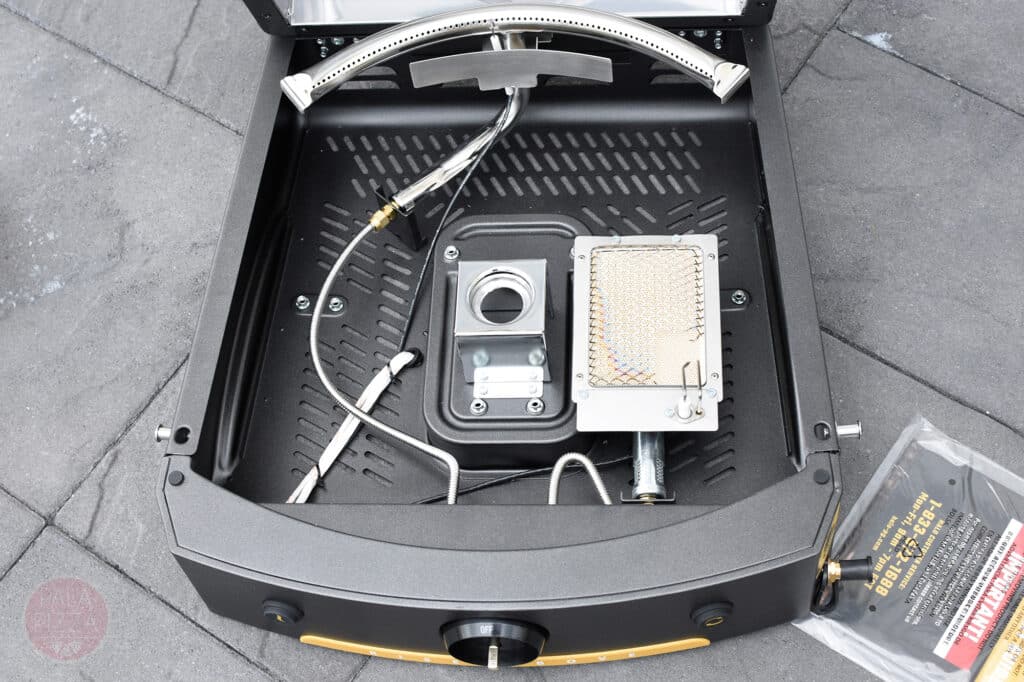 Design and Features
The Versa 16 Outdoor Pizza Oven is made of high-temperature, powder-coated, cold-rolled steel and 430 stainless steel. The cooking surface is your typical 16″ cordierite pizza stone nicely engraved with their logo. The oven opening lets you easily maneuver pizzas up to 16 inches in diameter. And the Versa burners provides a combined 21,100 BTUs of heat.
I wasn't sure how I felt about the appearance of the oven the first time I saw it. It kind of reminded me of an indoor countertop oven, or something initially designed for the camping industry. But after seeing it myself, I not only realized how impeccable the build quality is (everything feels very high-end and solid – nothing "cheap" about the materials – which is what I felt about the new Bertello Grande oven), but the design itself is also very well thought out. This oven has a huge opening for a large peel and easy maneuverability, dual burners to maintain a hot stone, a rotating stone, easy ignition, and a very practical hinged lid. Let's get into deeper detail on a few of these.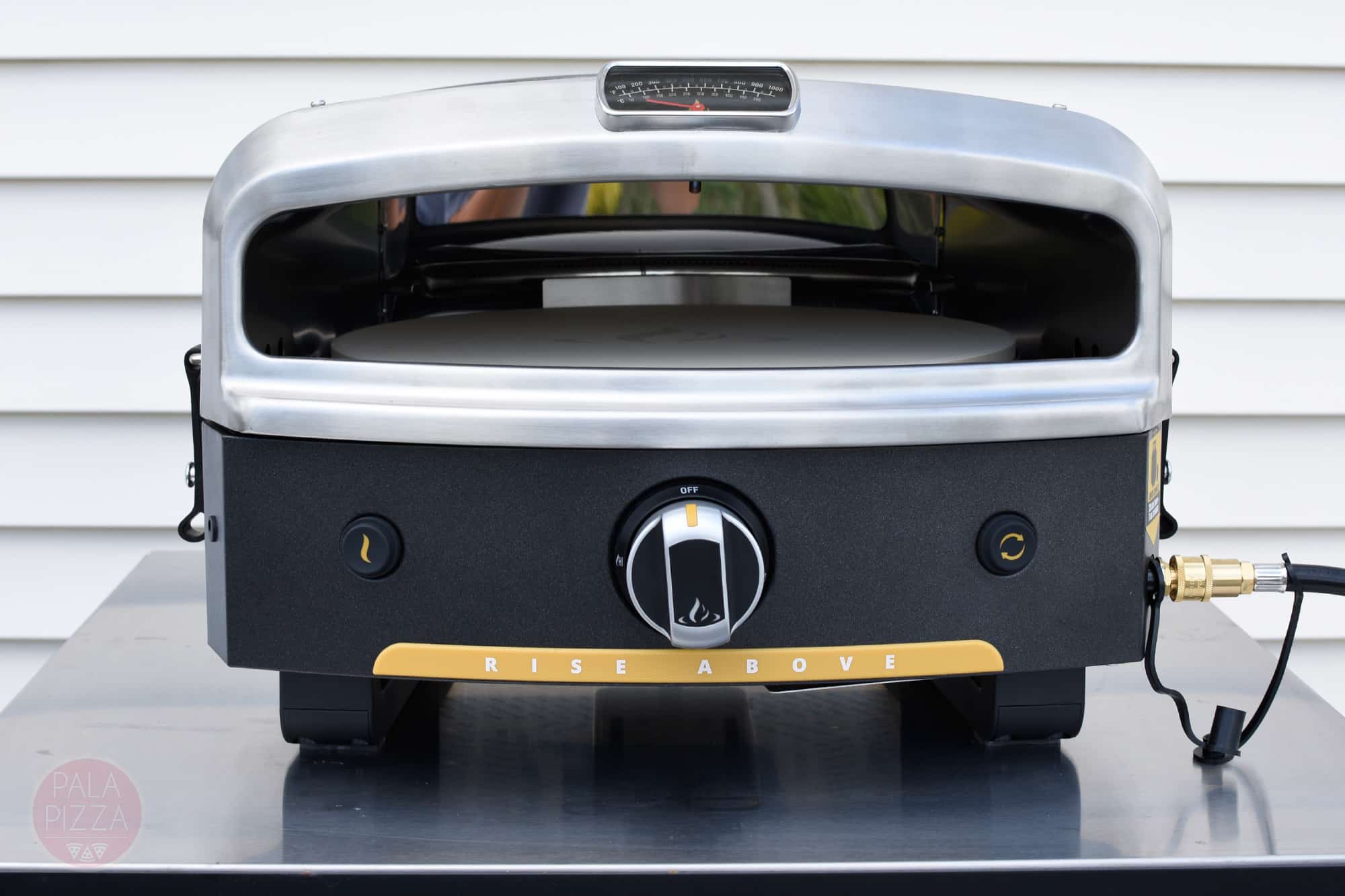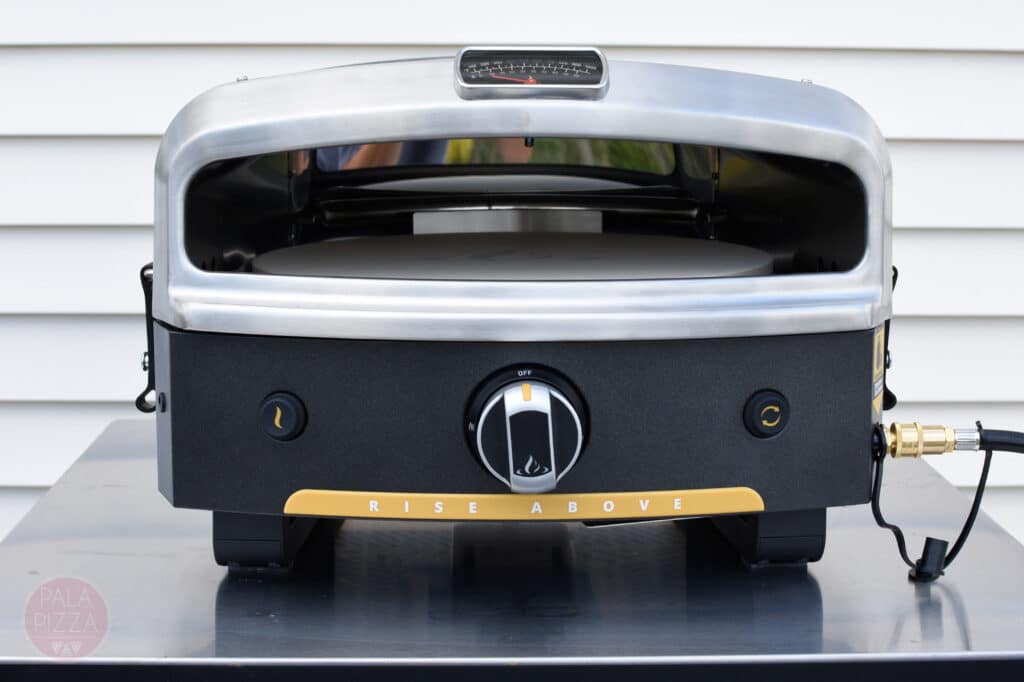 Size and Weight
Cooking Surface: 16″ Diameter (201.06 Square inches) Cordierite Cooking Stone
Oven Opening: L=18in H=3 ¼ (at peak) H= 2 ¾ (at lowest point)
Oven Body Construction: High Temperature Powder Coated Cold Rolled Steel and 430 Stainless Steel
Product Dimensions: 24.3″ x 21.64″ x 14.82″ (61.7 x 55 x 37.65cm)
Product Weight: 43.21 lbs. (19.6 kg)
Carton Dimensions: 25.59″ x 22.05″ x 13.98″ (64.9 x 56 x 35.51 cm)
Carton Weight: 55.12 lbs. (25.0 kg)
Feet measurement: 15in (back) – 17 ¼ (front)
Dual Burner System
Perhaps the most notable feature of the Versa is the patent-pending dual burner system. The oven includes an infrared burner at the bottom for consistent stone temperatures between bakes and a back-oven burner for standard convection heating. Theoretically, the two burners give the Versa an edge over some of the other ovens out there because both the bottom crust and the toppings on top are getting the high heat needed for a good pizza (we'll talk more on this in the performance section).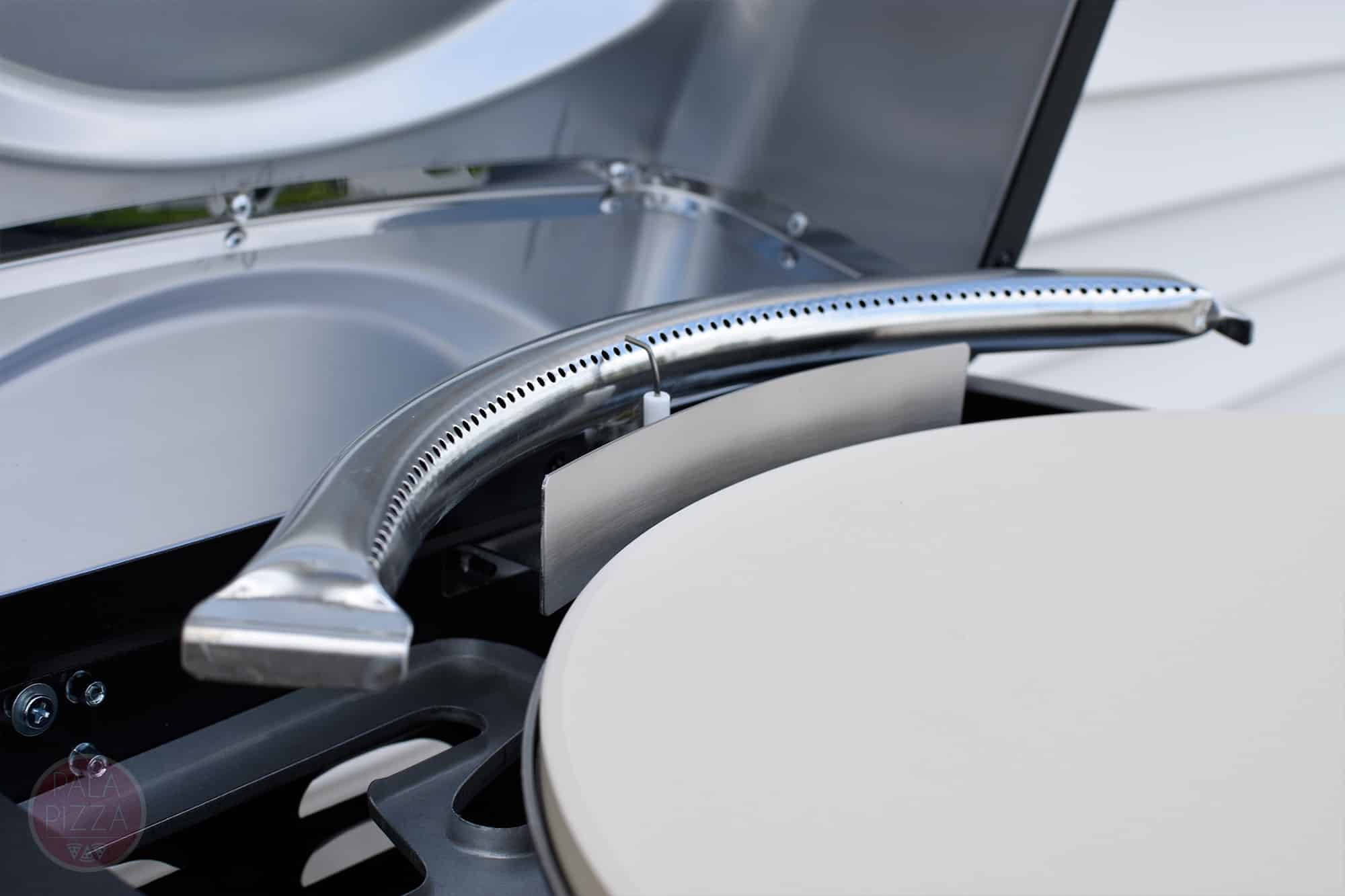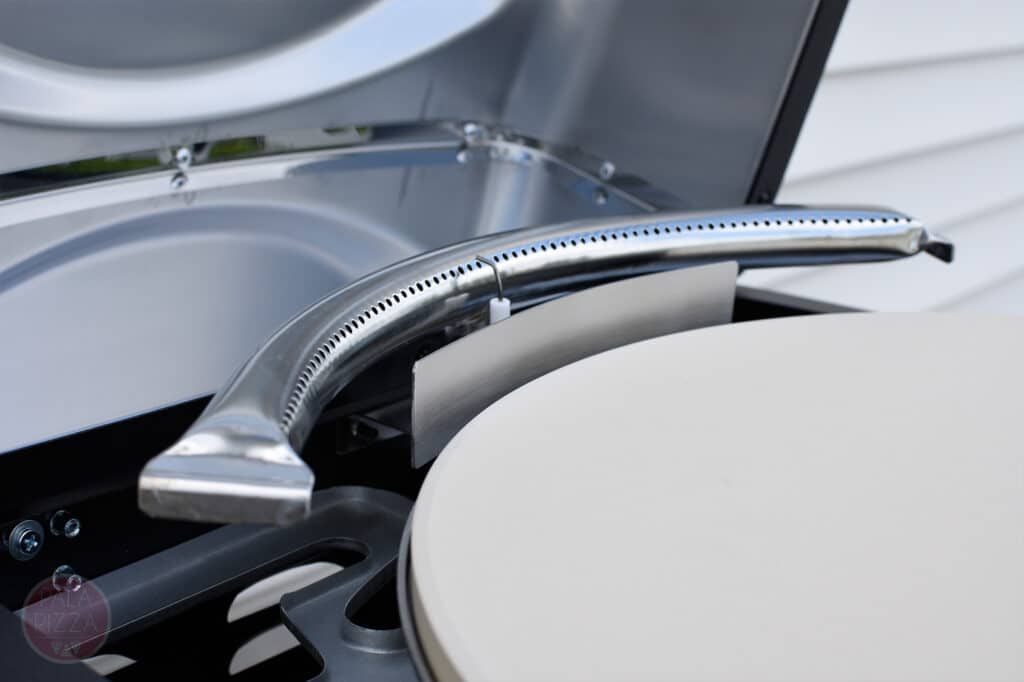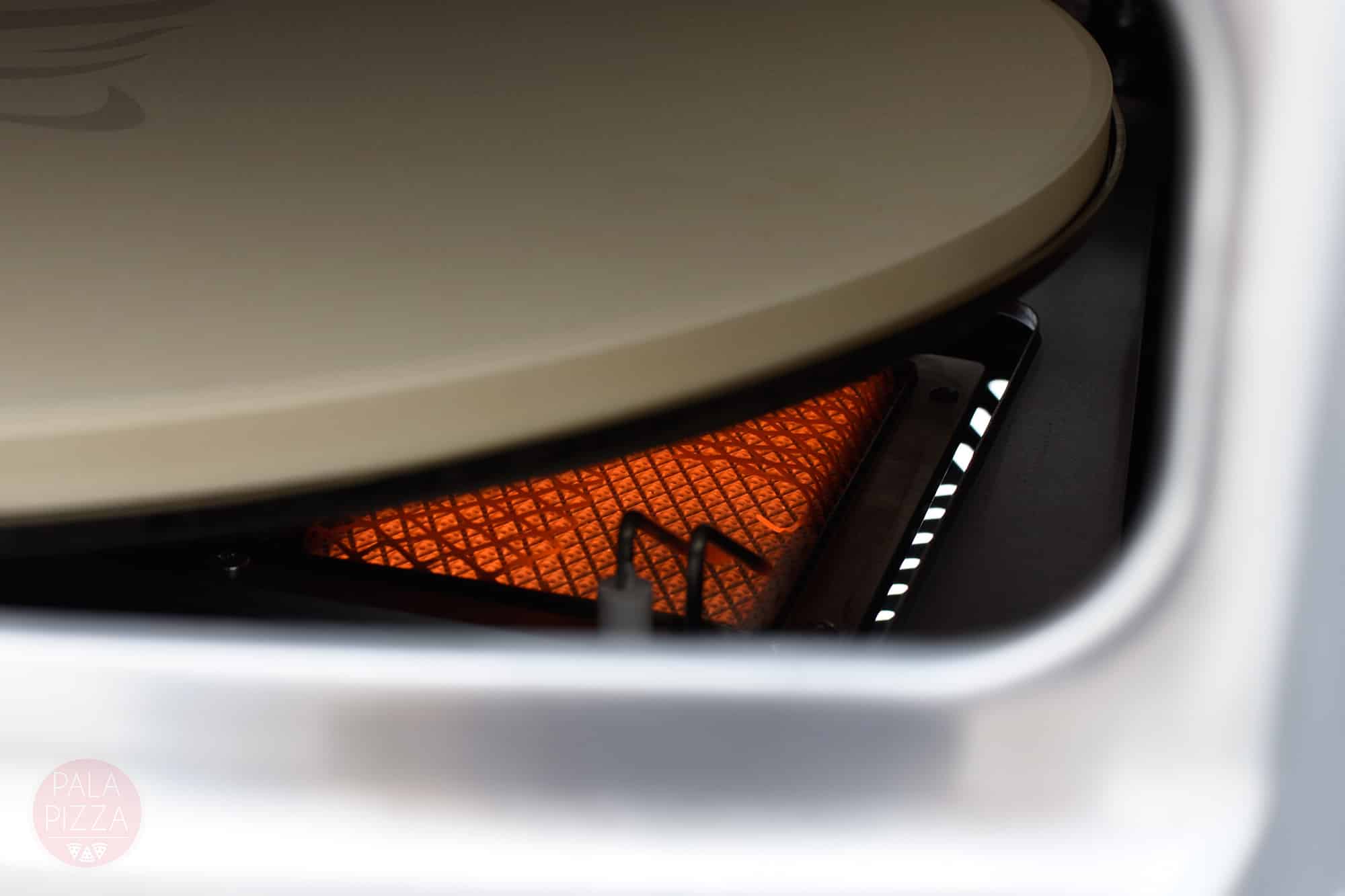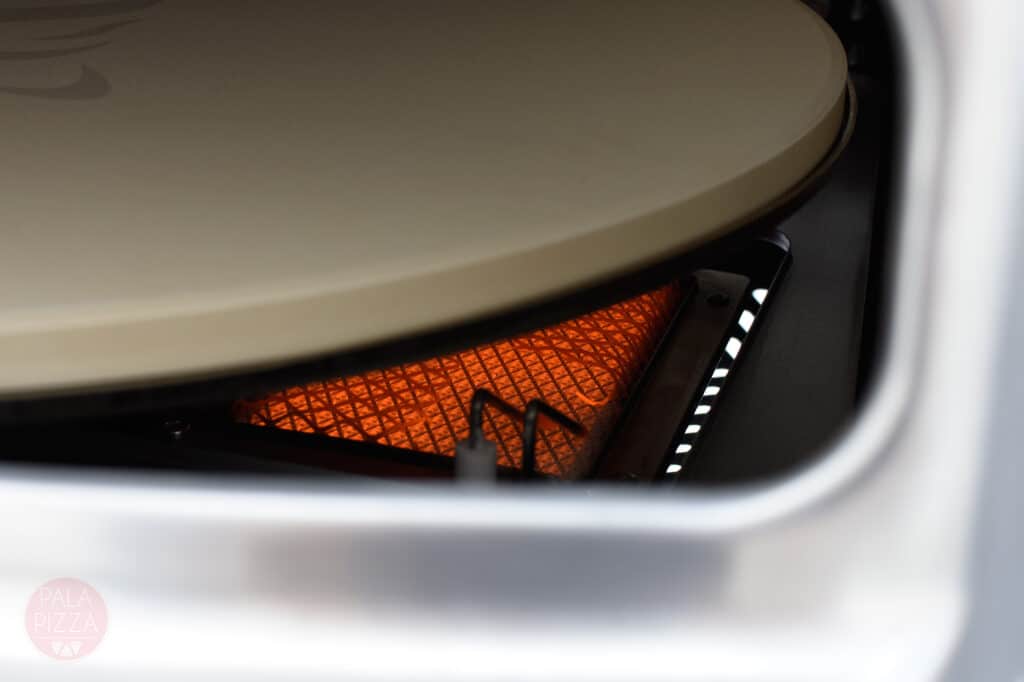 The other thing I love is that the burner on the bottom also helps keep the pizza stone hot between cooking pizza. This is something we've dealt with when cooking with other ovens, such as the Ooni Koda 16. The stone tends to cool down right after a pizza and you have to wait 10 minutes for it to heat up again.
Rotating Cooking Stone
This right here could be a game changer for homemade pizza. The Versa features a battery powered (or plug-in if you have an outlet nearby) turning pizza stone that eliminates you having to rotate the pizza yourself. This ensures the pizza cooks consistently and helps prevent burning on the edges. The motor spins the pizza stone at a click of the rotate switch located on the front of the oven. You can start or stop the rotation at any point throughout cooking.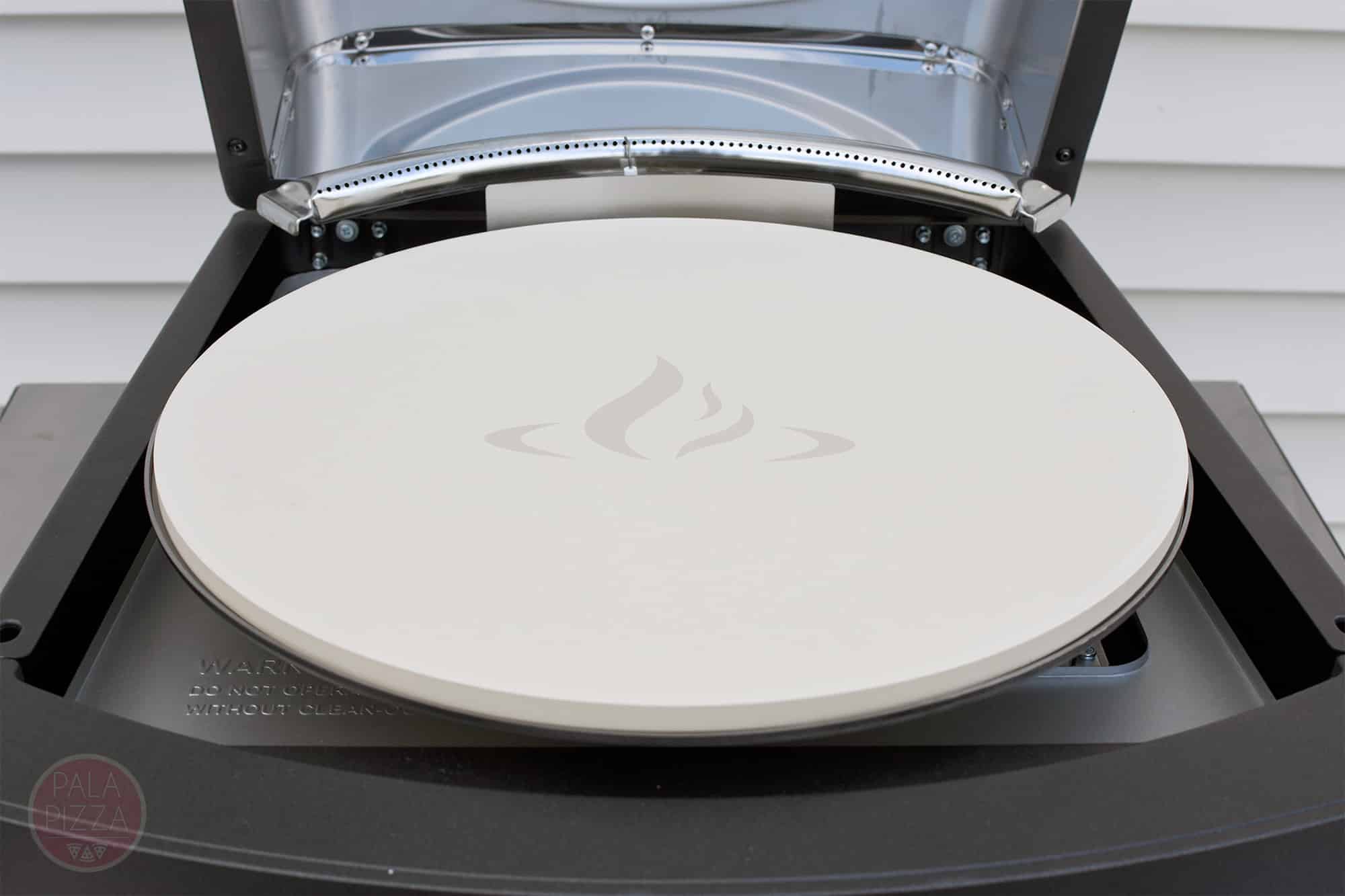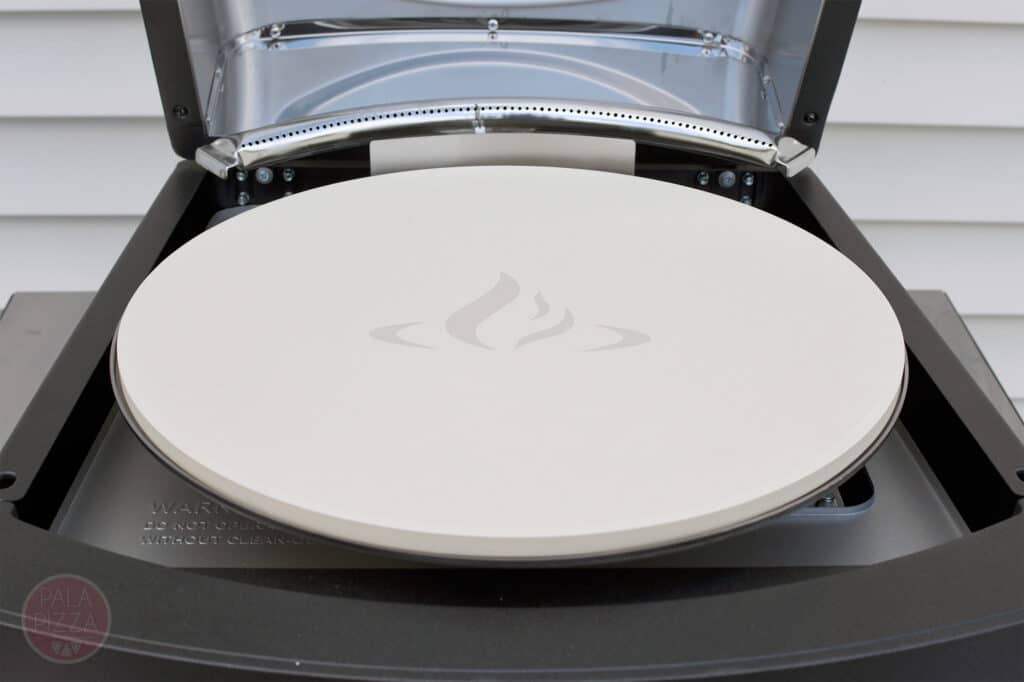 Fuel Tanks
One of the things I love about the Versa is its flexibility. You can use a standard 20 lb. LP gas tank at home, or you can use a smaller 1 lb. canister for maximum portability when traveling. The best part of both setups? Halo included quick disconnect regulators. See, this is what I meant before about not skipping any corners on quality.
Note: Out of the box, the Versa 16 is designed for only propane; but the Halo team says a conversion kit for natural gas will be available soon.
Performance
Max Heat and Preheat Time
Halo mentions the Versa 16 will reach 950F in 12 minutes to begin cooking. In just about every pizza oven I reviewed, manufacturers claim hotter temperatures in shorter times than what is realistic. It appears this was also the case with the Versa. Within minutes after turning the oven on, the built-in thermometer was pushing 900F – so the thermometer is pretty much useless for determining when to launch a pizza. Like all ovens, an infrared thermometer to check the stone temperature is recommended.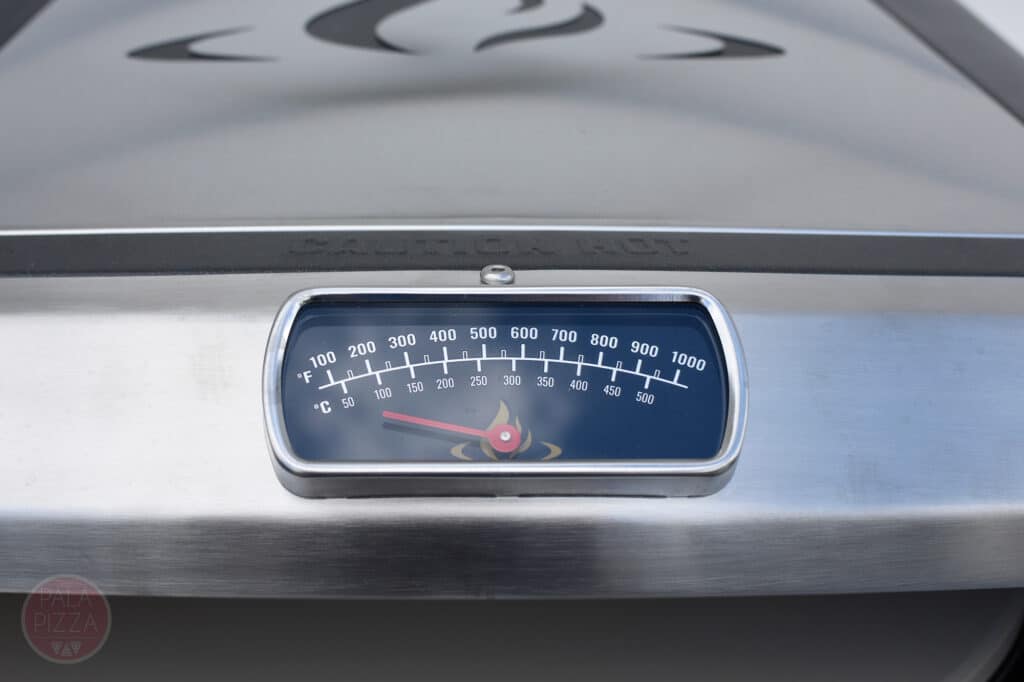 I continued the preheat and began measuring the stone temperature (pointed at the center) at 5 minute intervals. I also used the stone rotator while preheating to ensure a consistent stone temperature front-to-back, which is a really awesome feature. Here are the measured temperatures:
5 minutes: 437F
10 minutes: 588F
15 minutes: 639F
20 minutes: 732F
25 minutes: 773F
30 minutes: 803F
35 minutes: 805F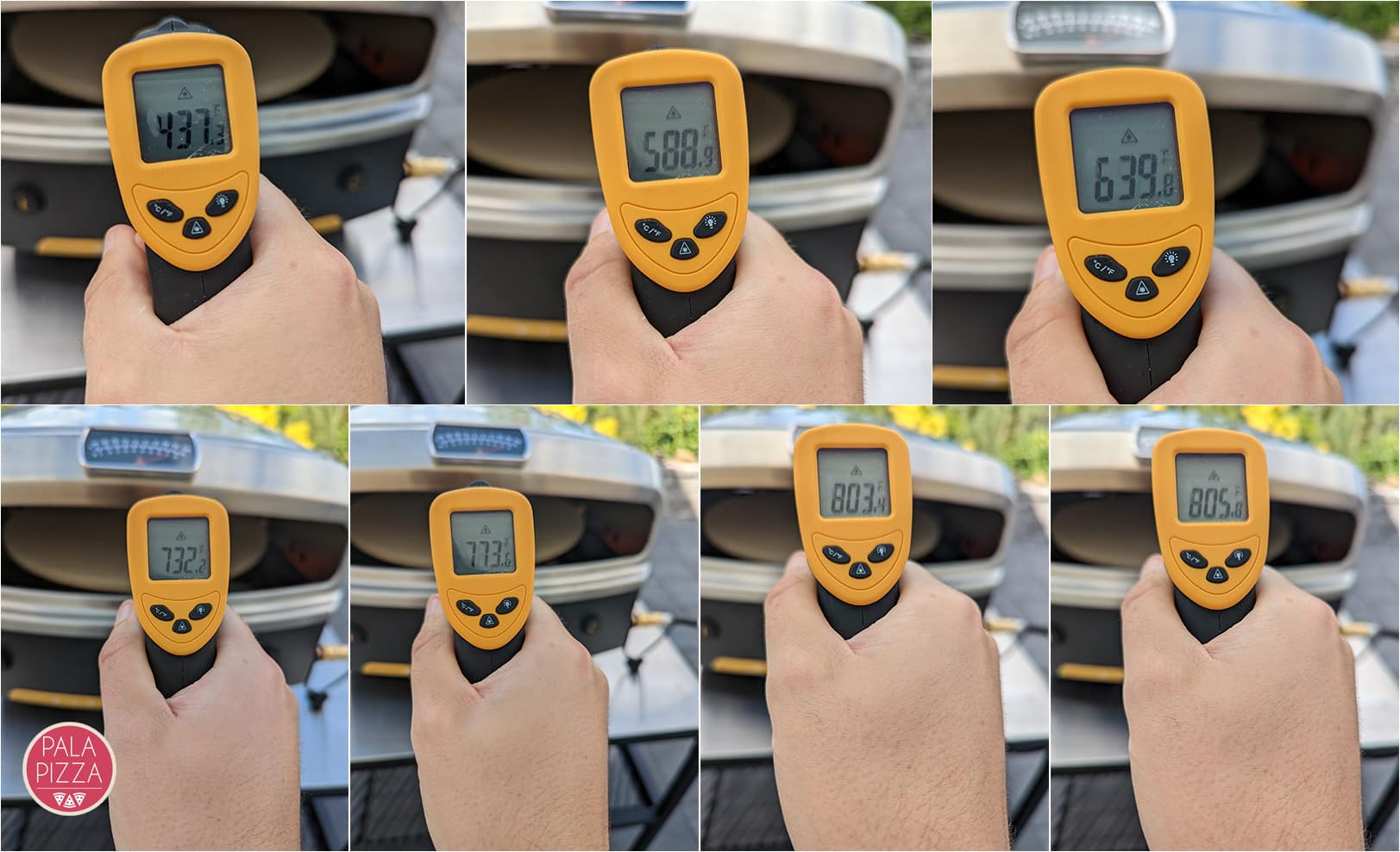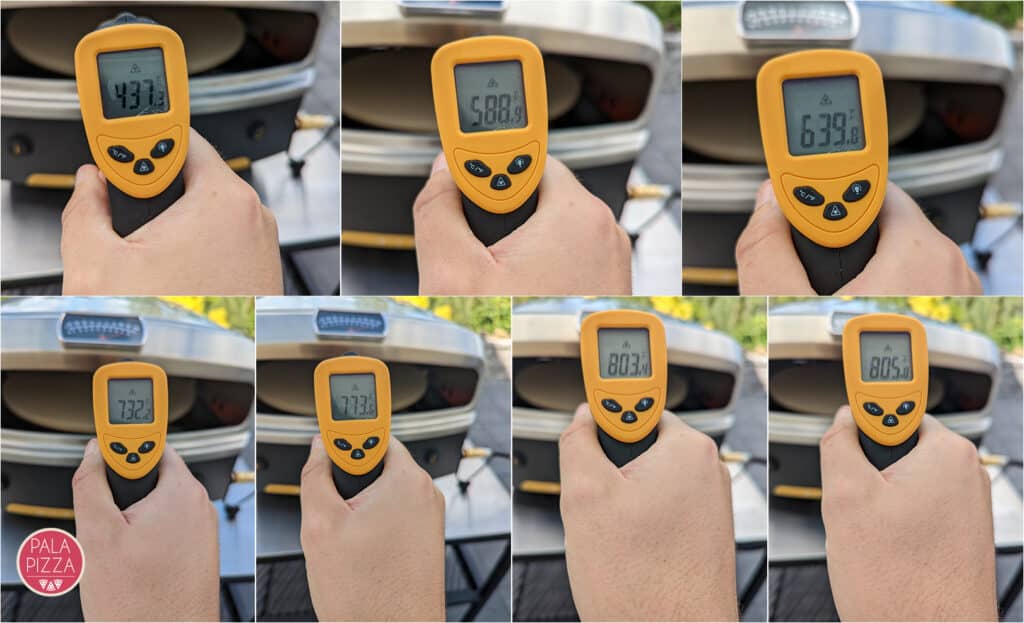 After the 20 minute mark the temperature increase started to slow down, and between 30 and 35 minutes, there was negligible movement. At this point I realized that Neapolitan style pizzas (those using 00 flour) may be less successful in this oven, since they require a hotter faster bake, whereas NY style and pan pizzas should flourish. But we'll find out shortly as I cook every style.
I also wanted to point out that some forum users mentioned modifying their ovens to use a thicker stone. Typically, thicker stones can hold more heat and for longer periods of time. However, in my opinion, that is a total waste of time and money because thicker stones are what you want if you experience a drop in stone temperature between cooks (something a few Ooni's can experience). This oven, like the Bertello Grande, has a below-stone burner that keeps it hot. Adding a thicker stone would not offer much, if any, improvement here.
Pizza Results (Each Style)
The part you've been waiting for! Can this pizza oven make world-class pizza? Does it outperform other pizza ovens on the market? And if so, what ones? Before I started writing this review, I attempted multiple popular pizza styles to see how the oven performs. Here are my results.
Neapolitan
Like I mentioned earlier, I had some apprehension about whether or not the Versa 16 would be able to cook a good Neapolitan pizza without a stronger single-flame burner. The pizzas below were my first attempts. After launching it onto the stone, I quickly realized that the bottom was going to cook much faster than the top and side crust. The flame in the back just wasn't strong enough to cook the pizza in 2 minutes or less (which is what you want with Neapolitan). However, I was still able to finish with a good pizza simply by picking the pizza up with my turning peel and holding it higher in the oven and closer to the rear flame, rotating it myself as necessary to finish the crust. This took about 2 minutes before the crust was done to my liking (with one minor burn – woops!). This isn't ideal since the oven features a self-rotating stone, but you can still get a Neapolitan pizza out of the oven – even if it isn't the ideal style to make with this product.
Note: After cooking more of this style, I realized preheating the oven on LOW instead of HIGH allows a longer bake without burning the bottom. Doing this will reduce the amount you need to manually rotate the pizza closer to the flame (but not eliminate it entirely).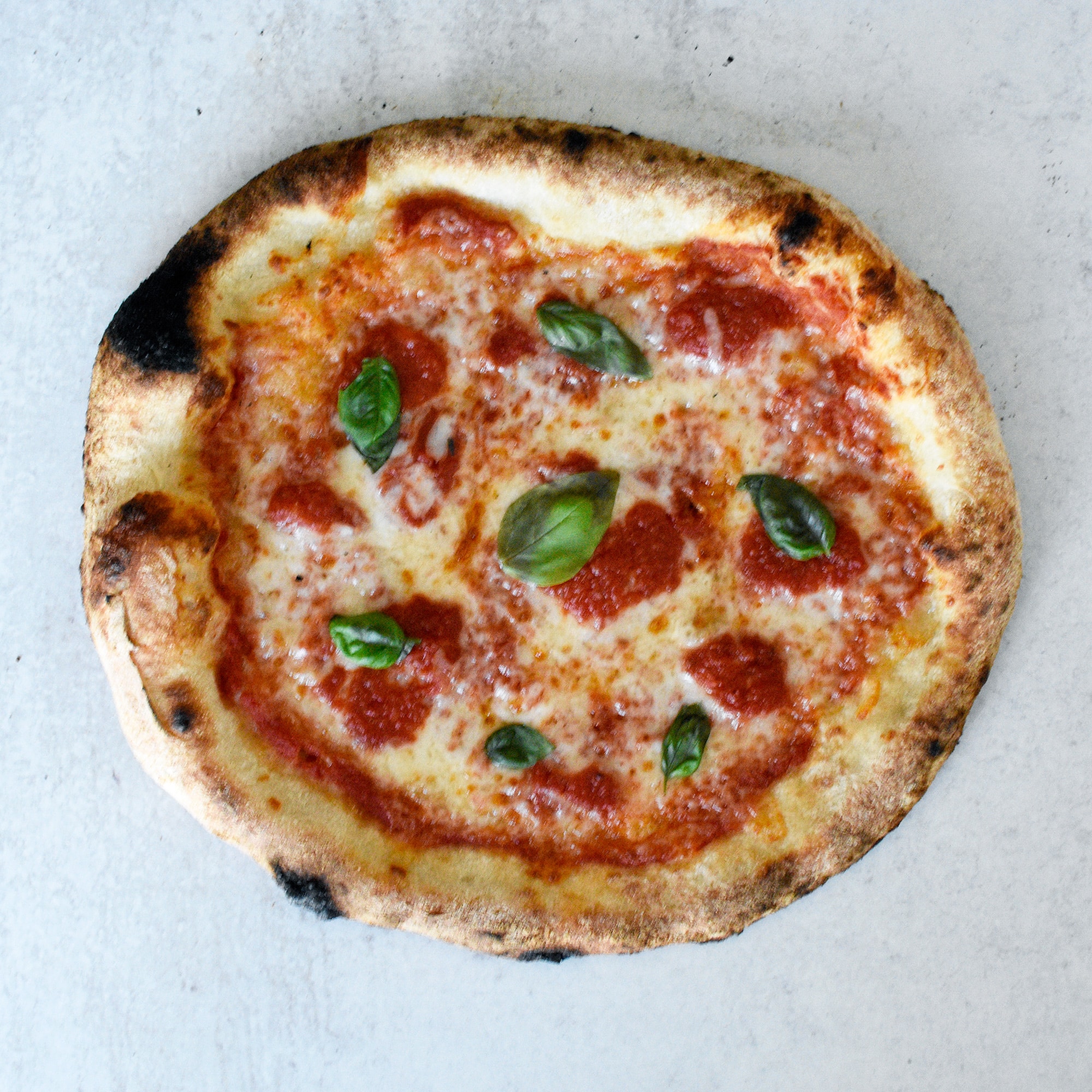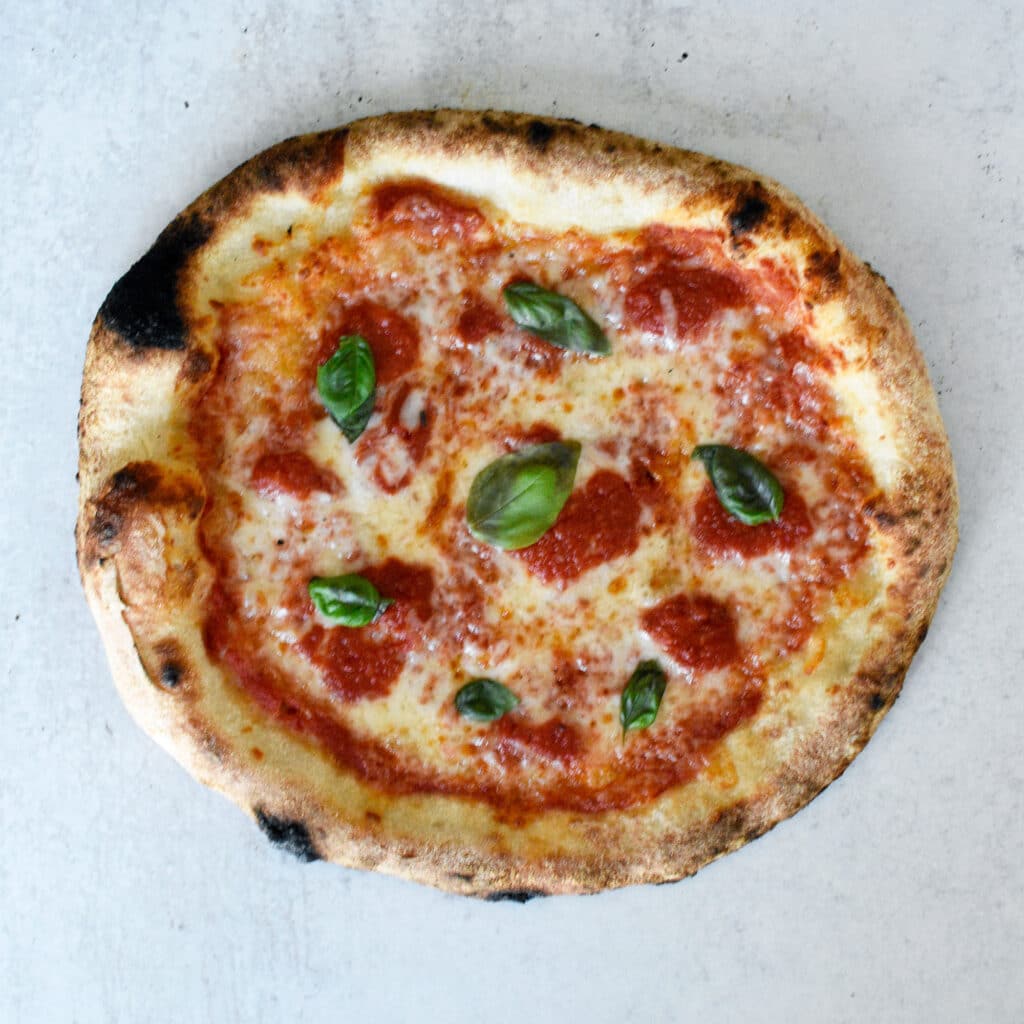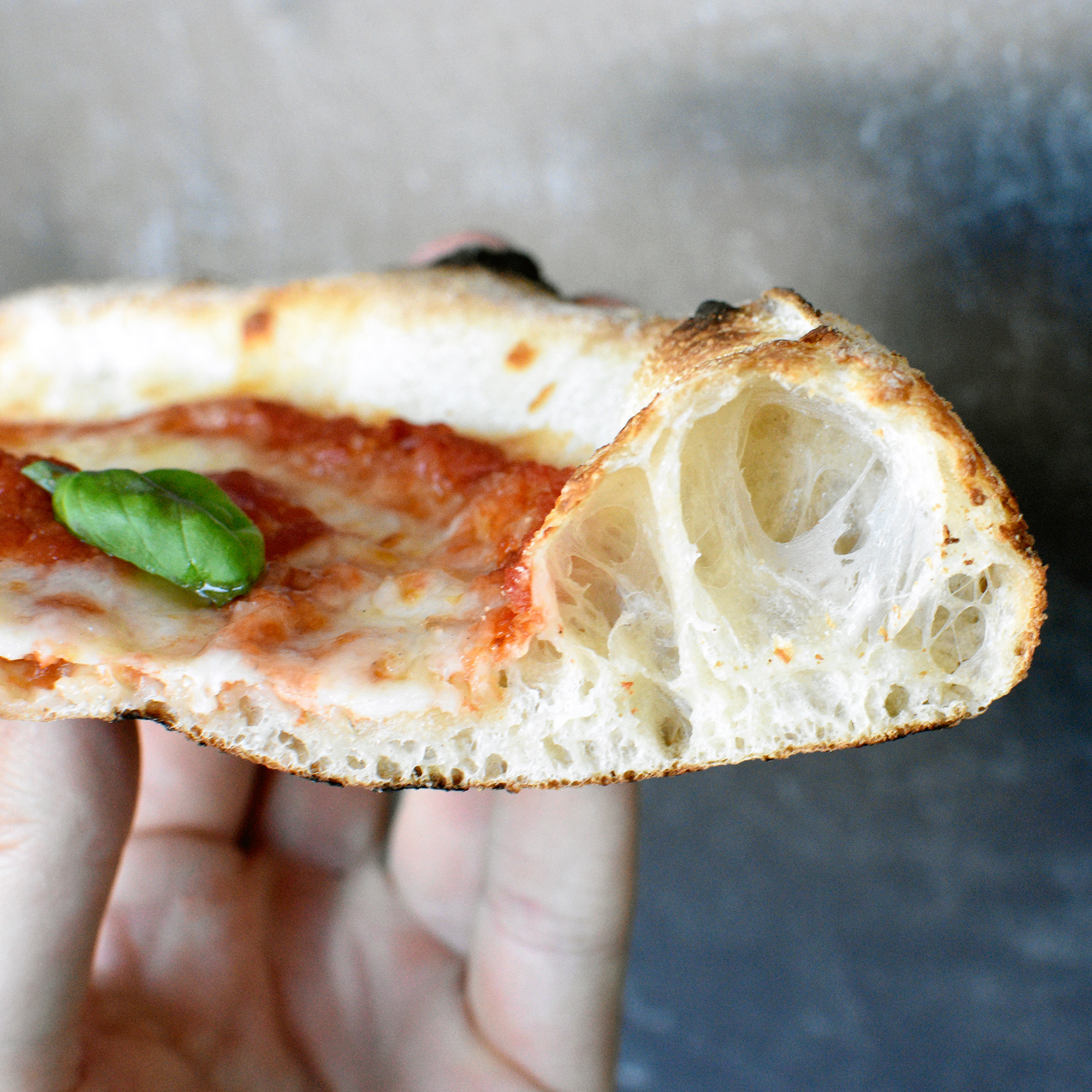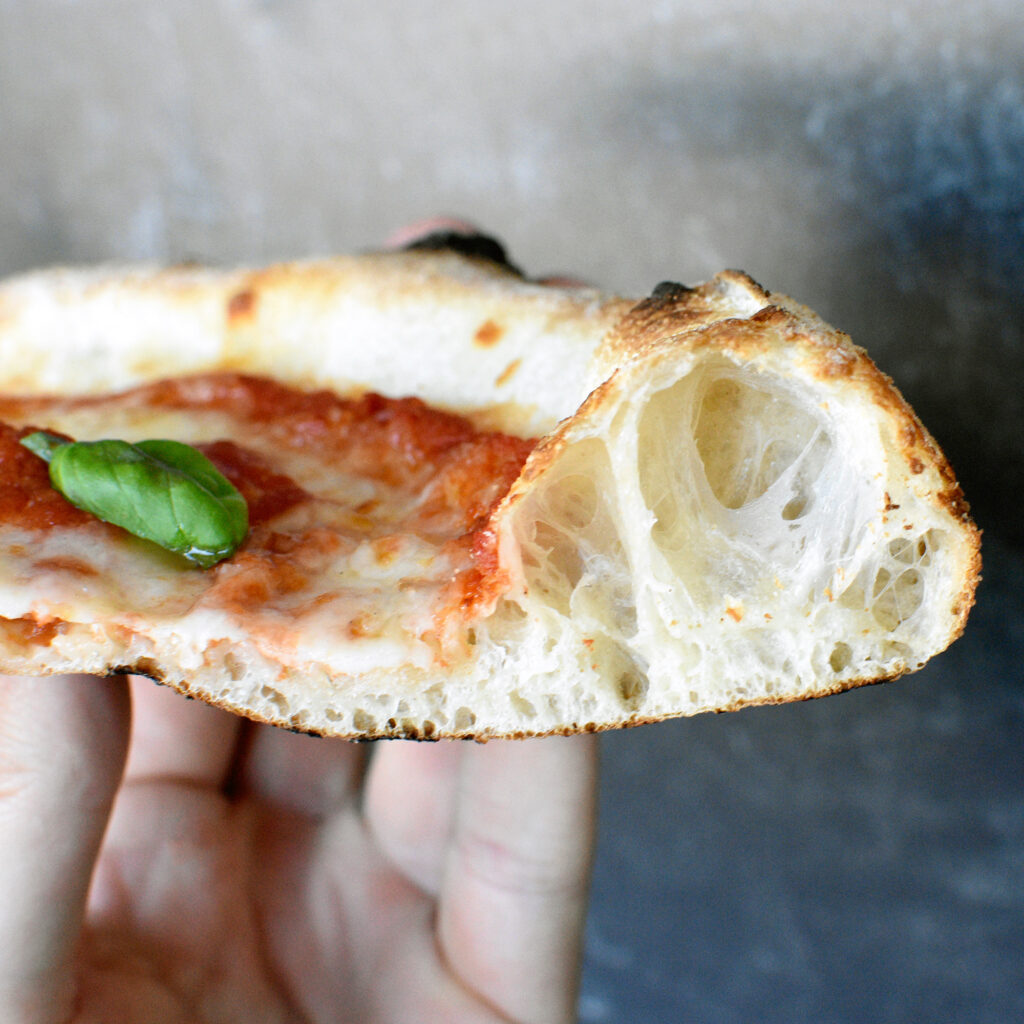 New York
Here is where this oven REALLY shines. I'll come right out and say it, the Halo Versa 16 is absolutely the best pizza oven for cooking New York style. I used to use my Koda 16 by alternating between an ultra low flame and killing the heat entirely, which was complex and cooled the oven off too much for the next bake. In the Versa 16, it's a launch it and forget it ordeal. This is where the 5 minute bake that Halo claims comes into play, because my pizzas were ready pretty much on the dot or even a hair before.
I was absolutely thrilled with the results. I'm still excited about it as I write this. Also, since launching a 16″ pizza onto a 16″ round stone can be very difficult, I strongly recommend getting a Lloydpan 16″ pizza screen. You can make your pizza right on the screen and put it in the oven for the full bake – or you can let it cook for 1-2 minutes until the dough firms up and then slide it off the screen and onto the stone (which is what I do). The result is a perfectly round NY style pizza that rivals a pro. Check out my results below… and these were the FIRST NY pizzas I made in this oven.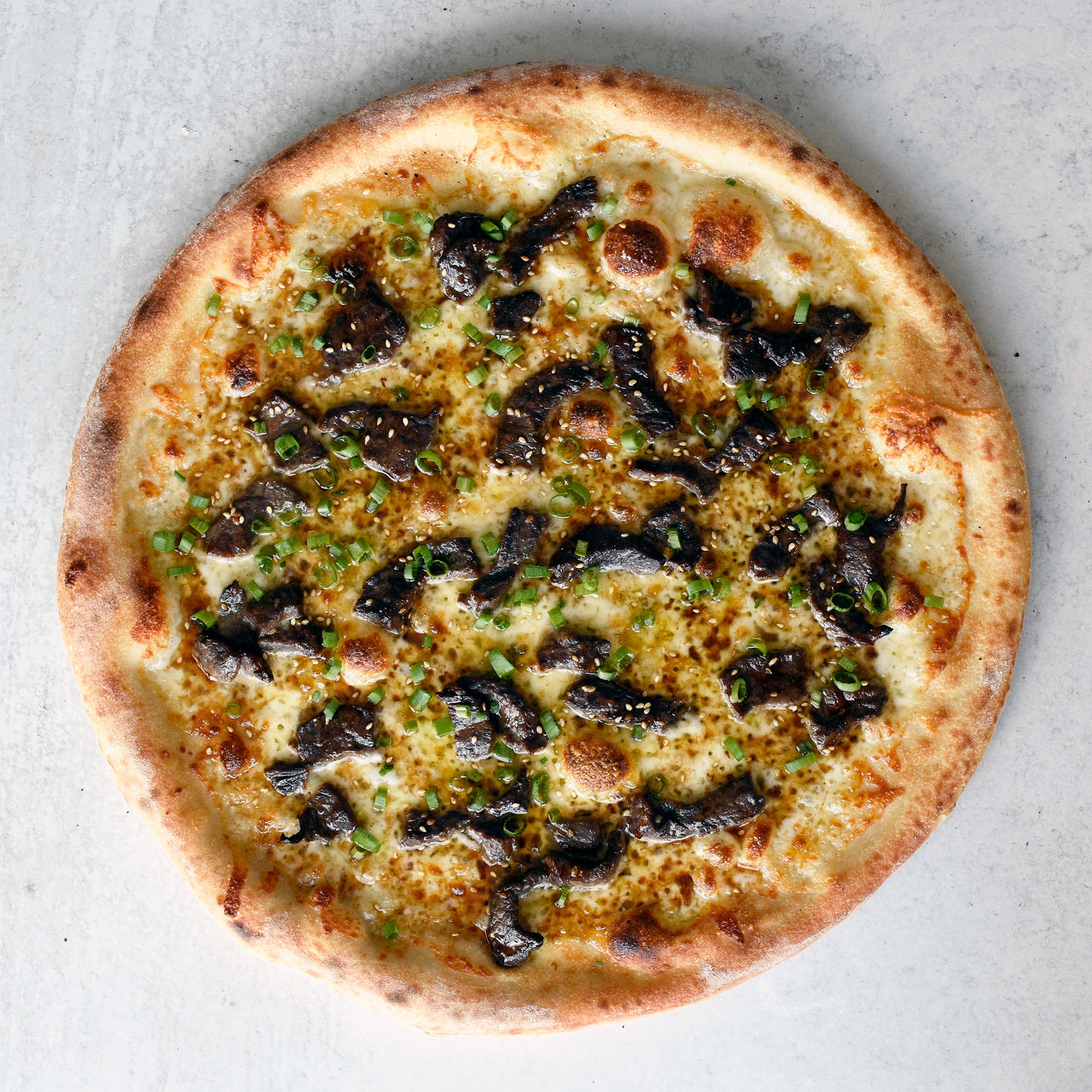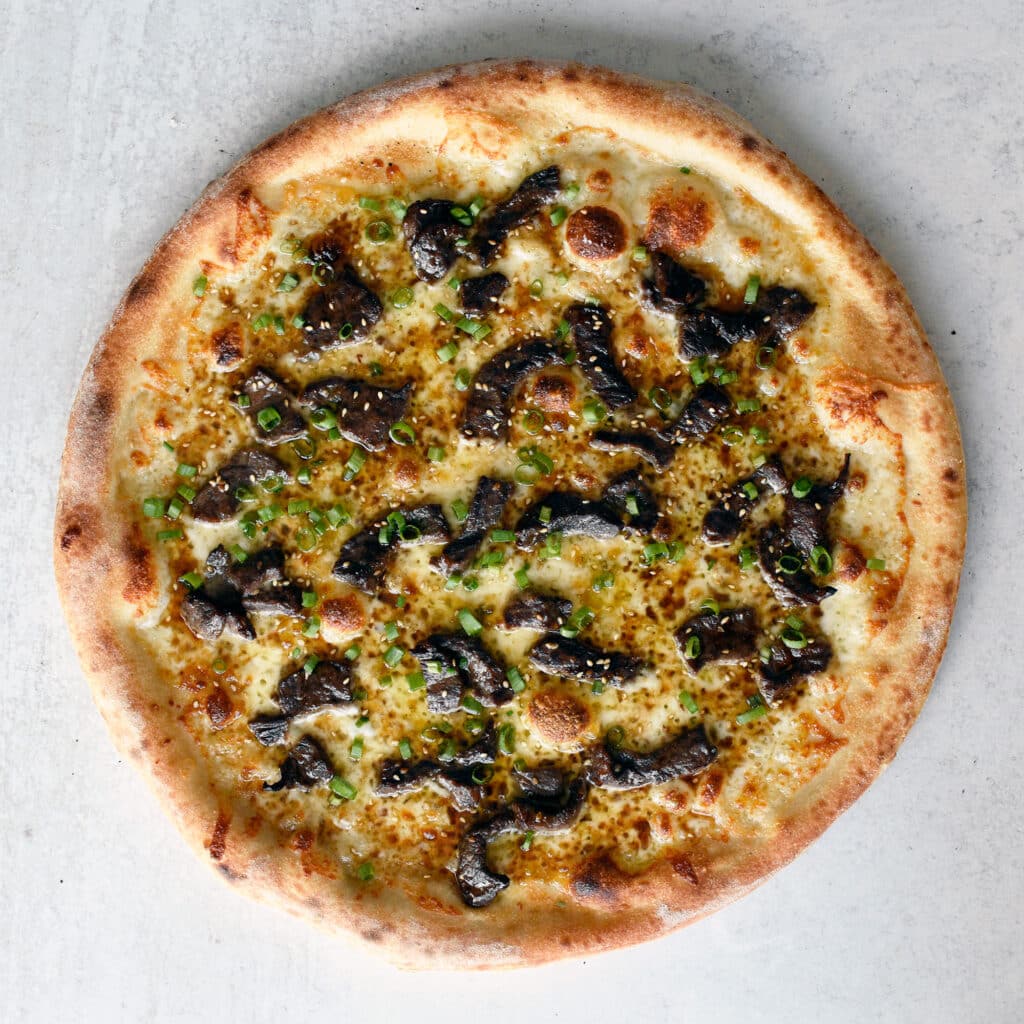 Once again, for this style I also recommend preheating the oven on either low or medium, and then turning the heat to high when you launch the pizza. I tested it with both, and while preheating it on high, the bottom crust was a bit too dark but not completely burnt.
Detroit/pan
Detroit style pizzas also worked exceptionally well. I love the rotation functionality when parbaking my dough for a perfectly even bake without the need to turn it myself. The final bake also resulted in perfectly crisped crusts and a nicely golden bottom. For this style, I recommend preheating the oven on HIGH because the pan pizzas could use a hotter stone surface for proper browning.
The only thing I noticed was that the cheese in the middle of the pan could have used some more browning. To fix this, I simply lifted the pan with a pizza peel so that it was near the top of the oven for about 20 seconds. Here are the awesome results!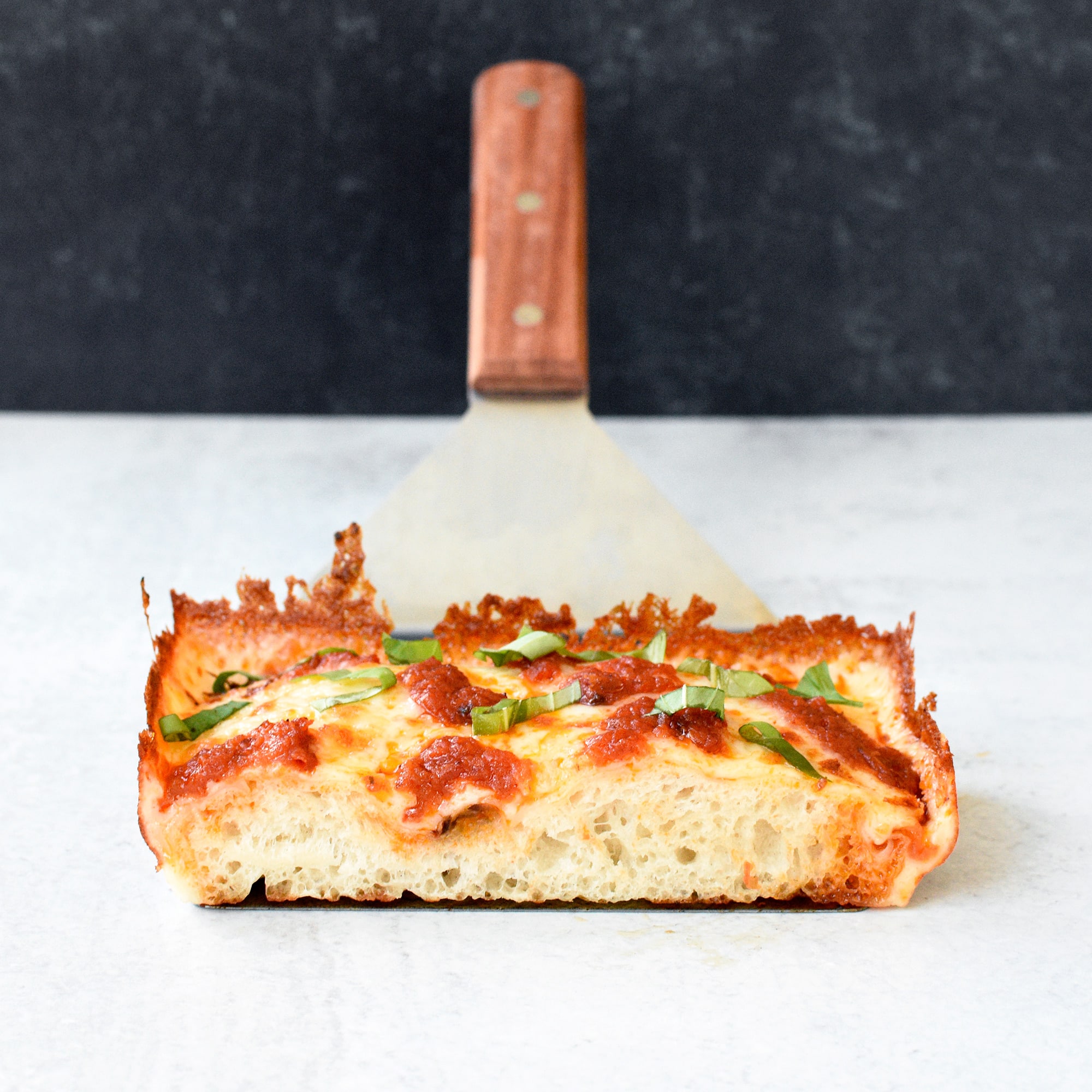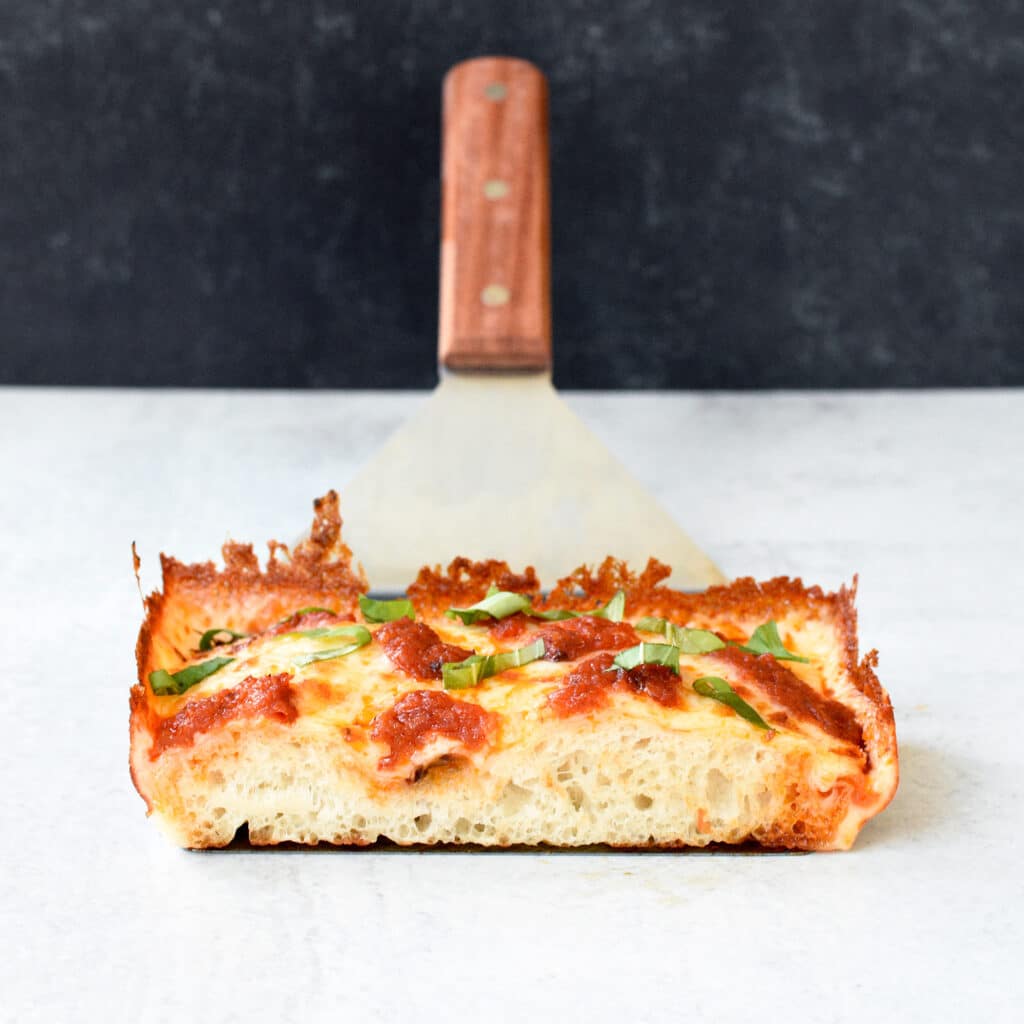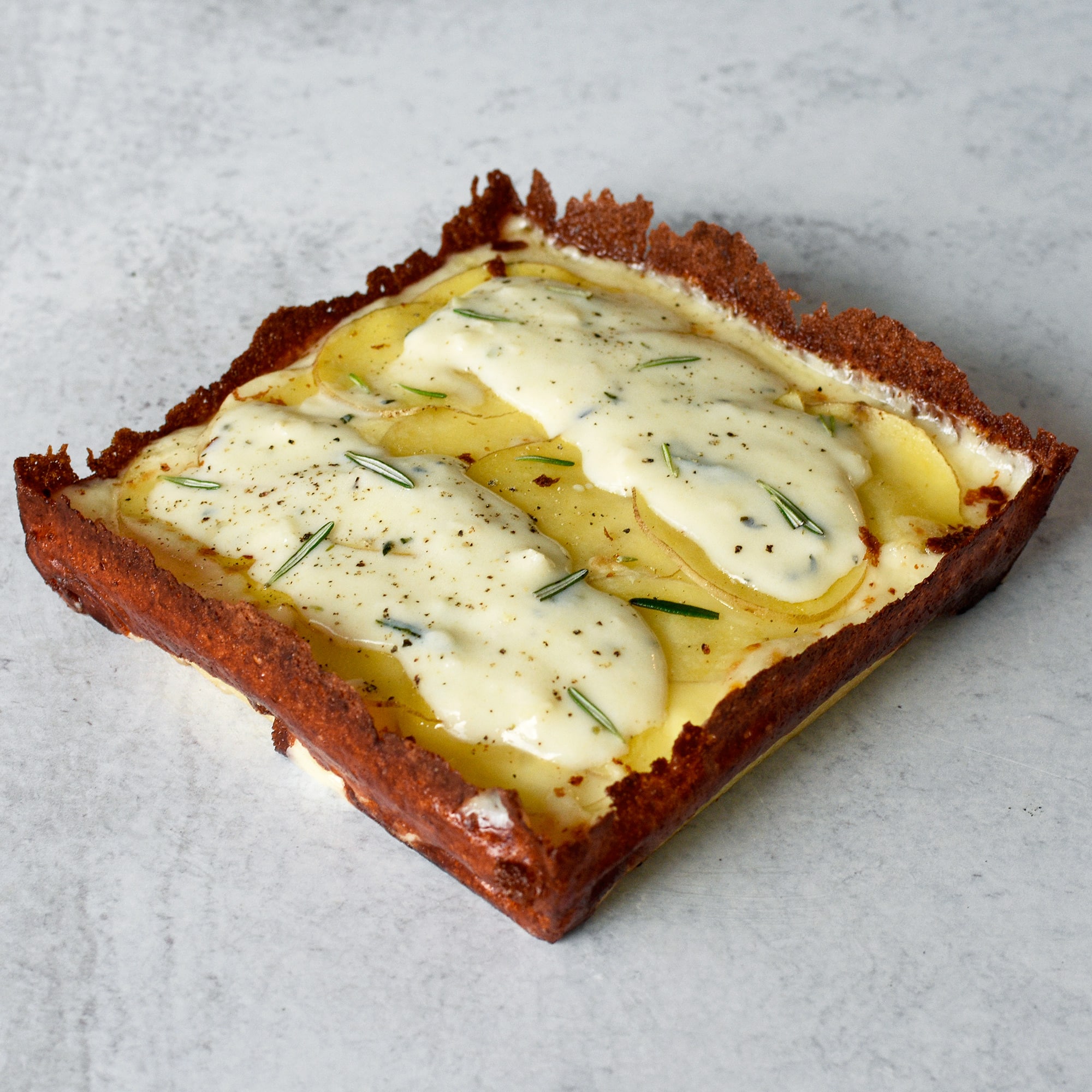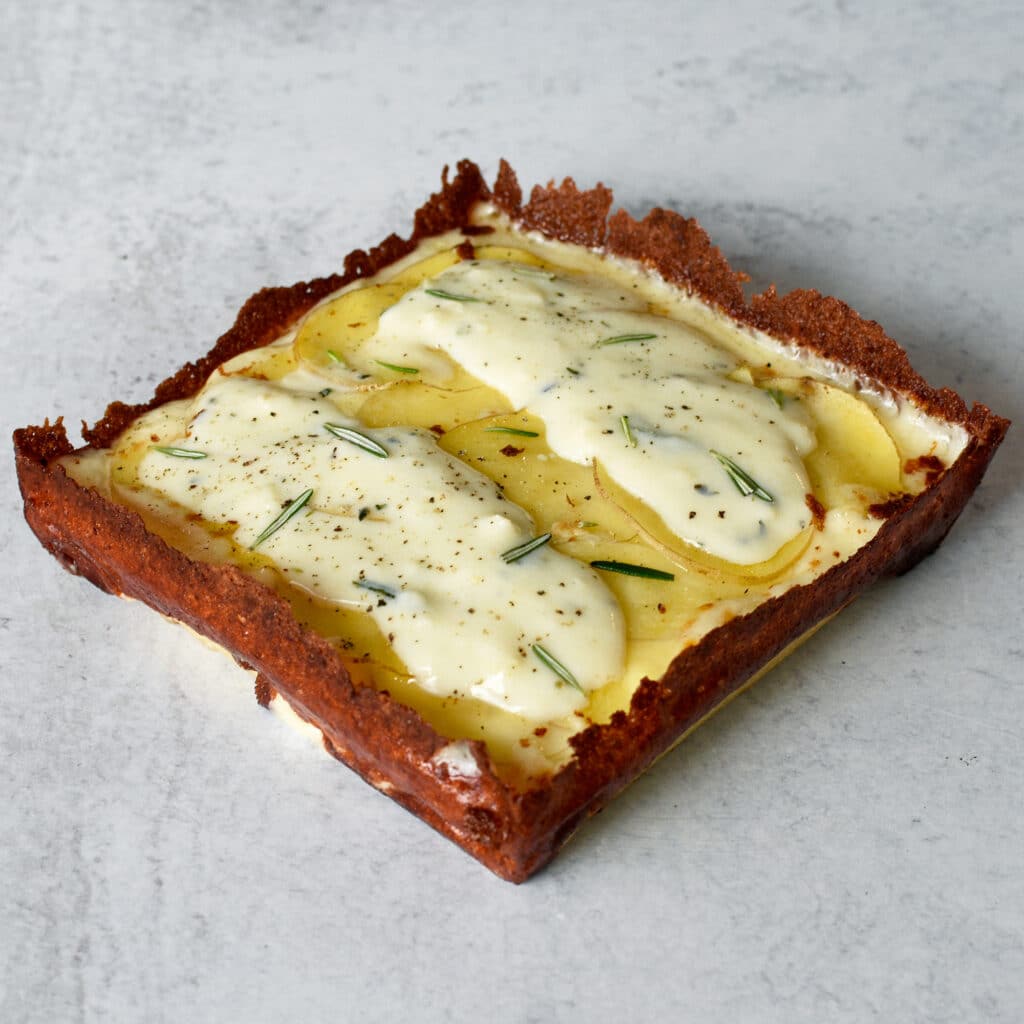 Maintaining the Versa Pizza Oven
Seasoning the oven: The Halo team recommends seasoning the Versa 16 outdoor pizza oven for at least 30 minutes before your first cook. I did this and noticed some very light smoke emiting from the oven, so I'm glad I did it before putting a pizza in there. Let the oven cool, and with a dry cloth or paper towel wipe the cooking surface clean. This will get rid of any debris leftover from manufacturing.
Cleanup: Another thing we like about the Versa is that it is easy to clean and maintain. Let the oven cool completely before any cleaning. The oven features a hinged access lid design accessible by two rubber tabs on the side. You can just open it up to remove the cordierite stone and clean it as needed. Once the stone is out of the way, you can easily clean up and debris and crumbs that fall into the catching tray below.
Maintaining the Cordierite Cooking Stone: Allow the stone to cool completely before cleaning it with a nylon pan scraper or a spatula to remove any extra food. Do not use soap or detergent. Halo mentions that if there is something really stuck on you should soak the stone in hot water before scrubbing again. However, as long as there are no food particles on the stone that might harbor germs, it is clean and safe to use. Personally, I never recommend to use water on your pizza stones. Any spills will be baked off in the future.
Summary
Overall I'm very impressed with this ovens performance and we haven't even talked about the price yet. At just $500, the performance to cost ratio is incredible.
The Versa 16 Outdoor Pizza Oven is an awesome option for anyone who loves cooking a variety of pizza styles but are not particularly set on only making Neapolitan, the only area it fell short among competition. If you are a big fan of New York style pizzas, this is the only one you should look at. It's easy to use and delivers consistently impressive results. I really love this oven, particularly the dual burners and rotating surface.
With registration on the website, Halo also offers a five-year warranty in addition to the 1-year standard warranty. Five years is a long time, and a lot of pizza! I typically only seen up to three-year warranties, so the fact the Halo team is willing to stand behind their product for five years says a lot.
I don't think you will be disappointed in the quality or performance of this outdoor pizza oven.