The simplicity of Neapolitan pizza never ceases to amaze. For a plain cheese pizza, it really packs a punch of flavor; more so than any other pie. But why is that? Is it due to the high-quality ingredients or 24-hour cold-fermented dough? Yes, it is the best for all those reasons, and more!
From the stretchy, melty cheese to the imported Italian tomatoes to the airy fermented crust, this pizza is insanely delicious. Each ingredient is meaningful and plays an integral role in the experience. Let's dive into what exactly makes a Neapolitan pizza the best-tasting 'za on earth.
Requirements for Authentic Neapolitan Pizza
Neapolitan Pizza, or pizza Napoletana, originated in Naples, Italy, the capital city of the Campagna region. Naples natives are so serious about preserving this unique and simplistic style of pizza, they founded the True Neapolitan Pizza Association, or AVPN, which is the internationally recognized standard for making authentic Neapolitan pizza.
To make a homemade Neapolitan pizza, you must first meet some simple requirements. This style of pizza is very simple and only requires a few ingredients; dough, tomatoes, cheese, and basil. That's it! No fancy toppings or sauces are allowed; this pizza is all about simplicity.
Let's examine each element of Neapolitan pizza more closely to understand why they mean so much to the whole dish, and some important characteristics of those 4 ingredients that you won't want to skip out on.
Neapolitan Pizza Dough
As the foundation of Neapolitan pizza, the dough is the most important element to make correctly. We prefer a 24-hour cold fermented dough, meaning it rises overnight in the fridge using less yeast than traditional pizza dough recipes. This is because the dough will have more time to rise overnight – so less is needed. Some recipes that call for a lot of yeast will result in a fast rising dough, but will have a very strong "stale beer" smell, which can also affect the taste. When it comes to true Neapolitan pizza, we don't want to skip any corners for our select few ingredients.
Neapolitan pizza dough also requires a high gluten flour, specifically 00 flour, to ensure it is stretchy enough to roll out very thin. You will also need a very hot pizza oven to cook this type of pizza correctly. Well-baked Neapolitan pizza will have charred spots, or leoparding, on the sides and bottom of the crust when it is fully cooked, which only takes about 90 seconds at 800-800 degrees F.
If you do not have a wood-fired pizza oven, you will not get the exact browning of a true Neapolitan. However, with a pizza stone and your hottest indoor oven, you can sometimes get it pretty close, but the crust will be less airy.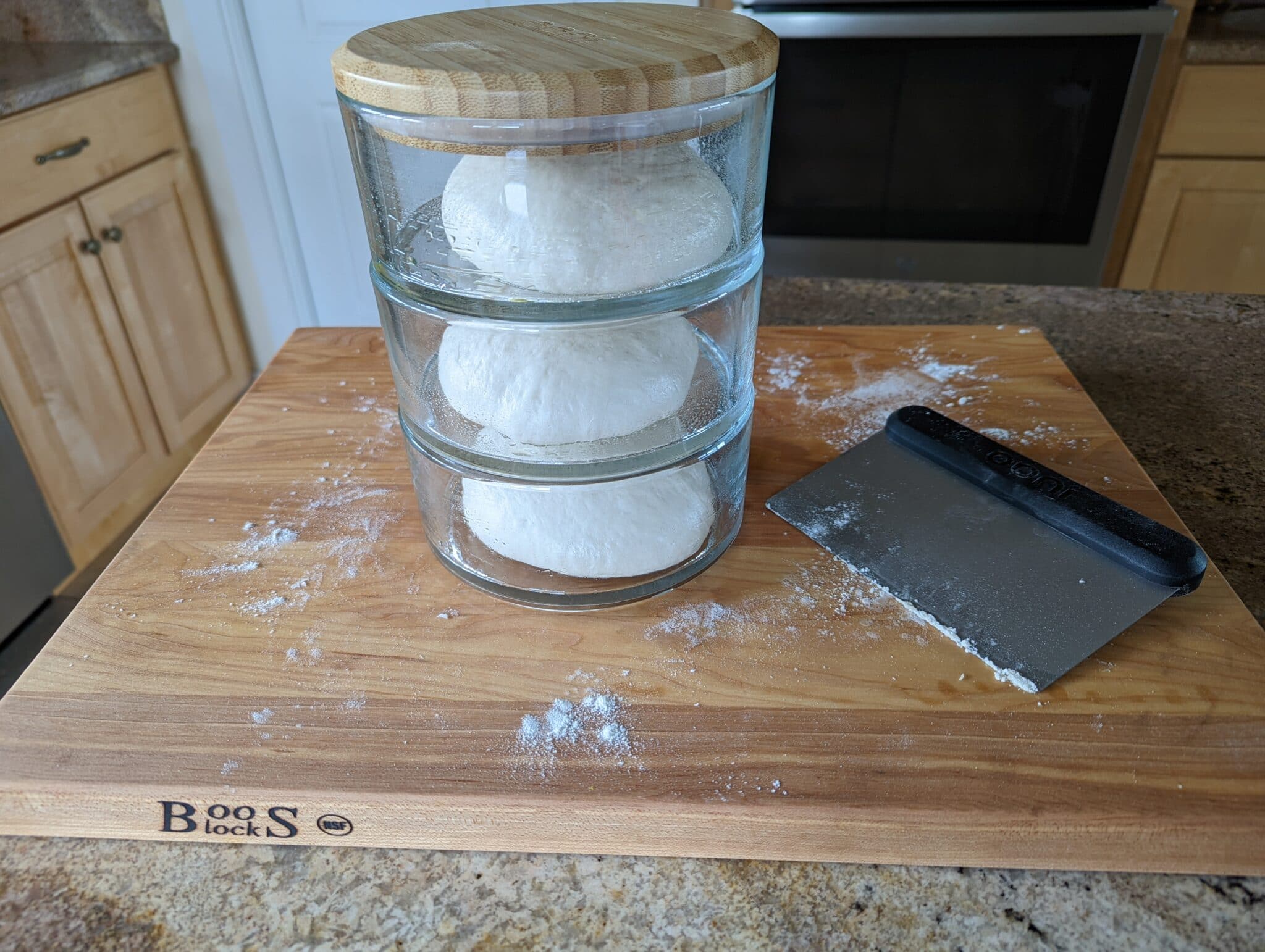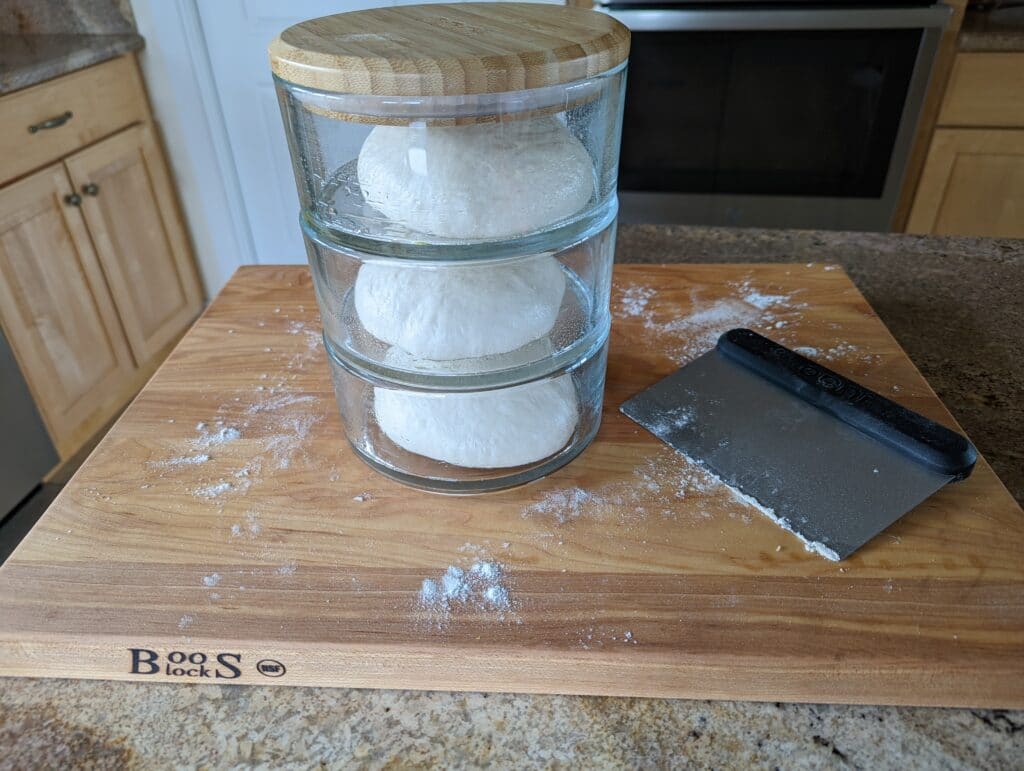 San Marzano Tomatoes
Since this pizza recipe is so simple, you really need high-quality ingredients to ensure they all stand out. You want to use tinned tomatoes that are grown and packaged in a prime location so you can cook with delicious tomatoes all year long. Tomatoes grown in the San Marzano region of Italy are widely regarded as the most flavorful canned tomatoes on the market.
San Marzano tomatoes are grown in the nutrient-rich volcanic soil at the base of Mount Vesuvius, which famously erupted in ancient times. Their growing environment produces tomatoes that are sweeter, less acidic, have fewer seeds, and are a deep red color. You can find imported San Marzano tomatoes in the canned food aisle of most supermarkets. However, be on the lookout for fakes! There are many brands that label as San Marzano, and even go as far as saying "certified" – but unless the label specifically says "DOP Certified" (Denominazioned' Origine Protetta meaning Protected Designation of Origin), they could be fooling you.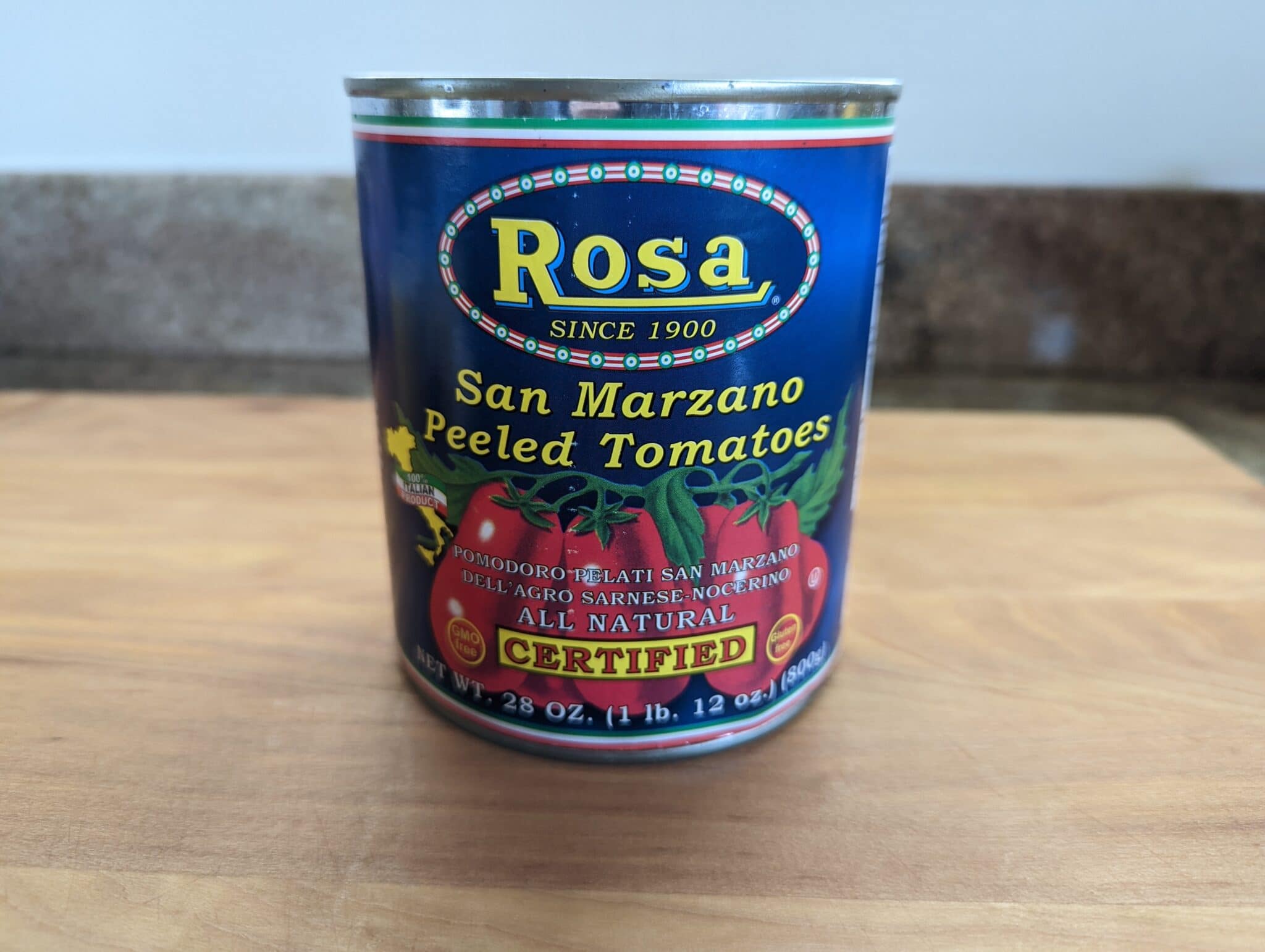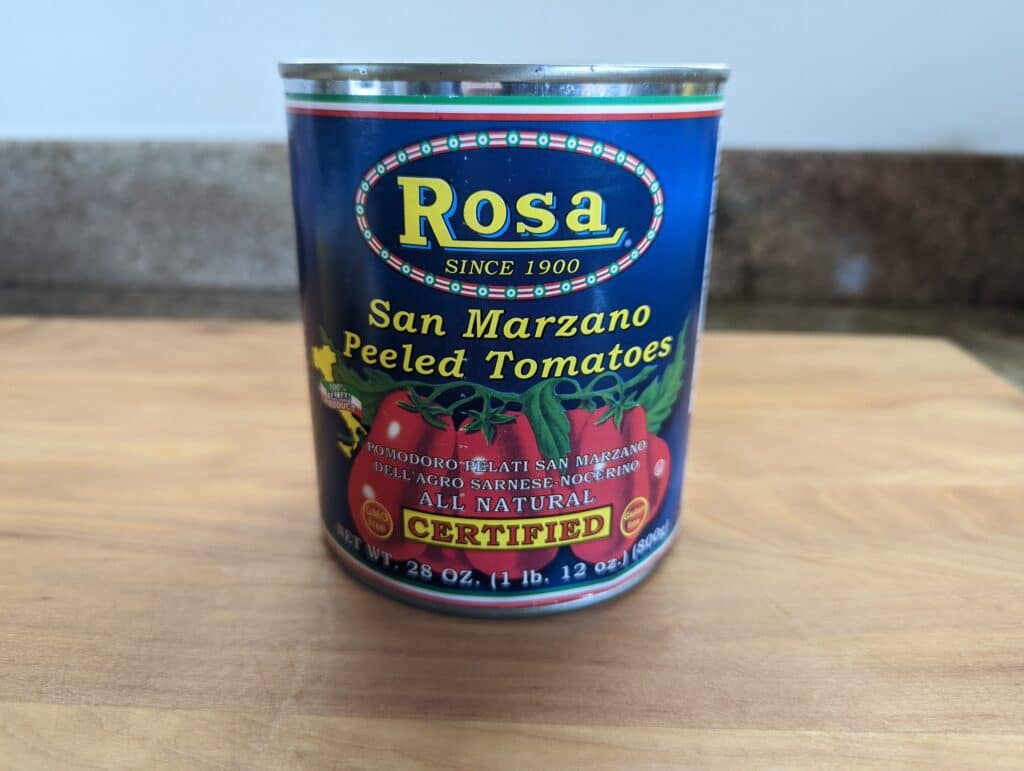 Lastly, Neapolitan pizza requires a no-cook tomato sauce. Simply blend or crush the whole tomatoes with your hand before spreading them evenly over your Neapolitan pizza dough. You can optionally add some salt to further bring out the tomato flavor, which I typically recommend (very light amount)
Whole Milk Mozzarella & Parmesan
Cheese is arguably the most important ingredient of any pizza. Neapolitan pizza is no different; the cheese needs to be high quality and produce a picture-worthy cheese pull. You will need two types of cheese for this pizza; fresh whole milk mozzarella and Parmiggiano Reggiano.
The whole milk mozzarella is what is going to produce the stretchy cheese effect. Whole milk varieties are a little creamier and richer than mozzarella made with reduced-fat or skim milk. You'll want to use the highest-quality, locally made cheese that you can find. Simply slice the ball into very thin slices and top your pie, or, place your cheese ball in the freezer for 30 minutes before grating using a box grater.
Note: If you have problems with the cheese emitting too much water when baking – which varies by brand and freshness – you can slice the mozzarella 24 hours in advance and let it sit in the fridge to dry out a bit.
Parmesan cheese is a cow's milk cheese necessary for so many Italian staple dishes. The best Parm that you can buy is imported Parmiggiano Reggiano cheese from the Po River Valley region of Italy. If you can, purchase it right off the rind so that you can freshly grate it yourself. This seems like a small step but really makes a difference in the end result. Adding parmesan cheese to Neapolitan can be debated a bit, but I will always shred it on mine!
Basil
Don't discredit the magic of basil! With the richness of the sauce, the tang of the dough, and the creaminess of the cheese, Neapolitan pizza needs a burst of freshness to cut through it all. This is where freshly torn basil is imperative. The basil doesn't go onto the pizza until it is fully cooked, but once those fresh leaves hit the hot pizza, the entire kitchen is perfumed with a sweet basil aroma.
Basil has floral, lemony notes, which add so much dimension to an otherwise rich dish. If you keep a fresh basil plant in your garden during the summer, be sure to save a bunch of leaves for Neapolitan pizza! The green is actually meant to represent the Italian flag, while the white cheese and red sauce add the other two patriotic colors. Talk about a national dish!
All About the Texture
All in all, the ingredients make for a delicious pizza. The highest quality toppings and crust are non-negotiable, but in the end, is that the only thing that sets this pizza apart from the rest?
Nope! To gain the perfect pizza consistency, you will need a screaming-hot oven to cook this Neapolitan. We're talking 800-900 degrees F. Most indoor ovens only reach 550 degrees F, so Neapolitan pizza requires some extra equipment and elbow grease to make correctly. In our opinion, outdoor pizza ovens are perfect for this reason and totally worth the cost.
Once your Neapolitan pizza is perfectly cooked, and you take a bite, the first thing you will notice is the texture. The texture of the fermented dough with high gluten and low yeast is crunchy, yet with an airy chew to it. The flavor is multidimensional from the fermentation process. The tomatoes add a bit of acidic moisture on top, while the edges of the crust stay crisp with large air bubbles in the middle. The gooey cheese adds an entirely new texture element with the basil adding freshness and floral notes.
Even with the best ingredients money can buy, you will also need a wood-fired oven that reaches up to 900 degrees F to guarantee that amazing crust texture. What we're saying is that the Neapolitan pizza experience is a marvel in itself. You have to live it in order to know its complexity, so try out the recipe ASAP!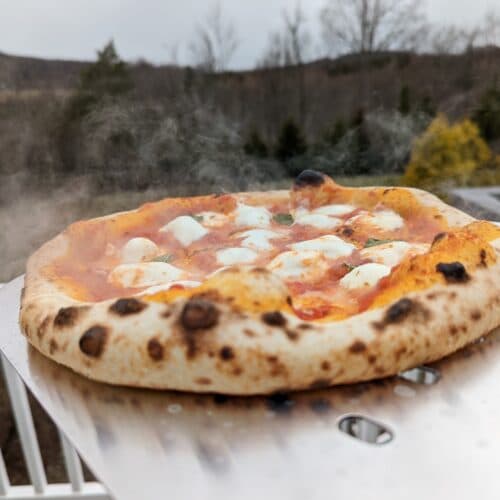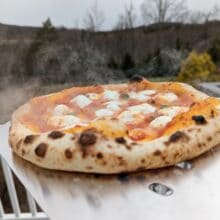 Classic Neapolitan Pizza
It all comes back to this. The backbone of what pizza is and forever will be. The best San Marzano tomatoes and freshest mozzarella are both necessities. Topped off with some fresh Parmigiana Reggiano and basil. It's simple, and it's perfect.
Print
Pin
Rate
Follow my pizza journey
Servings:
3
12″-14″ Pizzas
I bought 15 pizza ovens to hands-on test.
It's a hobby, not an obsession! Here are the best pizza ovens.
Ingredients
3

270g

Neapolitan pizza dough balls

3-4

oz

San Marzano tomatoes

A homemade sauce from a can of high-quality San Marzano whole tomatoes is really simple; just puree and add salt!

6

oz

Whole milk mozzarella

1

pinch

Parmigiano-Reggiano
Seriously. I have a lot of pizza ovens.
Let me show you the best after hundreds of hours testing. Read my in-depth pizza oven reviews!
Instructions
Flatten and stretch dough into 12-14" pies. You should be able to see light through the dough if it's stretched enough.

Prepare your pizza by ladling crushed San Marzano tomatoes (with a pinch or two of sea salt) onto stretched dough and then sprinkling Parmigiano-Reggiano. Starting from the outside and moving inward, spread a light even layer of mozzarella.

Preheat your Ooni (or other outdoor pizza oven) for at least 30 minutes. The oven should reach near 900F in this time. Using a pizza peel, place pizza in oven and cook for 2 minutes (+/- 30 seconds depending on color) rotating as needed.

Remove pizza from oven, top with fresh basil, and place on wire rack to cool for 2 minutes before slicing.
Notes
This is a Neapolitan recipe that uses 00 flour, so high heat is a must; home ovens are insufficient. Be sure to preheat an outdoor pizza oven to 900F before cooking. If you only have a home oven and pizza steel/stone, check out our NY Style recipe which works great with this.