The husband and wife team of Kristian Tapaninaho and Darina Garland founded the Ooni in 2012, and have continued to lead the revolution of pizza oven products from day 1. The Ooni story started when Kristian wanted to create classic Neapolitan-Style pizza at home but found that the ovens that reach the high temperatures required were too big and expensive, so they decided to make their own. The couple experimented with different designs and materials, creating their first oven after testing various prototypes in their backyard.
To get the oven in the hands of individuals, the team (then called Uuni) turned to Kickstarter to launch the world's first portable wood pellet pizza oven. They blew past their funding goal, more than doubling the original goal of $10,000, raising $23,000 with donations from 142 supporters. Since then, they have continued to experiment with new models. They say more than 25 million pizzas have been cooked on Ooni ovens.
Their headquarters are in Scotland and their employees come from 15 countries ranging from New Zealand to Mexico. Their stated goal is to "give the world awesome tools for empowering everyone to make great pizza." They are driven by their stated values of passion, innovation, rigor, ambition, and kindness.
It seems their methods are working because Ooni pizza ovens are consistently ranked among the best pizza ovens. In 2019 they won Hearth, Patio & Barbeque Association 2019 VESTA Award for Best Innovative Product as well as the Retailer's Choice Award 2019 at the National Hardware Show.
Comparing Ooni Pizza Ovens

Ooni currently offers several choices for their ovens, which differ by the size of the pizza stone (12 or 16 inches) as well as the fuel used. The 12-inch has a wood pellet, gas, or the multi-fuel option, while the 16 comes in either gas or multi-fuel.
Keep in mind the oven isn't only for pizza. By placing a skillet in the oven you can cook meat, fish, vegetables, and more.
Which Ooni Oven is right for you?
With five models to choose from, picking the right oven for you will depend on your budget, preferences, and needs. Ooni ovens come in either 12" or 16" and have a few options for fuel. The 16-inch models weigh more, so keep that in mind if portability is important. However, the larger 16" size not only allows for bigger pizza, but can also be handy if you are cooking anything else. You can even fit two cast iron griddles at the same time.
Karu 16
Check Prices
Karu 12
Check Prices
Koda 16
Check Prices
Koda 12
Check Prices
Fyra 12
Check Prices
Pro 16
Check Prices
Fuel types available
Wood, Charcoal, Propane Gas & Natural Gas
Wood, Charcoal & Propane Gas
Propane Gas & Natural Gas
Propane Gas
Wood Pellets
Wood, Charcoal & Propane Gas
Pizza size
12", 16"
12"
12", 16"
12"
12"
12", 16"
Size
32 x 19.6 x 33″
30 x 15 x 31″
24.96 x 23.2 x 14.65″
15.7 x 11.6 x 24.8″
29.2 x 15.1 x 28.6″
29 x 19 x 31″
Weight
62.6lbs
26.5lbs
40.1lbs
20.4lbs
22lbs
48.5lbs
Heat up time
15mins
15mins
20mins
15mins
15mins
20mins
Max temperature
950°F
950°F
950°F
950°F
950°F
950°F
Propane gas compatible
Yes, with gas burner
Yes, with gas burner
Yes
No
No
Yes, with gas burner
Natural gas compatible
Yes, with gas burner
No
Yes, with conversion kit
No
No
No
Material
Powder coated carbon steel & Brushed 304, 409, 430, Stainless steel
Brushed 430 stainless steel
Powder-coated carbon steel
Powder-coated carbon steel
Powder-coated carbon steel
Brushed stainless steel
Pizza stone
0.6″ cordierite stone
0.6″ cordierite stone
0.6″ cordierite stone
0.4″ cordierite stone
0.4″ cordierite stone
0.6″ cordierite stone
Pizza stone size
16.7 x 24.5″
13 x 13″
16 x 16″
13 x 13″
13 x 13″
17.7 x 17.7″
Opening height
5.71″
3.89″
4.37″
3.22″
3.34″
6.14″
Fuel Options
Wood allows you to add more wood-baked flavor to your pie, and, especially when used with charcoal, is easy to use. Wood fired pizza ovens also add "a little something" to the cooking experience.
Wood pellets can be more economical unless you are using your own wood, but they are also easier to handle than charcoal or wood.
Gas is absolutely the easiest to use but you'll miss some of the wood flavor, and is slightly less portable considering the tank.
Personally, I often prefer gas powered because its as easy as starting a grill and I can rip out a few pizzas on a weeknight like no problem. Wood fired is more for the every-now-and-then-beer-in-hand-on-a-nice-weekend kind of thing.
Cost/BTU analysis for gas models
We all know heat is the biggest differentiator when it comes to making a good pizza. I took a quick look at the price of each Ooni pizza oven model and compared it to the total BTUs.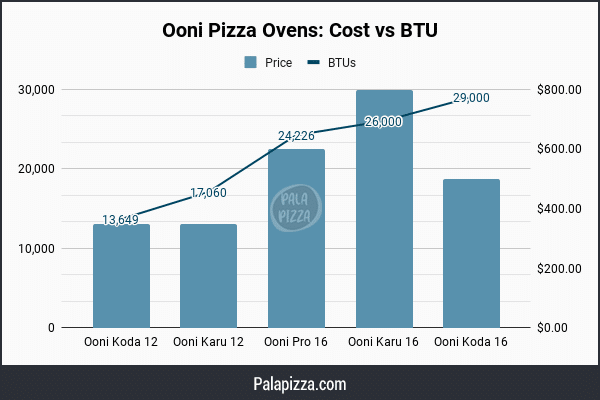 You can see that, for the most part, as BTUs increase, so does the price – with the Koda 16 as an outlier. The Koda 16 has the most BTUs while also having a cost closer to the 12″ models. That's a pretty sweet deal, especially considering the Koda 16 is one of our top rated ovens.
Now, the Karu 16 is arguably better in terms of heat because it includes a door to better retain the heat, resulting in 5 minutes quicker preheat time (not to mention the multi-fuel option). However, we're also comparing cost here and the Ooni Karu 16 is the most expensive unit by far.
What's the same among Ooni models
Cordierite stone baking board
All for outdoor use only
Pizza cooks in 60 seconds.
All fuel sources will heat the oven to the 932 F (500 C) recommended for classic Neapolitan-style pizza. The warm-up time is similar as well, but the larger size will take longer. Maximum heat can be reached in as little as ten minutes in the smaller ovens. Closer to 20-30 minutes in the larger ovens.
All ovens aren't limited to pizza. Anything that cooks quickly can be greatly enhanced by cooking it at the high temperatures inside an Ooni, including meat, fish, bread, and vegetables. A cast-iron pan is recommended when cooking anything but pizza.
All models are covered by Ooni's Great Pizza Guarantee, which allows you to return the oven for free within 60 days if you aren't able to cook a great pizza. Additionally, all products come with a standard 1-year warranty, which can be extended to three years for free if you register it with Ooni within 60 days of receipt.
Ooni vs Competitors
Ooni's primary competition is Gozney, Bertello, and a newcomer called Carbon. There are many more pizza ovens out there, but most of the reputable ones are high-end ($2k+), immovable behemoths. Let's take a quick look at each competitor.
Gozney
Gozney makes incredible ovens. There's a strong chance they take our #1 spot for best pizza oven soon. The Gozney Roccbox model is the closest resemblance to Ooni ovens, and is about the same on price as well. The reason Roccbox doesn't beat out an Ooni Koda is because of the burner type. You can see in the image below, Ooni Koda (left) uses an L-shaped burner that gives a better distribution of heat compared to the Gozney Roccbox (right) torch-style burner. Torch-style burners are quicker to burn your crust.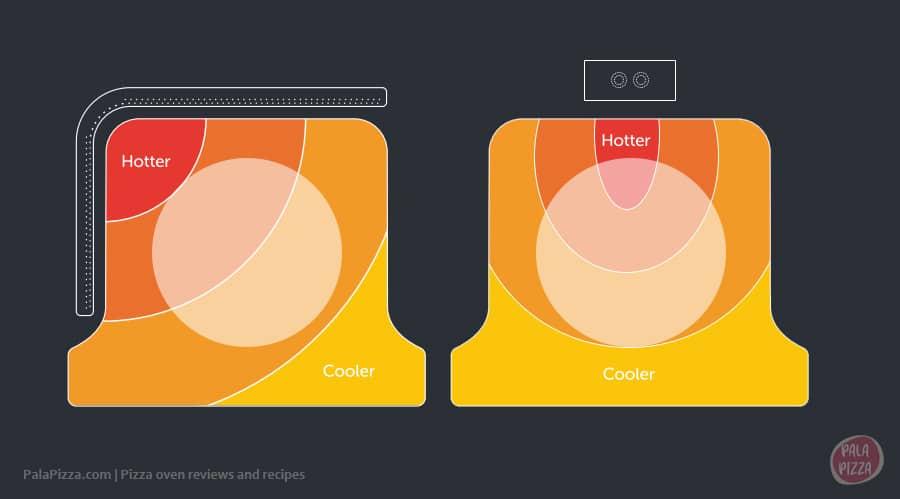 Now, the reason I say Gozney is incredibly close to beating Ooni is because of their new Dome pizza oven. The Gozney Dome is matching the quality of the absolute best high-end ovens while at a slightly more affordable price point AND having multi-fuel options (namely propane). The price is still ~$1500 for this unit, so for now, the Ooni still wins in terms of performance and cost.
Bertello
Bertello is widely known as the pizza oven that appeared on Shark Tank and struck a deal with Mr. Wonderful. The Bertello Pizza Oven is the cheapest oven that still lands among our top picks. This is an entry level product that is a bit rough around the edges in terms of design when compared to Ooni products. For the minimal cost savings and substantial quality difference, once again I would take Ooni every time over the Bertello.
Carbon
Carbon is a new company based in California that's making some really innovative pizza oven designs. Their Carbon gas oven has two heating functions – a torch style burner in the back and also a heating element under the stone which is an industry first. The goal of the under-brick heat is to keep the floor of the oven hot in between bakes (a common issue for most gas powered ovens). At the time of this write-up, we do not have enough hands-on testing of this product to compare it's performance with Ooni; however, the cost is $700.
Why We Prefer Ooni Over Other Pizza Ovens
Performance and design. Ooni perfected the design of their pizza ovens to make an incredible pizza in a short amount of time, and they have SIX different models to pick from, ensuring there is a perfect option for everyone. In addition, they are a very highly regarded company among customers for a few reasons.
The Ooni Great Pizza Guarantee
No doubt much of that success is because they stand behind their products. All Ooni products come with "The Ooni Great Pizza Guarantee," which allows you to return it for free within 60 days of purchase. A few terms and conditions apply.
The Ooni Community
Ooni goes out of its way to relate to its customers, fostering a growing online community that allows users to share photos, discover tips and recipes, and engage with fellow pizza lovers. There are also numerous Facebook groups with thousands of devout users sharing recipes and cooking tips.
Corporate responsibility
In addition to creating great ovens, Ooni aims to be a business with a positive social impact. As a member of 1% of the Planet, they have created an impact fund to which they donate one percent of every sale to social and environmental causes.