We're not doing this write-up to give you a half-thought-out recipe that caters to the "home cook". You know, those food blogs who use ketchup in Pad Thai because they don't expect readers to have tamarind or oyster sauce. The way I see it is, if you're putting in the effort to make an authentic recipe, don't skip any corners. This article is intended to teach you how to make Detroit-style pizza (DSP) in your own oven that rivals the likes of Buddy's and Loui's in Detroit. Most of the ingredients are pretty standard, however there are two important requirements for this style of pizza that most people are likely missing in their kitchen pantry. Before we get into the specifics, let's quickly recap what Detroit pizza even is and what makes it so damn good.
Detroit Pizza: The Basics
New Yorkers might shout obscenities, Chicagoans might insist they have the superior deep dish, and New Haven residents are still trying to make "apizza" a thing (just kidding). But the truth is, so many different styles of pizza are great, and Detroit-style is no exception. So… what exactly is Detroit pizza?
There are a few main characteristics of Detroit pizza that make it stand out from the rest. A thick but not too thick crust with a crispy bottom and airy and slightly chewy center, incredible depth of flavor from excellent cheese, characteristic "stripes" of thick sauce layered on top, and the crunchy edges… oh, god. The edges.
The Dough.
Making dough is usually the biggest hurdle for newbies looking to make good pizza at home. A lot of factors come in to play that can affect the end result, even if you follow the recipe exactly. This is because different yeasts can have stronger fermentation, temperatures in your house can over or under-ferment, and even the flour you use could affect water absorption. And then there's the learning curve of stretching and launching the pizza with a peel.
With Detroit pizza, things are a lot more forgiving. There is no stretching into a perfect circle and trying to launch it without it sticking to a peel. Once the dough is 90% ready, we dump it into our greased pan, stretch it to fill the bottom, and let it rise some more. If you goof up and over-ferment it a bit, it's not a huge deal – just poke it back down to remove air bubbles and bake away.
The cheese. The pan. The crust.
All three of these relate to one another – and rely on one another – to make a good Detroit pizza. Brick cheese is the staple ingredient to authentic Detroit pizza. Brick cheese is a mild, cultured cheese that melts beautifully and adds a huge depth of flavor that mozzarella alone could never do. The uniquely designed steel Detroit-style pan is 10″ x 14″ with tall and steep walls. As cheese is layered completely across the pizza, leaving no visible crust, the cheese touching the walls of the hot steel pan melt and form an otherworldly crunchy crust that pizza dough alone could never do.
Brick cheese and a real Detroit-style pan are the two important aspects of this pizza that many people will not have. If you're outside of the Midwest, like me, finding Brick cheese can be difficult. I had to shop online. You can buy authentic Brick cheese from Amazon, and other online cheese shops, but it's best to buy a few blocks at a time to save on shipping costs. Personally, I make a LOT of Detroit pizzas these days, so I gave up on buying authentic Brick cheese and stick with a mixture of mozzarella and cheddar which can result in an awesome "frico crust" (tall golden cheese edges), but we'll talk more on that later.
As for the pan, I'm a HUGE fan of LloydPans. Their hard anodized 14 gauge aluminum pans have a "pre-seasoned" Tuff-Kote finish which does a great job at preventing stuck-on-crust – a very common problem first timers encounter when baking this pizza. It also eliminates the need to pre-season a regular steel pan, which can take multiple ruined pizzas before it becomes non-stick!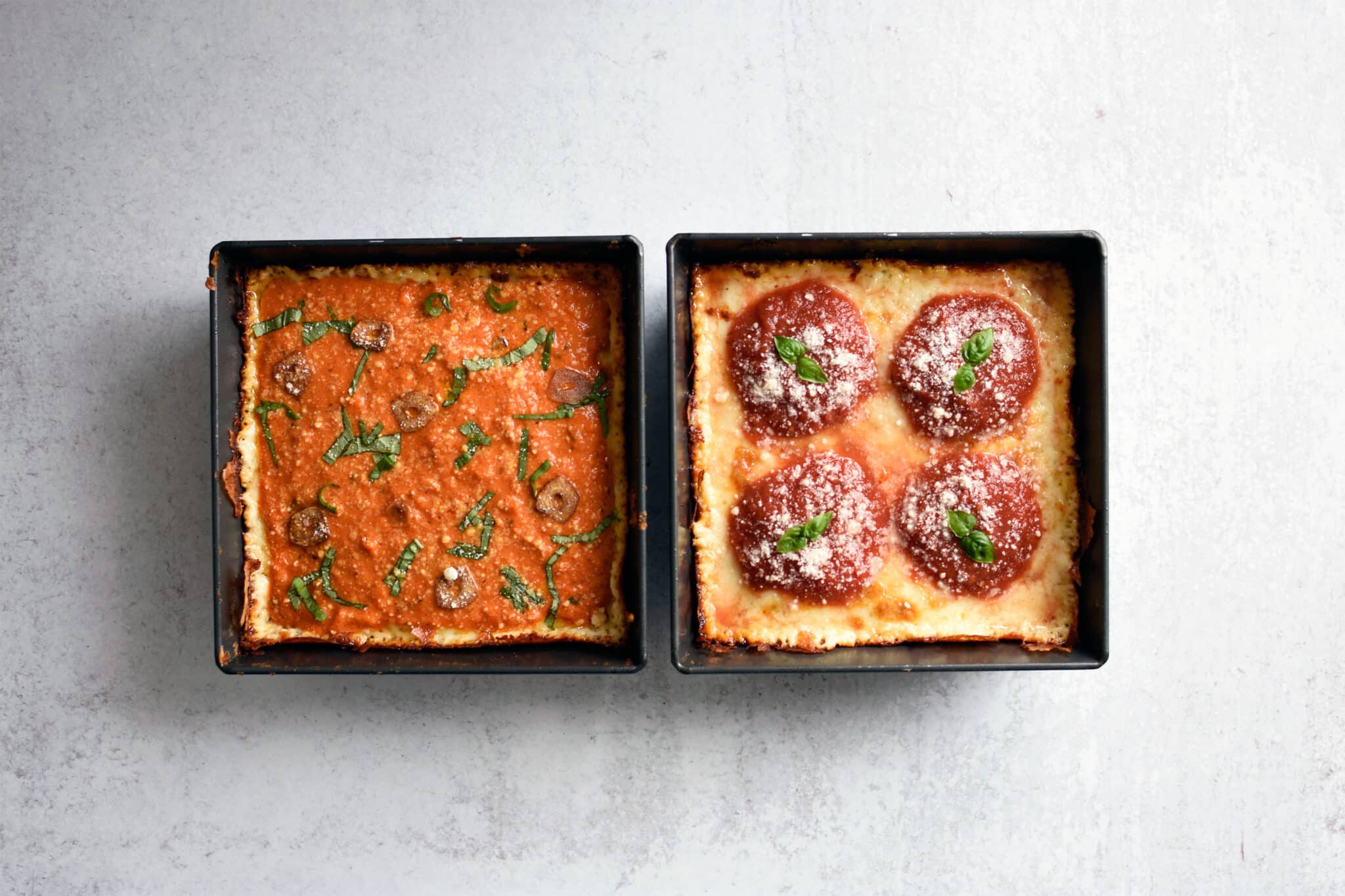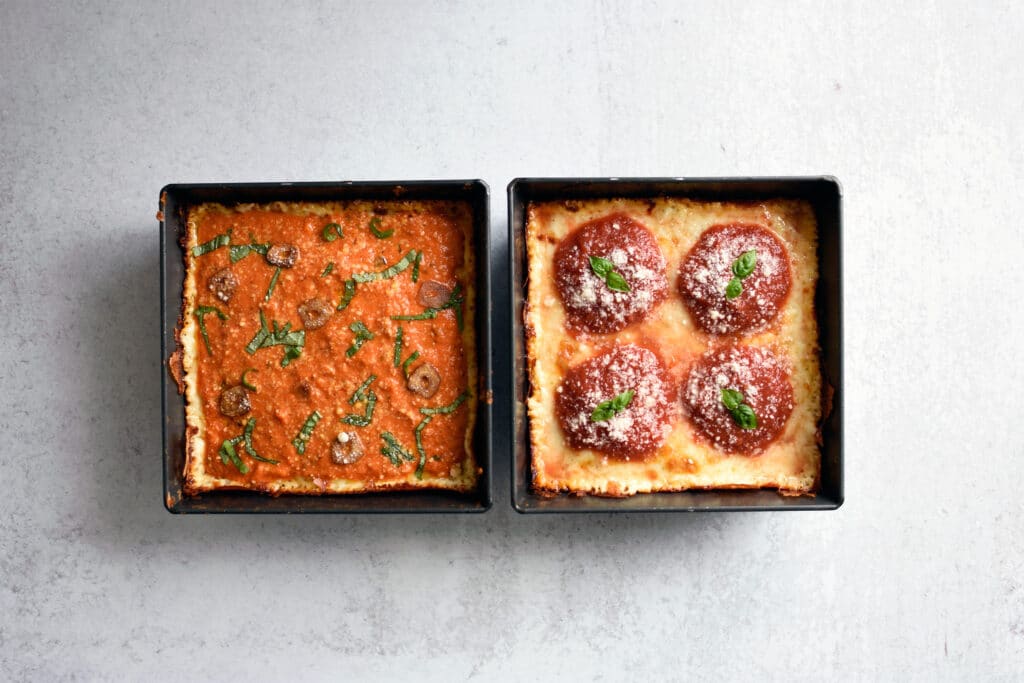 The Sauce.
Unlike a typical pizza where the assembly goes crust -> sauce -> cheese -> toppings, a Detroit-style pie throws the rules out the window with an order of crust -> cheese -> sauce. And instead of coating the entire pizza in sauce, it's ladled in two large stripes lengthwise across the pizza.
Now let's get into specifics. Neapolitan and New York style pizzas use a much thinner sauce – sometimes simply just pureed tomato with salt. Detroit sauces are thick and packed with garlic and herbs. Whenever I make pizza sauce, I always start with the best quality tomatoes I can find. San Marzano's are largely considered king in the pizza world, particularly with wood-fired pizza. My Ultimate Homemade Pizza Sauce recipe is absolutely perfect for Detroit pizza. After a quick 30 minute simmer this sauce is nice and thick to stripe onto your Detroit pan pizza.
There's some debate as to when the sauce is applied. Some places ladle the sauce on top of the cubed cheese before baking, while other people wait for the pizza to cook and then ladle hot sauce on top of it. Both are perfectly acceptable solutions. Generally, most Detroit places put the sauce on before baking, but doing the latter tends to make a more appealing pizza.
Detroit-Style Pizza: Step by Step
Step 1: Dough
We always start with the dough. My recipe uses a 24 hour cold ferment, so you'll want to start the dough the day before making pizza. Here are the ingredients:
350 g Bread Flour
255 g Water (warmed to 90°F)
10 g Kosher Salt
3.5 g Instant Dried Yeast
Simple, right? In the bowl of a stand mixer, whisk together flour and salt. Put the 255g water in a glass measuring cup or microwaveable safe bowl, and nuke it for 30 seconds. The temperature will be between 85F – 95F, perfect for jump starting yeast. Add the yeast to the water, mix, and let sit for 5 minutes. Then, with a dough hook on your stand mixer, slowly add the water and mix on low for about 10 minutes.
This is a 75% hydration dough, so it will stick to the bottom of the bowl as it mixes. You may need to scrape up the bottom of the dough from time to time to ensure it mixes well. After 10 minutes of mixing, let it rest on the counter (covered) for 1-2 hours (you should see it rise but not quite double in size) before placing in the refrigerator overnight.
Step 2: Pan Prep & Stretch
You will want to remove the dough from the fridge 3 hours before baking. Let it sit on the counter for the first 2 hours to warm up so it's more workable. While we wait, prep your pan. I like to rub a stick of butter all over the pan. Some people use olive oil, but I found that the bottom of the crust had a harder time getting crisp. You can also use Crisco.
Once 2 hours is up, begin to preheat your oven to 550F. Scrape the dough out of the bowl and into the pan, stretching the dough to fit the shape. It will resist during this stage, so don't be alarmed when you can't seem to get the dough to fit all the way to the edges. Give it your best attempt, then cover it and let rest for 30 minutes. After 30 minutes is up, stretch it again; this time you should be at or close to the edges. Let rest another 30 minutes and do a final stretch if needed.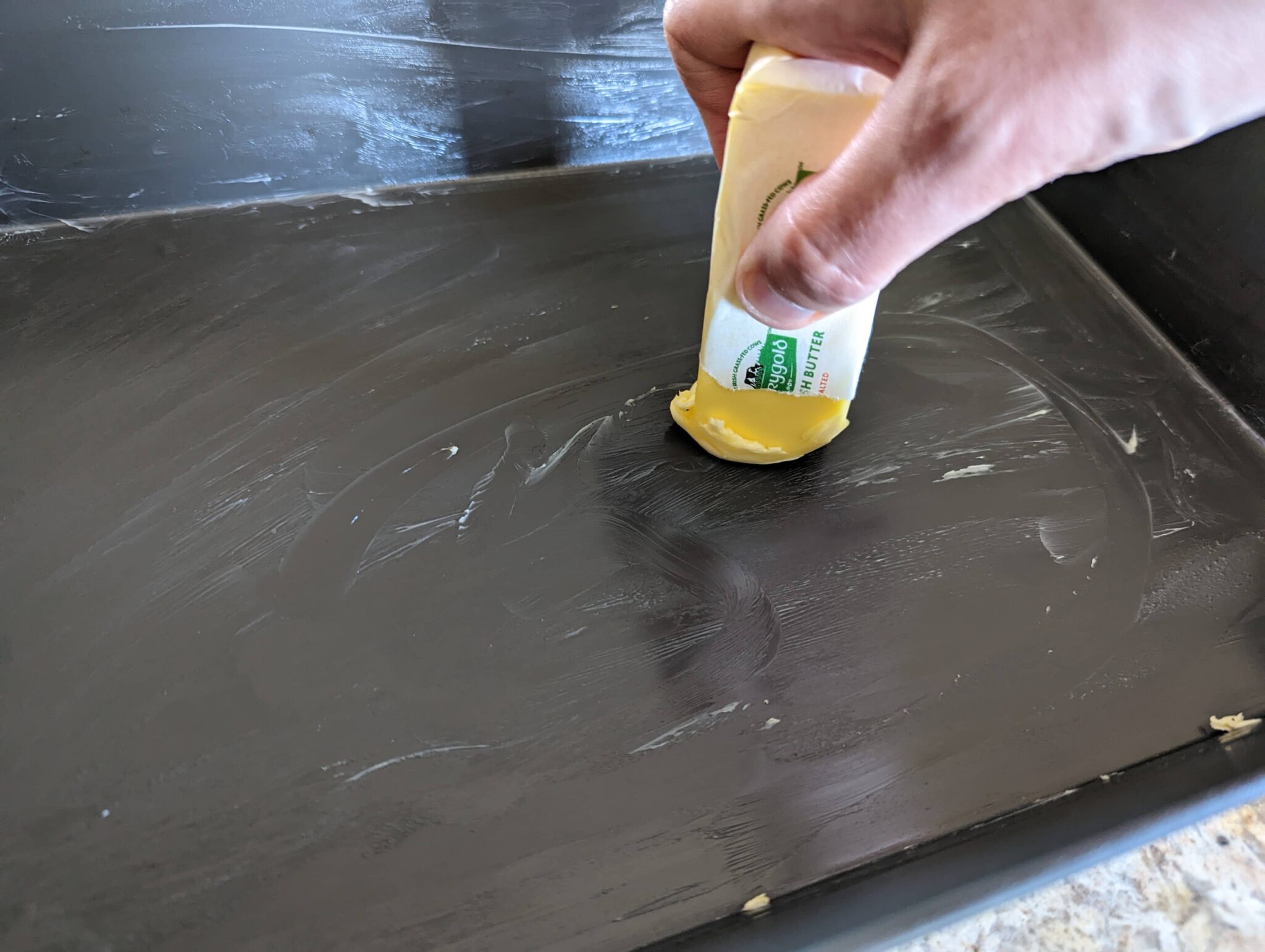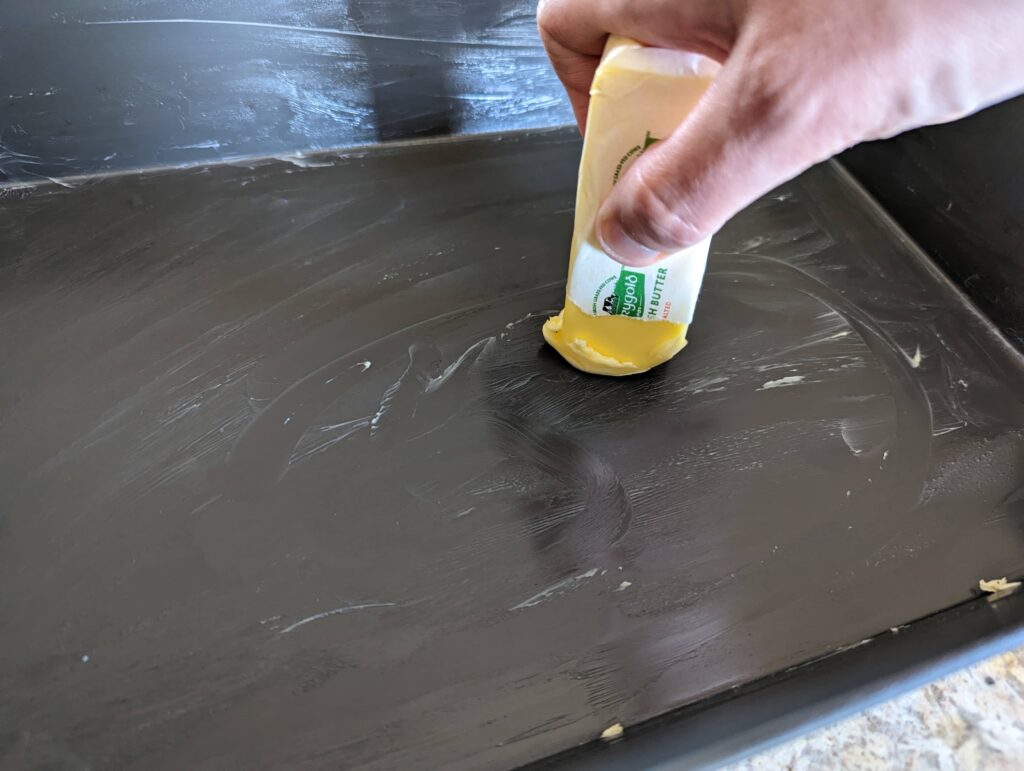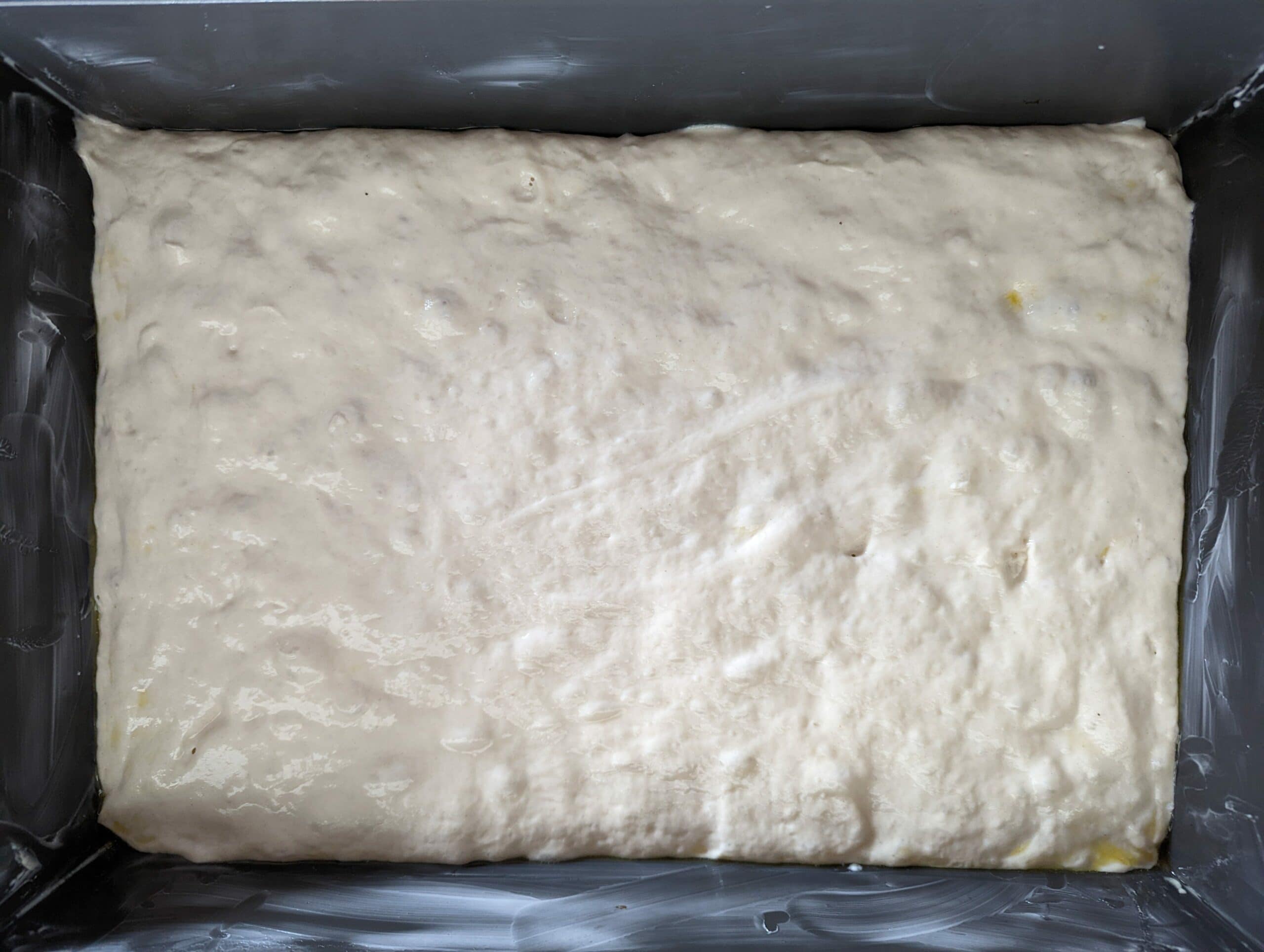 Step 3: Sauce
This sauce is very straight forward yet also suitable for a variety of pizzas. Start by mincing the garlic. Then we'll add the olive oil to a medium sauce pot over medium-high heat and cook the garlic for 1 minute. Add the spices and continue cooking for another minute. Add the tomatoes, sugar, and salt. Mix well, and continue to simmer uncovered for 30 minutes.
28 oz Crushed or Peeled Tomatoes. Using crushed tomatoes will reduce the step of blending the sauce; however, I typically find higher quality tomatoes labeled as "peeled whole". The higher the quality, the better. I always buy San Marzano's even if I'm not making a Neapolitan.
4 Garlic Cloves Medium sized
2 tbsp Olive Oil
2 tsp Dried Oregano
1 tsp Onion Powder
1/2 tsp Red Pepper Flakes. Or bump this up for some extra spice.
1 tbsp Sugar
Kosher Salt To taste
Transfer the sauce to a blender or food processor, or use an immersion blender right in the sauce pan, and blend until smooth (or desired consistency). I personally dig a chunky sauce.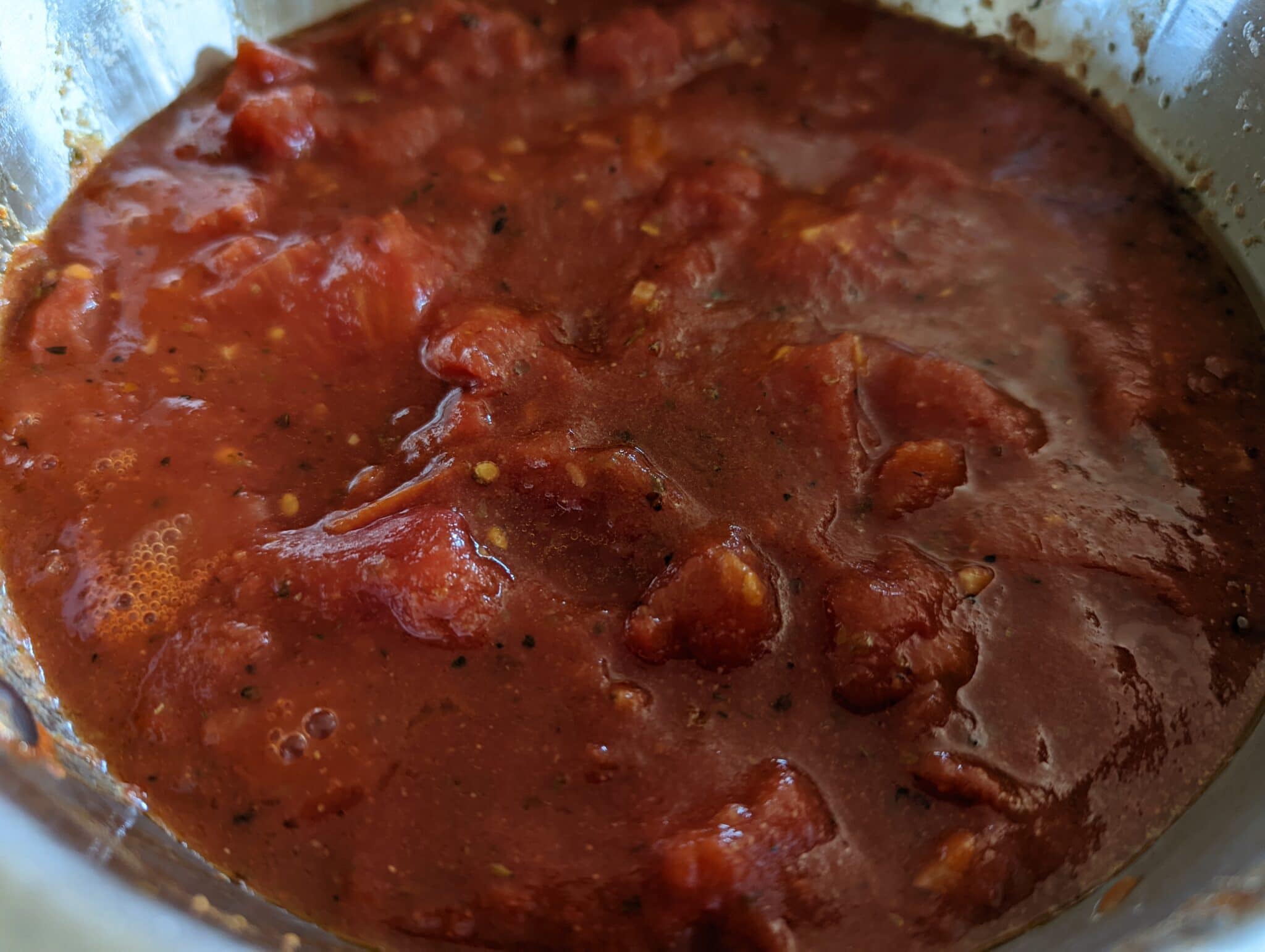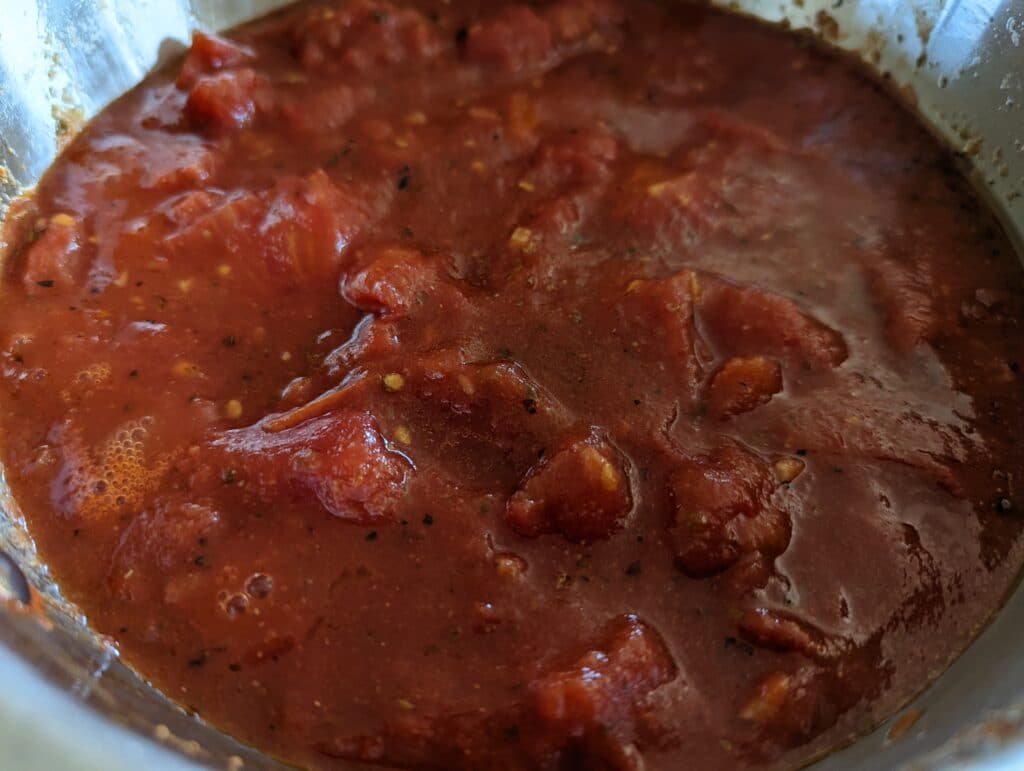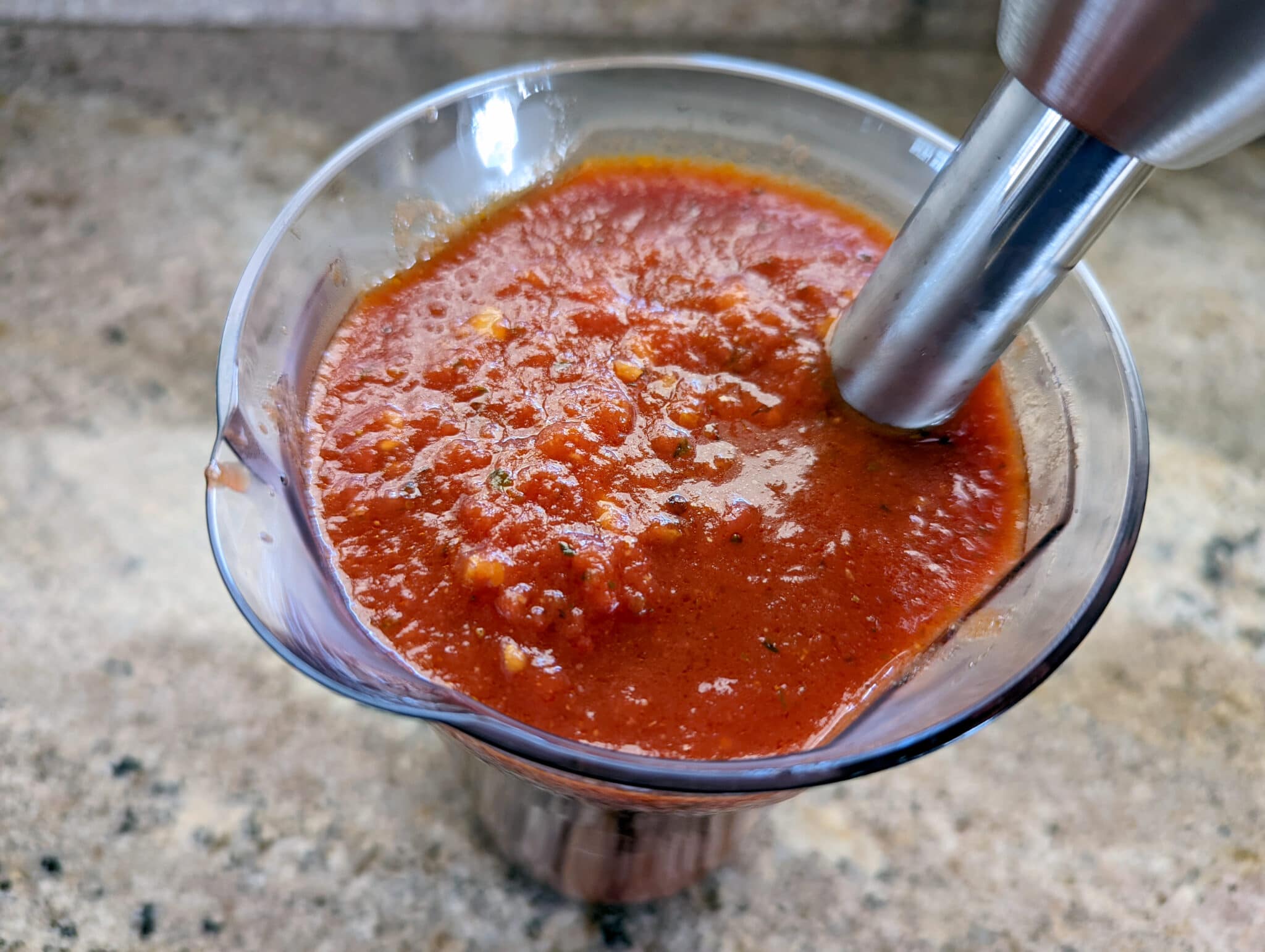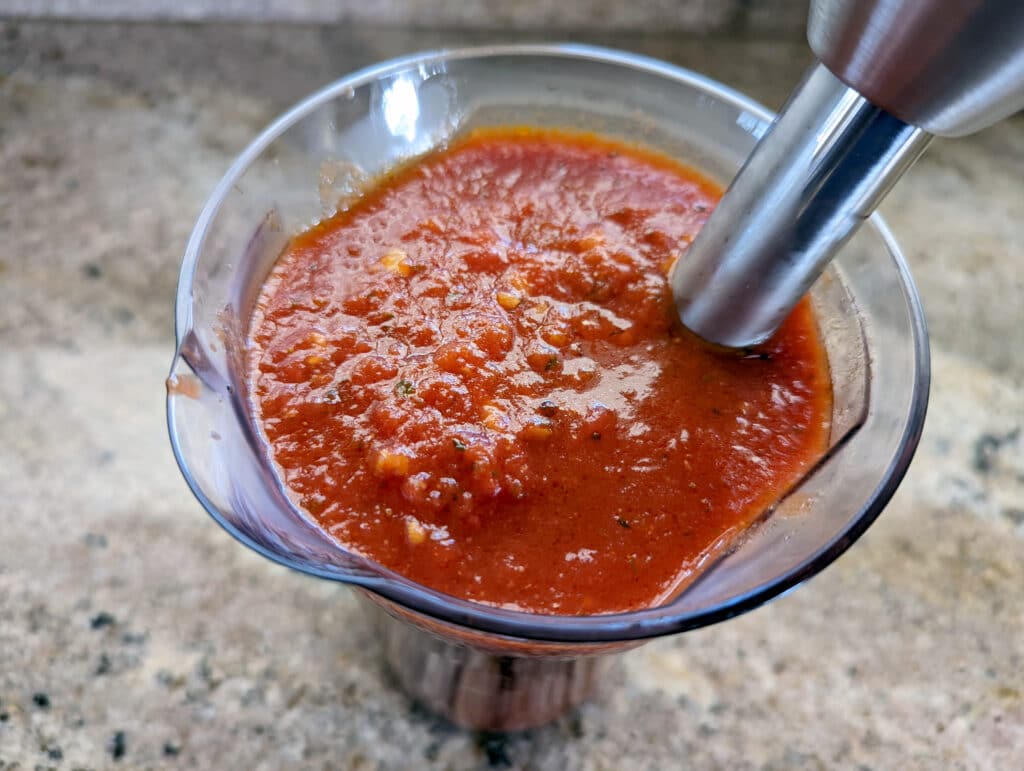 Step 3: Par-Bake
You'd think cooking pizza in a pan would be very straight forward. Toss it in the oven for X minutes, and you're golden, right? But there's a lot we're trying to achieve during the bake besides a fully cooked dough: a crisp bottom, slight char on the cheese and toppings, and – most importantly – a crunchy and NOT BURNT crust! I can't believe how many pictures of DSPs I've seen with completely charred crusts and people saying "wow so crunchy!" No kidding it's crunchy, I bet it tastes like ash too. If you ask me, even Kenji's popular recipe failed on the final step (by the way, he's still my idol). What we want is a crunchy crust without being exceptionally charred. The following are examples of Detroit pizzas I made using this recipe with parbaking.
Cheddar cheese edges
Think of a big Cheez-it. Crunchier than mozzarella but also a much sharper flavor.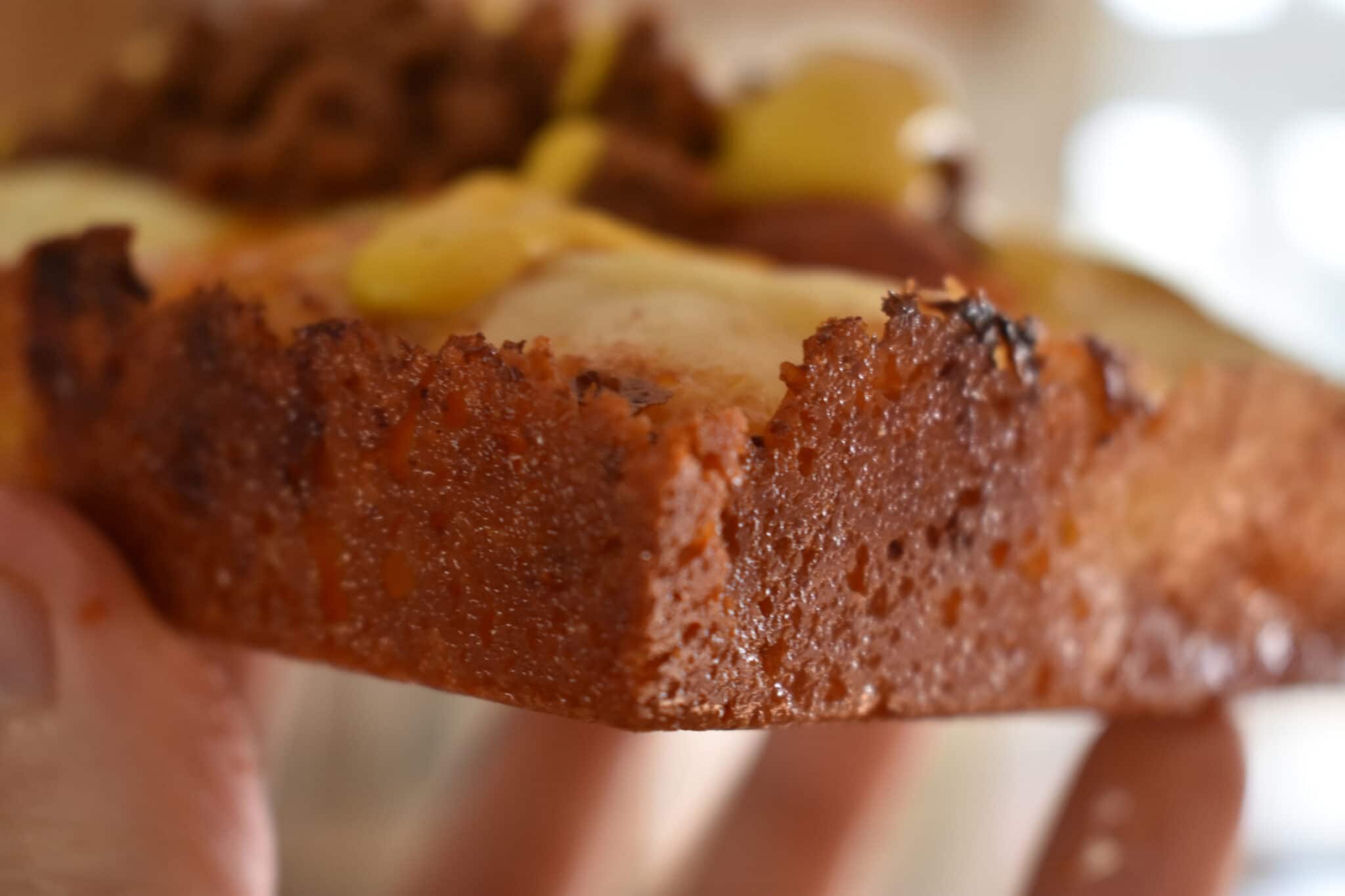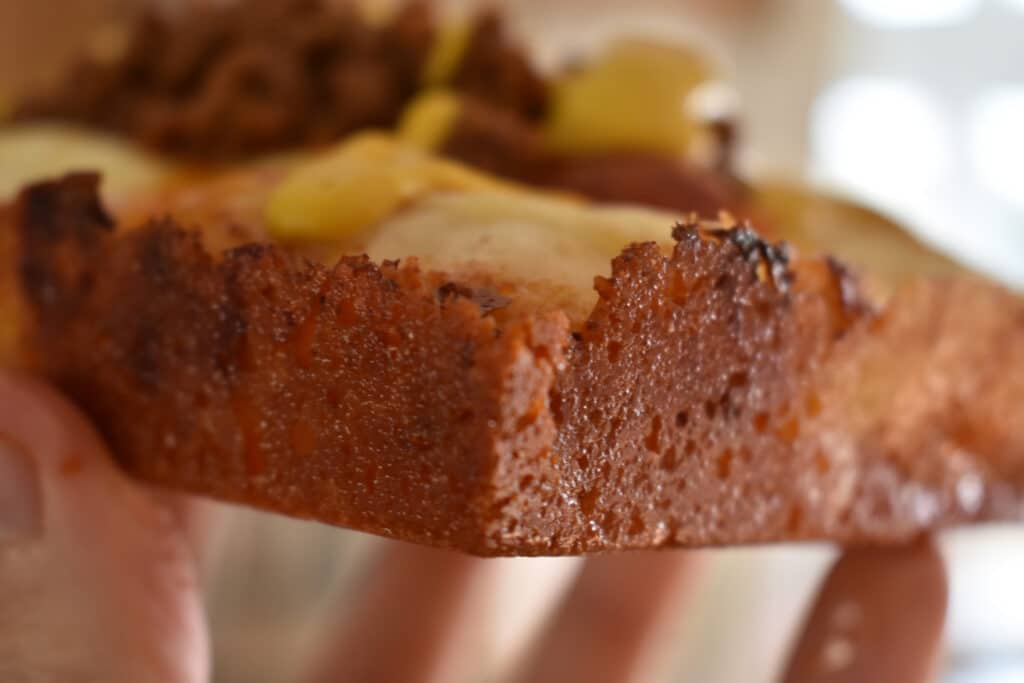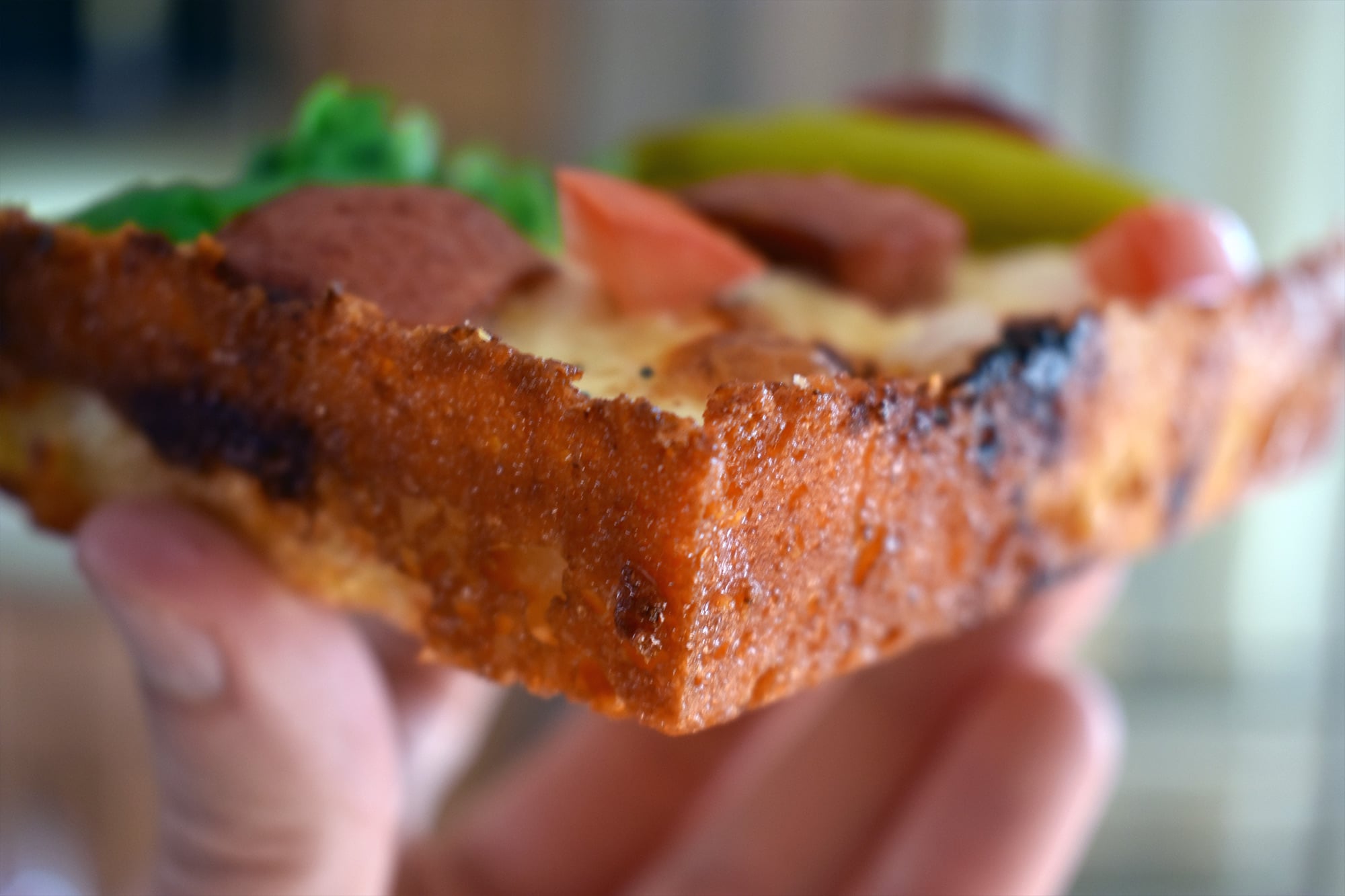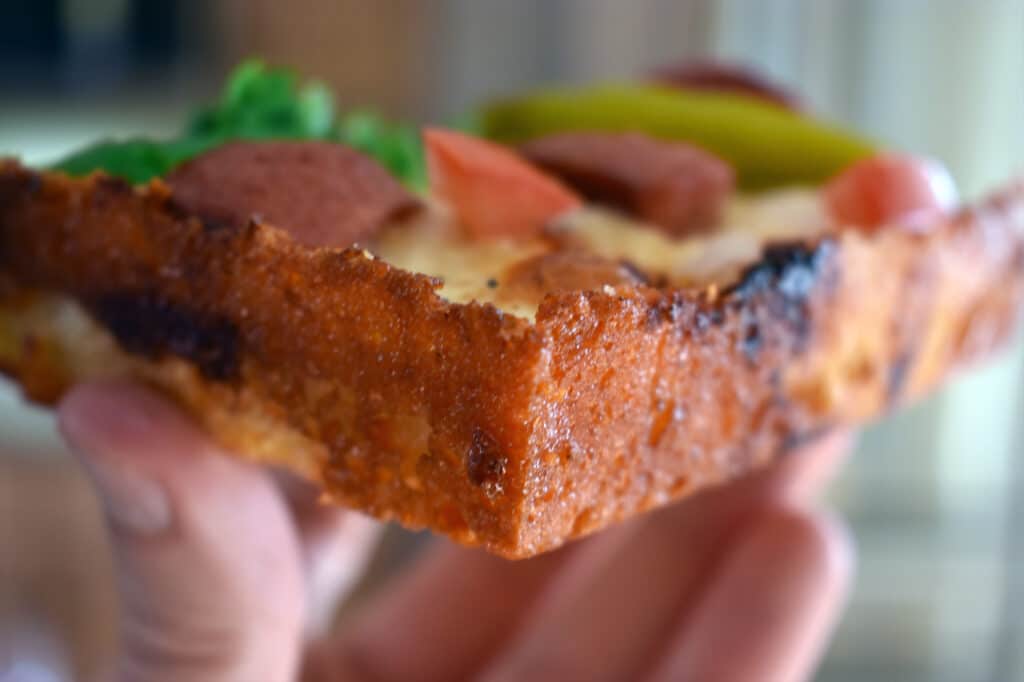 Mozzarella cheese edges
Great for building a tall "frico" crust. Less crunchy, but still firm.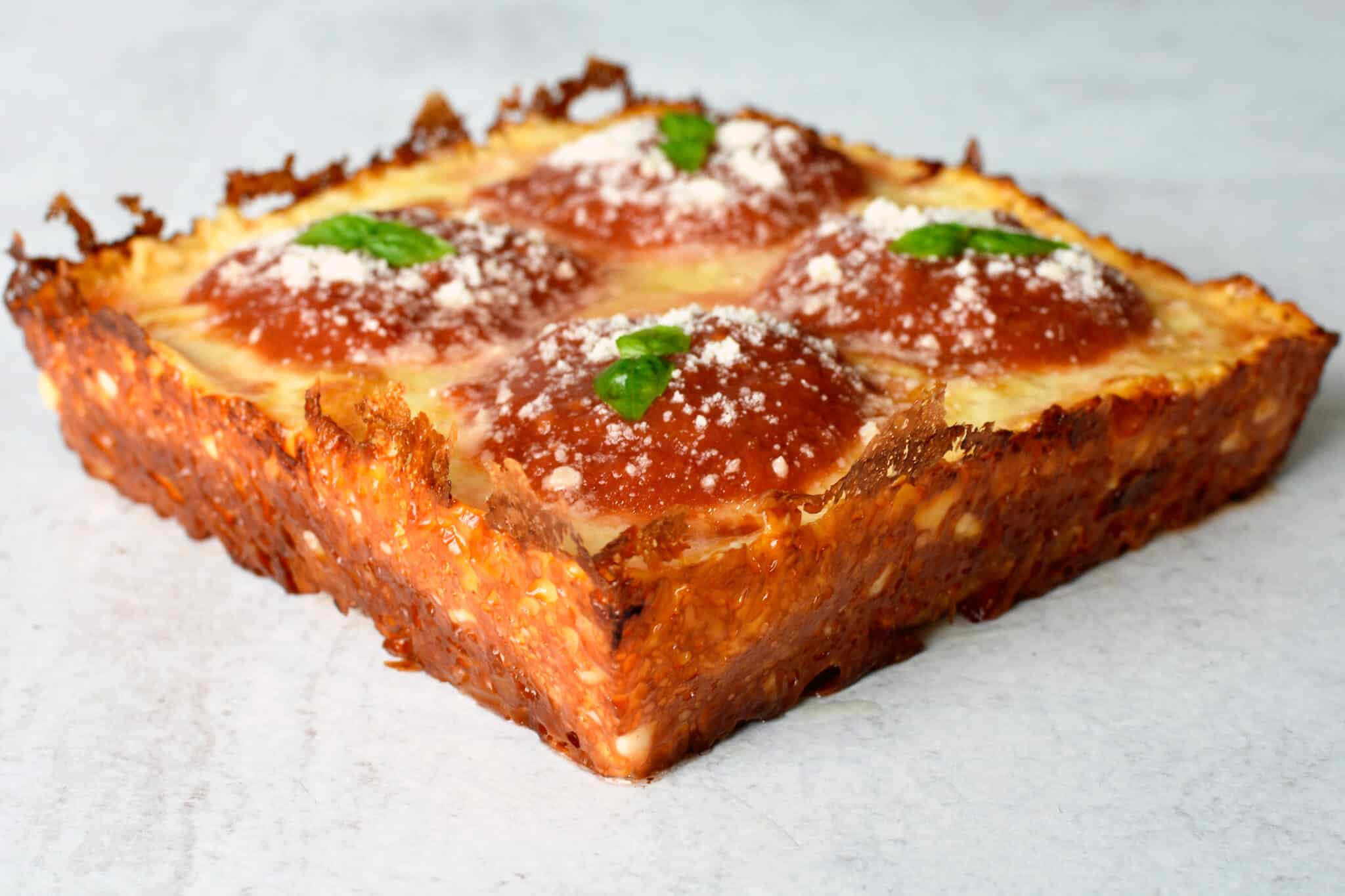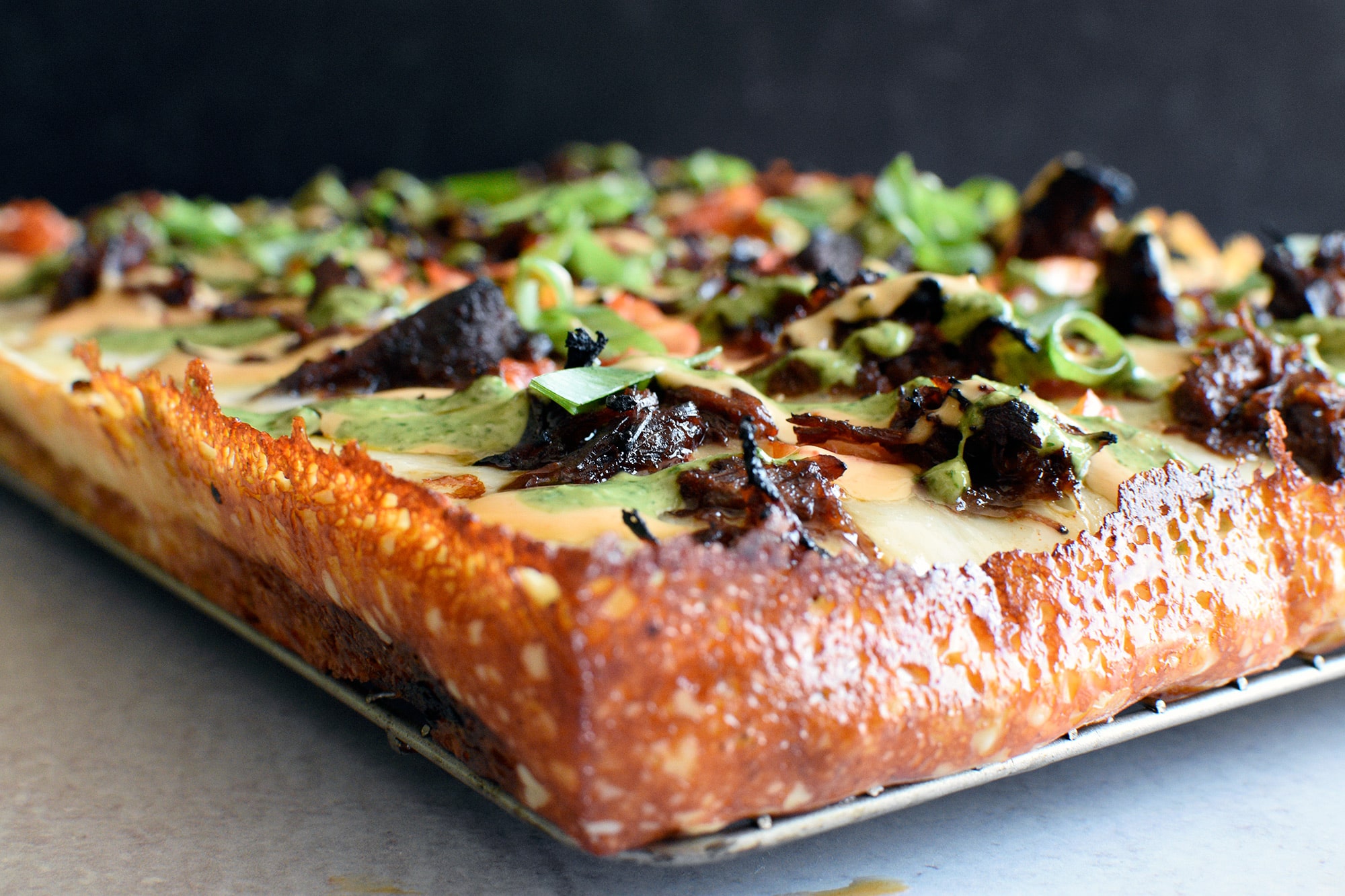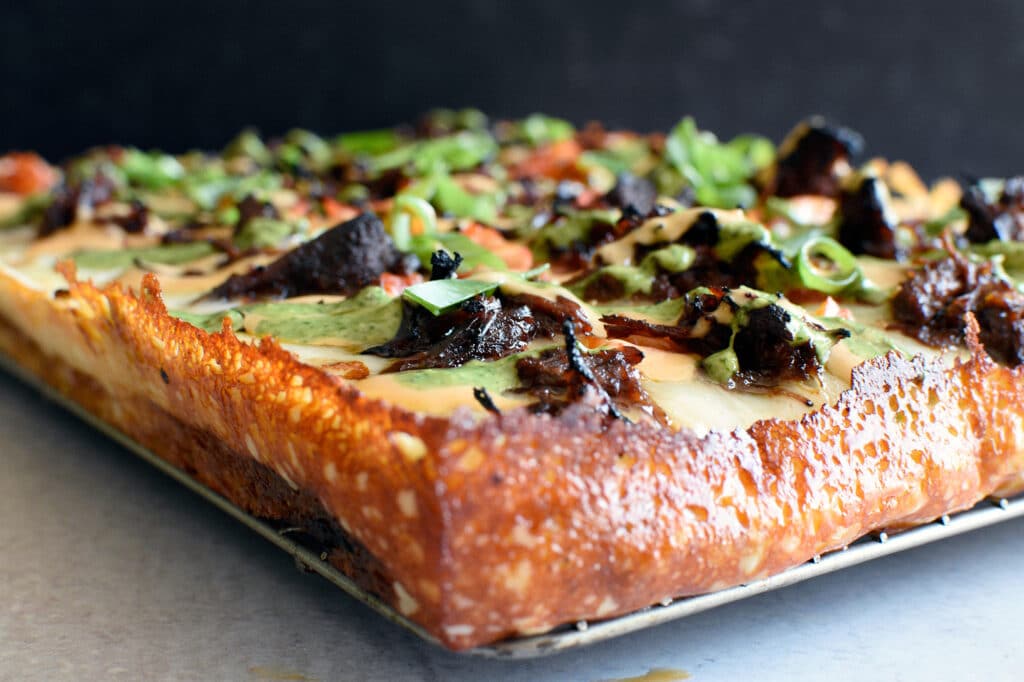 We can achieve this by par-baking the crust for 5 minutes before topping assembly. This does two things for us. It gives the dough more time in the hot pan to achieve a crispy bottom, since we need to remove it from the oven and then add toppings. The pan will remain hot and keep cooking as we continue with the toppings. Similarly, if we added the cheese at the beginning, the edges would be nearing completion around the 5-7 minute mark even though the dough needs longer.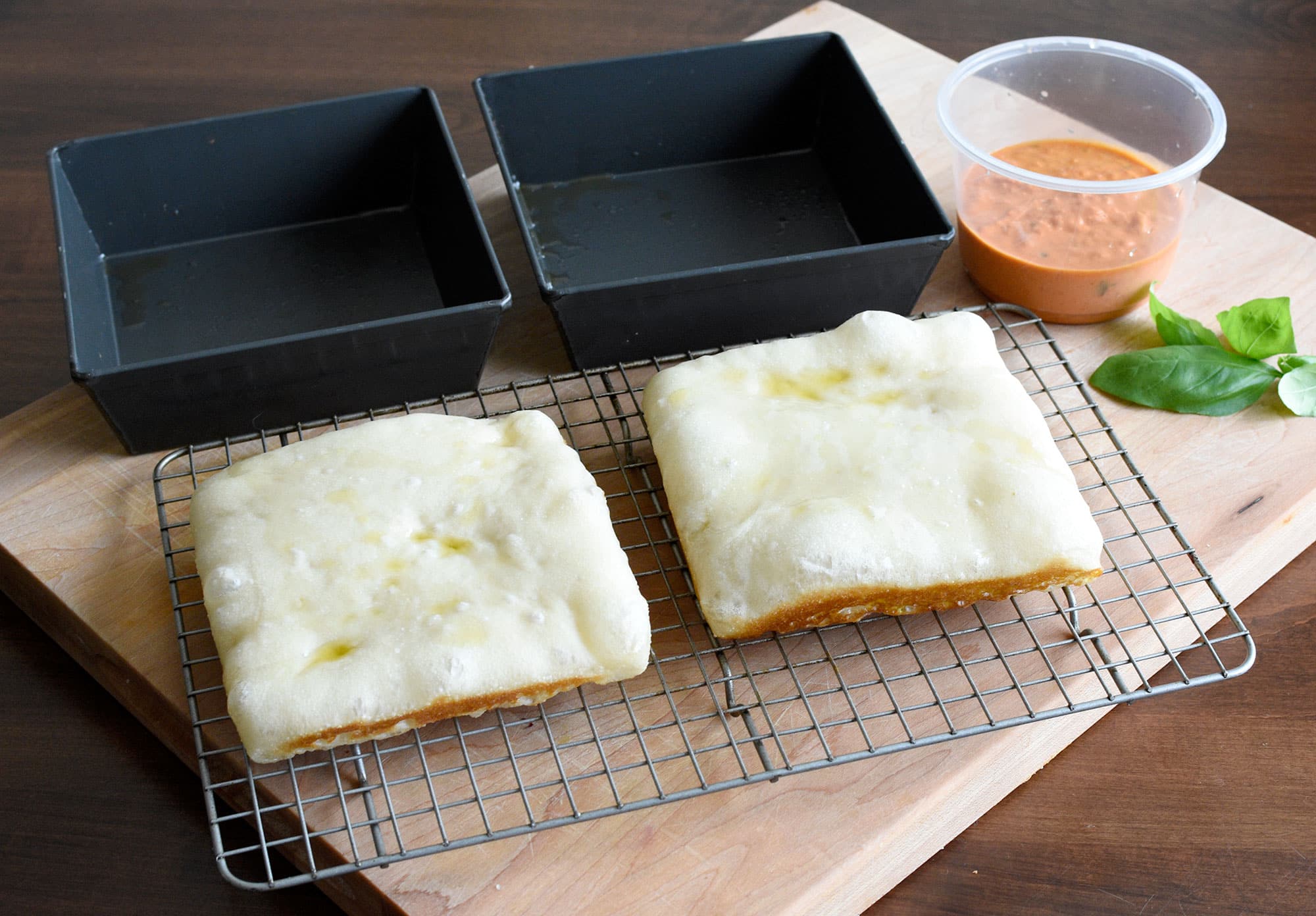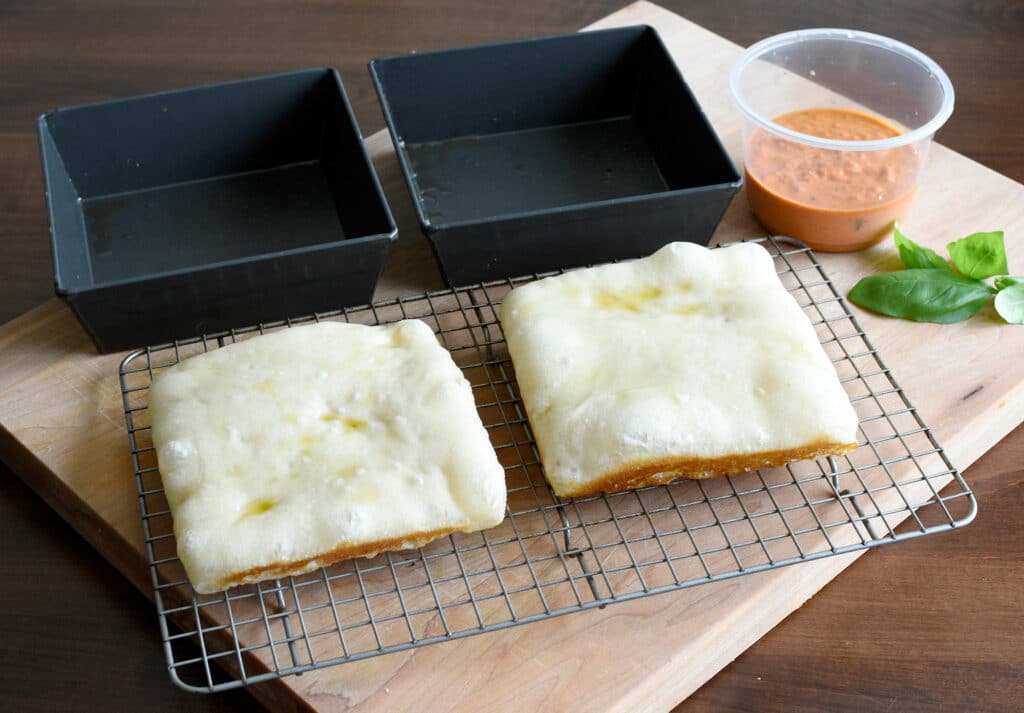 If you are using Brick cheese, feel free to use that across the whole pizza. However, if you live in an area where it's not accessible, a great idea is to use a mix of mozzarella and cheddar/Monterey jack. The mozzarella holds well on the wall of the pan for a good frico crust while the cheddar/jack add a better depth of flavor and crunch.
Step 4: Cheese & Final Bake
Cube your brick cheese (or your alternative: cheddar, jack, havarti) and carefully spread it around the par-baked dough, ensuring a lot of it touches the edge of the pan. Remember, this is a thicker pizza than your traditional round pies, so don't be afraid of piling a good amount on there! You can also use shredded cheeses; in fact, layering the shredded cheese up the walls of the pan before baking can result in that beautiful tall frico crust better than cubing.
By adding the cheese and toppings after the 5 minute par-bake, we can put it back in the oven for ~7 minutes for it to finish. If you want more browning on your toppings, toss the broiler on for the final 2 minutes. The result is perfectly golden brown, crispy, cheesy edges… the way they should be done.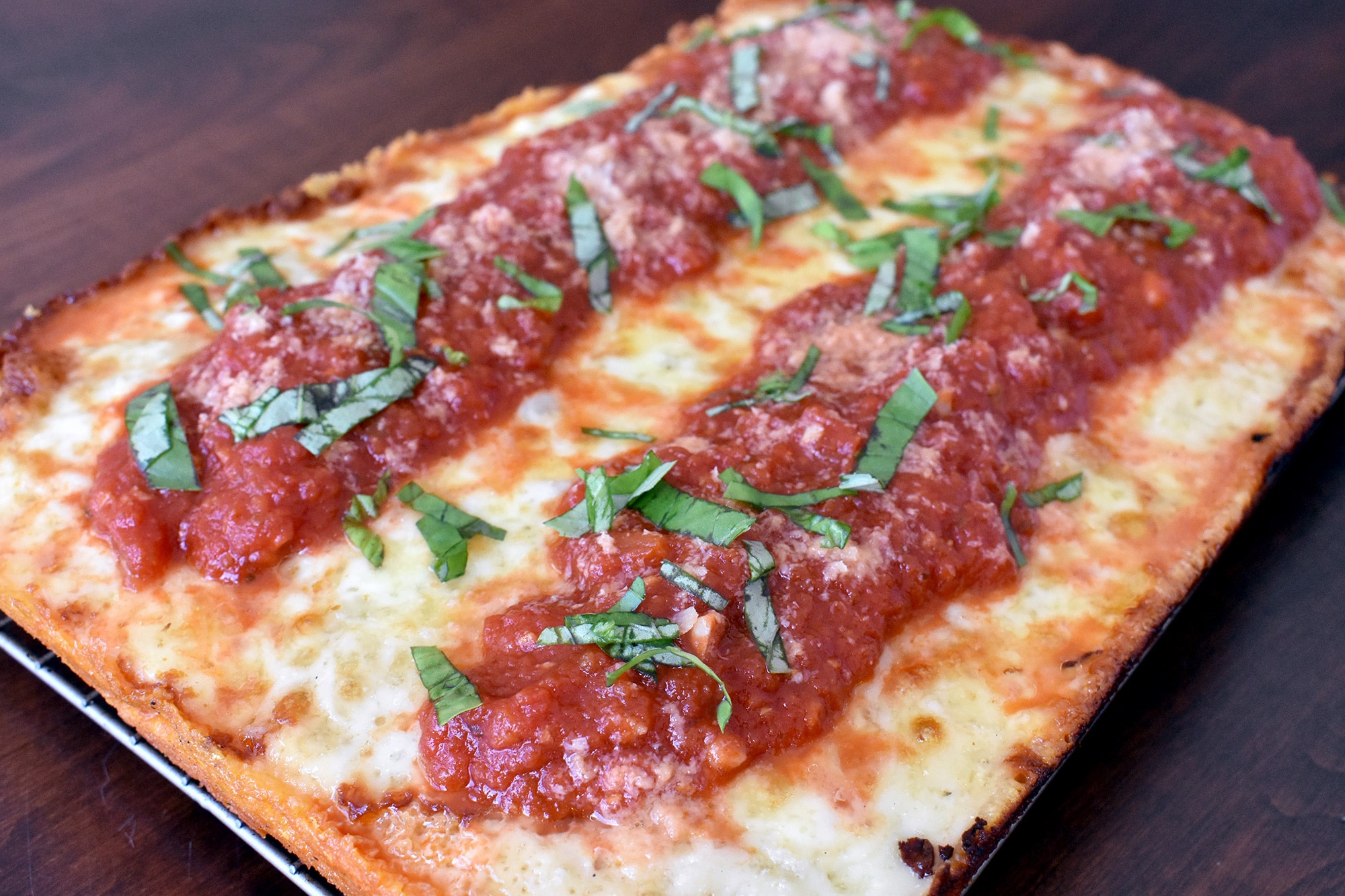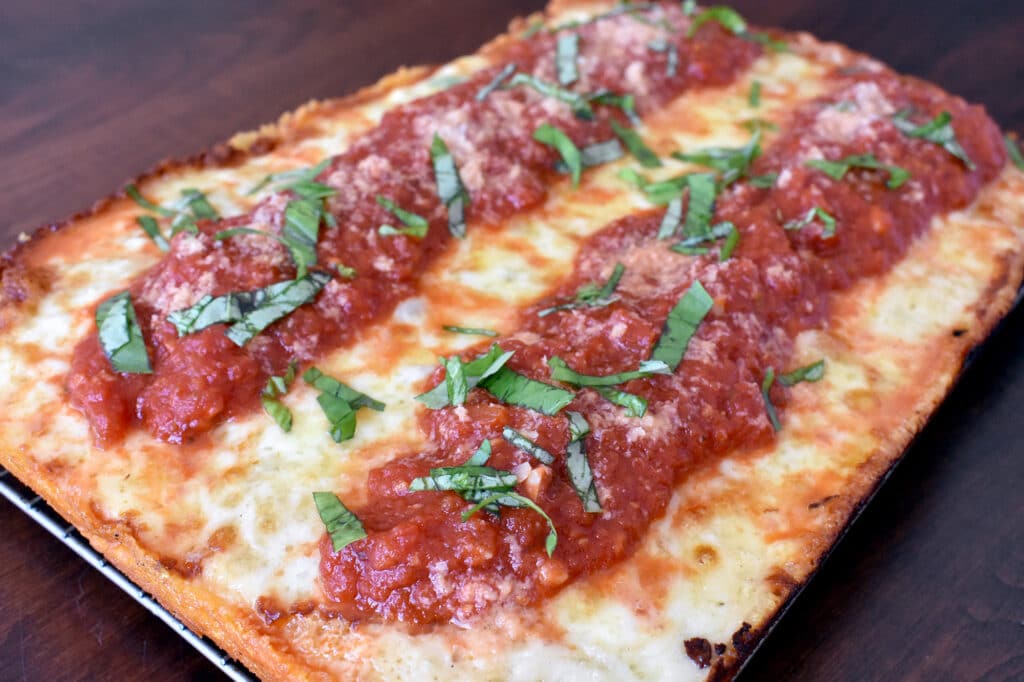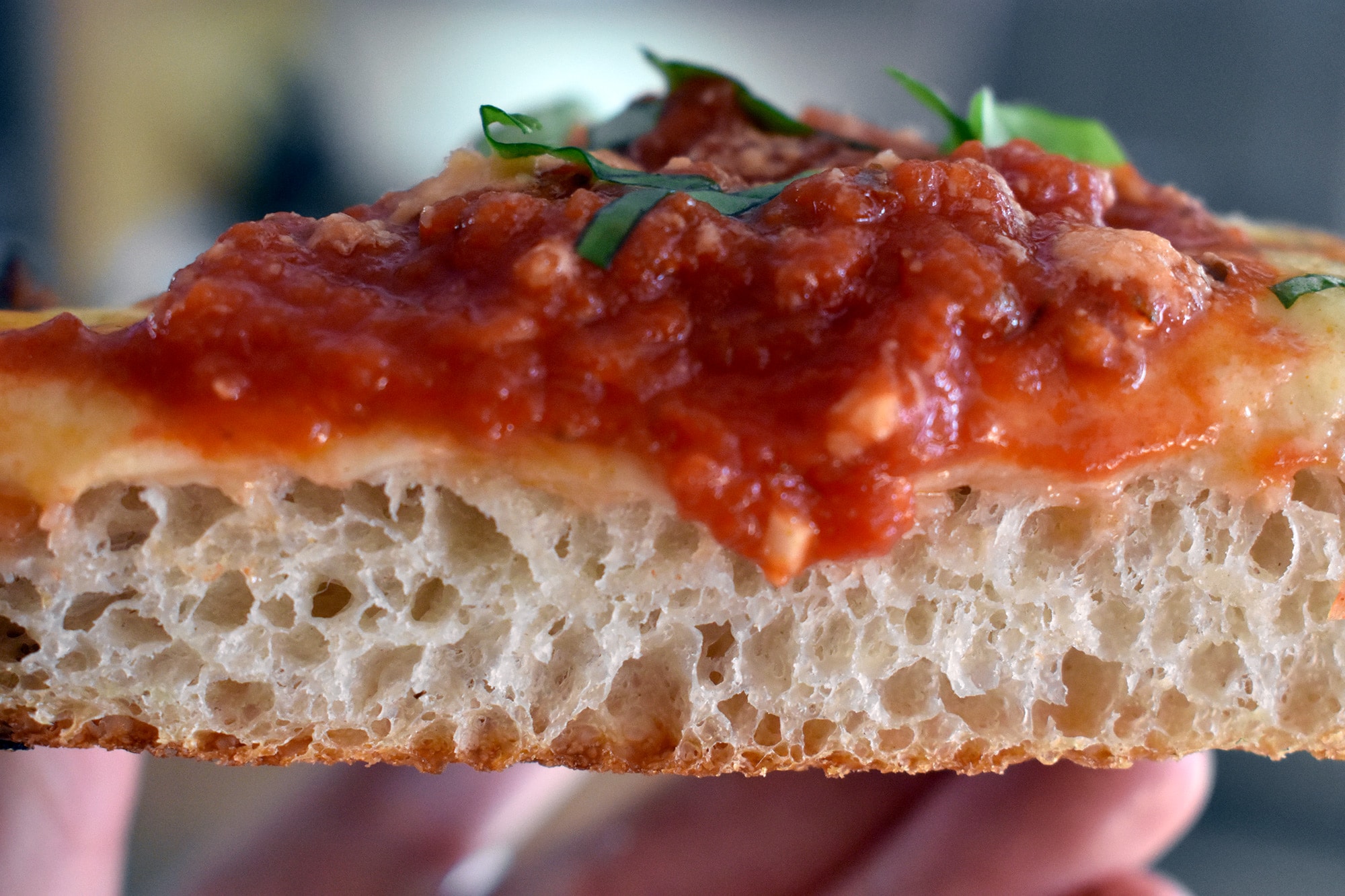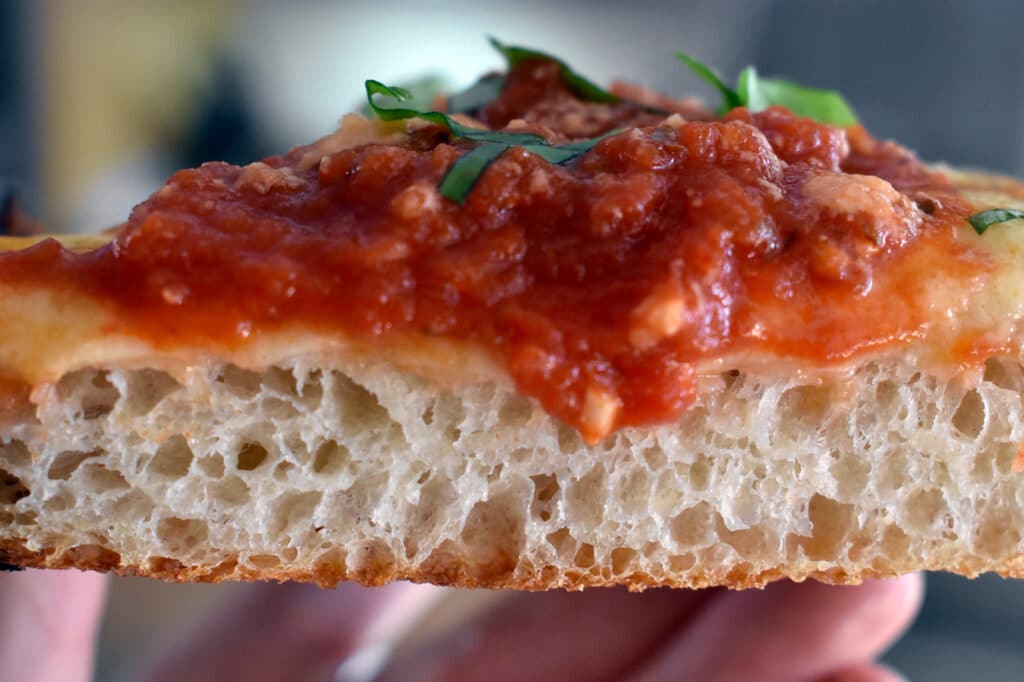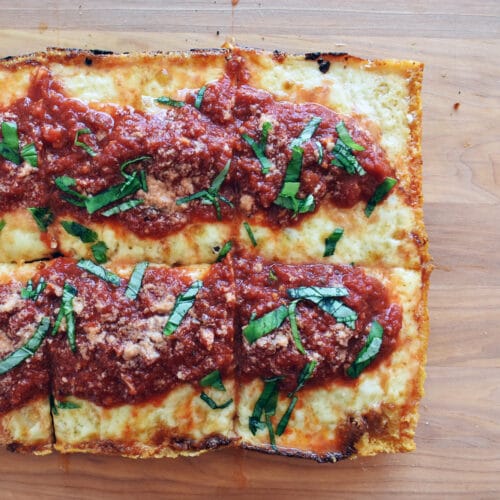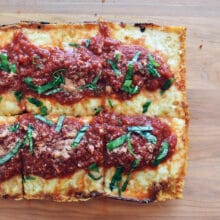 Detroit Style Pizza
This recipe is intended to teach you how to make Detroit-style pizza in your own oven that rivals the likes of Buddy's and Loui's in Detroit. No corners were skipped in this recipe, so you can expect an absolutely incredible and authentic pizza. And better yet, the dough is very workable even for beginners.
Print
Pin
Rate
Follow my pizza journey
I bought 15 pizza ovens to hands-on test.
It's a hobby, not an obsession! Here are the best pizza ovens.
Equipment
1 10"x14" Detroit Style Pan

We used a Lloyd's Pan, often considered one of the best out there for commercial or home use. Other types of pans can be used, but will lack the proper crust-forming characteristics of Detroit style pizza.

1

Outdoor pizza oven

(Optional). I like to cook this in my Ooni Koda 16", frequently rotating the pan every couple minutes. However home ovens work just as well for this style of pizza.
Ingredients
Dough
350

g

Bread Flour

255

g

Water (warmed to 90°F)

10

g

Kosher Salt

3.5

g

Instant Dried Yeast
Toppings
Wisconsin Brick Cheese

Cubed. Substitute with white cheddar, jack, or havarti. I also like to add a touch of mozzarella, although it's not authentic.

Fresh Basil

Chopped

Pepperoni

(optional)
Seriously. I have a lot of pizza ovens.
Let me show you the best after hundreds of hours testing. Read my in-depth pizza oven reviews!
Instructions
Make the dough.
Combine the flour and salt in the bowl of a stand mixer fitted with a dough hook attachment. Stir to combine.

Heat water in microwavable safe bowl for 30 seconds. Temperature should be between 85F and 95F. Add yeast to water and let sit for 5 minutes. We're not looking for a full activation, just a bit of a jumpstart.

Slowly add water/yeast mixture to the stand mixer, mixing on low until it forms a smooth consistency, about 10 minutes. Note: dough will be very wet and sticky, and the bottom will stick to the bowl. You may need to scrape the bottom up with a spatula.

Turn mixer off. With the dough still in mixer bowl, and with wet hands, fold into a ball. Cover with plastic wrap, and set on counter for 1 – 2 hours to kick-start fermentation. You should notice some rise in the dough but not doubling in volume.

Place in refrigerator, covered, for 1 to 2 days.
Stretch dough in pan.
Let dough come to room temperature on the counter for 3 hours.

Preheat the oven to 550°F. If using an Ooni or other outdoor pizza oven, preheat until 700-800 degrees, about 20 minutes.

Grease your pan with a stick of butter or Crisco. Scrape the dough out of the bowl and into the pan. Because of the high hydration in this recipe, you may need to wet your hands prior to handling. Flatten and stretch the dough to fit the pan as close as possible (a tiny bit of shrinking may happen, that's fine). Let sit for ½ hour, then stretch again ensuring dough touches edges of pan.

Place pan on the bottom of your oven to par-bake the dough for 5 minutes.
Toppings, in order; then bake.
Carefully remove the hot pan from oven. Add shredded mozzarella then cubed brick cheese, ensuring cheese touches the edge of the pan. Add large stripes of sauce and any additional toppings (if desired).

For home ovens: place pizza in oven for another 7 minutes on the bottom rack. (toss the broiler on for the final minute or two if the cheese and pepperoni is not browning fast enough). For outdoor pizza ovens: bake for 5-6 minutes, rotating pan halfway through, and covering with tinfoil if browning too quickly.

Remove from oven and use a thin metal spatula along the edges to separate the pizza from the pan. Slide onto a wire rack to rest for 3 minutes. Slice, and enjoy.