When you think of New York-style pizza, you think of huge slices, folded over, with an insanely stretchy cheese pull. One bite into that thin, well-hydrated crust and you cannot help but smile. Your eyes roll at the sheer deliciousness. The most famous pizza in the United States has that title for a reason.
So, what is it that makes New York-style pizza one of the most popular types of pie? Could it be the unique thin-yet-chewy crust? Or the mottled cheesy layer? Maybe it's the foldability or a combination of all three factors. Let's quickly deep dive into what makes New York pizza great, but more importantly, we'll give every detail on how to recreate this pizza at home. This is not some half-baked recipe that you can skip corners and expect the result to rival Joe's Pizza. There are a few pieces of equipment (you may already own) that takes home pizza making to the next level.
Origin of New York Pizza
New York-style pizza was born in 1905 in the Little Italy neighborhood of Manhattan. America's first pizzeria, Lombardi's by Gennaro Lombardi, sold extra-large thin pizzas for only five cents per slice. Lombardi's pizza chef, Antonio Totonno Pero, eventually left his job in 1924 to open his own pizzeria, Totonno's in nearby Coney Island.
From there, the familiar Lombardi's style of pizza was spreading across the city. Patsy's in Harlem opened in 1933, Di Fara Pizza, often regarded as the best pizza in New York, opened in 1964. Many of the original pizza joints from the early 1900s are still operating today, selling pizzas by the slice to hungry New Yorkers.
Characteristics of New York Pizza
New York-style pizza has a thin, wide crust and is topped with tomato sauce and cheese. This is the baseline style of the pizza, often regarded as "plain" or "regular". Of course, you can find additional toppings such as pepperoni, sausage, vegetables, and so on. The main characteristic that separates NY pizza from the rest is the well-hydrated, foldable crust.
In movies and TV, NY pizza is often depicted with extra-long cheese pulls, light sauce, and folded dough, eaten almost like a sandwich. While the media slightly embellishes it's look, a New York pizza experience is worth every penny. If you cannot find your way to NYC anytime soon, you can certainly make this incredible pizza pie in the comfort of your home.
The Crust
New York-style pizza dough recipes are slightly different from traditional pizza dough. It is a 65% hydration dough, meaning it has more moisture worked into the flour and yeast. By adding more water, your dough becomes nice and pliable when stretched out thin. NY pizza needs that water for the pizza's foldability in the end. Without it, the thin crust would snap in half when folding.
As a side note, many credit the New York drinking water to the amazing flavor of NY dough. New Yorkers will argue that it is the best, tastiest drinking water in the world. It is this secret ingredient that New Yorkers believe makes their pizza unique and worth traveling for.
You have two options when making true NY pizza dough. You can either arrange a shorter ferment, allow it to rise for 10 hours, and make a same-day pizza. Or, you can plan for a longer, overnight ferment in the fridge. This will create a more developed flavor from the long fermenting time, much like Neapolitan pizza dough. Either way, your NY pizza dough will come out perfectly every time with our method.
The Sauce
New York-style pizza sauce is traditionally a well-seasoned, cooked tomato sauce. Ingredients usually consist of canned tomatoes, olive oil, oregano, basil, sugar, salt, garlic, and crushed red pepper flakes. All the ingredients are cooked down to intensify the flavors so that the sauce does not get lost in the recipe.
The Cheese
Although New York pizza is stretched thin, it has a sizable amount of cheese over the top. Sometimes, the cheese layer is as thick, if not thicker, than the pizza crust. The type of cheese used is always low-moisture mozzarella to avoid any sogging effect that a fresh mozzarella or a high-moisture variety would add.
A "plain" pie is a standard cheese pizza, but you can also get whatever toppings you like. Additional Parmesan cheese, vegetables, and meats are all available at NY pizza joints. But, in the end, the foundation of a NY pizza is a good, old plain cheese pizza.
How to Make it At Home
Many pizza recipes require a screaming-hot oven of 800 degrees F or higher. While that is the optimal pizza-cooking environment, our New York pizza recipe has been developed so that you can bake it using the hottest setting on your home oven. It's understandable that not everyone has access to a true pizza oven.
So, you can cook this pizza recipe in a 550-degree standard home oven without issue. After you make your dough, preheat your oven to its highest setting. Allow it to preheat for 30 minutes with a pizza stone or steel on the top rack. After 30 minutes, preheat your broiler for 10 minutes.
Once the oven is properly hot, carefully move your pizza to the oven using a pizza peel. Cook for 6 minutes, watching closely so that your dough or cheese does not burn. There is no need to rotate your pizza in a home oven. Each time you open the door of your oven, heat escapes, which is not good for making a crisp pizza crust. Avoid opening the oven to check on your pizza and use your oven light instead.
Perfect Homemade New York-Style Pizza
If you follow our simple instructions, you will create the best homemade NY style pizza from your own home kitchen. Everything is dependent on the hydration of the dough, the seasoning of the sauce, the moisture in the cheese, and your choice of toppings. You won't believe the incredible flavors that you can create, no matter how far you live from New York City!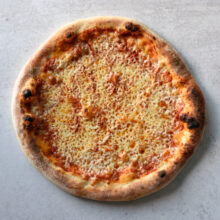 The BEST New York Style Pizza Recipe
An easy NY style pizza recipe perfect for cooking at home. This dough uses higher hydration to get that thin, foldable NY crust, yet the dough remains very workable and easy to stretch – even for beginners.
Print
Pin
Rate
Follow my pizza journey
I bought 15 pizza ovens to hands-on test.
It's a hobby, not an obsession! Here are the best pizza ovens.
Ingredients
3-4

oz

pizza sauce

A homemade sauce from a can of high-quality whole tomatoes is really simple, but if you want a typical store-bought sauce, we prefer Rao's Homemade.

1/2

tsp

oregano

You can likely skip the added oregano if using store-bought sauce.

7

oz

whole fat mozzarella

If using pre-shredded cheese, RINSE the cornstarch off and dry before using. This will create a much better cheese melt.
Seriously. I have a lot of pizza ovens.
Let me show you the best after hundreds of hours testing. Read my in-depth pizza oven reviews!
Instructions
Flatten and stretch dough into 14" pies.

Prepare your pizza by ladling sauce onto stretched dough and then sprinkling oregano. Starting from the outside and moving inward, spread a light even layer of cheese.
Indoor oven
Preheat to 550F for at least 30 minutes with pizza steel or stone on top rack. Turn on broiler, and let preheat another 10 minutes.

Using a pizza peel, carefully move pizza to oven and cook for about 6 minutes, watching closely for crust color and cheese burn. Avoid rotating when baking in home ovens as temperature loss from opening the door often does more harm.
Outdoor pizza oven
Preheat your Ooni (or other portable outdoor pizza oven) for 25 minutes. The oven should reach near 800F in this time. Place pizza in oven and cook for 2 minutes (+/- 30 seconds depending on color) rotating as needed.

TIP: if using an Ooni Koda or another gas model oven, reduce the heat to low just as you place the pizza in; this creates really great crust color without burning the cheese too early. This may increase cook time slightly.
Notes
If using an outdoor pizza oven, such as Ooni Koda, the baking process will only take a couple minutes max. If using an indoor oven at 550F, it will take closer to 5-7 minutes.