Our rating of the Ooni Koda Pizza Oven
The Ooni Koda's intense pipe style burner heats evenly and outperforms their other models that use torch burners. Gas heat means cleaning is nearly non-existent, and the heat dial allows for precision cooking. This thing is really solid for the price.
The good.
Great pipe burner design cooks 1/3 of the pizza at a time, slightly minimizing the amount of rotating needed.
Incredibly quick and easy to use; I find it still being one of my go-to ovens.
Precise temperatures from easy dial, including the ability of an "ultra low" setting.
The bad.
In most cases you need to turn the burner to low right before cooking as to not burn the pizza, but doing so drops the temp of the stone. As a result, one-after-another pizzas may require a pause to raise the temp again.
Realistically takes 40 minutes to preheat the stone; windy days could take longer.
Update: After nearly 2 years of using this oven, I slightly updated the review based on new understandings of this oven.
Ooni has been making some of the most innovative pizza ovens on the planet ever since their successful Kickstarter campaign in 2012. They started with a wood pellet oven (now called Ooni Fyra) and have since added wood and charcoal as well as propane gas as fuel sources to their pizza oven offerings.
The Ooni Koda is their gas-powered model and it comes in both 12 inch and 16-inch sizes (for this review, we are testing the 16″ version, which I highly recommend over the 12 – because who doesn't want bigger pizzas?). Like all Ooni ovens, the Koda's max temperature exceeds the 900 degrees required to make authentic, Neapolitan-style pizza. Once the oven has been warmed up it cooks a pizza in just 60 seconds.
The Koda is easy to start and use, and because the propane burns clean there's no ash or other residue to clean up.
Using gas as the fuel source makes it convenient to start and use your oven, and also allows for much more fine-tuned temperature control using the control knob. Because the gas allows greater control over the temperature, it's easier to cook slower-cooking food like turkey or beef at lower temperatures than it is with wood or charcoal.
Why You Should Buy Direct From Ooni
There's been tons of scams on Amazon with well-priced Ooni pizza ovens that are turning out to be too good to be true. Ooni offers free shipping from their website.
Design and Features
Fuel source
Gas is easy and convenient, but you do miss some of the tradition and taste that comes from cooking with wood or charcoal. Wood and charcoal do impart a bit off the authentic wood taste of the traditional brick ovens, so keep that in mind if that is important to you. The Ooni Pro is their top of the line product and allows for wood, charcoal as well as gas to be used.
The Koda uses propane gas as the fuel source. Gas makes it more convenient to light your oven and keep it going at a steady temperature. Using gas to cook also means there's no smoke while you are cooking and don't need to clean up ashes when you are done.
The Koda is designed to be used with the large propane tanks that are used for grills but can be used with a 1lb propane tank with an additional adapter. Only the 16 is compatible with natural gas with an additional conversion kit.
The built-in Flame Safety Device (FSD) is a safety feature that automatically stops the gas supply if the flame goes out while the gas is on. I'm very thankful of this feature because I tried using this on a very windy day, and I left the oven to preheat while I prepped my toppings and dough, only to come back and see the flame was out. Luckily it wasn't pumping out propane that whole time.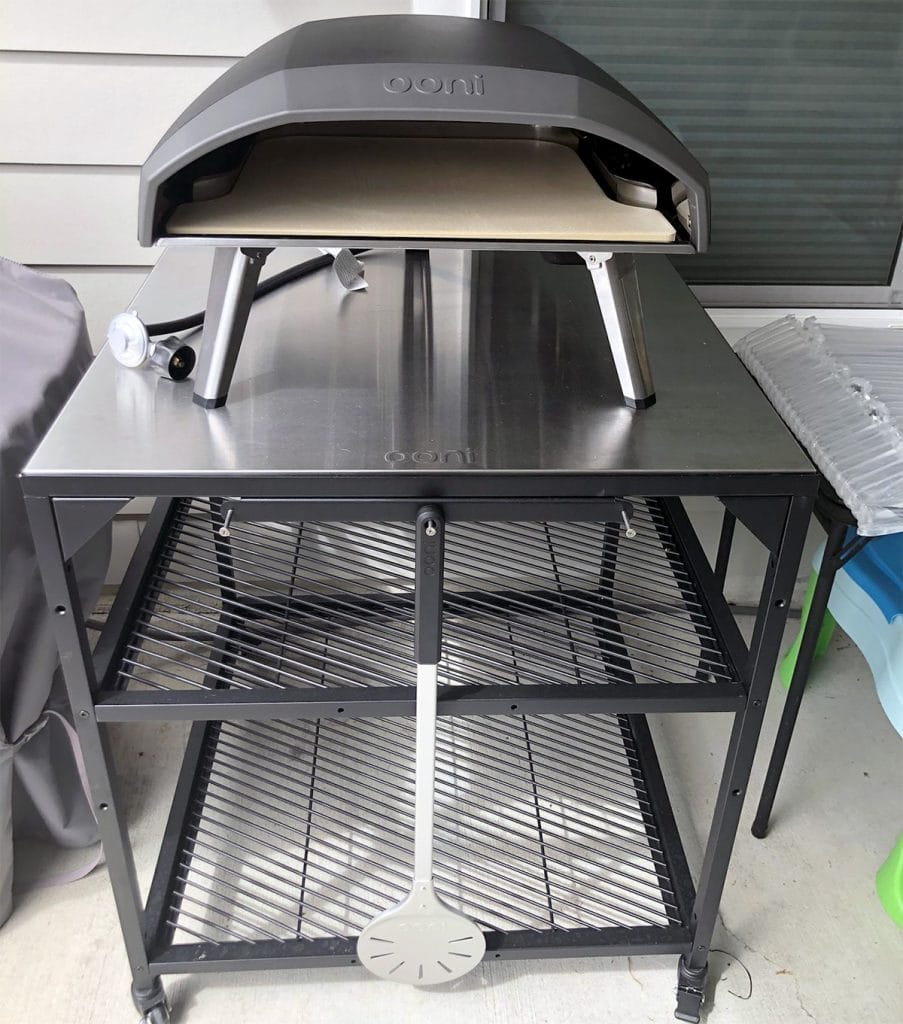 Usability and appearance
All Ooni ovens are meant to be used outside only. The ovens have been meticulously designed and are made of a powder-coated carbon steel shell that makes the oven highly insulated and durable. The cordierite stone baking board retains heat and makes for the perfect pizza-cooking surface. The oven looks great and cooks even better!
Why You Should Buy Direct From Ooni
There's been tons of scams on Amazon with well-priced Ooni pizza ovens that are turning out to be too good to be true. Ooni offers free shipping from their website.
Size and weight
With two sizes to choose from the Koda offers some flexibility. The 12 is smaller and easier to transfer. There's even an additional carrying case that makes transporting the oven easy. One thing to keep in mind is that you'll need to transfer the gas tank as well, which is rather heavy. One option is to purchase the adapter to be able to use the smaller, more portable 1 lb tanks.
The 16 allows for a larger pizza, great for large gatherings. The extra room can also come in handy when you use the oven to cook anything besides pizza. There's enough room in the 16 for two cast iron pans to fit side by side. So you can cook a steak and veggies all at the same time.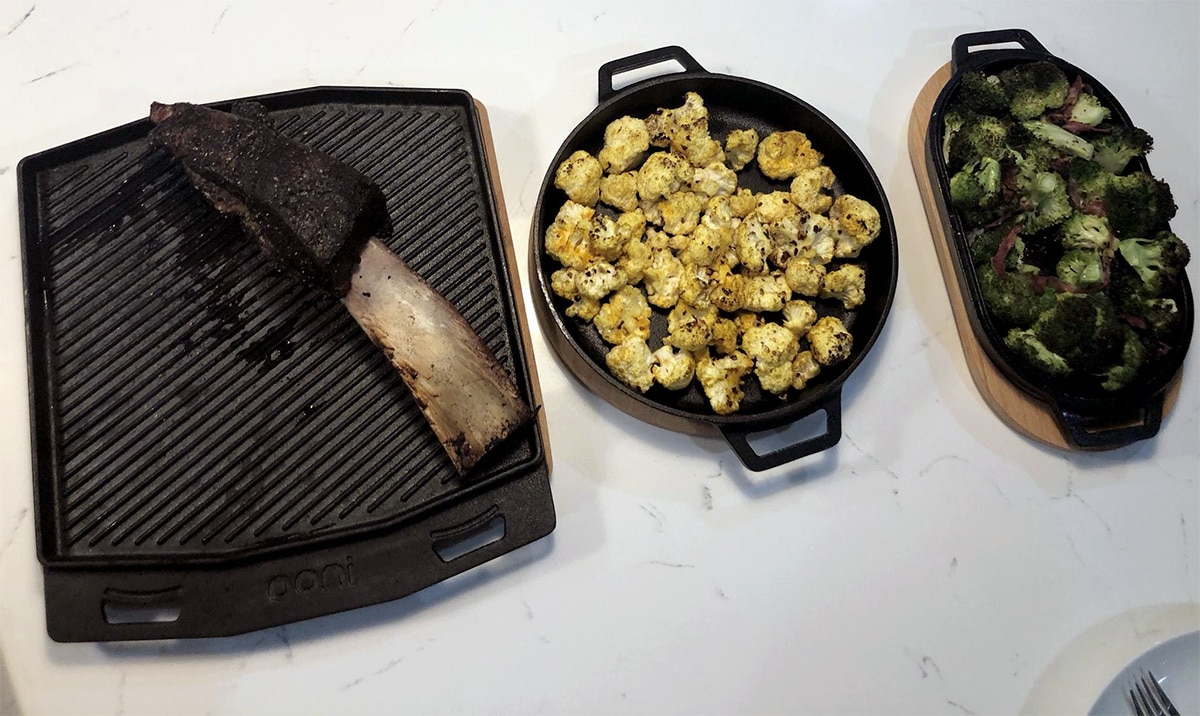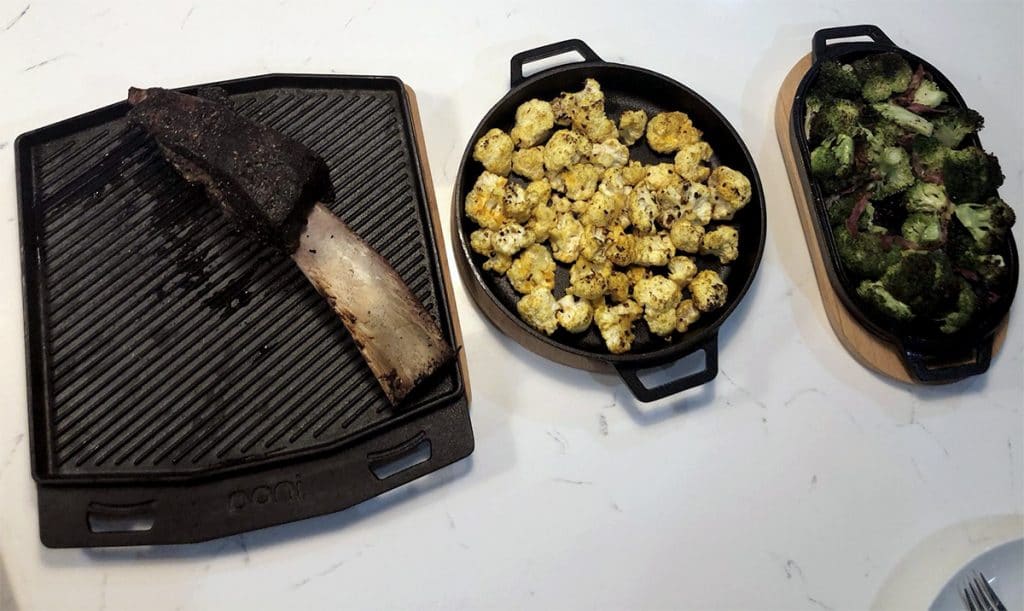 While the 12 and 16 are similar, there are a few differences between them, mostly in the size and weight.
12-Inch
Dimensions: 23.2 x 15.5 x 11.7″ (59 x 39 x 29cm)
Weight: 20.2lbs (9.2kg)
Cooking surface: 13.2″ (33cm) and the baking board is 10mm-thick cordierite stone
Not compatible with natural gas
16-Inch
Dimensions: 25 x 23.2 x 14.7″ (63 x 58 x 37cm)
Weight: 40.1lbs (18.2kg)
Cooking surface: 16.7″ (42cm) and the baking board is 0.6″-thick cordierite stone
Has an L-shaped flame for with waterfall effect flame and one-turn cooking
The Koda 16 can be used with natural gas with an additional conversion kit sold separately
Max Heat and Preheat time
Ooni claims the Koda can reach the 932 degrees recommended for classic Neopolitan-style pizza in 15 minutes for the 12, 20 minutes for the 16. This may be accurate for the back of the stone, but I like to measure temperature at the middle. As a result, it takes me a solid 40 minutes to preheat the Ooni Koda 16 before I'm comfortable to launch a pizza.
Unlike other fuel sources, the gas-powered Koda can easily be used in a range of temperatures, making it really useful for a variety of cooking (I made these chicken kebabs in the Ooni Koda). The temperature on the Koda ranges from 482 to 932 degrees Fahrenheit (250 – 500 Celsius). The maximum power is 4kWh (13648 BTU).
Assembly and First Cook
The Koda features an easy setup. It comes assembled and is ready to cook right out of the box. You'll need a gas tank, and a pizza peel is recommended for taking the pizza in and out of the oven.
What's in the box?
The oven itself
Cordierite stone baking board
28mBar QCC1 propane tank gas regulator and hose
Koda user manual and Essential Guide
Important safety information
Because the Koda reaches such high temperature's it's important that you follow basic safety procedures.
The oven is designed only for outdoor use
Never leave the oven unattended while in use
Don't use the oven in high winds
Inspect the gas supply hose for leaks before each use
Make sure to inspect the gas burner at least once a year.
Make sure the gas hose is kept away from any heated surfaces
Children and pets should be kept away while is use
Why You Should Buy Direct From Ooni
There's been tons of scams on Amazon with well-priced Ooni pizza ovens that are turning out to be too good to be true. Ooni offers free shipping from their website.
Setting up and using the oven
The oven should be placed on a sturdy surface. Glass and plastic surfaces should be avoided. Place it at least three feet away from walls and other structures.
All you need to do to use your oven is unpack it, fold down the legs, place the baking stone in the oven. Connect the hose from the oven to the gas tank and make sure it is fully secured prior to using.
Before you start, make sure the gas supply and control knob are in the off position. Once the tank is connected, turn the gas valve on. Slowly turn the control knob counter-clockwise, until you hear a click and the gas igniting. Keep holding the knob for 5 seconds after the flame is lit.
Allow your oven to reach the proper temperature before adding your pizza. Wait until the stone is at least 752 degrees in the center before adding your pizza. For the most accurate reading, you can use an infrared thermometer. Otherwise, it's safe to wait 25 minutes on the 12 or 30 minutes on the 16 before adding your pizza.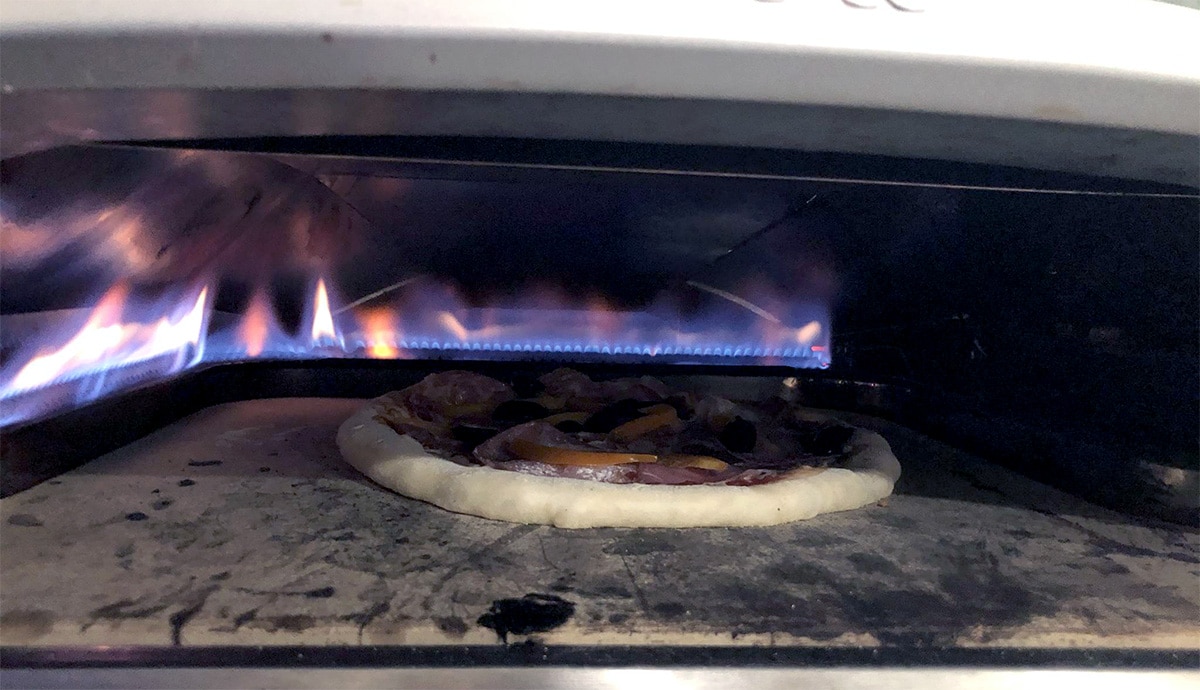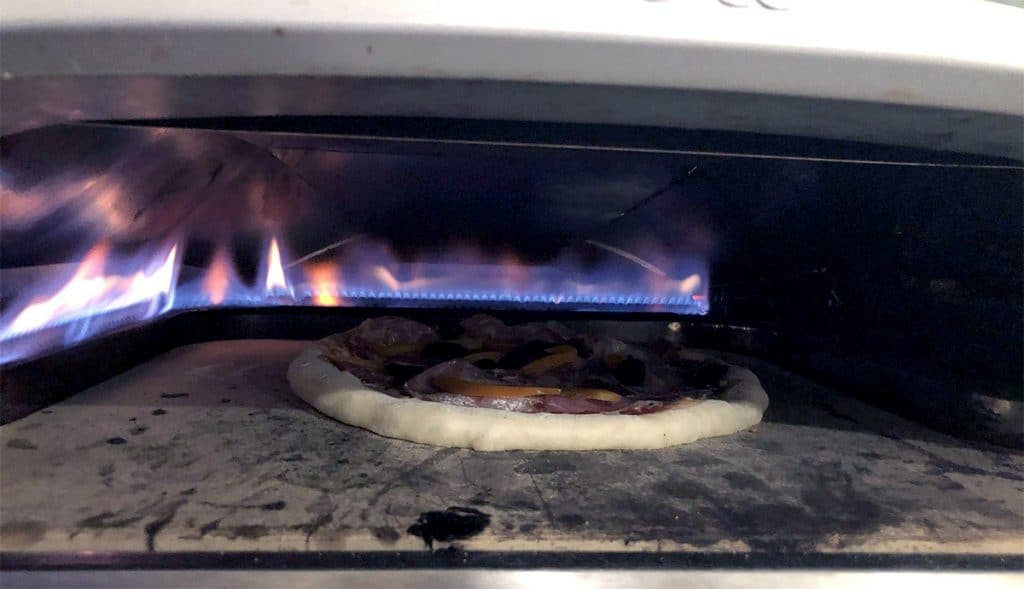 Once the oven has reached temperature, place the pizza inside the oven. It will be done cooking in 60-90 seconds. For more even cooking, rotate the pizza every 20 seconds.
When you are done using the oven just turn off the flame with the gas control knob, close the tank, and disconnect the regulator from the hose.
Allow the oven to cool for at least an hour after use before cleaning or moving it. Never use water to cool down the oven.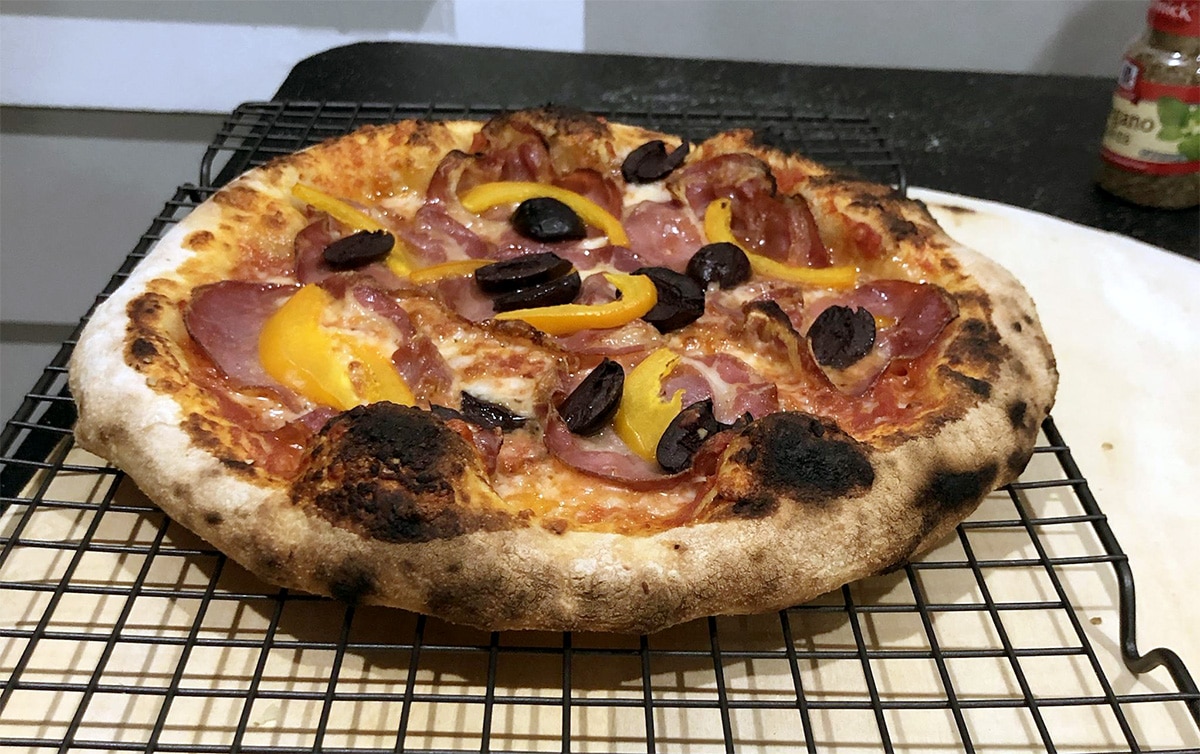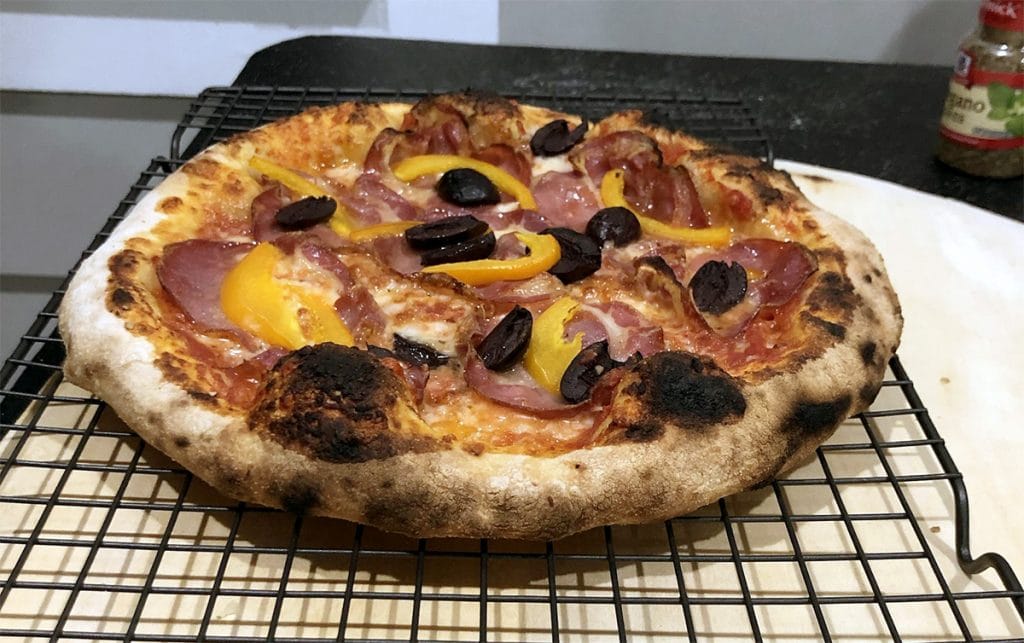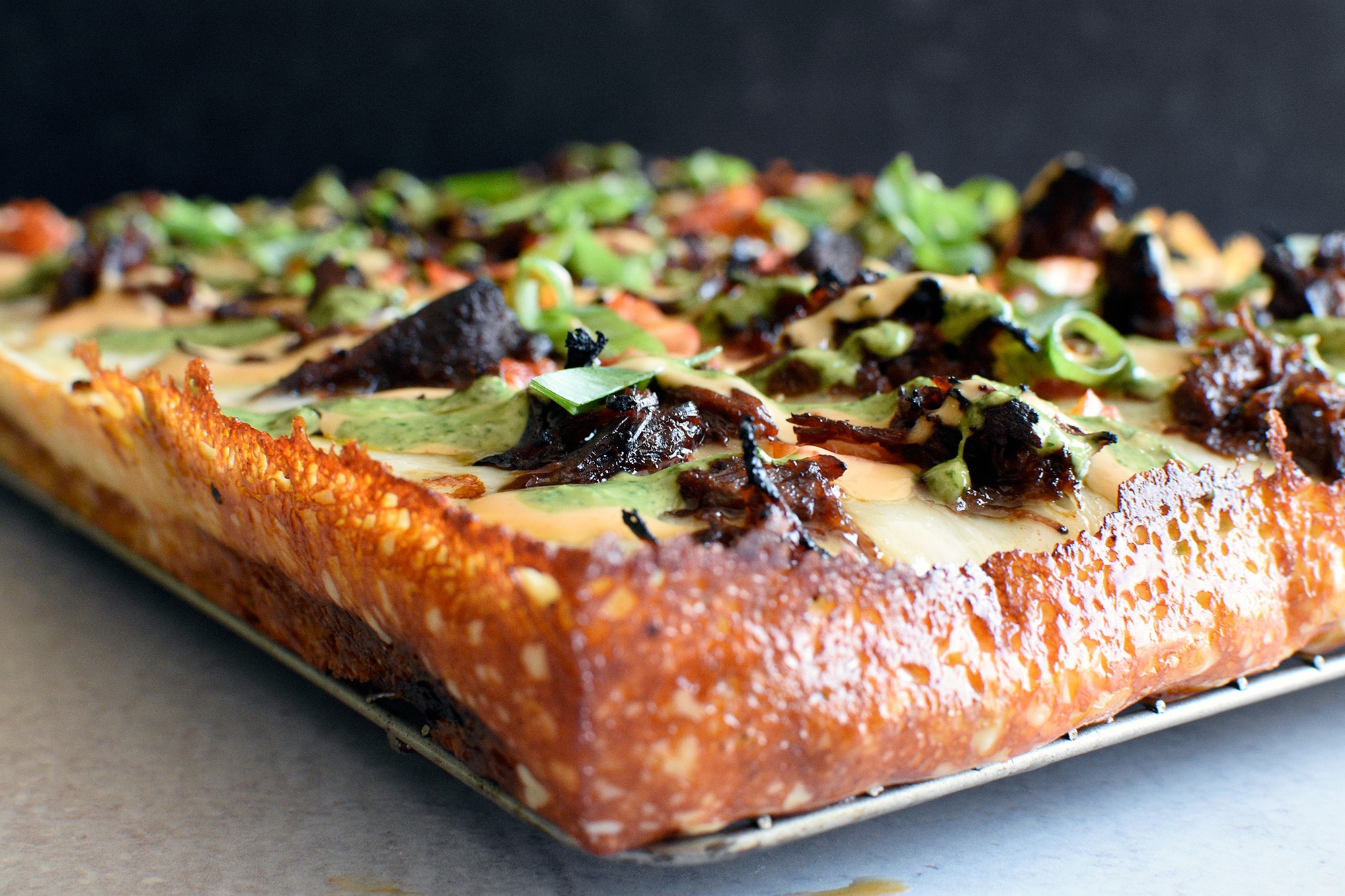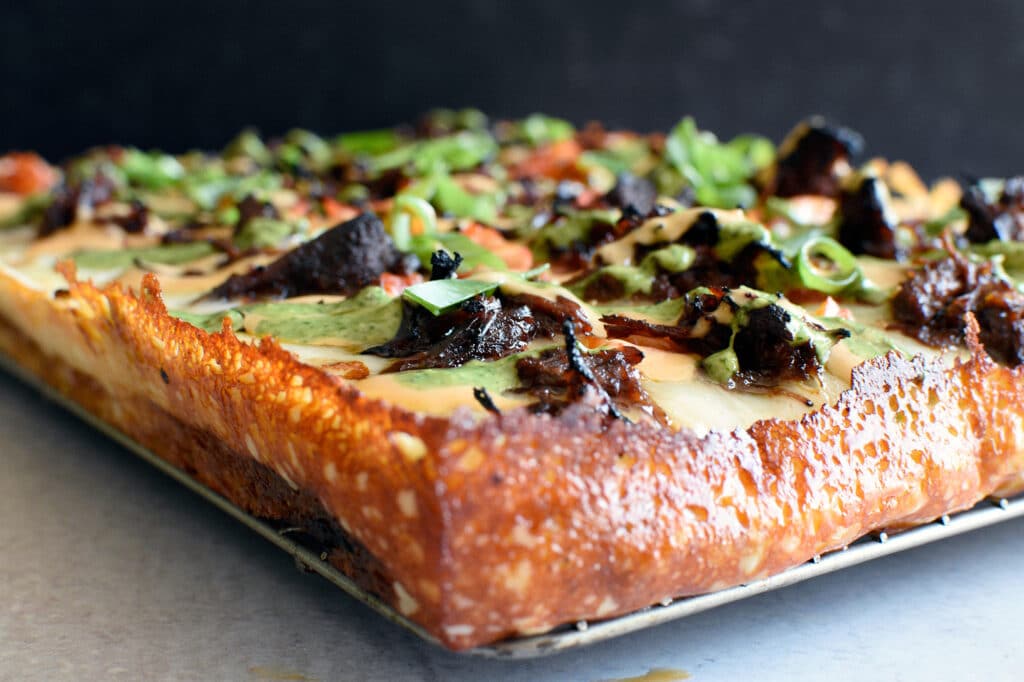 Maintenance
The pizza stone needs very minimal cleaning due to the high heat of the oven which burns most of it off. The most common thing to do when you get a good amount of burnt on flour or soot is to flip the stone and use the other side. The next few bakes will effectively burn off everything from the bottom. You can also use a brush to wipe off crumbs. Avoid anything abrasive and completely avoid anything wet.
For the exterior, wipe the oven down with a soapy paper towel or cloth, then dry. To extend the Koda's life and keep it looking its best, store the oven indoors when not in use, especially if you won't be using it for an extended period. Keep it away from direct sunlight when not in use. You can use the optional case to help keep your oven looking its best.
Performance and tips while using
If your toppings are cooking faster than the base you can turn the gas down or off completely and the base will keep cooking from below on the stone. Or, you can also use the "ultra low" method. This is not a specific feature made by Ooni, however it seems they do not ask customers NOT to perform this step. Basically, after the flame is lit, you turn the dial clockwise until on high, then press the dial in and continue slowly turning to the right. This is also how you shut the flame off, but we're not looking to completely shut it down, just limit the flame. Keep your eye on the height of the flame and keep turning the dial until it reaches the height you're looking for.
Great pizza starts with the ingredients. When making your own dough, Ooni recommends using 00 Flour, which has been finely ground to feel almost like baby powder. Fresh ingredients from reliable sources make for a good pizza.
For an even cook, rotate your pizza every 20 – 30 seconds.
It's not just for pizza! The Ooni can be used for a wide range of cooking scenarios including meat, veggies, and fish. And because of the control the gas provides, you can use the Koda to cook food that cooks slowly at a lower temperature. A cast-iron pan is the best way to cook on the Koda.
Join the community – Ooni goes to great lengths to foster an inclusive online community of pizza lovers. You can find recipes, tips, and more.
Why You Should Buy Direct From Ooni
There's been tons of scams on Amazon with well-priced Ooni pizza ovens that are turning out to be too good to be true. Ooni offers free shipping from their website.
What we think
The Koda is one of Ooni's most popular models. Using gas as a fuel source is easier for beginners to get started and is less work all around. The oven will reach the proper temperature faster, and keep it more consistently than other fuel sources.
Ease of use – Compared to other Ooni models that require continually adding wood or charcoal, the Koda is much easier to use. Because there's no ashes, cleanup is a minimal.
Flexibility – because the temperature on the Koda can be adjusted to high or low temperatures, the Koda can be used to cook most dishes, not just pizza.
Convenience – The Koda makes it convenient to create great pizza at home with minimal fuss. As long as you have a propane tank you can cook a pizza. You do have to make sure you have gas handy, so having a backup tank can help prevent running out of gas at the wrong moment.
Corporate Responsibility – Ooni wants to be a company that makes a difference. They are members of One Percent for the Planet, which means that one percent of each sale goes to causes that help make a difference in environmental and social issues.
Great pizza – Of course ease and convenience are important, but at the end of the day, the quality of the pizza is what matters!
Overall, the Koda absolutely met expectations. For it's price point, it's a solid oven that offers incredible convenience. If you're looking to cook one-after-another pizzas, the Bertello Grande may be a better choice due to its under-stone burner which keeps it really hot. If multi-fuel is a consideration for you, the Ooni Karu 16 is absolutely our top pick.