Have leftover pizza dough? Sure, most of us can eat pizza every single day of the week, but maybe this time you'd like to change it up. Perhaps you'd like to use your dough for something different, innovative, or classically Italian, just as much as pizza is a classic Italian dish. We're talking about panuozzo!
What is a panuozzo? And how can you make one just using leftover pizza dough? It is actually a fascinating invention that has now made it's journey to America all the way from Italy. Read on to learn what a Panuozzo is, and how to make one at home!
What is a Panuozzo?
Panuozzo is a common street food in Italy, found in the Campagna region. It is akin to a "pizza sandwich", in that the bread is made from pizza dough. Historically, the story goes that pizza chefs would make panuozzo for their kitchen staff to eat – because even the most pizza-loving person in the world can't eat it every day.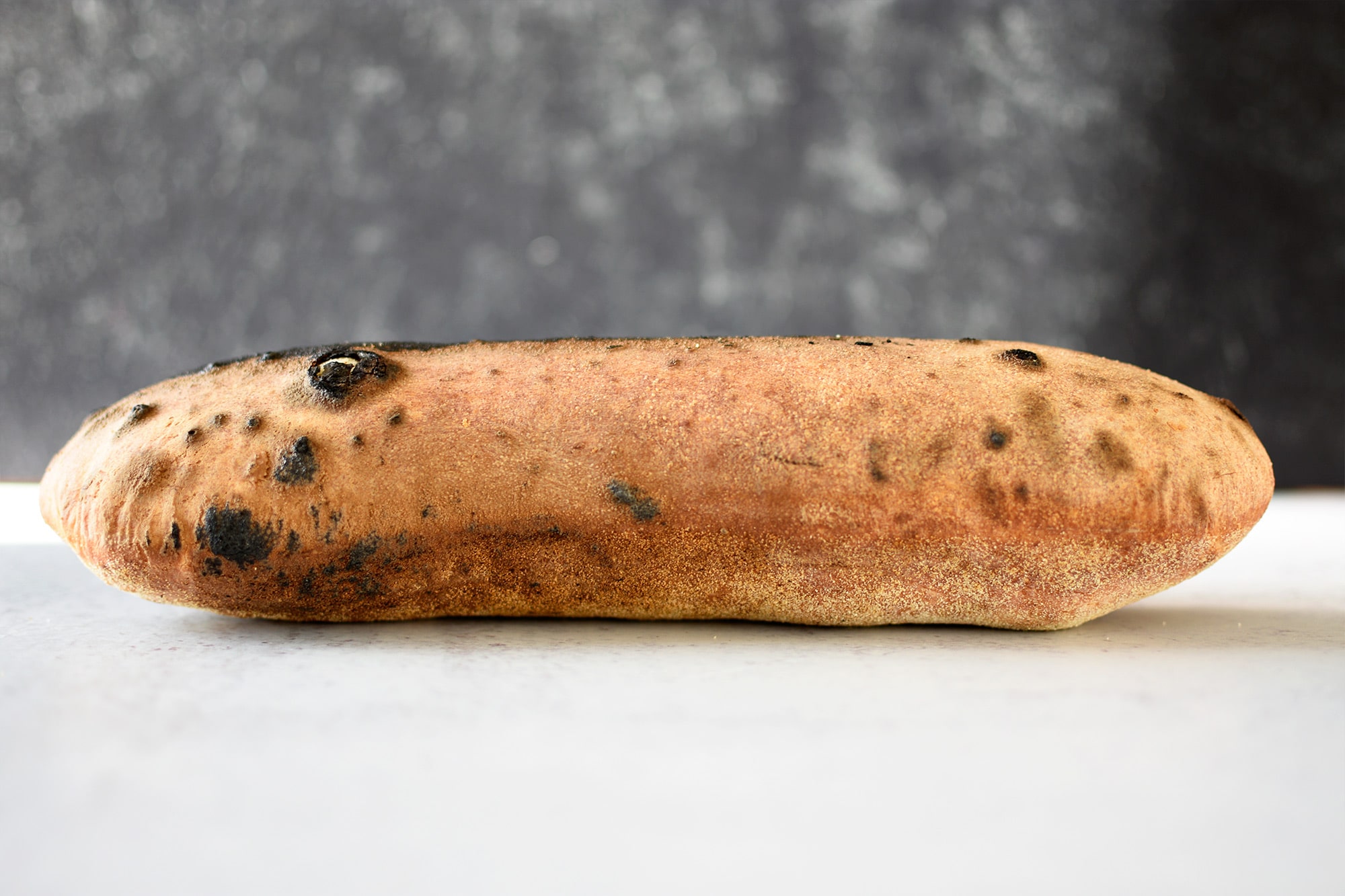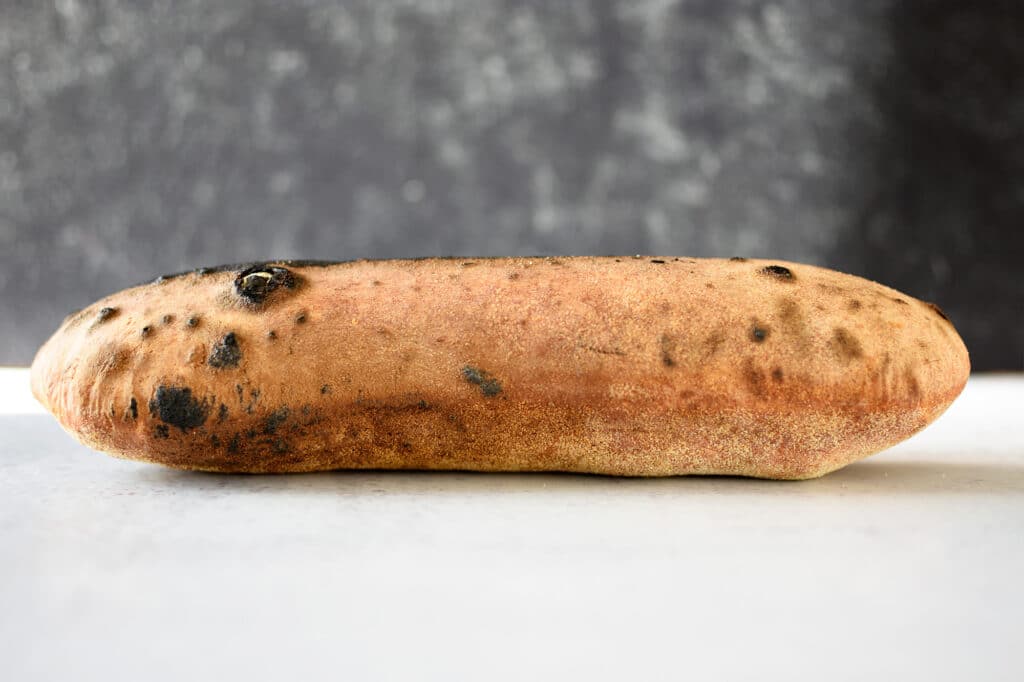 A pizza doughball is shaped into a loaf-like shape 25-30 centimeters in length. The dough goes in for its first bake, where it rises much like pita bread. Once the dough comes out of the oven, you will see that it has separated into layers with a nice airy middle, again much like a pita. The bread is sliced so that the top and bottom layers separate. Fillings are then added, such as meat and cheese. Italian cold cuts are very popular, but my personal favorite is meatballs (tossing it back in the oven to melt the cheeses). After, it is sliced and served in paper for people to eat on the go.
This amazing sandwich was conceptualized around 1980 at Mascolo Pizzeria in Gragnano, Italy, located north of the Amalfi coast. The original recipe from the restaurant recommended baking the panuozzo for 30 minutes, stuff with filling, and then bake again before cutting into 2-4 pieces for folks to share. Now, it's up to us whether or not we'd like to share our homemade panuozzo!
What Pizza Dough is Best for a Panuozzo?
The beauty of a panuozzo is that you can use any leftover pizza dough that you have for this recipe. However, if you are making dough from scratch, we highly recommend using Neapolitan dough. This way, we are staying true to the Italian origin of this dish which is an incredibly light and airy dough complete with leoparding char spots on the outside from a fast, high heat bake.
Also, this is just a great dough for such a recipe. It is a 24-hour cold fermentation dough, meaning that the dough is assembled, it rests in the fridge for as long as possible, and the result is a light, airy, yet slightly chewy dough that has a fermented funk to it. The fermentation adds a lovely flavor that you would not get from a quicker pizza dough. Plus, the light, airyness makes for great sandwich bread.
Making Neapolitan Dough
There are a few tips to keep in mind when making Neapolitan dough from scratch. It is a very specific type of pizza dough and a very specific look, so it is important to get it right whether you are making pizza or panuozzo. Heck, make a double batch so that you can have both!
First, you want to be sure that you are using 00 flour. This is a high gluten flour, which will lead to a very stretchy dough without the need for much yeast. Too much yeast will cause this dough to rise too much. Since we are fermenting and allowing the dough to rise for so long, a large amount of yeast will cause the dough to expand too quickly, leading to the dough spilling over in your fridge.
Panuozzo Fillings
The fillings for panuozzo are just about as limitless as that of a sandwich. You can put anything you want on a sandwich, so you can put anything inside your panuozzo. A good starting point would be some freshly sliced Italian meats and cheeses. The "original" panuozzo recipe from Mascolo Pizzeria features mozzarella and pancetta. Another classic variety found there has prosciutto with mozzarella. In addition, yet another popular version features salsiccia, a type of sausage, and greens that are native to Italy.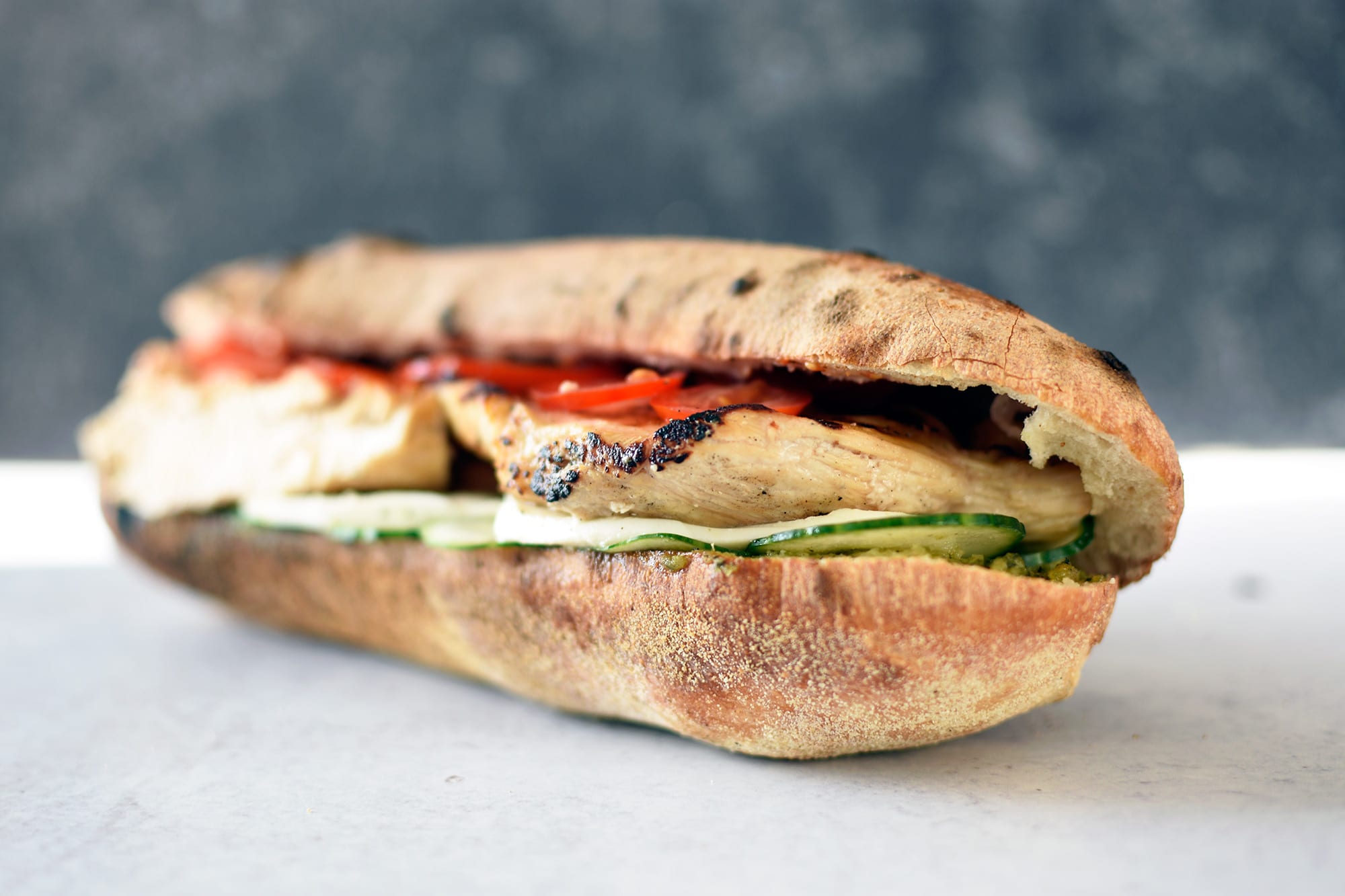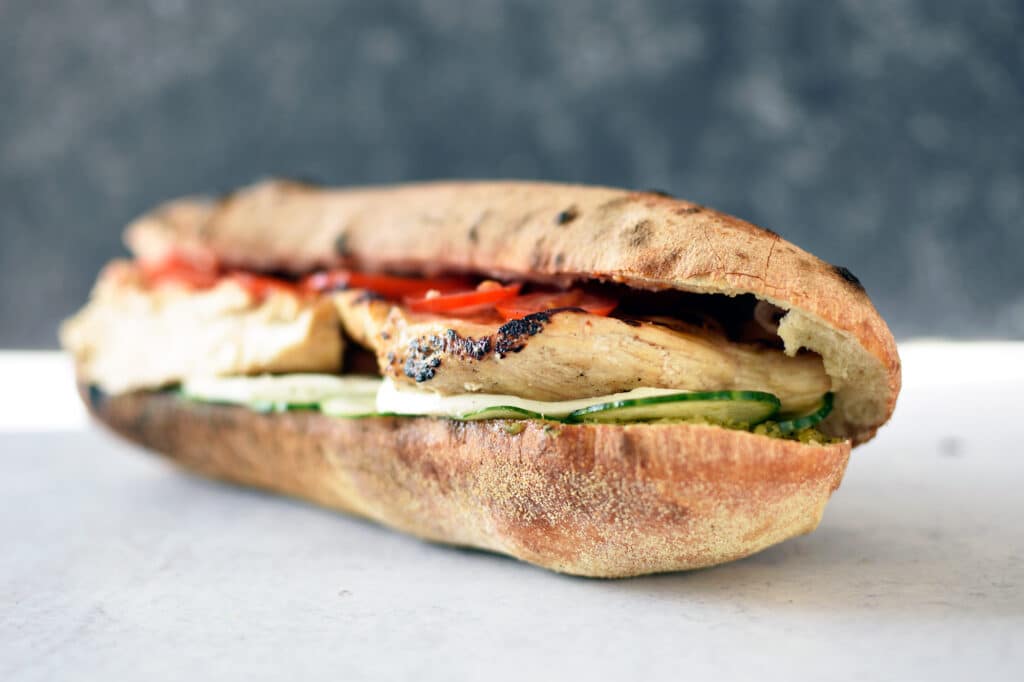 My personal favorite is to make a meatball sub out of it! I won't even attempt my own meatball recipe, because I know Daniel Gritzer's recipe from Serious Eats is flawless. Make those meatballs, along with my neapolitan dough recipe, the ultimate homemade pizza sauce, top it with some whole milk mozzarella and grated parm, and you have yourself an other-worldly meatball sub.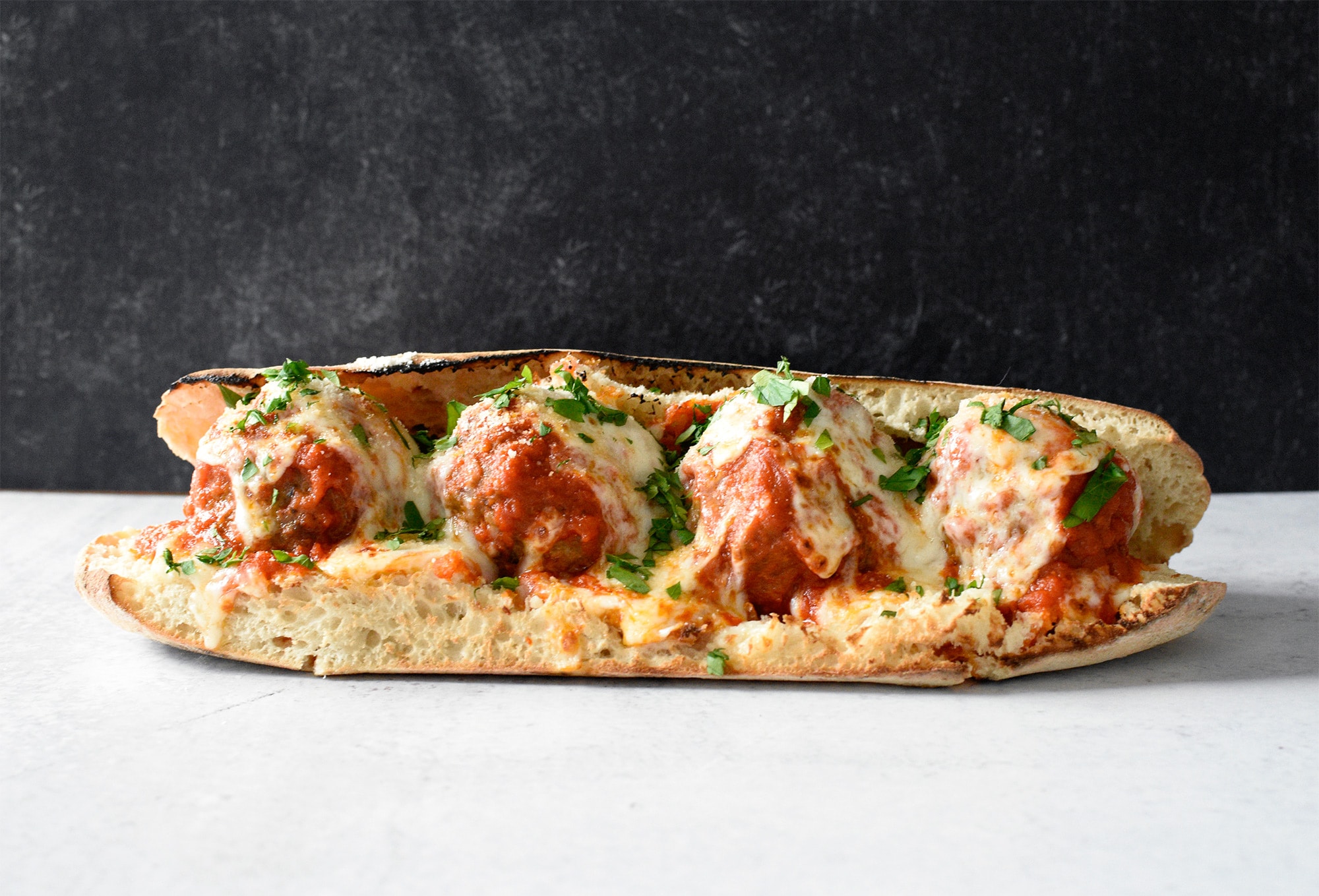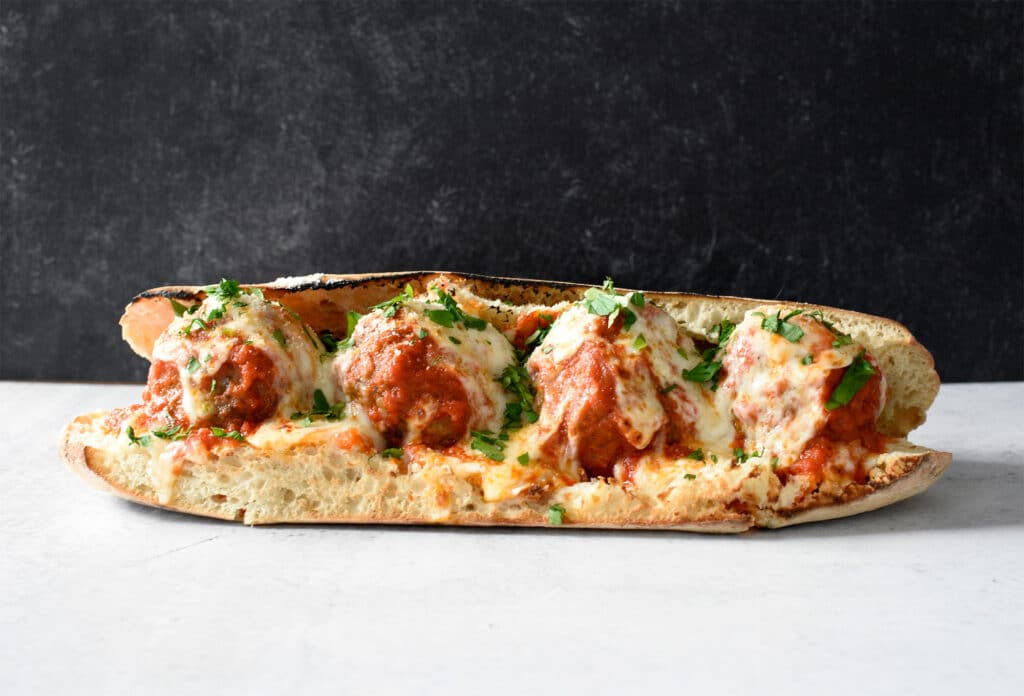 Of course, you can also add vegetables, pickles, a variety of cheeses, keep it vegetarian, or anything else your heart desires. It's a bit of a no-recipe recipe. Once you have your dough, anything goes in terms of fillings, just like a regular hoagie or sandwich.
The Process of Making a Panuozzo
If you can make the 24-hour cold fermented Neapolitan pizza dough, you can make this recipe! Once the dough has rested, shape it into bread loaf shapes. Preheat your Ooni or other outdoor pizza oven to 750-850 degrees just as if you were going to make a pizza. Lightly flour your peel and place the dough onto it, giving it a good shake to ensure it doesn't stick. Launch the dough into the pizza oven away from the flame so it doesn't burn, rotating the dough frequently as needed. It generally takes upwards of 3 minutes to bake in a pizza oven – just a bit longer than a regular pizza since the dough is thicker in this case. Remove it from the pizza oven and let it rest until cooled.
You can also bake it on a baking sheet in your kitchen oven (set to 550F or max temp) for about 10-12 minutes. However, you may want to consider using a NY style dough recipe that utilizes bread flour instead of 00 flour because it's more forgiving in a kitchen oven. The same dough-prep steps apply whether you use a bread flour recipe or 00 flour recipe.
What Does it Taste Like?
When you first bite into a panuozzo, the first flavor you get is the funkiness of the dough. The crusty outer layer is perfectly crisp, yet slightly chewy, and will remind you of your favorite Neapolitan pizza joint.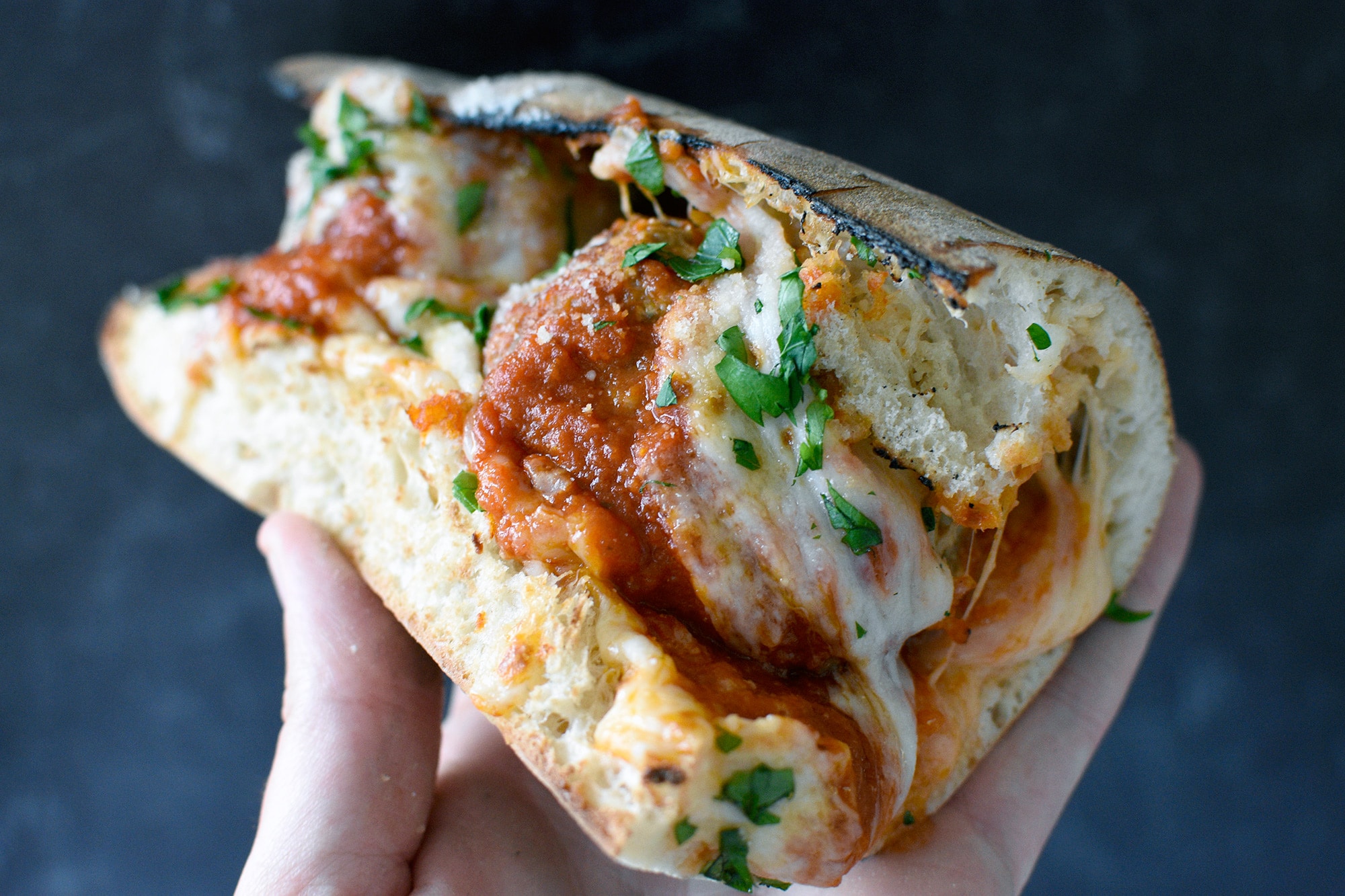 After the umami dough flavor has been established, then you get the flavors of your fillings. Using both meat and cheese balances the dish. The creaminess of the cheese versus the funky, peppery flavors of your high-quality sliced Italian meats are the perfect compliment to the dough, which keeps the flavors well grounded.
Finally, you will notice the lovely textures that this sandwich brings to the table. The bread is well baked, yet is not brittle. The bread really holds up to holding a lot of fillings, and with that heft comes lots of chewy texture. Once you've had this sandwich, you'll never look at an Italian sub the same way again!
Making Something Delicious Out of Something Delicious
Many might think it is not possible to make a scrumptious dish out of pizza dough that is not actually pizza, but they would be dead wrong. This delicious slice of Italian street food, the panuozzo, is the perfect snack or meal that is totally customizable and easy to make. If you have the time to make some cold fermented dough, save some for a homemade panuozzo. Now, let's get into our recipe!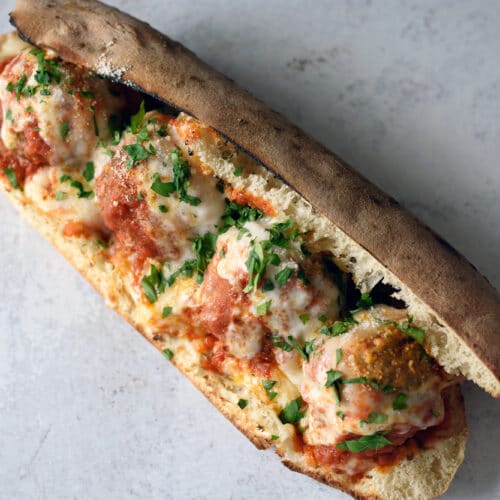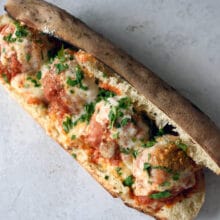 Meatball Panuozzo (Pizza Bread)
You love pizza. You love sandwiches. You'll love panuozzo.
This crispy-outside-yet-light-and-airy-inside bread is made from pizza dough and then topped with whatever the heck you want. Italian cold cuts including prosciutto are very common, as are meatball parm subs (my favorite). The possibilities are endless and the effort is always well worth it.
Print
Pin
Rate
Follow my pizza journey
Servings:
1
270g Panuozzo
I bought 15 pizza ovens to hands-on test.
It's a hobby, not an obsession! Here are the best pizza ovens.
Ingredients
170

g

00 flour

1

g

Yeast

100

g

Water

Lukewarm to jumpstart the yeast

4

g

Salt
Seriously. I have a lot of pizza ovens.
Let me show you the best after hundreds of hours testing. Read my in-depth pizza oven reviews!
Instructions
4PM: Mix together flour, sugar, yeast, and salt. Slowly add water and combine well; no need to knead at this stage. Let sit for 20 minutes before kneading or mixing with a dough hook for 5-10 minutes (until smooth and stretchy).

Place in air-tight container or bowl with plastic wrap, then bulk ferment at room temperature for 1 hour before placing in the fridge.

3PM (next day): Remove from fridge. Rest for 3 hours before gently stretching into a loaf shape and cooking in outdoor oven at ~750F – 850F, ensuring to rotate the bread often and not place too close to the flame.

Remove from oven and let cool before slicing (note: keep pizza oven on for the next step).

Add 4 large meatballs inside the bread. Top with homemade red sauce and then mozzarella. Toss the panuozzo back into the pizza oven for 45 seconds until cheese is bubbling. Remove and top with grated parm and chopped parsley.