This Ultimate Homemade Pizza Sauce is hearty, warm, garlicky, and oh-so-savory. It is totally worth the little bit of extra time, and if you're already making homemade dough, why not add homemade sauce to boot? You will marvel at the taste of your homemade pizza made with from-scratch sauce. So, what are the aromatic ingredients that make good pizza sauce worth making? Let's take a look!
You can't have pizza without sauce! Tomato sauce on pizza is one of three essential elements of a traditional pie, so you should always have a go-to sauce recipe in your arsenal. Making it yourself provides so much more flavor than buying canned pizza sauce.
What Type of Pizza is this Sauce Suited For?
This traditional tomato-based pizza sauce is a high-quality, yet basic recipe for any pizza. You can use it for New York-style pizza, Detroit style, Chicago deep dish, or any other favorite varieties you have. This is meant to be a universal pizza sauce that is easy to make yourself in only 30 minutes.
Homemade Pizza Sauce Essential Ingredients
There are only a few ingredients in this recipe, and yet it packs a flavor punch. With recipes that only have a few ingredients, you want to use high-quality elements to ensure your sauce is the best sauce you've ever had and stands up to the other flavors. The fewer ingredients a recipe has, the more important it is that they stand out in the final product.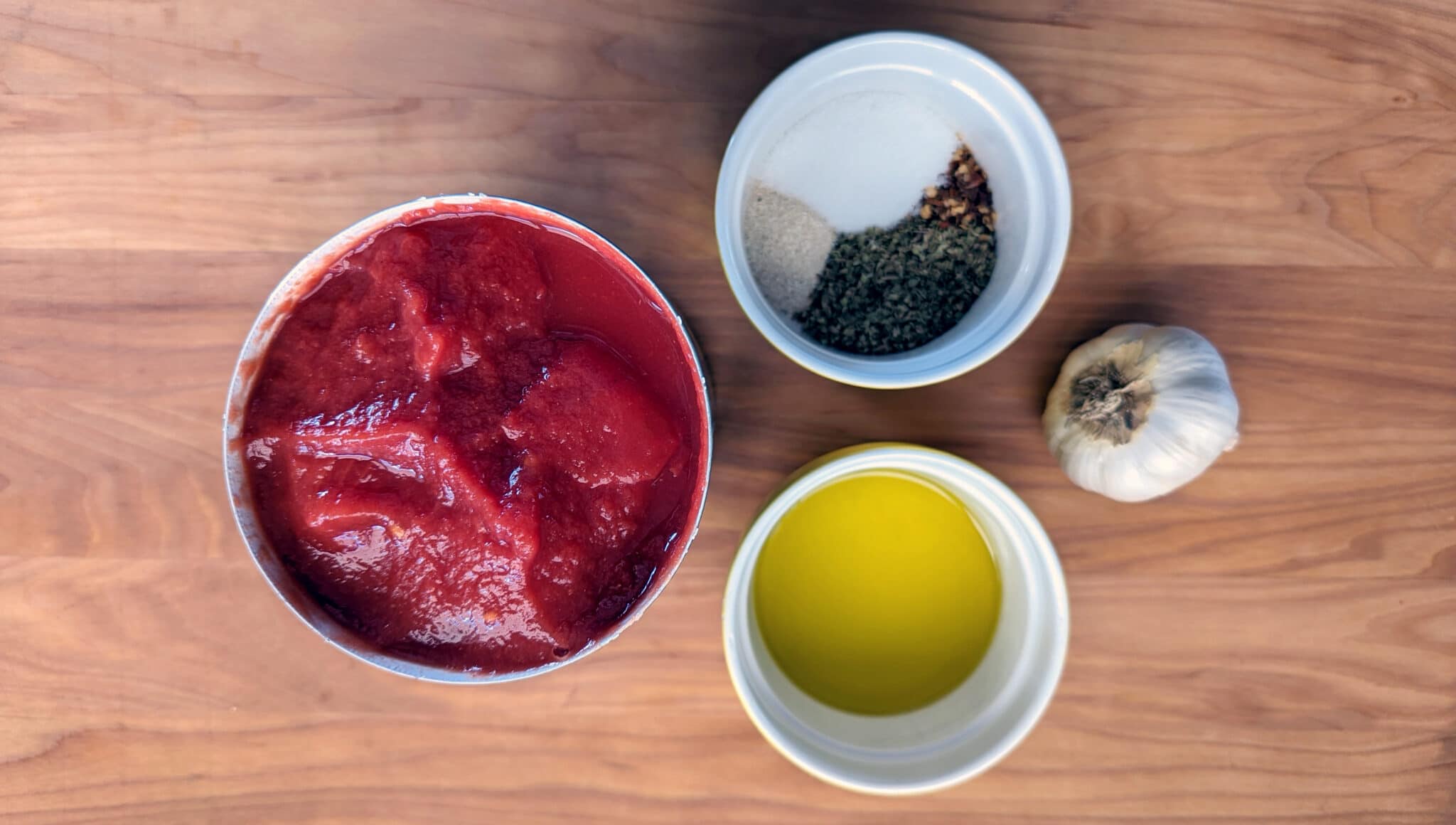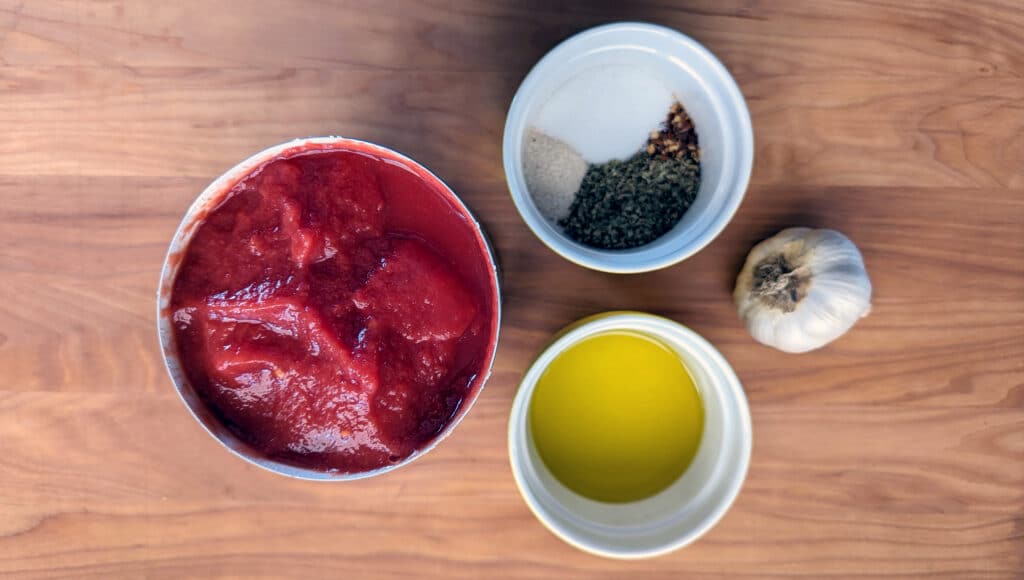 The essential ingredients you will need for this recipe are:
28 oz. crushed or whole peeled tomatoes
Garlic cloves
Olive oil
Oregano
Onion powder
Crushed red pepper flakes
Salt
You likely have many of these ingredients already in your pantry. This is on purpose! This sauce recipe comes together in a snap and can be made last-minute. You never know when a craving for pizza is going to come, but you will always be ready with these simple pantry ingredients.
Using High-Quality Tomatoes
The most important aspect of this recipe is using high-quality canned tomatoes. Canned tomatoes are packaged at the peak of freshness so you can enjoy in-season tomatoes all year long. There is an entire aisle at the grocery store with a variety of canned tomatoes, so how do you choose the best one?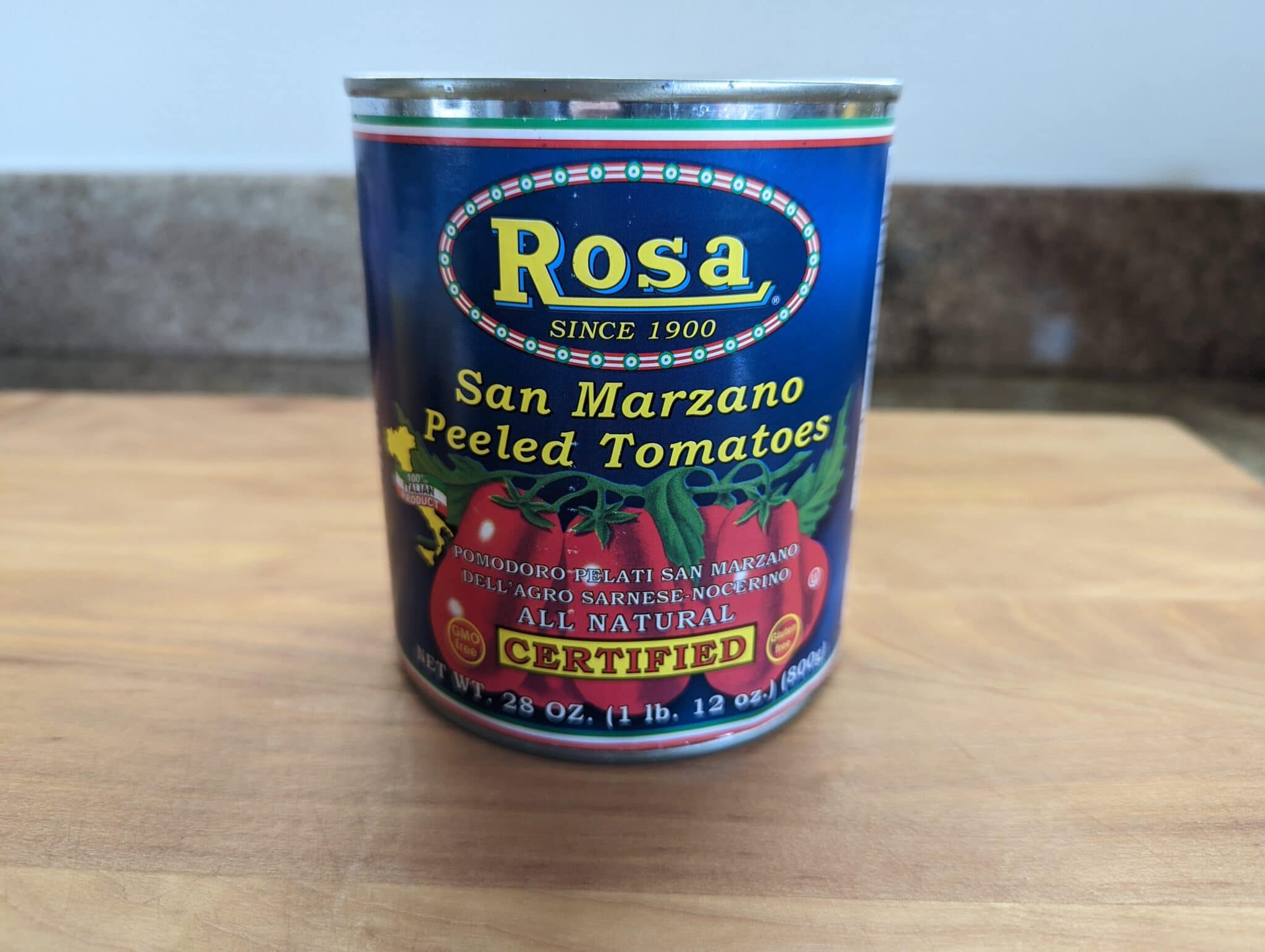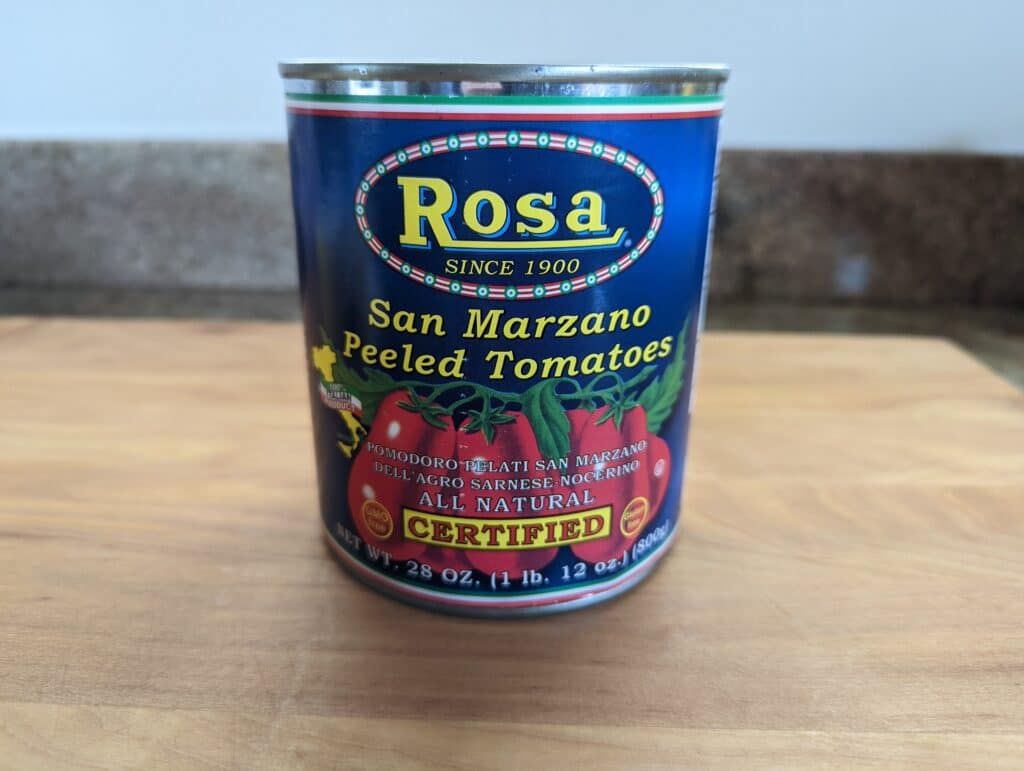 San Marzano Tomatoes
Start by looking for San Marzano tomatoes, which are imported from Italy. Tomatoes grown in the Italian San Marzano region are known as the most flavorful canned tomatoes on the market due to many factors. They are best for pizza sauce, pasta sauce, soups, stews, and any other recipes requiring tinned tomatoes.
San Marzano tomatoes are grown in the nutrient-rich volcanic soil found at the base of Mount Vesuvius, which famously erupted in ancient times. Their optimal growing environment produces tomatoes that are sweeter, less acidic, have fewer seeds, and are a deep red color. San Marzano tomatoes can be found in the canned food aisle or Italian aisle of most supermarkets.
Once these Italian tomatoes are harvested, they are packaged at the peak of freshness. This means that you have fresh tomatoes anytime you want. Next, you must decide whether you use San Marzano whole peeled tomatoes or crushed.
Whole Peeled Tomatoes
There is an advantage to using whole peeled tomatoes, which is our first choice when making homemade pizza sauce. We find that whole peeled tomatoes are less processed when packaged and, therefore, have a lot more flavor and texture. The only difference is that you will need to blend the sauce using an immersion blender or food processor when cooking.
Crushed Tomatoes
Crushed San Marzano tomatoes are also an option when making this pizza sauce. By using crushed tomatoes, you will not need an additional machine to blend the whole tomatoes. However, crushed tomatoes can have slightly less flavor than whole, so be aware that you may need to adjust your seasonings accordingly.
Tip: Try to refrain from using canned diced tomatoes. Oftentimes, chemical processes are used for diced tomatoes to help them keep their shape. If you cook down your sauce for any amount of time, your diced tomatoes will not break down as easily.
Can You Use Fresh Tomatoes?
Fresh tomato sauce is an option for pizza. There are a few additional steps to take with fresh tomatoes to get them ready for sauce making.
First, you will want to use very fresh, in-season tomatoes. This limits the timeframe in which you can make your sauce. Since you usually cannot find fresh San Marzano tomatoes, depending on your region, you will need to use another flavorful tomato, such as beefsteak or heirloom.
Second, you will need to blanch your tomatoes before use. By blanching, you are loosening the skin so that the tomatoes are ready to cook. Cut a shallow X-shape into the bottom of the tomato and toss carefully into salted boiling water for one minute. Remove, allow to cool, and easily peel the skin right off the tomato.
Lastly, you will need a small amount of canned tomato sauce anyway to compensate for the fresh tomatoes. San Marzano tomatoes come suspended in their own fresh juices, so this is what you are trying to recreate. At the end of the day, it is easier and tastier to stick with canned San Marzano tomatoes!
Storing Homemade Pizza Sauce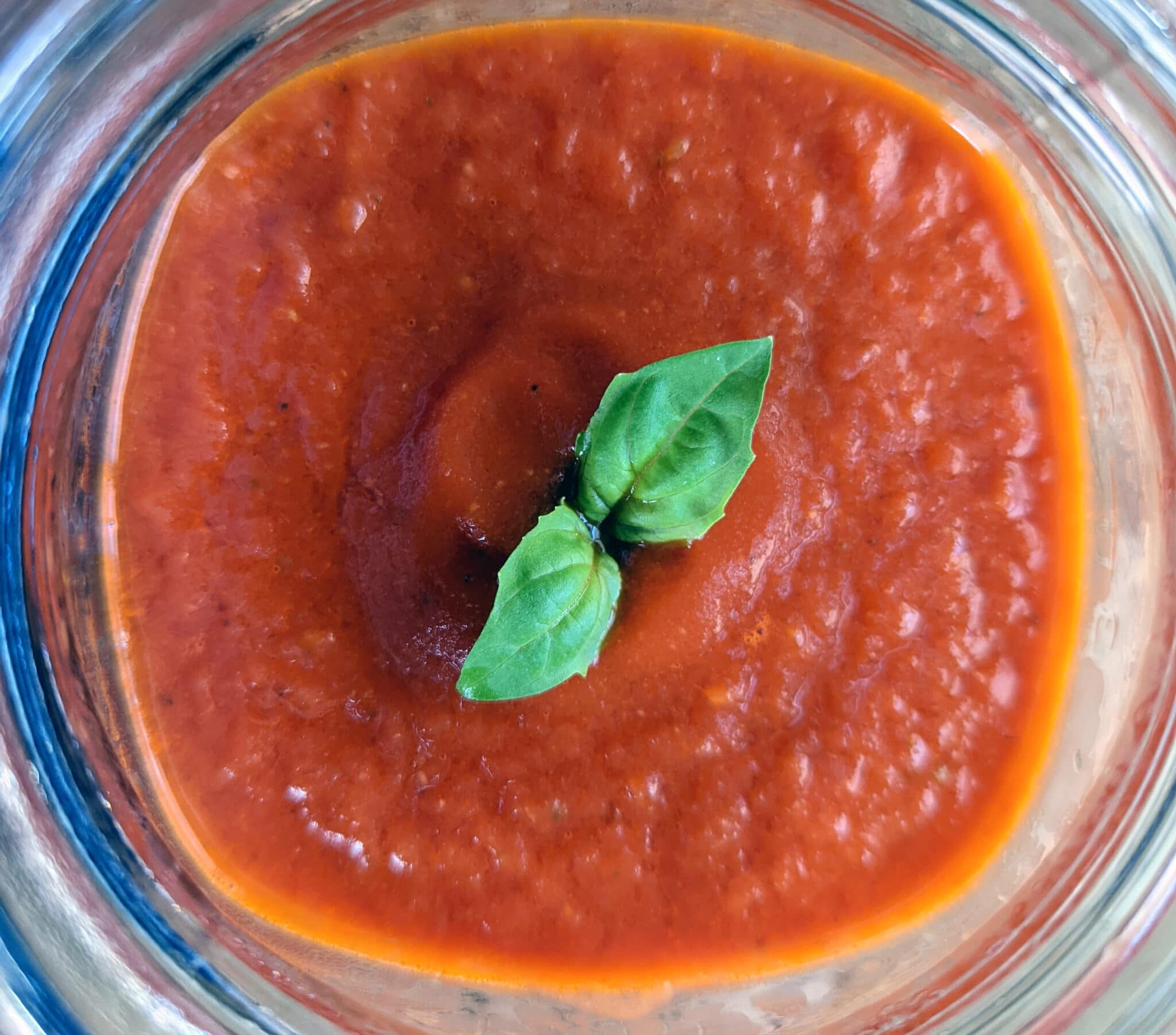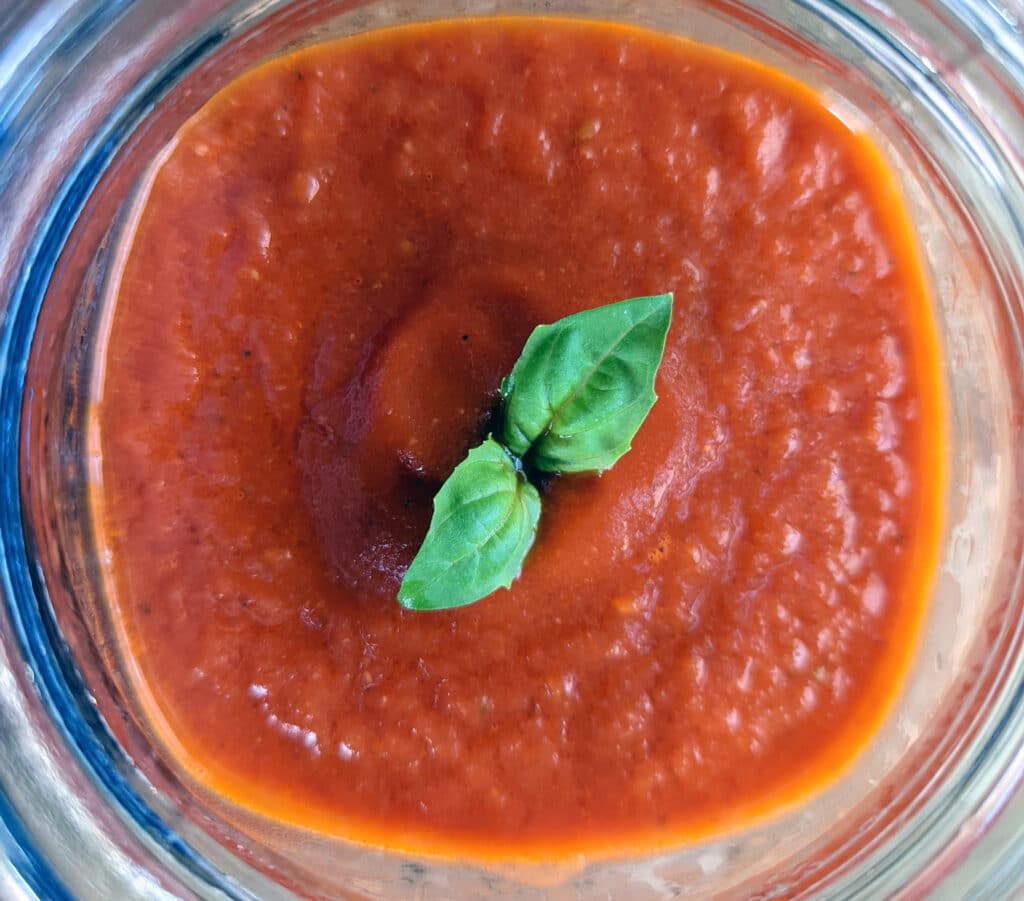 If you have leftover homemade pizza sauce and want to store it for another future pizza, you certainly can. This stuff is like gold, so you will not want to waste any. Hey, you could even make a double batch if you know you're making pizzas multiple times throughout one week.
Simply allow the sauce to cool completely. Then, spoon it into a clean, lidded mason jar. Cover the top with the lid and place the jar in the fridge. Your homemade pizza sauce will stay fresh for up to one week. Alternatively, you can freeze your pizza sauce for up to one year when stored in this manner!
Let's Make Sauce!
All in all, homemade pizza sauce is totally attainable to anyone of any cooking skill. It is well worth the 30-minute cooking time, especially when you use high-quality ingredients, such as San Marzano tomatoes. You will have the best pizza of your life thanks to the Ultimate Homemade Pizza Sauce!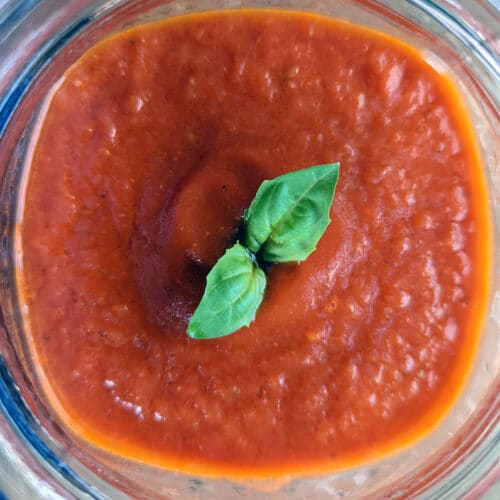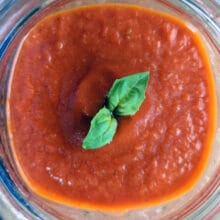 The Ultimate Homemade Pizza Sauce
This homemade pizza sauce recipe hits all the notes for a variety of pizza styles. It can be made thin for New York style or simmer 20 minutes longer for the ultimate thick sauce for Detroit or pan-style pizzas. Lots of herbal aromatics and garlic elevates the flavor beyond anything you can get in a jar.
Print
Pin
Rate
Follow my pizza journey
I bought 15 pizza ovens to hands-on test.
It's a hobby, not an obsession! Here are the best pizza ovens.
Equipment
Blender, food processor, or immersion blender
Ingredients
28

oz

Crushed or Peeled Tomatoes

Using crushed tomatoes will reduce the step of blending the sauce; however, I typically find higher quality tomatoes labeled as "peeled whole". The higher the quality, the better. My preference is San Marzano's.

3

Garlic Cloves

Medium sized.

2

tbsp

Olive Oil

2

tsp

Dried Oregano

1

tsp

Onion Powder

1/4

tsp

Red Pepper Flakes

Or bump this up for some extra spice.

Kosher Salt

To taste
Seriously. I have a lot of pizza ovens.
Let me show you the best after hundreds of hours testing. Read my in-depth pizza oven reviews!
Instructions
Heat olive oil in saucepan over medium until shimmering. Add minced garlic, oregano, and red pepper flakes. Cook for 30 seconds.

Add tomatoes and onion powder. Continue to cook 3 minutes, lightly crushing the tomatoes with your ladle/spoon. Salt to taste. Reduce heat to simmer and continue cooking until reduced to desired consistency. A thinner sauce will be ready after 5-10 minutes of simmering; for a thicker sauce, the full 30 minutes.

Note: If you used peeled whole tomatoes, transfer the sauce to a blender or food processor, or use an immersion blender right in the sauce pan, and blend until smooth (or desired consistency). Crushed tomatoes do not need to be blended.
Notes
Sugar is not a necessary addition if you use a high quality canned tomato. If you go with a cheap option, you may want to add up to 1 tbsp of sugar.