A rectangle is not typically the shape one would associate with pizza. Depending on your location, most take-out pizza joints have one circular option and, maybe, a Sicilian style – that's it. That is unless you live in the Detroit metropolitan area. There, you can find a crisp, yet airy Detroit-style pizza. This unique pie is the unsung hero of American pizza.
This style is known for its thick, focaccia-like crust, a unique blend of cheeses, and rectangular shape. While some people frown on deviating from authenticity, I am quite the opposite. In lieu of yeast, this crunchy, yet airy Detroit pizza dough is made using a sourdough starter used as a leavening agent. Sourdough starter is a fermented mixture of flour and water that creates naturally-occurring yeast, which then causes the pizza dough to rise. This ancient method has been used throughout human history to make bread.
Give this Sourdough Detroit Pizza a try – I promise the results are a way more pronounced flavor than instant yeast can offer.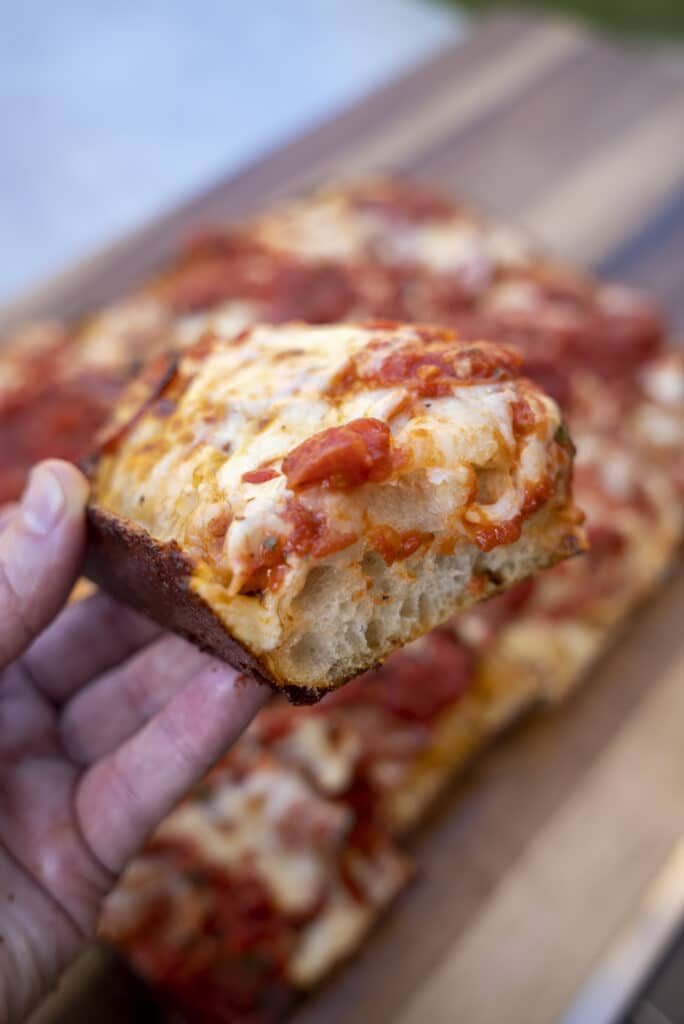 What is Detroit-Style Pizza?
But how did this style of pizza deviate so far from the rest of the country? Who founded this style and why is it still enjoyed so many decades later? Detroit is known for its many car manufacturers, how does that fit into the story? Let's look into it!
Believe it or not, this brilliant pizza was invented by accident. Gus Guerra, a Detroit bar owner, was looking to amp up the food menu of his establishment. He turned to his wife, who had a generations-old pizza dough recipe from her family back in Sicily. It was this dough that Gus believed he could use to change up the boring pizza in Detroit.
Next, he needed a cooking vessel for this dough. Gus had a friend who worked in one of the car manufacturing plants nearby, who provided him with a rectangular metal pan that factory workers used to hold their tools. It was this pan that Gus used to bake his new pizza concept. This is the birth of Detroit-style pizza!
This new pizza was a hit, and although it was sold years after the conceptualization, Gus's restaurant, named Buddy's Pizza, is still open today with 16 locations across the Detroit area. Many visitors flock to this restaurant to get a taste of the original Detroit Pan Pizza.
What Makes Detroit Style Pizza Unique?
There are a ton of elements to this style of pizza that make it extremely unique. As discussed before, you will need a Detroit-style pizza pan to create the shape and texture. Not only is the shape of the pizza different, but so is the crust, cheese, and assembly. There are many reasons why this type of pizza has such a glowing reputation!
The Crust
While the prebaked dough is one-of-a-kind, the end result is a baked crust that is super crispy on the outside and light, airy, and chewy on the inside. Detroit pan pizza is often compared to focaccia bread because of its thickness, shape, and texture. Plus, once a Detroit pizza is cut, everyone is served a crispy edge, which is often referred to as the best part of the pizza!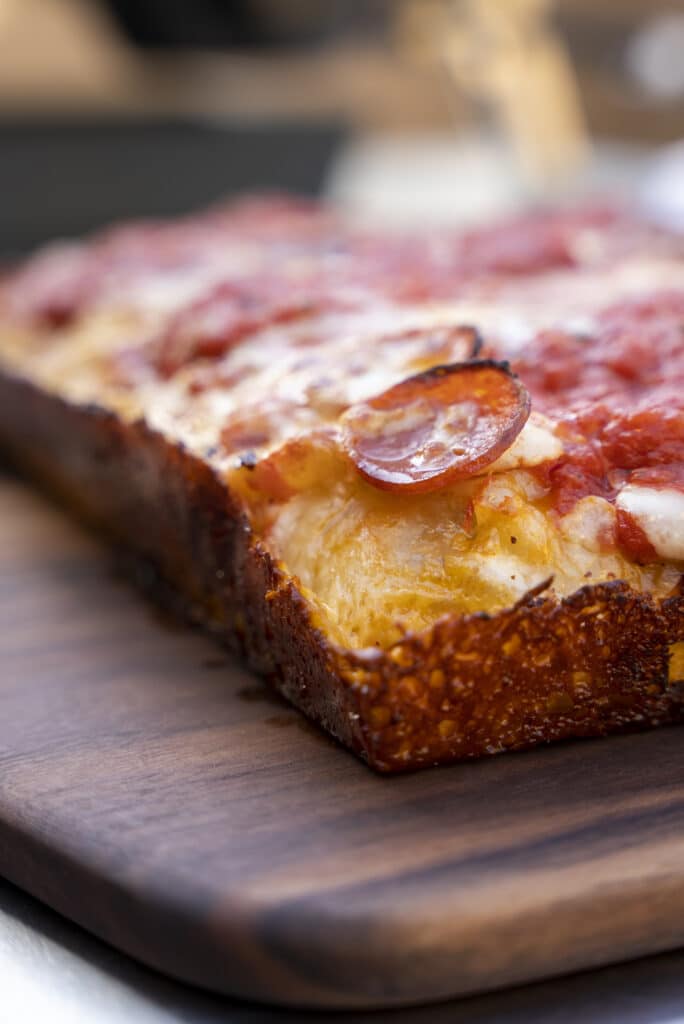 The Cheeses
Traditional pizzas, from Neapolitan to New York style, call for mozzarella cheese, with Parmesan often sprinkled on top. Detroit-style pizza has one additional element that is required in the cheese category (for authenticity); brick cheese. This one element changes the entire pizza and is found just one state away!
Brick cheese was founded in Wisconsin, the cheese capital of the United States, in the late 1800s. It is a mild, cultured cheese that melts beautifully and adds depth of flavor. The cheese gets its name from being pressed with bricks during the cheesemaking process before entering a salty brine. The result melts similarly to mozzarella but has much more flavor and nuance. If you make authentic Detroit pan pizza, you must use brick cheese to be most accurate; however, you can always use Cheddar, Monterey Jack, or Havarti as an alternative to Brick cheese.
The Assembly
A typical assembly for pizza is dough, then sauce, followed by cheese, ending with toppings. Assembling a Detroit pan pizza is a little bit different, but it is worth the process. It all starts with a par-bake on the crust.
Many Detroit pizza dough recipes use a high hydration – sometimes as high as 75% – 78%. By par-baking the crust a few minutes, the dough will firm up slightly so you can add the toppings without them sinking into the dough. In addition, it also sets it up for the crispy edges later on without burning the cheese or pepperoni on top since you won't have to bake as long to finish the dough.
Once the crust comes out of the oven the first time, cheese is layered over the dough, stretching it all the way out to the edges of the pan. This creates the iconic crunchy cheese layer around the outside of the pizza.
On top of the cheese goes thick-cut pepperoni. The high-quality pepperoni gets really hot in the oven and shrinks slightly, creating "pepperoni cups" that you often see atop pan pizza. These cups catch little bits of sauce and oil from the baking process and become super crunchy from baking.
Finally, the pizza sauce is spooned over the cheese in three thick stripes across the pizza. Much like Chicago-style pizza, the sauce is the last layer of the pie. The stripes of sauce will always indicate that you are indeed eating an authentic Detroit-style pizza.
Note: some Detroit pizza restaurants place extra pepperoni in the following order: dough -> pepperoni -> cheese -> pepperoni -> sauce. This is a frequent debate as to which is authentic, so I suggest going with what you prefer. If you like extra pepperoni, toss some under the cheese as well!
The End Result
Detroit-style pizza is well-loved across the United States. People flock from all over the country to get a taste of its thick crust, crispy edges, and amazing toppings. It is simple to make pan pizza at home, whether you have a pizza oven or a traditional oven. Detroit-style pizza is a forgiving recipe that takes just a little time and patience to make, but hey, that goes for most pizza recipes!
For the exact method of making Detroit pan pizza, follow the instructions below. Be sure to ready your ingredients beforehand to ensure you can find Wisconsin brick cheese and make the sourdough starter in time!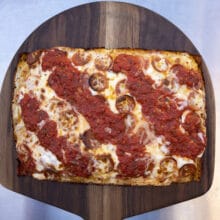 Sourdough Detroit Pizza Recipe
The thoughts behind this recipe: let's take a perfect, crisp, airy crust of a Detroit-style pizza dough, but add MORE flavor. That's what using a sourdough starter instead of instant dry yeast brings. Combining the sourdough with a 48 hour cold ferment really elevates the flavor beyond your normal pizza doughs.
Print
Pin
Rate
Follow my pizza journey
I bought 15 pizza ovens to hands-on test.
It's a hobby, not an obsession! Here are the best pizza ovens.
Equipment
1 10"x14" Detroit Style Steel Pan

We used a Lloyd's Pan, often considered one of the best out there for commercial or home use. Other types of pans can be used, but will lack the proper crust-forming characteristics of Detroit style pizza.
Ingredients
Dough
435

g

Bread Flour

330

g

Water (warmed to 90°F)

14

g

Kosher Salt

13

g

Extra Virgin Olive Oil (Separated)

13g added to the dough. 10g reserved for greasing the pan before cooking.

75

g

Sourdough Starter

Link: King's Arthur recipe.
Toppings
Low Moisture Whole Milk Mozzarella

Shredded.

Wisconsin Brick Cheese

Cubed. Substitute with white cheddar, pepper jack, or havarti.

Pepperoni

Ultimate Homemade Pizza Sauce

Store bought can be used in a pinch.
Seriously. I have a lot of pizza ovens.
Let me show you the best after hundreds of hours testing. Read my in-depth pizza oven reviews!
Instructions
Make the dough.
Combine the flour, salt, and EVOO in the bowl of a stand mixer fitted with a dough hook attachment. Stir to combine.

Add half the water. Mix on low until it begins to form into a shaggy consistency, scraping down the sides with a spatula as necessary. Add the sourdough starter, and continue mixing for 1 minute.

Slowly add the remaining water and mix until it forms a smooth ball, about 10 minutes. Note: dough will be very wet and sticky.

With the dough still in mixer bowl, fold into a ball, cover with plastic wrap, and set on counter for 1 – 2 hours to kick-start fermentation. You should notice some rise in the dough but not doubling in volume.

Place in refrigerator for 1 to 2 days, removing from fridge 4 hours before cooking.
Stretch dough in pan.
Let dough come to room temperature on the counter for 3 hours.

Preheat the oven to 550°F. If using an Ooni or other outdoor pizza oven, preheat until 700-800 degrees, about 20 minutes.

Scrape the dough out of the bowl and into the pan. Because of the high hydration in this recipe, you may need to wet your hands prior to handling. Flatten and stretch the dough to fit the pan as close as possible (a tiny bit of shrinking may happen, that's fine). Let sit for ½ hour, then stretch again ensuring dough touches edges of pan.

Place pan in the oven to par-bake the dough for 5 minutes.
Toppings, in order; then bake.
Carefully remove the hot pan from oven. Add shredded mozzarella then cubed brick cheese, ensuring cheese touches the edge of the pan. Add pepperoni, and then finally, 3 large stripes of sauce.

For home ovens: place pizza in oven for 10-15 minutes on the bottom rack. If you are placing it on a pizza steel, it should only take around 10 mintues for the crust to finish (toss the broiler on for the final minute or two if not cooking fast enough). If you do not have a pizza steel, 15 minutes may be needed.For outdoor pizza ovens: bake for 10 minutes, rotating pan halfway through.

Remove from oven and use a metal spatula to separate the pizza from the pan. Slide onto a cutting board, slice, and serve.