The cold-fermented Neapolitan dough is unlike any other pizza crust in the world. It creates a light and airy result with traditional leoparding, or a leopard-like pattern on the fire-roasted pizza crust. The minimum 24-hour ferment creates amazing texture and flavor, but the real trick is cooking this pizza in an extremely hot pizza oven for that bubbly texture and charred outside.
Neapolitan dough makes for the best pizza, but how exactly do you make it and why is it worth the time? Let's get into all the reasons!
What is Neapolitan Style Pizza Dough?
Neapolitan pizza comes from the Italian city of Naples, which is the capital of the Campagnia region. The people of Naples are so serious about preserving their unique way of making pizza, they founded the True Neapolitan Pizza Association, or AVPN, which is the internationally recognized standard for making true Neapolitan pizza. That's some serious dedication!
According to the AVPN, Neapolitan pizza should traditionally be 13.5 inches in diameter with a flat and thin center of about .1 inches. The bubbly, spotted edges of this pie should be a little taller at .5 inches tall. This association also sets the standard for exactly which ingredients are recommended for the recipe. As for toppings, you will most commonly find Italian tomatoes, such as San Marzano, fresh mozzarella cheese, and whole basil leaves.
When it comes to making the crust initially, a Neapolitan dough requires at least a 24-hour cold ferment, which contributes to the bubbly, elastic crust. Once the dough has risen for long enough, it is stretched out until it is almost paper-thin in the middle with thicker edges. These edges bubble up in a hot oven, creating the classic pizza image we all know and love.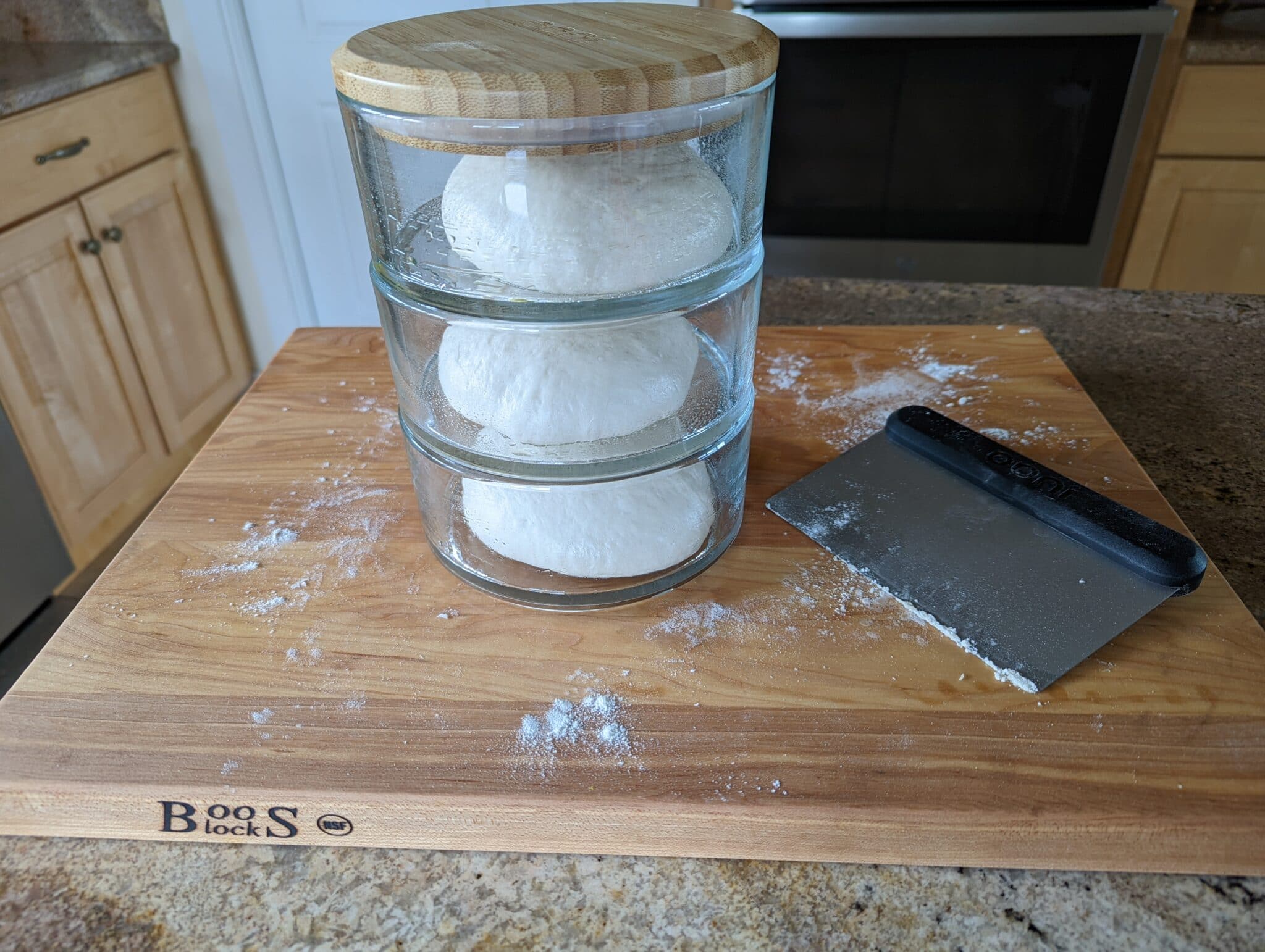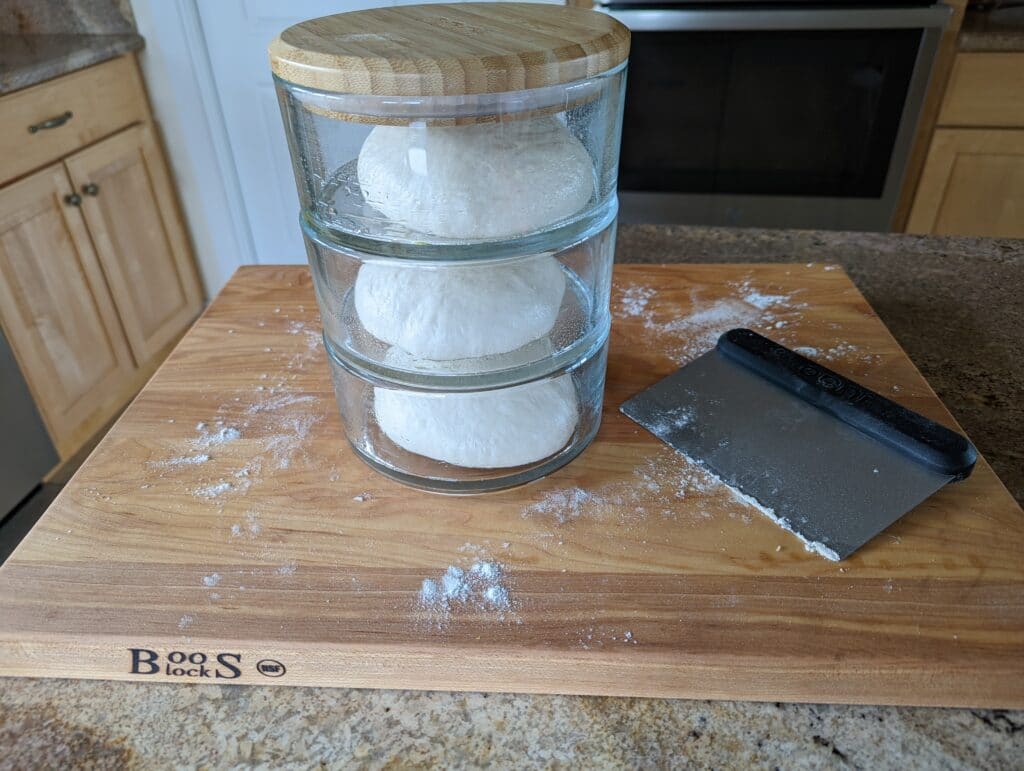 What Does Cold Ferment Mean?
Any pizza enthusiast will tell you that all Neapolitan style dough recipes require at least 24 hours to cold-ferment. This means that once the dough is kneaded properly and initially bulk ferments for 2 hours, then it is transferred to the refrigerator to continue fermenting overnight in a chilled environment.
What the cold ferment does is add tons of great, nuanced flavor to the pizza. Longer fermentation time equals a deeper, complex flavor that traditional pizza does not have. Also, strong flour and less yeast are used in this recipe to account for the longer fermenting.
The cold ferment also means that once the pizza enters that screaming-hot oven, the bubbles in the dough expand, creating that light and airy texture inside and crisp, cracker-like crunch on the outside. If you've ever wondered why your homemade pizza does not taste like a pizzeria, this may be why!
What Type of Flour to Use?
As stated before, you will need a special type of flour to make traditional Neapolitan pizza. You want a high-gluten flour because gluten development in the kneading process creates more elasticity in the dough. Look for flour with a gluten percentage of 10-12%. This means using 00 flour, which can withstand the long, cold rise.
This 00 flour is absolutely integral to this recipe. The extra gluten in the dough creates a stretchy dough before baking and also creates those large bubbles that most associate with Neapolitan pizza. According to the AVPN, 00 flour imported from the Naples region is the gold standard in making this pizza.
There are plenty of non-imported 00 flour varieties that you can find at your grocery store or local market. If you can find the imported stuff, go for it! You may be able to locate this specific flour at a local Italian deli or grocer. You can also order the imported stuff online!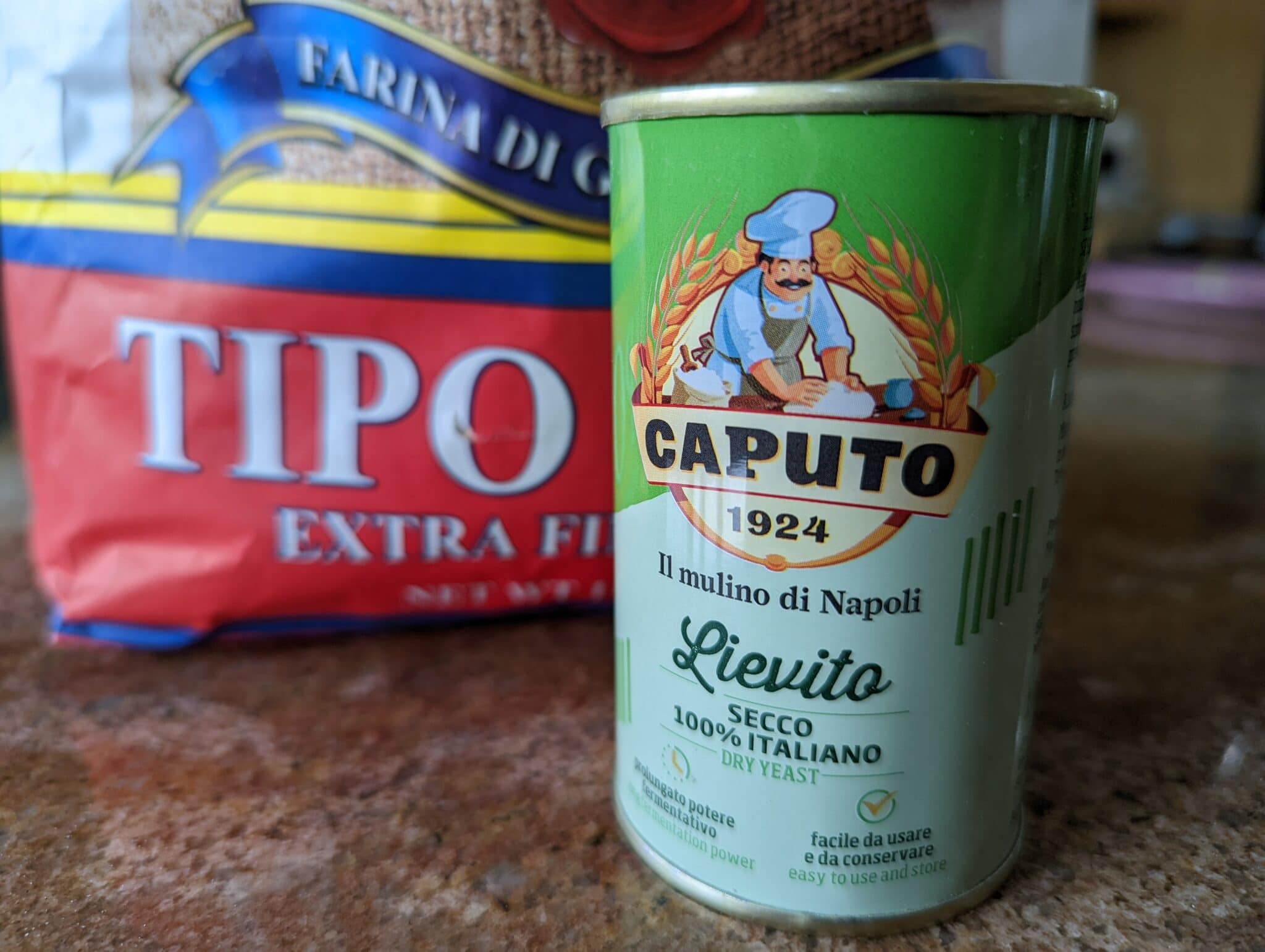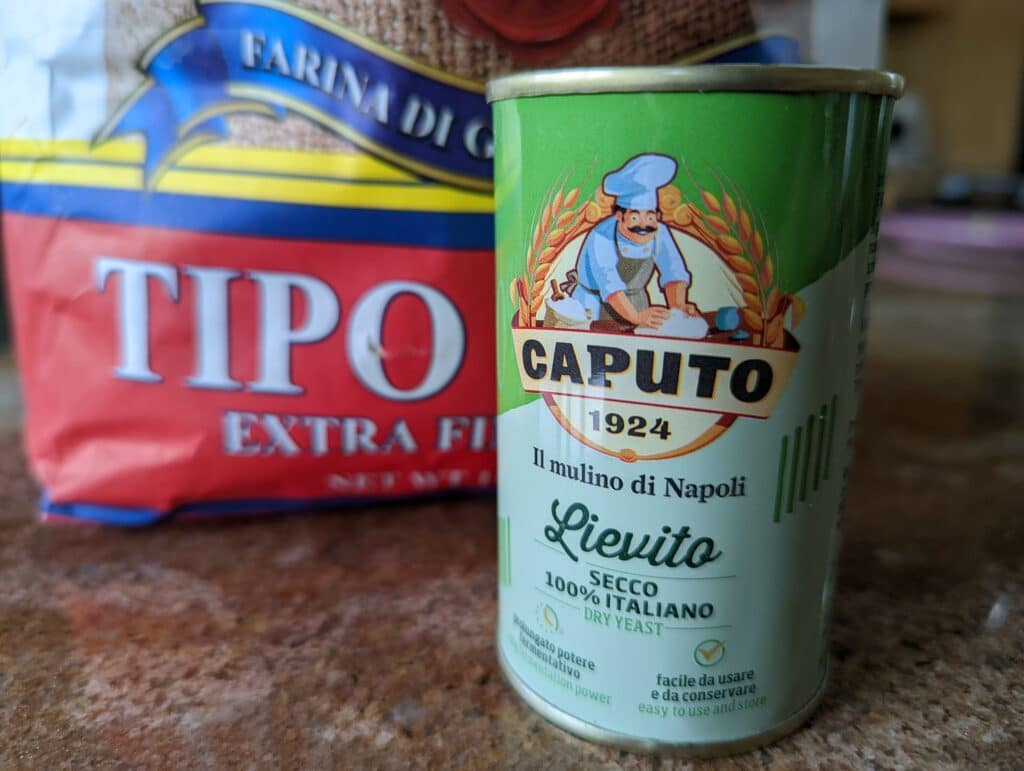 How Much Yeast Do I Use?
Since you are using 00 flour with more gluten inside, you can use slightly less yeast than you typically would for traditional pizza or bread making. You'll only need 1.5 grams of yeast, while many non-Neapolitan recipes call for up to 5 grams of yeast. Because the dough is fermenting so long, the yeast has plenty of time to rise and do its thing. More yeast would cause this dough to rise too much, too quickly.
You really only need 4 ingredients for this dough; 00 flour, yeast, water, and salt. You do not want to use sugar or fat in this recipe, at all! Because Neapolitan pizza is cooked so quickly in a screaming-hot oven, any fat or sugars will immediately burn in the oven. Without fat in the dough, you will see the leoparding or spotty browning that classically occurs in this pizza recipe.
Is It Better to Measure Ingredients by Weight?
Yes, yes, and yes! Instead of weighing out your ingredients with measuring cups, always measure your ingredients by weight when making doughs or baking. Depending on how you pack a 1-cup measurement of flour, the weight could greatly fluctuate. Some people pack their measuring cups with flour, which would change the integrity of your dough.
Instead, buy a food scale and measure your ingredients this way. There is much less room for error and your crust will come out perfectly every time. Simply use a bowl, place it on the scale, zero out the weight of the bowl, and measure your wet and dry ingredients before mixing them together. Your pizza making and your baking will improve dramatically with the one simple trick!
The Type of Oven Matters!
Sure, you could modify a Neapolitan pizza recipe to make in your home oven by using a pizza stone. But, you will never get the same crisp texture on the outside without a wood-fired oven. The ideal temperature for baking Neapolitan pizza is between 800-900 degrees Fahrenheit. With this hot of an oven, the cooking time only takes about 90 seconds to fully cook your pizza!
One of the best tools for making perfect pizza is an outdoor pizza oven. These ovens get as hot as you need for this style of pizza, plus, they cook your pie in less than half the time. You will taste and see a major difference between cooking a pizza in your home oven and buying an outdoor pizza oven. It's worth it if you are a pizza lover!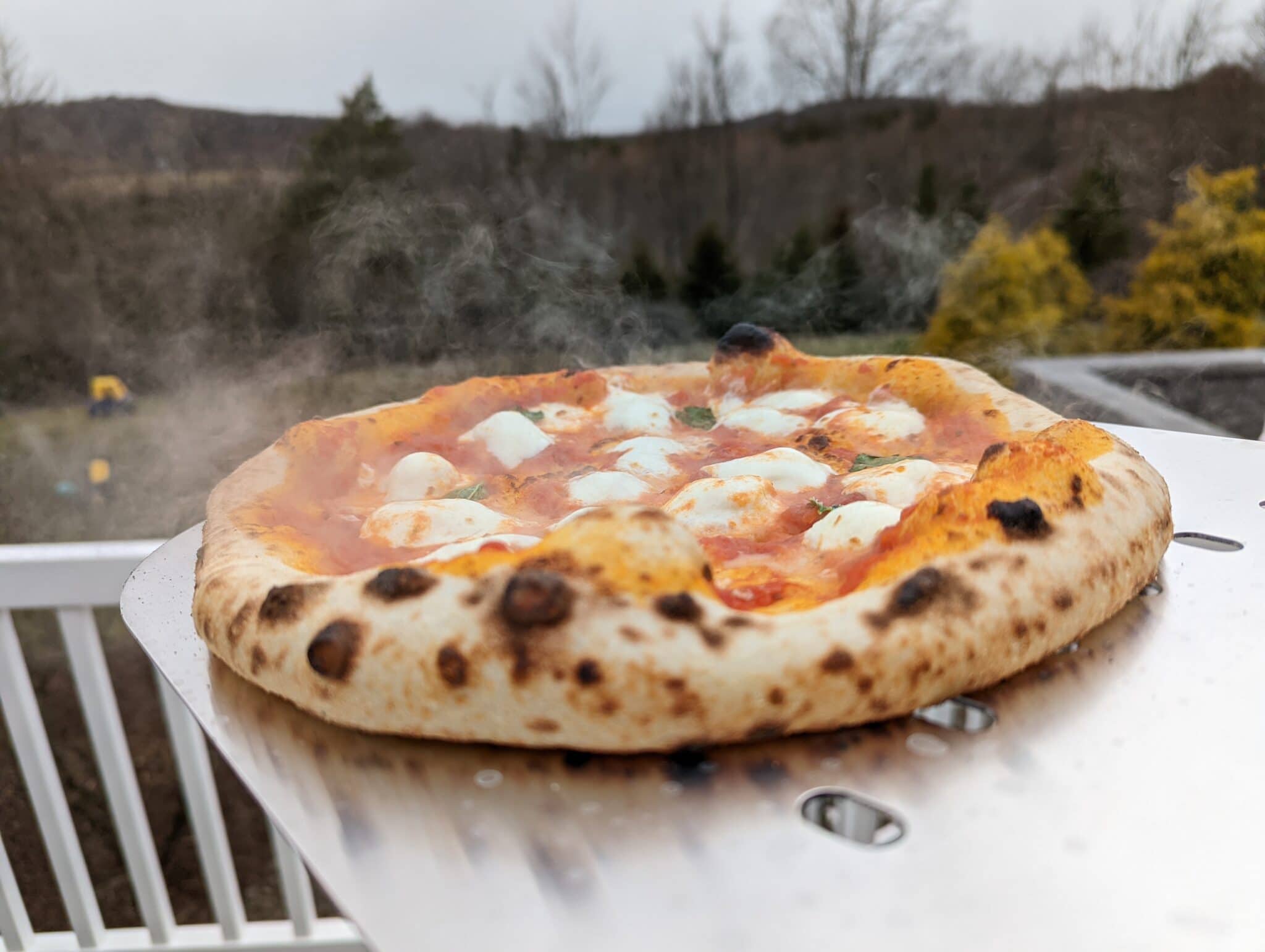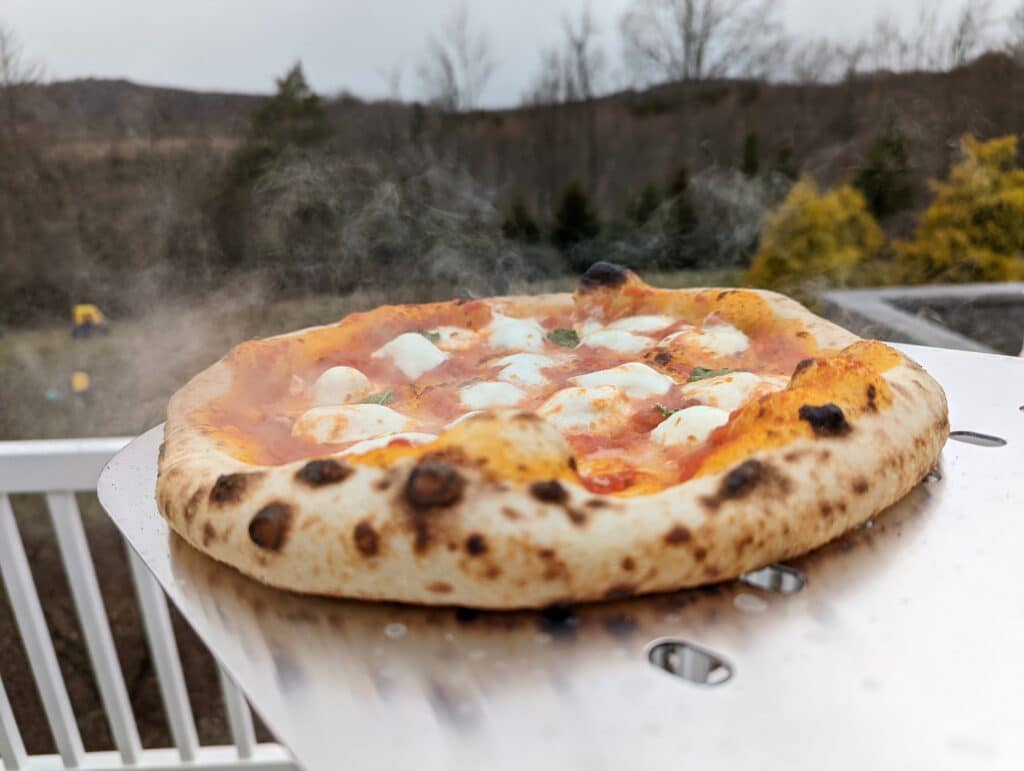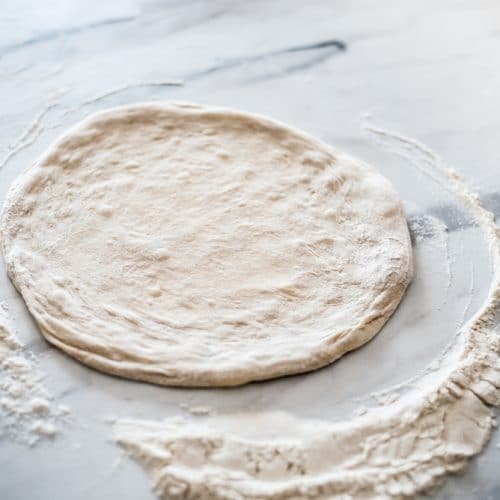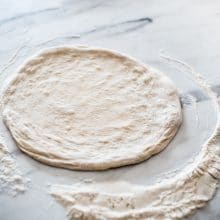 24 Hour Cold Fermented Neapolitan Pizza Dough
Our go-to pizza dough recipe for making top-tier pies in 900F outdoor ovens.
Print
Pin
Rate
Follow my pizza journey
Servings:
3
270g dough balls
I bought 15 pizza ovens to hands-on test.
It's a hobby, not an obsession! Here are the best pizza ovens.
Ingredients
500

g

00 flour

1.5

g

yeast

We prefer SAF brand.

300

g

water

Lukewarm to jumpstart the yeast

12

g

salt
Seriously. I have a lot of pizza ovens.
Let me show you the best after hundreds of hours testing. Read my in-depth pizza oven reviews!
Instructions
4PM: Mix together flour, yeast, and salt. Slowly add water and combine well; no need to knead at this stage. Let sit for 20 minutes before kneading or mixing with a dough hook for 5-10 minutes (until smooth and stretchy).

Cover with plastic wrap and bulk ferment at room temperature for 2 hours.

6PM: Divide dough and shape into 3 balls, place in air-tight container or bowl with plastic wrap, then place in refrigerator overnight.

3PM (next day): Remove from fridge. Rest for 3 hours before stretching and cooking in outdoor oven at ~800F – 900F.