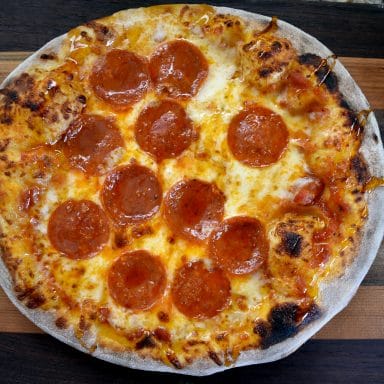 Hot Honey Pepperoni Pizza Oven Recipe
Mike's Hot Honey kicks a pepperoni pizza into high gear with added sweet heat from chili infused honey. It's an incredible combo. In this NY Style recipe, we used shredded whole milk mozzarella and a touch of parmigiano reggiano. There won't be a slice left over.
Equipment
Outdoor Pizza Oven (preferred) or standard oven

Pizza peel
Ingredients
3-4

oz

pizza sauce

A homemade sauce from a can of high-quality whole tomatoes is really simple, but if you want a typical store-bought sauce, we prefer Rao's Homemade.

1/2

tsp

oregano

You can likely skip the added oregano if using store-bought sauce.

7

oz

whole fat mozzarella

If using pre-shredded cheese, RINSE the cornstarch off and dry before using. This will create a much better cheese melt.

330

g

NY style pizza dough

Pepperoni

to taste

Hot Honey

drizzle
Instructions
Flatten and stretch dough into 14" pies.

Prepare your pizza by ladling sauce onto stretched dough and then sprinkling oregano. Starting from the outside and moving inward, spread a light even layer of cheese. Evenly top with a layer of pepperoni.
Indoor oven
Preheat to 550F for at least 30 minutes with pizza steel or stone on top rack. Turn on broiler, and let preheat another 10 minutes.

Using a pizza peel, carefully move pizza to oven and cook for about 6 minutes, watching closely for crust color and cheese burn. Avoid rotating when baking in home ovens as temperature loss from opening the door often does more harm.
Outdoor pizza oven
Preheat your Ooni (or other portable outdoor pizza oven) for 25 minutes. The oven should reach near 800F in this time. Place pizza in oven and cook for 2 minutes (+/- 30 seconds depending on color) rotating as needed.

TIP: if using an Ooni Koda or another gas model oven, reduce the heat to low just as you place the pizza in; this creates really great crust color without burning the cheese too early. This may increase cook time slightly.
Finishing Touches
Let pizza cool for one minute on a wire rack/

Drizzle with Hot Honey; slice and serve.
Notes
If using an outdoor pizza oven, such as Ooni Koda, the baking process will only take a couple minutes max. If using an indoor oven at 550F, it will take closer to 5-7 minutes.