We saw it coming. It was inevitable. But even after seeing the launch announcement of Ooni's first indoor/outdoor electric pizza oven, I couldn't help but feel absolutely pumped. I feel this way for two reasons:
This is the first indoor/outdoor oven, making it truly one of the most portable ovens.
The Ooni Volt is the second (US available) indoor pizza oven that can reach temperatures above 800F (the other being the Breville Pizzaiolo). With such a large company coming into the arena, I have a good feeling that more companies will be entering this space, providing some competition for a healthy market.
And to touch on that first point a bit more, the ability to make a true authentic Neapolitan pizza while indoors is game changing, especially for me living in the Northeast.
Leading up to the release, some were worried about electrical requirements for an oven like this. Thankfully, it does not require a 240v outlet and can work off any standard 120v electrical outlet in the US.
Moreover, the oven is ready to go right out of the box. There's a lot to love about the Ooni Volt 12, but let's take a closer look at the specs and compare it to some other pizza ovens.
Note: This is a preliminary spec review. We are still waiting to test this product in person. Therefore, the performance section will be added in a few weeks after using it.
Ooni Volt 12 Stock Status: LIMITED
The Ooni Volt 12 has been selling quickly since the launch. Current shipping estimates are IN STOCK.
---
Like the content?
If you purchase an Ooni Volt
through this link
, I will receive a small affiliate commission which directly funds the purchasing of more pizza ovens for content creation.
Design and Features
The Volt 12 is unmistakably "Ooni-fied", whether you're a fan of that look or not. I personally really like the powder coated steel shells they use across their newer ovens. It holds up well to the elements, feels a lot more durable, and doesn't show as much soot.
Moving on to the interface and Ooni made some huge improvements here with some touchscreen power buttons, which also make a little jingle and sequentially light up the rest of the controls.
Inside, you'll find a 1/2″ thick stone, 13″ of cooking space, and bright viewing light to watch pizza-making progress.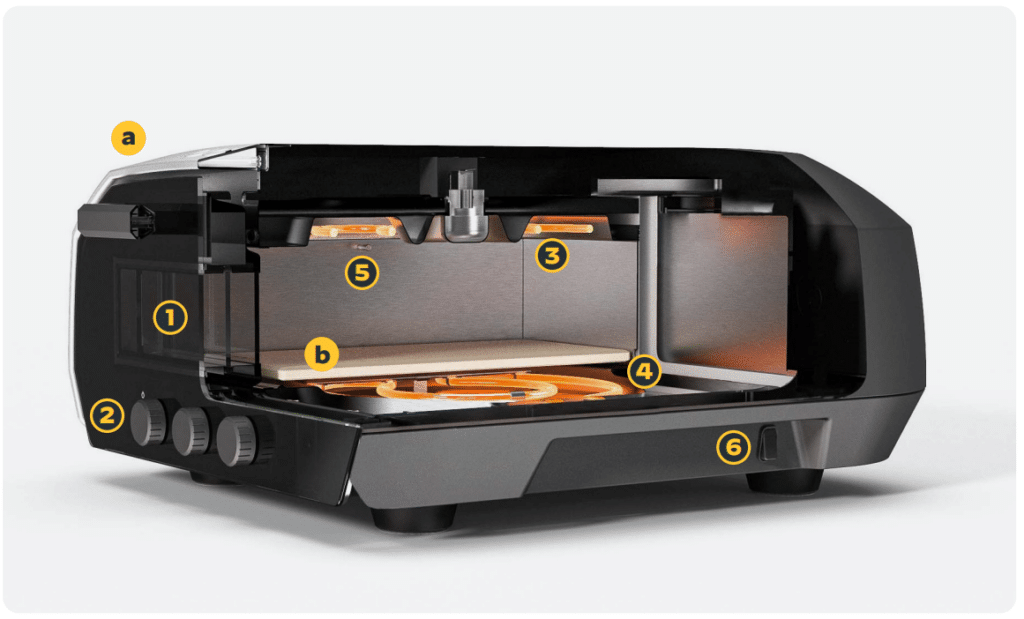 What's in the box
a. Ooni Volt 12
b. Baking Stone
Key Features
Triple-glazed door with full-width
pizza-viewing window.
Digital user interface.
Upper heating array.
Lower heating array.
Temperature sensor.
"On/Off" switch.
Max Temperature (& Specs)
The Ooni Volt 12 can reach 850F in just 20 minutes. This is a killer preheat time for a pizza oven. Since this is an electric oven, there's no need for a chimney or open door to prevent gas buildup or provide airflow. This is how the Volt 12 is able to achieve a quick preheat – it's basically a sealed up box.
However, 850F is a bit lower than what the best pizza ovens we reviewed are capable of achieving. With that said, I feel a lot of people put a bit too much focus on the max temperature ovens are capable of. Personally, I never launch a pizza when the stone is at 950 – it ends up scorching the bottom too quickly. 850F is a pretty solid stone temperature for launching a Neapolitan pizza.
Knowing/measuring the amount of insulation used in pizza ovens is tough without cutting into them, but the fact that this oven weighs 39.2lbs says they must be using a good amount. This is a lot heavier than any other 12″ oven Ooni sells, and only 1lb lighter than the Ooni Koda 16!
Dual Burners
Dual burners in pizza ovens are trendy lately, and for really good reason. Under-stone burners help with getting a pizza oven's cooking surface up to temperature faster, saving fuel and improving performance for back-to-back pizzas.
The Halo Versa 16 and Carbon pizza oven both have dual burners, but only Carbon has an adjustment dial for each. The Ooni Volt interestingly has only one dial to fine-tune both burners – putting more heat below the stone, above it, or evened out.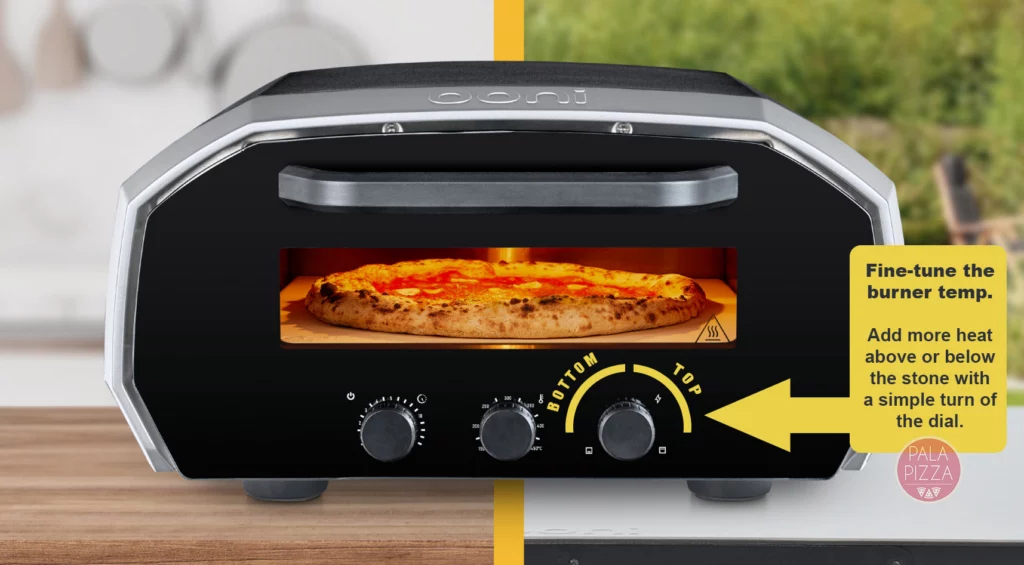 These burners put out a total of 1600 Watts, which is a lot of power. At 120v, that equates to 13.33 amps, which is below the standard 15 amps on most outlets. However, (I'm not an electrician, so this is not advice) I personally wouldn't want to be running anything else on that circuit.
Boost Function
The boost function is intended to quickly reheat the stone between bakes. It can be activated by turning the aforementioned dial all the way to the left. Once you do this, the "bottom burner" icon will quickly flash for 45 seconds before reverting back to the recommended setting.
It essentially pushes the majority of power to the bottom burner, making the stone temperature rise faster than it would if you used a 50/50 split between the burners. I really like this flexibility in the burners. If you have a pizza with a lot of toppings and need some more heat from the top, just turn the dial to the right.
I can only assume that the max of 45 seconds you're allowed to put full power on the bottom burner is for a safety reason.
Is The Ooni Volt 12 Worth It?
Full disclosure: I have not yet tested this personally, but I absolutely will plan to get one soon. Not only so I can update you all on its performance, but because I see myself using and enjoying this product. Sure, it won't beat the performance of a good outdoor oven, but with stone temperatures of 850F I know for sure that it will be capable of making solid pizzas – while being indoors.
I live in the northeast (US) with some long, cold winters. I still make pizza outside in freezing temperatures, but with a proper indoor pizza oven at my disposal now, that will change.
I'm incredibly excited for this release and stoked for what this means for the future of the pizza oven industry…
Your move, Gozney!