Awesome, but not perfect.
The Ooni Pro does 3 things really well - wood, charcoal, and gas. The ultimate question... is the price worth the flexibility? It isn't for me, but it may be to you.
The good.
Hybrid-fuel allows for wood, charcoal, a combination of both, or gas
The larger oven allows for 16" pizzas which is closer to NY-style size.
Includes two door varieties, depending on what you're cooking.
The bad.
One of the heaviest portable outdoor pizza ovens weighing nearly 50lbs.
The gas torch-style burner is hot, but a bit less effective than Ooni's pipe burner (found on the Koda model)
One of the most expensive options.
Free Shipping on the Ooni Pro
In 2012, after a successful Kickstarter campaign, Ooni created the world's first wood pellet pizza oven for use at home to make traditional Neapolitan-style pizza accessible and affordable. Since then, the company has created several models in various sizes and with different fuel options.
The Ooni Pro 16 Multi-Fuel Pizza Oven – their largest oven with the most flexible fuel choice option – is the company's highest-end model. The Cadillac of outdoor pizza ovens. In 2020, Wired named it "The Best Pizza Oven."
But we didn't. Another Ooni model still tops our list, but before I tell you which one, let's walk through every detail of this Multi-Fuel Pro 16 model because it's still a solid pizza oven that may be a good fit for you.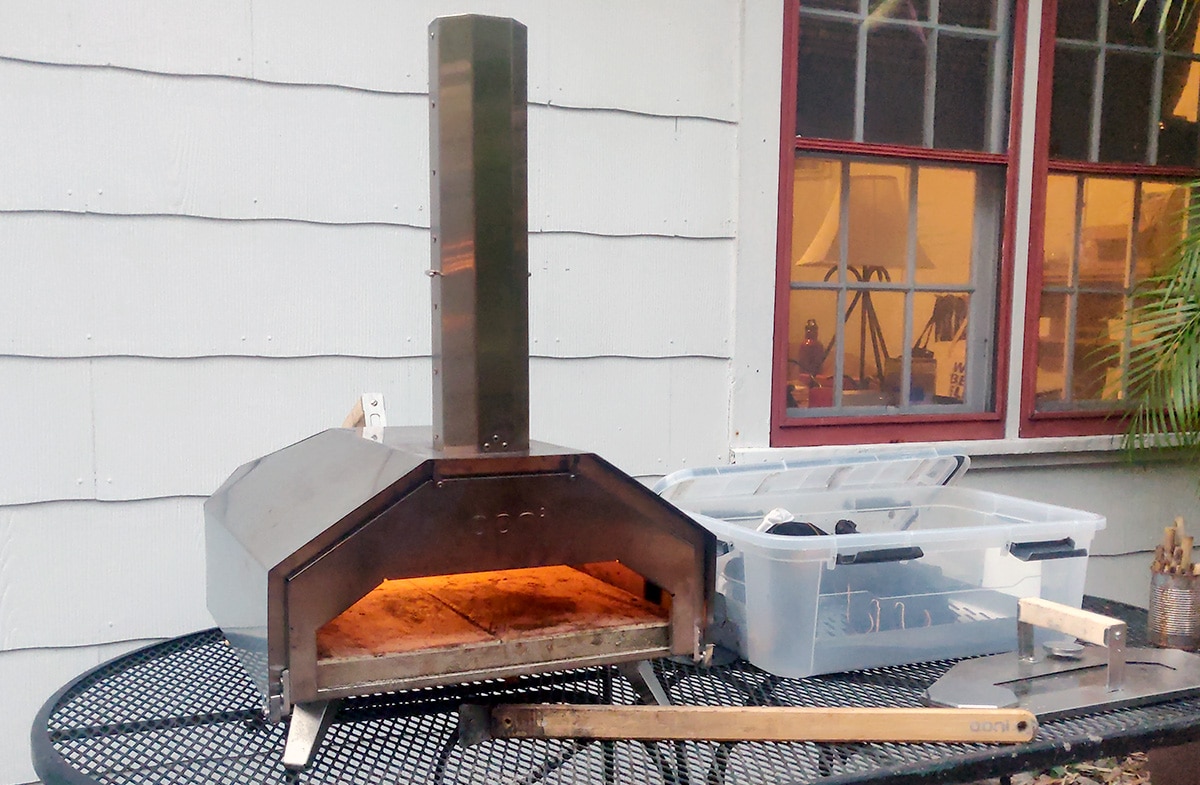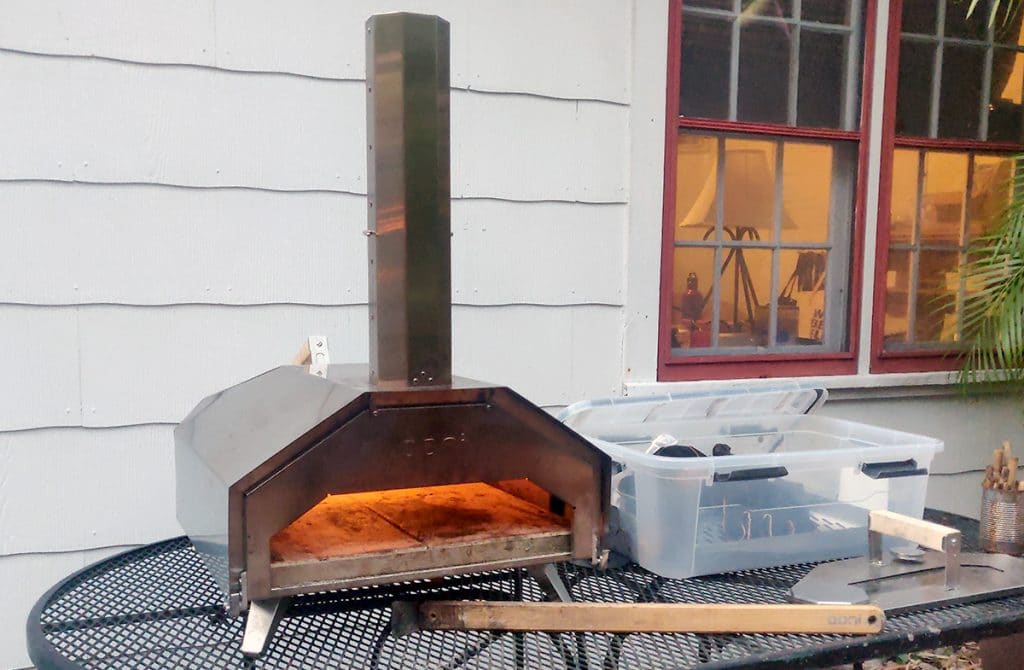 Design and Features
Fuel source
The Ooni Pro 16 Multi-Fuel Pizza Oven is a hybrid-type and allows for cooking with wood, charcoal, a combination of both, or propane gas (which requires a gas burner, which is not included an costs $99.99). The Ooni Karu similarly offers the same multi-fuel options, but it's a much smaller oven only intended for 12″ pizzas.
Wood and Charcoal
Cooking with wood and charcoal can impart a smokier flavor similar to a traditional brick oven, however there is debate as to how much flavor can be added in such a short timeframe since Neapolitan pizzas cook in under 2 minutes. Kindling-sized, dry, hardwood logs are recommended, particularly oak or beech. Regular high-quality charcoal is recommended. Don't use instant-light charcoal as it could impart unwanted flavor. Wood is better suited for fast-cooking pizzas and other food, while charcoal works better for lower and steadier temperatures like bigger pieces of meat or bread.
Many Ooni users have found that starting with a charcoal base, then adding wood on top, has the best results. The charcoal provides a steady base while adding wood will give a burst of heat and impart a wood-fired flavor. The Ooni Pro is not compatible with wood pellets.
Propane gas
Gas is more convenient and allows for a bit more control in terms of temperature. The Ooni Pro Gas Burner is an add-on that works with the traditional propane tanks used for barbeque grills. The oven is not compatible with natural gas. We personally prefer cooking with gas powered Ooni's, which is why we ranked the Ooni Koda as the #1 pick. However, I understand wood-fired cooking has a special place in many hearts and it can be a really enjoyable thing to do outdoors, so if you want the best of both worlds, the Ooni Pro will fit that style.
Size and weight
The Pro is the largest and heaviest of the Ooni ovens. It is 28.8 x 19.2 x 30.7″ (73 x 49 x 78cm) and weights 48.5lbs (22kg). Compared with some of the other Ooni ovens, the Pro is not as easily portable because it weighs more, is larger, and has a chimney or gas burner attachments.
Composition
The oven is made of brushed stainless steel with ceramic fiber insulation, which provides the insulation needed to reach maximum temperature. The cooking surface is comprised of two 0.5″ (1.5cm) thick cordierite stone baking boards that together are 18″ (46cm).
Max heat and BTU
Like all the Ooni ovens, the Pro reaches the 932 degrees recommended for Neopolitan-style pizza. That's more than twice as hot as a traditional oven. That maximum temperature can be exceeded but if that happens you should stop adding fuel and wait for the temperature to drop. The oven's power is approximately 7kWh (20472 BTU)
Assembly and First Cook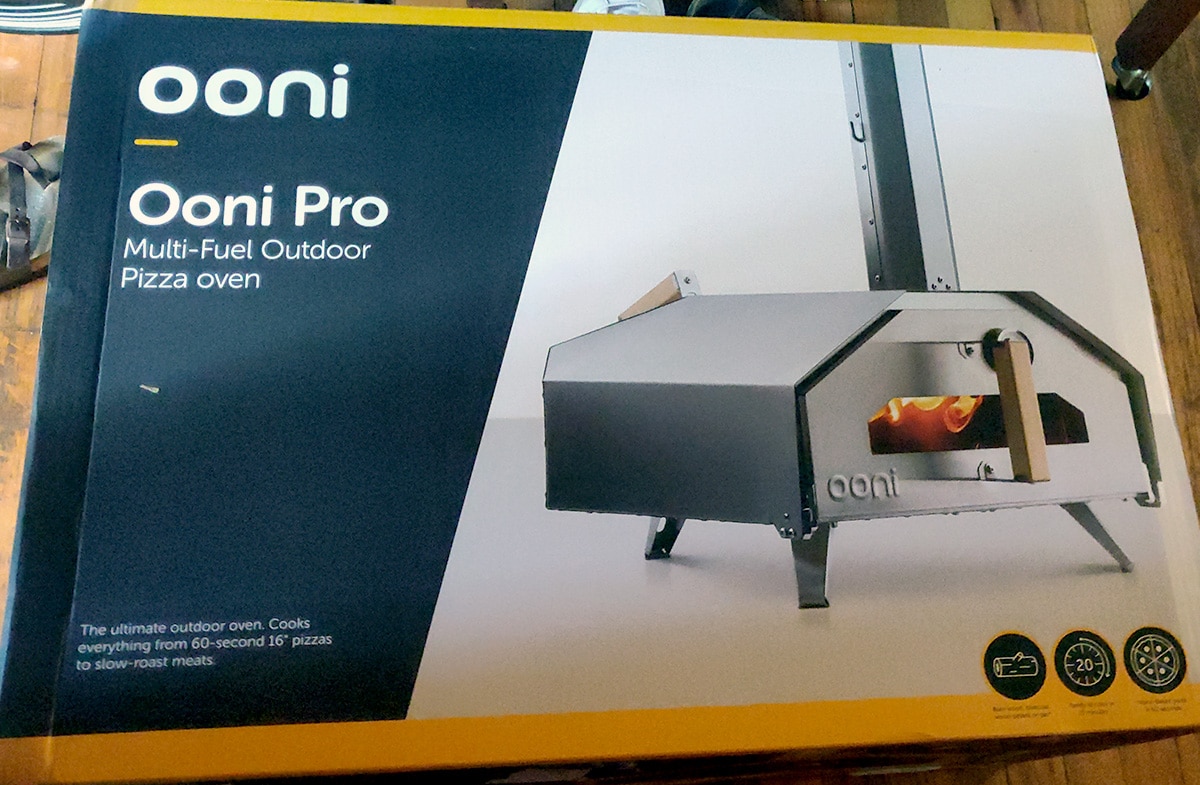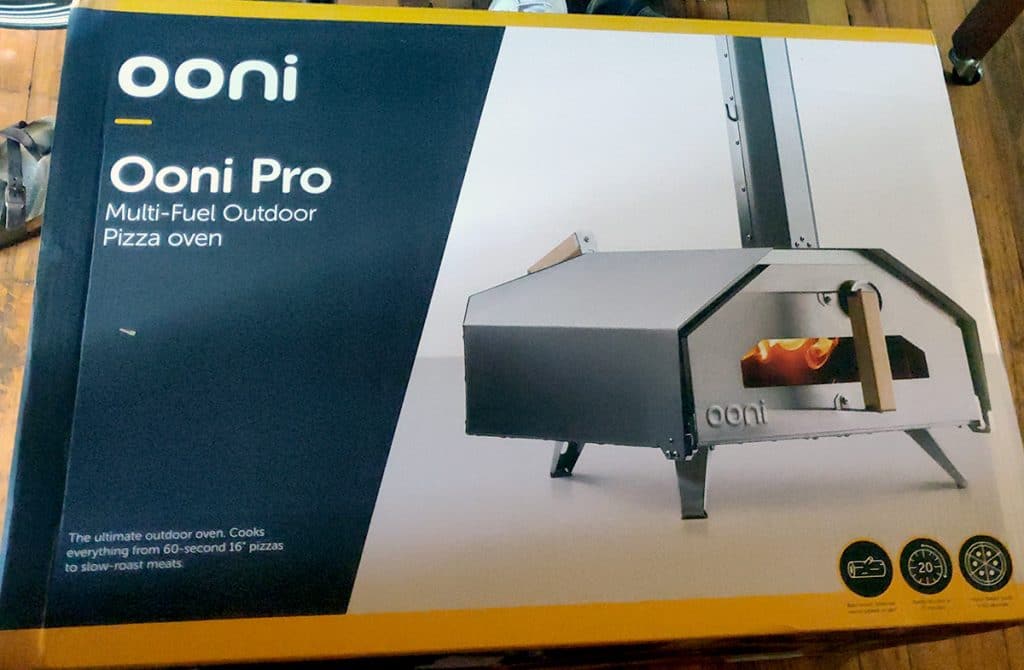 What's in the box?
The Ooni Pro 16 comes with everything you need to get started to cook with wood or charcoal, except the fuel and peel (and ingredients).
Included in the box are the Ooni Pro Pizza Oven itself, chimney and chimney cap, cordierite stone baking board (2 stone parts) and stone guard, wood & charcoal hatch, burner tray, Ooni Pro Essentials Guide & Manual, Allen key, and Ooni Pizza Oven Gloves.
The Pro comes with two doors:
One with a built-in thermometer and glass viewing pane for cooking with wood or charcoal
Postbox-style entry far all fuel types
Again, the Ooni Pro Gas Burner for use with propane is not included, you'll have to purchase it separately if you want to use gas.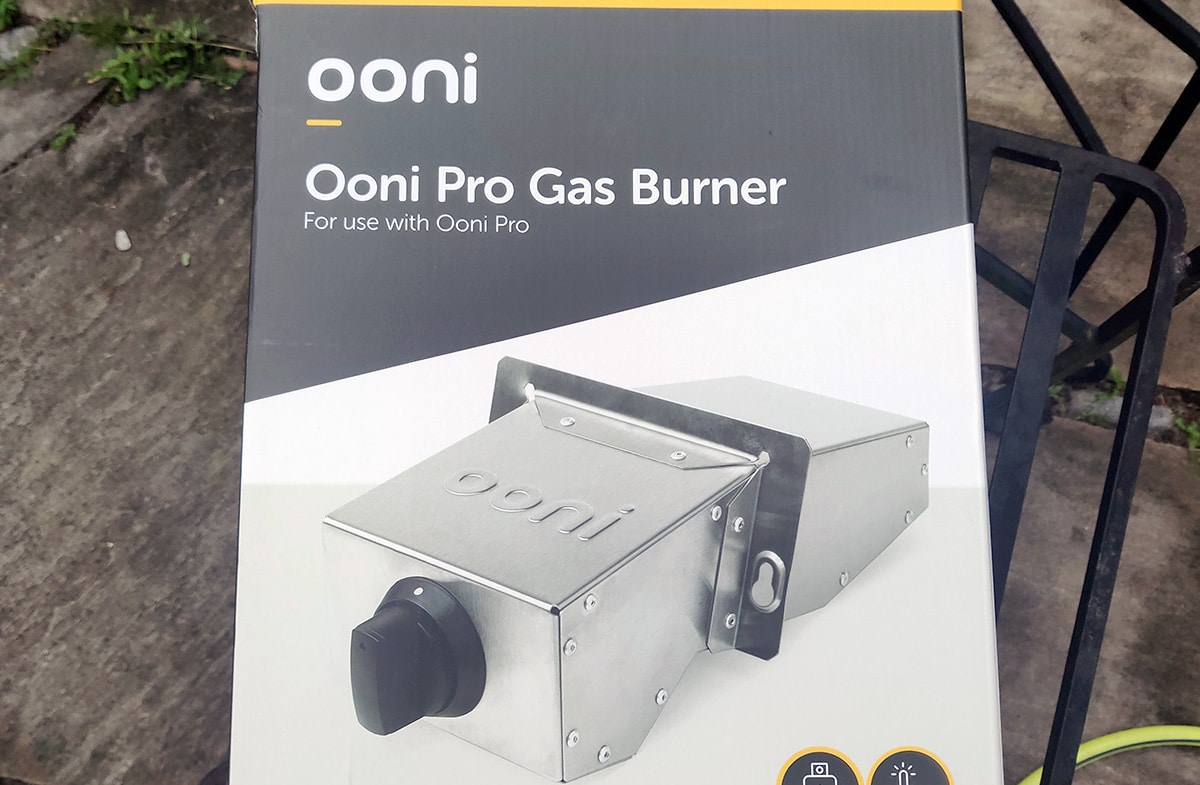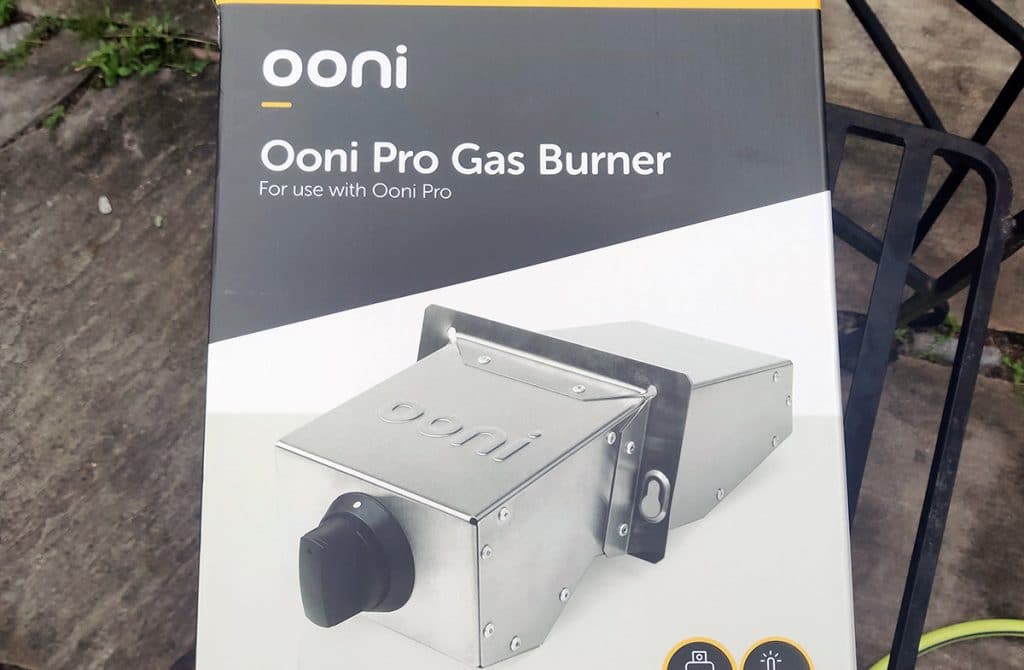 Important safety information
Because the Pro reaches such a high heat, you should follow some basic safety guidelines:
Use only outdoors, and place at least three feet away from any walls or other structures.
Don't use it in heavy winds.
If the ideal 932-degree temperature is exceeded, stop adding fuel, remove the fuel hatch and wait for the temperature to decrease.
When in use, the oven should be placed on a sturdy surface capable of supporting up to 66 pounds. Surfaces made of wood, stone, marble, or stainless steel are recommended. Plastic or glass surfaces should be avoided. Optionally, Ooni offers tables in medium ($199.99) or large ($249) size for use with your oven.
Do not leave the oven unattended while in use.
Keep children and pets away from a lit oven.
Don't touch the oven while in use. Once you've stopped adding fuel wait at least two hours before handling or cleaning to make sure the oven has cooled.
Oven Set Up
To set up the oven you need to fully fold out the three legs and place the oven on a proper surface, place the two pizza stones in the oven, and attach the chimney and door. When using wood or charcoal, use the door with the viewing pane so that you can see how big the flames are.
If you plan to use the door with the thermometer, familiarize putting the door on or off so that you understand the release mechanism before the oven is lit.
Seasoning your Oven
Before you cook your first pizza you should season your oven so that any oils or other waste left from the manufacturing process burn off. It also gives you a chance to get to know the oven and how it works before using it to cook pizza. To season your oven light it following the instructions below and let it burn at maximum temperature for 30 minutes. Let the oven cool completely (up to two hours) and wipe it down with a dry paper towel. Never use water to cool down or clean the oven.
Turning it on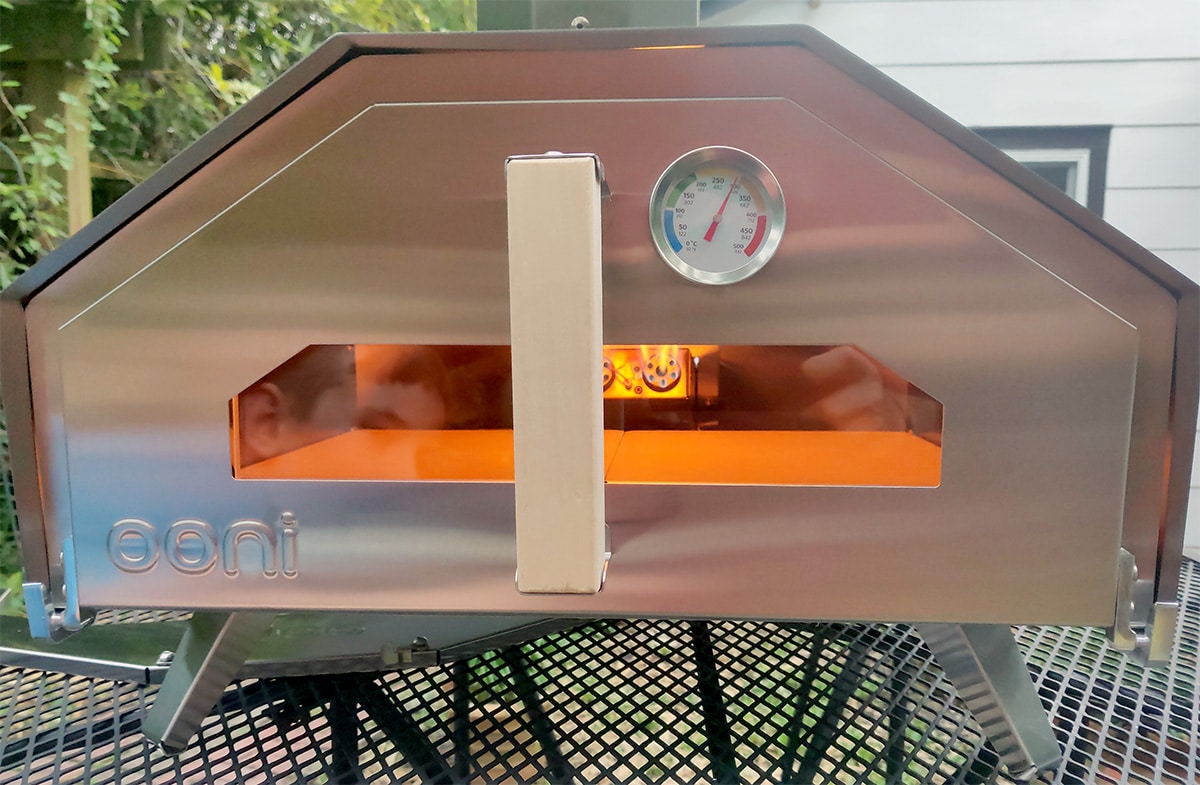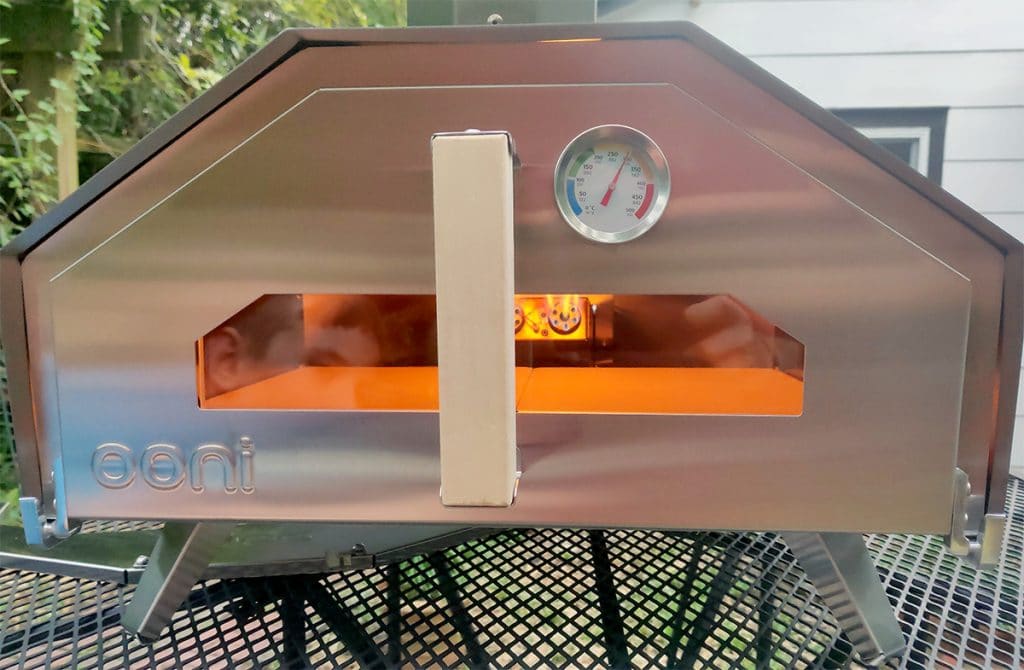 Turing your oven on is as simple as igniting the fuel source, so it's a bit different depending on which one you pick.
Wood or Charcoal
Place the fuel source in the burner tray, place a fire-starter on top, light it, and place the tray in the oven. Allow the wood or charcoal to ignite before gradually adding more fuel. Starting with charcoal as a base and then adding wood once the charcoal is burning results in a more even burn and better wood flavor.
With either wood, charcoal, or a combination, the oven can be ready to cook in 20 – 30 minutes. You can use an infrared thermometer to check the temperature. 932 degrees is what's called for an authentic Neopolitan-style flavor but you can cook a pizza at a lower temperature.
Propane Gas
Close the vents, attach the pizza door, and remove the hatch. The burner comes with an ignition, so all you need to do is turn on the gas and turn the igniter counter-clockwise. Once lit, place the hatch. You can regulate the heat with the burner control.
Wait approximately 20 – 30 minutes for the oven to reach the appropriate temperature. When using gas, make sure you only use the pizza door (doesn't have the thermometer) because moisture could damage the door with the thermometer.
If you want to change the fuel or burners, allow the oven to cool first.
Regulating Temperature
You should be able to manage the oven's temperature by managing the fuel, but the chimney and ceiling vents allow for greater control. Normally, you'll want both vents fully open for maximum airflow. Closing the vents will reduce airflow and lower temperature.
If using gas, the burner controls also adjust the heat.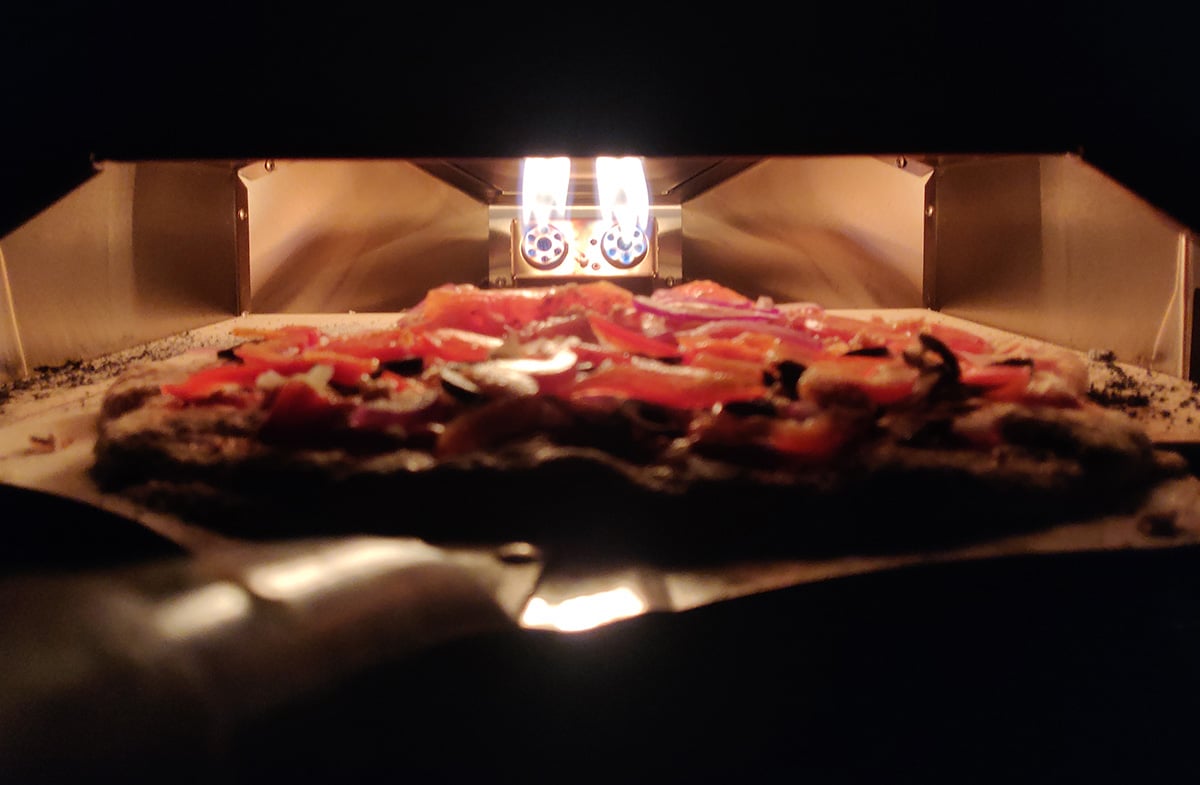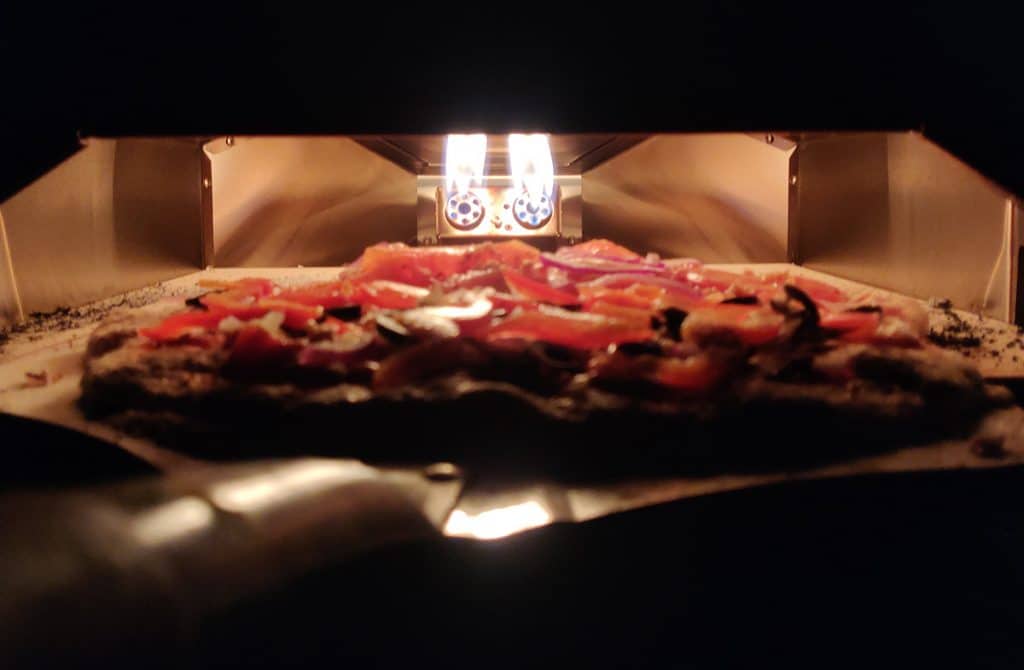 Adding your pizza
For classic Neopolitan-style, wait until the temperature reaches 900 degrees. If using wood or charcoal you can use the door with a thermometer. You can also use an infrared thermometer to check the specific temperature. For an even cook rotate the pizza every 20-30 seconds, and the pizza will be done cooking in 60 seconds.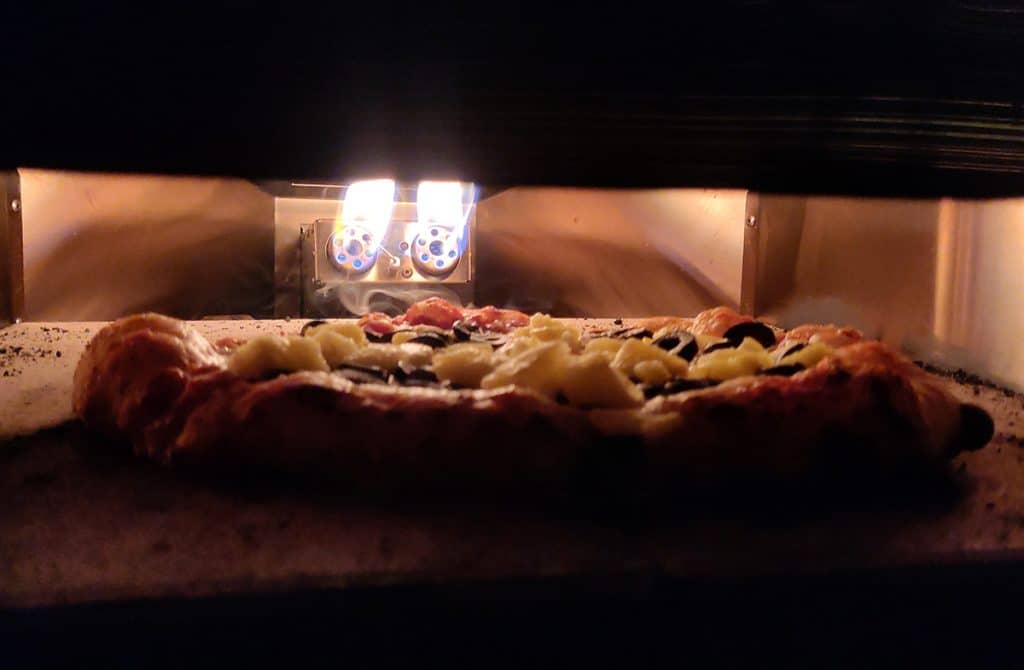 When you are done
Stop adding fuel or turn off the gas. Remove the door for faster cooling. If you are using the door with the thermometer, it must be removed while cooling to avoid damage.
Wait for the oven to cool completely, which can take more than an hour. Never use water to cool or clean the oven. The high temperature will burn off any excess food or waste, but if required use a dry cloth.
Performance and tips while using
Great pizza starts with great ingredients. 00 flour has been finely ground to feel almost like baby powder and is what Ooni recommends.
When making your own dough, let it sit at room temperature. A longer prove (the total resting time for dough before it is cooked) makes for a more complex crust.
Experiment with more than pizza. The oven is great for any food that cooks at high temperatures. Steak and vegetables are particularly tasty. You can even cook fresh bread.
Start slow with fuel. Particularly when using wood or charcoal, start with a smaller amount and gradually add more fuel to reach the recommended 932 degrees.
For an even cook, rotate the pizza every 20 – 30 seconds
For more tips and tricks, Ooni provides tons of videos, recipes, and guides for tips and inspiration. They also go to great lengths to foster an online community to share experiences and recipes.
What we love
Easy to use – Setting up and starting the oven is simple, with no moving parts to worry about.
Affordable – Compared with other ovens that reach such high temperatures, the Ooni is a fraction of the cost. Additionally, ongoing fuel costs are minimal.
Flexibility – The Pro lets you choose from a few fuel options, each imparting a different flavor to different foods. For example you can cook steak with wood or bake bread with charcoal.
Corporate responsibility – Ooni aims to have a positive impact on the planet. They are a member of 1% of the Planet, which means they donate one percent of each sale to social and environmental causes.
The Ooni Pro 16 Multi-Fuel Pizza Oven is best suited for anyone wanting to make big pizza at home and want the flexibility of fuel choices. It's the flagship of the Ooni models and makes a great addition to the home of any pizza lover.