Pizza, pasta, and bread are some of the greatest foods on the planet. However, each of these foods contains a common allergen, and that is gluten. It can be devastating to learn that you must stop eating gluten for health reasons, especially since gluten is found in so many delicious foods.
Although having a sensitivity or allergy to gluten is not the end of the world, it might feel that way upon your first diagnosis. Changing up your diet can be hard, but it is well worth it once you feel the difference between going gluten-free. Plus, there are more and more amazing gluten alternatives, one of our favorites being Caputo Fioreglut gluten-free flour, especially for pizza making. Read on to learn why it is the best on the market and the ideal recipe to use it in.
What is Gluten?
Gluten is a general term for the proteins found in wheat, barley, and rye. It is known as a type of edible "glue" because it holds foods together beautifully. The more gluten is developed, the more stretchy proteins occur, leading to some delicious, airy bread, chewy pizza crust, cakes, and other foods that utilize wheat flour. Gluten development occurs upon kneading your dough.
Gluten is often found in items that one would not expect, such as soy sauce. People who are gluten intolerant or sensitive have adverse reactions to ingesting gluten, usually pertaining to stomach ailments, such as bloating, gas, diarrhea, constipation, and abdominal pain. Some even report other bodily symptoms such as muscle aches or spasms.
Foods Containing Gluten
Gluten is found in many foods. Some you would expect, and some are a total surprise. Gluten-sensitive people tend to stay away from foods such as:
Bread
Pasta
Pizza
Sandwiches
Fried foods
Soy sauce
Breaded foods
Baked goods (cake, cookies, muffins, pies, donuts)
Unless any of these foods are labeled "gluten-free", it is safe to assume they are not consumed by gluten-free dieters. Luckily, there are more and more great gluten-free flours on the market, so many folks can enjoy these foods again by indulging in GF varieties. The main problem that GF dieters complain about is the texture. Flavor-wise, GF baked goods can be scrumptious. Texture-wise, they can be gritty or melt-in-your-mouth, but in a way that is not very appetizing. Many gluten free pizza doughs can struggle to rise as well, and in some recipes, yeast is only added for quick fermented flavor.
Why Caputo Fioregut?
Straight from Naples, Italy, AKA the home of Neapolitan pizza, comes the best gluten-free flour on the market. It is created specifically for pizza and bread making, mimicking the delightful, airy, stretchy texture of traditional pizza dough and bread. This flour is called Caputo Fioregut, and if you have not tried it yet, you must. I've made a lot of different gluten-free pizza doughs over the years, including ones made from almond flour, and while they taste good, they do not mimic traditional dough. Caputo's gluten free flour can actually rise and obtain a more traditional looking and textured crust.
This flour blend has been hand-crafted to ensure the perfect blend of flours to best stand up to wheat flour. It contains simple ingredients such as gluten-free wheat starch, corn starch, buckwheat flour, and rice starch, all of which do not contain gluten. The result when using this flour for pizza is a soft, tender, and flavorful crust with air pockets, exactly like a traditional pizza crust.
You can use this mix for gluten-free baking of all kinds. Although it is meant to make a flavorful gluten-free pizza, you can use it for any GF baking, sweet or savory. While there are many GF flour blends out there, Caputo Fioregut is hands-down the best we have tried, especially for long fermentation!
Benefits of this Flour
Caputo Fioregut was hand-crafted by its makers to best mimic the flavor, and more importantly, the texture of gluten pizza crust and bread. Many folks find GF baked goods to be gritty, brittle, or flavorless. Caputo Fioregut has resolved all of those past issues.
Some further benefits of this flour are:
High-quality ingredients
Contains a proprietary blend of flours/starches
Best for long-fermentation baking (such as Neapolitan pizza dough)
Super flavorful
Tender end result
100% made in Italy
Still not convinced? Caputo Fioregut is so delicious, that it most often goes undetected as a GF alternative! Friends and family will never be able to tell the difference between a gluten-containing pizza crust and one made with Caputo. All gluten-sensitive people can finally rejoice and have flavorful, crisp pizza again!
Other Gluten-Free Flour Alternatives
Sure, you can absolutely make pizza crust with other gluten-free flour blends. You can even create your own flour blend from your favorite varieties. Feel free to check out our Almond Flour Pizza Dough as a tender, chewy option!
There are multiple GF pizza blends at the store, often containing ingredients such as:
Rice flour
Brown rice flour
Xantham gum (binding agent)
Arrowroot
Chickpea flour
Potato starch
Corn starch
Buckwheat flour
Sorghum flour
Amaranth
Teff flour
Oat flour
Cassava
Tapioca starch
Coconut flour
Making Pizza w/ Caputo Fioregut Flour
The bottom line is that if you are gluten-free but enjoy pizza, you must try Caputo Fioregut flour for any of your dough-making needs. It has the perfect ingredients for a long, flavorful ferment. Now, you can enjoy your favorite pizzas again for the same amount of effort as a dough made with 00 flour! Now, let's get into how to make the perfect gluten-free long ferment pizza crust!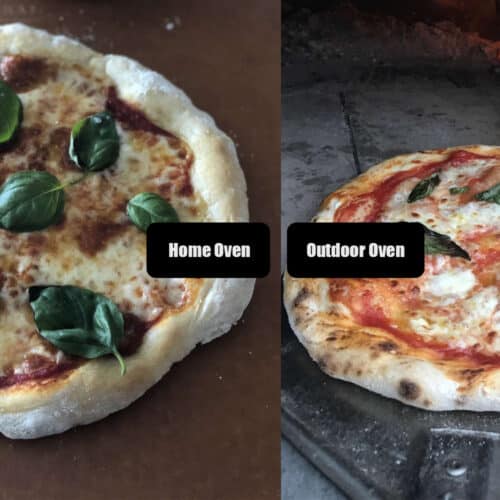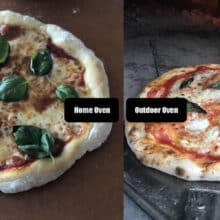 Gluten Free Pizza Dough with Caputo Fiore Glut
Caputo Fiore Glut produces the best possible gluten free pizza. It's wild how good this dough is.
Print
Pin
Rate
Follow my pizza journey
Servings:
1
300g dough ball (~14″ pizza)
I bought 15 pizza ovens to hands-on test.
It's a hobby, not an obsession! Here are the best pizza ovens.
Ingredients
160

g

Fioreglut flour

1.5

g

instant dry yeast

120

g

water

Lukewarm to jumpstart the yeast

5

g

salt

8

g

olive oil

extra virgin
Seriously. I have a lot of pizza ovens.
Let me show you the best after hundreds of hours testing. Read my in-depth pizza oven reviews!
Instructions
Add the yeast to the lukewarm water (microwaving it for 30 seconds results in the perfect 80-90F). Meanwhile, in the bowl of a stand mixer, mix together flour and salt. Slowly add the water/yeast mixture to the bowl and mix with paddle; when it becomes too thick for the paddle, switch to dough hook or continue forming by hand until incorporated. Slowly add the olive oil until incorporated.

With a bit of olive oil on your hands to prevent sticking, form the dough into a ball (no need to fold since there is no gluten) and very lightly flatten it so it resembles a standard doughball. Tightly wrap it in plastic wrap, ensuring there is no air in with it, and bulk ferment at room temperature for 1 hour.

Place in refrigerator for 12-24 hours. Take the dough out 2 hours before baking with it so that it comes to room temperature.

Spread some more Fioreglut flour on a work surface. Remove dough from plastic wrap and place on floured surface, topping with a little extra flour. Starting from the inside and working your way outward, gently press the dough to flatten and spread into a circular shape. The goal here is not only to flatten the dough, but to push the oxygen within the dough outward and to the crust.

Place stretched dough onto a piece of parchment paper and continue building pizza with toppings of your choice.

If using an indoor oven, preheat to 550F with a pizza stone or pizza steel set on the bottom rack. With a peel, launch the pizza (with parchment paper under it) onto the stone/steel and continue baking for ~6-7 minutes or until crust becomes colored and cheese is bubbling.

If using an outdoor pizza oven, preheat until ~800F – 900F. Launch pizza and cook for 2 minutes, turning frequently.