Our rating of the Bertello Pizza Oven
The good.
Multiple fuel sources
Fast preheat time and HOT max temperature
Competitively priced compared to Ooni or Roccbox
The bad.
Tricky to clean compared to competitors (minor negative)
On the heavy side at 32lbs
The Bertello Wood Fire and Gas Outdoor Pizza Oven got its start like many fun products in the 21st century – on Shark Tank of course. Originally, The Bertello Pizza Oven was a successful Kickstarter project called Napoli, but they later rebranded after getting the shot on ABC's Shark Tank. The two entrepreneurial brothers, Andy Bert and Eric Bert sold their product as a quick-cook pizza oven with a twist. With Bertello, you can have your own personal pizza in just under 2 minutes. But the fun doesn't stop there. You can cook almost anything including steak, fish, and vegetables in the 930 degrees F oven. Eric had an extensive background in engineering, which allowed them to develop the initial oven for the Kickstarter. In 2019, after rebranding, the brothers pitched their perfect pizza oven on Shark Tank and left with a deal from Chef Wonderful, Kevin O'Leary.
We got our hands on a Bertello oven to see if it stands up to the $120,000 investment he made for 25% equity, and how it ultimately compares to other outdoor pizza ovens on the market like Ooni.
Design and Specs
When you break down the specifics of the design, it's really quite elegant. Weighing in at 32.3 lbs (a little heavier than most Ooni's), the oven is still easy to transport wherever you might want to cook up excellent food. It would make a unique tailgating or camping accessory, or you could just bring it to the back deck for a normal cookout. The best part is that even though it's marketed as a pizza oven, you can really cook anything your heart desires, from meat to fish to veggies. It's also very reasonably priced, comparable to many wood pellet grills or smokers in the same range, with similar variability. If you're going to use wood or wood pellets, it comes with "everything" you need to fire it up. If you want to use propane, it's an extra $100 for the propane attachment (with the hose and igniter, and burner).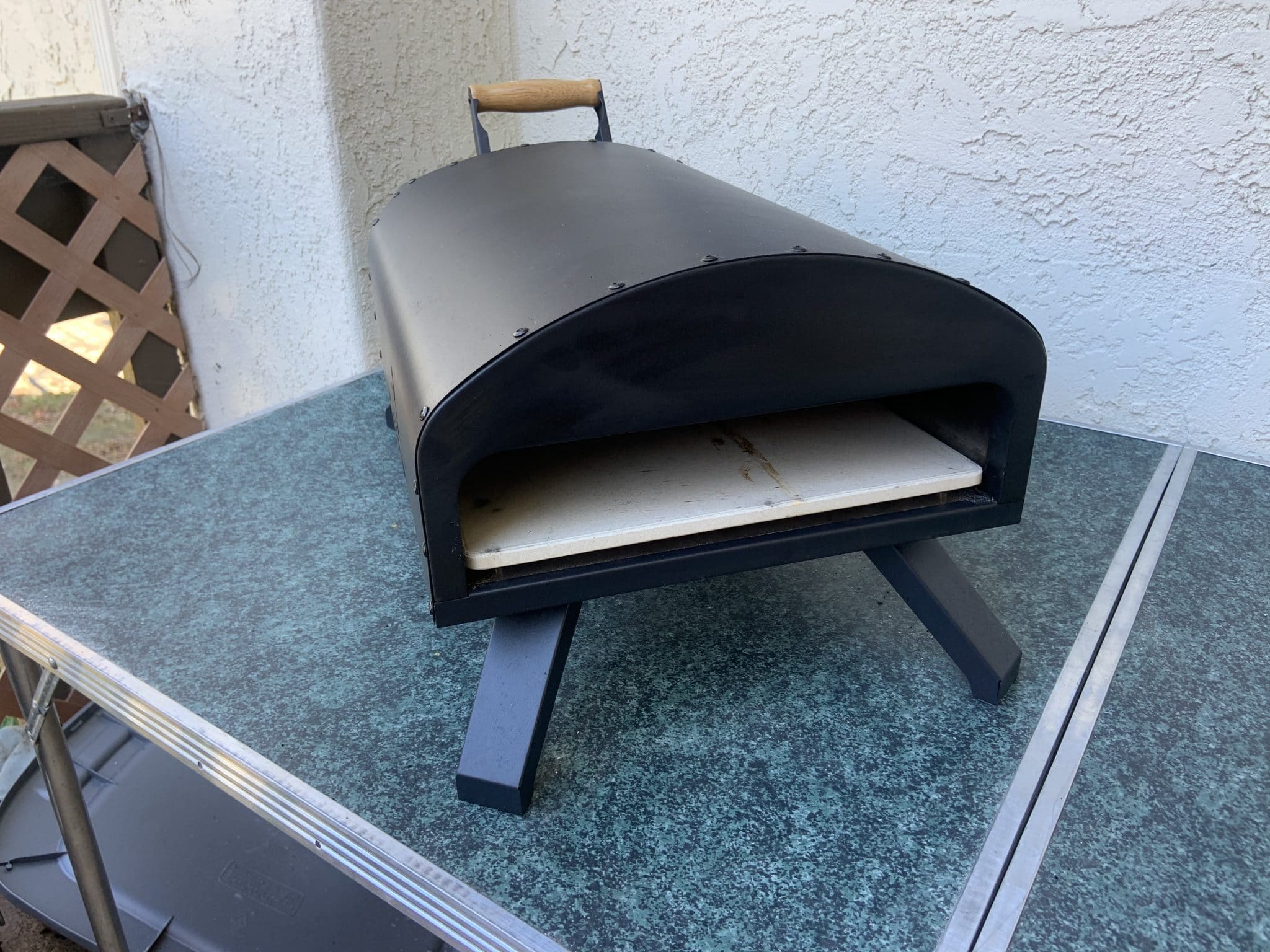 It also comes with a cover that keeps the fire where it belongs, inside the oven, but it has a nice wooden handle so you don't burn your hand when adjusting wood pellets as the oven heats up. A cordierite stone, wood chip/pellet scoop, and wood/charcoal/pellet tray are included in the base package.
The oven itself is quite variable, and very similar in design to the Ooni Karu. It can burn charcoal, wood, or even gas (with a separately sold attachment). One of the big secrets behind the claim that it can "cook a Neapolitan pizza in less than 2 minutes", comes from how hot this oven runs. It can easily cook at over 930 degrees F on a 12.5″ wide x 13.5″ deep cooking surface. This runs in stark contrast to traditional wood-fired pizza ovens, which are often massive and take quite a long time to heat up. The quick heating oven claims that your pizza will come out crispy on the outside, tender on the inside, and perfectly crusted. And let me tell you, after using this thing, that statement holds true.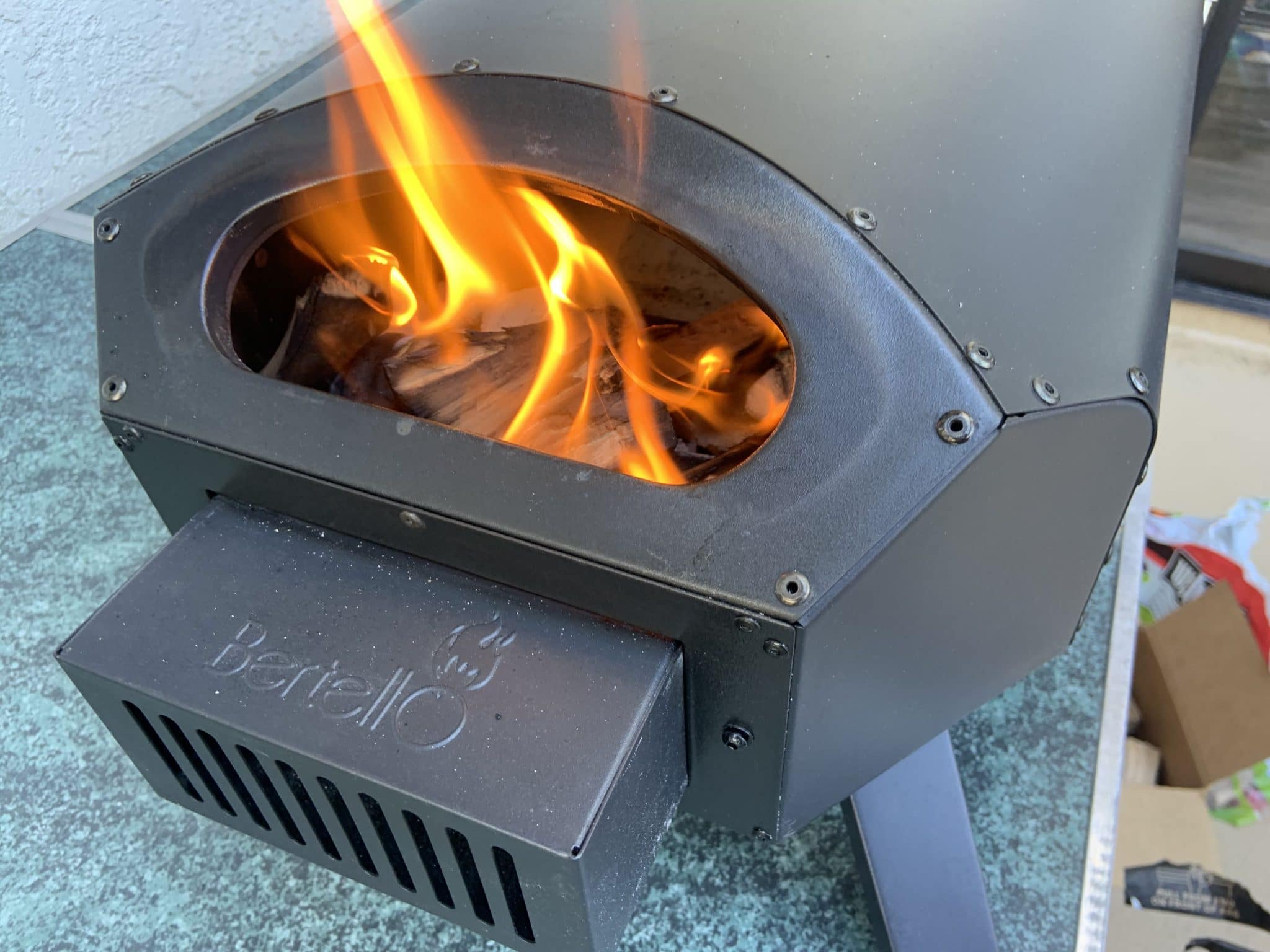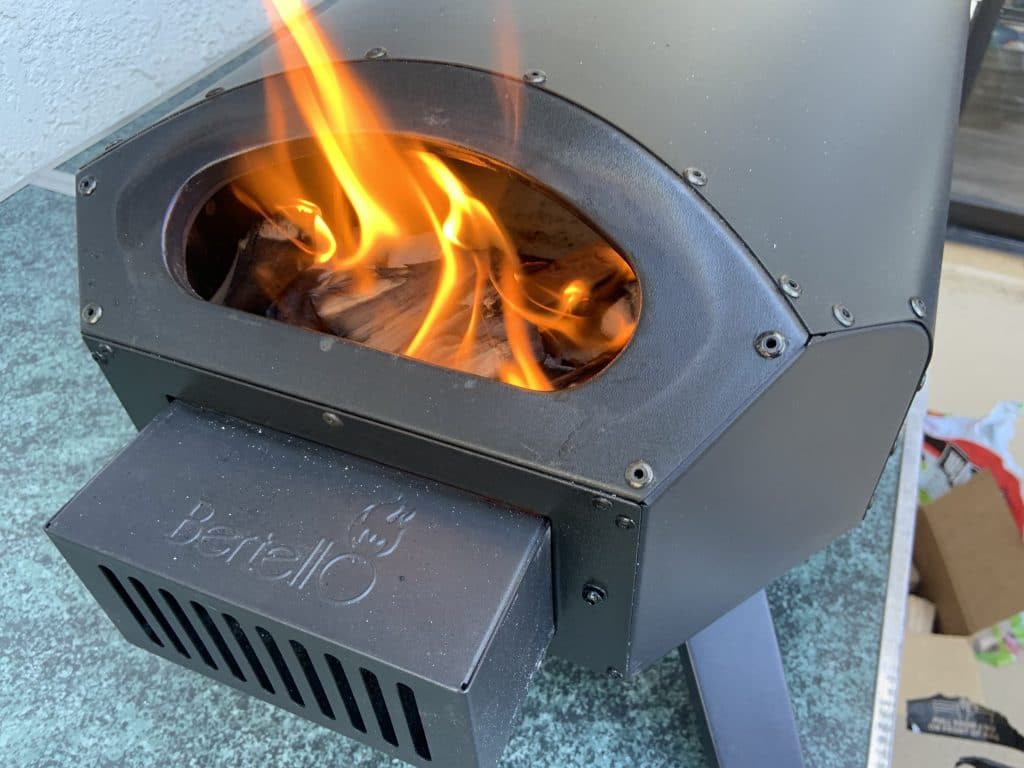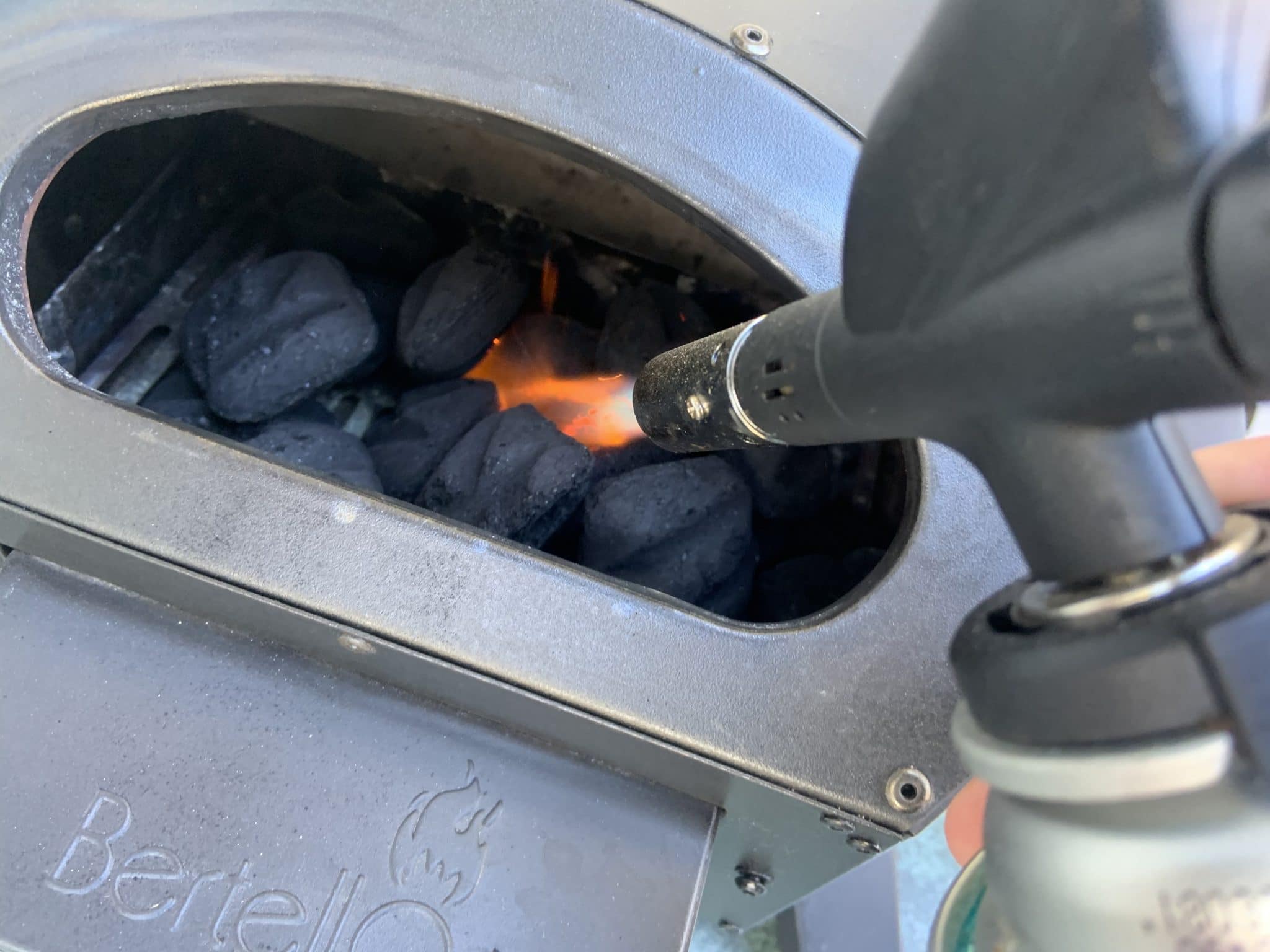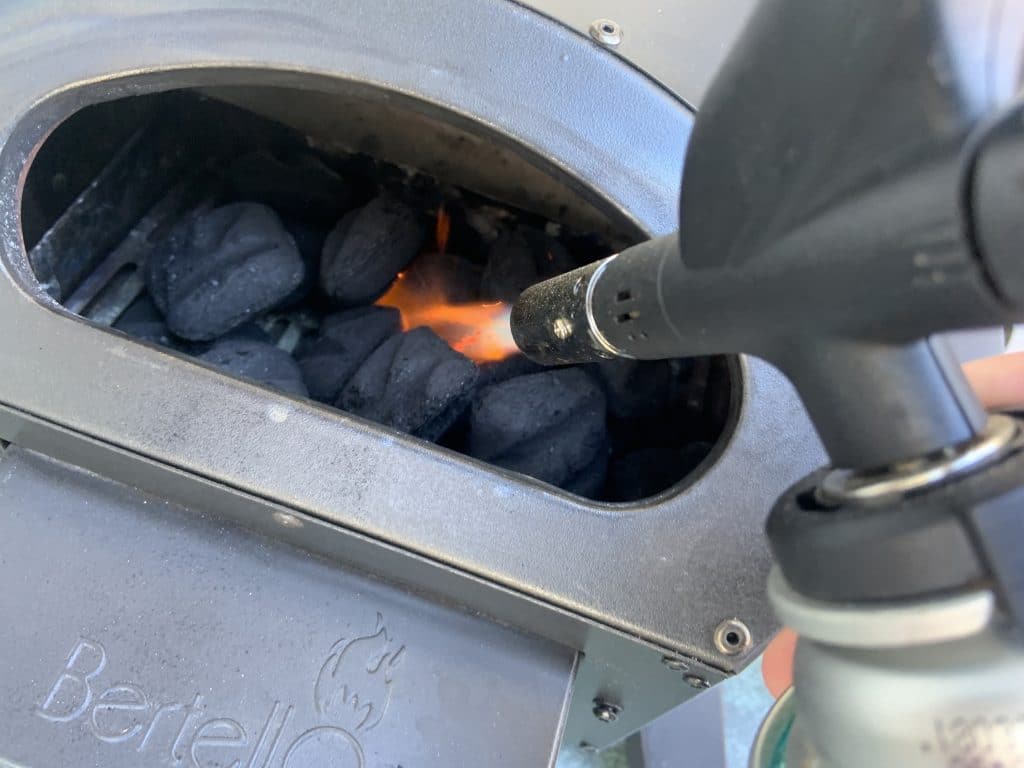 Features and Assembly
So what can you expect if you order a Bertello Pizza oven? It comes with the attachments for wood/coal in the base set up. For the most part, the oven itself is already put together, and sturdy yet light with fold-down legs. The container for your wood easily slides to the back of the stove, while you insert the surface the food will cook on in front of it. The oven itself is light and compact enough that it can easily sit on a waist-high surface, so you don't have to bend down to work with it.
First Cook
So how well does the Bertello Pizza Oven really achieve its claim that you can cook the largest size pizza in under 2 minutes? Well, that of course doesn't account for the warm-up time. Many ovens claim to get to 900 degrees, but when you actually measure them they fall in the 700-800 degree range. On average though, it seems that you can get the Bertello Pizza Oven above 900 degrees in less than 20 minutes, and then the pizza itself is done in no time.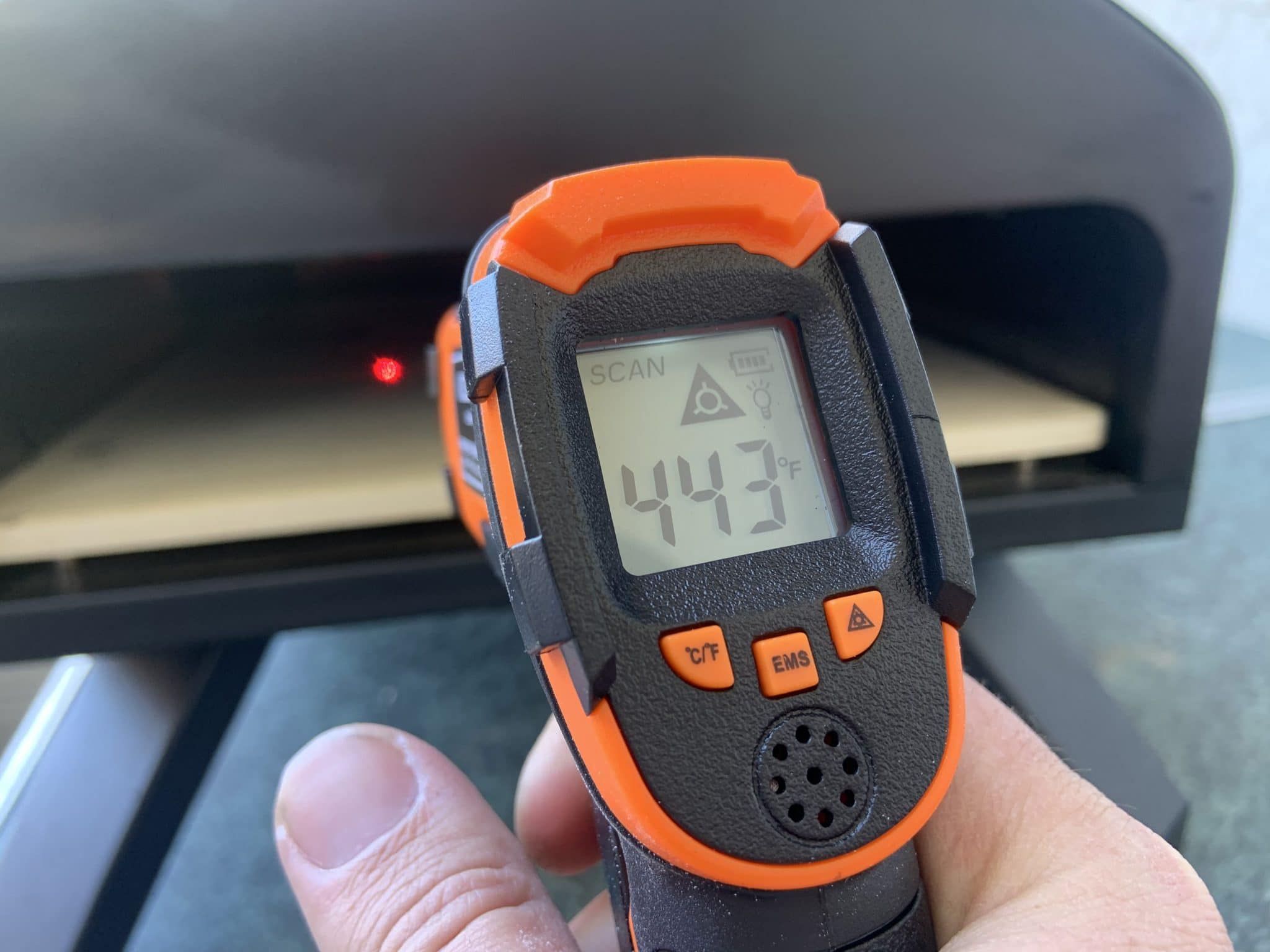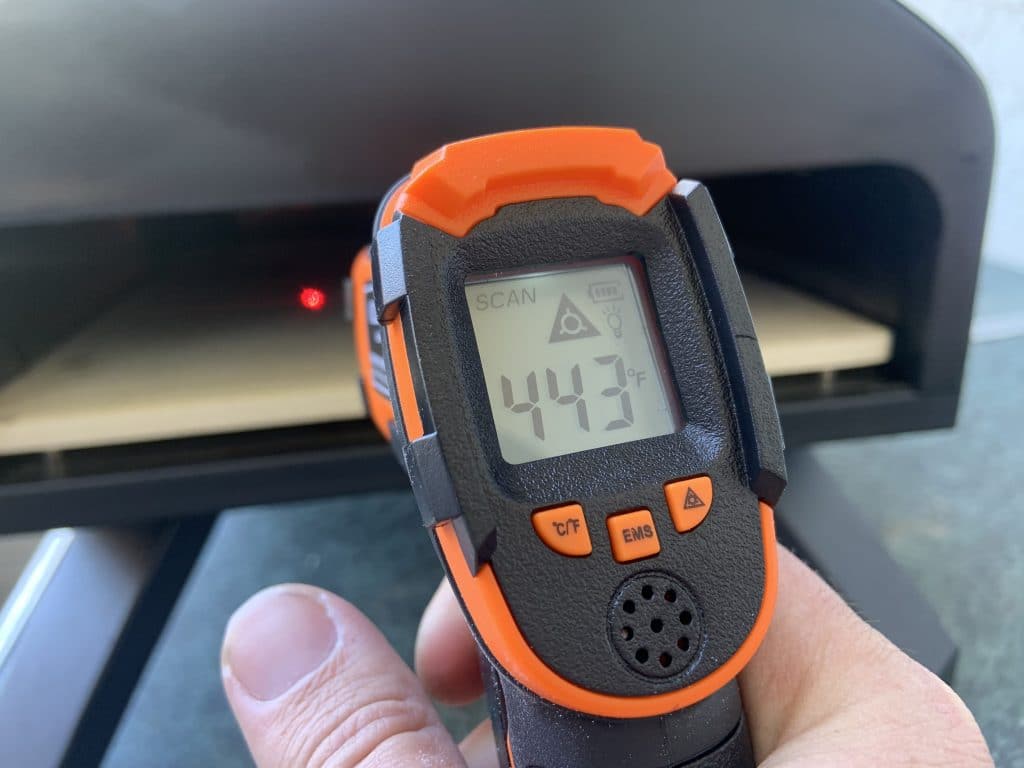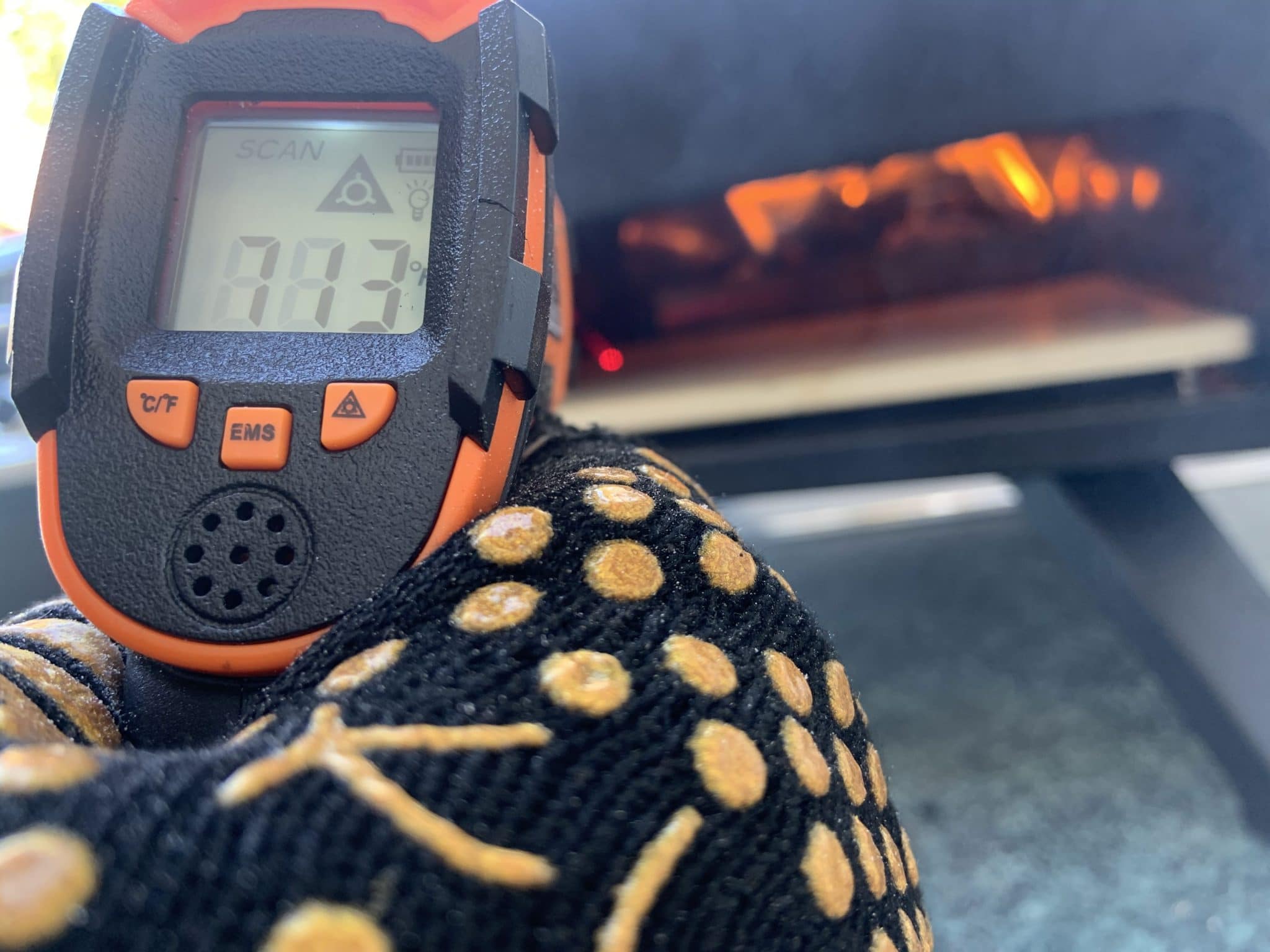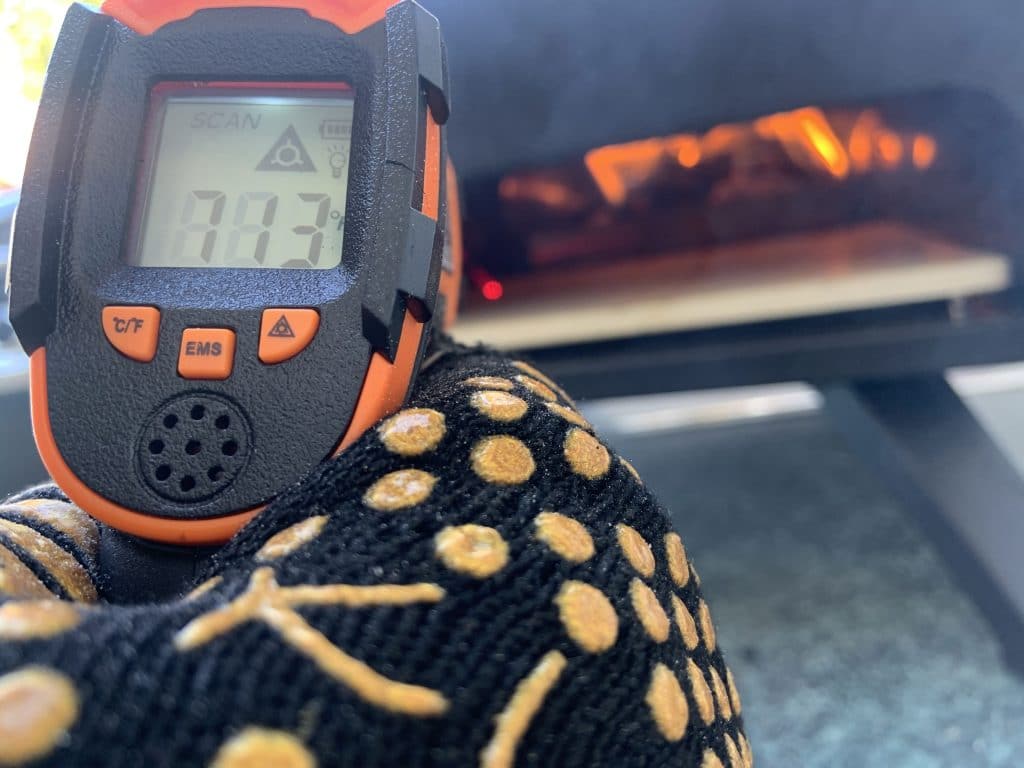 It is recommended that you let your pizza sit in the oven for 30 to 60 seconds, and then rotate it for another 30 to 60 seconds. This speed blows full-sized industrial pizza ovens out of the water, without sacrificing the taste. That being said, you may have to troubleshoot a bit at first. This is not an appliance that you simply plug in and press a button. You will need to learn how to evenly cook with wood pellets, or upgrade to gas for a little more ease of control. If you've never made pizza at this temperature before, which you probably haven't unless you worked in a pizza joint, it can take a little getting used to evening out the pizza so that you get a proper rise in the dough, and don't burn any. That said, once you get these elements down, there is nothing better than a quality wood-fired pizza from the comfort of your own home.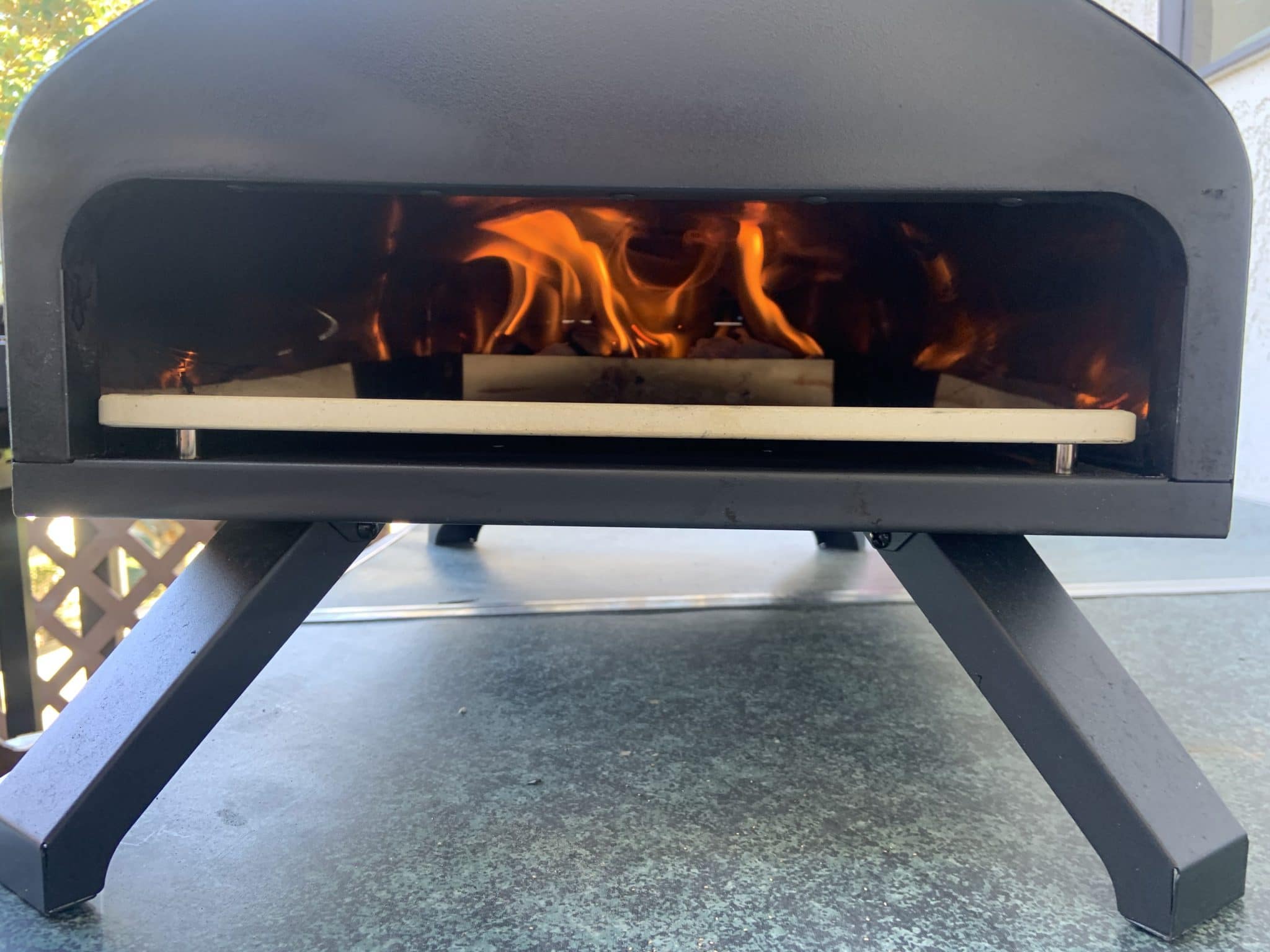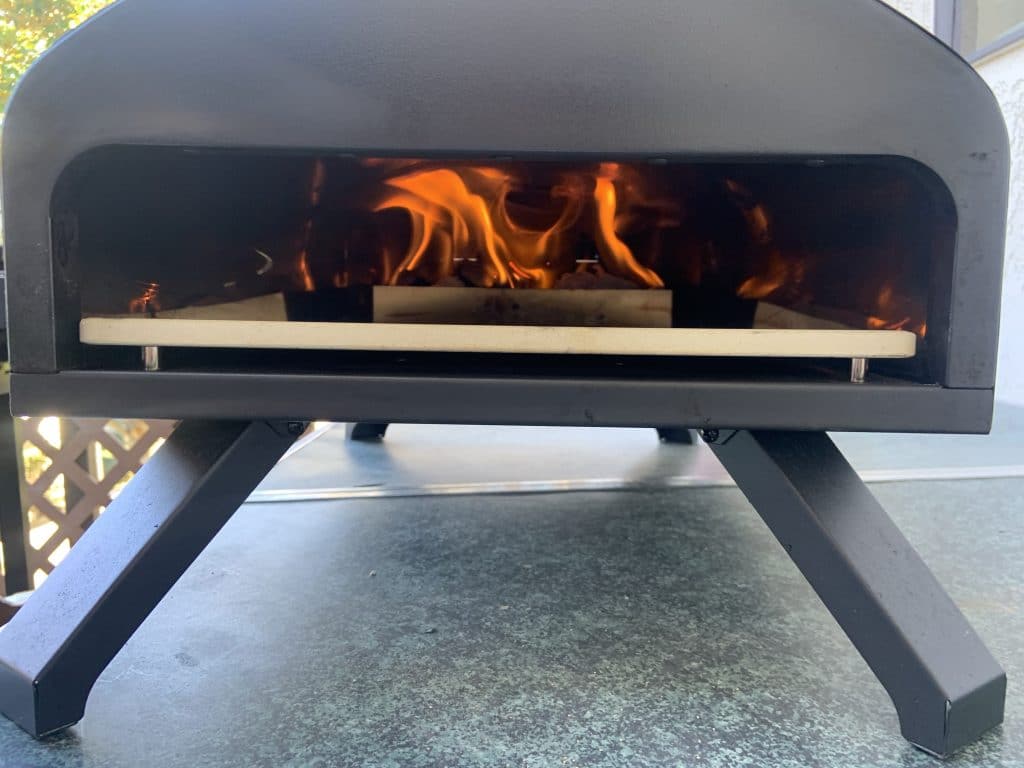 What We Love
A compact stove that provides professional-quality pizza at restaurant oven temperatures for an affordable price. The Bertello Wood Fire and Gas Outdoor Pizza Oven is carving a unique niche in the home cooking market. It's variability by being able to use wood, charcoal, and gas, and its mixture of being small enough to carry anywhere, but big enough for a large pizza makes it one of the better products you can buy for someone who loves to cook for others.
What Can Be Improved?
There is a bit of a learning curve, so this product isn't for someone who isn't willing to troubleshoot a bit. The cleaning process can be a bit arduous, especially if you need to loosen the propane burner each time to pull out the ash-basket. That said, a simple tool-kit with an Allen wrench makes this step relatively painless. Overall, we'd recommend giving this Shark Tank winner a shot for your next home-cooking upgrade.