I personally tested and wrote about every major wood-fired pizza oven on the market. This isn't one of those BS "review" websites that re-hash manufacturer specs. I actually used these products and continue to do so on a weekly basis. These are my recommendations. Got questions about wood fired pizza ovens? Email me, I like to talk about them.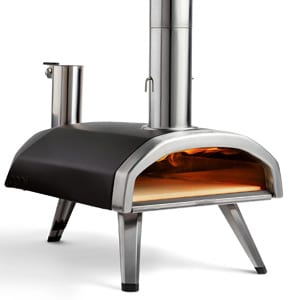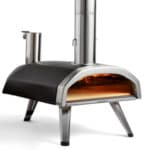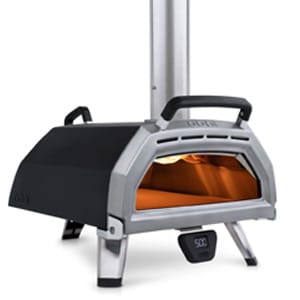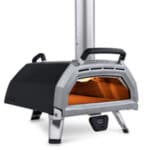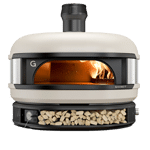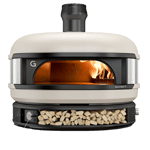 There was a time – not so long ago – when pizza lovers had to make do with going out for their pizzas. They had to go to restaurants with professional-grade pizza ovens and trained chefs to taste the real wood-fired thing. Either that or put up with sad, sub-par versions via take-out and frozen pizzas. But not anymore! Now restaurant quality, wood-fired pizzas are available for everyone to cook at home via the miracle of the backyard pizza oven! 
These wonderful creations were once only for the very rich or anyone who had the time, skills, and resources to build their own from scratch. But nowadays, backyard wood-fired pizza ovens come fully assembled in all shapes and sizes and for all budgets. 
So if you've wanted to try your hand at backyard pizza baking or wood-fired cooking but didn't know where to begin, read on. We've put together this article to talk you through the art of wood-fired pizza baking so you'll know just how easy, simple and enjoyable it is. Plus, we've listed some of our favorite high-quality wood ovens for all budgets. If you're unsure whether you want a wood-fired (this article is specific to wood ovens), gas, or multi-fueled oven, check out our guide to outdoor pizza ovens.
Best wood fired pizza ovens by budget:
The Best Wood Fired Pizza Ovens
Best Budget-Friendly Wood Oven
The Ooni Fyra 12 wood pellet pizza oven is one of our top picks, and just happens to be one of the cheapest as well. This thing is easy to use, incredibly portable, and bakes a mean pizza.
Weight – 22lbs
Max pizza size – 12 inches
Max heat – 950° F
Price – $349.00
Preheat time – 15 minutes
Pizza cook time – 90 seconds
Warranty – Free returns within 60 days (conditions apply), up to 3-year warranty (if you register the product) otherwise it's one year.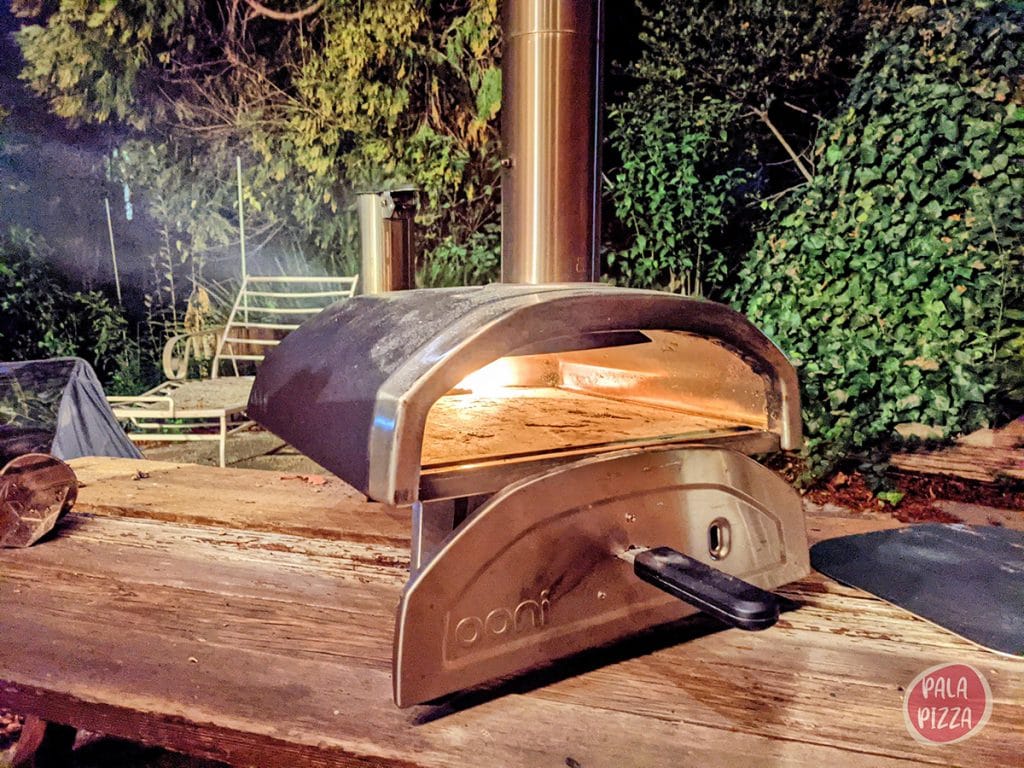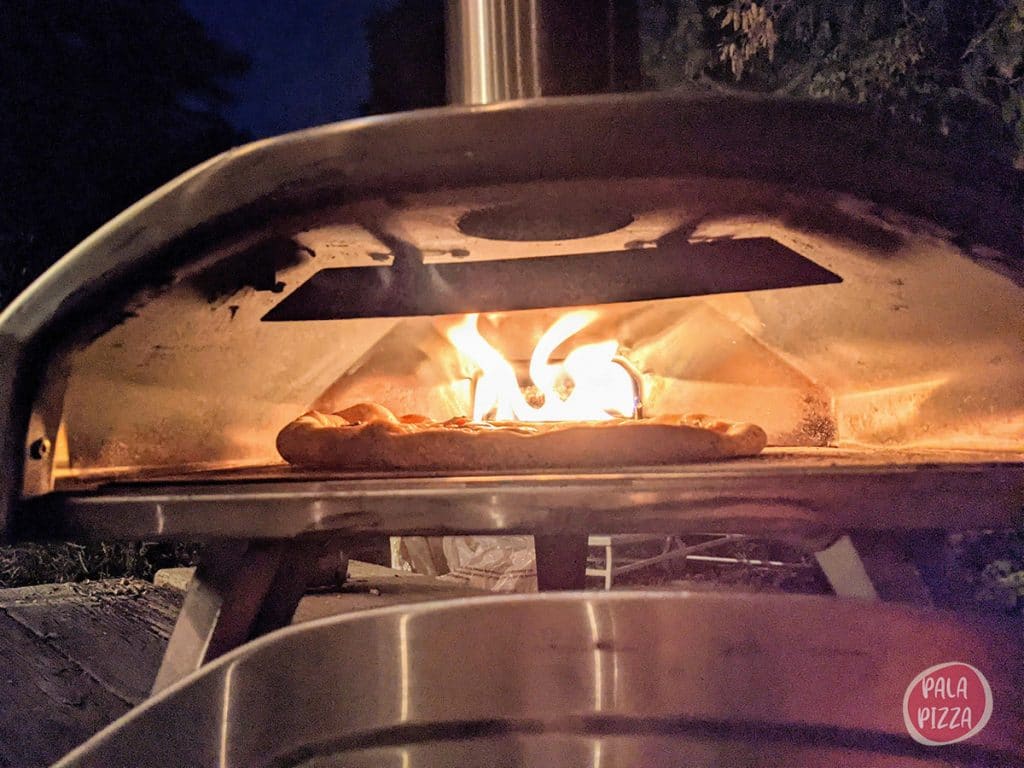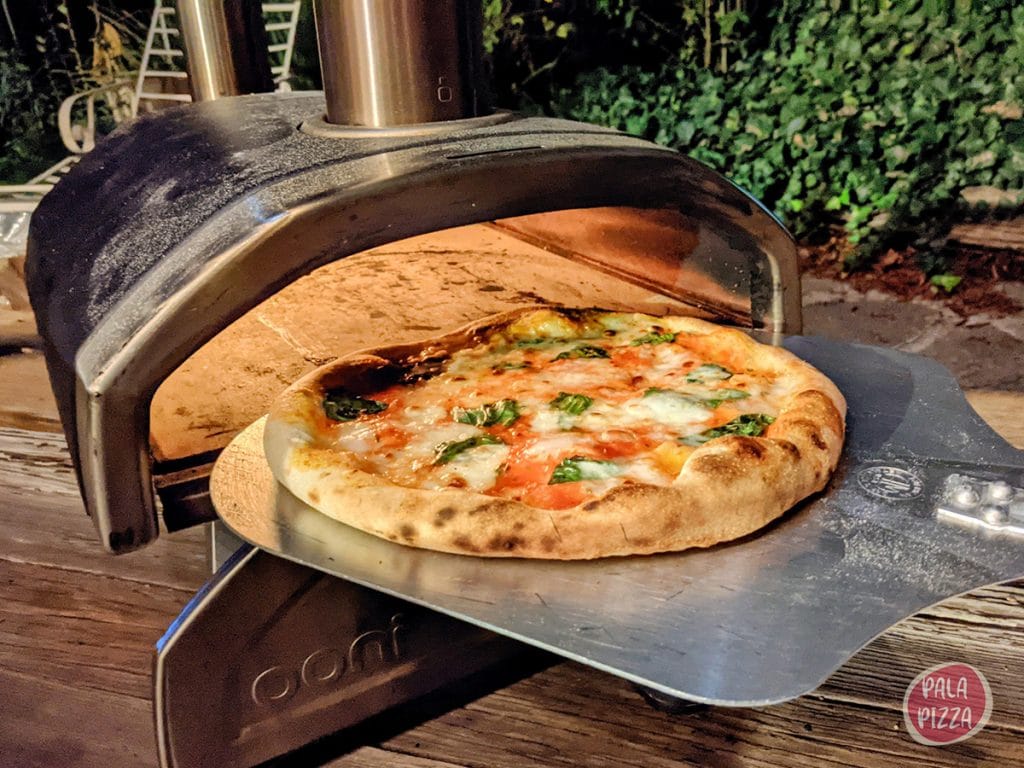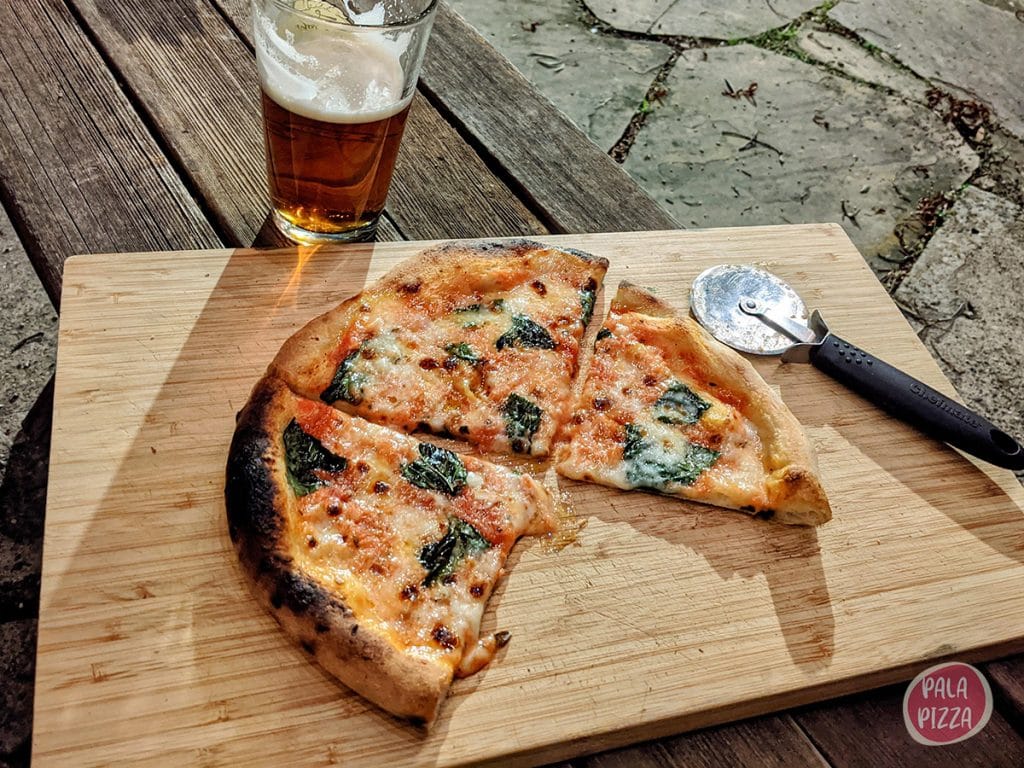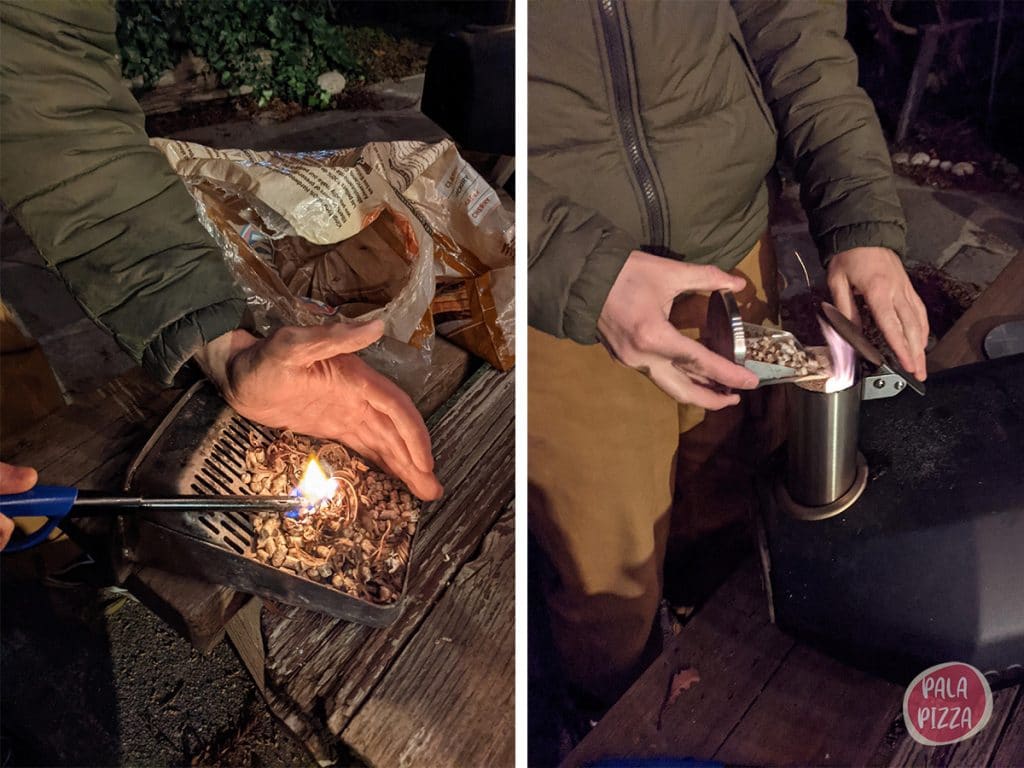 For an affordable option, you can't go wrong with the Fyra. It's created by Ooni, industry leaders in pizza oven production, so you know you're getting a quality piece of kit. 
At $350, it's the cheapest of the Ooni ovens but still creates delicious Neapolitan-style wood-fired pizzas. The Fyra can reach 950°F in around 20 minutes and bakes an excellent pizza in roughly 90 seconds. Compact and stylish, it's also super portable with foldable legs and a weight of only 22lbs. It's ideal for people who want a great-looking, quality oven they can take on camping trips and cookouts. 
The Fyra uses wood pellets rather than logs. This might not appeal to wood cooking purists, but pellets have their positives. They're eco-friendly, economical, and require less clean-up than logs. And don't worry, they still provide that great wood-fired aroma and taste! Plus, they are easy to use. Lighting the Fyra is as simple as adding the pellets and lighting a fire starter. Then, to maintain the fire, you just add more pellets to the gravity-fed hopper, which is much easier for beginners than maintaining a log fire. 
We highly recommend this oven for anyone who wants to make delicious pizza easily and affordably. And also for anyone who wants to take their oven out on the road. 
Bertello (Shark Tank) Pizza Oven
Runner-Up: Budget-Friendly
Bertello is the cheapest pizza oven that I recommend, still performing at a high enough level to create incredible pizza.
Weight – 32.2lbs
Max pizza size – 12 inches
Max heat – 930° F
Price – $299.00
Preheat time – 20 minutes
Pizza cook time – 60 seconds
Warranty – 60 Day Full Return Policy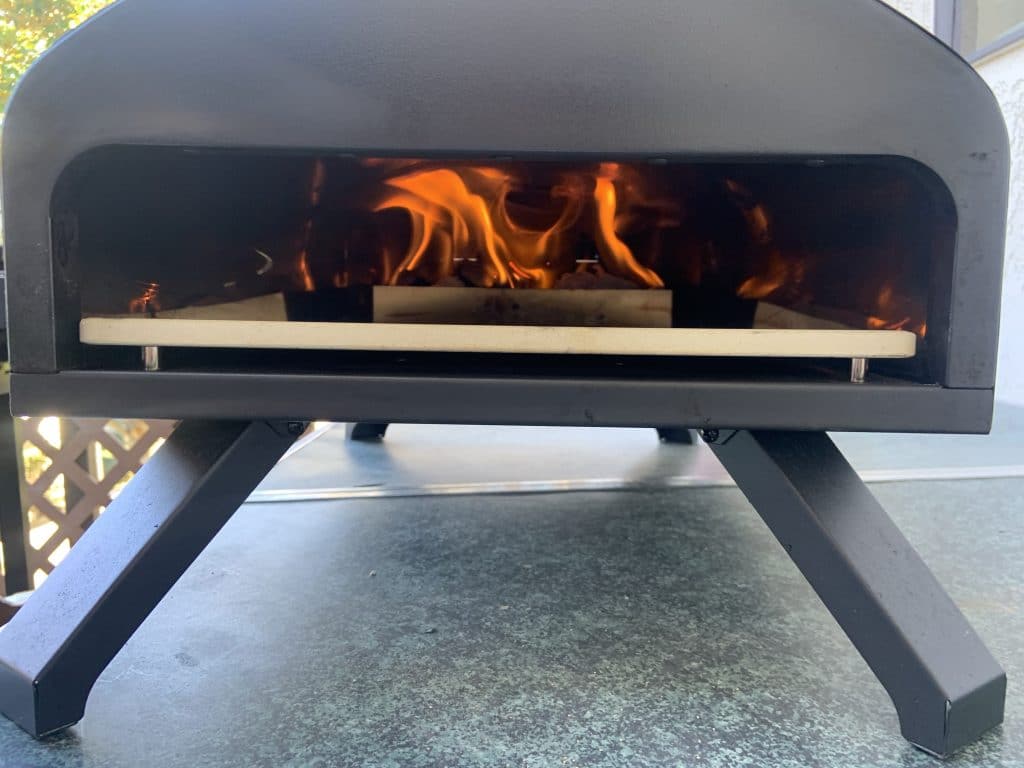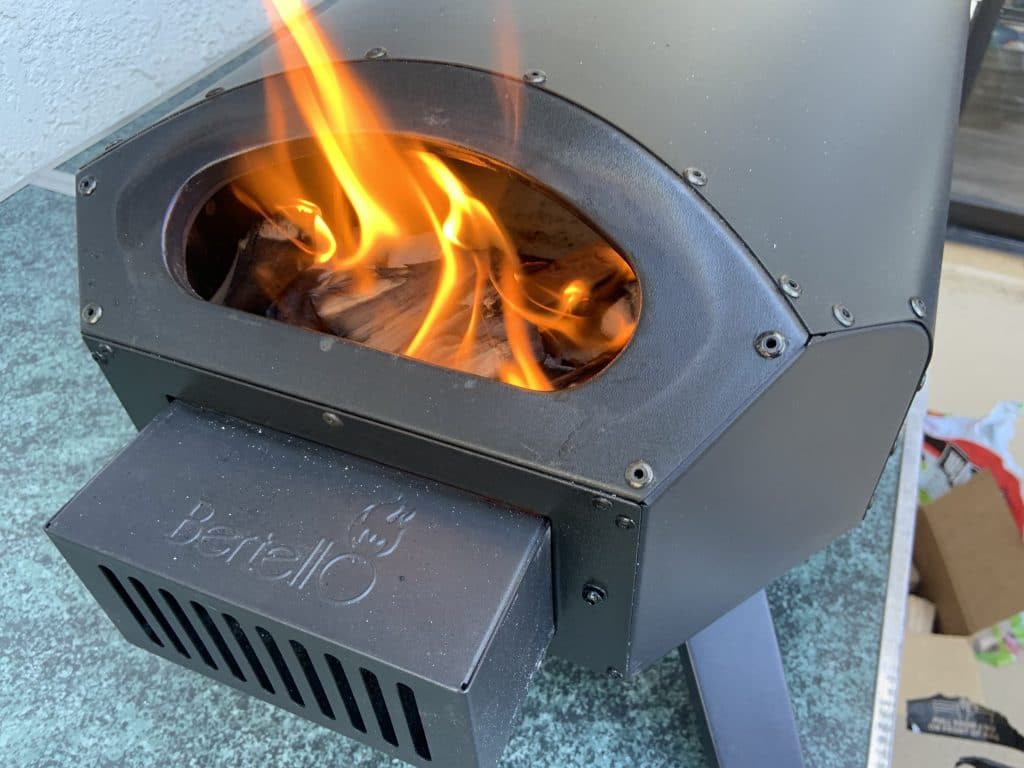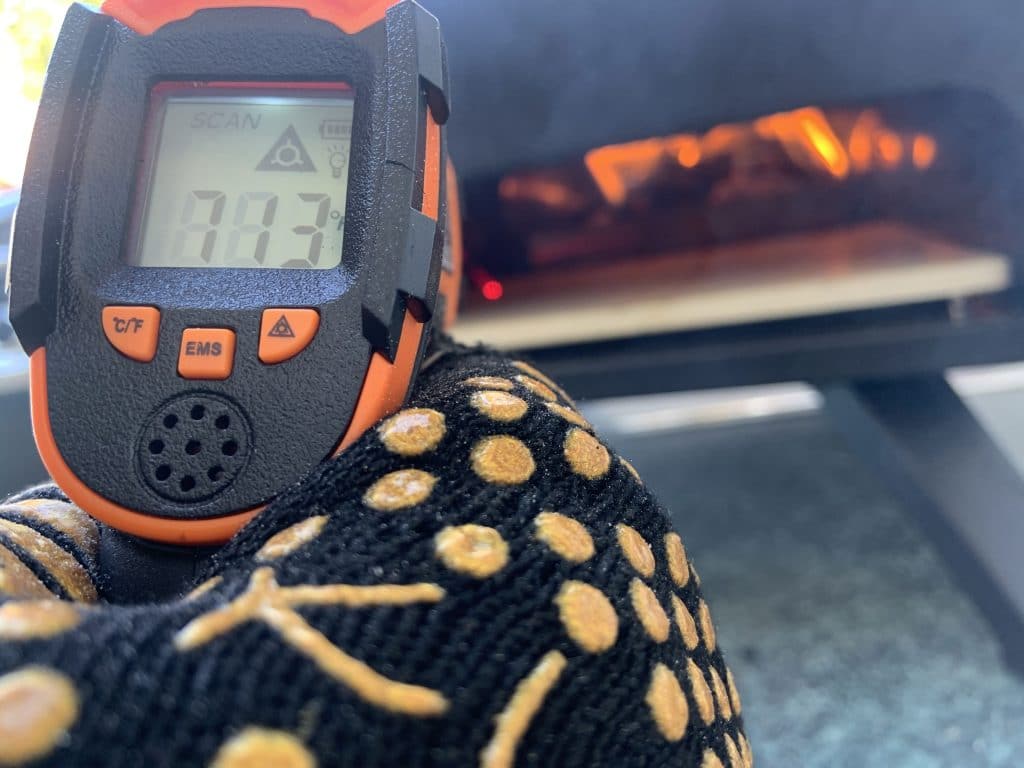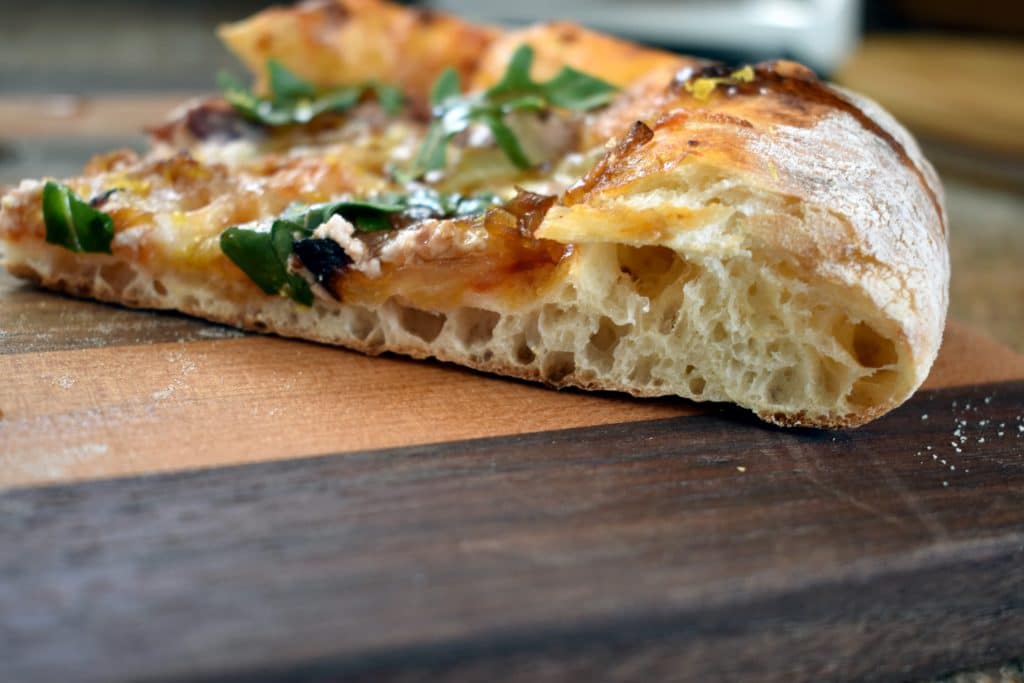 The Bertello Wood Fire and Gas Outdoor Pizza Oven made a splash in the backyard pizza-making with its Shark Tank success. It burst onto the scene with an elegant design, innovative features, and a great price point. At $329, it's cheaper than its direct competitors, Ooni and Roccbox, while still being an excellent oven, and it became an immediatly popular option.
It's a high-quality product made with durable, well-insulated materials and looks great. It's also an excellent choice for anyone who doesn't want to commit to the wood-fired life since this oven can be used with wood, charcoal, or wood pellets. And with the purchase of an additional propane attachment, it becomes a dual fuel oven that works with wood and gas simultaneously. 
It preheats fast and can get up to a high temperature of over 900 °F in around 20 minutes, and it can cook a perfect, Neapolitan-style pizza in just 2 minutes. But that's not all. This versatile oven can cook more than just pizza and is great for meat, bread, veggies, seafood, and pies too. 
At 32.2lbs, it is heavier than the Fyra but still portable enough to be used on campsites and road trips, and its foldable legs mean it packs down tidily. 
We love the Bertello for its versatility, dual-fuel option, cool look, and great price. 
New Sleek Wood Pizza Oven
The new Stoke Stove is really sleek with a matte all-black finish. It's slightly larger than the common 12" ovens, but quite a bit heavier than the Fyra.
Weight – 36.9lbs 
Max pizza size – 13 inches
Max heat – 950° F
Price – $445.99
Preheat time – 20 minutes
Pizza cook time – 90 seconds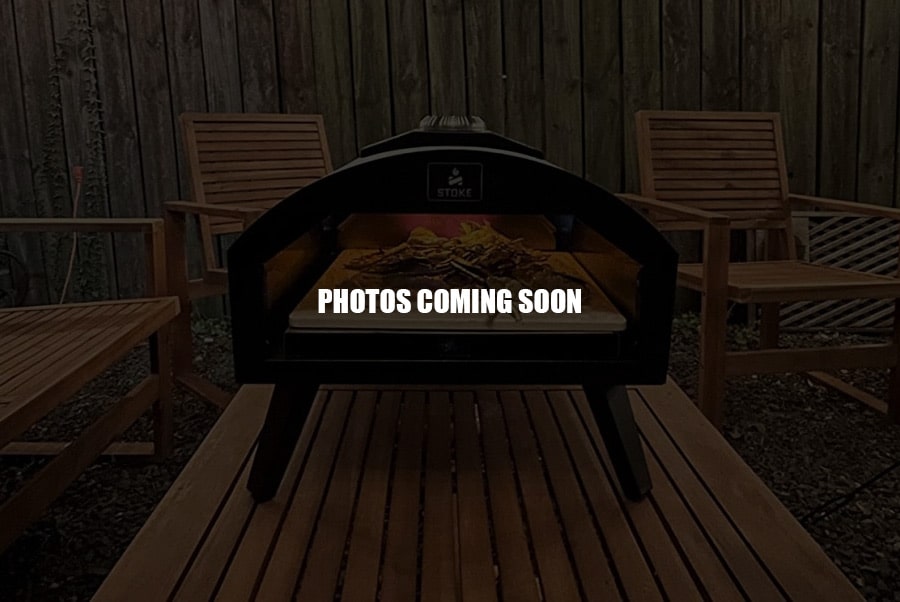 The Stoke stove is another easy-to-use, portable oven with a great look, price, and functionality. When it arrives, it'll take you around 5 minutes to assemble. Simple instructions guide you through the process, although it's very intuitive. When it's complete, you'll have a good-looking oven with sturdy legs and solid construction that's still remarkably portable. 
Made of heavy-duty, well-insulated materials, it reaches its top temperature of 900 ºF in around 30 minutes and then bakes a delicious pizza in approximately 2 minutes. It's also versatile enough to cook other meals such as meats, bread, seafood, and roasted veggies. In addition, you can choose to cook with wood pellets, small logs, charcoal, or a combination of fuels with this oven. This allows you the freedom to experiment with what works best for you. 
We love that the Stove comes with extras – such as a temperature gauge, cover, pizza cutter, and pizza peel – which many companies charge extra for. The weatherproof carry case is an excellent addition. It adds to the portability of this handy little stove which is ideal for spontaneous pizza parties everywhere, from parks to campgrounds to neighbors' yards. 
At $345, we recommend this oven to anyone who wants portability, high temperatures, and the freedom to cook with various fuels, all on a reasonable budget. 
Best Mid-Range (Bonus Multi-Fuel)
The Ooni Karu 16 Multi-Fuel pizza oven is our #1 pizza oven overall. This thing does it all, and at the fraction of the cost of comparable performing pizza ovens.
Weight – 62.6lbs
Max pizza size – 16 inches
Max heat – 950° F
Price – $799.00
Preheat time – 15 minutes
Pizza cook time – 60 seconds
Warranty – Free returns within 60 days (conditions apply), up to 3-year warranty (if you register the product) otherwise it's one year.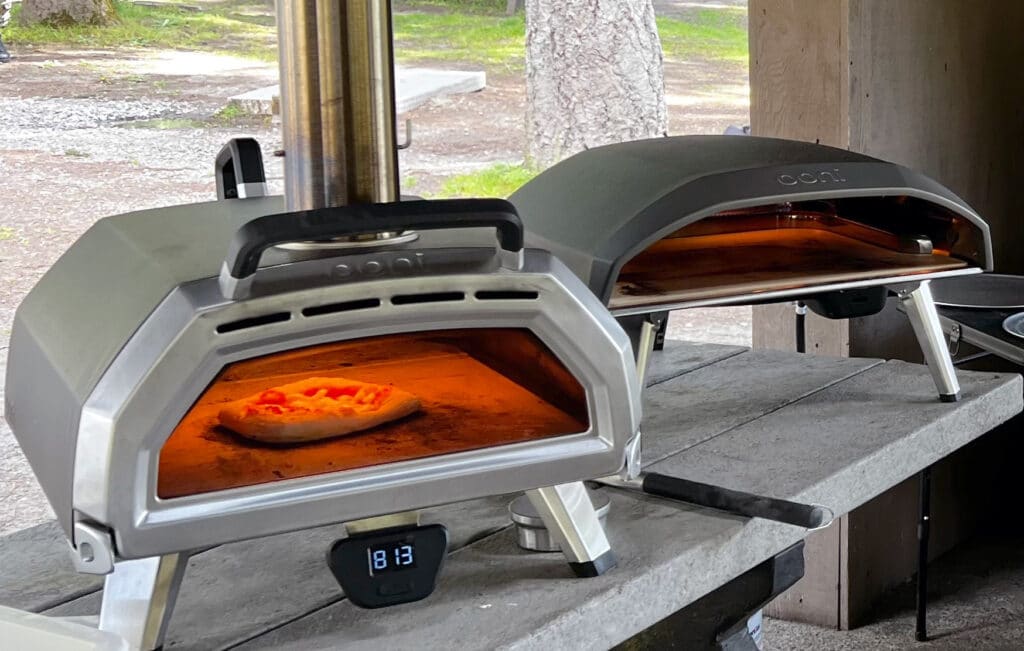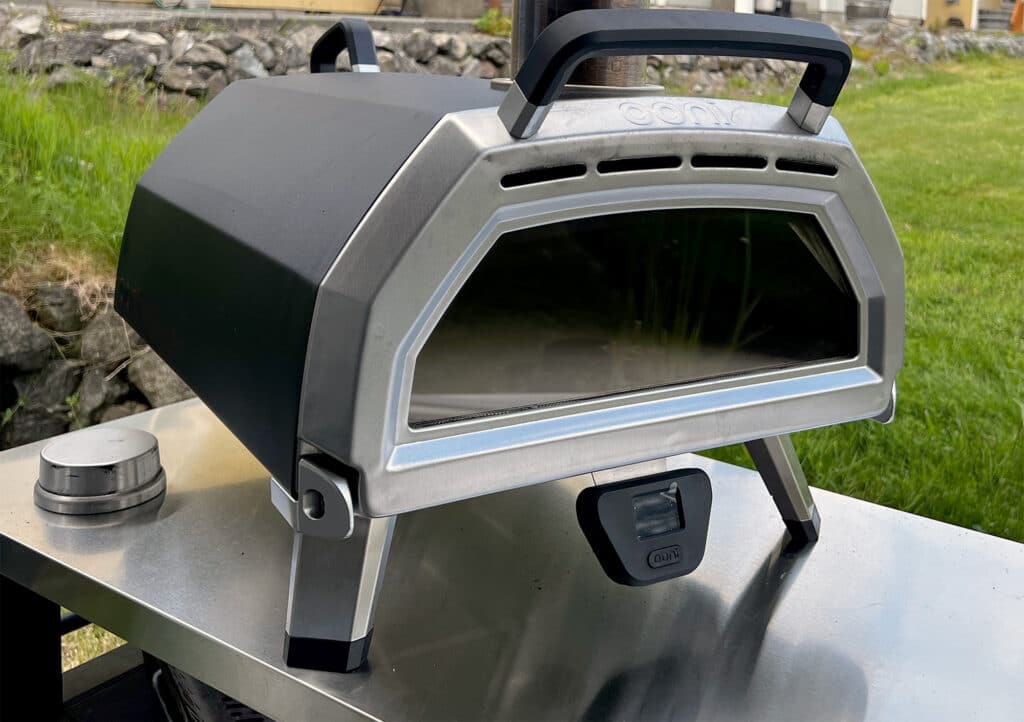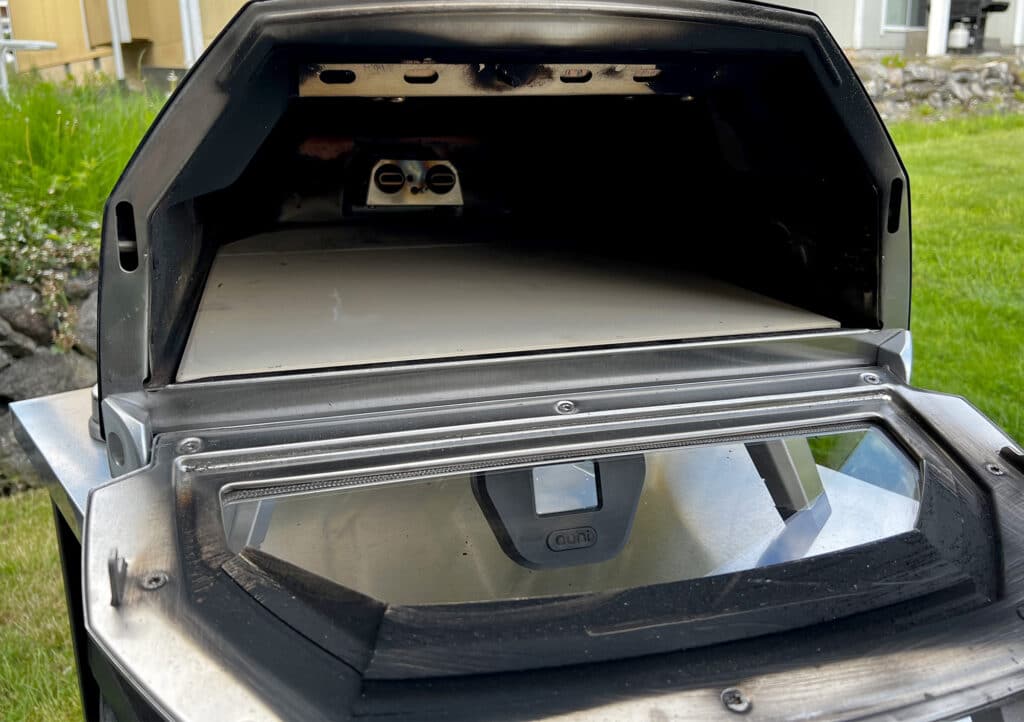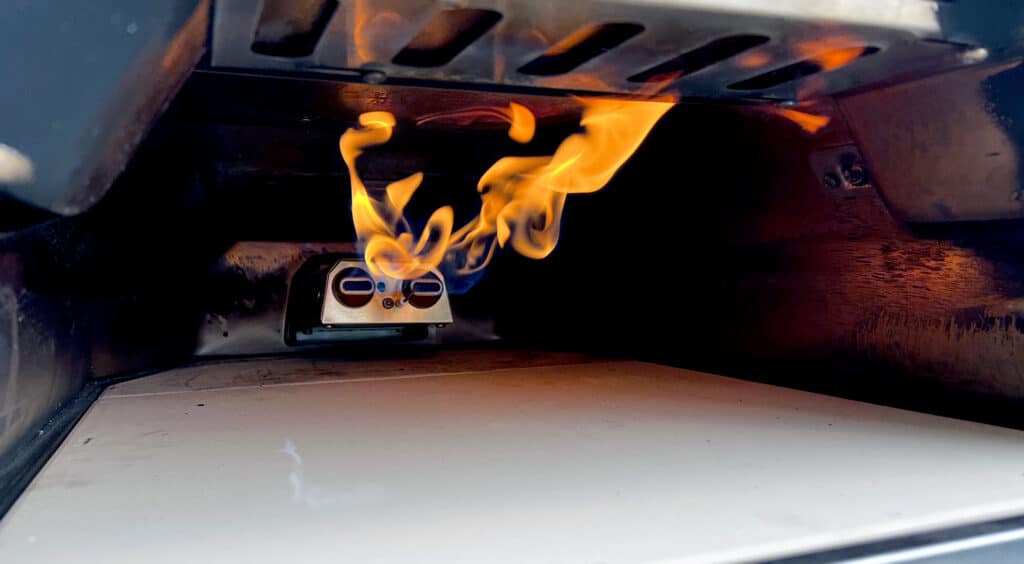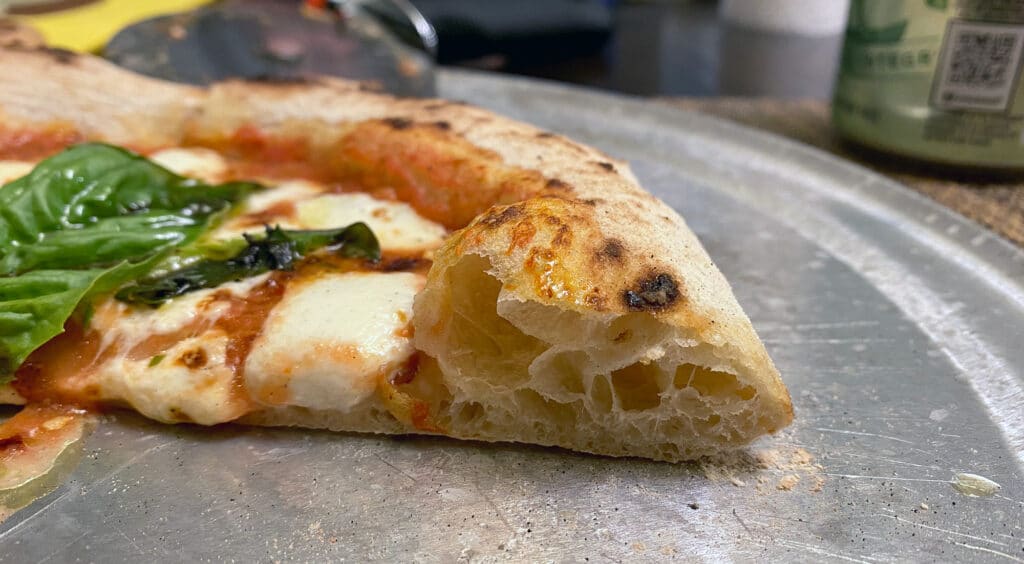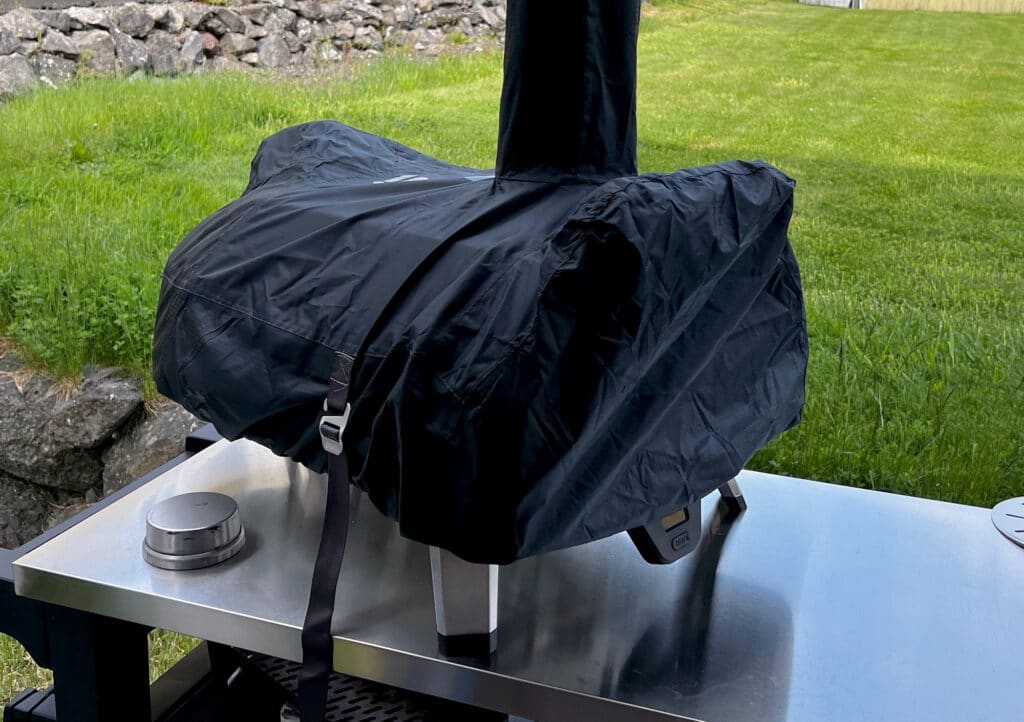 The Karu 16 is one of the best ovens on the market and certainly the best for its price. This multi-fuel oven can cook with wood, charcoal, or both, straight out of the box. Or, if you add the propane adaptor, it can cook with gas. This gives you the freedom day by day to choose whether you're up for lighting the fire and creating smokey, traditional wood-fired pizza or if you want the ease, speed, and convenience of cooking with gas. 
The Karu 16 reaches 950 °F in just 15 minutes and can cook a pizza in 90 seconds. It's a larger oven and can cook 16″ pizzas. The extra cooking space also means you can cook larger meals, joints, and roasts. 
The Karu 16 is an upgrade on the Ooni's 12″ Karu model and has the addition of a hinged door which aids in heat retention, and has a large glass panel allowing you to keep an eye on the progress of your pizza. There's also better insulation, improved airflow, and a built-in thermometer with a digital display, so you know when it's at the optimum temperature. 
At $799, the Karu 16 is not cheap, but we believe you get a tremendous amount of performance for the price. It cooks excellent pizzas fast at high temperatures and looks good while doing it.
Very Unique Design That WORKS
There's no other pizza oven that looks like the Solo Pi. By the makers of the ever-so-popular firepits, their flagship pizza oven surprised us with how well it performed.
Weight – 30.5lbs
Max pizza size – 12 inches
Max heat – 900° F
Price – $624.99
Preheat time – 20 minutes
Pizza cook time – 90 seconds
Warranty – Lifetime on manufacturer defects.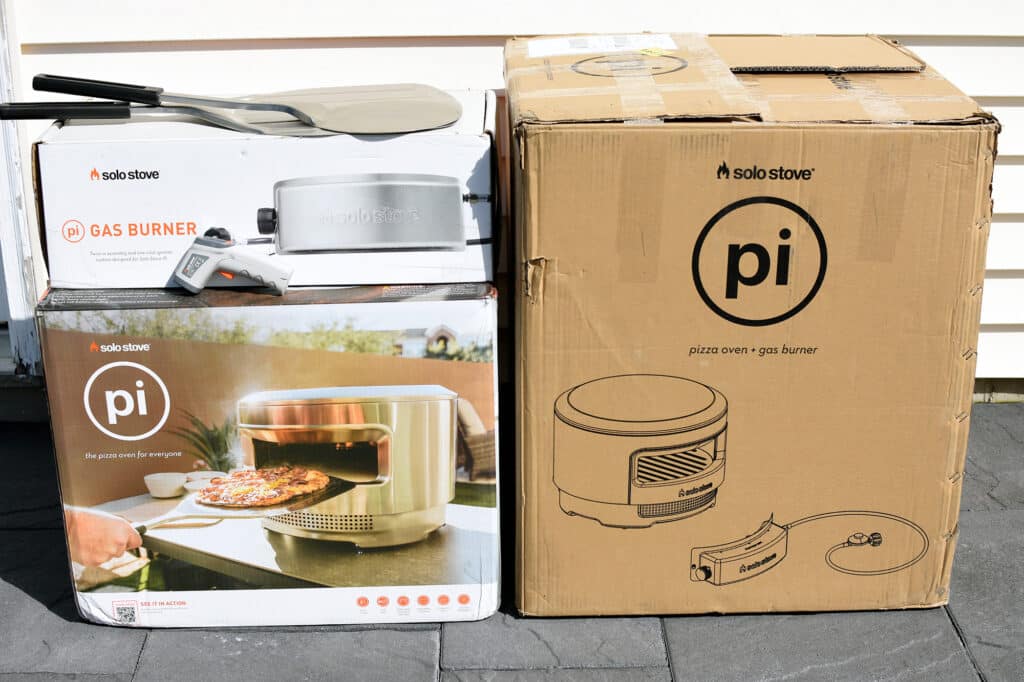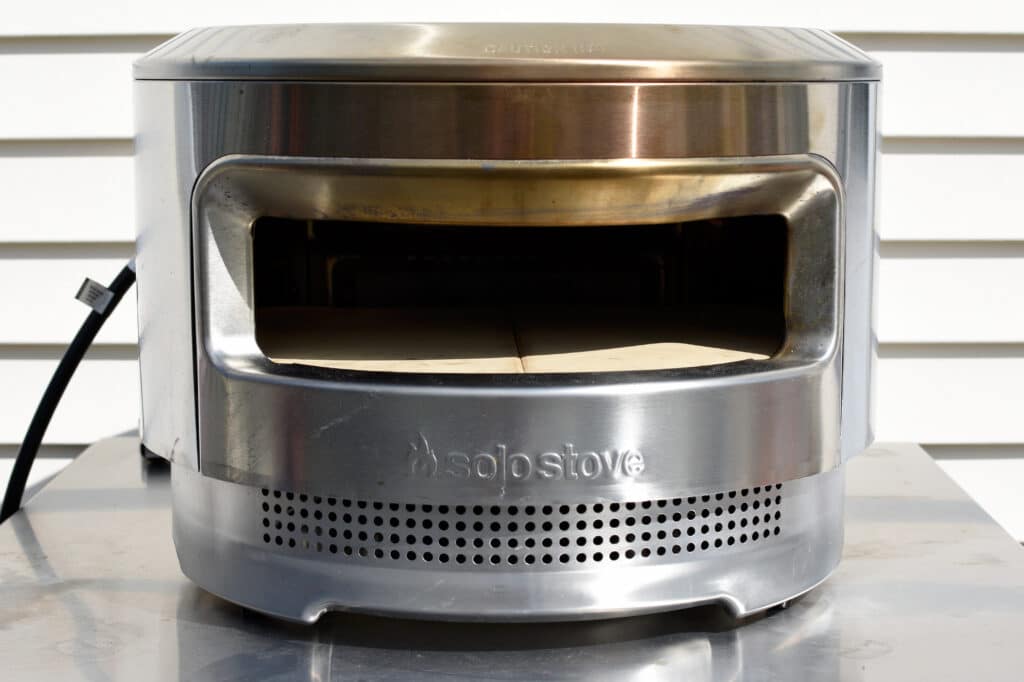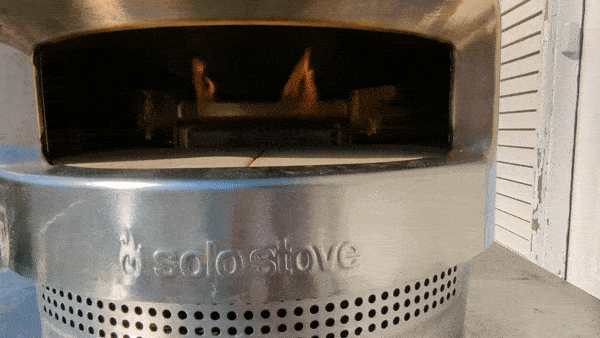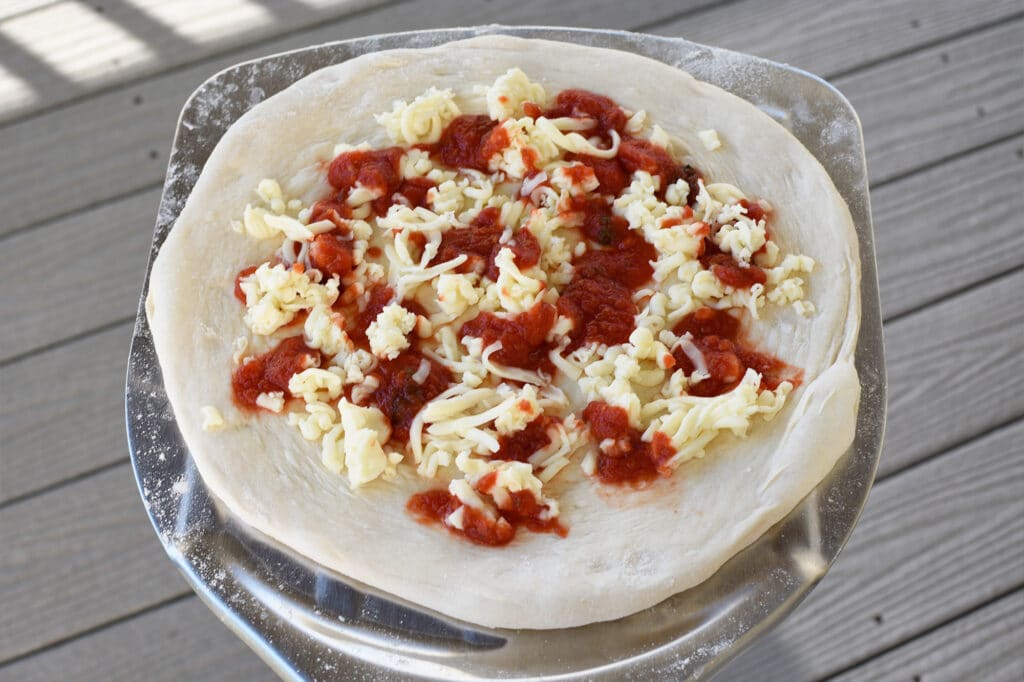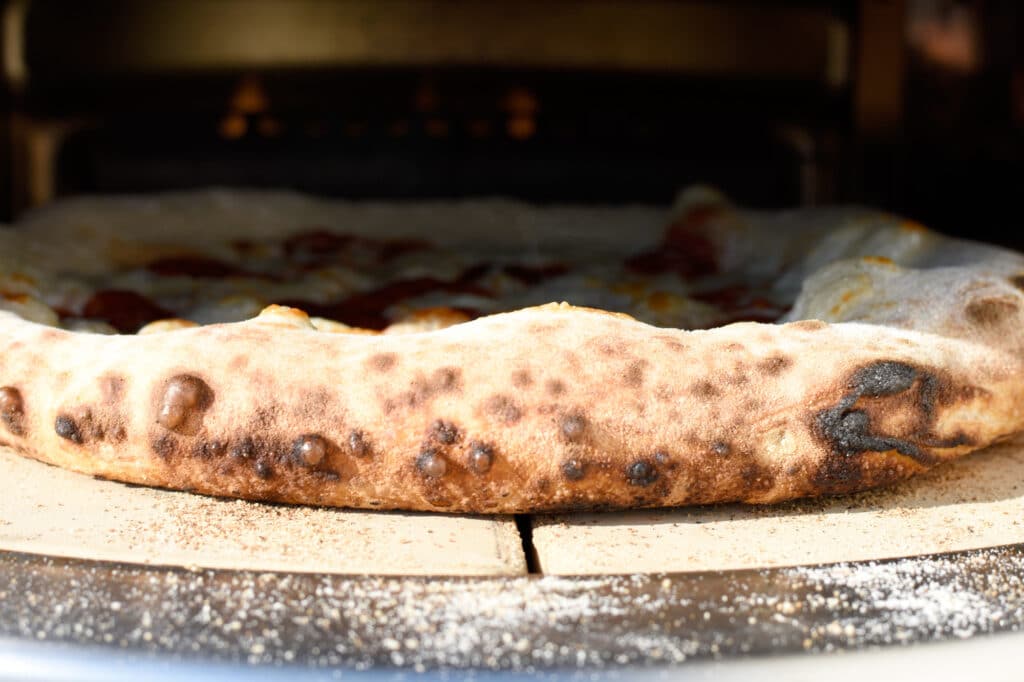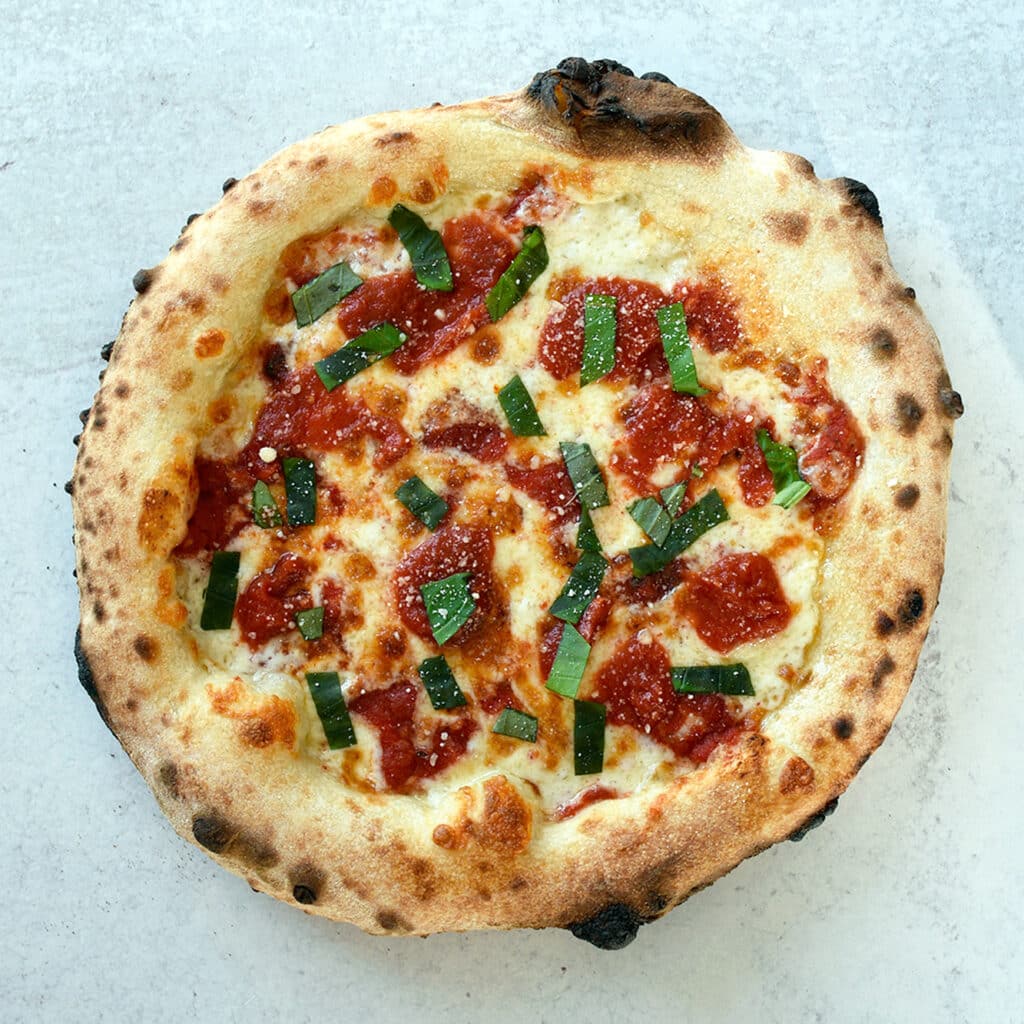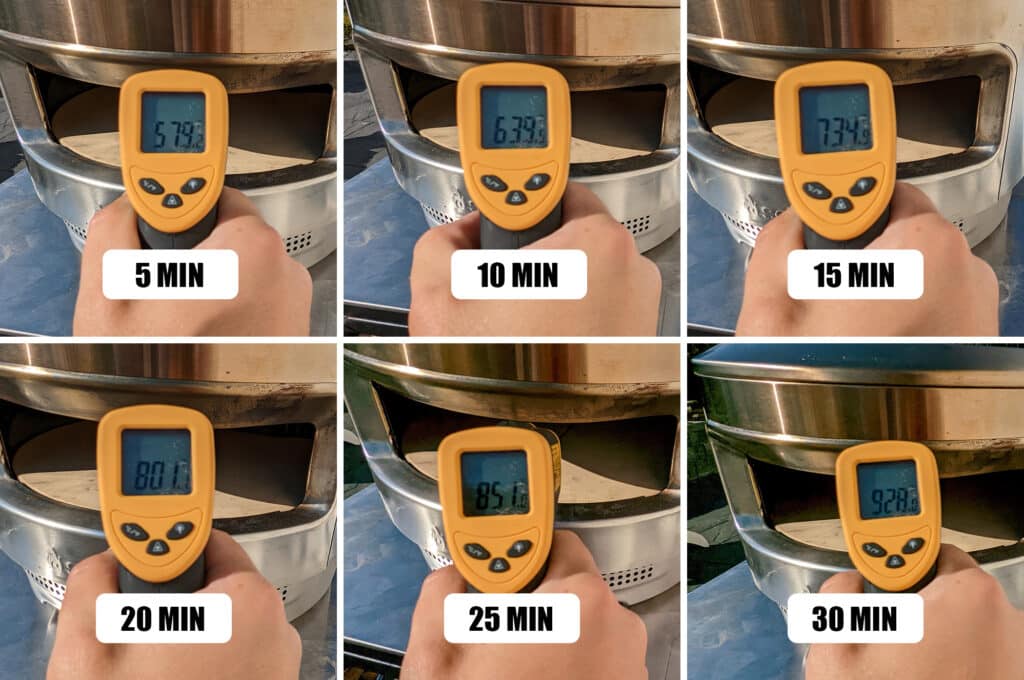 If you want to break with convention and go for something a bit unusual, consider the Solo Pi Pizza oven. Created by the leading manufacturer of smokeless fire pits, this squat, compact little pizza oven has a futuristic look and an innovative design. It throws away many of the pizza oven conventions and goes its own way with a flat rather than domed roof and a round body with a wide fuel repository. These things should detract from a traditional pizza oven's efficiency, but thanks to creative engineering, a signature airflow system, and optimized heat retention, this quirky oven can bake pizzas with the best of them. 
This stainless steel oven comes in two configurations, wood only or with a propane attachment, giving you dual fuel capabilities. We like the dual fuel option as it is much easier to use and allows you to monitor and maintain the temperature more efficiently. Also, the temperature increases with gas to 900 °F rather than 800°F with wood alone. So we recommend going for the dual fuel option if you can afford it.
It reaches optimal temperature in around 20 minutes and cooks a Neapolitan-style pizza in about 2 minutes. It retains heat well from one pizza to the next, so cooking one after another is no problem. 
We love the look of this pizza oven and the fact that the creators were not afraid to switch up the norm. It's a good pizza oven for anyone who wants dual-fuel technology at a reasonable price. 
Gas & Wood At The Same Time
You heard that right. This patent pending pizza oven uses a gas burner under the pizza stone to help retain heat while also using wood as the main fuel source up top.
Weight – 58.7lbs
Max pizza size – 16 inches
Max heat – 900° F
Price – $699.99 (frequently on sale)
Preheat time – 15 minutes
Pizza cook time – 90 seconds
Warranty – Lifetime on manufacturer defects.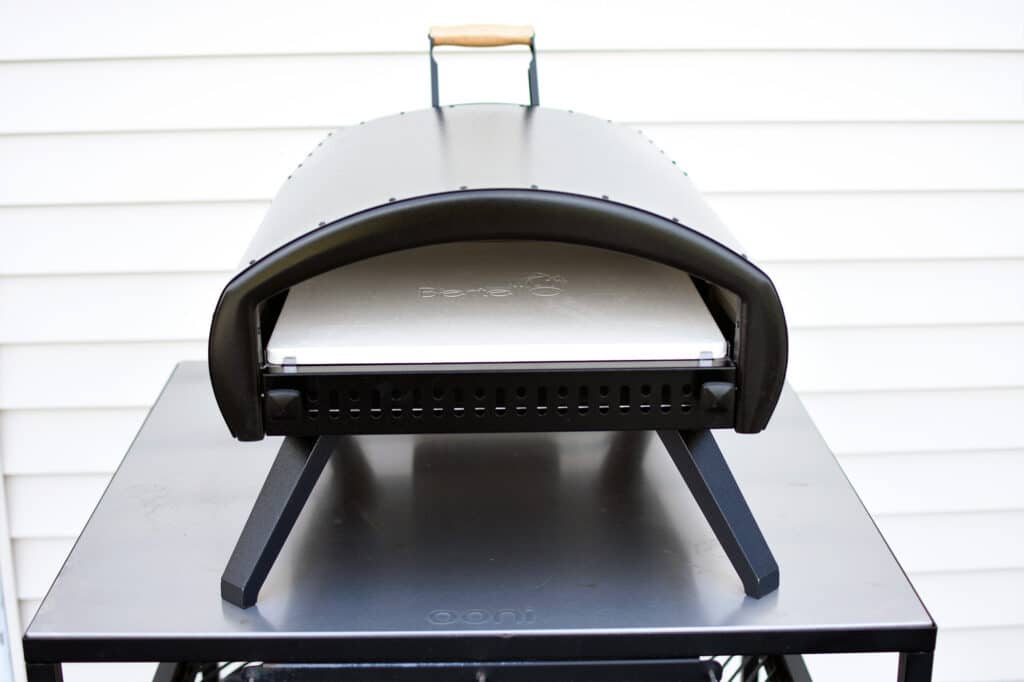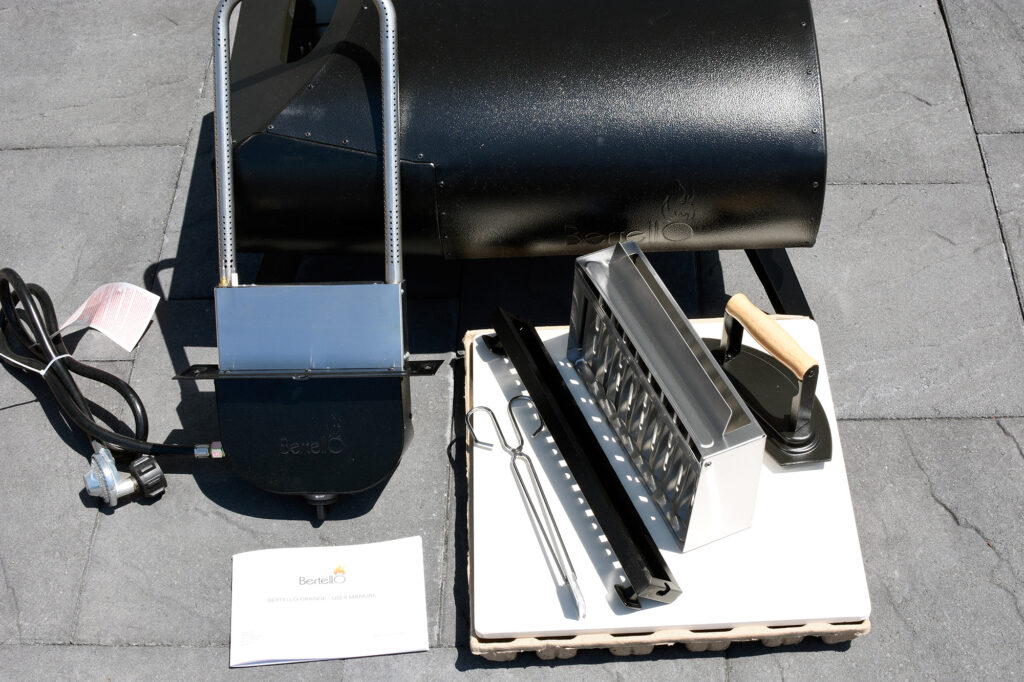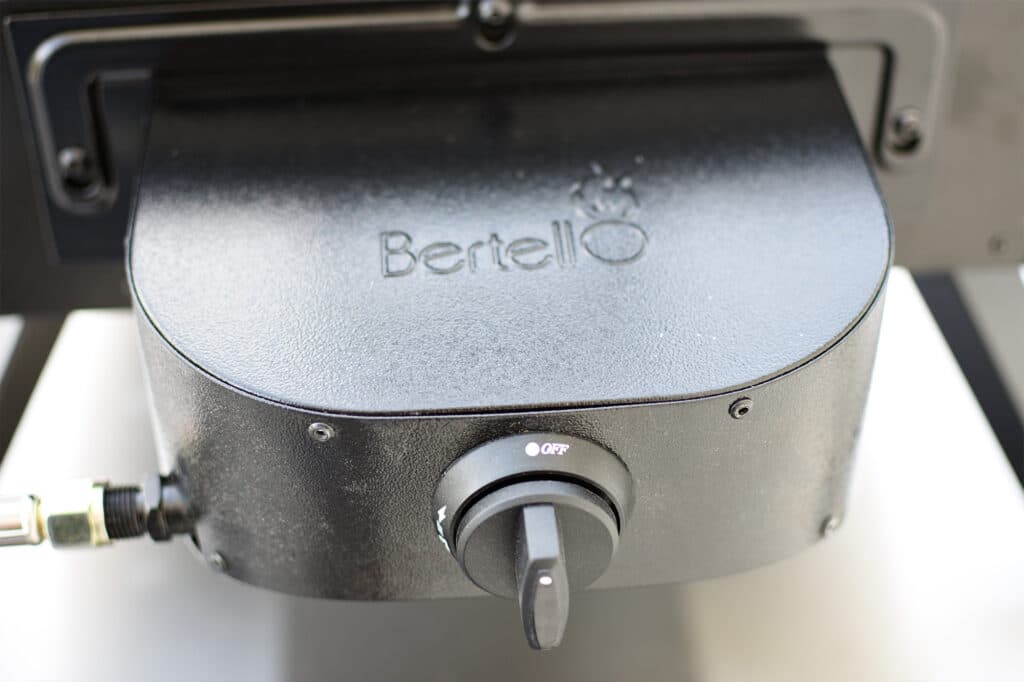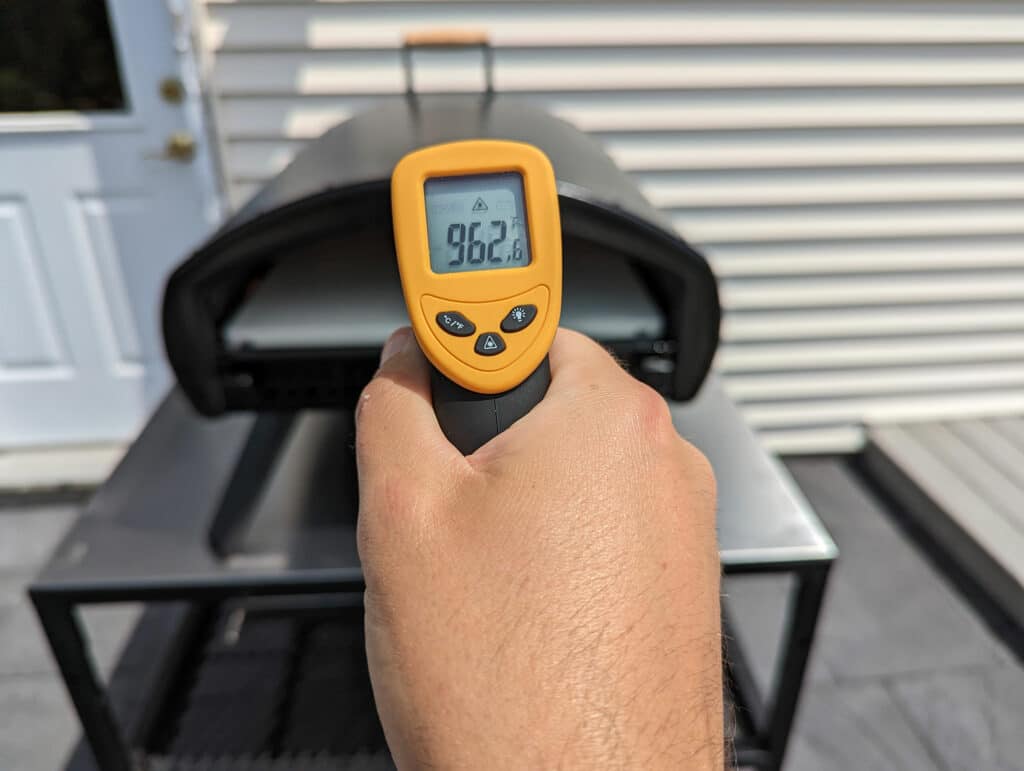 The Grande is the new model by the Shark Tank-winning Bertello brothers, whose original pizza oven is also on our list. This new model is no less innovative than that one and has a few exciting new features. Firstly, it's a dual-fuel oven which means you can cook with wood or gas alone, or you can cook with both simultaneously. Cooking with the two fuels together allows you to quickly preheat the oven with all the efficiency of gas and then use wood fire simply to add that unique flavor and caramelization to the crust. 
The second feature that makes this oven unique is the dual burner system. There are two gas burners, one at the back of the oven heating it as standard and one u-shaped burner running under the pizza stone, heating it directly and ensuring excellent heat retention between pizzas. This is where the Bertello has the edge over the Karu 16 and the other Ooni ovens, which tend to lose heat between multiple pizzas. 
This pizza oven rapidly heats to 900°F in less than 15 minutes, cooks a pizza in 2.5 minutes, and can go directly from one pizza to the next without waiting for the oven to reheat between bakes. 
Like the Karu 16, it can cook 16″ pizza and accommodate other large meals, but also, like the Karu, it's too heavy to really be called portable. This is partly thanks to the heavy-duty materials, hammered steel, and excellent insulation, which means it works perfectly even in sub-zero temperatures.
At $700, it's cheaper than the Karu, and we recommend it to anyone who wants to experience the dual fuel and dual burner systems. 
Built Like a Commercial Oven
Hand-made in Portugal, the Cru 32 has professional-grade materials with an innovative removable dome for easy cleaning.
Weight – 56lbs
Max pizza size – 15 inches
Max heat – 900° F
Price – $775.00
Preheat time – 30 minutes
Pizza cook time – 90 seconds
Warranty – Free returns within 14 days. 1 year warranty.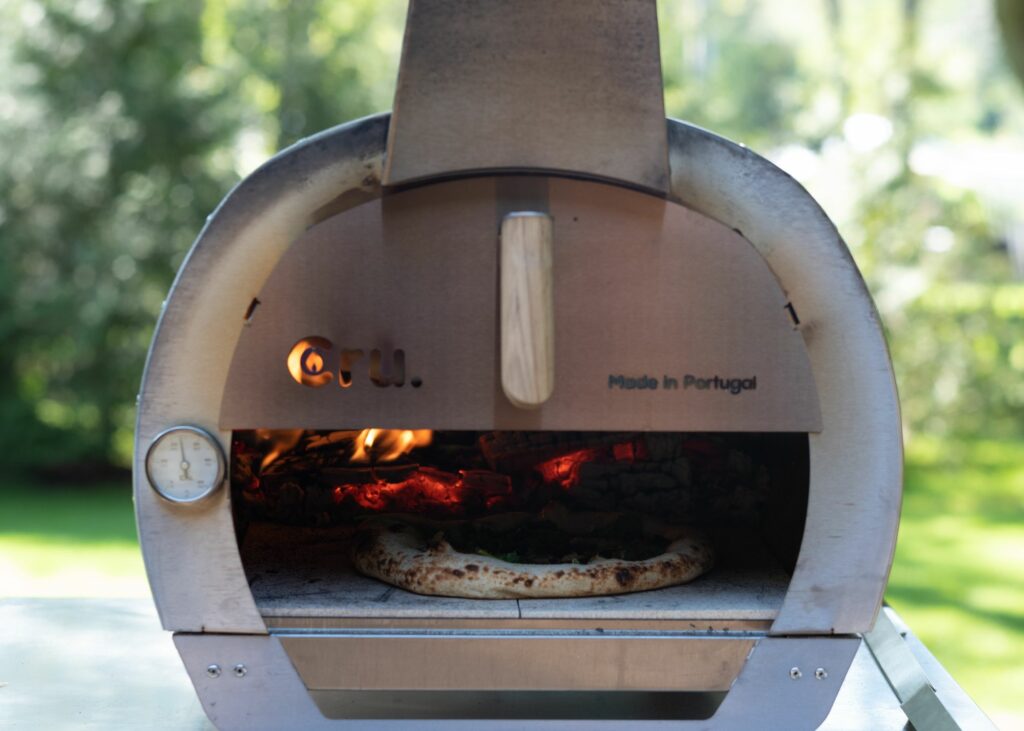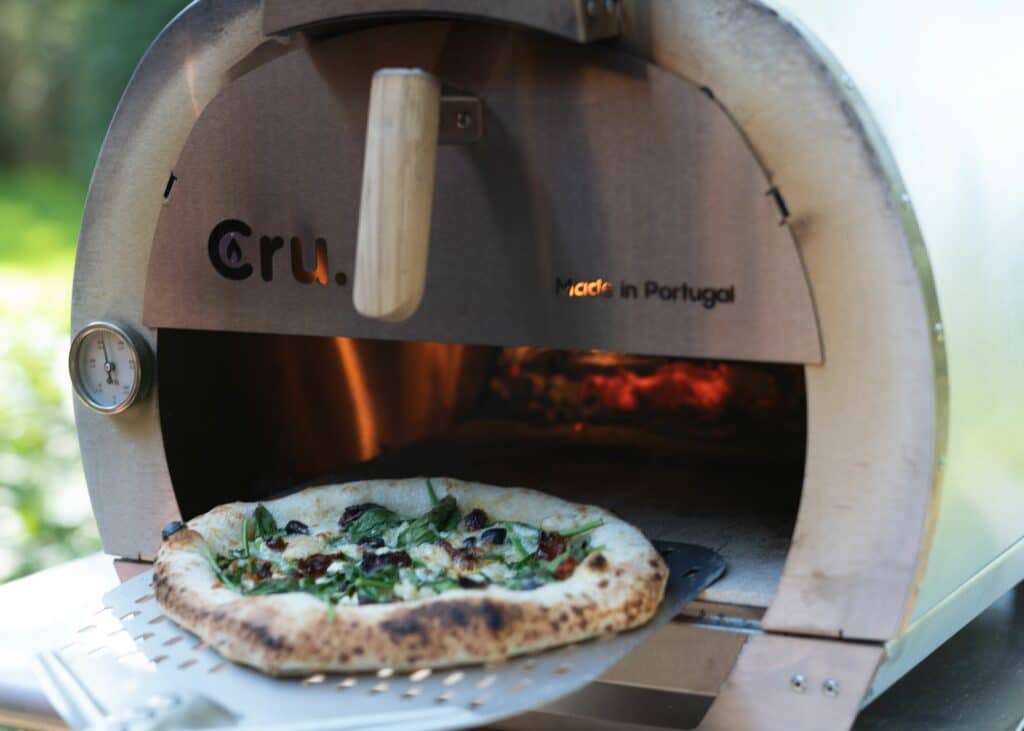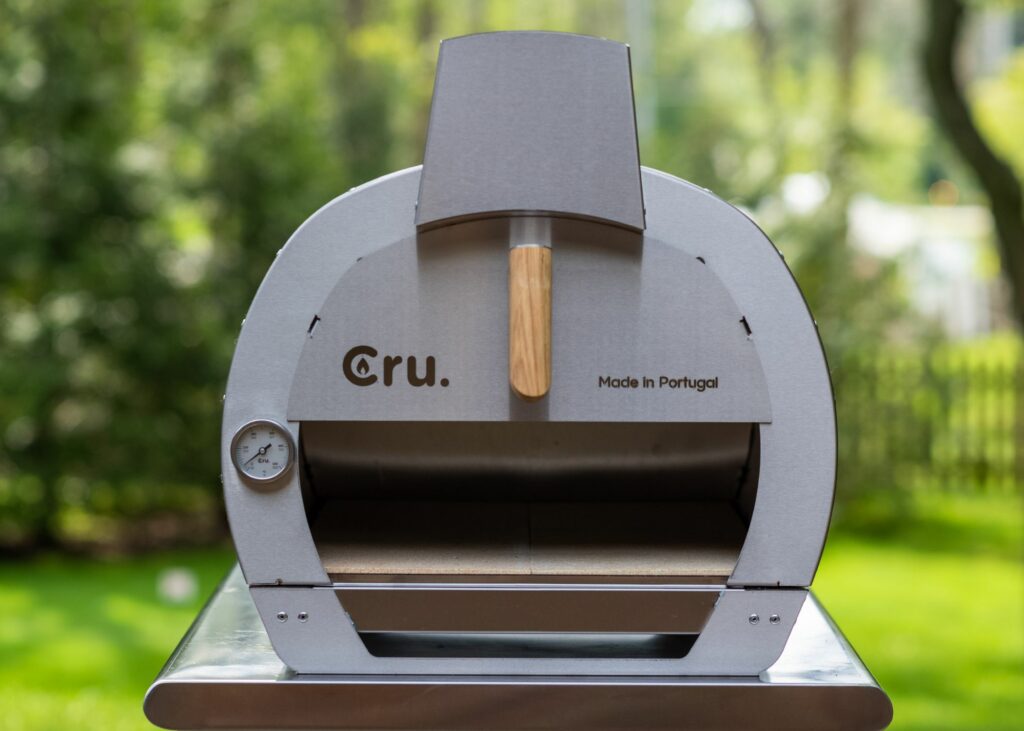 Cru is one of the newer pizza oven manufacturers that's really making a name for themselves with hand-made 304 stainless steel ovens. With three models to pick from, depending on your budget, you honestly can't go wrong with any of them – but the Model 32 G2 stood out the most in our testing.
What sets the Cru 32 G2 apart from the cheaper 30 is better thermodynamics thanks to the adjustable and removable half-door, a built-in thermometer, and (what I REALLY like) a removable dome. The whole top dome of the oven comes off the base, making cleaning really easy. This is a gamechanger for wood-fired ovens!
The tall height offers a lot of cooking space for tons of food besides pizza when used with their grill grid – breads, roasts, fish – the list goes on.
Best Oven Overall (Premium Pick)
The Gozney Dome is the best oven overall after testing and comparing performance and cost. But perfection comes at a premium.
Weight – 128lbs
Max pizza size – 16 inches
Max heat – 950° F
Price – $1500.00
Preheat time – 30 minutes
Pizza cook time – 60 seconds
Warranty – 5 years (if you register the product) otherwise it's one year.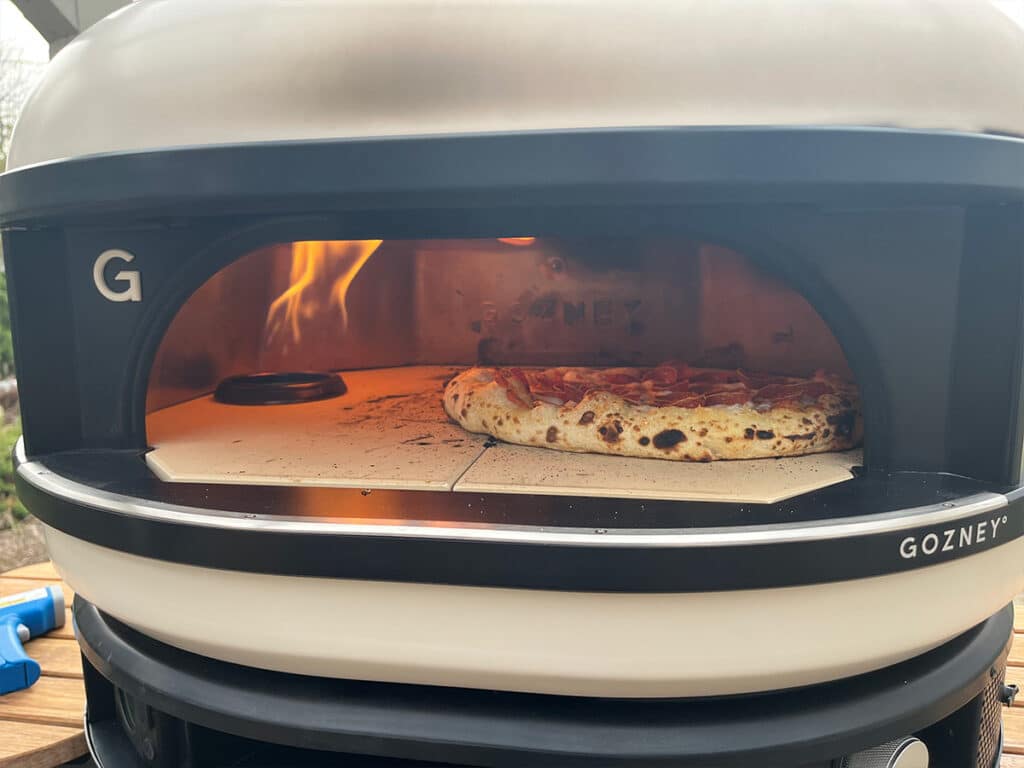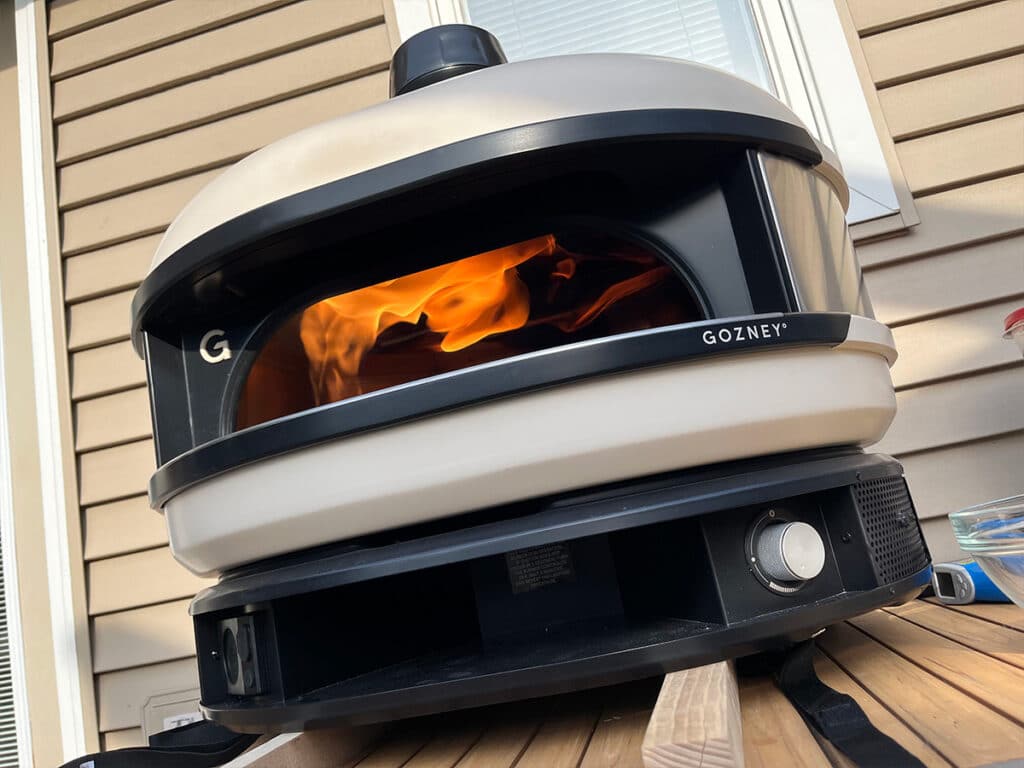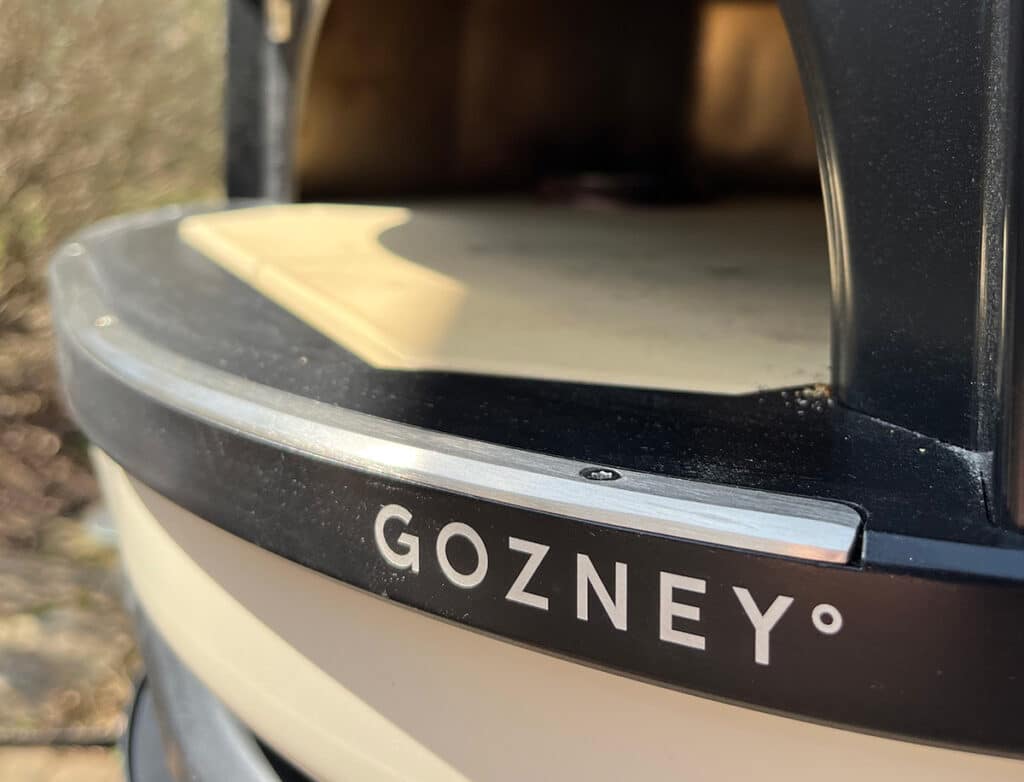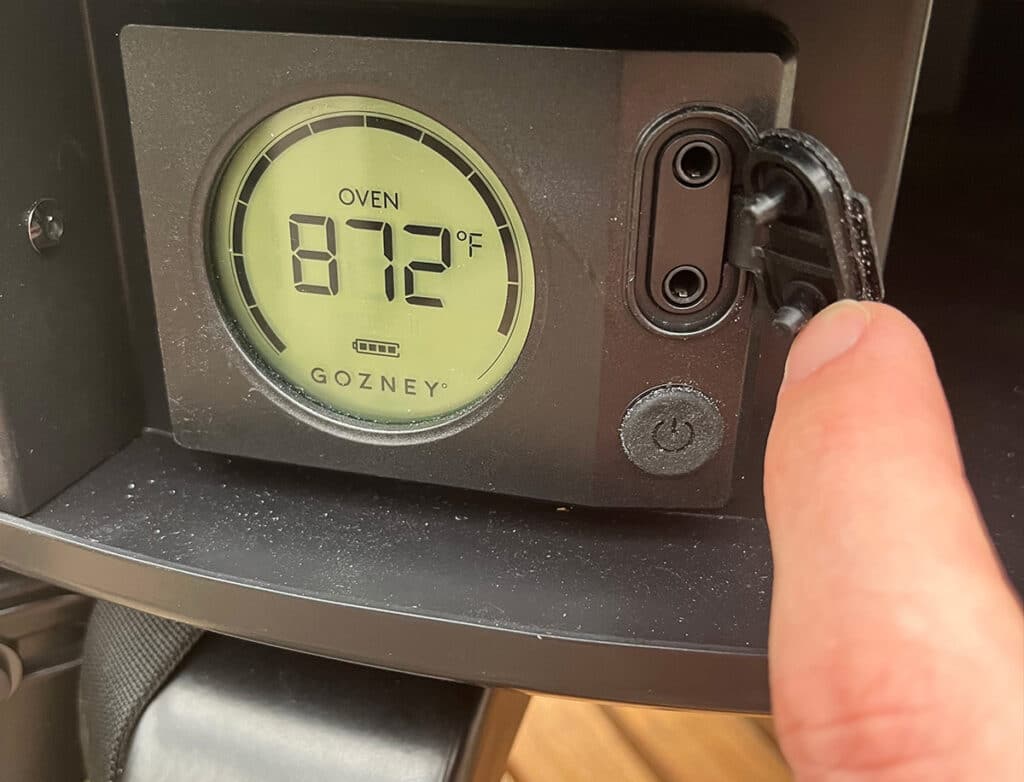 The Gozney Dome is easily one of our favorite ovens on the market today, if not the favorite. Sure it's a lot of money at $1200 for the wood burner, but you get a heck of a lot of oven for that price. It's a lovely piece of equipment, circular rather than long like most pizza ovens, and they've done away with the ubiquitous shiny silver and matt black of most ovens. There's a choice of bone or olive-colored ovens, either of which adds a sophisticated touch to any backyard kitchen.
But it's not just about the look. Gozney designed this oven with innovation, usability, and versatility at the forefront of their minds. More than just a pizza oven, the Gozney dome can cook fast or slow to bake, roast, smoke, and steam anything you fancy. And has handy features like a built-in temperature gauge – which many other high-end ovens still lack. There are also built-in meat probes, an add-on steam injector for baking bread, and an accessory port that allows you to add a cold smoker and automated pellet burner. 
You've also got the option to spend a little more – $1500 and go for the dual fuel option, which gives you even more versatility; all the flavor of wood smoke with all the convenience of gas. 
The Dome has a maximum temperature of 950°F. Thanks to its size, it takes a little longer to reach this than some of our other ovens. So we like to give it around 45 minutes for a good Neapolitan standard preheat. Once there, it can cook a pizza in 60-80 seconds.
It's no secret that we love this pizza oven, and we recommend it to anyone who wants all the versatility it offers.
Runner Up (Premium Pick)
The Alfa NANO is a slightly more affordable oven with better heat retention than the Dome, however the cooking area is much smaller, resulting in a 12" max pizza.
Weight – 110lbs
Max pizza size – 12 inches
Max heat – 1000° F
Price – $1399.00
Preheat time – 30-45 minutes
Pizza cook time – 60 seconds
Warranty – 2 years.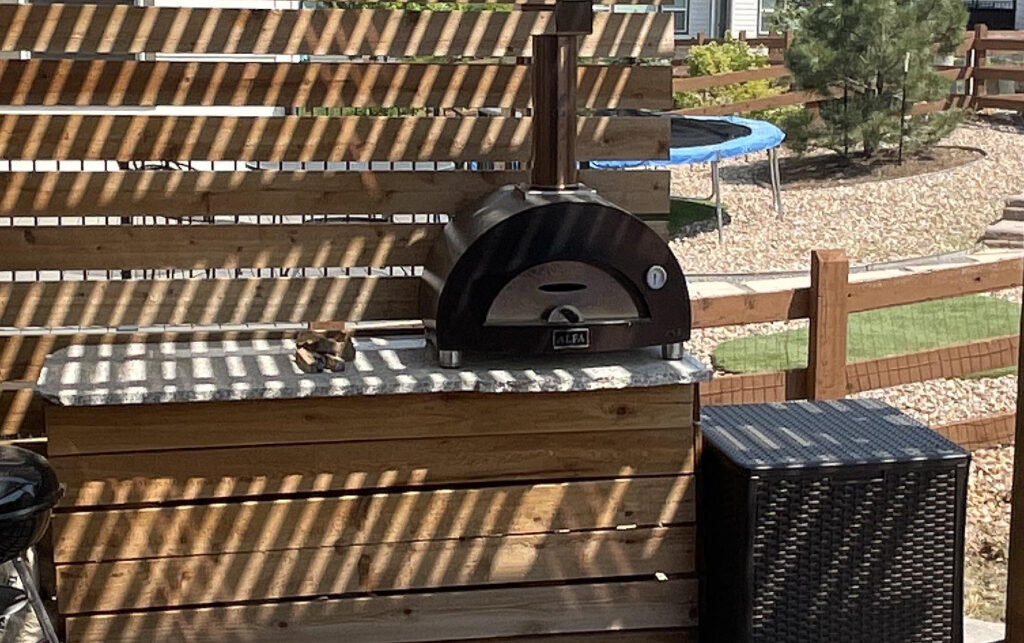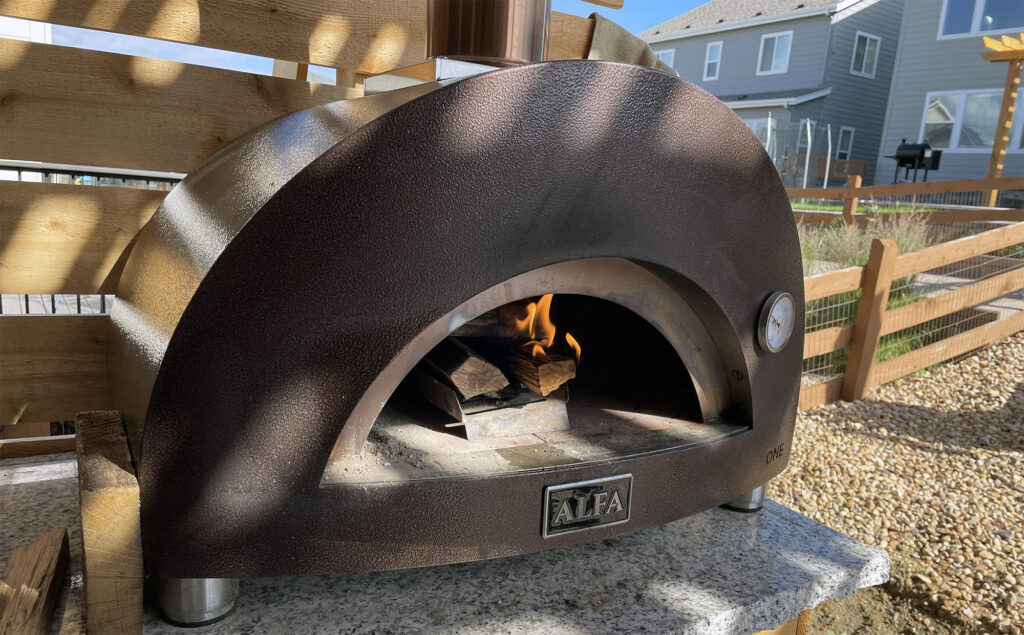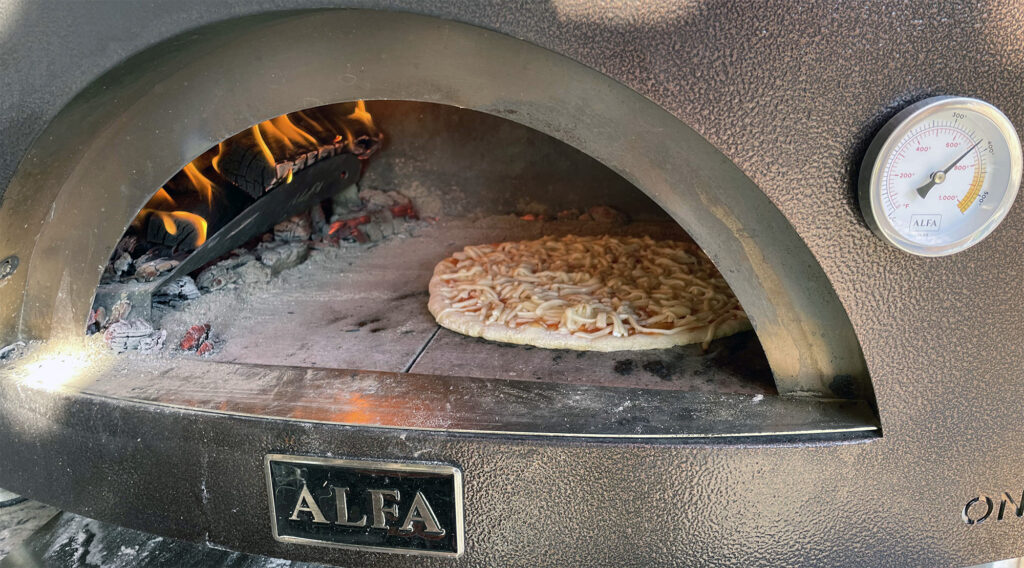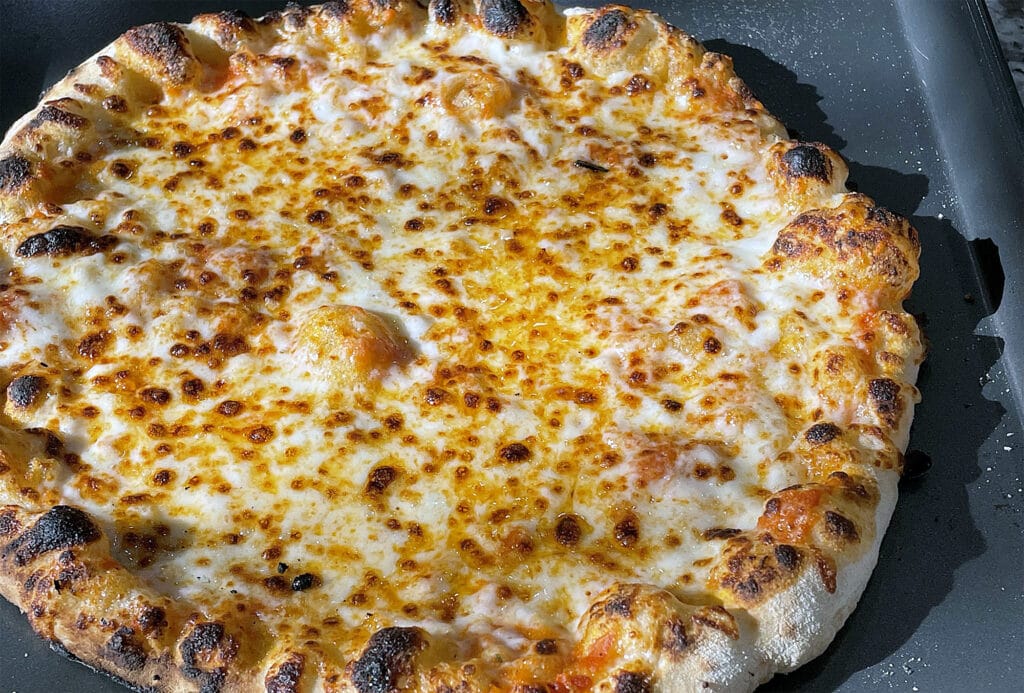 Another good-looking pizza oven, this one comes with pure Italian craftsmanship. Alfa are known for their expertise, attention to detail, top-quality materials, and construction. They create beautiful, durable ovens that make delicious pizzas. The Alfa NANO (previously called Alfa One) is their smallest oven and cooks 12″ pizzas. 
You can choose a countertop model that can sit on a bbq island or be permanently fitted into your patio kitchen. Or purchase a separate stand for a freestanding unit. On arrival, it only takes five minutes to assemble, it's a simple matter of screwing in the feet and chimney and placing the wood basket, and you're ready to go.
The inside of the Alfa NANO wood-fired oven is made from reinforced stainless steel, and it has dual layers of ceramic fiber insulation, the same standard used in commercial ovens. In place of a pizza stone is four 1.2-inch thick fire bricks sunk into the base of the oven. These heat rapidly and retain their heat to provide you with a quick and even bake directly on the oven floor. A built-in Pyrometer allows you to track the temperature, while the peephole in the door lets you keep an eye on your food as it cooks.
The Alfa is a rapid oven that can get to 750°F in 10 minutes, and its top heat of 1000 °F in 30 minutes. As a result, it can cook restaurant-quality, Neapolitan-style pizza in 60 seconds flat. But it's not just pizza it's good at. This oven is versatile enough to cook, roast, and bake anything you like. 
The Alfa NANO is not cheap at $1400, but we'd recommend it to anyone who wants to know they're getting top-quality engineering and construction. And rest assured that if you have any problems, their customer service is top-notch.
Forno Venetzia FVP200R Pronto 200
Heavy, But Good Insulation (Premium Pick)
The Forno Venetzia Pronto 200 weighs twice as much as our last pick, however a lot of this weight is in the insulation.
Weight – 220.5lbs
Max pizza size – 16 inches
Max heat – 850° F
Price – $1999.99
Preheat time – 30-45 minutes
Pizza cook time – 60 seconds
Warranty – 5 years (if you register the product) otherwise it's one year.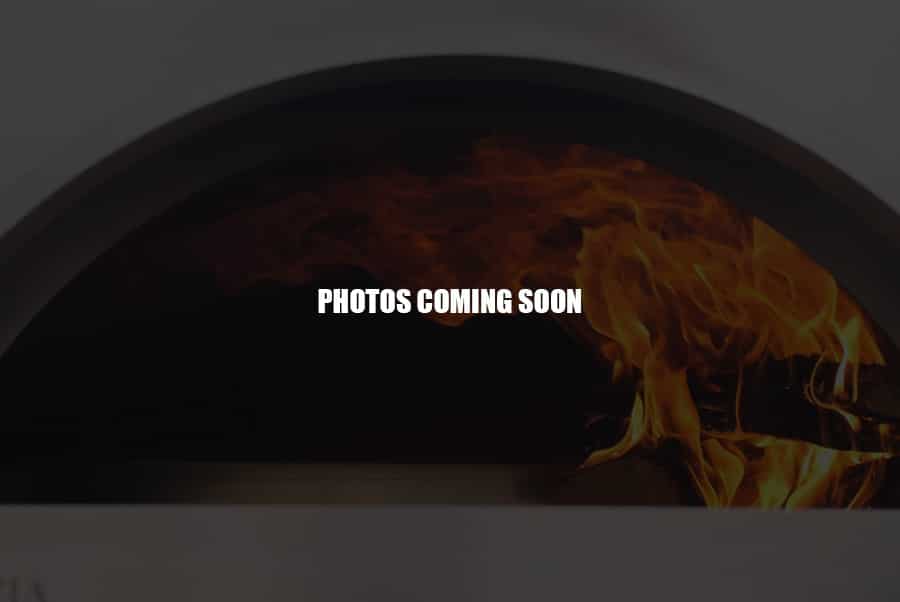 Forno Venetzia has been creating their backyard ovens for over fifteen years now. Born out of a love of wood-fired cooking and a desire to use traditional methods in a modern way, they've created a range of sleek, efficient ovens that are compact without sacrificing functionality.
The design of the Pronto 200 oven utilizes the traditional flue system used by commercial ovens to retain heat and prevent it from being lost out of the chimney. In addition, a double layer of ceramic insulation over the dome and beneath the hearth maximizes heat retention. Like the Alfa One, the Forno also has a brick-lined oven base rather than the conventional pizza stone.
Thanks to all this, the Pronto 200 can reach a maximum temperature of 1000 °F. And thanks to the 20″ x 24″ cooking surface, it can cook two personal-sized pizzas at once or one large one. This versatile, large oven can also be used to cook, roast, and bake many meals other than pizzas.
Like the Alfa, the pronto 200 is available as a countertop unit that looks awesome when fitted into an outdoor kitchen. Or you can use it on its custom wheeled stand which gives you the portability to move it around your garden in search of the best and most sheltered cooking spot.
Recommended for anyone who demands the best of their equipment. These ovens have an excellent design, high technical standards, and beautiful craftsmanship.
Insane Heat Retention
The Santino 60 pizza oven weighs over 500lbs and performs like a hand-made brick oven. However, the add-on stand has wheels which adds some maneuverability.
Weight – 550lbs
Max pizza size – 16 inches
Max heat – 1000° F
Price – $2750.00
Preheat time – 25-40 minutes
Pizza cook time – 60 seconds
Warranty – 2 years.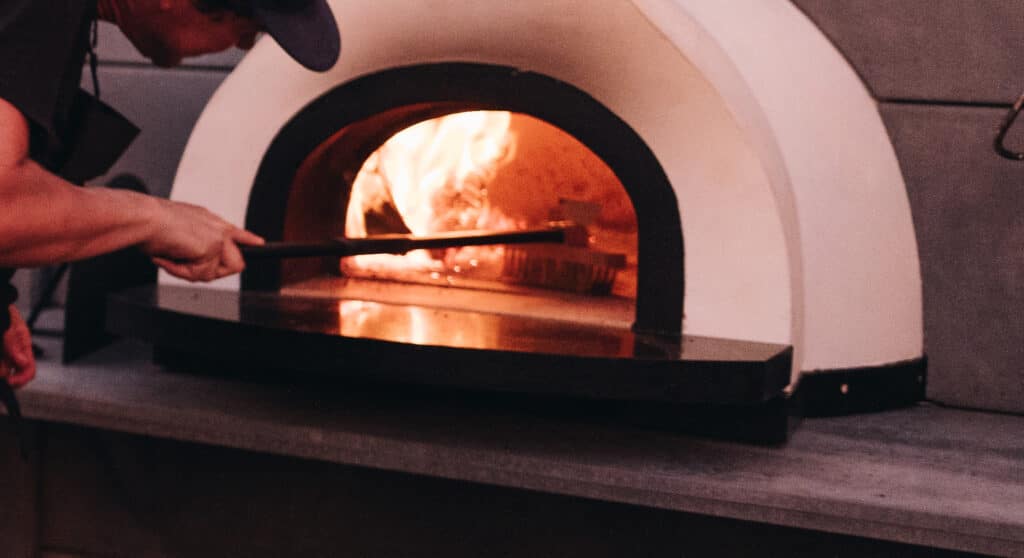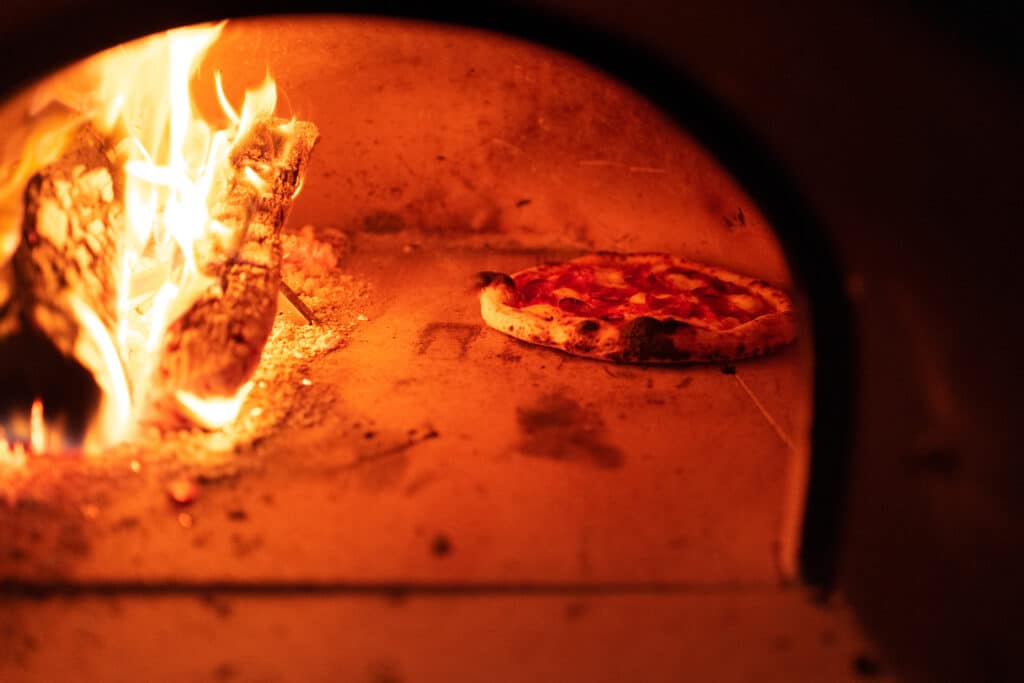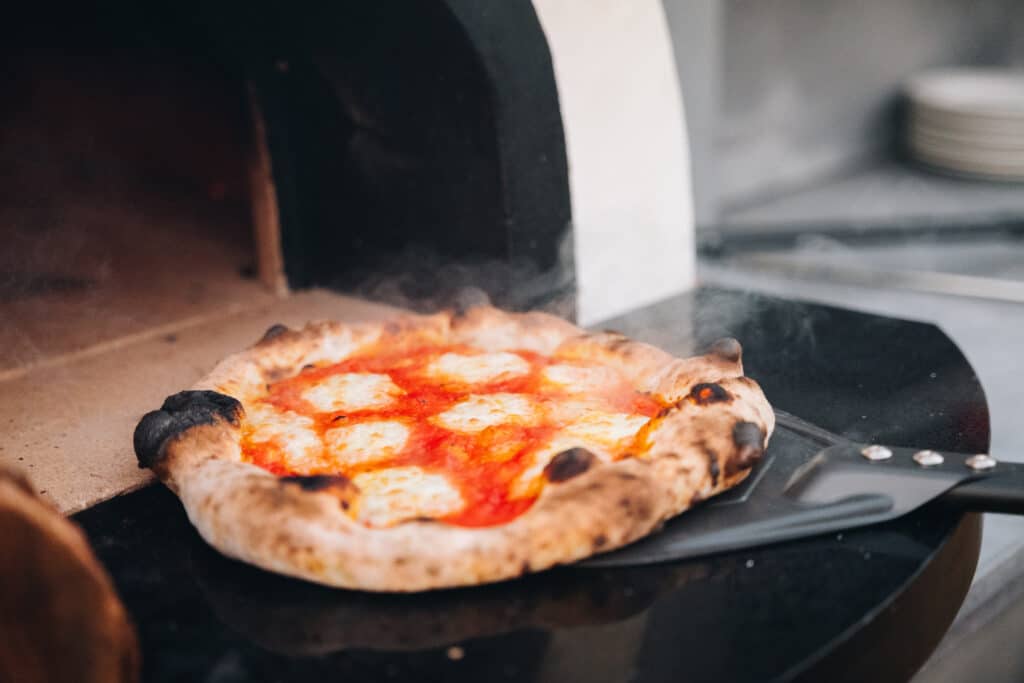 Forno Piombo are known for making some of the best custom-made pizza ovens on the market. The Santino 60 wood-fired oven bridges a gap between the larger portable ovens and a custom-built behemoth. While this oven weighs over 500lbs, there is an optional stand with wheels that turns this into a versatile oven that can be moved around your patio when needed. It's also surprisingly compact for how much insulation it has, which is great for many patio designs since it can be placed on a countertop. There are also multiple colors to pick from and an optional shelf which makes launching and retrieving pizzas a bit easier due to a larger footprint. 
This oven is heavy because of how thick the insulation is: the dome has an industry-leading 2.5″ thickness while the firebricks on the bottom are 2″ thick! This design means the Santino 60 can hold heat for 24 hours. This is a serious oven for those who are serious about their Neapolitan pizza. 
What is a wood-fired pizza oven?
Outdoor pizza ovens are self-contained ovens that can reach temperatures much higher than indoor domestic ovens. A household oven generally stops at around 500 °F. In comparison, a good pizza oven can reach temperatures of over 900°F. That high heat is necessary to make truly excellent, restaurant-quality home-baked pizza. 
Outdoor pizza ovens can be fuelled by various things, mainly wood, gas, charcoal, and sometimes a combination of two fuels. A wood-fired pizza oven uses wood as its fuel source. 
How does it work?
Pizza ovens work by creating an atmosphere of extremely high heat, evenly dispersed throughout the oven. The flames produced by the wood fire heat the inside walls, air, and pizza stone or brick base within the oven, leaving no cold spots. This heat is then radiated back to the pizza from above and below, cooking it rapidly and evenly. This is why your pizza oven must be well insulated so that none of that all-important heat escapes during cooking. 
The wood fire also creates smoke which infuses your pizza with the smokey flavor and slightly charred appearance characteristic of traditional wood fires pizzas. 
Benefits of wood-fired pizza ovens
There are so many benefits of wood-fired ovens! Here are some of the key ones. 
Taste. Food cooked by wood fire has a unique smokey flavor that cannot be recreated with gas or charcoal. It is this flavor that makes chefs return again and again to wood-fired cooking. 
Enjoyment. Building a fire, lighting it, watching the flames take hold and roll through your oven, the delicious scent of wood smoke in the air. Every element of cooking with wood is a memorable experience. 
Customizable. There's not just one wood for cooking. Instead, you can select from various hardwoods that burn at different temperatures and infuse your cooking with different flavors. This allows you to experiment and create a flavor profile that is truly your own. 
Economical. Wood-fired ovens don't use electricity, just a few logs at a time, so you'll be saving on your utility bill as you use them. Plus, you're not shelling out for restaurant, shop-bought, or take-out pizzas. 
Fast. Wood-fired ovens can cook pizza in around 2- 3 minutes. That is much faster than a domestic oven and will speed up your dinner process. 
Outdoors. Outdoor pizza ovens are ideal for those hot days when you can't bear the thought of cooking inside your house and raising the temperature even further.
Healthy. Pizza ovens cook at high speed, which is excellent for retaining the goodness and nutrients of your food. Pizzas cook so fast that any fruit, veggies, and meat you add as toppings don't have time to dry out. As a result, they stay juicy and succulent, full of flavor and goodness. 
Versatile. Wood-fired ovens can be used for much more than just pizza. Cook bread, pastries, roasts and ribs, stews, seafood, and veggies. Cook anything you like in them, really. 
Portable. Many of the top wood-fired pizza ovens are portable, meaning you can take them with you on camping trips, picnics, and cookouts and have delicious pizza wherever you go. 
Durable. Wood-fired ovens are simple, long-lasting uncomplicated equipment. If you purchase a quality oven and look after it, it will last you a lifetime. 
And lastly, wood-fired pizza ovens are just cool. They will raise your backyard gatherings and dinner parties to a whole new level!
Features to consider when purchasing an oven 
You need to ensure you're getting a pizza oven that's right for you, so consider the following criteria carefully before making your purchase. 
Style. Pizza ovens come in various shapes and styles, and you need to choose the one that best suits your backyard setup. For example, do you want a freestanding oven with its own legs or stand? One permanently fitted into your patio kitchen? Or one that sits on top of a surface, table, or barbeque island?
Size. You need to choose an oven that you can easily accommodate in your backyard. Buying something far too large for your space is no use. But the size also equates to the oven's cooking capacity. For instance, a 12″ oven will cook pizzas a maximum size of 12″ and a 16″ oven 16″ pizzas. Also, if you plan to cook meals other than pizzas, ensure you pick an oven big enough to accommodate your plans. 
Portability. Will your pizza oven be a permanent fixture in your backyard, or do you want a portable model you can take on camping trips? If so, check the dimensions and weight of the oven.  
Max Heat. Pizza ovens need to reach high temperatures in order to do their job, so be sure to choose one that is fit for the task. There's no sense in buying a pizza oven that doesn't reach temperatures higher than your domestic oven. 
Insulation and heat retention. Poorly insulated ovens do not retain their heat and are inefficient and slow. They will also be unpleasant to use on a hot day and difficult to get up to temperature on cold ones. Look for well-insulated ovens made from durable materials. 
Speed. How long does it take the oven to reach optimal cooking temperature? And once there, how long does it take to cook a pizza?
Multiple pizzas. Some pizza ovens struggle to retain heat while cooking multiple pizzas, so you must wait for the oven to regain optimal temperature or risk a sub-par-bake on the second and third pizzas. If you'll only ever be cooking one pizza at a time, this is not a problem, but if you see yourself regularly churning out pizza after pizza, look for an oven that can handle multiple bakes. 
Usability. Cooking with wood is a bit of a learning curve when you set out, but once you get your method down, it's easy to do. However, you want to find an oven that makes your life easier, not harder. If you're a beginner, avoid anything with overly advanced features. 
How to use a wood-fired oven 
Wood-fired ovens all have slightly different usability, so read your manufacturer's instruction manual carefully when you start. This will help you use your oven safely and get the best out of it. 
But in general, start by choosing the right wood for your oven. It should always be seasoned hardwood, but you can experiment with the different types as you go on. Make sure it's cut to the correct size to fit in your oven, then build your fire, light it, and add logs one at a time for a more intense flame. Once the fire is burning well, you can move it to the side of your oven and wait for it to reach optimal temperature. 
Once you've hit the right temperature, slide your pizza directly onto the pizza stone or oven base. Once your pizza is in, remember that it will cook quickly, so keep an eye on it to avoid burning. Turn the pizza if necessary to ensure an even bake, and then remove it once it's cooked. 
If you're cooking multiple pizzas, keep feeding your fire and checking the temperature as you go, but if not, allow the fire to burn out as you enjoy your meal. Once the oven has cooled completely, remove and clean the pizza stone, then clean the oven by sweeping out the ash from the fire and brushing away any food residue, leaving it ready to go for next time. 
Most importantly, remember that wood-fired pizza ovens have a learning curve. You'll need to experiment with different types of wood to find your favorite combination. Then practice lighting and feeding your fire so you become a pro at maintaining the correct temperatures and judging when it needs more wood. And you need to get to know your oven, how hot it gets, how quickly it cooks a pizza, whether your pizza needs turning mid-bake, and whether it needs a break between pizzas. 
All this trial and error and practice is part of the fun of the wood-fired cooking experience. So take your time, bake as many pizzas as possible, and watch as they get better and better over time. 
Necessary Tools for Wood-Fired Ovens
These are a few tools and gadgets to make your pizza oven experience easier. 
Using a pizza peel is the easiest way to slide a pizza in and out of the oven safely and without damaging the pizza. 
If your oven doesn't have a built-in thermometer, a laser thermometer is a must-have to keep an eye on the temperature.
An ash rake will help you move the embers around in your oven and scrape the ash out after you finish cooking. 
A stiff-bristled oven brush can scrape off any dough or toppings that have dripped onto your oven floor and also sweep away the remaining ash.
Keep an ash bin on hand to store your waste ashes until you can dispose of them safely. 
A pizza stone brush is the best way to clean your stone by scraping off cooked-on food and brushing away crumbs and flour.