If you imagine a slice of pizza, what sauce do you see? Is it the typical red sauce, no sauce, or something else? While everyone on the planet loves tomato pizza sauce, white pizza sauce is often forgotten, but it is fabulous, and some would say an even better alternative. That is where the Ultimate White Pizza Sauce was conceptualized.
And it's not as simple as throwing some jarred alfredo on top of pizza dough and calling it a day. Many prepared sauces have a gritty texture with a "canned" or "jarred" flavor. The best, most delicious option is to make it yourself. Let's take a look at what makes the Ultimate White Pizza Sauce!
Origin of White Pizza Sauce
White pizza, also known as a white pie, is an Italian-style pizza that does not use tomato sauce. Some people also refer to white pizza as sauce-less pizza, meaning no white or red sauce at all. For our purposes here, white pizza consists of an Alfredo-like or bechamel sauce in place of red sauce. This sauce opens the door for many diverse toppings, fundamentally changing pizza as we know it.
Since the concept of white pizza is so diverse, its true origin is unknown. However, white pizza from Italy is a pizza without any sauce, aside from maybe some olive oil, followed by toppings. In other parts of the world, white pizza means topped with ricotta, flavored heavy cream, or an Alfredo-based sauce.
According to Wikipedia, the main components of a white pizza are dough, garlic, and cheese. Best believe we have each of those elements covered in our Ultimate White Pizza sauce, and then some!
No matter what, just make sure that if you make white pizza, do not use prepared sauce. Alfredo from a jar is almost always gritty. If you use great ingredients, you don't have to worry about a poor outcome. For this reason, avoid prepared white sauces for white pizza.
What Do I Put On Top of White Pizza Sauce?
Unlike acidic tomato sauce, white pizza sauce is more of a blank canvas. Creamy, garlicky flavors go so well with so many other things, you can really get creative on the type of pie you put together. Really, the possibilities are endless!
While you can always add your typical toppings such as pepperoni, sausage, mushrooms, bell pepper, onion, and so on, white pizza calls for diverse, unexpected pizza ingredients for topping. Be creative and use our white pizza sauce recipe as a base!
Consider any of these ingredients on your white pizza:
Spinach
Artichokes
Kale
Chicken
Mortadella
Sun-dried tomatoes
Kalamata olives
Whole roasted garlic
Broccoli
Fresh herbs
Ricotta
Sweet peas
Corn
Roasted squash
Poblano peppers
Tender steak
Apples
Pears
No combination is too crazy! Simply choose what flavors you like in other dishes, and act on that. If you love charcuterie boards, add pears, brie cheese, and a balsamic drizzle. If you love spinach and artichoke dip, add both spinach and marinated artichokes plus Creme Fraiche. Seriously, the options are endless!
Ingredients Needed
There are only a handful of ingredients in this garlicky sauce, many of which you likely already have in your pantry or fridge. Italian cooking is very pantry-based and this sauce is no exception. Here is the list of ingredients in the Ultimate White Pizza Sauce.
3 medium-sized garlic cloves, minced
2 tbsp olive oil
2 tbsp flour
1¼ cup milk
¼ tsp dried oregano
¼ tsp black pepper
¼ tsp kosher salt
2 tbsp grated Parmesan cheese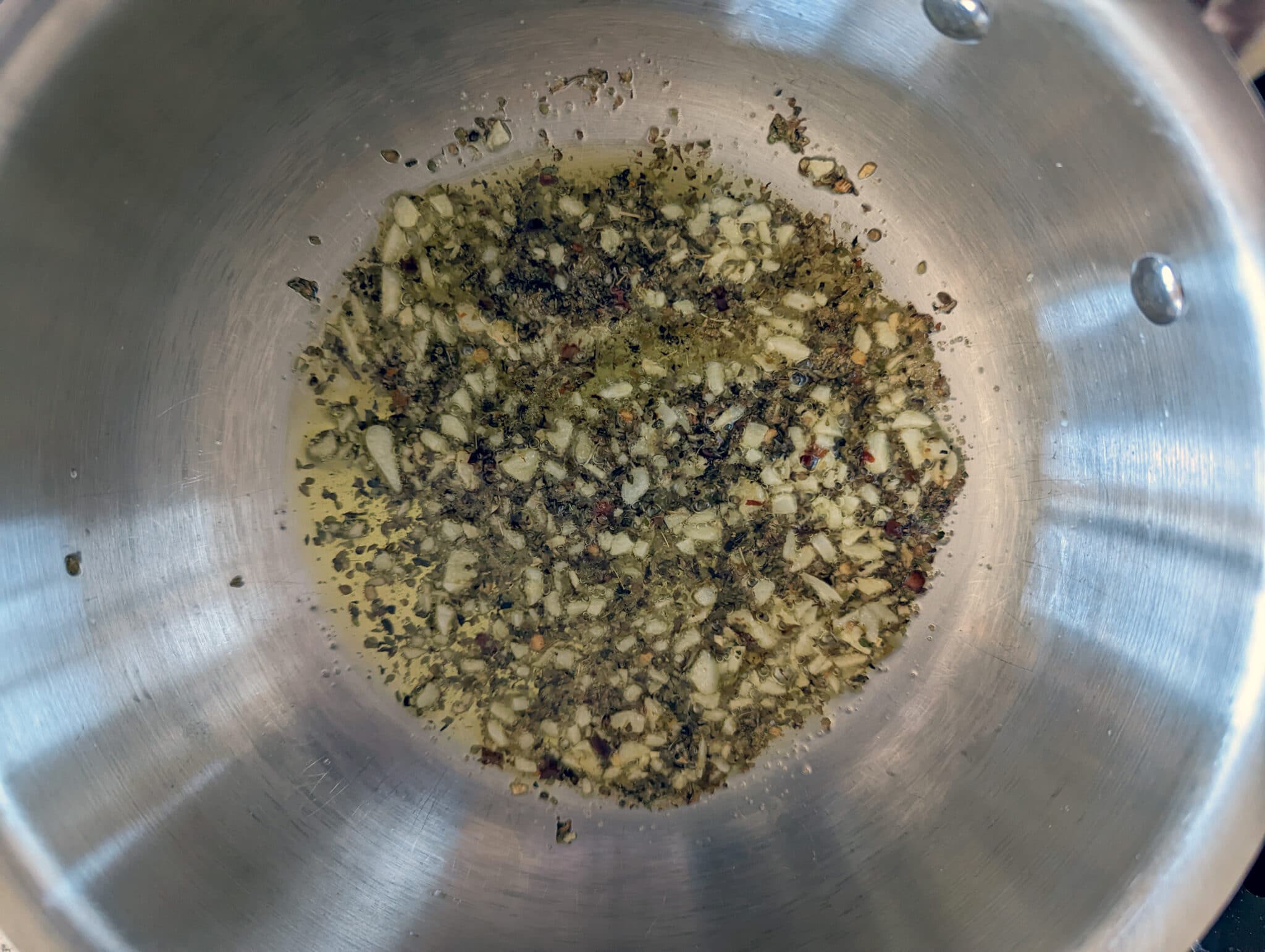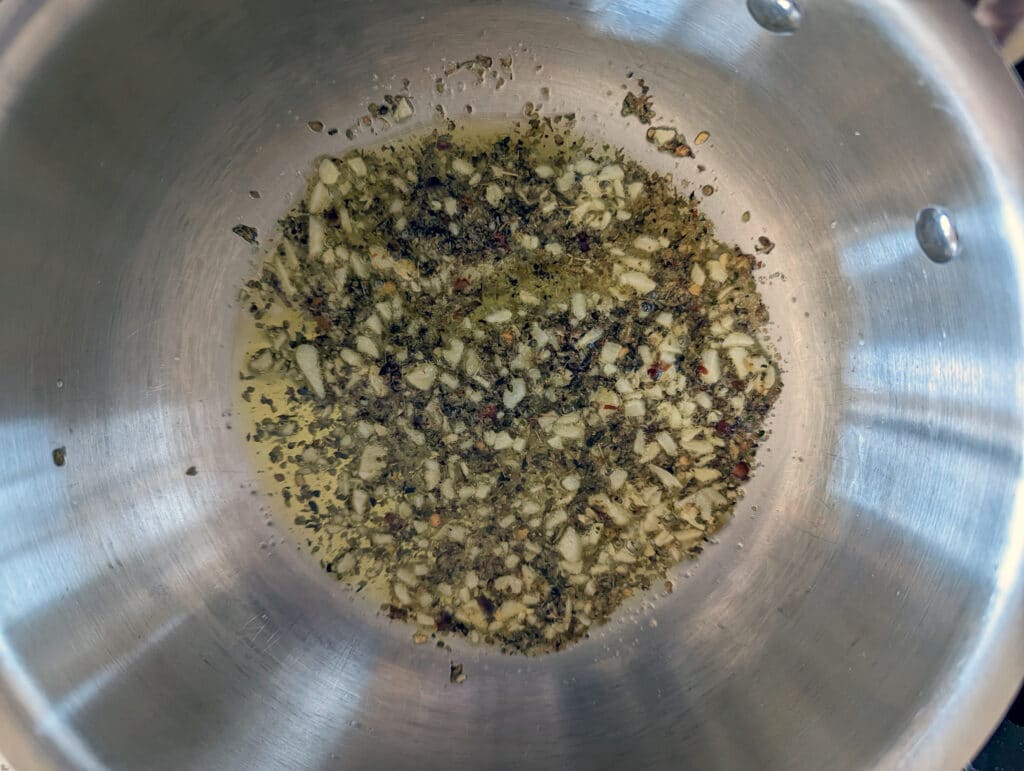 Making the Perfect White Pizza Sauce
While this sauce is technically a bechamel sauce, you will need to familiarize yourself with making a roux. A roux is a cooked mixture of flour, butter (or olive oil), and milk (or cream) and is the foundation for many sauces, soups, and stews. Once you know how to make a perfect roux, your sauce-making skills will improve dramatically!
To begin the sauce, you will start with your roux. Add the olive oil to a pan and heat until shimmering. Add the garlic and cook for one minute, until fragrant. Then, add the oregano and black pepper. Carefully add the flour to the hot oil and begin to whisk immediately. You want to stir out any lumps in the mixture so that it is a smooth and even paste. Allow the roux to bubble for a minute to cook out the raw flour taste. Stir continuously throughout this time.
Once the raw flour taste has been cooked out, slowly whisk in the milk, stirring continuously throughout this time. If you stop stirring, the sauce has a chance of becoming lumpy or gloopy. Allow the sauce to bubble while stirring. Continue to cook until your desired consistency is reached. Remember, the sauce will thicken as it cools.
With the burner off, season with salt and add your Parmesan cheese. If you add the cheese over the heat, it could separate from the sauce, leading to an unpleasant texture.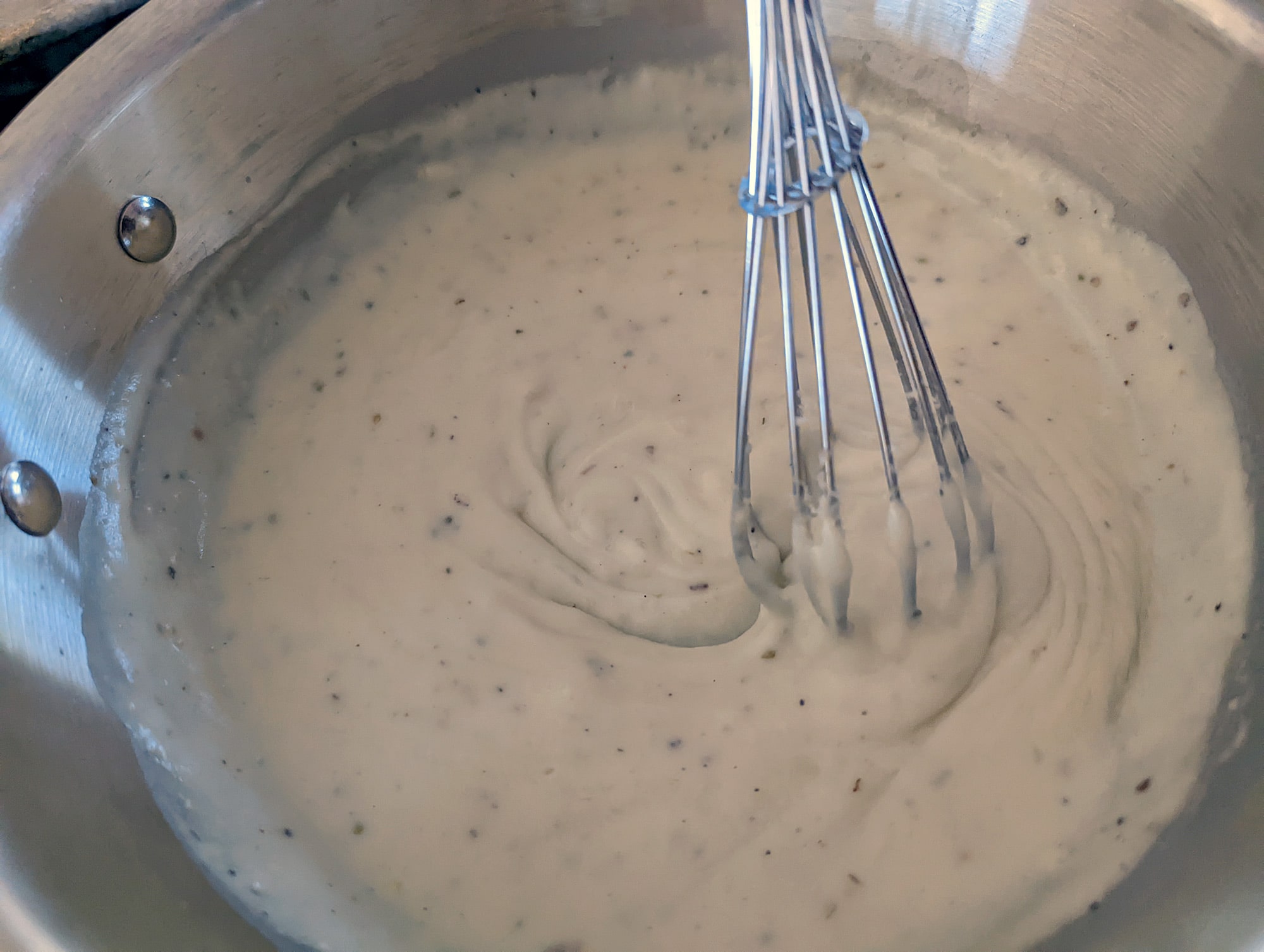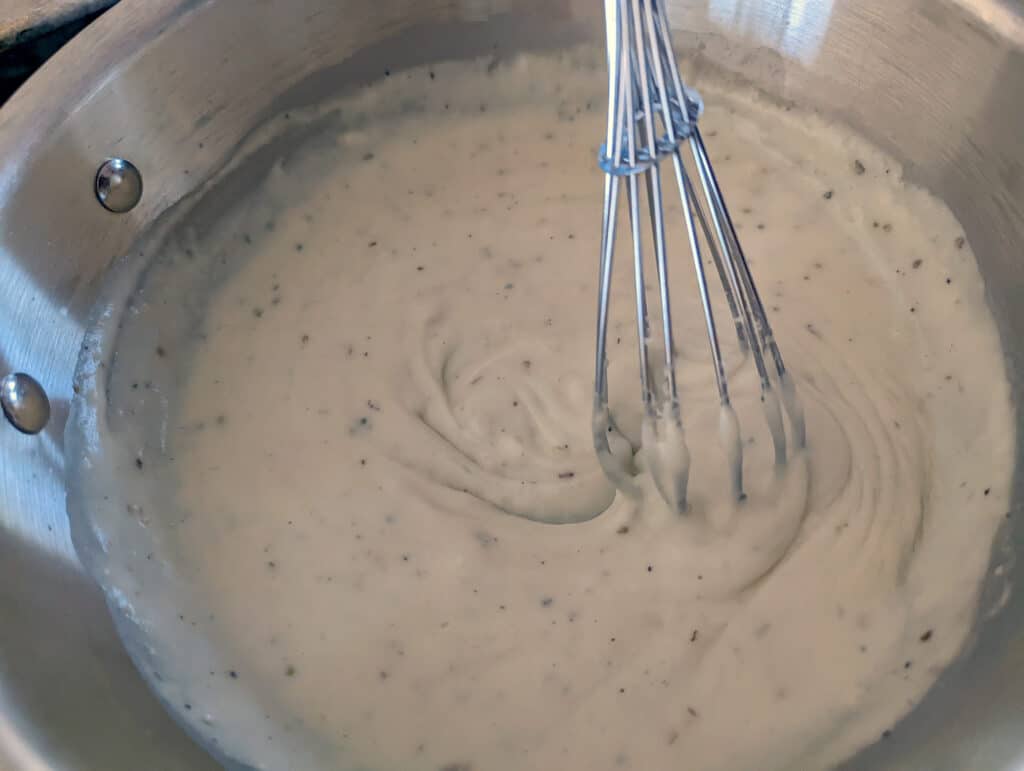 The End of the Road
Pizza is a wonderfully diverse food that can cater to whoever is enjoying it. Pizza can be acidic, sweet, savory, tangy, complex, simple, and everything in between. If you are looking to change up your pizza night, this Ultimate White Pizza Sauce is the perfect way to do that. It is so delicious, you might forget about red sauce altogether! Plus, the topping choices are absolutely endless. Now, let's dive into this recipe!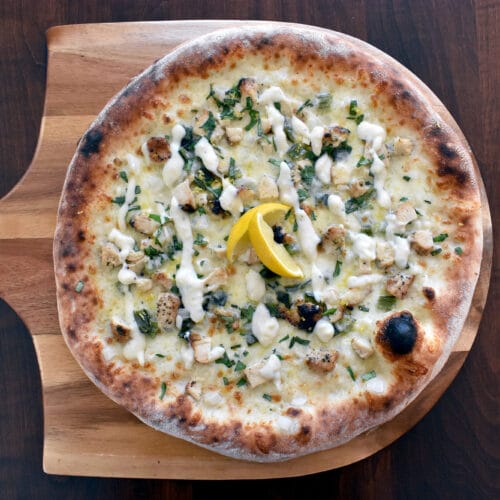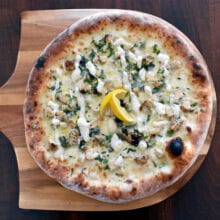 The Ultimate White Pizza Sauce
Good white pizza doesn't get enough love. If you've ever tried making it at home with a jar of white sauce, you know that unpleasant texture! It's nothing compared to what a good pizza place uses. Packed with garlic, this recipe elevates the flavors and texture beyond anything you can get in a jar.
Print
Pin
Rate
Follow my pizza journey
I bought 15 pizza ovens to hands-on test.
It's a hobby, not an obsession! Here are the best pizza ovens.
Ingredients
3

Garlic Cloves

Medium sized.

2

tbsp

Olive Oil

2

tbsp

Flour

1 1/4

cup

Milk

1/4

tsp

Dried Oregano

1/4

tsp

Black Pepper

1/4

tsp

Kosher Salt

2

tbsp

Parmesan Cheese

Grated
Seriously. I have a lot of pizza ovens.
Let me show you the best after hundreds of hours testing. Read my in-depth pizza oven reviews!
Instructions
Heat olive oil in saucepan over medium until shimmering. Add minced garlic, cook for 30 seconds. Add oregano and pepper, and cook for an additional 30 seconds. Mix flour in and continue cooking 1 minute.

Slowly whisk in milk and continue whisking until smooth and bubbly and desired consistency is achieved, about 2 minutes (remember – sauce will thicken as it cools). Add salt. Turn off burner then add parmesan cheese, whisking until incorporated. If sauce thickens too much, whisk in more milk 1 tbsp at a time.