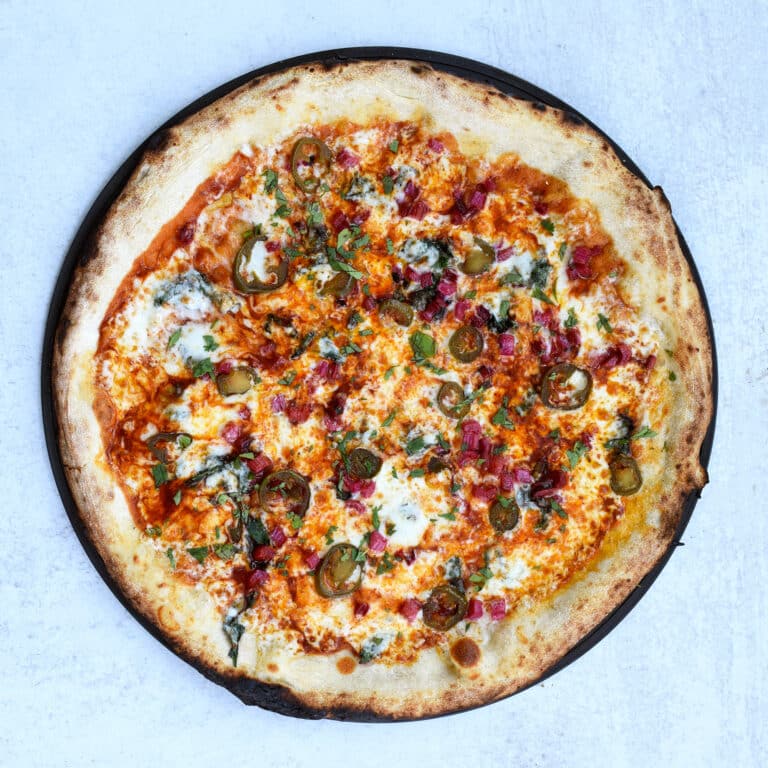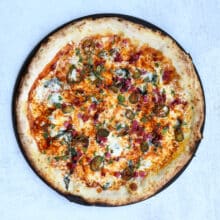 Veggie Chard Enchilada Pizza [Ooni Oven]
I love using leftover enchilada sauce as a direct replacement to pizza sauce. It works so well on pizza. This time, I opted for a veggie rendition including swiss chard (stems and greens) and jalapenos. Baked this pizza in the Ooni Karu pizza oven for a perfect finish.
Print
Pin
Rate
Follow my pizza journey
I bought 15 pizza ovens to hands-on test.
It's a hobby, not an obsession! Here are the best pizza ovens.
Ingredients
For topping the pizza:
1

cup

Leftover Veggie Chard Enchiladas

, with some of the fillings reserved on the side

1/4

cup

Enchilada sauce

, the above Enchilada recipe has a fantastic homemade sauce. Or, substitute with your favorite jarred sauce.

1

cup

Mozzarella cheese

, shredded.

1

Jalapeno

, sliced thin. Substitute with pickled jalapeno

Cilantro

, chopped
Seriously. I have a lot of pizza ovens.
Let me show you the best after hundreds of hours testing. Read my in-depth pizza oven reviews!
Instructions
Begin by preparing your dough the day before.

Preheat the Ooni Karu 16 or Ooni Koda 16 pizza oven to 700 degrees F; alternatively, preheat your kitchen oven to the max 550F with a pizza stone. Stretch the dough out thin, approximately 15"-16" round.

To assemble the pizza, spread the enchilada sauce onto the dough. Evenly spread the mozzarella cheese. Then add the leftover enchilada filling (swiss chard) and jalapenos.

Bake for 4 minutes if using a pizza oven, or 6-7 minutes if using a kitchen oven (with the final minute under the broiler one high), until spotted, browned, and gorgeous.

Remove from the oven and top with cilantro. Slice and serve right away.