The sauce is what makes a pizza in the end. There are so many different ways of making pizza sauce, too! Some use freshly crushed tomatoes, some use concentrated tomato paste. You can use herbs, dry or fresh, alongside garlic or even sugar. That's a lot of options!
But what happens if you don't eat sugar? Many folks on the keto diet steer clear of carbs and sugar but still like to enjoy low-carb pizza, so having a sugar-free sauce option is super handy. Here is how to make Keto-Friendly Sugar Free Pizza Sauce.
What Does it Mean to be Keto?
The keto diet is a low-carb eating plan that has roots in the original Atkins Diet. It promotes high protein and fat intake while eliminating foods such as white bread and pasta, pastries, soda, and sugary sweets. Many believe that this diet offers many health benefits, including weight loss, and helping to prevent diseases such as some types of cancer and diabetes.
By drastically reducing your carb intake and replacing it with fat, your body is said to get into a metabolic state called "ketosis", which means your body becomes very efficient at burning fat. It also can help people lessen any fat deposits in their liver. The fat converts to ketones in the liver during ketosis, which supplies energy to the brain. Less fat in the liver and more brain energy are some of the many benefits of keto!
Keto dieters focus on the macronutrients in their meals, meaning they count the protein, fat, and carb content. This helps dieters stay on track without counting calories, making it potentially more effective for long-term weight loss. Plus, many people say that the keto diet does not feel like a diet at all! Of course, before starting any diet, talk to your doctor to make sure it is right for you. We are all different, after all!
Why No Sugar?
The keto diet is a low-carb diet. Carbohydrates are converted into sugars when our bodies process them, so really, our bodies can hardly tell the difference between carbs and sugar because they are recognized identically. For this reason, sugar is given up on a keto diet. There are, however, tons of sugar alternatives that are keto-friendly. Some keto sweeteners include:
Stevia
Monkfruit
Erythritol
Sucralose
Xylitol
These items add a little bit of sweetness when necessary but have virtually no carbs. It's perfect for keto baking and desserts when you need a sweet treat. After all, even those in ketosis can get a sweet tooth!
However, here is the big secret when it comes to sugar free pizza sauce: you don't need any added sugar! It all depends on the quality of the peeled tomatoes.
How to Best Use Sugar-Free Pizza Sauce
Many pizza sauces are inherently sugar-free. For example, Neapolitan pizza sauce is often made of simple crushed San Marzano tomatoes and some salt. Even NY-style pizza sauce does not typically contain sugar! However you'll often see a lot of basic pizza sauce recipes online including unnecessary added sugars. If you tried following those recipes with a can of high quality organic whole peeled tomatoes, you would instantly realize it was unnecessarily sweet for authentic NY-style or Neapolitan pizzas.
If you are keto, you might enjoy this type of sauce over a nice cauliflower pizza crust or a hallowed zucchini before topping with lots of mozzarella cheese and your favorite toppings. If you are not keto but desire to eat less sugar, use this type of sauce on Neapolitan or NY-style dough.
Tasty Additions to This Sauce
While simple salted San Marzano tomatoes are a perfectly acceptable pizza sauce, there are many additional flavors you can add that do not contain sugar. Depending on the style of your pie and your taste preferences, add any of the following to your Keto-Friendly Sugar-Free Pizza Sauce:
Garlic
Basil
Oregano
Crushed red pepper flakes
Tomato paste
Onion powder
Add whatever your heart desires to your pizza sauce. Tomatoes go very well with many punchy, herbaceous flavors, and cheese on top mellows everything out. We highly recommend adding some garlic and oregano, but make it to your taste!
Ingredients in Keto-Friendly Sugar-Free Pizza Sauce
Simple pantry ingredients are required for this sauce, many of which you might already have. The first main ingredient for any pizza sauce is a can of imported San Marzano tomatoes. They are grown in the rich volcanic soil outside Mount Vesuvius in Italy, so it's safe to say that they are the best-tasting tomatoes in the world.
The only other required ingredient is salt. That's it! Because it is so simple, you'll see why we listed a few varied flavor options. To spice it up slightly, try a bit of minced or dried garlic along with some oregano. Oregano is a classic pizza spice and many pizzas are not complete without it!
How to Make It
At its simplest, crush the whole San Marzano tomatoes with your hand until the sauce has the consistency you are looking for. There is nothing wrong with a chunky pizza sauce! Add salt to taste and top your desired pizza crust.
To add a little more flavor, mix some garlic and fresh or dried oregano right into the tomatoes. Use less if you are using fresh oregano, as it can be very pungent. Dried spices have a more muted flavor, so you can get away with using a little more. Keto-Friendly Sugar-Free Pizza Sauce is as simple as that!
Sugar-Free is the Way to Go!
While tomatoes can be very acidic, sugar is not a necessary ingredient in pizza sauce! Avoiding sugar in your sauce allows for a wider consumer and adheres to the keto diet. At its core, all you need for this simple pizza sauce are San Marzano tomatoes and salt. Add any optional flavorings of your choice. Now, go out and make some pizza sauce!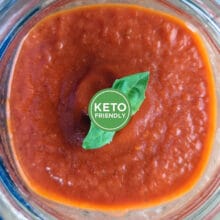 Sugar Free Pizza Sauce
This sugar free pizza sauce can be used for any style pizza, whether you're aiming for Keto friendly recipes or simply looking to cut back on added sugars. You honestly won't even know it's missing. The trick? A very specific tomato that happens to be in your local grocery store.
Print
Pin
Rate
Follow my pizza journey
I bought 15 pizza ovens to hands-on test.
It's a hobby, not an obsession! Here are the best pizza ovens.
Equipment
Blender, food processor, or immersion blender
Ingredients
28

oz

Can of Peeled San Marzano Tomatoes

Using crushed tomatoes will reduce the step of blending the sauce; however, I typically find higher quality tomatoes labeled as "peeled whole". The higher the quality, the better. My preference is San Marzano's.

4

Garlic Cloves

Medium sized.

2

tbsp

Olive Oil

2

tsp

Dried Oregano

1

tsp

Onion Powder

1/4

tsp

Red Pepper Flakes

Or bump this up for some extra spice.

Kosher Salt

To taste
Seriously. I have a lot of pizza ovens.
Let me show you the best after hundreds of hours testing. Read my in-depth pizza oven reviews!
Instructions
Heat olive oil in saucepan over medium until shimmering. Add minced garlic, oregano, and red pepper flakes. Cook for 30 seconds.

Add tomatoes and onion powder. Salt to taste. Continue to cook, simmering until reduced to desired consistency. A thinner sauce will be ready after 5-10 minutes of simmering; for a thicker sauce, the full 30 minutes.

Note: If you used peeled whole tomatoes, transfer the sauce to a blender or food processor, or use an immersion blender right in the sauce pan, and blend until smooth (or desired consistency). Crushed tomatoes do not need to be blended.