OUR RATING OF THE STOKE PIZZA OVEN
Easy to set up and easy to use, you will be just minutes away from beautiful Neapolitan-style pizza. Read on to learn about the features of the Stoke Pizza Oven, and who we recommend this oven for. Note: While we discuss all three ovens in this write-up, our review and rating is for the 16" gas model.
The good.
Choice between gas, wood, or both (easily the best choice) cooking.
Extremely well priced.
Comes with an attachable thermometer, a weather-proof carrying case, a pizza peel and carrying cover. Many other companies charge extra.
Optional baking steel accessory for an even hotter cooking surface.
The bad.
Doesn't seem to get quite as hot as Ooni or Gozney (however, those brands are also easy to burn).
Adventure often breeds the best ideas. That is certainly the case with the Stoke Pizza Oven. If you read their story, you will learn the founders live a life of adventure. Perhaps the best adventure of all was the trial and error of making pizzas over their backyard campfire.
With any new cooking method, you can expect a learning curve; pizza ovens are no exception. With three different models to choose from, Stoke pizza ovens aim to make it as easy and affordable as possible to have true Neapolitan style pizza. Let's take a closer look at the Stoke Pizza Ovens to see if they hold their weight against big brands like Ooni.
Design and Features
Stoke has strived to keep the backyard a personal haven by creating an affordable pizza oven with a heat-resistant body. I've noticed that most pizza ovens only have three support legs, while Stoke has four. If you have a permanent setup with a sturdy table this is likely not a factor; however, if portability is big selling point and you plan on taking this camping or to cookouts where your cooking setup can change, this oven will be more stable.
The overall design most closely resembles the Bertello oven (who infamously aired on Shark Tank), but there is a lot more to offer in the Stoke oven when it comes to features and cost, which we'll talk about more further in this review.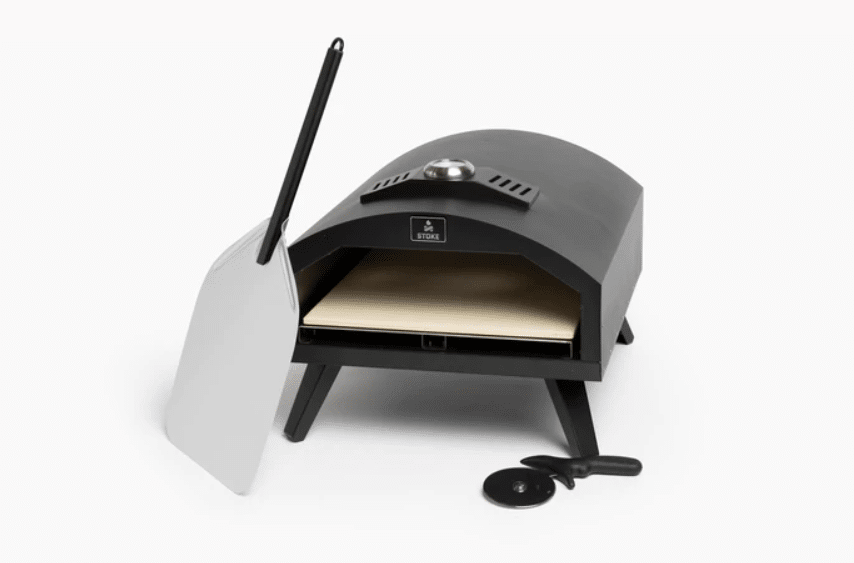 Stoke's website mentions it will reach 900 degrees in just 15 minutes. While this is true when measuring temperatures close to the flame in the back, we found it best to pre-heat the oven for a full 30 minutes to allow the whole stone to come to temperature as well, which will result in a better crust. Once it has come to temperature, it only takes approximately two minutes to bake a pizza. You can even use your pizza oven for cooking meat and vegetables to perfection. 
Installation of your pizza oven only takes a few steps. Setup is a short five-minute process. You can now take your pizza cooking prowess with you because this oven is portable.
Fuel Source: Gas or Wood
With Stoke, you have a choice between two fuel sources. If you love the flavor of a wood-fired pizza, you can choose the 13-inch wood-powered pizza oven. If you simply want a great-tasting pizza, choose one of the two gas-powered ovens—either 13 inches or 16 inches.
Dimensions: 13″ or 16″ Models
There are three models of Stoke Pizza Oven available to you. Two of them feature legs that are 4.1 inches tall and the third features 5.1-inch legs. There is a wood oven and two gas ovens.
The wood oven is a 13-inch pizza oven with dimensions of 16.1 inches wide and 20.1 inches deep. Its entire height, including the smokestack, is 27.5 inches. The smokestack has a 3.5-inch diameter and a 17.8-inch height.
There is also a 13-inch gas oven. The width and depth of the smaller gas oven are the same as that of the wood oven. The entire heigh of this oven is 13.5 inches.
The largest of the pizza ovens is a 16-inch gas oven. This oven measures 23.1 inches from front to back, and the width is 19.1 inches. The entire height of this larger oven, including the 5.1-inch legs, is 15.6 inches.
Usability and Appearance
It really comes down to whether you prefer to cook with gas or wood. You have two gas-powered options, so gas is your choice if you want a larger pizza oven. Gas also preheats a lot quicker, but won't have the smokiness from a real wood-fired oven. Luckily, the wood-fired Stoke oven can also use a combination of wood and charcoal to speed up the heating time.
All three of the Stoke Pizza Ovens are equally portable. The exterior is crafted from heat-resistant steel. It's sturdily constructed and features four stabilizing legs. You can control the temperature with a built-in thermometer. The max temperature for the Stoke ovens is 900 degrees F. The ovens preheat in just 15 minutes. The ovens have a built-in thermometer for determining the temperature.
Assembly and First Cook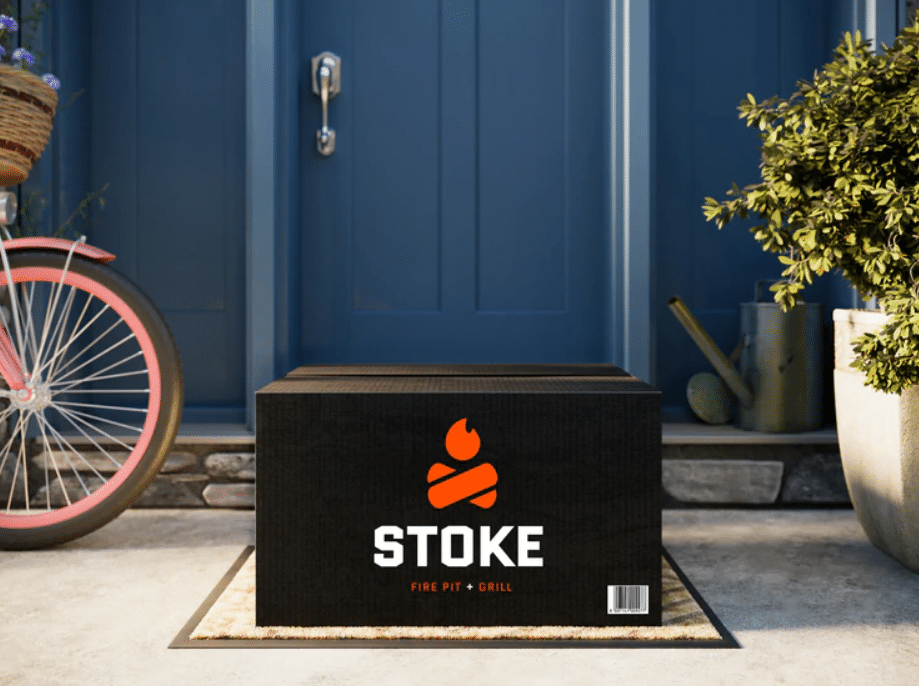 What's in the Box?
Every Stoke Pizza Oven includes an attachable thermometer, a pizza peel, a carrying cover, and a weatherproof carrying case. You also receive a pizza cutter. Let's not forget the included recipes and cooking tips.
Important Safety Information
These ovens get very hot. The shell is heat-resistant, but it's still recommended that you take care when moving around the oven's exterior. Keep it away from walls and high winds that might blow it over, causing a fire. Take the safety precautions you would typically take when working with any oven, keeping in mind that this oven gets at least twice as hot as your typical kitchen oven.
Setting up Your Stoke Pizza Oven
For the gas-powered ovens, set up takes three steps:
Attach the temperature gauge, which is a single nut and bolt assembly
Attach the heating element and igniter with the three included screws
Attach the gas line, which is a simple hand screw hose
All tools are included for setup. Make sure the igniter is straight when you assemble. You basically attach the vent stack with the wood-powered oven, and you're ready to go. All instructions and tools are included with the oven.
Seasoning the Oven
While not all manufacturers mention this, we always like to "season" the oven. Before you attempt to cook your first pizza, you'll want to burn off any contaminants left behind during manufacturing. This process will help you become familiar with working the oven before you begin cooking.
To season your oven, you simply light it and then allow it to burn from 30 minutes to an hour before preparing to cook. After your time has expired, let the oven cool completely, and then wipe it out with a dry paper towel or cloth.
Lighting the Oven
The process for lighting your oven varies depending on whether you choose a wood-burning or gas-burning model. With wood-burning models, after removing the grate, you will place wood pellets inside, and using a natural fire starter and a lighter you will light it. With the gas model, you will connect your propane tank and follow the instructions to light the igniter.
Managing Your Flame
These ovens include a temperature dashboard for controlling the heat. With the gas model, you will simply adjust with control knobs. On wood models, make sure your chimney vent is open for maximum airflow or close it for a lower temperature. You'll want to see full flames before adding pizza to the oven. I always recommend using a digital thermometer gun to check the temperature of the pizza stone as well, which should be above 800F.
Adding Pizza
After the oven reaches the desired temperature, it's time to add the pizza. You will place the pizza in the oven using the included pizza peel (check out our pizza peel tips, as this is often the most difficult part). It will take a couple of minutes for the pizza to cook thoroughly. Rotate your pizza every 20 to 30 seconds for the most even cooking.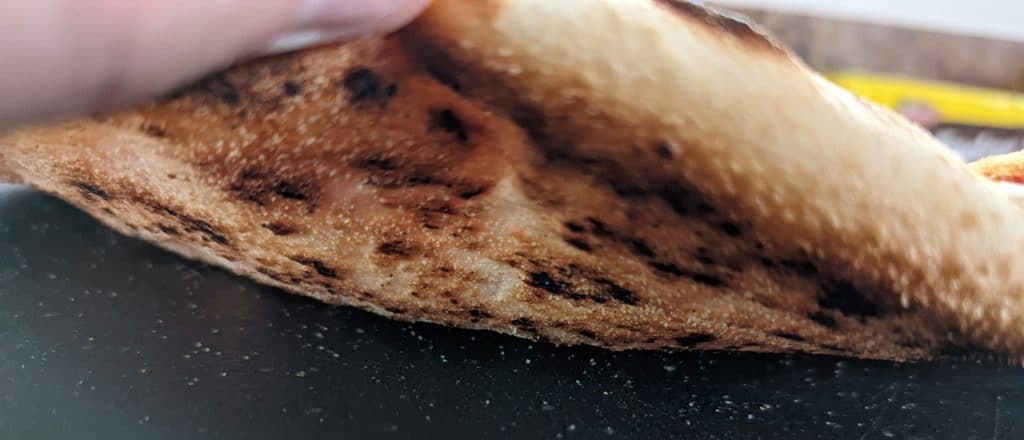 Cleanup
Cleanup is even easier than setup. After allowing the oven to cool completely, you simply brush off any leftover crumbs or burnt pieces. The incredibly hot temperatures typically burn everything off after each cook.
Performance and Tips While Using
Overall, I'm very satisfied after testing the Stoke pizza oven. The front of the pizza stone seemed to have a more difficult time to heat up (at least on the gas model without a door) compared to Ooni and Gozney, but the pizza still turned out great as long as you turn it very frequently. And now for the real big winner: price. The very few cons I mentioned in this write-up are not that big of a deal for the cost savings this oven offers. Stoke's closest competitor is Bertello, and their 16″ gas oven, at the time of this review, is over $250 more than the Stoke 16″ Gas Oven! So, if you're looking for a cheap but solid pizza oven, Stoke fits the bill.
Here's a few tips after using the oven:
Use quality ingredients for quality pizza.
Make sure you have flour on all the surfaces when making pizza—on the counter where you prep your dough, on the pizza peel, on the pizza stone—this will help keep the pizza from sticking. Semolina flour is your best bet when launching the pizza from the peel.
Turn the pizza every 20-30 seconds while in the oven for even cooking.
Make sure you preheat the oven properly before adding the pizza.
You can use the oven for foods other than pizza in your oven—use a cast iron pan because they handle high temperatures well.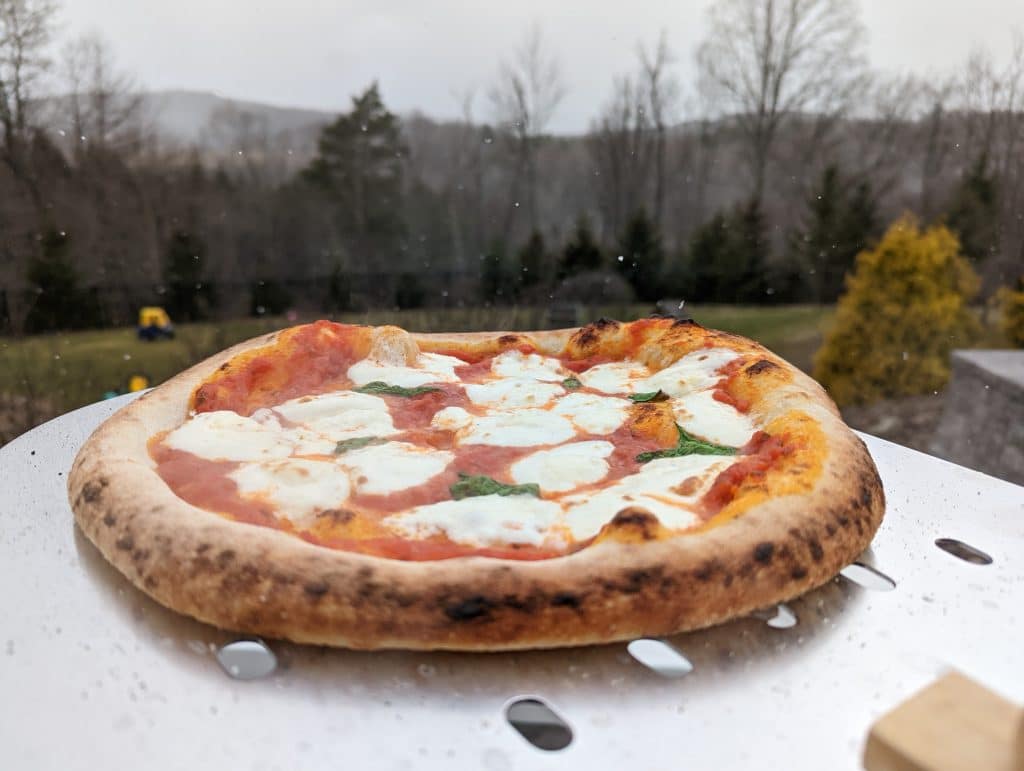 What We Love
Portability-you can use this oven at home in the backyard or take it with you to add pizza to any party or tailgate
Risk-free trial-Stoke offers a 365-day risk-free trial allowing you to return the oven for a full refund within the first 365 days if you don't like it.
Shipping-the oven ships within 3-5 business days after ordering
Warranty- the never-ending guarantee means the oven is covered for life
The online community-Stoke has a portion of their site dedicated to users of their pizza ovens. Peers can ask and answer questions and share tips there.
How-to tips and videos-Stoke includes tips for making perfect pizza and recipes and videos right on their website.
The bundle-everything except the ingredients is included in the bundle—pizza peel, pizza cutter, a carrying cover, and a weatherproof carrying case
Overall, the Stoke Pizza Oven is a portable yet stable addition to your backyard. Having two different fuel options and having the ability to cook more than pizza in the oven makes this a versatile tool to own. Turn your backyard into a pizzeria with this one addition.