It seems like everywhere you look, someone is coming out with a new take-out spicy pizza. Hot and fiery pizza is a huge trend in the food world, and we are here for it. Since making pizza at home is way more delicious than at the local pizza joint, it's important we share our version of the best spicy pizza ever created!
Our Spicy Detroit Pizza with Jalapeno, Pepperoni, and Hot Honey is an homage to some of the best spicy foods, assembled on top of a pillowy, crisp, homemade Detroit-style crust. Every single flavor of the pizza lends some heat, so this pizza is not for the faint of heart! If you love nuanced, spicy, yet sweet flavors, you need to make this pie. Let's take a look at the method to this spicy madness.
Why Spicy Pizza? A better question is, why not spicy pizza? Tons of pizza places these days are adding more and more spicy ingredients to their pies, and it is a food trend that is here to stay. For years, mom and pop pizza shops have been placing crushed red pepper flakes on their tables for folks to spice up their slices. The want is there, and we are here to deliver!
Instead of just crushed red pepper flakes or hot sauce on top of pizza, we wanted to be sure this 'za packed a punch. You're getting tons of heat coming from multiple sources on this pizza. Let's look closer at what carefully designed ingredients go into this pie.
Spicy Elements to this Detroit Pizza
You can't call a pizza "spicy" without multiple elements of heat. Bring the spice if you're going to claim that! To ensure this pizza is truly spicy, here is what you need to add to your Detroit-style crust.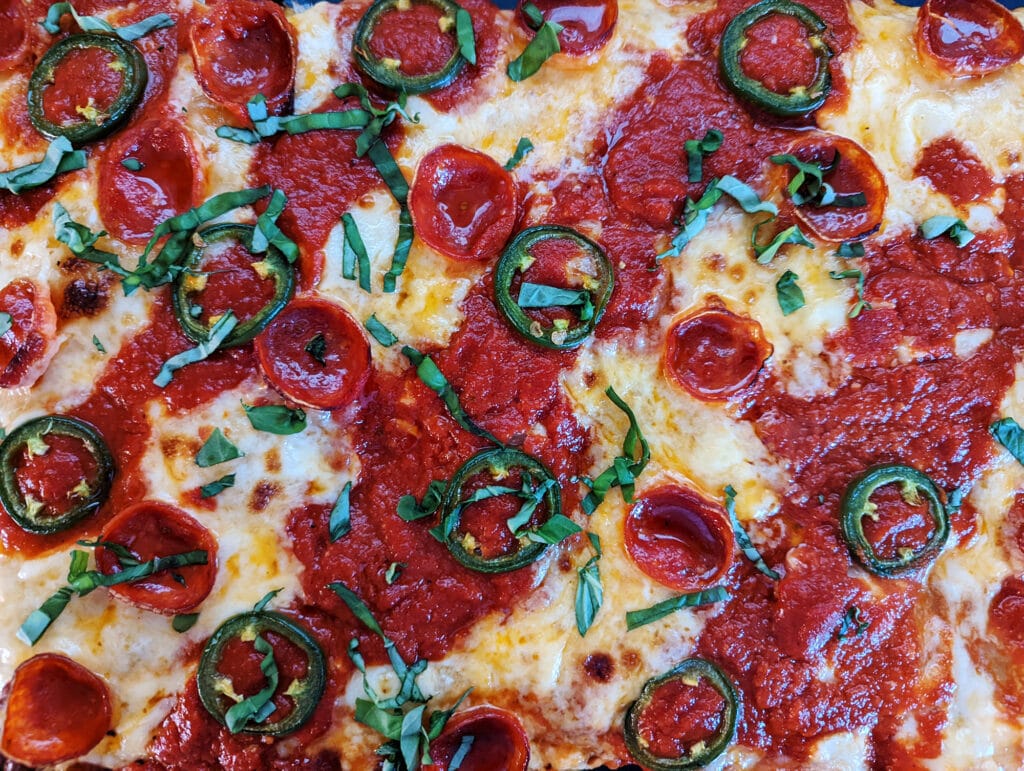 Peppery Pizza Sauce
We have already developed the Ultimate Pizza Sauce recipe, which you can find here. However, we did modify it slightly to fit this spicy pizza. In addition to the fabulous ingredients in our sauce, you will need to add an extra heaping teaspoon of crushed red pepper flakes. It is the perfect amount of heat without overpowering the whole pizza. Remember, there are more spicy ingredients to come.
Fresh Jalapeno
With the spicy foundation of toppings done, we next move on to fresh hot peppers. Jalapenos are available at almost all pizza joints, but they are not seen enough in developed pizza recipes, in our opinion. For this Spicy Detroit Pizza, we recommend slicing them thin after seeding them. Of course, you can leave the seeds in for even more heat, but some find it unpleasant to bite right into a fresh jalapeno seed.
Pepperoni
As the "spiciest" of the pizza meats, pepperoni fits in well with this pizza. Detroit pizza is known for its pepperoni "cups", or the shrinkage of pepperoni that occurs once it hits the hot oven. The meat becomes little pepperoni oil capsules that flavor the entire pizza. This pizza is no exception, it needs pepperoni cups.
You can choose how spicy you'd like your pepperoni on this pizza. Since there are heat sources elsewhere, you can opt for a less fiery version if you like. Or, if you are a lover of super spicy food, pick a variety of super spicy pepperoni!
Hot Honey
The final element of this amazing pizza is the addition of hot honey drizzled over the top. Hot honey has been a pizza trend for quite some time, especially Mike's Hot Honey, our favorite. The spice and sweetness play so well with the cheese, sauce, and almost any topping you add to your pizza. The sweet cuts through the richness and the multiple flavors on your tongue become addictive. If you have not tried hot honey on your pizza yet, give it a shot!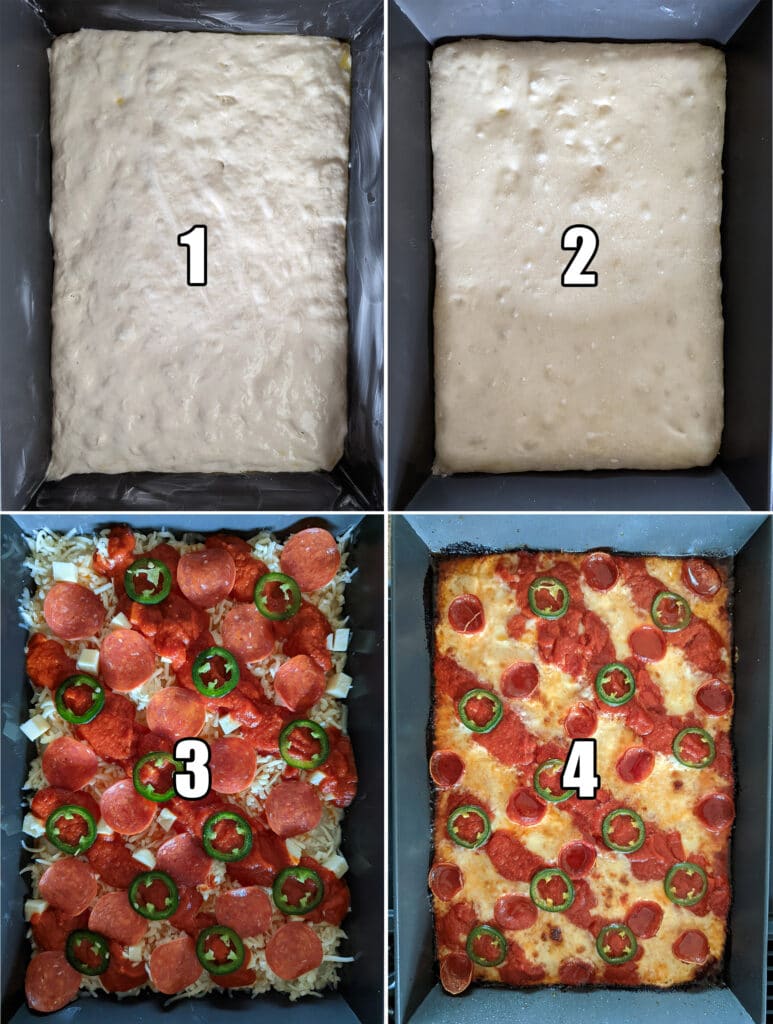 What Is Detroit Pizza?
Detroit-style pizza is known for its thick, focaccia-like rectangular crust and a unique blend of cheeses on top. It originated when Gus Guerra, a restaurant owner, tried to add unique foods to his new menu. He received the pizza dough recipe from his wife's Sicilian family and received a rectangular pan from a friend who worked in the automotive industry. Yes, the original Detroit-style pizza pan was actually a metal holder for car tools!
This thick crust along with a blend of unique cheeses has lived on and is still a prominent American pizza variety today. Gus's restaurant, Buddy's Pizza is still open with multiple locations around the Detroit area. They were the original, but many have replicated this type of pizza with great success.
The Dough
The interesting thing about Detroit-style pizza dough is that no yeast is used in the process. No lie! Instead of yeast, a sourdough starter is used as the leavening agent. Sourdough starter is a mixture of fermented flour mixed with water that creates naturally-occurring yeast, which then causes the dough to rise. Sourdough starter has been used throughout history to make varieties of sourdough bread. It offers a funky, tangy flavor and is completely necessary for Detroit pizza.
Also, the dough requires a pre-bake since it is so thick and airy. Once the dough is lightly baked, the toppings can be placed over top before baking until crispy perfection. The result is a baked crust that is super crunchy on the outside and light, airy, and chewy on the inside. Also, the ingredients don't overcook or undercook this way! The dough becomes very focaccia-like with inner air bubbles and a crisp crust.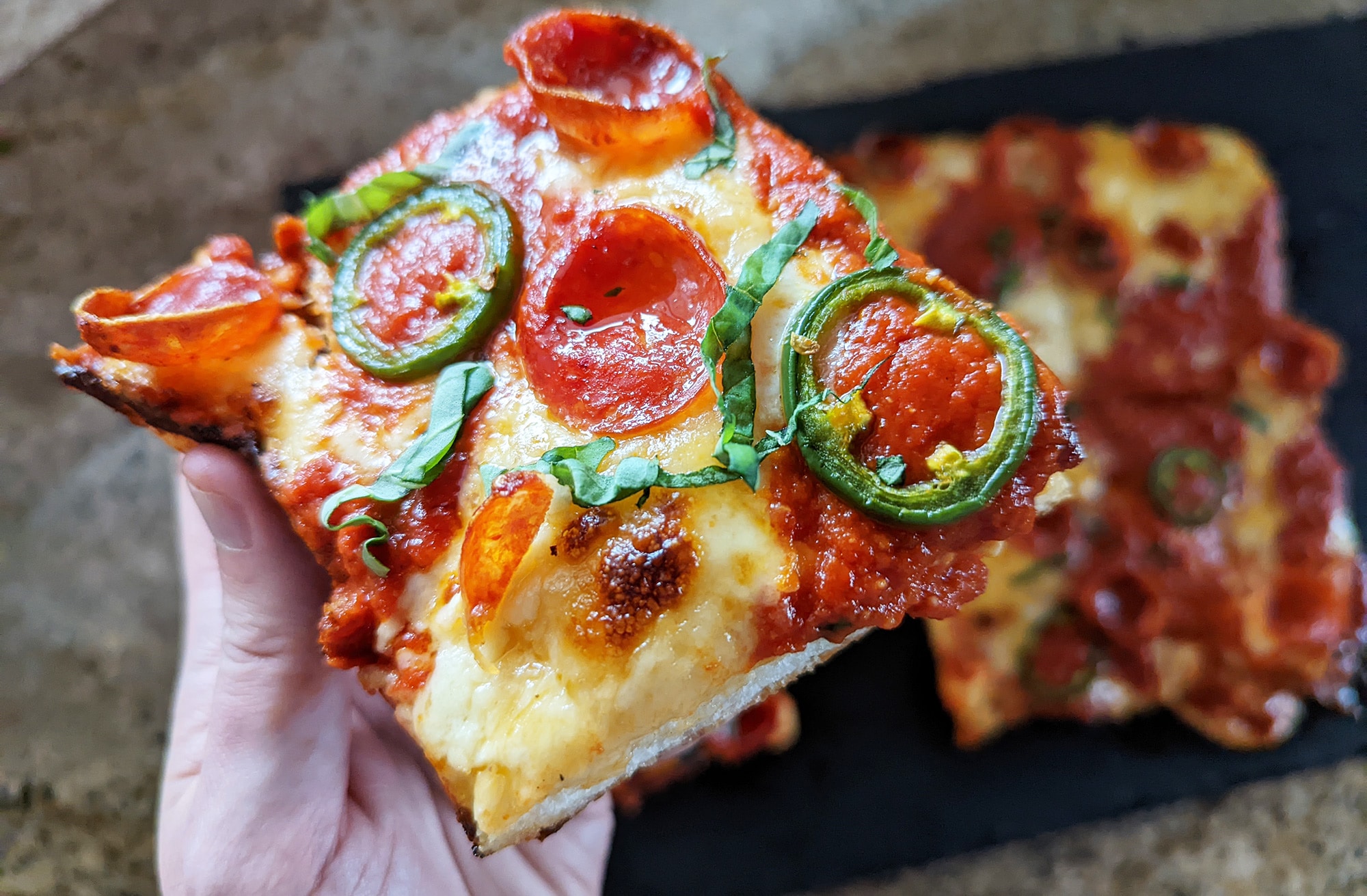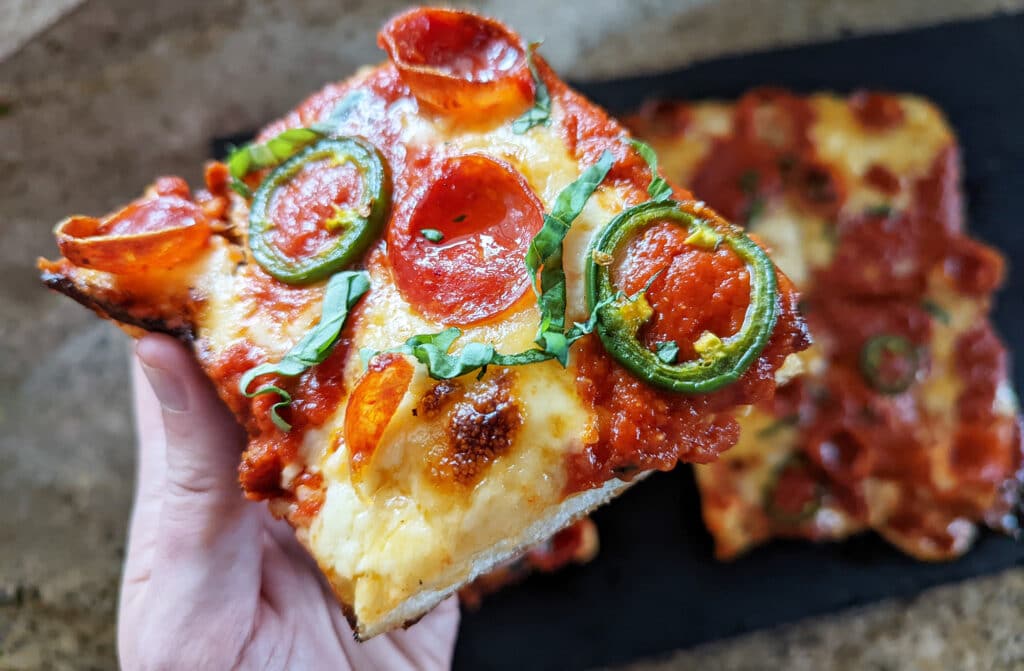 The Cheeses
Detroit pizza does not simply use mozzarella cheese as its cheesy element. It also calls for some Wisconsin brick cheese, a mild, cultured cheese that melts beautifully and adds depth of flavor to any cheesy dish of your choice. It gets its name from the brick-pressing process that cheesemakers use to create Wisconsin brick. Do not skip out on this cheese when making this Spicy Detroit Pizza!
Let's Get Spicy!
All in all, this Detroit Spicy Pizza with Jalapeno, Pepperoni, and Hot Honey is the perfect spicy pizza for folks who love fiery food. It has richness, depth, heat, sweetness, and creaminess. You cannot ask for a better pizza for spice seekers. Plus, if you cannot handle a lot of spice, the hot honey does a fabulous job of bringing an unexpected element to cool your palate. Now, let's get cooking!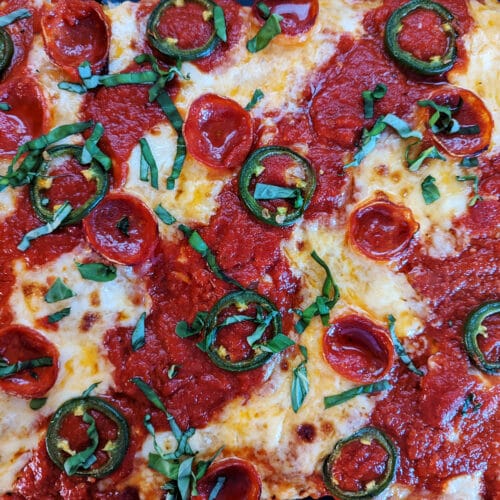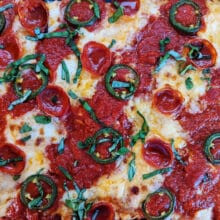 Spicy Detroit Pizza with Jalapeno, Pepperoni, Hot Honey
A spicy pizza is more than just adding jalapenos or hot sauce. It should start with the sauce, and that's exactly what we did, by kicking up our Ultimate Homemade Pizza Sauce with an extra hefty spoonful of red pepper flake. Finished off with fresh jalapeno, natural casing pepperoni, and drizzled with Mike's Hot Honey, this spicy Detroit pizza raises the heat in a variety of flavorful ways.
Print
Pin
Rate
Follow my pizza journey
I bought 15 pizza ovens to hands-on test.
It's a hobby, not an obsession! Here are the best pizza ovens.
Equipment
1 10"x14" Detroit Style Steel Pan

We used a Lloyd's Pan, often considered one of the best out there for commercial or home use. Other types of pans can be used, but will lack the proper crust-forming characteristics of Detroit style pizza.
Ingredients
Toppings
Low Moisture Whole Milk Mozzarella

Shredded or cubed

Wisconsin Brick Cheese

Cubed. Substitute with white cheddar, pepper jack, or havarti.

Pepperoni

1

Jalapeno

Sliced, seeded

Fresh Basil

Chopped
Seriously. I have a lot of pizza ovens.
Let me show you the best after hundreds of hours testing. Read my in-depth pizza oven reviews!
Instructions
Make the dough.
Combine the flour and salt in the bowl of a stand mixer fitted with a dough hook attachment. Stir to combine.

Heat water in microwavable safe bowl for 30 seconds. Temperature should be between 85F and 95F. Add yeast to water and let sit for 5 minutes. We're not looking for a full activation, just a bit of a jumpstart.

Slowly add water/yeast mixture to the stand mixer, mixing on low until it forms a smooth consistency, about 10 minutes. Note: dough will be very wet and sticky, and the bottom will stick to the bowl.

With the dough still in mixer bowl, fold into a ball, cover with plastic wrap, and set on counter for 1 – 2 hours to kick-start fermentation. You should notice some rise in the dough but not doubling in volume.

Place in refrigerator for 1 to 2 days.
Stretch dough in pan.
Let dough come to room temperature on the counter for 3 hours.

Preheat the oven to 550°F. If using an Ooni or other outdoor pizza oven, preheat until 700-800 degrees, about 20 minutes.

Scrape the dough out of the bowl and into the pan. Because of the high hydration in this recipe, you may need to wet your hands prior to handling. Flatten and stretch the dough to fit the pan as close as possible (a tiny bit of shrinking may happen, that's fine). Let sit for ½ hour, then stretch again ensuring dough touches edges of pan.

Place pan on the bottom of your oven to par-bake the dough for 5 minutes.
Toppings, in order; then bake.
Carefully remove the hot pan from oven. Add shredded mozzarella then cubed brick cheese, ensuring cheese touches the edge of the pan. Add 3 large stripes of sauce, pepperoni, and jalapenos.

For home ovens: place pizza in oven for another 10 minutes on the bottom rack. (toss the broiler on for the final minute or two if the cheese and pepperoni is not browning fast enough). For outdoor pizza ovens: bake for 10 minutes, rotating pan halfway through.

Remove from oven and use a metal spatula to separate the pizza from the pan. Slide onto a wire rack to rest for 3 minutes. Drizzle with Mike's Hot Honey. Slice, and enjoy.