OUR RATING OF THE Solo Pi PIZZA OVEN
Outperformed expectations
Solo Stove knocked it out of the park with their impressively designed Pi pizza oven. The dual fuel option is a must to get the most out of this product.
The good.
Dual fuel option is huge
Portable and user-friendly design thanks to the wide opening
Highly variable gas heat; high is very hot while low gets low enough to halt the burning of toppings without killing the ambient heat
The bad.
Only cooks 12″ pizzas
Doesn't have a built-in thermometer
Solo Stove, industry leaders in the smokeless fire pit game, recently turned their skills to pizza ovens with the release of the Solo Pi! And this oven is making quite an impact on the backyard pizza scene, thanks to its cool look, innovative technology, and intuitive design. It's especially popular with people who like the look and style of the Gozney Dome but want something more portable and a lot more affordable. 
So let's take a closer look at this newcomer. Does it deserve the hype? Is it worth the money? And does it cook great pizza? Let's find out.
Unboxing and Assembly
Solo created this oven to make backyard pizza cooking accessible to everyone from beginners to pros. They've prioritized simple, intuitive design, and we must say they've succeeded in their mission. This oven is both easy to set up and – especially the gas version – super easy to use.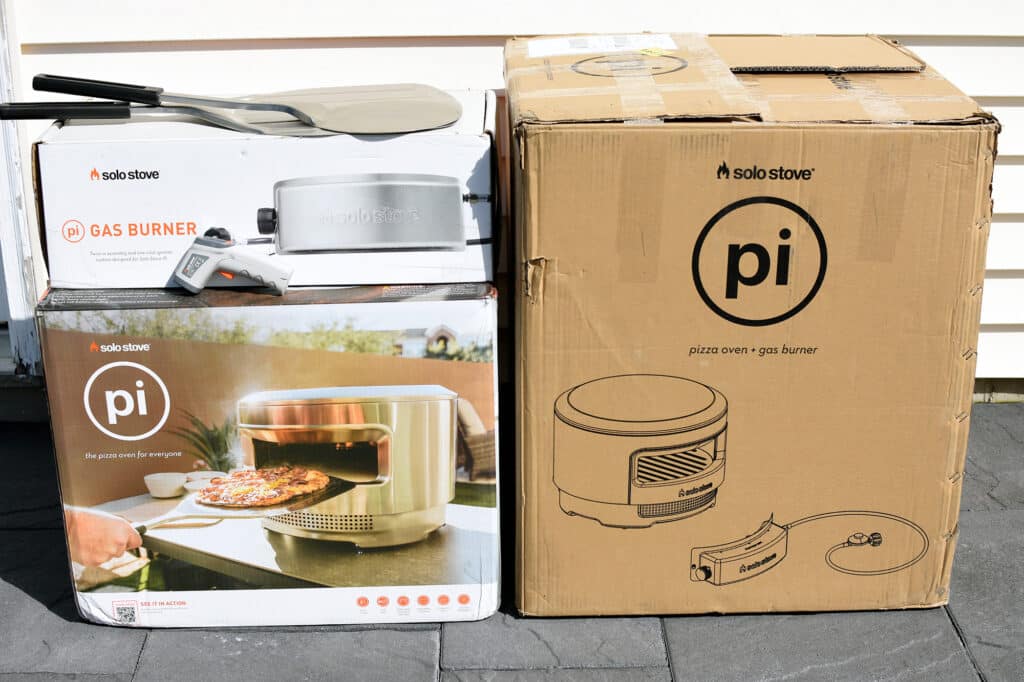 The Solo Pi comes almost completely assembled. All you have to do is slot everything into place. If you do need help there are instructions on the box, including links to more detailed online instructions, how-to videos, recipes, and tips.
The main body of the stove comes in one piece, all you need to do is remove the packaging and slide the pizza stone into the base of the oven. With the wood-burning stove you'll then unpack the fuel tray and ashtray and slot them together into it into the rear of the oven and place the door back on. You'll find a detachable handle for the door in the box.
The gas version takes just a bit more setup because the propane burner must be attached to the back of the oven. But it slots into place smoothly and fastens with two simple thumb screws. Then you're good to go. I'm the type that typically reads directions front to back, but I found myself not needing to read anything.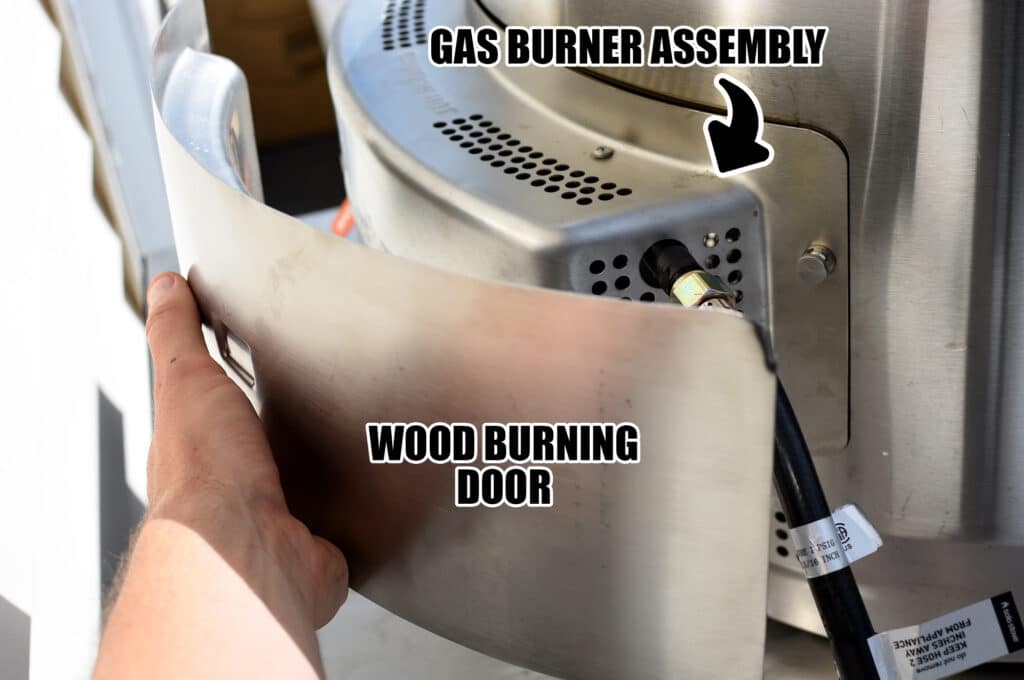 Design and Features
Fuel source
One of the great things about this oven is that it is multi-fuel. You can purchase the Pi as a wood burner or with the additional propane burner to turn it into a gas oven. Just to clarify, the standard model will be a wood fired oven but if you purchase the propane burner you will have both. Plus it's crazy fast to switch between fuel methods – just two thumb screws to remove the gas burner assembly. Then you can add your wood and reattach the wood door.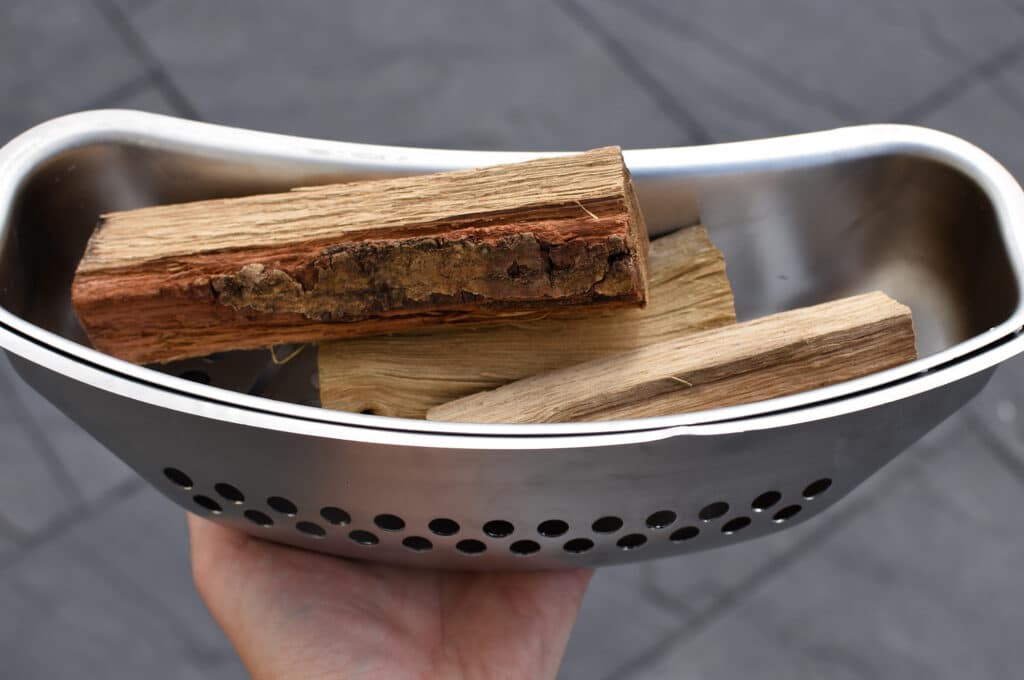 While we believe you can't beat the enjoyment of cooking with wood, nor the flavor of a wood-fired pizza, we can't help but argue that a gas-fired oven is the more convenient choice.
This is especially true with the Solo Pi, as the gas version is more straightforward and allows you to monitor and maintain the temperature more easily. Also, you get a temperature bump with the gas oven from a max of 850 °F to 900 °F (per manufacturer specs). So we would recommend getting the gas attachment if you can. Personally, I'm a big fan of using gas pizza ovens on weeknights when time is more limited, but using wood-fired on weekends when I have more time and a beer or two standing by.
Size and Weight
Diameter: 20.5 in | 52.07 cm
Height: 15.125 in | 38.42 cm
Weight: 30.5 lbs | 13.83 kg
Cooking capacity: 12" pizzas
Stone Thickness: 13mm
At 30.5 lbs, this oven is portable in the true sense. It looks much heavier than it is. You can not only move it around your backyard but pack it up and take it on camping trips. It is a little heavier than the Ooni Karu 12″ (26.4 lbs) but not much and substantially lighter than the hefty "portable" Bertello Grande – 63lbs! Granted, it's a 16″ oven compared to the Pi's 12″.
This is a compact and squat little oven with a diameter of only 20.5 inches, although the gas burner adds 3-4 inches to the back. Also, the wood burner is fed via a door at the rear of the oven. So wherever you plan to place this oven, factor in that you'll need constant access to the back of it.
Unfortunately, the Pi only has a 12″ capacity, and we are fans of an oven that can make a 16″ pizza. But that's not a deal breaker for everyone.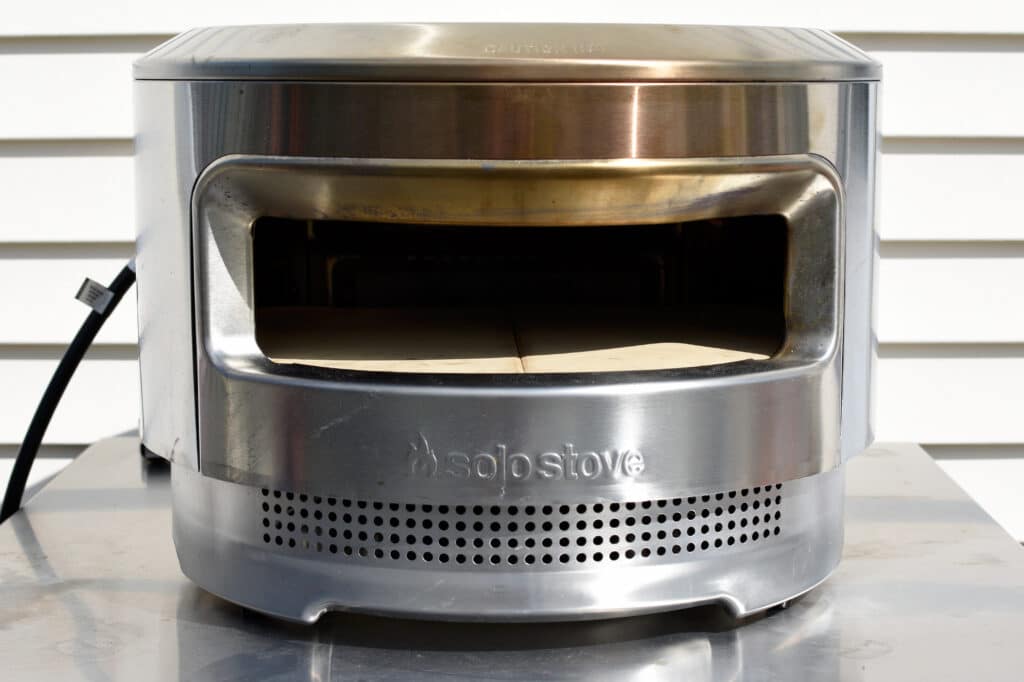 Appearance and Build Quality
The Pi is made from stainless steel and makes no attempts to hide it. It flaunts its chromatic look proudly, and more than one person has commented that it has the look of a famous animated robot. We like its futurama futuristic appearance and the fact that Solo hasn't been afraid to break the mold and steer away from the long ovens with dome-shaped tops we often see.
It's made of their trademark durable steel and is finished to a high level with no sharp edges, raised rivets, or screws, all of which are prone to rusting when left outdoors. Inside is high-quality ceramic insulation and a thick two-piece Cordierite pizza stone that slides into the oven smoothly and sits flush to the bottom. I really like this approach. Gozney did the same with a two-piece pizza stone in their Dome, which has a similar wide opening as the Pi. I think they did this because it's the only way to fit the stone into the oven, but personally I feel it reduces the chance of cracking the stone as well.
The Pi looks and feels like a quality piece of equipment. And Solo obviously has faith in their product because they offer a lifetime warranty against manufacturing defects.
Engineering and Airflow
Solo Stove's fire pits are known for the air holes along the bottom of their cylinders which draw air in, circulating oxygen to create the high heat and smokeless burning they are renowned for. Considering the success of this feature, it's no surprise that Solo has transferred it to their pizza oven. You'll notice the air holes along the bottom of the Solo Pi oven and in the fuel tray. These holes create the Pi's signature air flow keeping the oven burning as hot as possible. That's right: a wood-burning pizza oven without a chimney!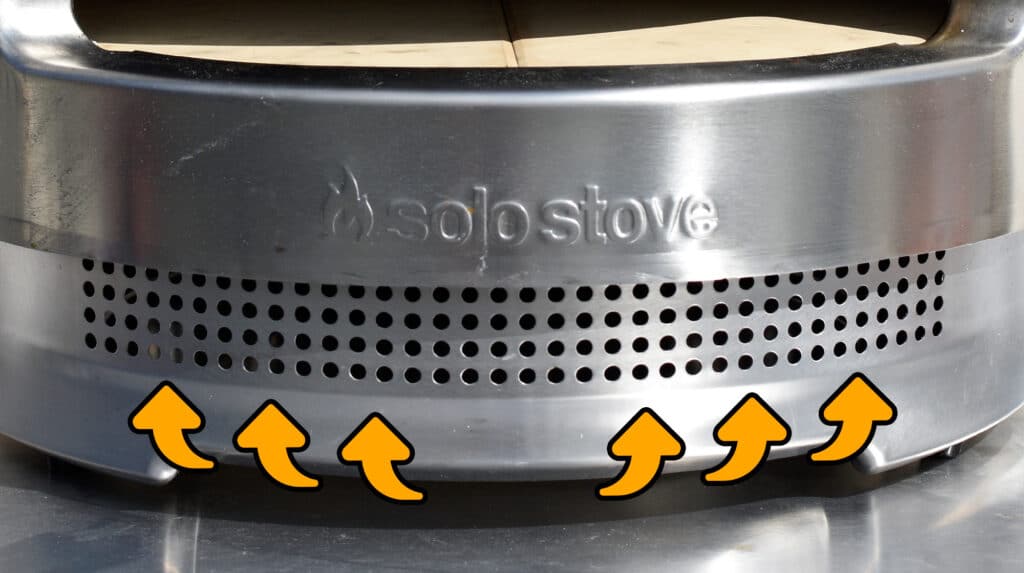 It's not the only standout design feature of the Pi oven. The round shape of this oven is at odds with the long body of traditional pizza ovens. Solo has achieved this by opting for a wide rather than a long fuel repository at the back. This doesn't just save space but improves the spread of heat within the oven.
The oven is flat on top but curved inside in what Solo is calling demi-dome construction. This design improves heat retention and allows you to cook pizza after pizza without the need to reheat.
Lastly, the curved panoramic opening is wide enough to allow you to launch and turn your pizza easily and gives excellent visibility while baking without allowing heat to escape.
One downside to the design is that they have not thought to include a built-in thermometer to help you keep track of the temperature in the oven.
Max Heat and Preheat Time
The Solo Pi has a different maximum heat depending on whether you're cooking with wood or using the propane attachment. With wood, the oven gets up to 850°F, while with gas, it can get a little higher and reach 900°F. Whichever method you're using, you'll find that this oven can reach optimal cooking temperature in around 20-30 minutes and bake a Neapolitan-style pizza in around 2 minutes.
It was a particularly hot day when I tested and the center of the stone just barely hit 800F at the 20 minute mark, with the front of the stone still being in the 600s. This is still a very solid preheat time, but I strongly recommend giving the oven an extra 5-10 minutes above what Solo suggests. Take a look at my temperature recordings below for a better idea (note: this was using the gas burner).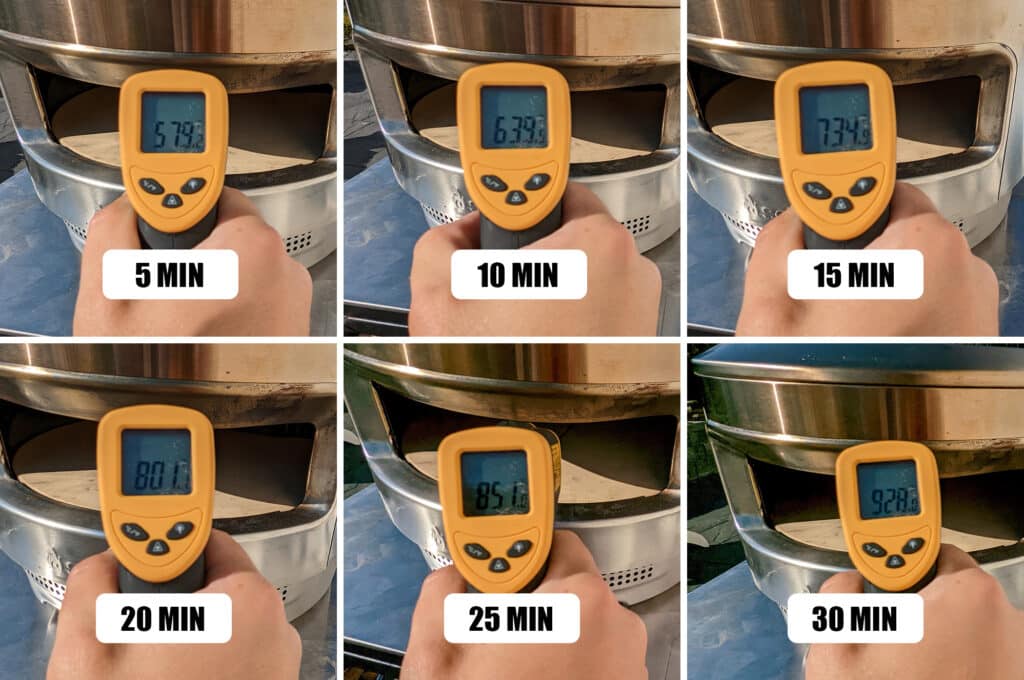 Giving it a 25-30 minute preheat is required if you're planning on making more than one pizza. If you launched a pizza in at the 20 minute mark, the dough would cool the stone down too much between cooks and struggle to heat up again.
The good news is, with a longer preheat, Pi retains heat well between bakes, so cooking pizzas one after the other is no problem. Solo says that you can keep this oven burning wood for as long as 3 hours before the ashtray is full, and you need to stop. If you're cooking with gas you can keep it going as long as you have propane – that's a lot of pizzas!
How to use – Gas
As we mentioned earlier, cooking with gas in this oven is the simplest option. Once your propane tank is connected, lighting the oven is as simple as pressing the knob inwards while slowly twisting it counterclockwise to ignite. Next, turn the knob to control your desired temperature, then sit back and wait for the oven to preheat.
How to use – wood
Cooking with wood is a little trickier because wood fires require more prep and maintenance.
To light your wood fire, you'll need to remove the back door of the oven, lay your fire in the fuel tray, and once it's burning, well replace the door and allow the oven to preheat. Then follow the same method as with gas. If you're going to cook multiple pizzas, you'll need to keep feeding the fire to keep the oven's temperature up.
Note: Those air holes in the oven and fuel tray will get that fire burning fast and hot in no time. But the fuel tray only takes a few logs at a time, so you'll have to feed it regularly. This will involve getting around the back of your oven and removing the door, so make sure you've left plenty of space to do that, and don't lose track of your detachable door handle!
Performance
I'm just really amazed at how quickly I went from unboxing to cooking on this thing. Many other ovens in this price range require some more assembly and reading directions, especially ovens like the Bertello Grande. The Pi Pizza Oven did a fine job preheating (perhaps a bit slower than some others) but seemed to retain heat excellently between cooks, something I struggle with on the Ooni Koda.
One thing I'd like to touch on is the gas flame. It is LOUD. You can hear the flames shooting up in the back like a jet engine (alright, not quite that loud but that's the sound it makes). Also, the gas dial got pretty warm to the touch by the time it was preheated.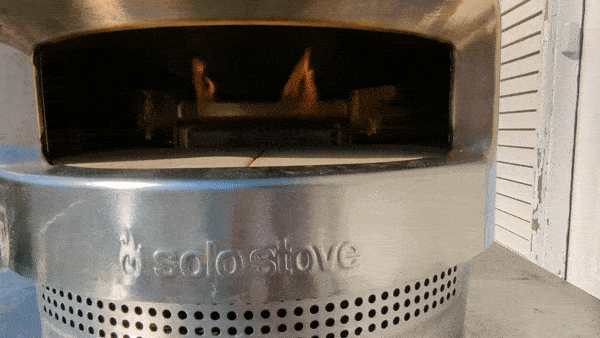 Solo recommends getting the pizza stone to 650 °F before launching your pizza, but we like to get it a lot higher than that to get the best bake – around 800°F – 900°F. Once you're at the optimal temperature, launch your pizza, reduce the heat to med-low, keep an eye on it, turn frequently as needed, and remove once that crust is cooked to perfection.
I prefer cooking with gas on this oven more than I do wood, but both fuel types resulted in excellent pizza. Take a gander below! All pizzas were made with my poolish pizza dough recipe.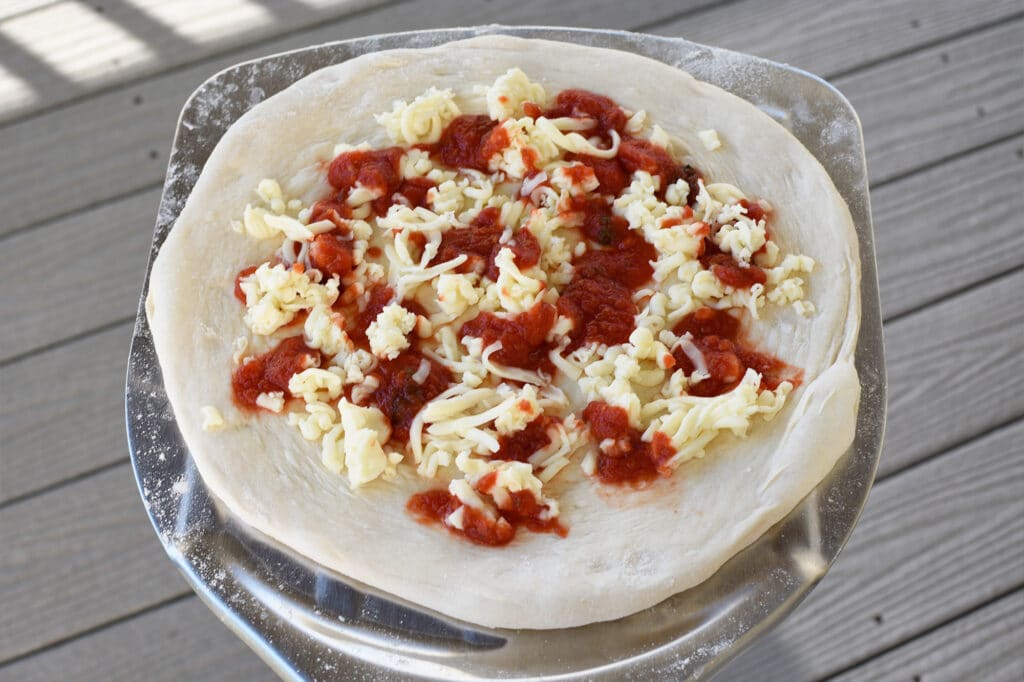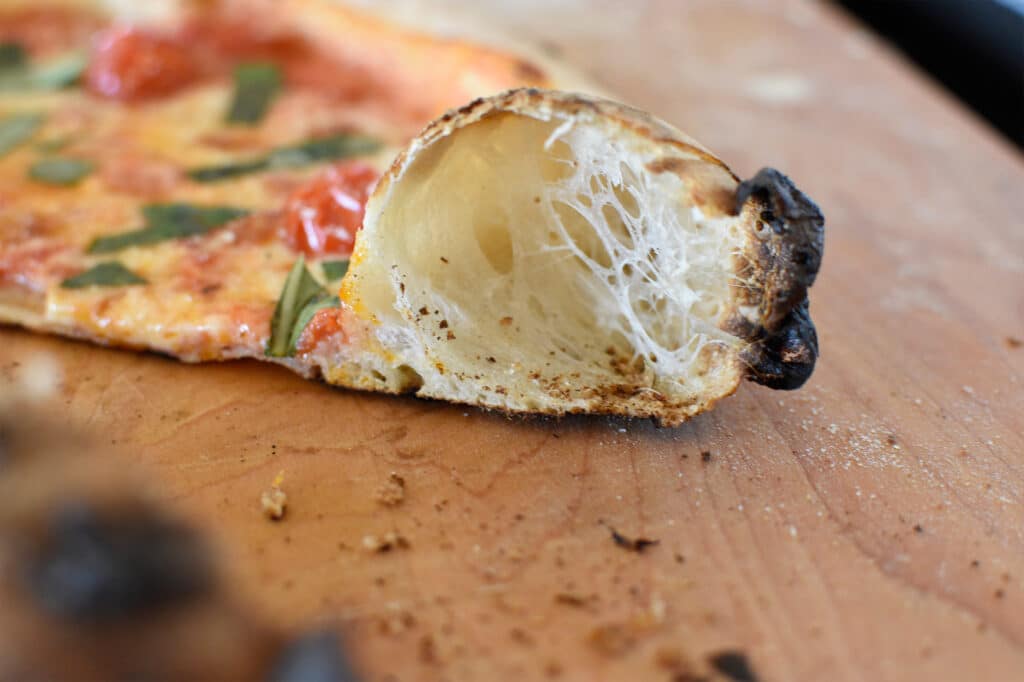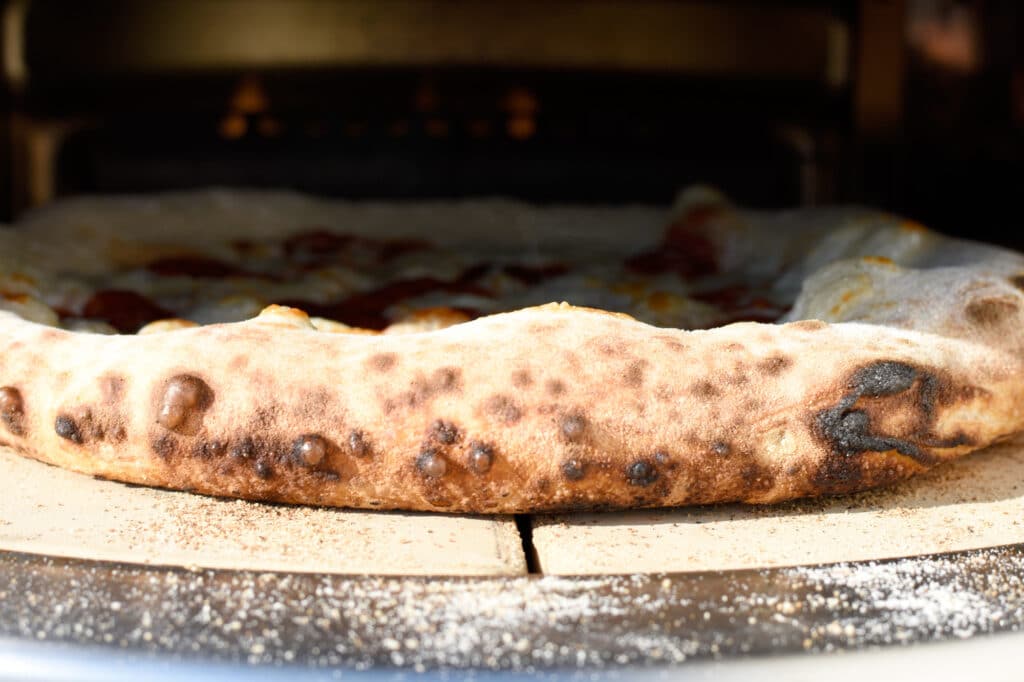 Price
At full price, the Solo Pi costs $625 for the wood burner and $895 for dual fuel.
However, at the time of writing, Solo Stoves were running a discount which dropped the price to wood $440 and dual fuel $615. I've been keeping an eye on the price for weeks now, and it seems this "discount" is pretty standard, which makes me believe this is the actual price.
These prices put the Pi firmly in the mid-level price range. It's far cheaper than the Gozney Dome dual fuel, which retails at $1800, but more expensive than the Ooni Karu 12″, a multi-fuel oven of the same size as the Solo Pi, which sells for $399.
Bundles
You'll need a few other pieces of equipment to start making pizza. Some of them you might already have, especially if this is not your first oven. But if you're starting out, you might want to consider purchasing one of Solo's bundles which come with these extra elements:
The Starter Bundle comes with:
A digital thermometer – essential for checking the temperature of the oven and pizza stone
A pizza peel – necessary for launching and removing your pizza
A pizza cutter – just a handy tool to have
The essentials bundle comes with those three things plus:
A pizza turner
A protective cover for the Solo Pi oven
We recommend getting the starter bundle or at least purchasing a separate thermometer and pizza peel before cooking your first pizza.
What We Think
We love the Solo Pi Pizza oven. We think it looks great, it's compact, portable, well made, and super easy to assemble and use – especially with gas. And we're impressed with its innovative design and the fast and delicious pizzas it makes.
We do think the price is a little steep – because, at full price, the multi-fuel option is more expensive than the Ooni Karu 16″ dual fuel oven, which sells for $800 and cooks larger pizzas. However, if you can nab it when it's at a discount around the $600-$650 mark, it's a great deal.
We'd also say that if you're looking for a wood-only oven, you can find ones where the fire is easier to maintain, such as the Ooni Fyra with its gravity-fed pellet hopper. But if you go for a gas oven, you won't find one much easier to operate, which is why the Solo Pi is among the best gas pizza ovens in our rankings. And we do recommend opting for the gas attachment for the higher heat, ease of use, and flexibility it offers.
In short, the Solo Pi is an excellent, mid-range multi-fuel oven. We would absolutely recommend it and will definitely be using it again.