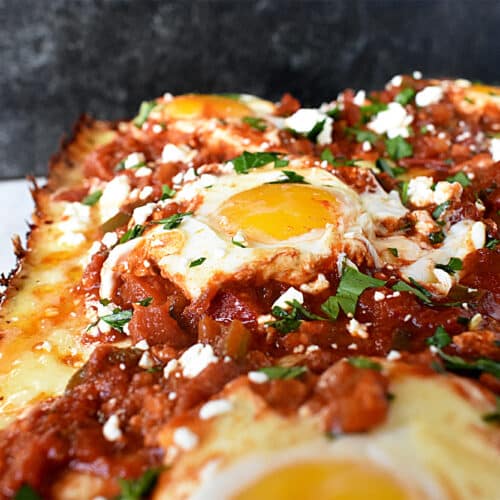 Shakshuka Detroit pizza
Eggs on pizza?! All I can say is – try before you deny! The spicy Shakshuka sauce is absolutely incredible on pizza; San Marzano tomatoes were kicked up a notch up for this one! For the peppers, I used an Anaheim, Fresno, and a Serrano, but you can mix and match to build the heat to your liking. Top it off with some feta cheese and parsley, and I guarantee you'll be making this one again.
Print
Pin
Rate
Follow my pizza journey
I bought 15 pizza ovens to hands-on test.
It's a hobby, not an obsession! Here are the best pizza ovens.
Equipment
1 10"x14" Detroit Style Pan

We used a Lloyd's Pan, often considered one of the best out there for commercial or home use. Other types of pans can be used, but will lack the proper crust-forming characteristics of Detroit style pizza. In a pinch, a well oiled baking pan can work.

Outdoor pizza oven

(Optional). I cooked this in my Ooni Koda 16", frequently rotating the pan every couple minutes. However home ovens work just as well for this style of pizza.
Ingredients
Dough
350

g

Bread Flour

255

g

Water (warmed to 90°F)

10

g

Kosher Salt

3.5

g

Instant Dried Yeast
Shakshuka
6

Eggs

2

tbsp

Olive Oil

for the pan

1

Onion

2

Garlic Cloves

1/2

Red Bell Pepper

2

Serrano Peppers

Substitute with Jalapeno or Fresno

1

28oz can

Whole Peeled Tomatoes

1

tbsp

Smoked Paprika

1

tbsp

Cumin

Salt and Pepper

To taste
Toppings
6

oz

Cheddar cheese

Shredded

6

oz

Mozzarella cheese

Shredded

Parsley

Chopped

Feta Cheese

To taste
Seriously. I have a lot of pizza ovens.
Let me show you the best after hundreds of hours testing. Read my in-depth pizza oven reviews!
Instructions
Make the dough.
Combine the flour and salt in the bowl of a stand mixer fitted with a dough hook attachment. Stir to combine.

Heat water in microwavable safe bowl for 30 seconds. Temperature should be between 85F and 95F. Mix the yeast into the water.

Slowly add water/yeast mixture to the stand mixer, mixing on low until it forms a smooth consistency, about 10 minutes.

Note: dough will be very wet and sticky, and the bottom will stick to the bowl. You may need to scrape the bottom up with a spatula.

Turn mixer off. Dust a very light amount of flour onto the counter, and scrape the dough out of the bowl. Dust a little more flour on the dough, and knead by hand for 2 minutes. Form into a taught ball and place into a lightly greased Detroit pan. Allow to rest, covered and at room temperature, for 1 hour.
Stretch dough in pan.
Because of the high hydration in this recipe, you may need to wet your hands prior to handling. Flatten and stretch the dough with your hands to fit the pan as close as possible (a tiny bit of shrinking may happen, that's fine). Let sit for ½ hour, then stretch again ensuring dough touches edges of pan.

Place in refrigerator, covered, for 1 to 2 days.
Parbake.
Let dough come to room temperature on the counter for 3-6 hours.

Preheat the oven to 550°F. If using an Ooni or other outdoor pizza oven, preheat until 700-800 degrees, about 20 minutes.

Place pan on the bottom of your oven to par-bake the dough for 5 minutes. Carefully remove the hot pan from oven. Using a metal spatula, remove the baked dough from the pan and allow to cool on a wire rack while you prepare the Shakshuka.
Shakshuka
Heat olive oil in a deep pan or dutch oven over medium heat until shimmering. Add onion and peppers, and continue cooking for 8 minutes or until onions are translucent and peppers have some browning. Add minced garlic, paprika, and cumin; continue cooking for 30 seconds. Add tomatoes and stir to combine. With the back of a spatula, crush the tomatoes. Salt and pepper to taste. Reduce the heat to a simmer and continue cooking for 15 minutes.

Using the back of a spoon, make a small well in the sauce; carefully crack an egg directly into the well. Continue doing this around the pan with the remaining eggs. Cover the pan and continue on a very low simmer for 5-10 minutes, or until the egg whites are set but yolks are still runny.
Make Pizza
Place the parbaked dough back into the Detroit pan. Add shredded mozzarella and cheddar, ensuring cheese touches the edge of the pan.

For home ovens: place pizza in oven for another 7 minutes on the bottom rack. (toss the broiler on for the final minute or two if the cheese is not browning fast enough). For outdoor pizza ovens: bake for 5-6 minutes, rotating pan halfway through, and covering with tinfoil if browning too quickly.

Remove from oven and use a thin metal spatula along the edges to separate the pizza from the pan. Slide onto a wire rack to rest for 3 minutes. With a large spoon, carefully place the poached eggs and spicy sauce onto the pizza, ensuring even spacing for each slice. Top with feta cheese and parsley. Slice, and enjoy.