Which came first, the chicken or the egg? And what's the meaning of life? Is Gozney's Roccbox actually better than any of the Ooni pizza ovens? These are all timeless questions that can be difficult to give a straight answer, but I'm here to help. And since I'm not a philosopher, I'll stick with the pizza oven question. Gozney Roccbox vs Ooni is the most frequent question I get and it's for good reason. Both of these brands are leaders in the outdoor pizza oven space and dedicate themselves to creating a premium, well-engineered product. After using every Ooni pizza oven and both the Gozney Roccbox and Dome for more than a year, I finally feel ready to answer the question. Let's DO IT.
Method: How I'm Comparing the Roccbox and Ooni
There are multiple characteristics and performance metrics I look at when reviewing an oven, including the design, fuel source, size, burner design, performance, and price. But the most important one is that I actually USE THE OVENS. We both know there is a lot of BS content written out there that just re-hash the manufacturer specs and do not give honest opinions and feedback. These are my real experiences after making tons (and tons) of pizzas.
With that said, there are huge differences in the design of these ovens which directly affects the performance. In addition, Ooni has a larger lineup of ovens to choose from. Being it's not a direct 1:1 comparison, it makes solving this question a little more complex, but I'm here to compare the Roccbox versus every Ooni model. Most people end up narrowing down their search between the Roccbox and the Ooni Koda 16 due to the similar cost. Take a look at my video reviews of each model to get a better idea, or continue below to see the comparisons against each model.
Let me be clear up front – I see no reason why you will be disappointed in either brand. Both Gozney (maker of the Roccbox) and Ooni are fantastic companies with great customer support, innovative engineers, fantastic recipes and support for getting started with pizza making, and of course, high performing products. These are a few of the reasons why both pizza oven manufacturers land on our list of best outdoor pizza ovens.
| | | |
| --- | --- | --- |
| | Roccbox | Karu 16 |
| Unboxed size | 16.3 x 21 x 18.6 | 32 x 19.6 x 33″ |
| Weight | 44lbs | 62.6lbs |
| Max pizza size | 12" | 16" |
| Max heat | 950° F | 950° F |
| Price | 599 | 899 |
| Preheat time | 30 min | 25 min |
| Fuel | Wood and Gas | Wood and Gas |
Real images from my Roccbox vs Karu 16 test.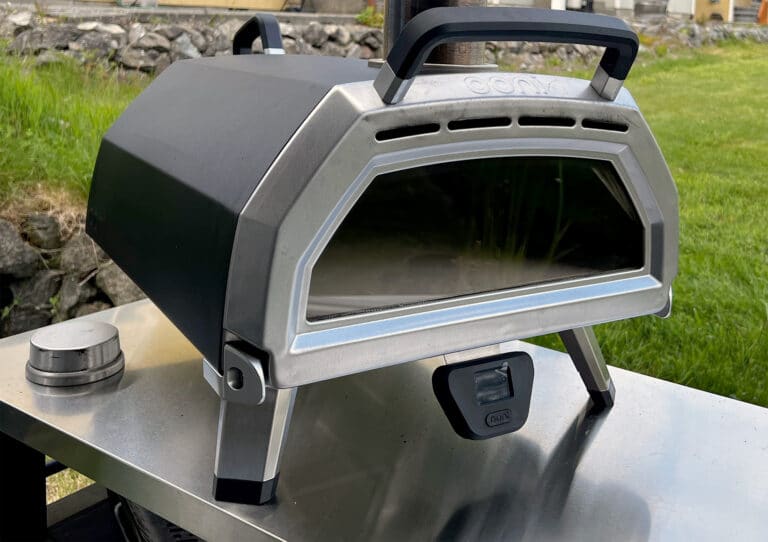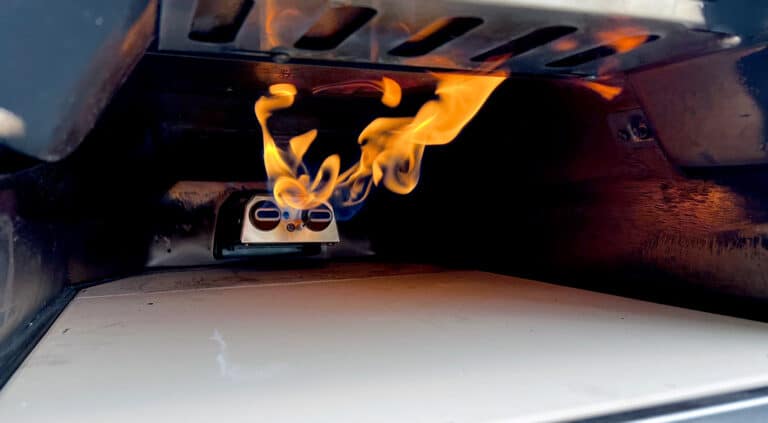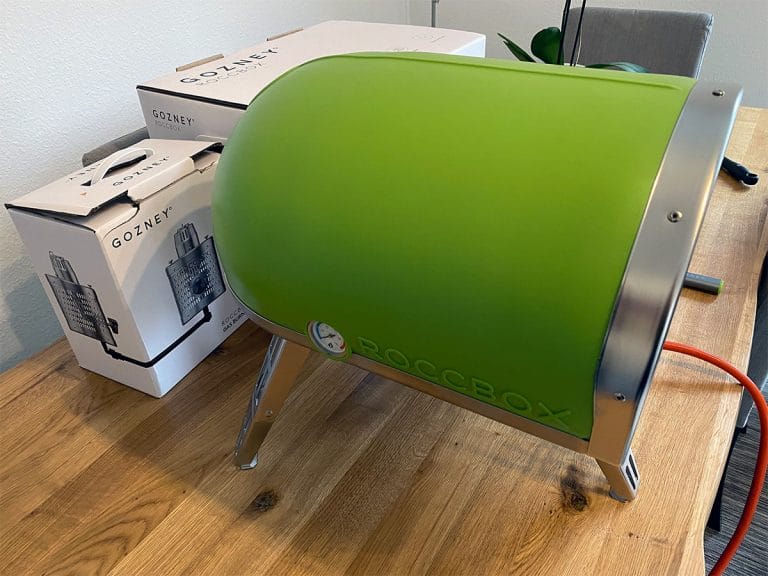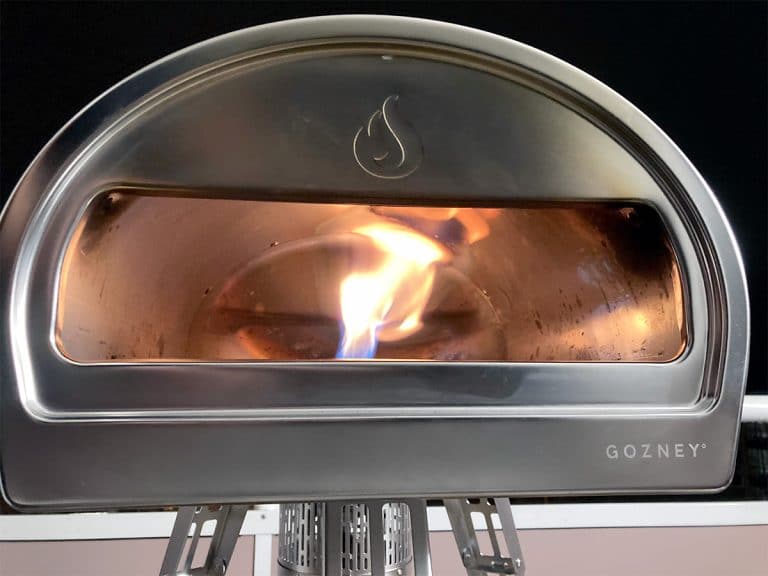 The Ooni Karu 16 takes home our highest rating, earnings itself five stars. It's the only portable pizza oven approved by the AVPN and is a complete re-make from their 12″ Karu model, incorporating huge upgrades including a glass door, thermometer, and huge 16″ cooking area.
Both models are multi-fuel, but the Gozney Roccbox is definitely a "gas-first" design (gas is the default but has an optional wood burner add-on) whereas the Karu 16 is more of a "wood-first" design (wood oven by design with an optional gas burner). The rolling flame of the Roccbox gas burner is amazingly impressive and you can cook up some seriously awesome 12″ Neapolitan pizzas; however, there is a big learning curve because it is very easy to burn your pizzas in this oven due to the strong flame and limited space.
Some people online talk about the Karu 16 gas burner being inadequate; but what I've noticed is these people are watching the built-in thermometer as they cook and when they open the oven door to put a pizza in or turn it, the ambient temperature drops. What they don't realize is that the thermometer is really only good for letting you know when the oven is preheated, because once you open the door obviously the ambient temperature will drop. However, the stone will still be hot. My experience is there is absolutely zero problems with the Karu 16 burner.
Moreover, cooking with wood in the Karu is more of an authentic experience (logs pushed towards the back of the oven) while the Roccbox uses a wood hopper which can be a little more clunky to manage. 
And finally, I absolutely love the added convenience of a 16″ oven. Even if you only plan on making 12″ pizzas, the extra maneuverability within the oven makes things a lot easier. It also opens up tons of possibilities with cooking larger pan (Detroit/Sicillian) pizzas.
| | | |
| --- | --- | --- |
| | Roccbox | Koda 16 |
| Unboxed size | 16.3 x 21 x 18.6 | 24.96 x 23.2 x 14.65″ |
| Weight | 44lbs | 40.1lbs |
| Max pizza size | 12 | 16 |
| Max heat | 950° F | 950° F |
| Price | 599 | 599 |
| Preheat time | 30 min | 35 min |
| Fuel | Wood and Gas | Gas |
Real images from my Roccbox vs Koda 16 test.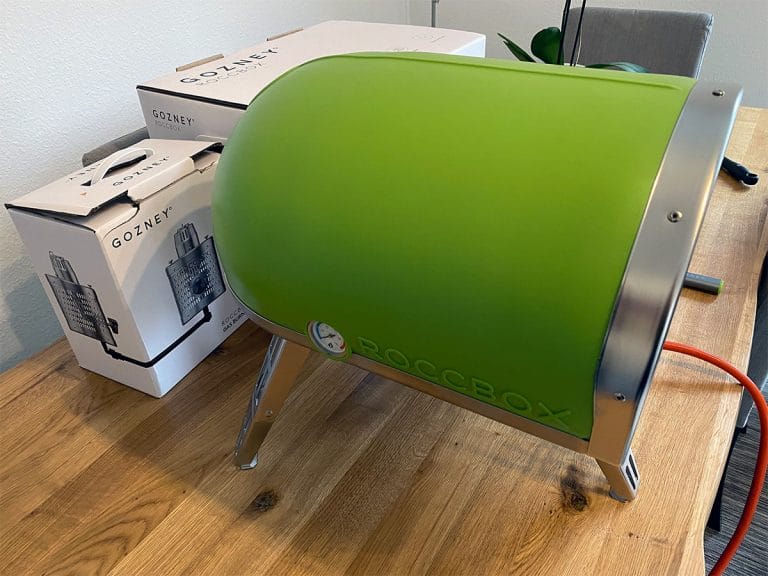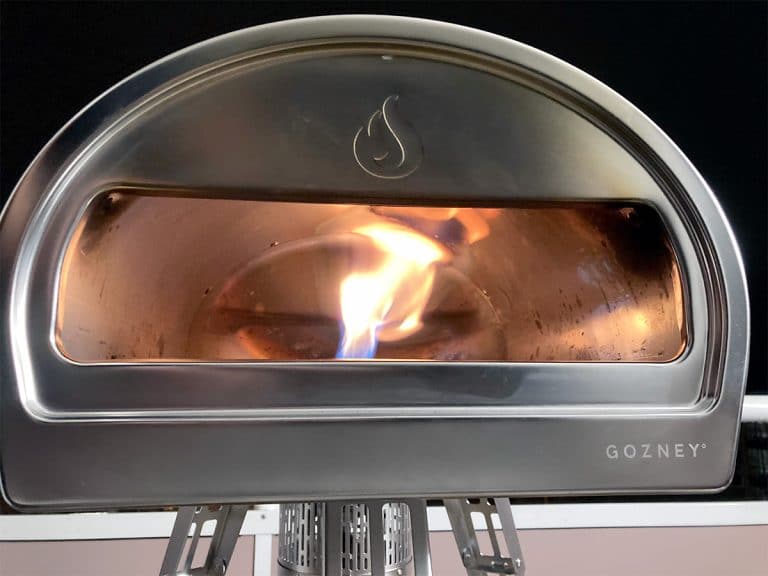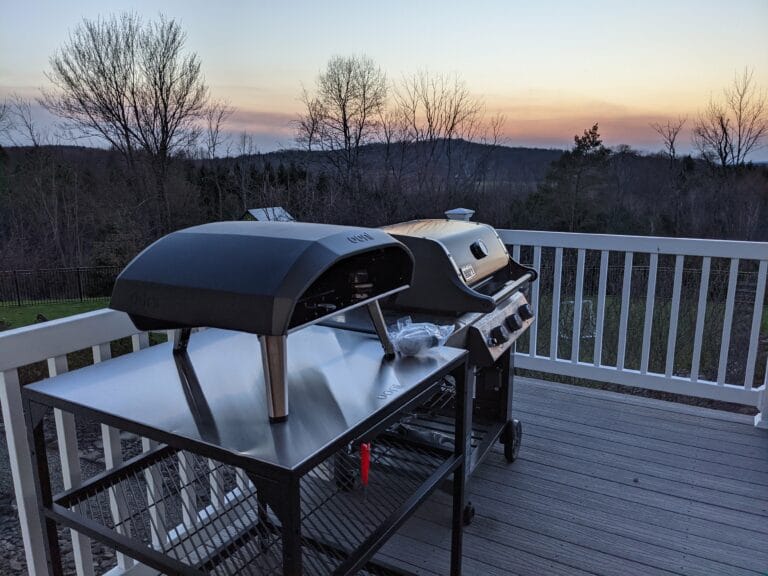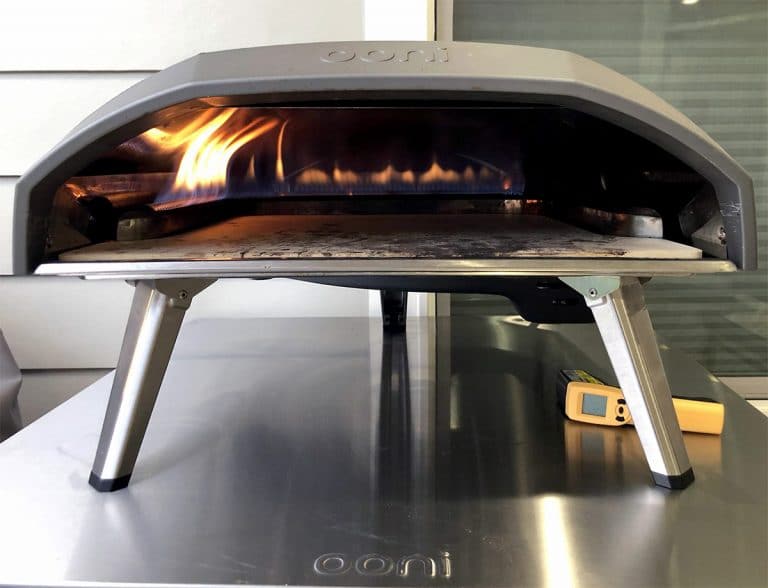 This is definitely the most difficult decision people have when comparing Gozney vs Ooni. The Roccbox offers multi-fuel options, where the Koda 16 is gas only. So this one largely depends on what you expect out of an oven. If you want the convenience of gas and find the larger cooking surface appealing, definitely go with the Koda 16 oven. It's one of our highest rated gas pizza ovens thanks to it's awesome L-shaped burner and it is still one of my go-to ovens for quick bakes. The Koda also works a lot better at cooking NY styles (it takes some practice, but I've made some really incredible pizzas with it) thanks to the larger size and its ability to get an ultra-low flame. However, because of the larger space, this oven can take some more time to preheat between pizzas. One of the biggest complaints people have is the stone cooling down too much after the first pizza. From my experience, all I do is throw the flame back on high after my first pizza comes out, and by the time I go back and prep the next pizza (5-10 min), it's ready to go again.
If you definitely only plan on making 12″ or less Neapolitans and find the wood burner option appealing that Gozney offers, you will not be disappointed. At $599 (including the wood burner), it's the same price as the Koda 16.
What I found interesting is the Koda 16 weighs 4lbs less than the Roccbox, which is a 12″ oven! The Koda is very lightweight for a 16″ oven which makes it a very portable option. On the flip side, extra weight can be a good thing in pizza ovens. This weight difference really shows how much added insulation the Roccbox has, which directly affects the heat retention between bakes.
To me, the Koda wins by a very small margin simply due to the much larger cooking area which reduces the chances of burning pizzas and adds more flexibility to pizza styles.
| | | |
| --- | --- | --- |
| | Roccbox | Koda 12 |
| Unboxed size | 16.3 x 21 x 18.6 | 15.7 x 11.6 x 24.8″ |
| Weight | 44lbs | 20.4lbs |
| Max pizza size | 12 | 12 |
| Max heat | 950° F | 950° F |
| Price | 599 | 399 |
| Preheat time | 30 min | 25 min |
| Fuel | Wood and Gas | Gas |
Real images from my Roccbox vs Koda 12 test.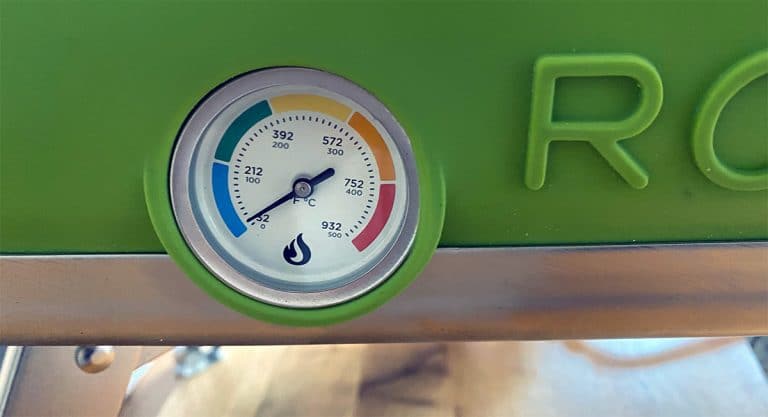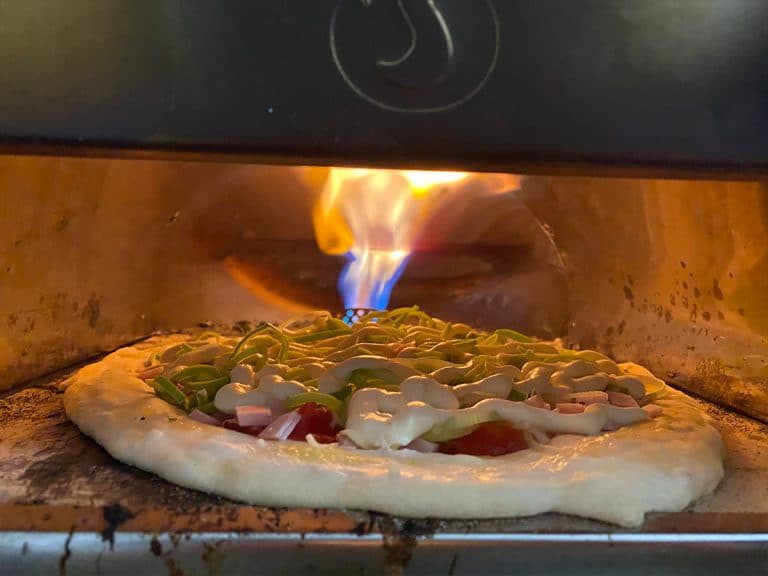 Here is where the Roccbox really starts to pull ahead of the Ooni products. First up, we have the Koda 12. Now you're probably thinking: the Koda 12 oven is rated a four when the 16″ version is rated 4.8? How much weight is this guy putting on the size of the oven? Well the big difference maker here isn't just the size, but the actual burner. Ooni completely changed the gas burner between the Koda 12 and 16; the latter of which is much larger and wraps around the inside of the oven in an L shape. The Koda 12 has a simple rear burner, and one that is very lackluster compared to the Roccbox. 
Now, the Koda 12 is cheaper, but keep in mind the Gozney price shown above includes the $99 wood burner accessory. If you didn't want this, or wanted to purchase that at a later time, the Roccbox would only set you back $499 (still $100 over Ooni). 
In my opinion, if you are cool with a 12″ oven, then the extra hundred bucks is totally worth it. Go for the Gozney.
| | | |
| --- | --- | --- |
| | Roccbox | Karu 12 |
| Unboxed size | 16.3 x 21 x 18.6 | 30 x 15 x 31″ |
| Weight | 44lbs | 26.5lbs |
| Max pizza size | 12 | 12 |
| Max heat | 950° F | 950° F |
| Price | 599 | 499 |
| Preheat time | 30 min | 20 min |
| Fuel | Wood and Gas | Wood and Gas |
Real images from my Roccbox vs Karu 12 test.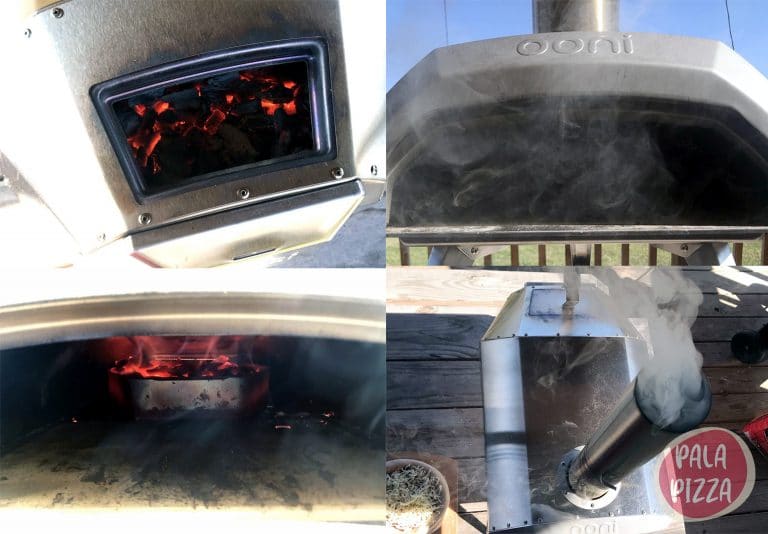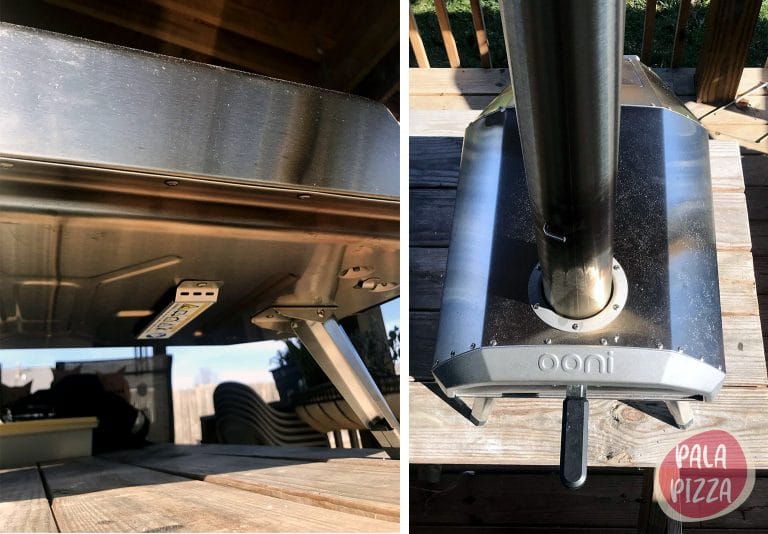 This may be the most direct comparison between products. Both ovens are for 12″ max pizzas and both are multi-fuel. Yet, when you look at the two ovens side by side, they couldn't be more far apart in terms of design. The Karu 12 uses a tall chimney and has a much less refined build quality (a lot of stainless steel rivets) compared to Ooni's newer models. It also has a front door to better maintain heat and speed up pre-heating, which leads me into our next point
The Gozney Roccbox weighs nearly double the amount of the Karu 12. There is a huge difference in insulation between these two ovens. Ooni went the cheaper and more portable route by using less insulation and equipping owners with a door to better maintain heat, while Gozney beefed up the Roccbox to holds its own heat very well. In addition, their wood burning accessory eliminates the need for a large overhead chimney, which can pose a problem if you're cooking under a pergola or porch.
Again, these ovens are opposite in terms of their default fuel method – with Ooni being wood-fired and Roccbox being gas-fired (and with both brands selling add-ons to perform the alternate). After using both, I prefer using the Roccbox over the Karu 12 regardless of fuel choice.
| | | |
| --- | --- | --- |
| | Roccbox | Fyra 12 |
| Unboxed size | 16.3 x 21 x 18.6 | 29.2 x 15.1 x 28.6″ |
| Weight | 44lbs | 22lbs |
| Max pizza size | 12 | 12 |
| Max heat | 950° F | 950° F |
| Price | 599 | 349 |
| Preheat time | 30 min | 20 min |
| Fuel | Wood and Gas | Wood |
Real images from my Roccbox vs Fyra 12 test.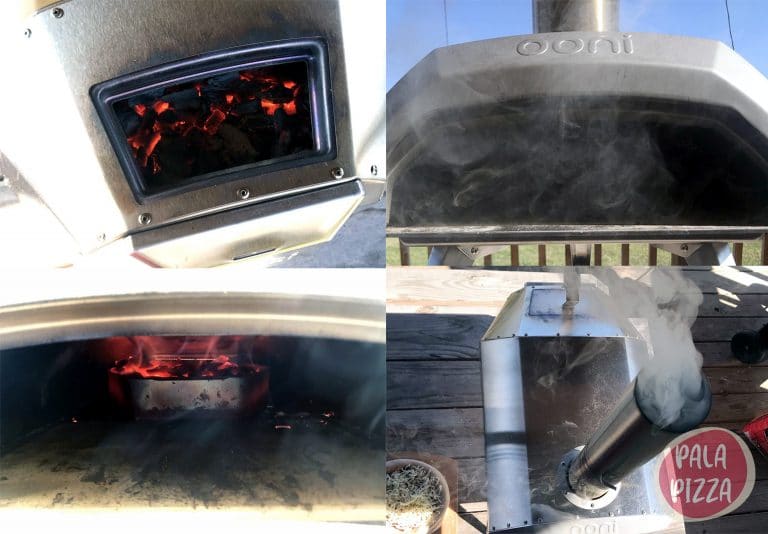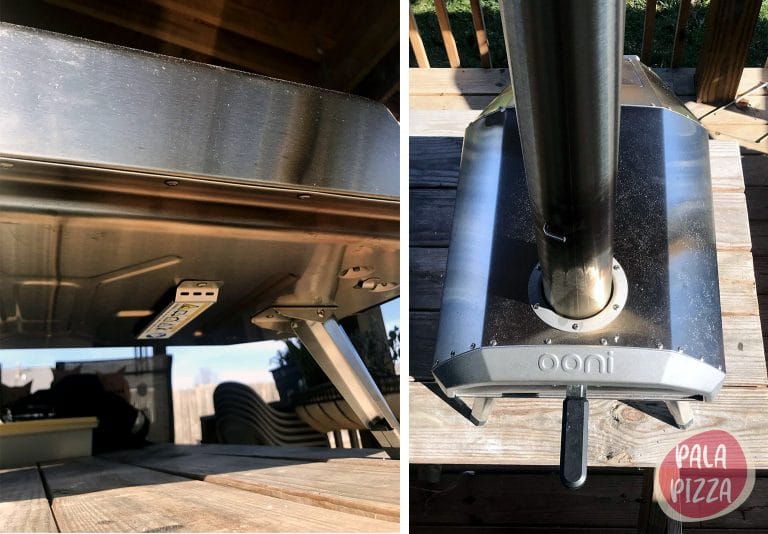 Last up we have the Fyra 12, a wood pellet pizza oven, and Ooni's cheapest option. I'll keep this one brief. The Fyra is ideal for those who have portability high on their list (camping, tailgating, etc) and who are looking for the cheapest option that can spit out a really good pizza. Let me stress the last point – just because it's cheap, does not mean its garbage or is unable to cook a really solid Neapolitan pizza. 
Personally, I'm not big into the idea of toting pizza ovens around. I AM, however, big into the convenience factor of gas for weeknight pizzas and the flexibility to use wood on weekends when I have more time and a beer in my hand. I would absolutely pick the Roccbox.
Sale
Summary of my findings:
The Gozney Roccbox falls right in the middle of Ooni's lineup. What I mean by this is, the Ooni Koda 16 and Karu 16 both have a higher rating than the Roccbox; however, the Ooni Fyra, Karu 12, and Pro models fall short of the Roccbox. I encourage you to read on to see why.