The massive Ninja brand, based out of Massachusetts, recently expanded their outdoor kitchen lineup with the new Woodfire Outdoor Oven. This 8-in-1 grill, smoker, and roaster (the list goes on) offers a wide range of heat, going as low as 175F for long smokes to a max of 700F for high-heat roasting and pizza.
While it's not a dedicated pizza oven, the company is putting a strong marketing focus on its pizza making ability.
With a 700F max temp, it's safe to assume it will not perform remotely as good for authentic Neapolitan style pizza which requires 800-950F. But it looks very promising for New York styles.
In this review, I'll first test out the performance for pizza, and then dive a little more into the other features. Let's see how this new Ninja Woodfire Oven performs.
Ninja Woodfire Coupon Code
Get the Ninja Woodfire oven for 10% OFF with coupon code PALA10.
Unboxing & Design
Everything is packed really well and the oven itself comes fully assembled. I'll also be using the stand which costs another $200, but you could always use a folding table.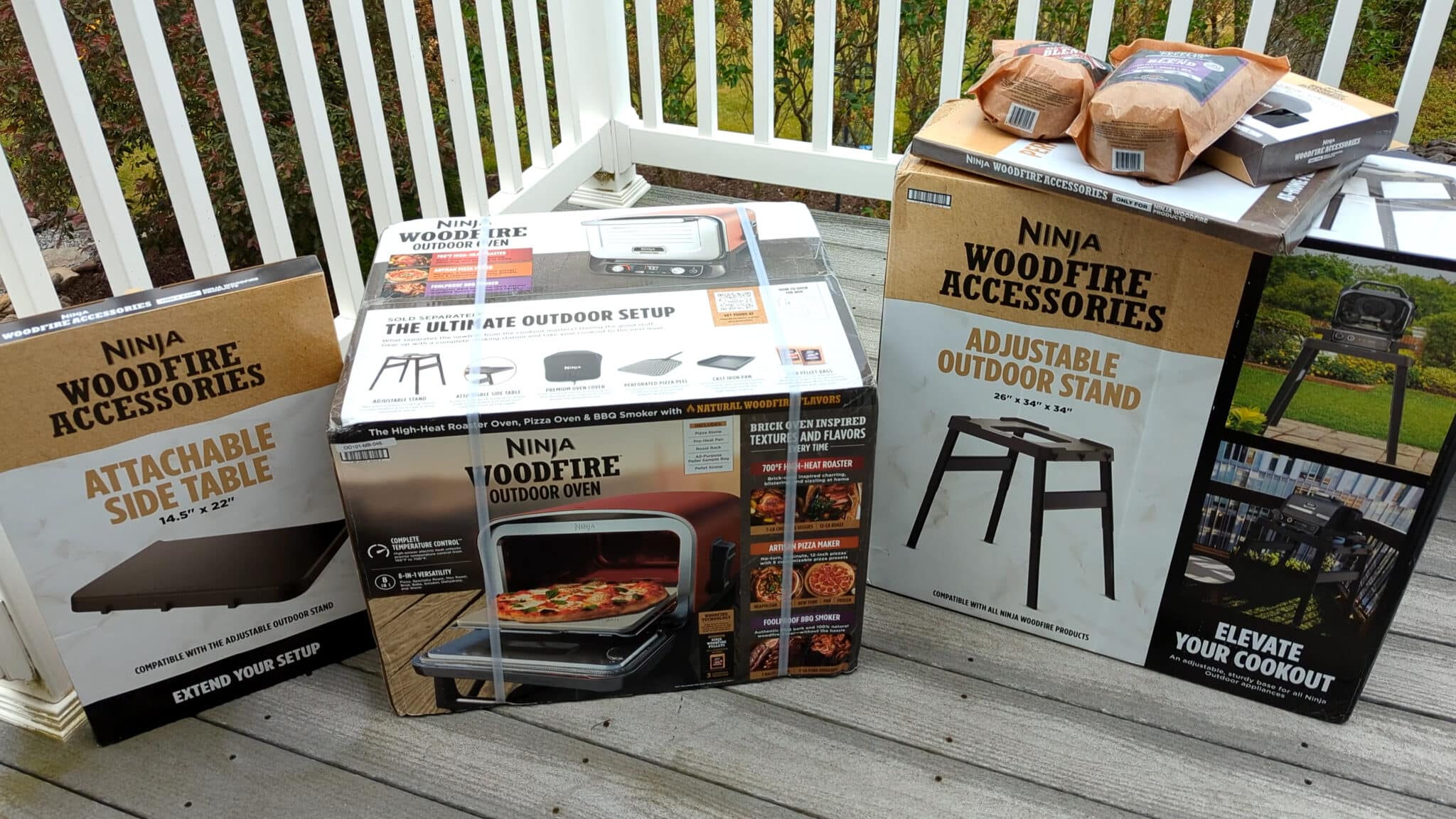 Setup
The stand is very straightforward and just requires a few screws. It's made of plastic which makes the $200 price tag a big daunting, but then again it won't rust and is quite sturdy.
After placing the Ninja Woodfire oven on top, you can open the door and insert the accessory rack. This piece holds the pizza stone or roasting pan – whichever you happen to be using at the time.
The manual suggests wiping the interior of the oven with a wet cloth. Just be sure to not damage the heating elements.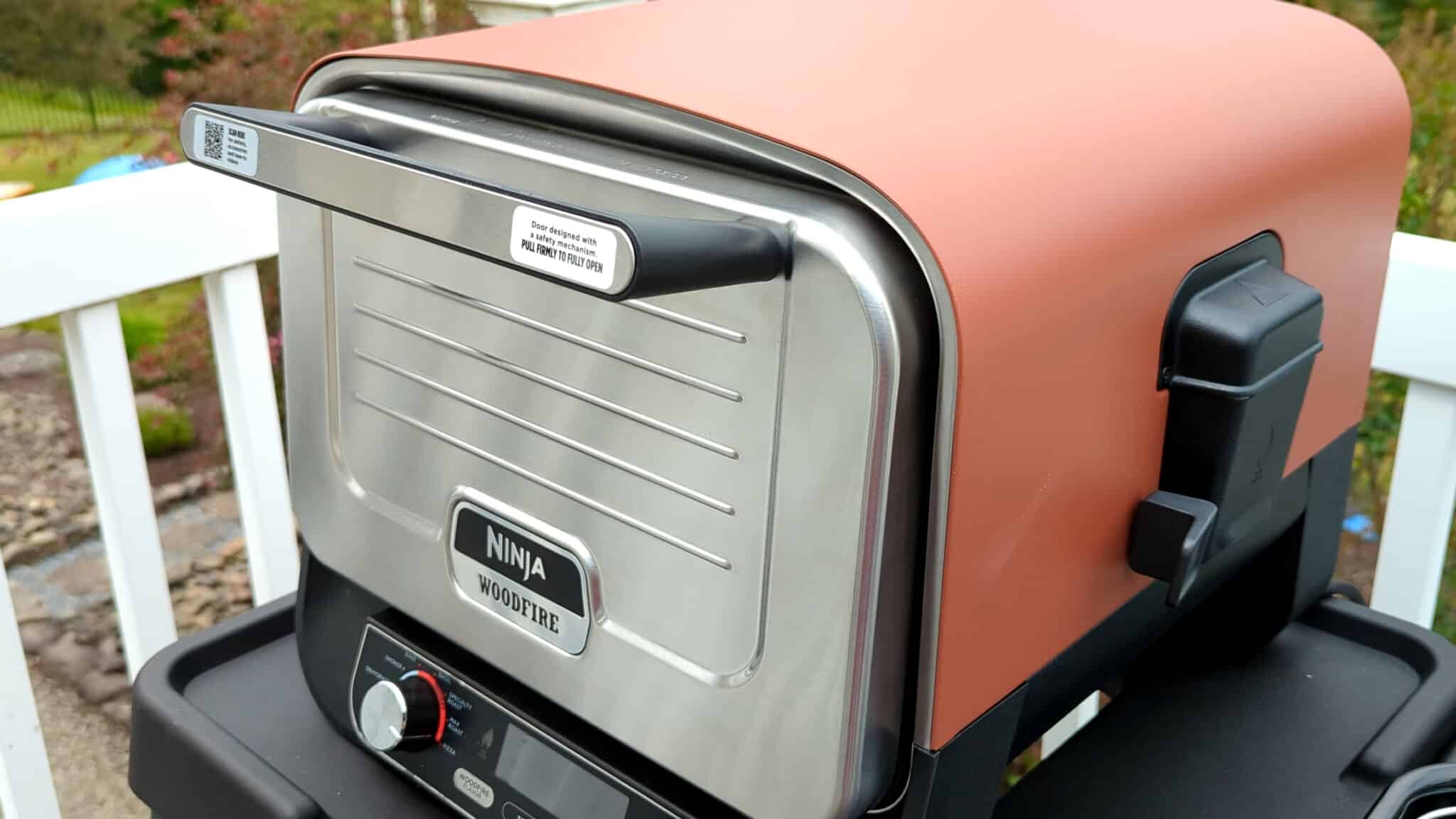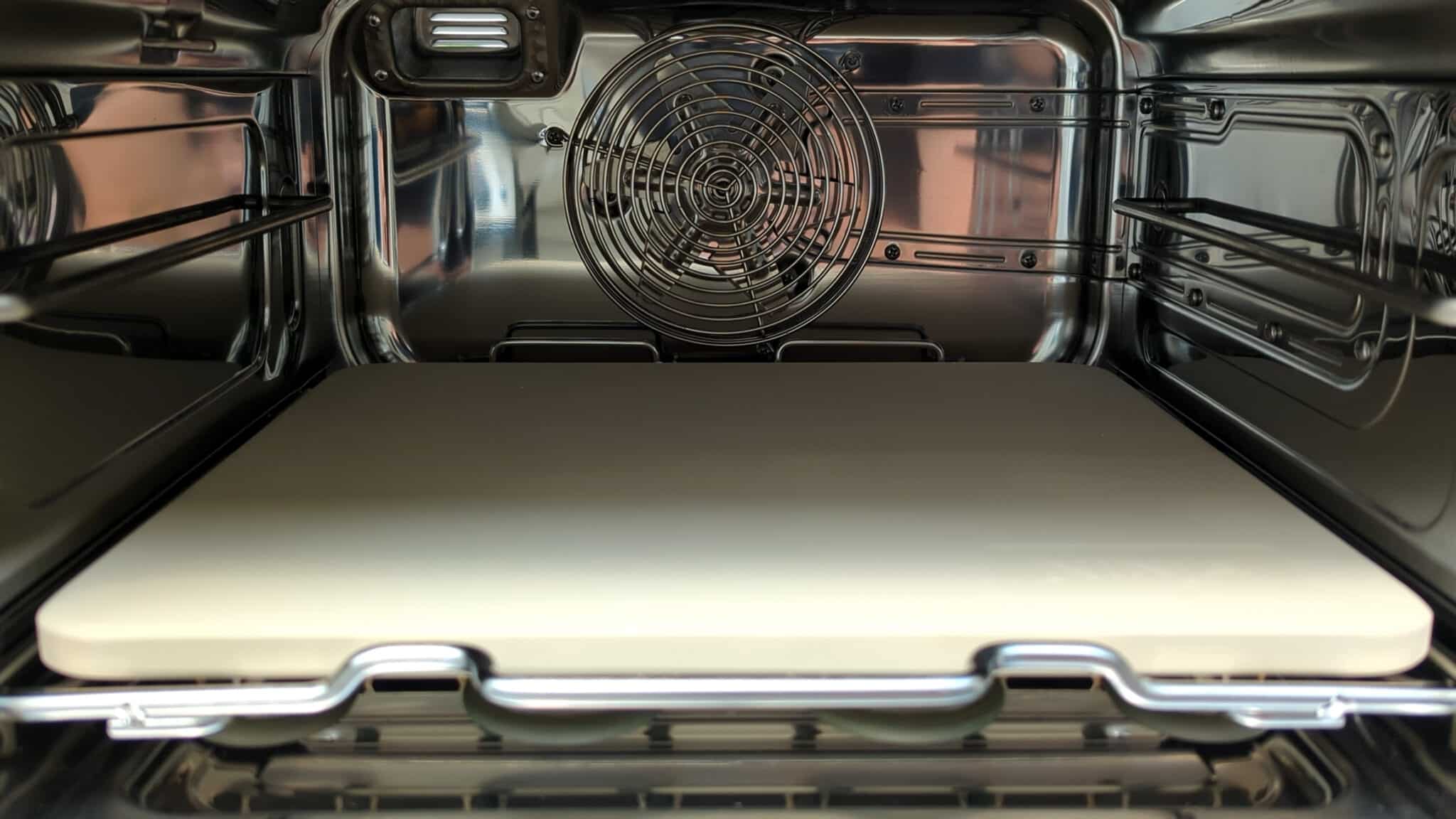 Oven Design
I love the look of this oven – and it makes no attempt at hiding the fact that it is indeed a mini oven. The matte color is very attractive and the control panel is intuitive. It's built like a tank and has a heavy hinged door which leads me to believe it should insulate well and maintain temperature.
The convection heat is capable of reaching up to 700 degrees Fahrenheit, so it should be great for New York style pizzas but a bit low for Neapolitan.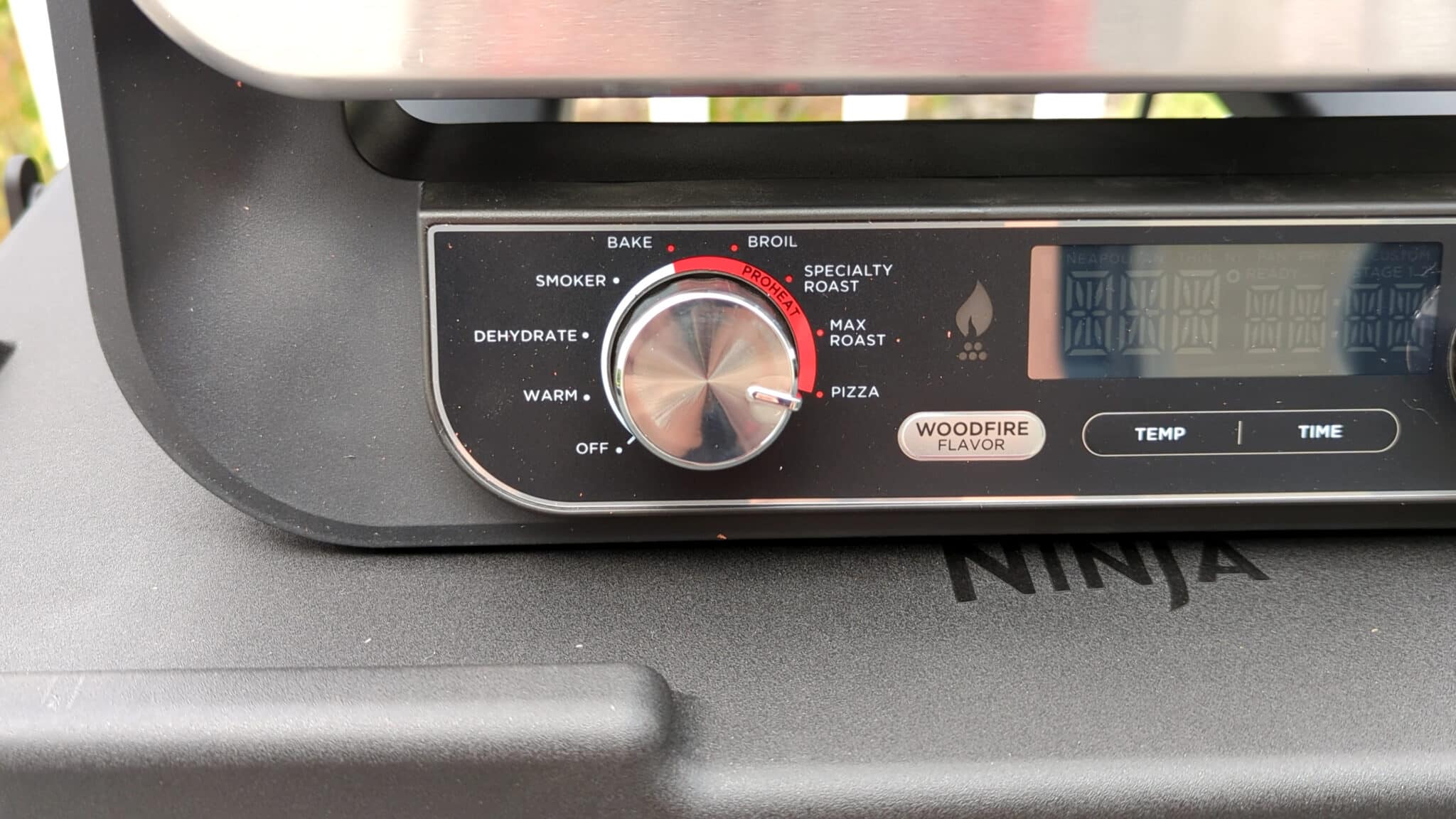 Performance
Now it's time to find out how well the Ninja Woodfire Oven performs. I'll first test it out with pizza (after all, that's what I do), and then talk a bit about the smoking and roasting results.
New York Style
The pizza option has a bunch of presets including Neapolitan, Thin, New York, Pan, Frozen, and Custom. The New York preset sets the temperature at 475 for 8 minutes. Even though I'm testing this style of pizza first, I opted for the custom setting and put it to 600 degrees.
And in 17 minutes, I launched my pizza. That's right, not a bad preheat time at all. One downfall of this oven is that there's no window for seeing progress. I decided to open it after exactly 5 minutes of baking, and it was perfectly cooked. I mean it doesn't get any easier than that. No turning, no adjusting flame heights, no fighting to maintain temperature; just 5 minutes and done.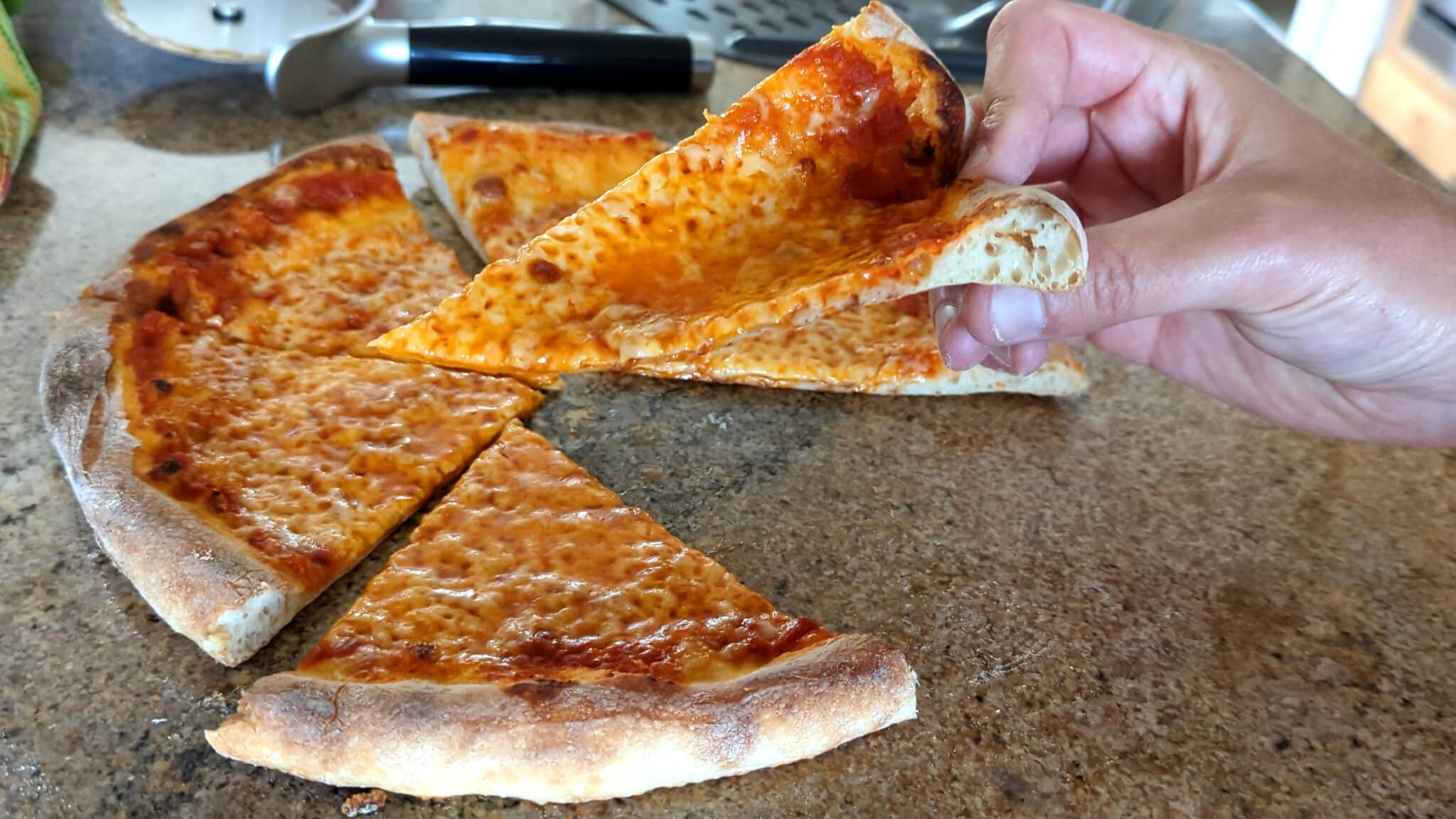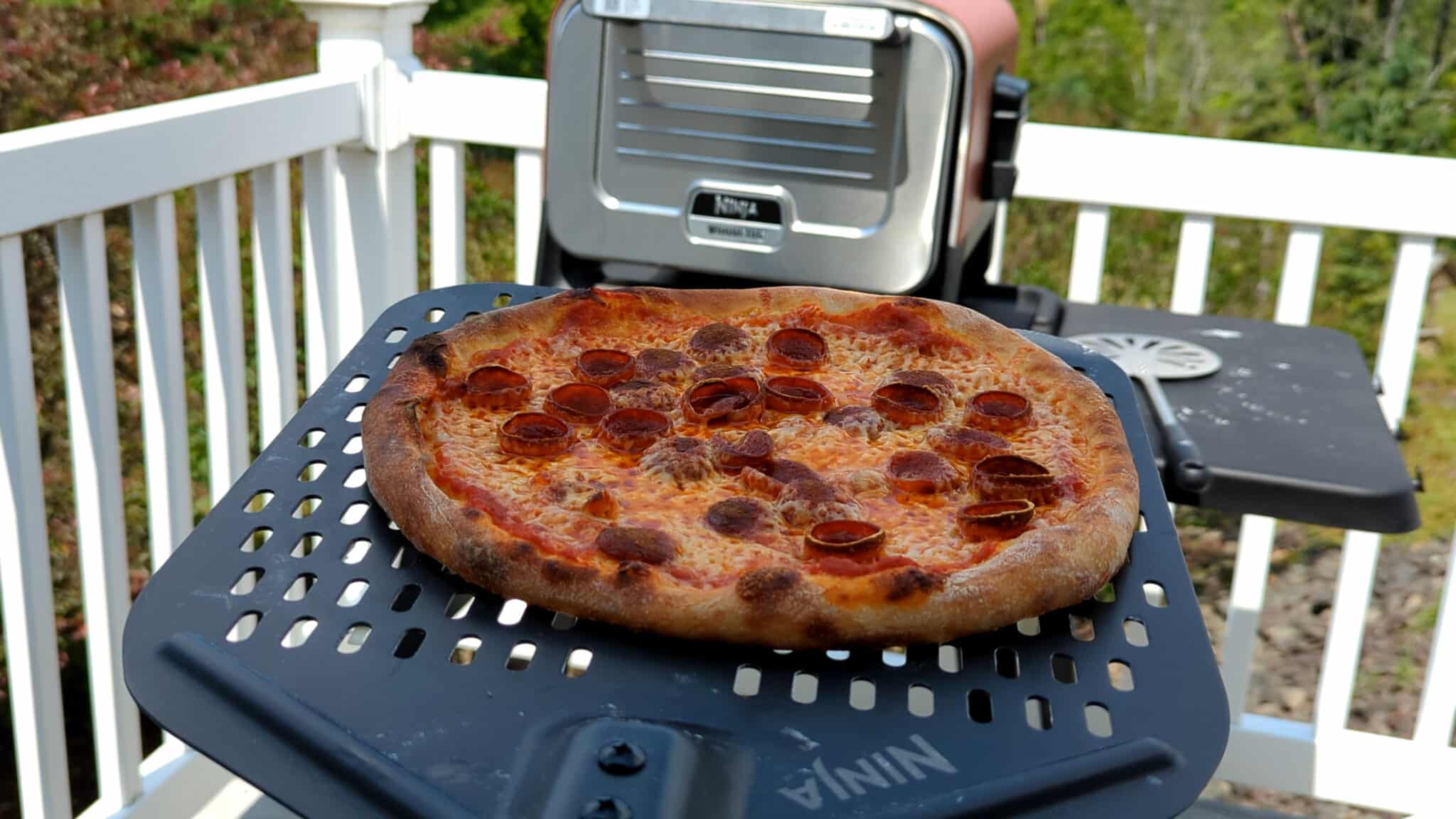 There's still enough heat to get some good cupping on pepperoni, and the stone maintains temperature between pizzas. And you can also use the woodfire button to quickly burn off some pellets for added smoke flavor.
Neapolitan
Next up, I used the Neapolitan preset to pump the oven up to 700 degrees and launched a pizza using my poolish dough recipe. After 3 minutes, here is the result. You can see the fresh mozzarella over-melted a bit, and while there is some nice looking charring, the crust just didn't rise enough. The temperature is about 150 degrees too low for proper Neapolitan.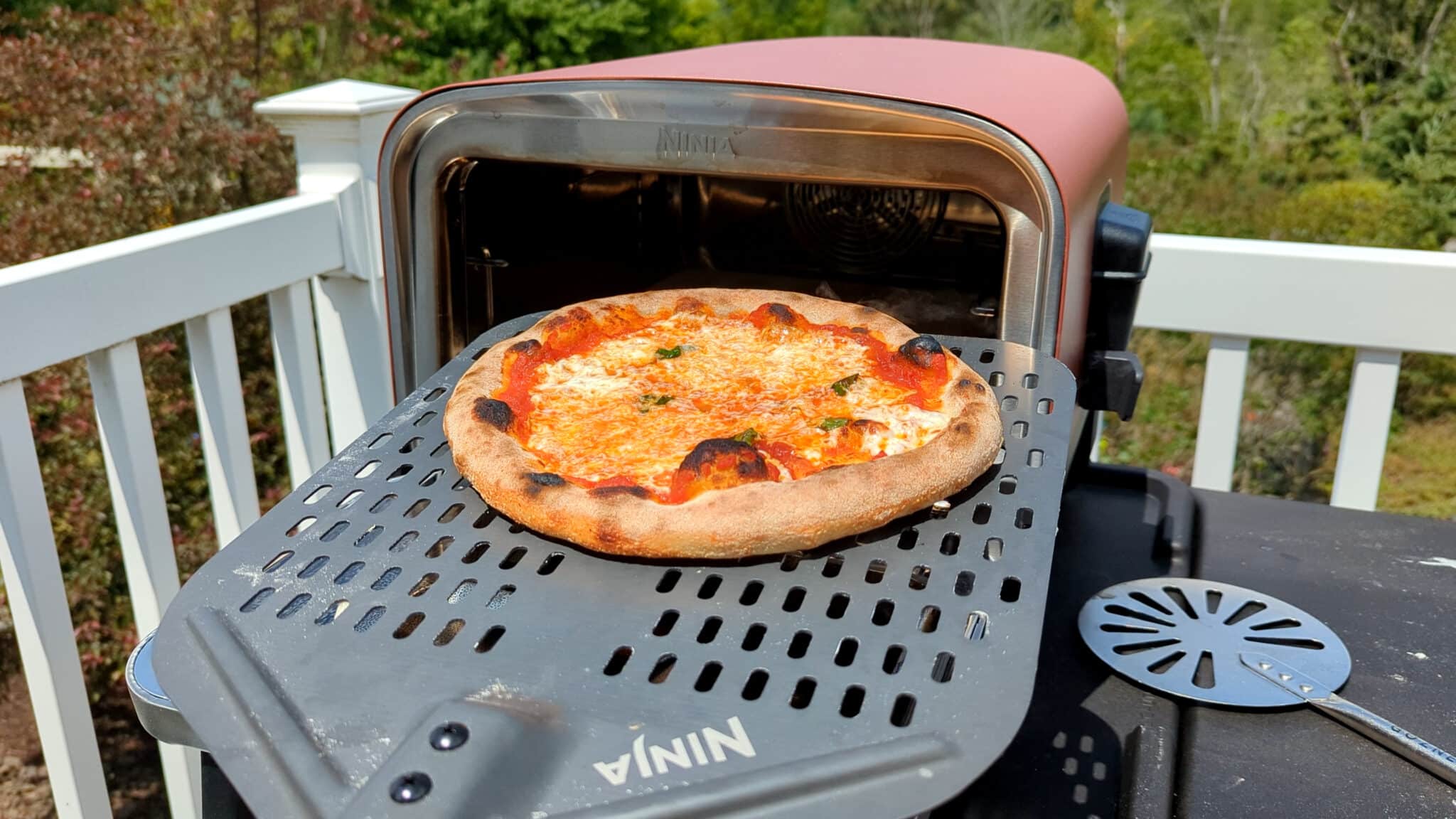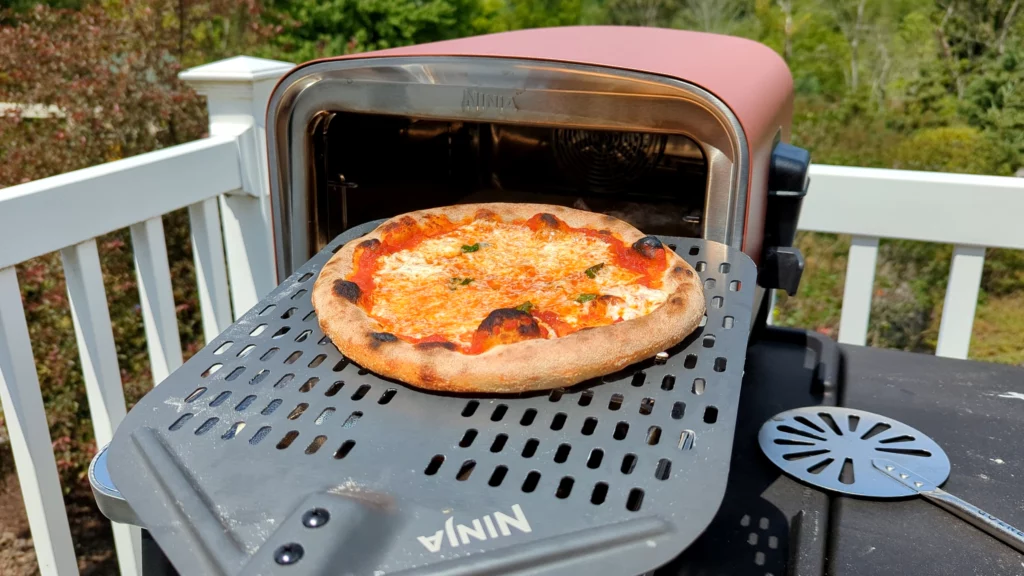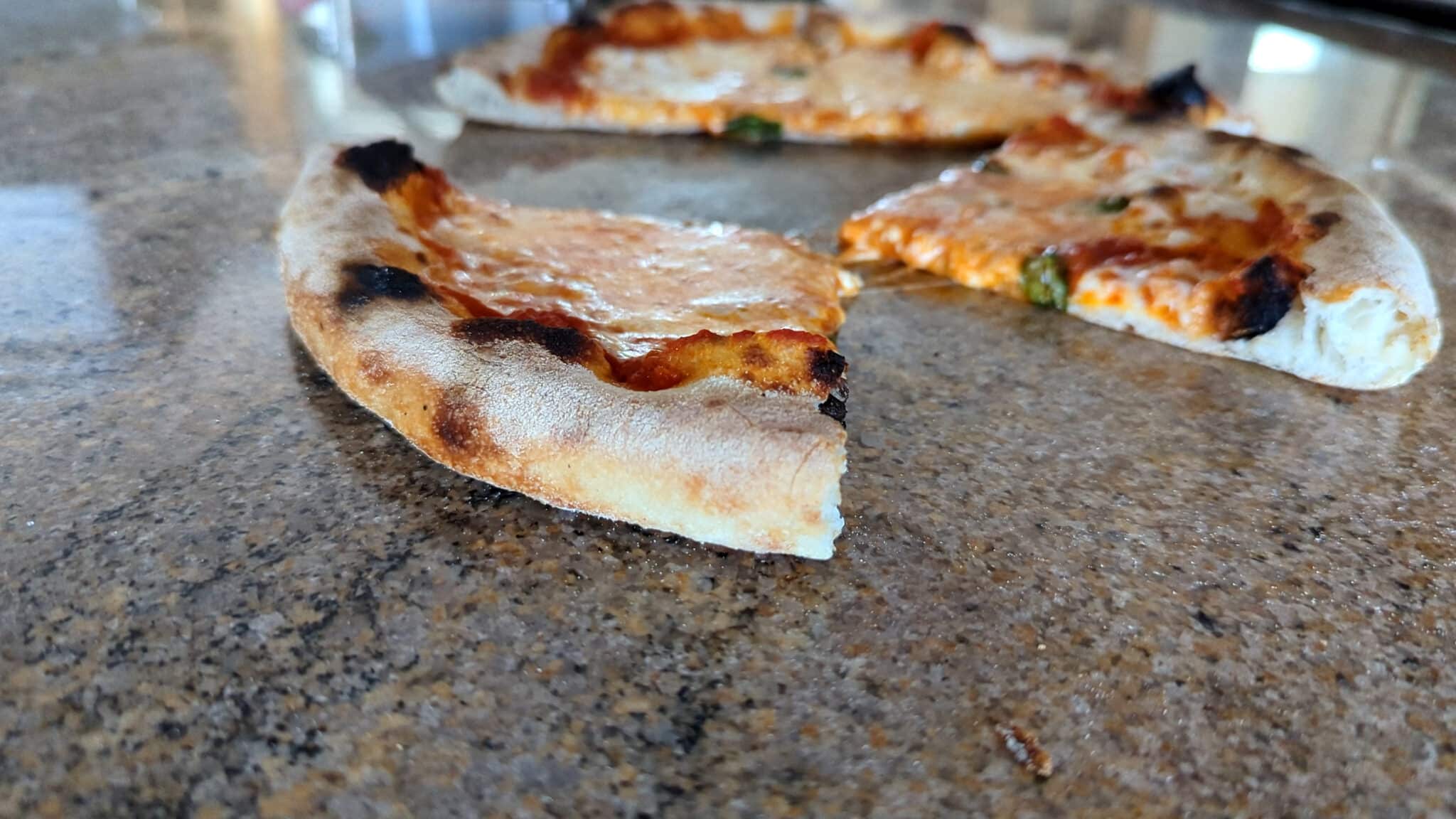 Smoking / Roasting
The smoking and roasting features work great, but I like to add more pellets every ~30 minutes if you're aiming for a true smoke. My first trial run of ribs using the 3-2-1 method came out a bit under-smoked when compared to a stand-alone smoker. By adding more pellets every 30 minutes or so, I was able to obtain a higher level of smoke inside the oven for an extended period of time (just preference; this isn't necessary to do).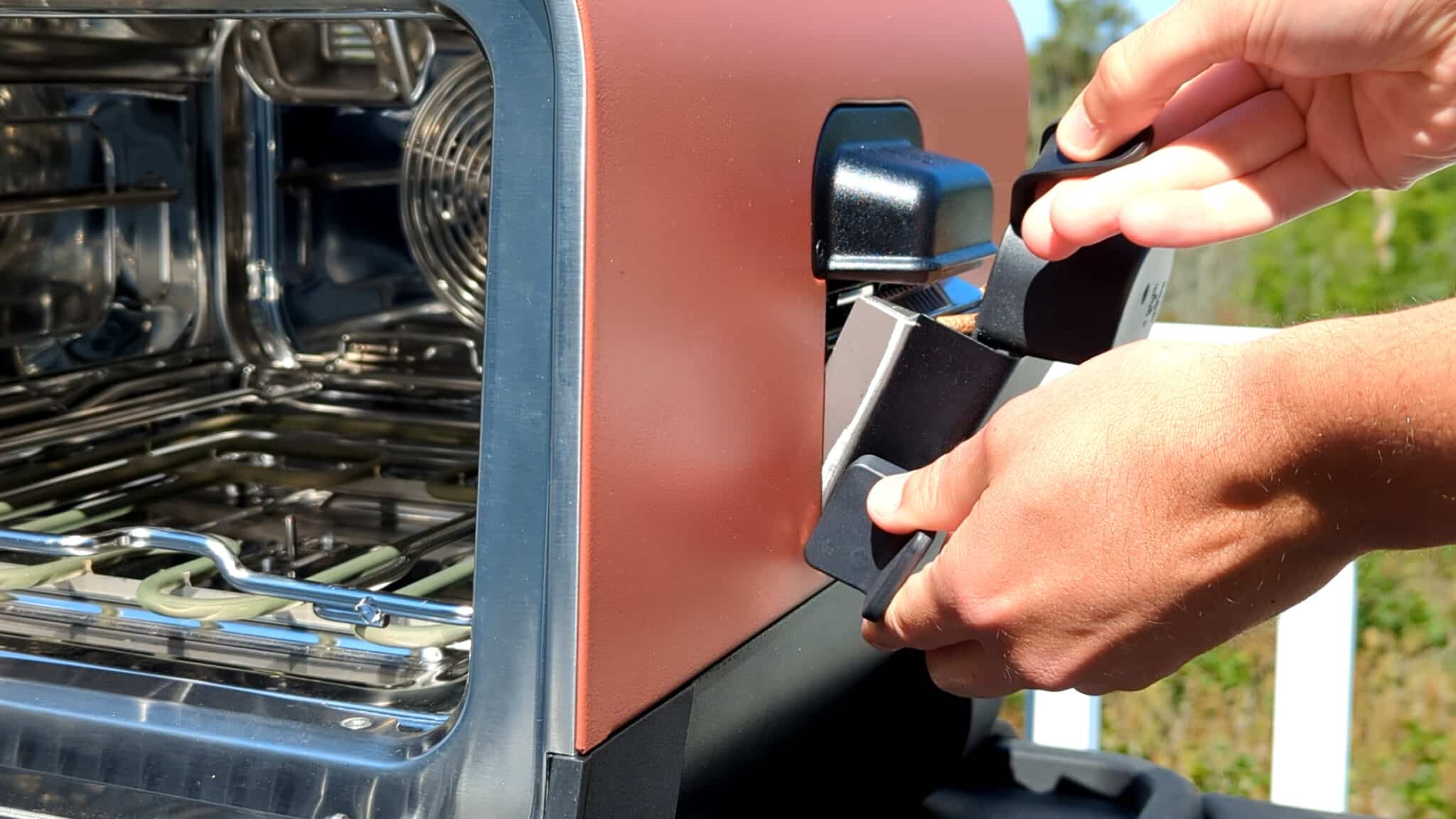 If you wanted to do an exceptionally long smoke, let's say for a brisket, then this product would be too much work to constantly refill a half cup of pellets at a time. But for up to a 3 hour smoke for chicken or ribs, it's really solid.
My second attempt with ribs came out great.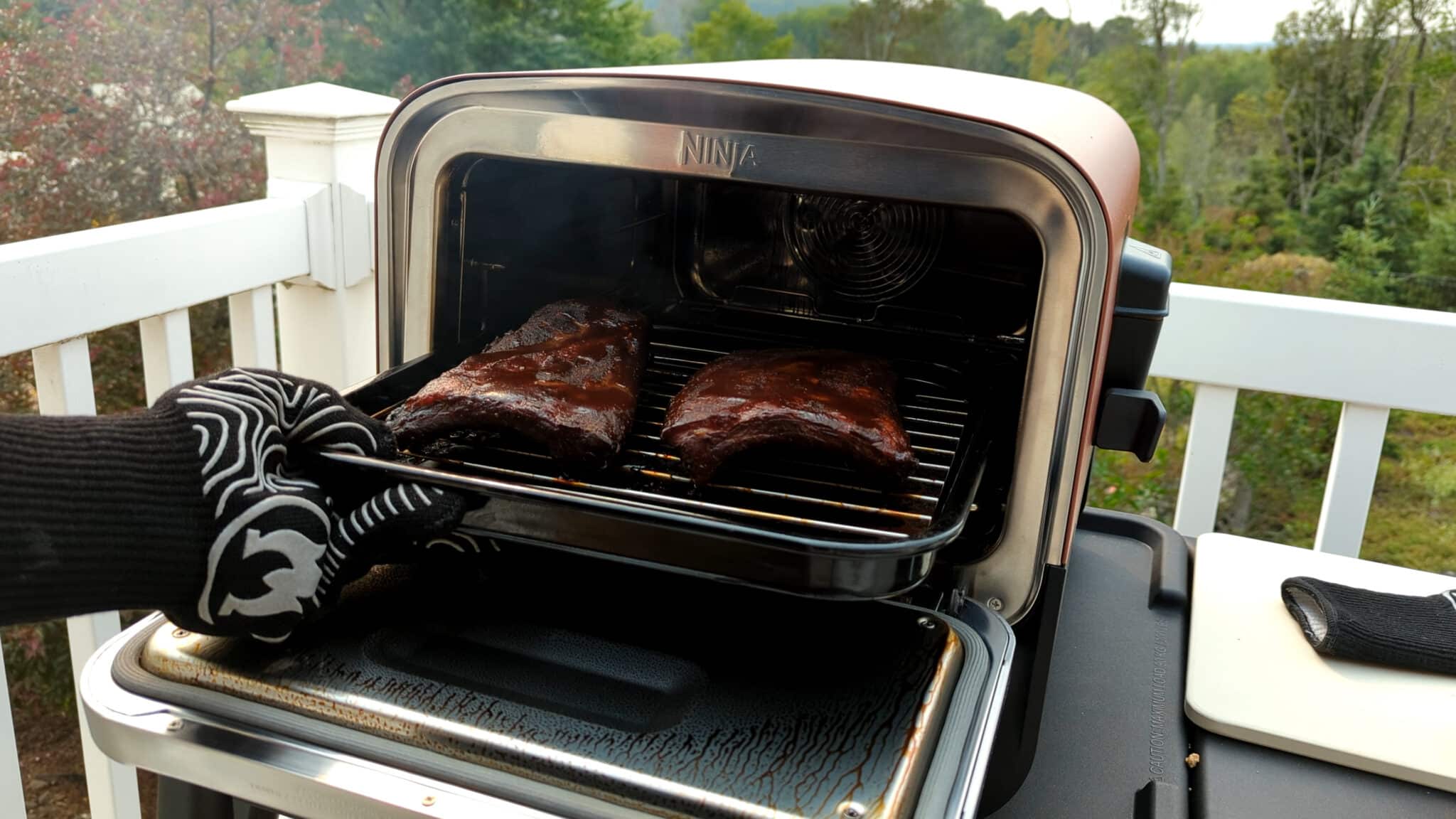 Overall, the performance for New York style pizzas was seriously impressive. I just wish it came in a 16" size for larger pizzas. As a pizza aficionado, it won't replace my dedicated pizza ovens like the Ooni Karu 16, but I'm excited about what else I can make in this oven. It's a cool multi-use product that seems well-built, holds very accurate temperatures, and – to my surprise – not gimmicky considering the number of features.