OUR RATING OF THE Mont Alpi PIZZA OVEN
The Mont Alpi pizza oven struggles to reach temperatures above 550F, making this more of a standard outdoor oven than it is a pizza oven. I recommend the Ooni Koda or Gozney Roccbox instead.
The good.
Cheap compared to other pizza ovens.
Clean stainless steel design, fits a lot of outdoor BBQ setups.
Easy ignite system.
The bad.
Struggles to get much hotter than a domestic oven.
The lack of insulation also affects the oven's ability to retain heat on cold or windy days.
Struggles with cooking multiple pizzas. The oven temperature drops when you open the door, but the pizza stone remains hot, causing the second pizza base to burn before the top cooks.
We recommend the Ooni Koda or Gozney Roccbox instead.
If you're looking for a portable pizza oven that you can use in your back garden or on a camping trip, you might be considering the Mont Alpi tabletop gas pizza oven. Created by outdoor grilling enthusiasts with over 30 years of industry experience, the Mont Alpi is designed to work like a conventional oven but gives you all the freedom and enjoyment of outdoor cooking.
Not just for pizzas, this oven can handle anything you might want to cook, from roasted veggies to flatbreads to joints of meat and even ribs. Although obviously, we're most interested in its pizza-making abilities, and that's what we'll be looking at today.
This oven gets talked about a lot in pizza-making circles, it has a reasonable price point and has plenty of great reviews on Amazon. But how good is it really? What are its pros and cons, and is it worth your time and money? Let's take a look!
Quick Look
We're going to take a detailed look at each element of the Mont Alpi tabletop oven. However, in case you're short on time or just want the headlines, here's a quick summary of the good and the bad, in our opinion.
What we like
Delivered fully assembled.
Lightweight and portable, it can be lifted and moved by one person.
Has a slick, aesthetically pleasing look.
Can be used for more than just pizza – meat, fish, flatbreads, seafood, ribs, etc.
Easy to clean with a removable door and trays that are dishwasher safe!
Comes with a 12″ pizza stone included.
Heats up very quickly, reaching 450˚F in around five minutes.
Can be used with two sizes of propane gas bottles.
Sturdy stainless steel construction.
Easy ignite system.
Reasonably priced compared to other portable pizza ovens.
What we don't like
Struggles to get much hotter than a domestic oven. Due to lack of insulation, this oven doesn't go much over 550˚F, making this more of an outdoor oven than a dedicated pizza oven.
The lack of insulation also affects the oven's ability to retain heat on cold or windy days.
Can heat the pizza stone too quickly without getting the oven up to heat, causing the base of the pizzas to burn before the top side is fully cooked.
Struggles to cope with cooking multiple pizzas. The oven temperature drops when you open the door, but the pizza stone remains hot, causing the second pizza base to burn before the top cooks.
Would benefit from handles to help you carry it.
Other pizza ovens perform to a higher level, reaching higher temperatures and cooking better pizza.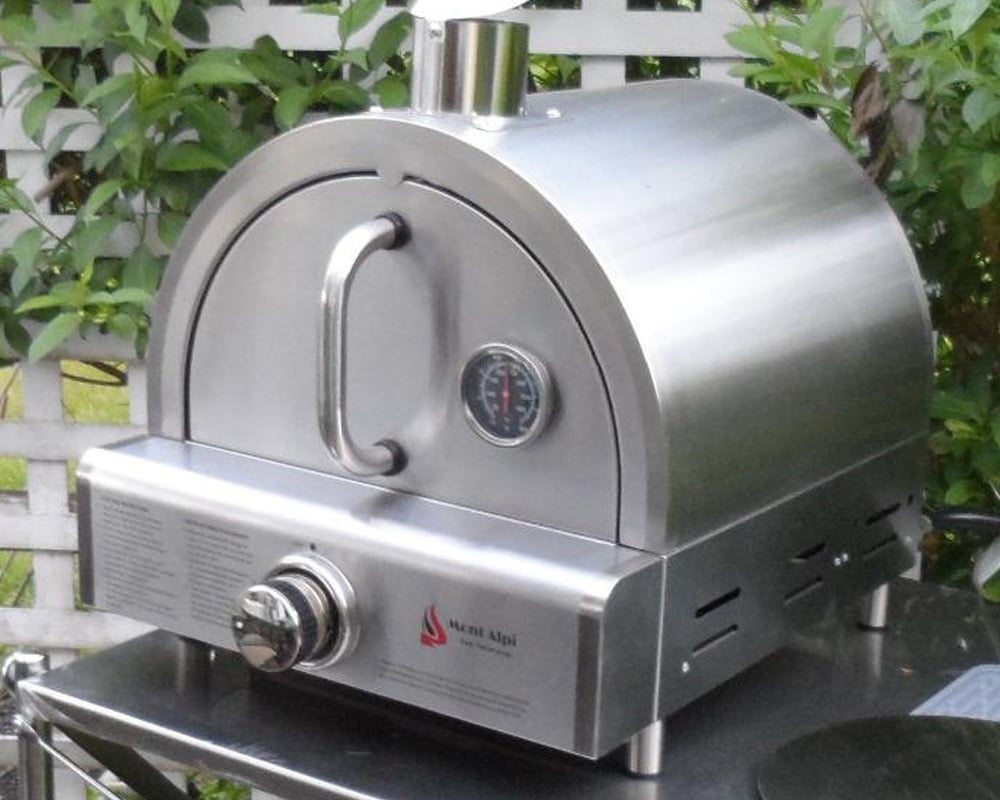 Designs and Features
Fuel Source
The Mont Alpi pizza oven uses propane. It works with two different sizes of the gas bottle – 1lb or 20lb, so you can choose which size suits you best. Or switch between sizes when cooking at home or out on the road. The oven has 12,000 BTU and a tubular U-shaped burner for even heating and baking.
Gas-powered pizza ovens are more efficient and cleaner than wood or coal-fired ovens. They often heat up much faster, can easily maintain a steady temperature, and you don't have to worry about cleaning up ash and soot. However, you do lose the smoky flavor that coal and wood-fired pizzas gain during cooking.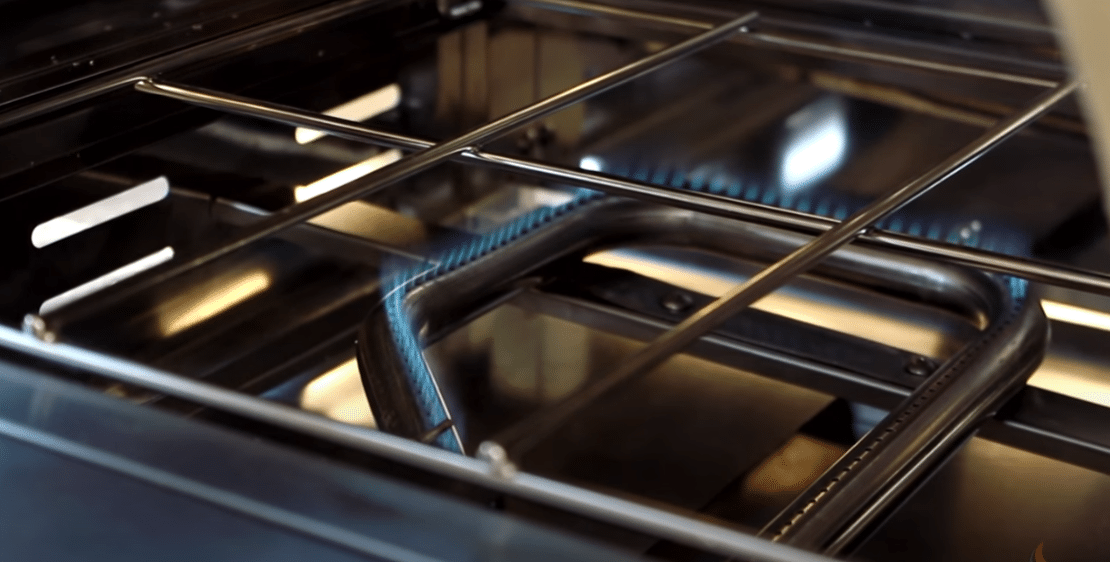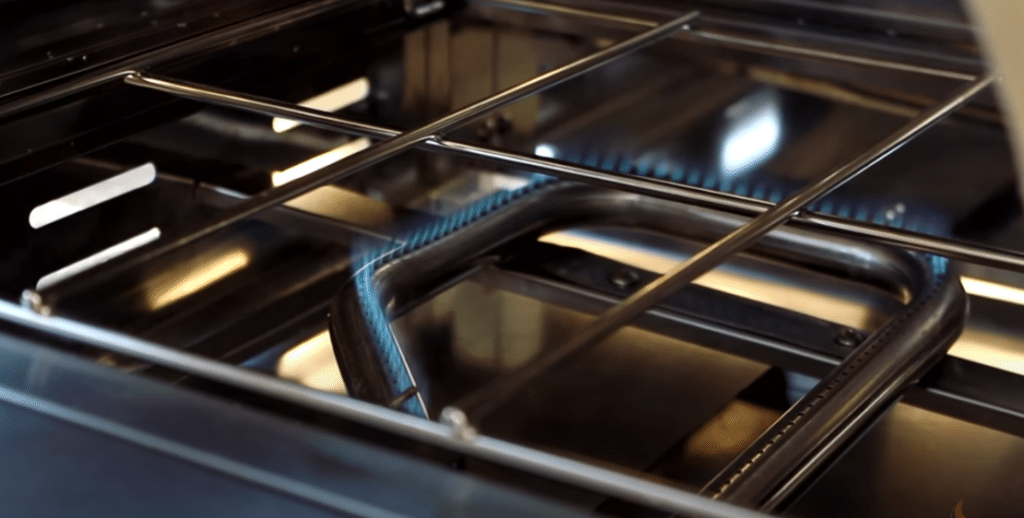 Size and Weight
At 30 lbs and 21 x 15 x 17 inches, the Mont Alpi tabletop gas oven is lightweight enough to be carried by one person. However, it would benefit from some carry handles to make moving it easier because, at present, it's a little awkward.
Its tabletop style means there's barely any height to worry about and no fiddly legs or stands. It arrives fully assembled, and you can slip it onto a permanent surface in your backyard or patio or take it on the road with you and set it up on a suitable surface or camping table.
Usability and Appearance
One thing we like about the Mont Alpi oven is its appearance. The stainless steel is sleek and durable and lends the oven a professional kitchen vibe that we enjoy. And we're not the only ones who like the look. This oven is popular with those who want their oven to be a permanent fixture in their patio kitchens. This oven looks great when fitted into an outdoor cooking space, but it looks equally good being fired up on a campsite.
The oven is as simple as anything to use and has instructions printed right on the front in case you need a refresher! The easy ignite button removes the need for lighters or matches, the temperature control is easy, and the heat gauge is accurate.
When you're finished cooking, cleaning up is an easy job. Simply remove the door, fat tray, and floor pan and chuck them all in the dishwasher! Alternatively, they can be cleaned with warm water and dish soap when you're out and about.
Max Heat and Preheat Time
This oven might not reach super high temperatures, but it does heat up fast. The stainless steel oven with its u-shaped burner heats up to 450˚F in five minutes. If you wait a little longer, it'll reach 500 or 550˚F, but this oven will not go above that due to the lack of insulation.
This is substantially lower than a traditional pizza oven, so your pizza will resemble a home oven bake rather than one made by a conventional pizza oven. Some reviews and tutorials suggest fixing this by 'modifying' the Mont Alpi oven's chimney to increase the heat capacity to 750˚F. We don't recommend this. There can be serious consequences to an improperly ventilated gas oven, so forget the modifications. If you want a pizza oven that cooks to a higher temperature, it's best to look for one designed to produce and handle such temperatures. Take a look here at our list of top rated pizza ovens.
The Mont Alpi, as it is, cooks a 12″ pizza in under five minutes and – in theory – three pizzas in under 15 minutes. We say 'in theory' because while it's technically possible to make three pizzas one after the other in this oven, our experience is that the quality of the pizzas slips between the first and third.
It's necessary to open the door to remove one pizza and add another. The oven drops below optimal temperature when you do this, but the pizza stone retains its high heat. If you add a second pizza immediately, the base will cook on the stone much faster than the rest of the pizza, and you risk a burnt base and an undercooked topside. To avoid this, you need to wait between pizzas for the oven to come back up to temperature.
Set Up and Use
The Mont Alpi is delivered to you ready to use, so no assembly is necessary. All you need to do for set up is to find an appropriate surface to place to oven on and attach the gas.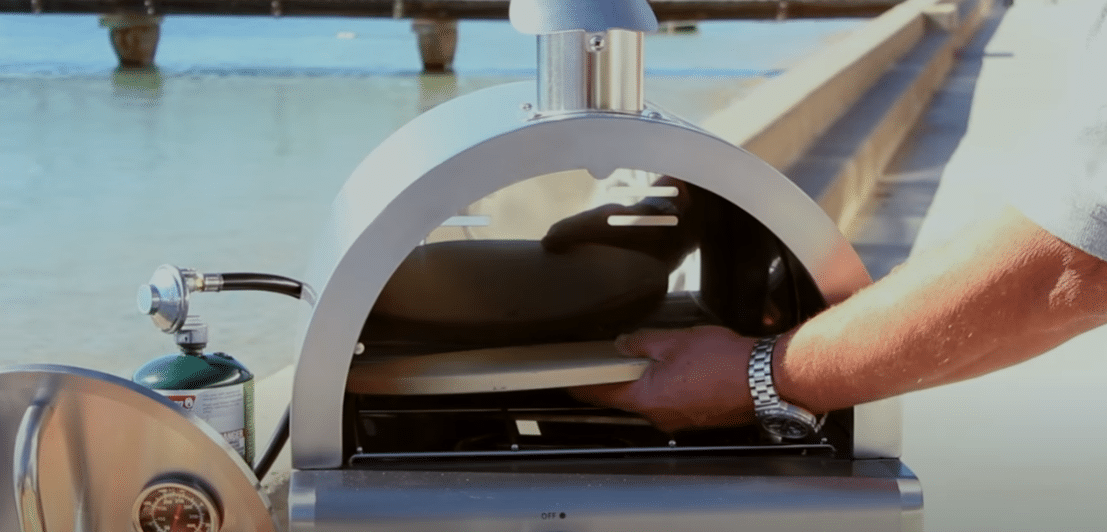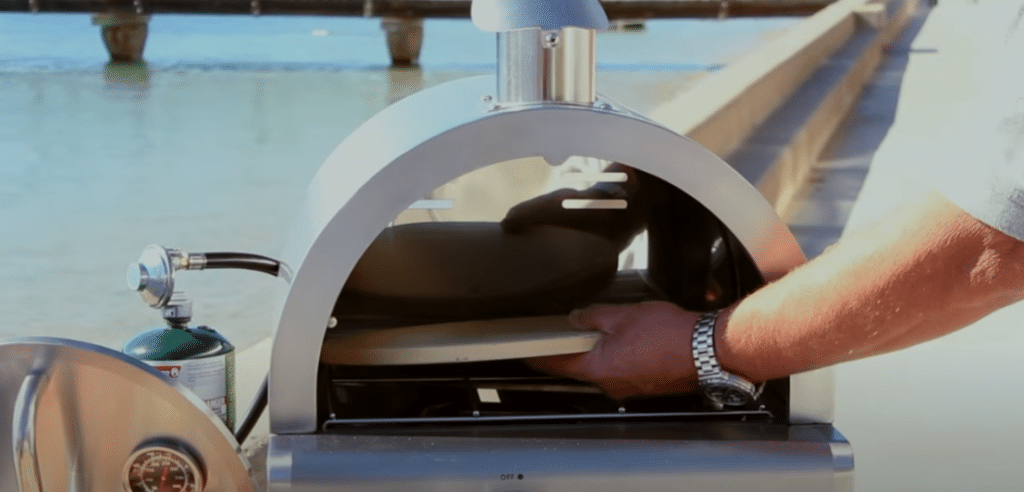 Using the Mont Alpi
The Mont Alpi is straightforward to use. You just follow the instructions handily inscribed on the front of the oven:
Turn on the gas bottle
Twist the control knob too high to ignite the gas
Control the temperature by turning the knob between high to low 
Watch the temperature gauge on the oven door to see when the oven reaches your desired temperature 
Slide the pizza into the oven using a pizza peel for ease
Close the door and bake 
Cleaning The Mont Alpi Table Top Stove
This is a nice-looking pizza oven, so it stands to reason you'll want to keep it looking good. Luckily, the Mont Alpi is straightforward to clean.
The pizza stone is removable and can be cleaned separately. Then the front door, fat tray, and floor pan are all removable and dishwasher safe. Although if you're using this oven on the road, you can use warm water and dish soap instead. Use soap and water on the rest of the oven too, once the door and trays have been removed.
Extra Tips
After testing the Mont Alpi Table Top Gas Oven, we have a few tips to share that will help you get the most out of your stove.
Always allow the pizza oven to heat up to optimal temperature before placing the pizza inside.
If making multiple pizzas, remove the first, close the door, and allow the oven to heat back up to temperature before placing the second one inside.
If your oven is heating the stone up too quickly, causing the base to cook before the top, consider cooking at a lower heat for a slower but more even bake.
When cleaning your oven, never submerge the pizza stone in water. It will absorb the water, and this can cause it to crack later on. Instead, scrape off burnt food and crumbs and wipe the stone surface with a damp cloth.
What We Think
To summarize, although we love the look of the Mont Alpi pizza oven, we're disappointed that it barely gets above the temperature of home kitchen ovens, 550˚F. We're also not impressed that it doesn't retain heat well enough to cook multiple pizzas quickly.
Ultimately this is a good outdoor version of a domestic oven. It works for cooking various meals in the backyard or on camping and road trips. But because of the low temperatures, we can't say it's great as a pizza oven.
And, if you're looking for a pizza oven that you can also cook more things in, there are other better ovens out there – such as Ooni or Gozney ovens. Those ovens function as outdoor ovens and cook a range of meals, but more importantly, they also make excellent pizza at high temperatures.