OUR RATING OF THE Forno Piombo Santino 60 PIZZA OVEN
The good.
Outstanding insulation and heat retention abilities. It can hold heat for 24 hours!
Looks and performs like a professional-grade oven.
Gets up to temperature in 25-40 minutes and cooks an authentic Neapolitan pizza in 60-90 seconds .
Can reach temperatures of 1000°F/540°C.
Versatile and can bake, roast, broil, seer, and smoke to perfection.
The bad.
Heavy. Once it's placed, you won't be moving it much.
The cost - while not unreasonable at all for the performance - is undeniably expensive for the average person.
This is a larger oven than the usual portable backyard ovens we review. But we couldn't resist the chance to take a look at the Forno Piombo Santino 60, which bridges a gap between the larger portable ovens and a custom-built behemoth. An optional stand with wheels turns this into a versatile oven that can be moved around your patio when needed. This wood-fired backyard pizza oven has all the technology and performance usually associated with professional-grade equipment.
Forno Piombo is an Italian company that began by creating full-sized wood-fired restaurant ovens before branching out into more compact versions. The idea was to make their large-scale, high-end designs available on a domestic level so that excellent pizzas could be made in backyard spaces. The result of this dream is the Santino 60, a classic wood-fired oven small enough for a backyard, powerful enough to create authentic Neapolitan-style pizza, and versatile enough to bake, broil, sear, roast, and grill.
So let's take a look and see if it lives up to expectations.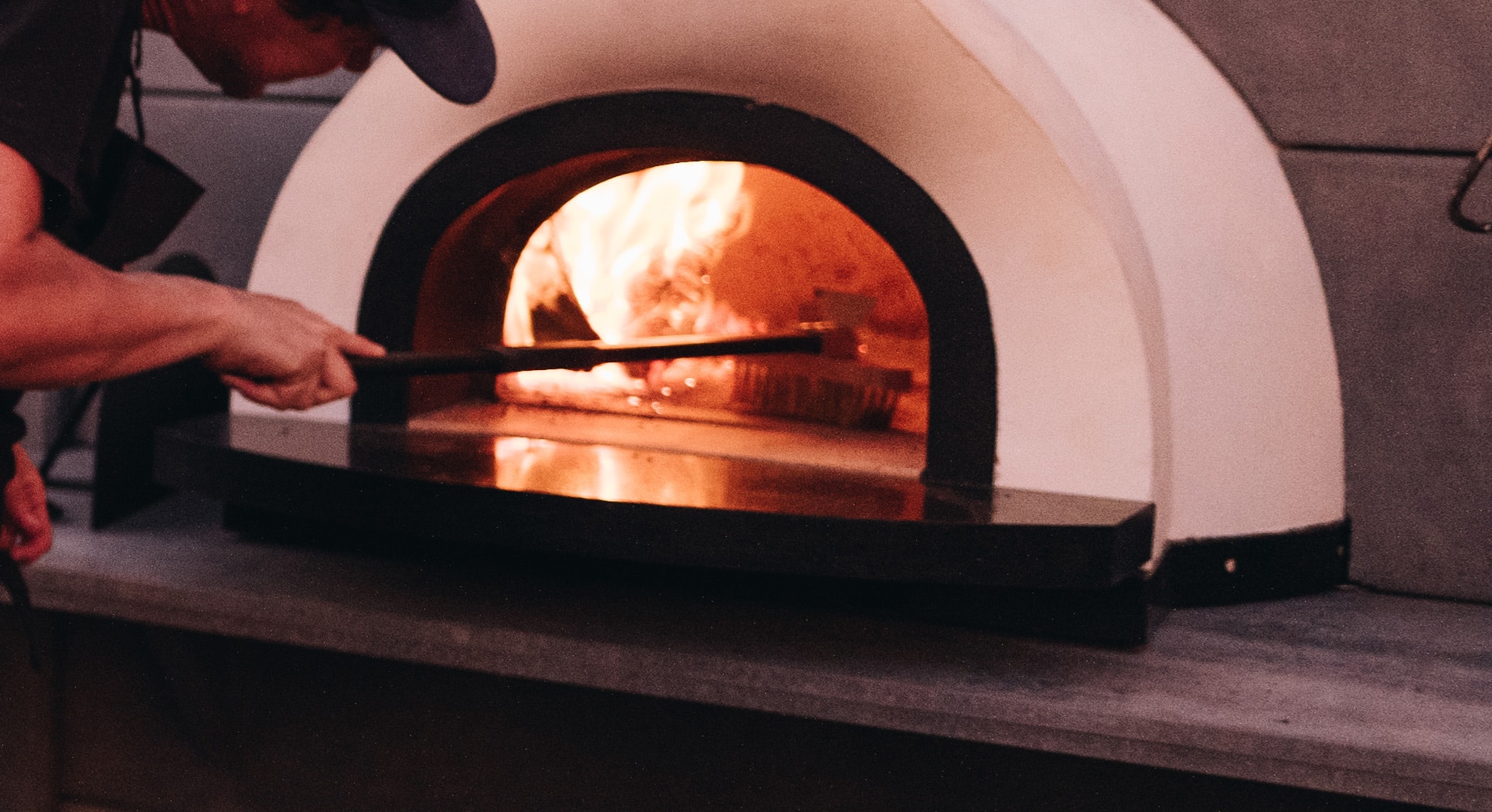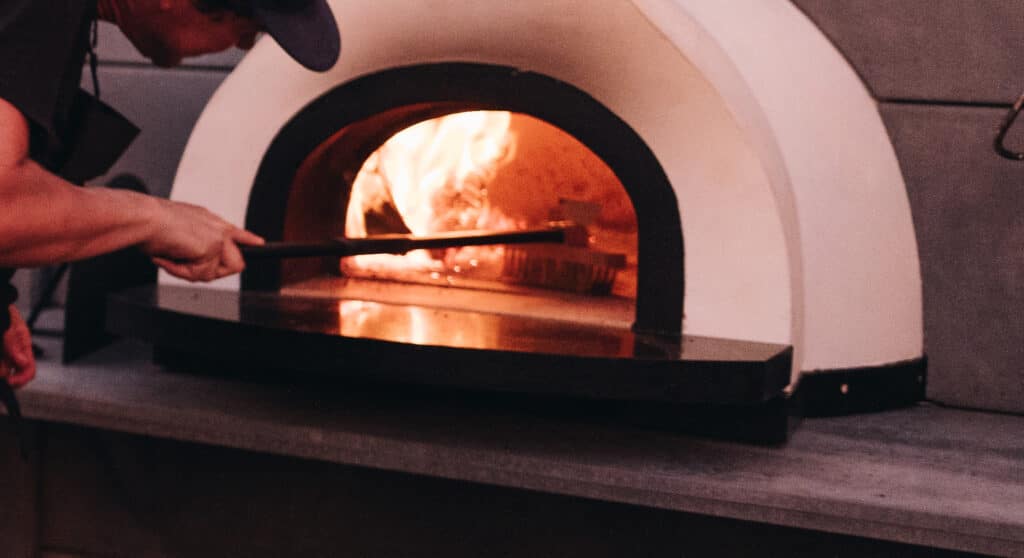 Quick Look
The Good
Outstanding insulation and heat retention abilities. It can hold heat for 24 hours!
Looks and performs like a professional-grade oven.
Gets up to temperature in 25 minutes and cooks an authentic Neapolitan pizza in 60-90 seconds .
Can reach temperatures of 1000°F/540°C.
Versatile and can bake, roast, broil, seer, and smoke to perfection.
The Bad
Heavy. Once it's placed, you won't be moving it much.
The cost – while not unreasonable at all for the performance – is undeniably expensive for the average person.
Assembly
The Santino 60 comes almost completely assembled, the only tricky part is dealing with the weight. At 550lbs/ 250kgs, ideally, you would use a forklift to move it into position. But the people at Forno Piombo, true to their vision of bringing backyard pizza ovens to everyone, are aware that not everyone has access to a forklift, so they have made it possible to move the Santino 60 by hand.
In the box, you'll find handles that screw securely into the base of the oven at the corners, enabling you to lift and move the oven into position.
Aside from that, the assembly is minimal. The domed oven with its firebrick floor comes fully intact, you only need to slot the oven door and stainless steel chimney into place. If you also purchased the shelf, it simply hooks into slots into two grooves at the front of the oven.
The stand comes flat packed and requires the most assembly out of all the parts. However, once its constructed and you've heaved the oven into position, the two can be bolted securely together for safety.
Design and Features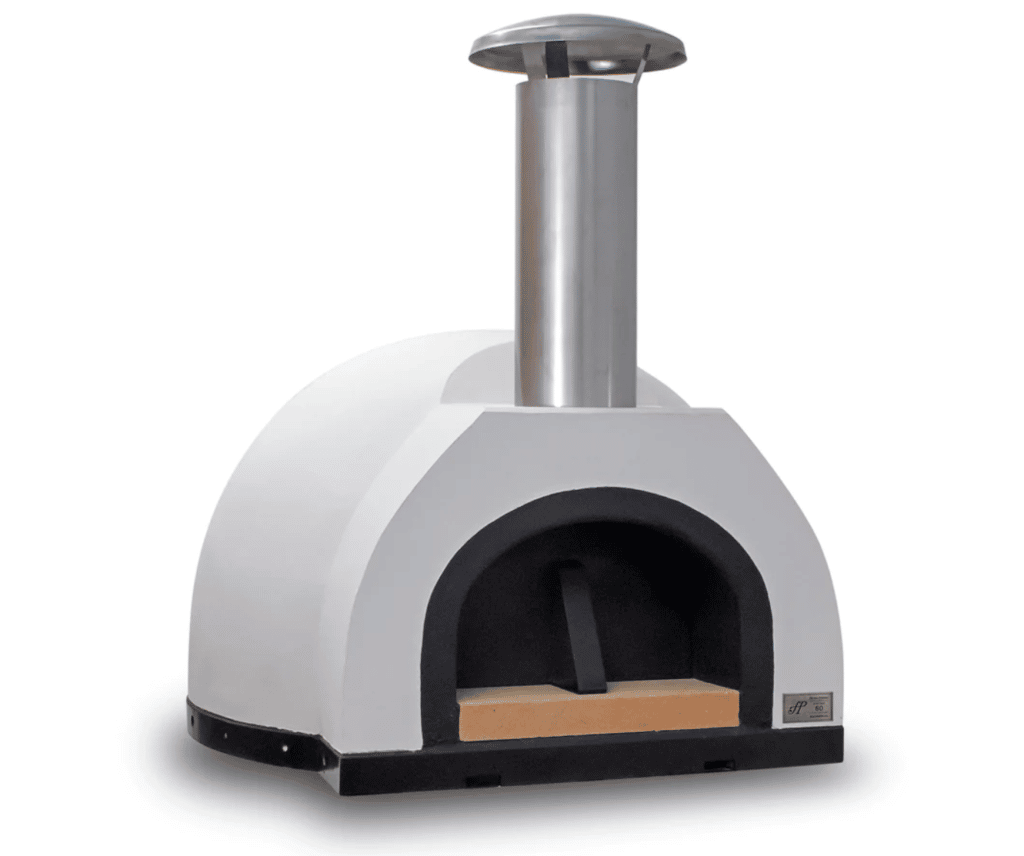 Appearance
This oven is an attractive product that sticks to the shape and design of a classic brick oven. There's no trace of the stainless steel or shiny chrome we get on smaller portable outdoor ovens. Instead, the Forno Piombo comes with a smooth pale clay dome and a mat black door, black shelf, and stand. The oven is available in three colors: white, silver grey, or Adobe – a soft yellow that will appeal to customers wanting to compliment a Tuscan-style backyard kitchen.
The oven has been finished to a high standard, and you won't find any rough edges or jarring elements here. The pieces slot together smoothly and securely, and the whole thing has a durable, high-quality feel.
You can mount the oven permanently in a backyard kitchen or on a BBQ island or table. Alternatively, purchase the custom stand, which bolts securely to the oven, and has a handy wood storage shelf and wheels for easy maneuverability. This would allow you to wheel the oven away from storage when not in use.
Materials
Forno Piombo pride themselves on building their ovens according to tried and tested scientific methods that mirror the conditions of professional-grade ovens as closely as possible.
The Santino 60 features a 2.5" thick dome made from durable and efficient refractory materials. The hemispherical dome offers the best possible thermal efficiency and provides a level of insulation not seen in many other backyard ovens.
Rather than using a ceramic or cordierite pizza stone in this oven, the base is made from 2" thick firebrick, perfect for absorbing and retaining heat as you cook pizza after pizza without losing temperature.
The door, shelf, and stand are powder coated to ensure protection against the elements.
Fuel Source
This is a classic wood-fired pizza oven. We recommend using kiln-dried hardwood like oak, maple, or fruitwood for the best results. Check out our detailed article on which woods to use here.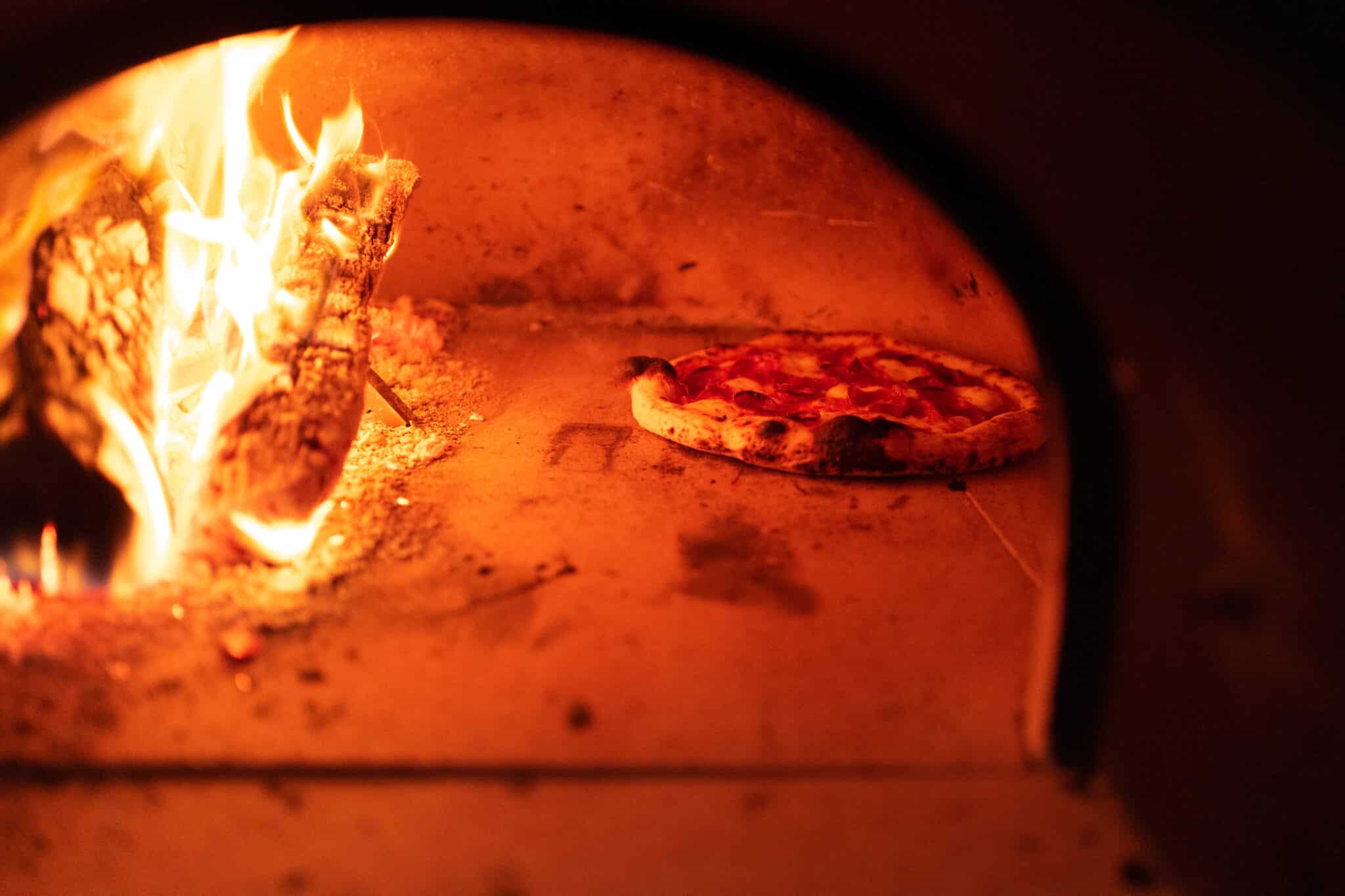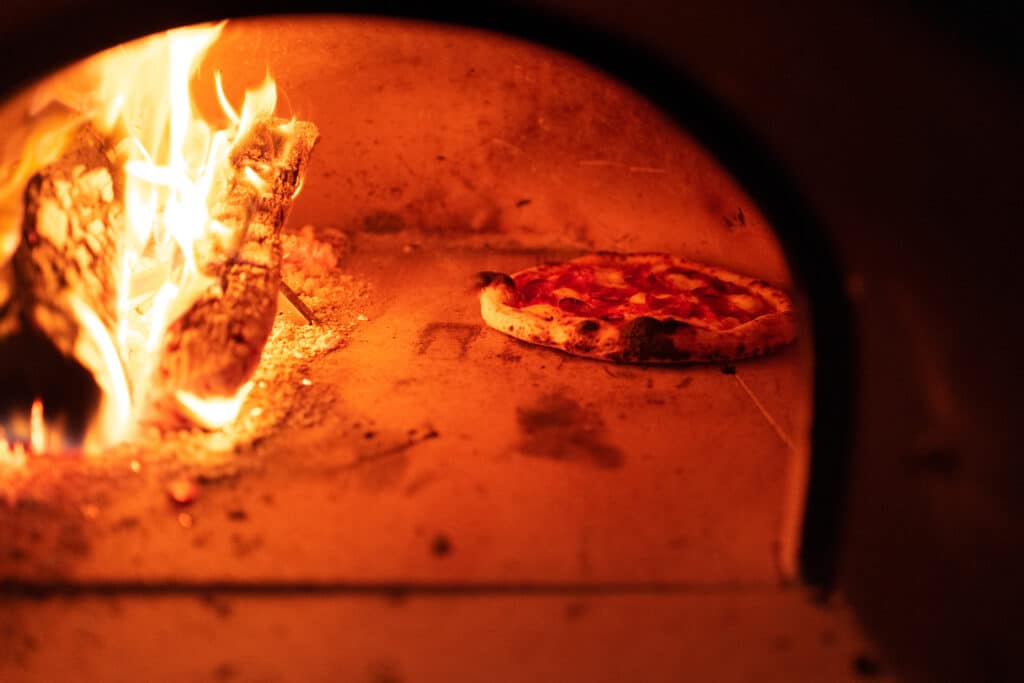 Size
External dimensions: width 34" x length 34" x height 24" – plus 24" for the chimney
Interior dimensions: width 24" x length 29"
Opening dimensions: width 17" x height 9"
Cooking capacity: 16" pizza
Note: the additional shelf adds 12" to the front to back length.
So as you can see, the Santino 60 has excellent cooking capacity. It gives you 24 x 29 inches of room to play with inside the oven. While you do need to remember that this space needs to accommodate the fire too, this still leaves you plenty of room to work with. You can easily cook a 16" pizza and have space to shift it around inside the oven, closer or further from the flames, depending on how fast that crust is coloring up.
It also means you can fit two cast iron pans in at the same time or slide in a roasting tray containing a turkey, side of salmon, or beef joint. So long as it fits through that 17" x 9" doorway, the world is your (baked) oyster.
Weight
550lbs/ 250kgs
Forno Piombo talk a lot about this being an oven for people with limited space. But we should clarify that they mean people who can't fit a full-size, permanent brick oven in their backyard. Because the Santino 60 – while smaller than some ovens – is still a sizable and weighty piece of kit. Especially when you compare it to other large backyard ovens like the Gozney Dome, which weighs 128lbs/58kg, or the Forno Venetzia FVP200R Pronto 200 at 220lbs/100kg.
The reason for the extra weight of the Santino is the high-quality refractory grade materials used and the thick insulation that make this oven such an efficient oven. So we're certainly not complaining about the weight, but it is something to be aware of before purchasing.
Performance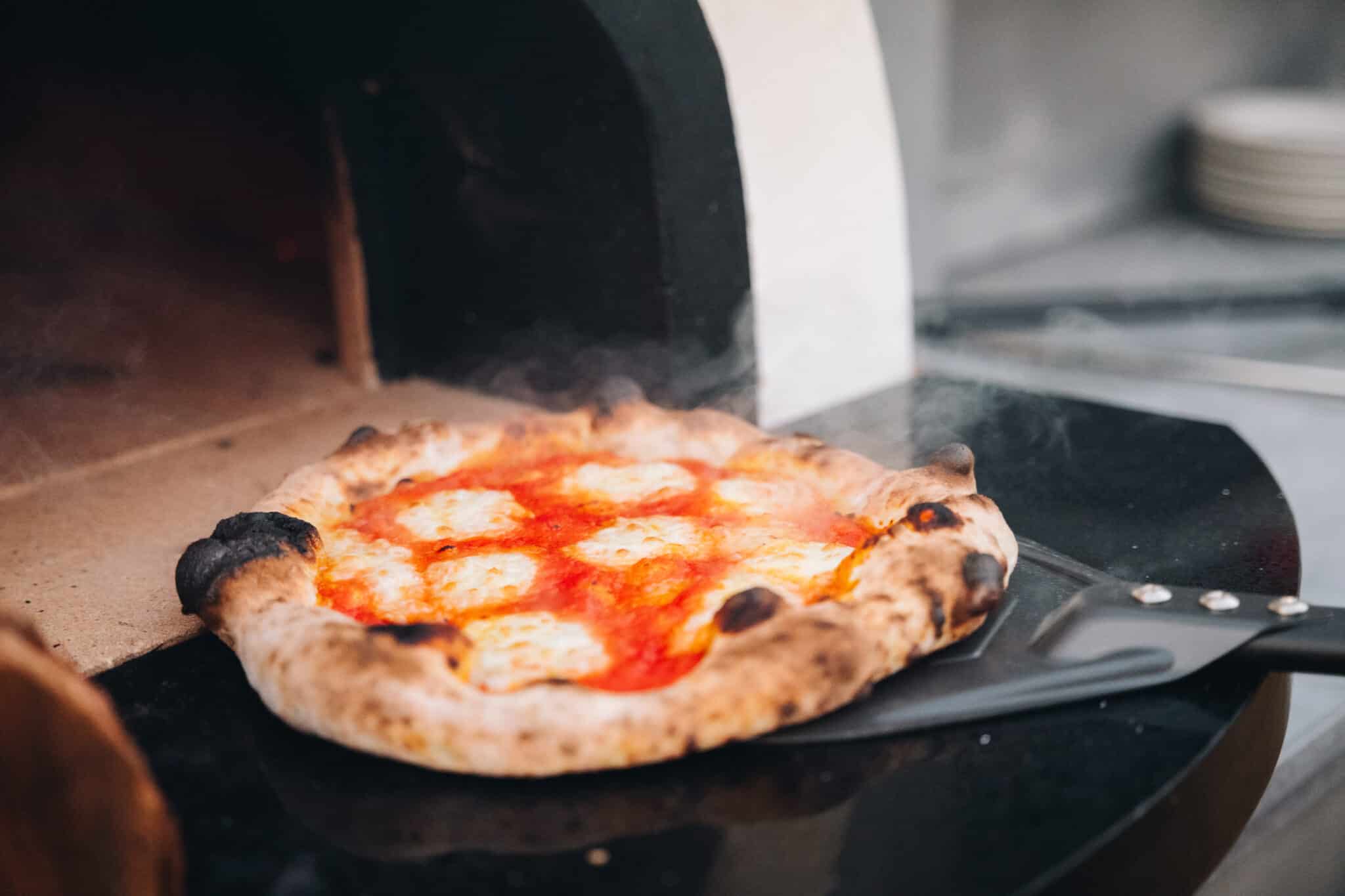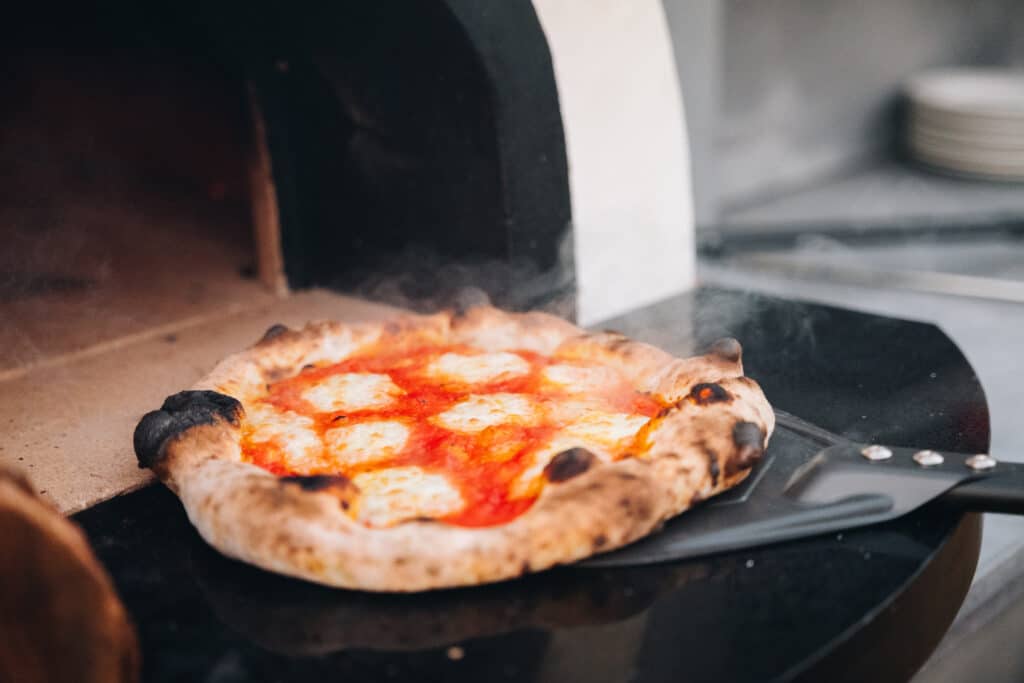 Max Temp and Cooking Time
Max temperature: 1000° F/ 540°C
Preheat time: 25 minutes
Pizza cooking time: 60-90 seconds.
The Santino 60 is a rapid oven. It heats up fast, taking only 25 minutes to get going, can reach a high temperature of 1000° F, and will cook you a Neapolitan-style pizza in 60 – 90 seconds. Plus, it's fantastic at retaining heat, so there's no concern about the temperature dropping between pizzas. In fact, since it can retain heat for 24 hours, you can sling pizzas all day long!
Plus, while the Santino 60 can reach temperatures of 1000°F, it doesn't have to. Once you become an expert at managing that fire, you can cook anywhere between 200-1000° F meaning you can slow roast and bake more delicate items like bread and pastries.
Tip: this oven does not come with a built-in temperature gauge, so you will need to pick up a digital thermometer to help you keep track of the temperature as you cook. 
Cooking
If you've been cooking with wood for some time, then you'll have no problem getting to grips with the Santino 60. Cooking in this oven couldn't be simpler:
Build and light the fire
Allow the oven minimum 25 minutes to preheat, but 40 is typically preferred
Shift your fire to the side
Launch your pizza
Turn it as needed to ensure an even bake
Remove, slice, and enjoy!
Continue cooking pizza after pizza for as long as you've got wood and an appetite.
If you're inexperienced with wood-fired cooking, then the process will take some getting used to, as you'll need to learn how to build and maintain the perfect fire and get used to the timings involved with cooking the perfect pizza. But the learning curve of wood-fired cooking is all part of the fun!
If you need some help, Forno Piombo have a bunch of recipes, videos and tips on their website and YouTube channel to help you create the best possible pizza and other dishes and get the most out of your oven.
Top Tip: If you've checked your pizza and found that the base has cooked perfectly before the topping has had a chance to brown to your liking, simply slide in your pizza peel and lift the pizza up to the top of the oven. Since the heat collects at the dome, this will give the toppings a chance to get a last cook while stopping the base from getting over cooked.
Clean Up
Unlike smaller, portable ovens, the Santino 60 doesn't have a removable dome or a ceramic pizza stone that you can remove and clean. Instead, you'll need to clean it while it's intact.
Allow the oven to cool down completely.
Use an ash rake to scrape out the remains of the fire.
Use a stiff-bristled oven brush to sweep away the ash and scrape off any dough, flour, or toppings that dripped onto your oven base during cooking.
Sweep the mess into an ash bin and dispose of them safely.
Wipe the oven base with a damp – but not wet – cloth, ensuring not to re-light a fire until the surface has fully dried.
You need not do anything more, as any remaining grease or ash will burn off the next time you fire up the oven. If you need to clean the outside of the oven, you can do so with a damp cloth.
Price
At full price, the Santino 60 is $2750, and $3100 with the additional shelf and stand. However, at the time of writing, the Forno Piombo website had dropped the price to $2550 or $2900 with accessories.
We cannot pretend that that's not a lot of money, even with the reduction. But given the technology and materials used and the high heat, rapid cooking times, and impressive heat retention -not to mention the delicious pizza results – we do think it's reasonably priced.
The stand is well-designed and fits the oven nicely, so we don't mind the $175 price tag, especially when the Gozney Dome stand is $300. But, if we had to be picky, we'd say that $175 for the add-on shelf seems pretty steep. But as issues go, it's not a big one.
In addition, Forno Piombo is a reliable company with a proven track record of excellent customer service. They offer a 2-year warranty on the Santino 60 plus immediate, no-cost replacement of any defective parts, which goes a little way to take the sting out of the price tag.
Conclusion
All in all, the Forno Piombo Santino 60 is a fantastic high-end pick for a true wood-fired oven. It's fast, hot, versatile, and durable and is ideal for anyone who can't stretch to a full-sized brick oven but wants to get a true authentic Neapolitan pizza experience. The Santino 60 oven ranks at the top of our list of high-end wood-fired pizza ovens.