Camp Chef has a great lineup of portable cooking products that are tailormade for camping. So what in the world were they thinking when they made this pizza oven?
If you follow my pizza oven reviews, you'll know I don't usually come out of the gate negatively like that. But this bulky unit is anything but portable, costs a decent penny at $399, and underperforms ovens that are half the cost (Pizzello Forte).
I first reviewed the original Camp Chef pizza oven two years ago, which also fell flat in my rankings. Since this new model is marketed to reach 900 degrees, I thought they would have improved on the design.
But they did not, and I plan on showing you exactly why. In this review, I'll unbox the oven and test both New York style and Neapolitan pizzas.
Not interested in reading? Here's the takeaway: Camp Chef pizza ovens have a lackluster design with a severe lack of overhead heat. These budget pizza ovens performed way better.
Unboxing & Setup
I just picked up this brand new Camp Chef Artisan pizza oven off of Facebook. This one happens to be a Snap-On branded one, so it has a few customizations including a black shell, but the performance is exactly the same.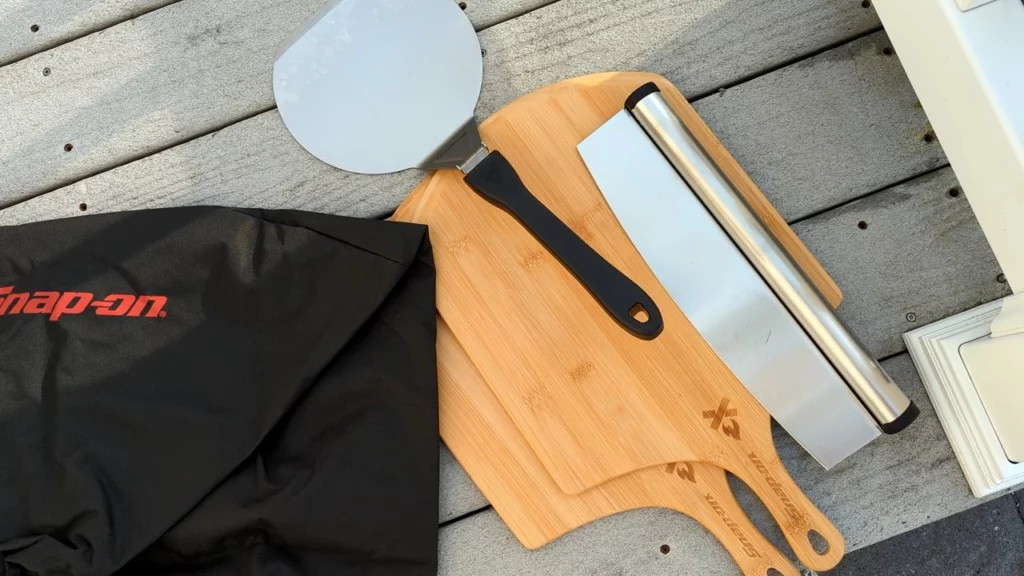 My box included the accessory kit and cover, which adds on another $100. The peels seem a bit small for the size of the oven, but good quality.
Setup includes attaching the thermometer, front shelf, door handle, and your choice of propane tank adapters (1lb camping tank or 20lb). But there were a few hiccups along the way.
The Problems
To start, my box only had one screw for the handle. I found one in my garage that fit, so no big deal. But then I noticed a piece of plastic in the back of the oven, which ended up belonging to the area behind the burner control. Interestingly enough, this appears to be a Snap-On customization, as this piece is not on the normal model. Not sure how it ended up inside the oven though.
Then I noticed the wire rack for the pizza stone was shoved underneath (it's supposed to sit on top of the side ledges). With enough pulling, I was able to get it free, but now the wire rack just barely fits on the ledge. It's like it needs to be a quarter inch wider. I was afraid that the weight of the stone would make it fall, but so far it's holding fine.
Design
The pizza stone has a really solid thickness, better than most pizza ovens under $400. And I really like how the front ledge becomes an extension of the stone. It's perfectly level with it so launching pizzas will be great. But I don't understand the size at all. 13" deep by 20" wide means you can still only make a 13" pizza. The extra width not only seems like a waste of space to heat up, but also decreases its portability.
Performance
The burners produce a tight blue flame under the left and right sides of the stone, and the oven heated up fairly quickly thanks to the door. Honestly, I was very surprised to see this oven reach above 900F without a problem. Sure, the box says it will – but a lot of manufacturers claim temps that are unrealistic under normal circumstances.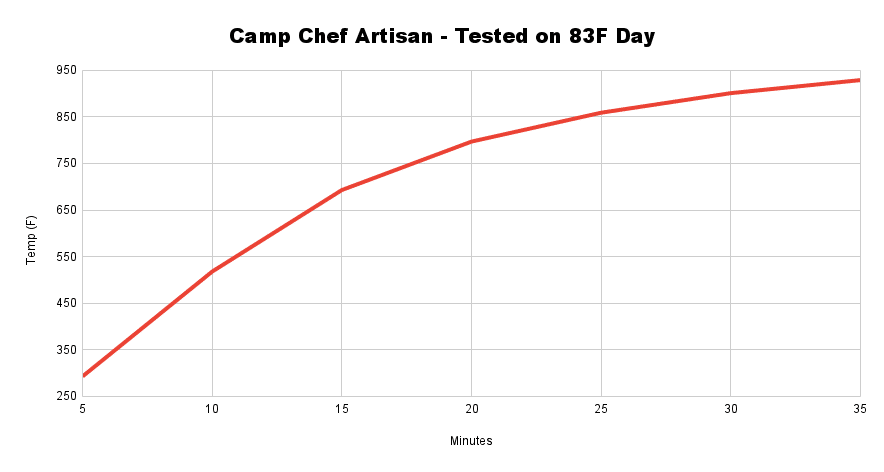 Even though I did test this on a very warm day, I don't think anyone will have trouble reaching this temperature.
The problem that I later realized is… cooking at these temperatures is awful due to a poor oven design (more to come on this soon).
Pizza Test – NY Style
I launched my first New York style when the stone temp read 761 degrees Fahrenheit. A bit hot for this style of pizza, but my Ooni ovens can get a great char on the crust at this heat level, so I figured I'd give it a shot.
But the Camp Chef severely lacks top heat. The bottom cooked way faster than the top. The pizza was still salvageable by holding it up toward the roof of the oven for another 2 minutes. 550 degrees ended up being a way better cooking temperature, but still lacked the top-down heat that good pizza ovens should offer.
Pizza Test – Neapolitan
Neapolitan was absolutely abysmal. That's about all there is to say.
Sure, the oven reached over 900 degrees before I launched, which is a great characteristic of good pizza ovens, but only the bottom of the pizza cooks.
It raises the question – why would anyone buy this? The temperature range between 600-900 degrees chars the bottom too quickly, regardless of pizza style, and the sub-600 temps bake very similar to a home oven. Yet, the 20" width, lack of handles, and 47 lb weight makes this less than desirable to take camping. And at the $400 price mark, you're at – or just below – the price of an Ooni Koda, Gozney Roccbox, or Halo Versa, all of which offer more features, better portability, and most importantly, completely outperform this oven. Check out my reviews of those ovens below.