Sometimes, a small, convenient little pizza oven is exactly what you need. We don't all have a huge backyard (or bank account) for a massive, built-in pizza oven! If you are looking for something small yet very effective, the Pizzeria Pronto Outdoor pizza oven by PizzaCraft fits the bill. This product hits all the marks that you want in a pizza oven. Let's take a look!
PizzaCraft Pizzeria Pronto Overview
This small pizza oven is completely portable and is safe to use on any surface. You can put it outside on the ground or up on a picnic table- either will work! You can even pack it in your car to bring with you on your next camping adventure or to set up at a tailgating party. Fresh pizza has never been so accessible.
The oven is also very easy to set up and use. It hooks up to a propane tank, preheats for a few minutes and it is ready to go. The Pizzacraft oven will reach over 700 degrees F and can cook a fresh pizza in about 5 minutes. It can also work as an outdoor oven to cook other foods, making the oven a multipurpose investment.
The Pizzeria Pronto comes with the 14 inch round baking stones that slide right into the oven. The stones are made with exclusive ThermaBond technology to evenly distribute the heat within the oven, cooking your pizza to perfection. There is also a heat containing visor and reflective plate that helps decrease the pizza cooking time even more. If you are interested in more accessories, Pizzacraft has many compatible accessories for the Pizzeria Pronto.
Design
There is a lot of power packed into this small pizza oven thanks to the efficient design. Here are a few of the highlights that you may want to consider.
Fuel Type
The Pizzeria Pronto uses propane fuel to heat the oven. A one-pound propane tank can be hooked up to the pizza oven quickly. It is easy to refill or switch the fuel tank when needed.
Usability and Appearance
While the Pizzeria Pronto is not quite as sexy as other pizza ovens (think the Ooni and Rocccbox ovens), it is still a very classic and functional design. The oven is shorter and perfectly round. The dome on top is sleek looking and also keeps the heat close to the top of the pizza. The vented top is practical while the short legs on the oven keep it away from the ground, making it safe to use on any surface.
The Pizzeria Pronto does not have any frills or extras in its design. It is made to cook a perfect pizza and that is it. However, that is all you need! The easy to use dial on the front of the oven controls the temperature well and is very user friendly.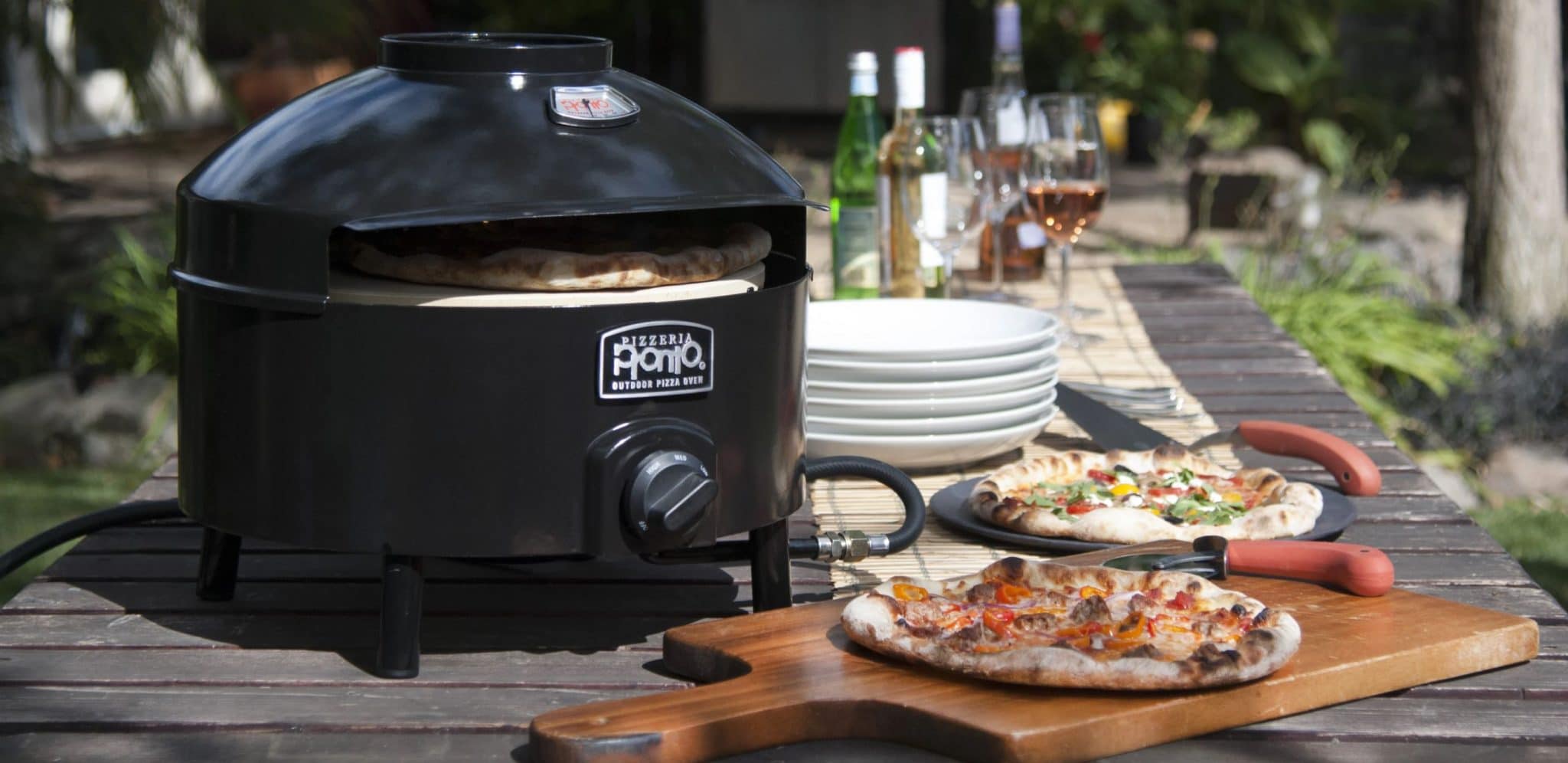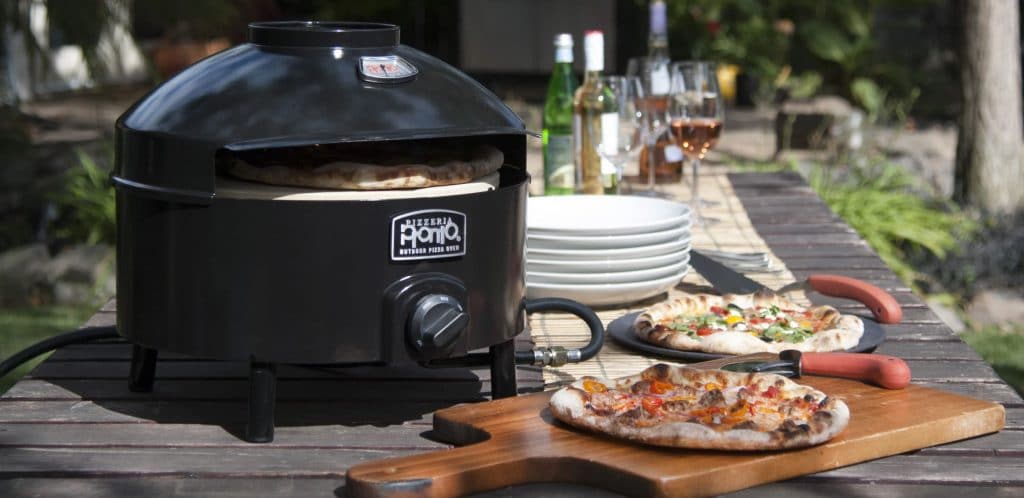 Size and Weight
As we mentioned before, the Pizzeria Pronto is a compact and portable oven. It weighs only 27.5 pounds so you can easily move it around. The oven is about 18" around and 15.5" tall. You can easily store it in a large cabinet or throw it in your car to bring on your next road trip.
Features
Now it is time to get into a little more detain about this small pizza oven. We have chosen the best features about this pizza oven and laid them out for you to assess. Hopefully, this makes it easy to compare the Pizzeria Pronto to other pizza oven you may be looking into purchasing.
BTU's and Max Heat
The Pizzacraft Pizzeria Pronto can get up to 700 degrees F. There is a small thermometer on the front of the oven so you can easily see the internal temperature of the oven. The propane burner packs about 14,500 BTU's to power the oven quite easily. One small propane tank will last about 2 hours of continuous use. Seeing as a pizza cooks in 5 minutes (minus preheat time), one pound of propane will last you quite a while!
Preheat Time
Turn the Pizzeria Pronto to high heat and it will preheat in just 10 minutes. You can be cooking your pizza in no time! That is even faster than most home kitchen ovens.
Largest Pizza Size
While the pizza oven itself may be 18 inches wide, the largest pizza you will be able to cook is a 14" pizza. This is the exact size of the pizza stones included with the oven. You can make smaller individually sized pizzas of course but any larger will not quite fit!
Accessories
There are many accessories that are compatible with the Pizzacraft Pizzeria Pronto pizza oven. Pizzacraft sells an aluminum deep dish pan with a splatter screen that you can use to cook or sauté other foods using the pizza oven. Simply remove the domed extender top and you have a nice hot cooking surface to use!
You can purchase a small pizza peel to make inserting and removing the pizza nice and easy. A grill brush also comes in the set with the pizza peel for easy oven cleaning. The oven leg extender kit will raise the pizza oven up higher and give you a place to put a larger propane tank. There is also a rain cover and a tote to help protect the oven. The warming rack, rotating pizza stone, wok and wood smoker will all make your Pizzeria Pronto even more versatile.
Assembly and First Pizza Cook
Once you get your Pizzacraft Pizzeria Pronto delivered, what's next? You will need to do a little assembly before using your pizza oven. However, the whole set up process only takes about 20 minutes and then you can start cooking!
To begin, remove the oven safety caps that protected the oven during shipping. Insert the oven legs and then attach them using the provided hardware. You will need a Philips head screwdriver for this step. Turn the oven upside-down and attached the gas insert assembly. Screw the gas line onto the oven as directed in the manual (you'll need that screwdriver again!). Connect the starter wire to the starter posts and attach the knob.
Place the completely flat stone in the pizza oven and then place the second stone with the teeth on top of the first. Attach the pizza oven top, lining the tabs up in front and in back. Attach the gas line to a standard propane tank and you are ready to light your oven! Let it preheat for at least 10 minutes before cooking your first pizza.
The instructions are clearly laid out in the manual which comes with the pizza oven. You can also find many how-to videos online that will walk you through the easy set up. Once your Pizzeria Pronto is assembled, you can keep it together forever! Bring it inside to protect the oven, use the included rain cover or consider buying a full plastic cover to really keep your oven like new.
What We Love
We are big fans of the Pizzacraft Pizzeria Pronto but here are the things that we love the most:
Quick heating time
Fast cooking time
Economical price
Versatility (works as an outdoor oven/grill)
Easy to assemble and start using
Portability
Propane Based
Small, compact size
Overall, there is a lot to love about the Pizzeria Pronto. It may be a more simple oven but that is one of the things to love- simplicity can be great! Keep all of these positives in mind when considering a Pizzeria Pronto.
What Could Be Improved
Not all pizza ovens are perfect. Of course, the Pizzeria Pronto has a few things that could be improved upon. Here are the things that we wish were tweaked or changed to make this oven even better:
Include more accessories- Pizzacraft sells a wind door for the Pizzeria Pronto but, if this is necessary, shouldn't it come with the original oven?
A better carrier- If the oven is marketed as extremely portable, we'd like to see it come with carrier or maybe be a little bit lighter. While it is portable, it is a little bulky to carry everywhere.
Improve the manual- many of the assembly instructions have pictures without words which can be a little confusing.
Add a handle to the lid to make it easier to take on and off.
All of these issues are quite small in the grand scheme of the pizza oven. But, we have to be picky! We want to make sure you know all the good and the bad before making your pizza oven purchase!
After reading all about the Pizzacraft Pizzeria Pronto, you are probably pretty intrigued. It is a fantastic pizza oven for anyone who wants to make amazing, perfectly baked pizzas. It is great for those who live in apartments and want to cook restaurant quality pizza on their balcony and it is also great for those who want to make pizza right at their campsite. The Pizzeria Pronto is affordable and has even more uses, helping you cook lots of things with one convenient oven. We think the Pizzeria Pronto is a great pizza making machine and we know you will love it too!