I'm on a kick of reviewing budget-focused pizza ovens to try and see if any can compete with the juggernauts Ooni and Gozney. The Pizzello Forte is a really intriguing choice because not only is it super cheap ($210 at the time of writing this), but it's also multi-fuel, offering both gas and pellets to cook with.
We all know the saying: you get what you pay for. But every now and then, you find one of those products that definitely outperforms its price point (it wasn't the case with the Sam's Club or Home Depot pizza ovens). Could this be the one? The perfect ticket for those who want to try out a portable pizza oven without spending $400-800?
I'm here to answer that question.
In this review, I'll quickly unbox and setup the oven before measuring the temperature in 5 minute increments to test the preheat times (using both fuels). Afterwards, I'll make a few Neapolitan pizzas and see how it performs. Let's dive right into it.
Unboxing & Design
The box is very compact, easily the smallest package out of any pizza oven I tested. Everything is stuffed inside the oven body and, kind of surprisingly, it was all in perfect shape. I say it's surprising because there didn't seem to be nearly as much styrofoam and packing material as other pizza ovens. But then again, this isn't as heavy as most other products.
Inside the box you'll find the following:
Pizzello oven
Gas burner
Gas hose and regulator
Pizza stone
Pizza peel
Wood tray for cooking with pellets
Cover
Manual
The "pizza peel" was hilariously small. it was barely bigger than my pizza turners, measuring in at 9″. I don't know about you, but 11″ is the smallest pizza I'm going to make. So clearly this was a mistake.
Setup
Setup takes some time but is straight forward. You basically need to install a few wooden handles, a bracket for the gas burner, and the chimney. The instructions say that the hood of the chimney should be flush with the rivets on the chimney. But it was impossible to do this since the lock-nut was welded in place. As a result, the hood sits about a half inch above the chimney (hopefully it doesn't let too much heat escape).
What I found interesting is that the manual asks you to actually wash the pizza stone and oven interior with soap and water. Many other companies ask you to heat it up for 30 minutes and then wipe it down once its cooled off – this is to remove any leftover residue from the manufacturing process.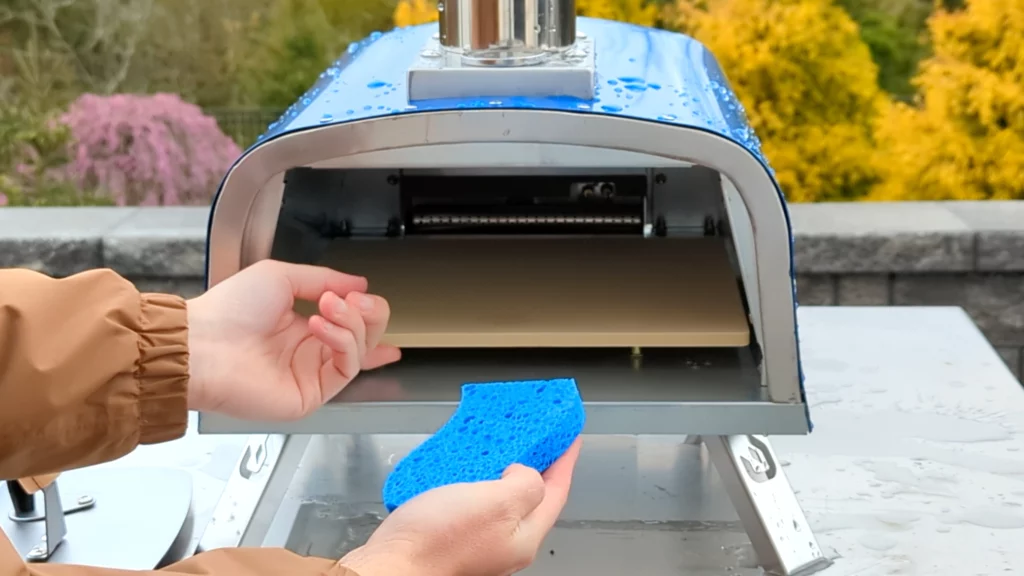 But this is the first time I ever heard of a company asking you to wash it. Again, not difficult to do, but it's common in the industry to never wash pizza stones as any excess moisture left in a stone can crack under the high heat. So if you do follow this step, unfortunately you may need to wait a day or two before using the oven so it has time to fully dry.
While on the subject of instructions/manual, I found it to have some questionable English translations in spots. One thing that I was unsure of, after having read through it, is whether or not it's safe to use the door with the gas burner. Ooni put out a statement asking people to stop using third party door add-ons to the Koda ovens because it was unsafe; however, their Karu lineup can use gas with a door because of proper airflow. The support team at Pizzello responded and said it's fine to use the door with gas.
Oven Design
I honestly kind of like the appearance of this oven because it's not a blatant rip-off of Ooni products like many other budget pizza ovens are doing. However, I do want to point out one (potentially) important thing. The Pizzello oven is a product available on Alibaba – a Chinese technology company that allows anyone to order directly through a manufacturer. This means anyone can slap a logo on this oven and start selling it. But if it works, it works…right?
The oven sports some wooden handles that keep cool to the touch, and a little peephole to check on bake progress. I found it only useful if you are cooking at night; during the daytime, it's too hard to see in there, so I ended up just opening the door.
A flame deflector is located in the back, just behind the pizza stone. Up top, you'll find a built-in thermometer. But like most pizza ovens, it's kind of useless for determining stone temperature – in which case you'll want to pick up an infrared temp gun.
The gas burner screws in through the back in a not-so-stable way. It feels like it's hanging low and it definitely has some movement to it, but hey – we're here to save money.
Enough about looks – let's see if this thing works.
Performance
The flame size could be a bit bigger for my liking, but considering this is a small oven and has a door, I think it should reach decent enough temperatures. Note: Even though Pizzello support said it's safe to use the door with gas, I left the peephole open while preheating just to allow a little extra airflow.
Preheat Test
The following graph shows how the Pizzello Forte gas pizza oven compares to other pizza ovens I tested (all ovens tested on a 55F day, so expect higher numbers in the summer). I always test by pointing the infrared gun at the center of the stone.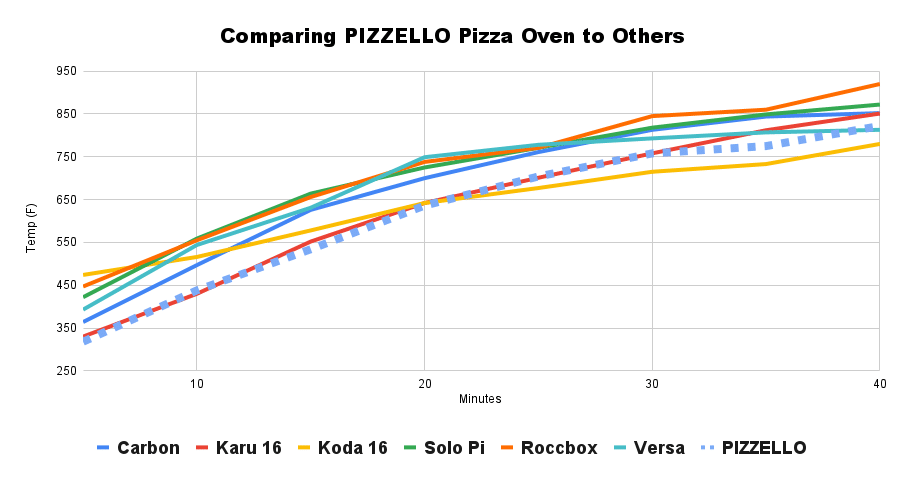 The oven reached adequate temperatures in a slightly below average time (keep in mind – the above ovens are some of my highest rated products). So for a $200 product, not too shabby!
First pizza
I launched my first pizza when the stone temp read 815F and baked it for 1 minute 44 seconds, turning every 20 seconds or so. For the final 20 seconds of the bake, I held the pizza closer to the top because the top crust needed a bit more color.
The results were actually pretty good. It won't get quite as fast of a crust rise that a Roccbox burner can offer, but not bad at all.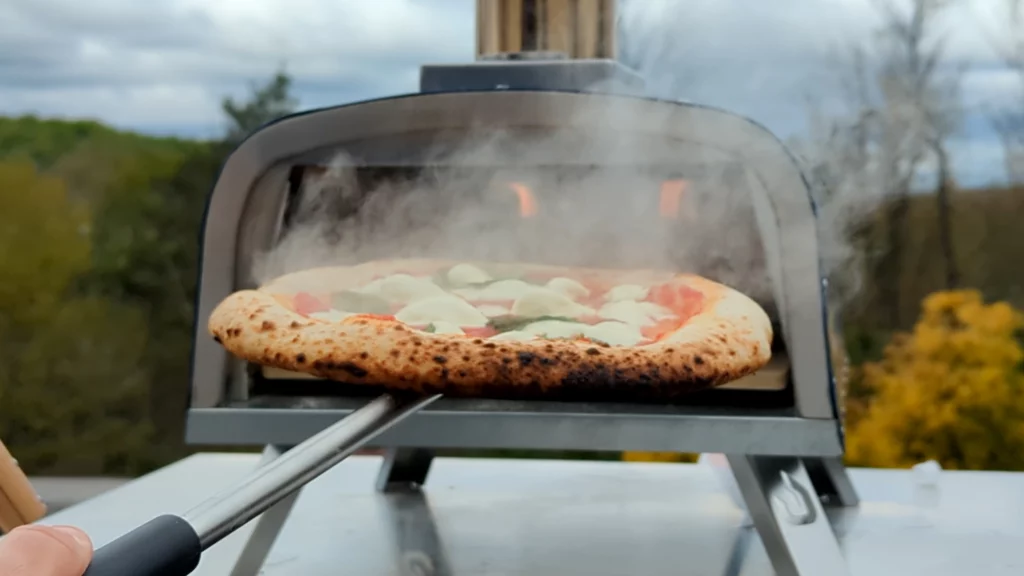 Second pizza
For my second pizza, the stone temp decreased a bit. So I launched this around 780F and ended up needing to bake it for 1 minute 55 seconds. Again, I had to lift the pizza up higher to cook the top a bit more.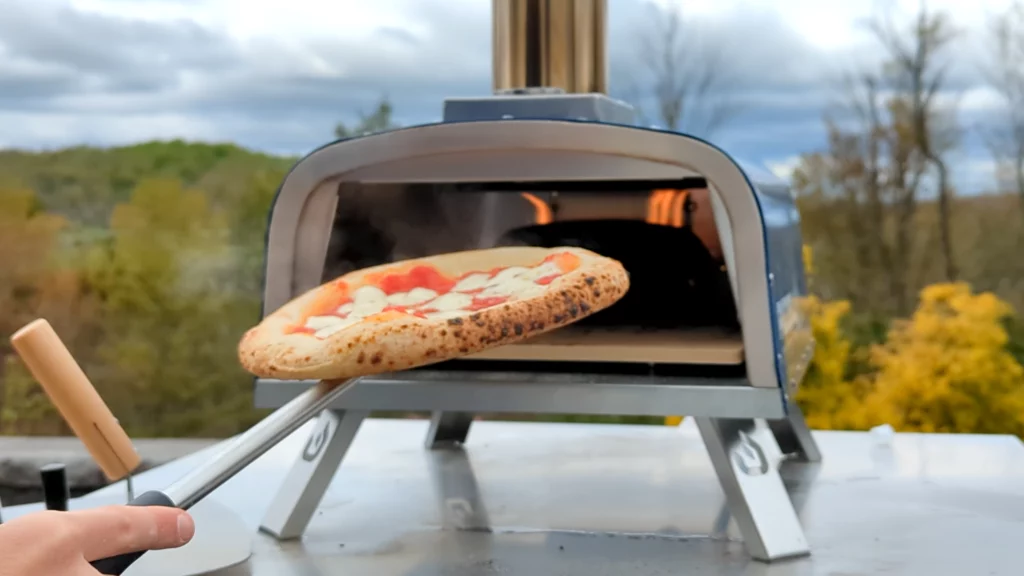 It seems that's the ovens biggest downfall. The flame in the back is a bit weak to get the top color – something that a Gozney Roccbox or Ooni Karu 16 can achieve because of the rolling flame.
Recap
I tend to use the phrase "you get what you pay for" in a negative light. So I won't use that here – because I feel you get a bit more than that considering the $210 price tag. It won't cook the best pizzas, but it will cook very good ones.
However, there were some bad things: the pizza peel being absolutely tiny, the manual could have used some more work, and the burner assembly seemed very loosely attached.
I think this is a solid option for those who are still a bit leery about entering into the pizza-making world and don't want to shell out $400-$800 for a better product.