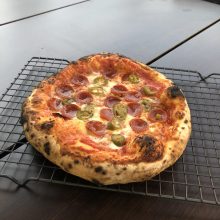 Pepperoni and Pickled Jalapeno Pizza
Crank up the heat on a classic pepperoni with some pickled jalapenos. While fresh jalapenos provide an excellent crunch, the pickled peppers bring an added kick that matches well with pepperoni.
Print
Pin
Rate
Follow my pizza journey
Ingredients
330

g

Neapolitan pizza dough

3-4

oz

basic pizza sauce

A homemade sauce from a can of high-quality San Marzano whole tomatoes is really simple; just puree and add salt!

6

oz

shredded whole milk mozzarella

If using pre-shredded cheese, RINSE the cornstarch off and dry before using. This will create a much better cheese melt.

1

pinch

Parmigiano-Reggiano
Additional Toppings
Pepperoni

Pickled jalapeno

sliced
Instructions
Flatten and stretch dough into 14" pies.

Prepare your pizza by ladling sauce onto stretched dough and then sprinkling Parmigiano-Reggiano. Starting from the outside and moving inward, spread a light even layer of mozzarella. Top with a layer of pepperoni and jalapenos (to taste).

Preheat your Ooni (or other outdoor pizza oven) for 30 minutes. The oven should reach near 900F in this time. Using a pizza peel, place pizza in oven and cook for 2 minutes (+/- 30 seconds depending on color) rotating as needed.

Remove pizza from oven and place on wire rack to cool for 2 minutes before slicing.
Notes
This is a Neapolitan recipe that uses 00 flour, so high heat is a must; home ovens are insufficient. Be sure to preheat an outdoor pizza oven to 900F before cooking. If you only have a home oven and pizza steel/stone, check out our NY Style recipe which works great with this.