Ooni's growing grocery lineup now contains some pretty serious pizza-making options. From world-renowned Caputo flours to Graza oils and Bianco DiNapoli tomatoes (seriously some of the best in the world – and it comes from California?!), they have everything you need in order to make pizzas sourced from the best ingredients in the world.
But Ooni also quietly released a few of their own products including cup n char pepperoni (I'll be making a post about this soon; spoiler: it's excellent) and two ready-to-mix doughs.
Last year, Ooni released frozen Neapolitan dough balls which were a bit pricey largely because of cold-pack shipping. Moreover, frozen doughs tend to have subpar results compared to fresh.
So now Ooni offers a Neapolitan dough mix that just needs water, and New York style dough mix which needs water and a small bit of olive oil.
In this review, I'll test out both dough mixes and do some rough math on the cost of ingredients to see if these are worth buying. Let's do it.
Preface: Understanding the Ingredients
Knowing the hydration percentage of a dough is important. This changes the texture and crumb structure of the final pizza crust and allows you to fine-tune a dough recipe to your tastes. But another important reason, especially for those who might be newer to pizza making, is workability. High-hydration doughs are more difficult to work with because they can be very sticky.
Unfortunately the boxes didn't state the exact final dough hydration. I emailed Ooni, and their support team said the following:
Based on the information I have I have close estimate of about 59% for the Neapolitan dough and about 56% for the New York dough.
However, I can assure you that after using the Neapolitan dough, there's no way that's true. The final dough is quite tacky which leads me to believe it's more like 65% – 67%.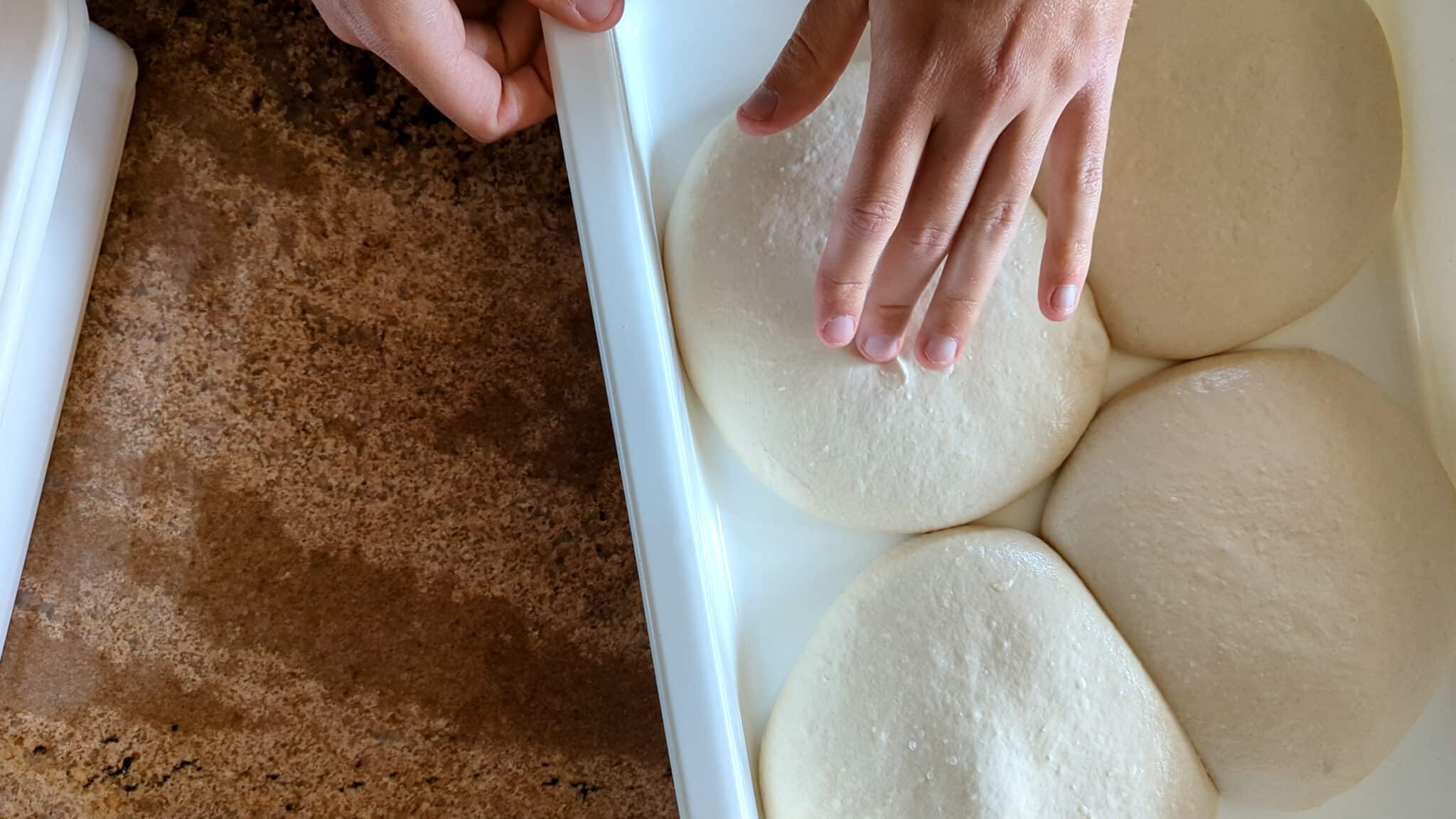 We can find a rough estimate by assuming the amount of salt/yeast/sugars added, since I weighed the total dry mixture weight and know how much water to add (per the instructions). Here is my rough calculation:
Neapolitan
Dry mixture weight: 680g
Assuming 3% salt and .2% ADY, we subtract ~22g to get a flour weight of 658g.
440g water (per instructions) divided by 658g flour = 67% hydration
New York
Dry mixture weight: 685g
Assuming 3% salt, .2% ADY, and 8g sugar, we subtract ~31g to get a flour weight of 654g.
410g water (per instructions) divided by 662g flour = 63% hydration
With this information, if you find yourself having a difficult time handling sticky doughs, you can cut back the water a bit. But let's cook with it first and see how it does.
Testing Ooni Neapolitan Dough Mix
I followed the directions exactly, which has you cold proof the dough in bulk. The next day, divide it into 4 and proof at room temperature for 2 hours.
The dough was very relaxed and easy to overstretch, so be very careful lifting it out of your proofing container. You'll want to place it directly into the provided semolina flour. Stretch it out and make sure to shimmy it on your peel a bit so it doesn't stick.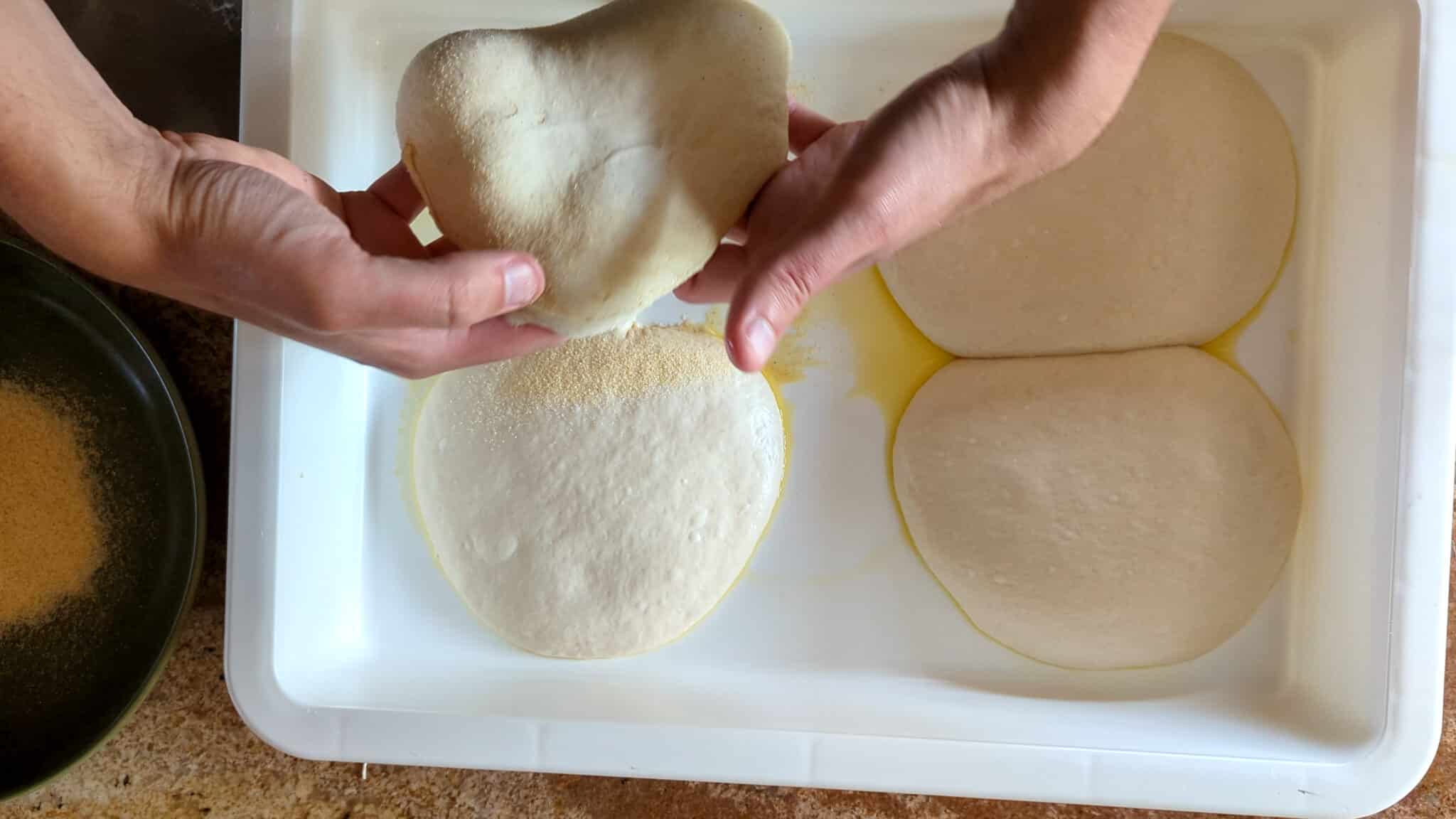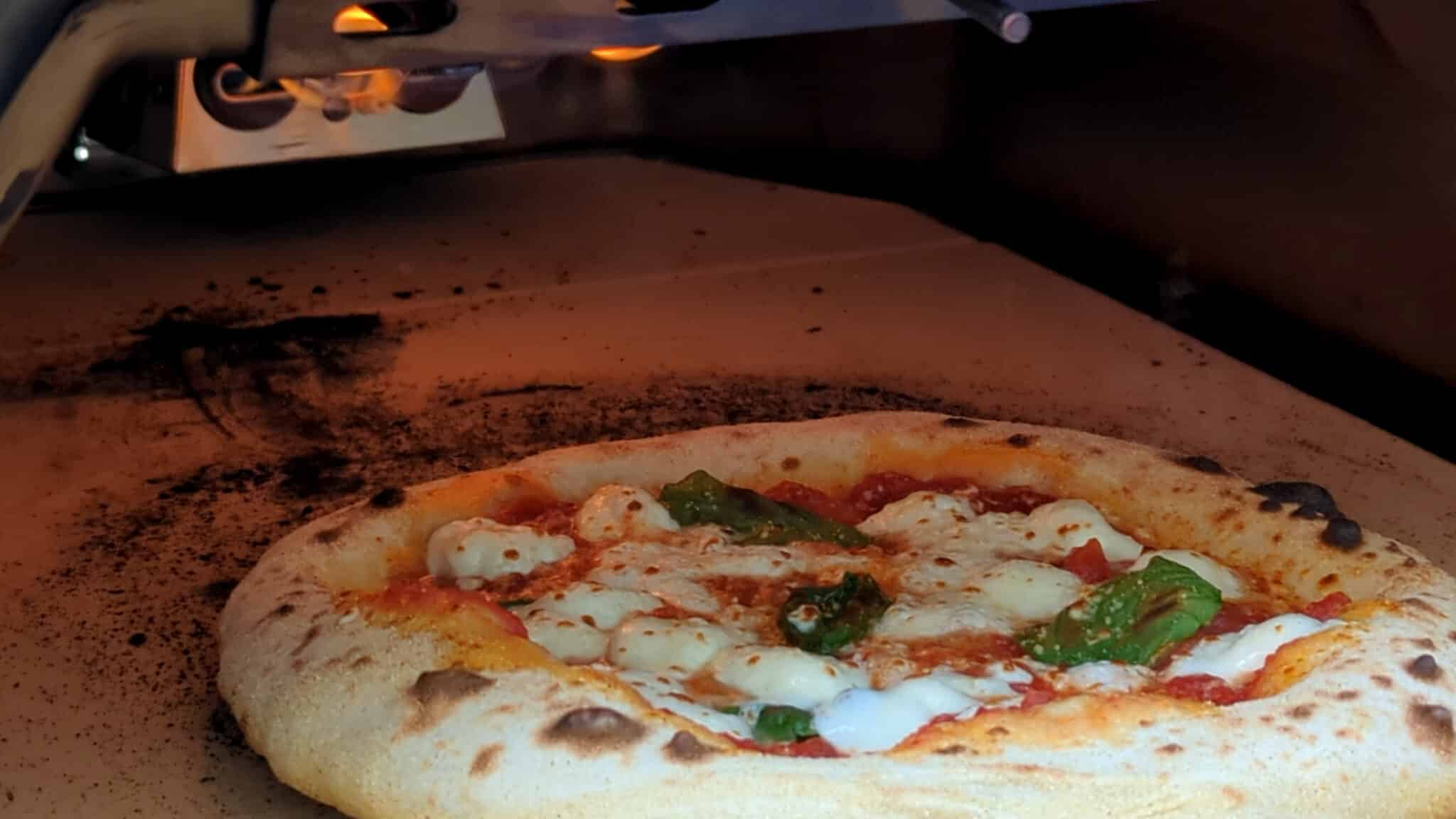 The first bake was awesome, but I didn't like the coarse semolina. Since the dough was pretty wet, you have to use a lot of it.
So this time, I'm going to use a 50/50 mix of semolina and double-zero flour. This provides the same non-stick benefits without overdoing it with semolina.
This was an incredible pizza. A really soft, airy crust. A perfectly charred bottom. Melted, but not overcooked cheese.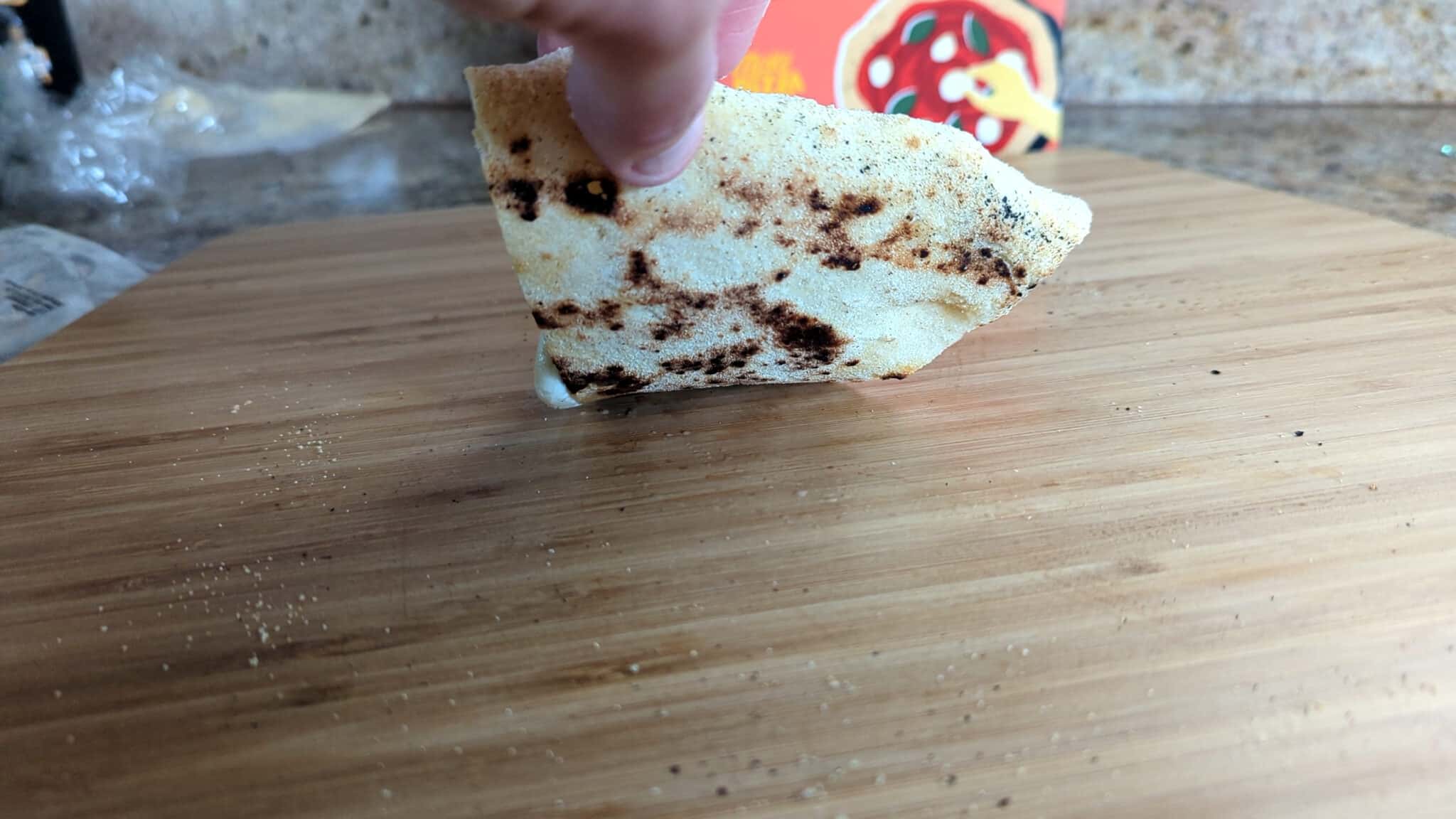 If you want an easier dough to work with, decrease the water by 20 grams, which is ~63-64% hydration.
The Neapolitan results are as good as buying Caputo blue and doing it yourself. But before we talk cost, let's test out the New York style.
Testing Ooni New York Style Dough Mix
The directions are pretty much the same for this one, with the addition of 10grams of olive oil. It still suggests cutting this into 4 12" pizzas, but I'm all about those 16" New Yorks. So I ditched that idea and made two 425g doughballs which left enough leftover for one small 12".
This dough is also really easy to stretch, but not quite as delicate as the Neapolitan. I made a plain pie for my first attempt, and baked it around 650 degrees. The dough shrunk up a bit when launching, which tends to happen with larger pizzas. But the final result was great. Solid coloring on the bottom and a crispy yet slightly chewy bite.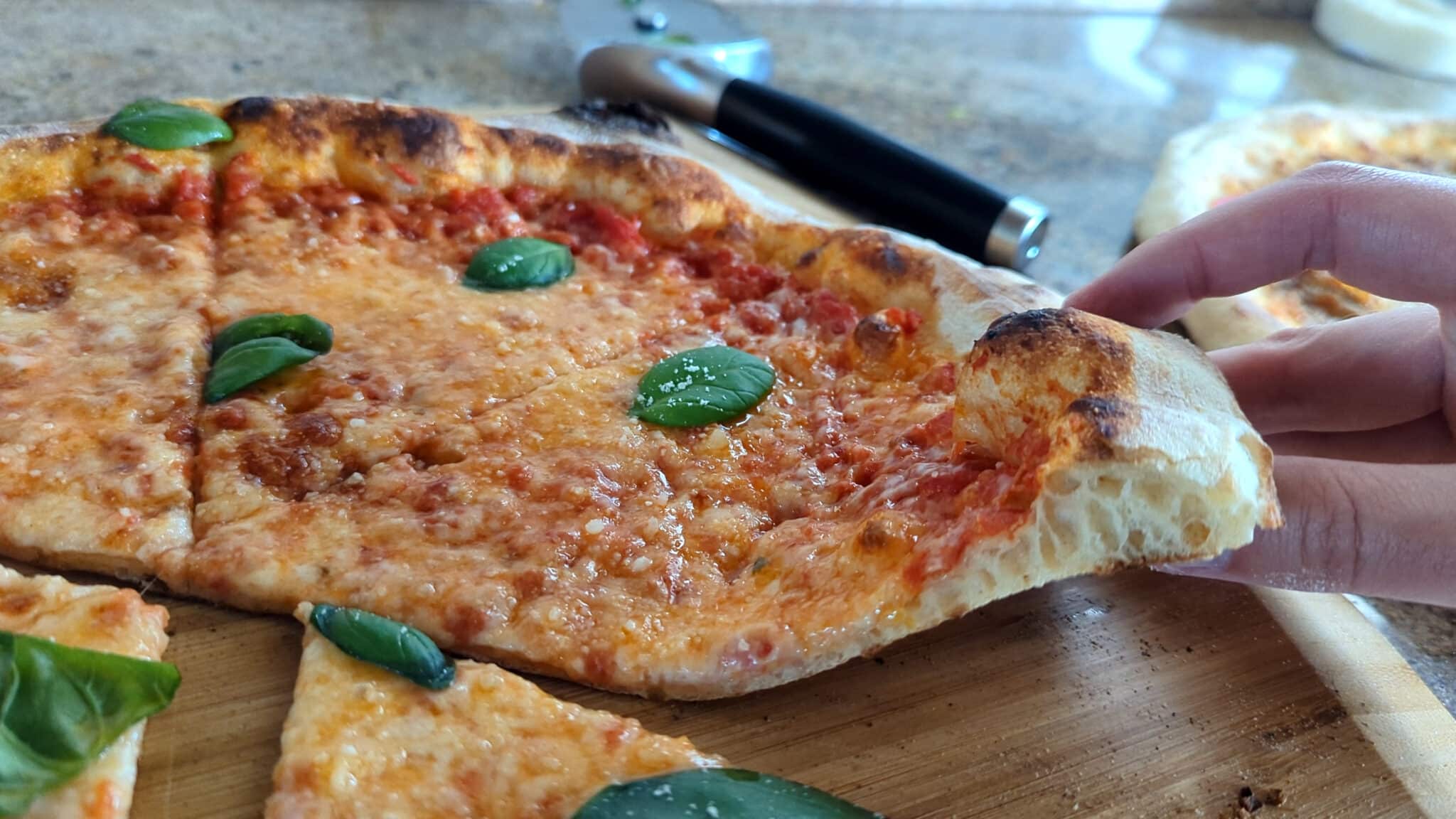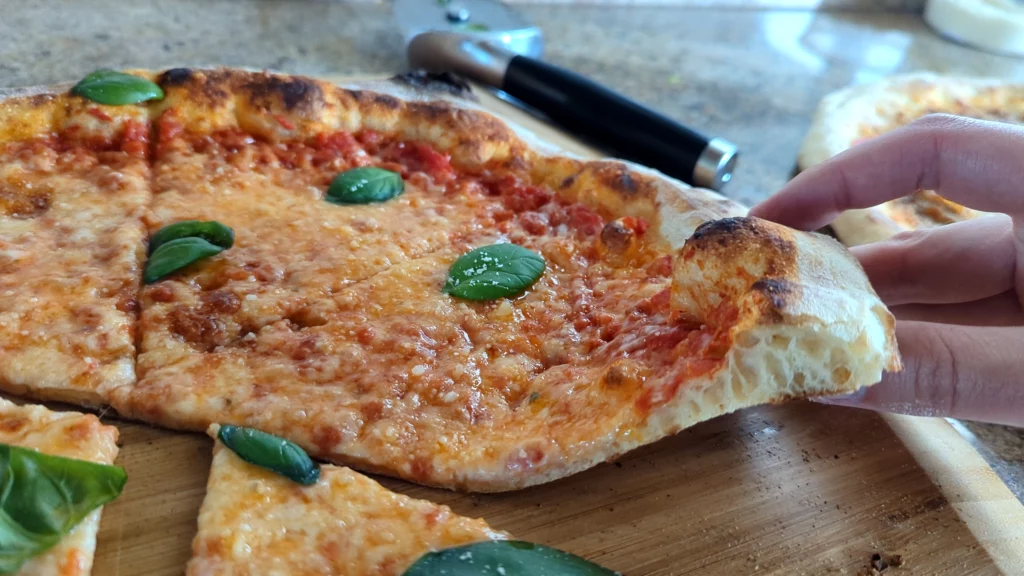 Next up I used a Lloydpan disk to bake the pizza on for the first half, which prevents the dough from shrinking up. This here is a Raspberry Chipotle Pork Barbeque pizza.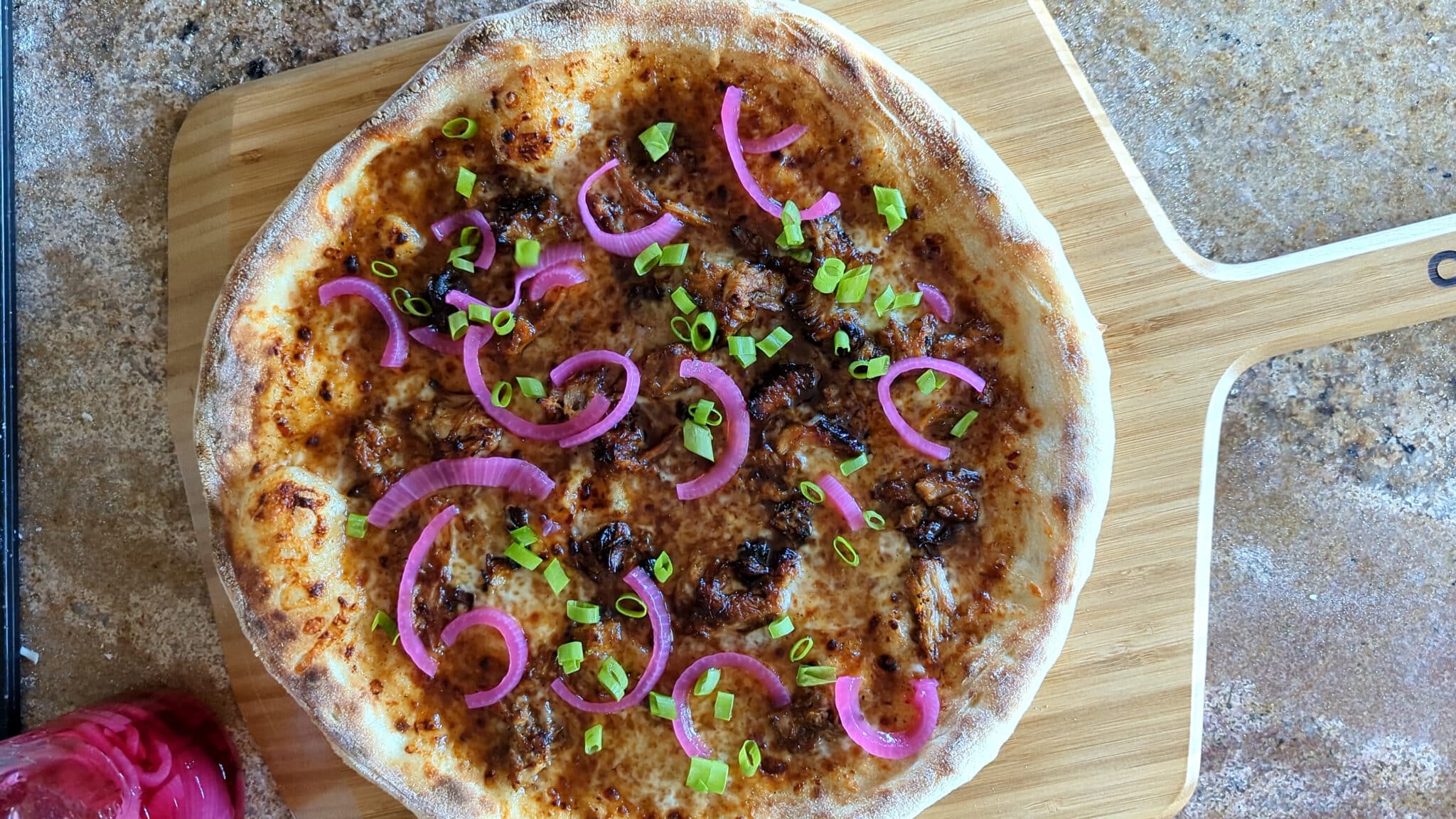 To Follow The Directions… Or Not?
There's no question this dough mix is the real deal. It can produce amazing pizzas, but it's not exactly the most beginner friendly dough to handle. Cutting the Neapolitan dough back to 420grams of water makes it easier to handle while still producing great results. Also, instead of bulk cold fermenting and then balling the dough the next day, I like to ball them before cold fermenting.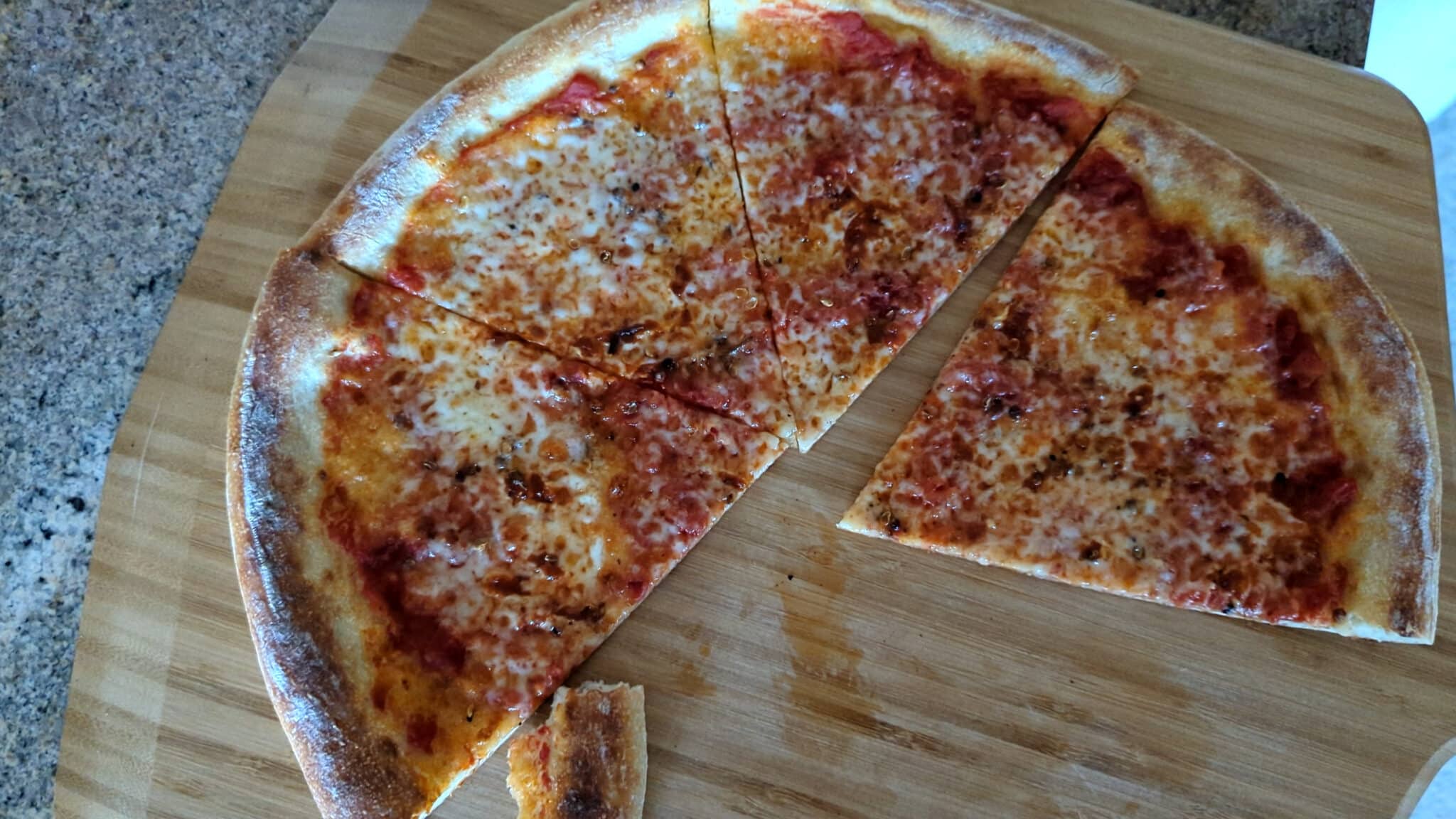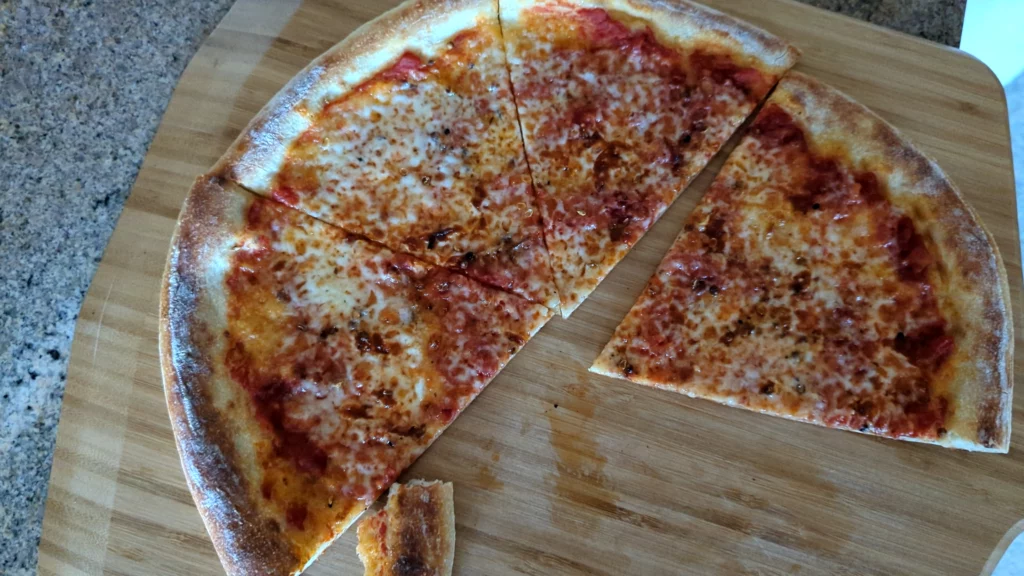 Cost
So let's talk pricing. At the time of this review, the products cost $12.99 – but you only get free shipping on orders over 99 dollars. I found these in my local Ace Hardware store and they actually cost a dollar more than Ooni's website.
Whereas King Arthur bread flour only costs $5.50 for a 5lb bag. You still need to buy the salt and yeast, but there's no question you can make WAY more pizzas in the long run. But I see this as being a solid product for those who just got their Ooni and want a really good baseline dough to start learning with.