At a glance.
The Ooni Fyra wood pellet pizza oven is a bit more finicky to cook with than their gas models, but it's also impressively portable and affordable. Read on to see why recommend it after our hands-on test.
The good.
Wood pellets offer authentic wood-fired taste with less cleanup, better temperature control, and longer heat than typical wood-fired ovens.
The cheapest pizza oven model from Ooni.
Incredibly light-weight and portable - only 22 lbs.
The bad.
Bigger learning curve to operate compared to gas models and a bit more cleanup.
Only comes in 12" size.
Free Shipping on the Ooni Fyra
Ever since their successful Kickstarter campaign in 2012 pizza oven maker Ooni has become one of the most beloved brands in the homemade pizza world. They make a number of outdoor pizza ovens that make traditional, Neapolitan-style pizza accessible to anyone. Their ovens vary by heating fuel, including wood or charcoal, propane gas, or wood pellets.
The Ooni Fyra Wood Pellet Pizza Oven is one of their more popular ovens. It makes it simple and affordable to make classic Neapolitan-style pizza at home and on the go. If authentic wood-fired taste is what you're after, the Fyra will make it happen; however, there is a larger learning curve using this oven compared to a gas-powered pizza oven such as the Ooni Koda. Let's walk through a full hands-on review of the Fyra oven to see if it's something you are up for.
Design and Features
The Fyra is the successor to the Ooni 3, which was the world's first portable, wood pellet pizza oven. It has a durable, insulated, powder-coated carbon steel shell which means it is fully insulated to ensure the proper internal temperature. By using wood pellets as fuel, the oven ensures maximum burn time and minimal waste energy. The pizza stone is made of cordierite, which retains heat and provides the perfect pizza cooking base.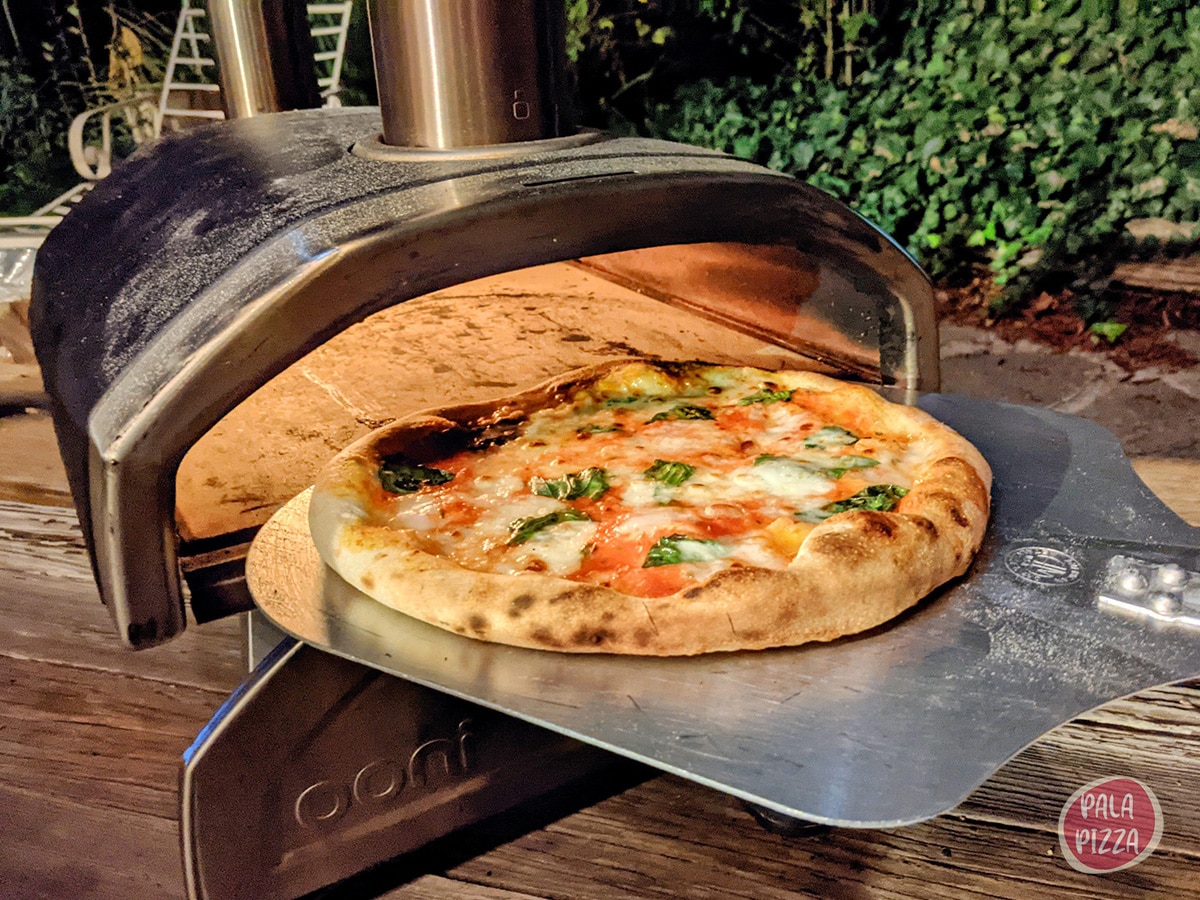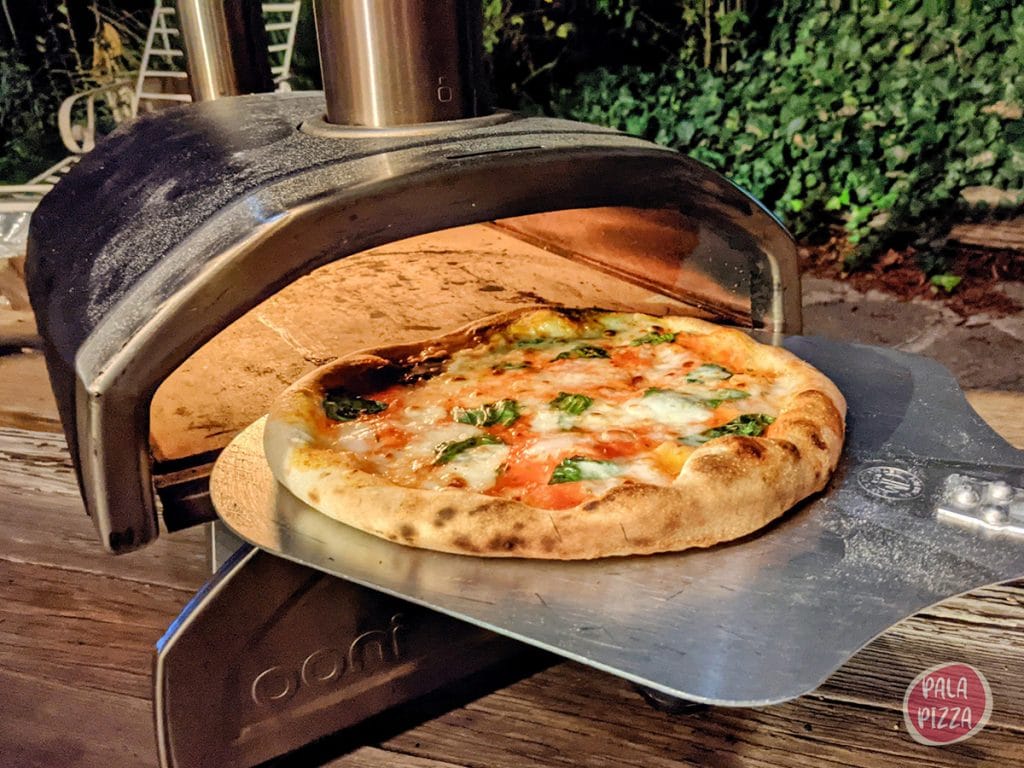 The oven was designed for "ease of use and ultimate portability." Getting the fire started is as easy as adding pellets to the tray and starting them with a fire-starter.
The oven's small size and lightweight – just 23 pounds – makes for easy storage and transportation. The three legs fold up to make it smaller, and the parts can be removed and be stored inside the oven. Use it at home or bring it to the beach, camping, parties, or anywhere else, and enjoy classic Neopolitan-style pizza.
Like every Ooni oven, the Fyra reaches up to 932 degrees Fahrenheit (500 Celsius), which is the perfect temperature to cook traditional Neapolitan-style pizza. Ooni claims the oven will be hot enough to start cooking pizza in 10 – 15 minutes, and once pre-heated, it can cook a pizza in just 60 seconds; however, our tests resulted in closer to 20 minute pre-heat time and 90 second bakes.
Dimensions
The oven itself is 5.5" in height, 15.5 inches in width, and 22.7 inches in length. Once assembled, with legs extended and chimney fully attached, it stands at just over two feet tall (28.6 inches).
The cooking surface is a cordierite stone baking board 13.2″ (33cm) in diameter (perfect for 12 "pizza) and is 0.4″ (1cm) thick.
Wood Pellet Fuel Source
Currently, Ooni offers several models, with the size (either 12" or 16") and the fuel source the differentiators. There's natural gas, a multi-fuel (wood, charcoal, or gas), or wood pellets. The Fyra is their least-expensive model. Wood pellets make an attractive option because they are affordable and easy to start and use.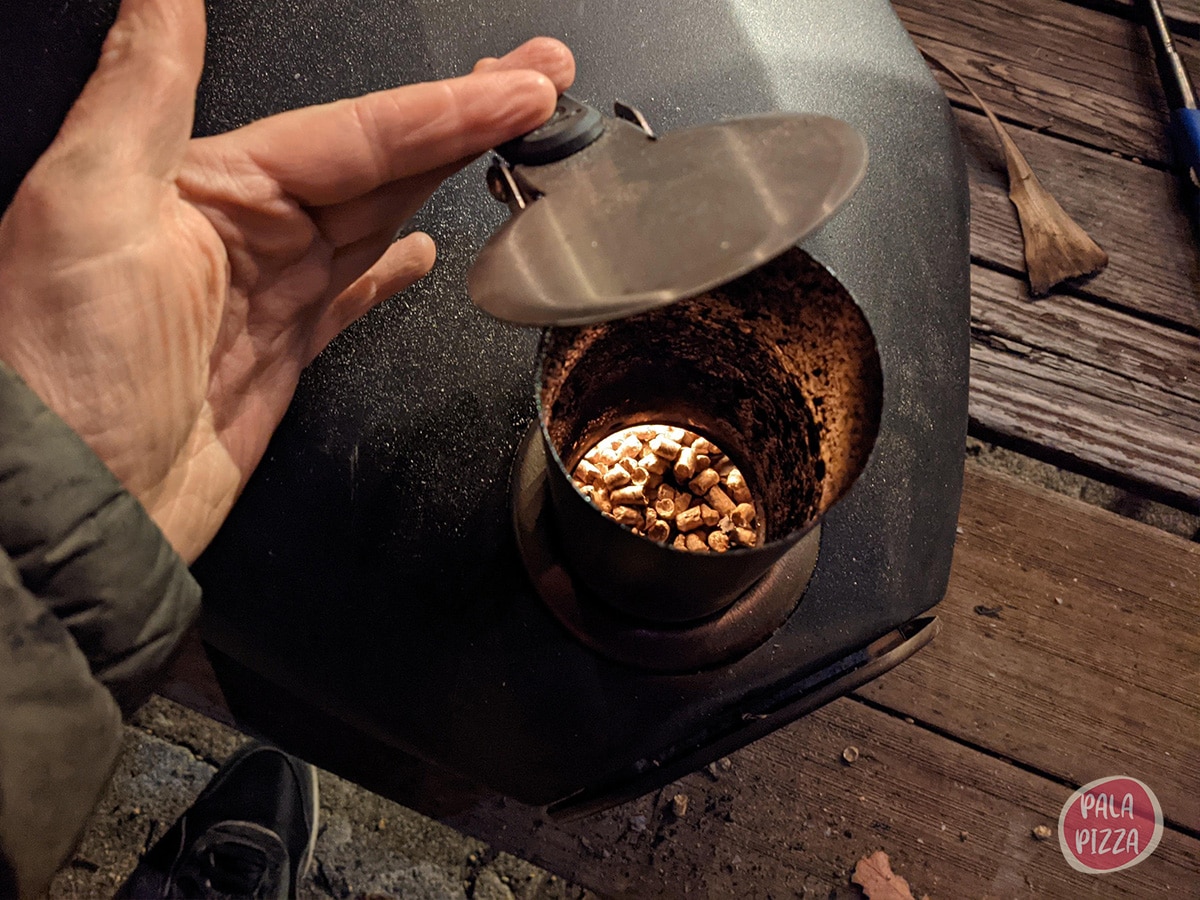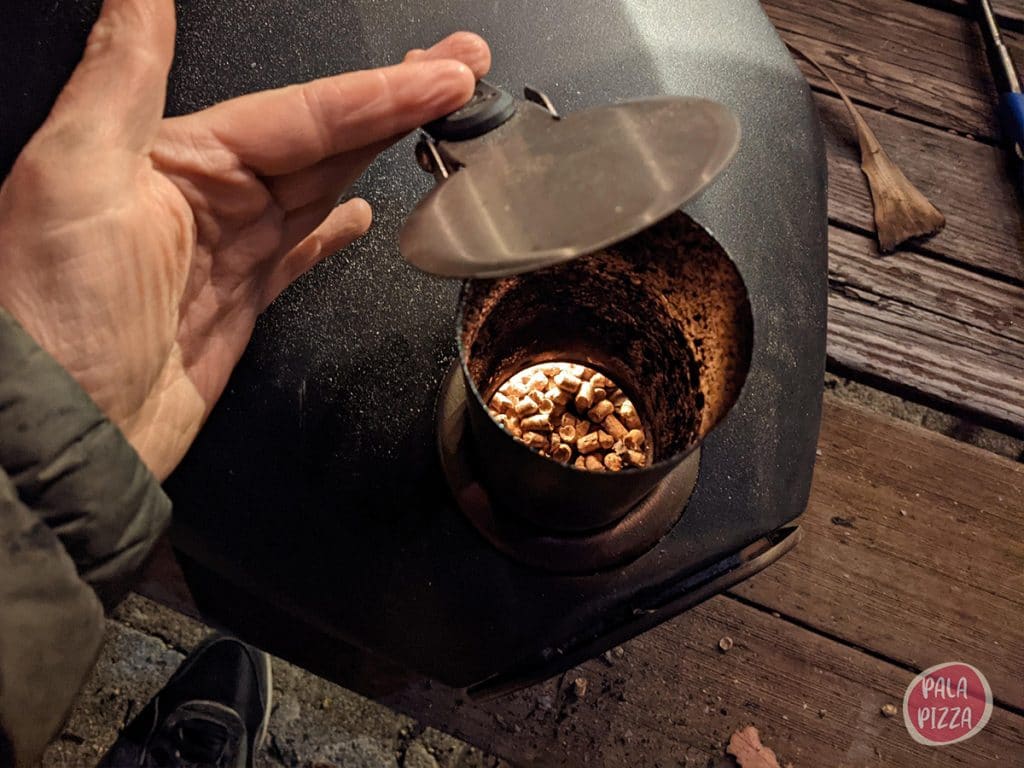 Wood pellets are a refined and densified biomass made from compacting sawdust, wood shavings, and other wood waste created by milling lumber. As they say, "Pellets are awesome! Lightweight, and super-efficient, cooking with pellets gives you a wood-fired experience with minimal fuss."
Hardwood pellets burn evenly which helps ensure a consistent high heat. Because so much of the solid waste is burned (and the high heat ensures any food is burned as well), the oven requires minimal cleanup and maintenance.
Ooni recommends you use their brand of wood pellets, but it's not required. Wood pellets are readily available at retail locations and online. When storing wood pellets make sure you keep them in an airtight container to stop moisture.
Benefits of Wood Pellets:
Cost-effective. Unless you find your wood to burn in the multi-fuel oven, wood pellets are the most affordable long-term fuel option. A 3kg bag of wood pellets retails for between $5 and $10 and will last for roughly 3 hours of cooking. Ooni's premium hardwood pellets come in a 20lb bag for $24.99. Considering you can pre-heat and cook a pizza in under 20 minutes, you can make quite a few pizzas with one 3kg bag.
Convenient. Starting the oven with wood pellets and a natural flame-starter is easy as adding the pellets and lighting the starter. Once it's lit you add more pellets via the gravity-fed hopper. And because they are so dense they are easy to store. Unlike charcoal, they are easy to handle and you don't have to worry about getting charcoal on your hands, clothes, or countertop. While Ooni's gas oven choices might be easier once set up, if you want to transport the oven you'll need to bring the propane tank with you.
Sustainable. Wood pellets are an eco-friendly fuel source. They are carbon neutral, meaning they don't add additional carbon dioxide to the atmosphere. By capturing what would otherwise be waste, wood pellets are an environmentally friendly fuel source. They contain very little moisture and ash, which means just about all the material is converted to heat. So not only are you enjoying great pizza, but your environmental impact is minimal.
Usability and appearance
The Ooni Fyra is one of three options at the 12" size, the other options being the Ooni Koda, which is propane gas-only, or the Karu, which is a multi-fuel option (charcoal, wood, or gas).
Because it offers more fuel options, the Karu offers more flexibility. Since you can use wood or charcoal (or combine them), the Karu can be used at home and still be easily transported.
All three 12-inch models are similar in size and weight:
Fyra 22lbs (10kg), 22.7 x 15.5 x 28.6″ (57 x 39 x 72cm)
Koda 20.2lbs (9.2kg), 23.2 x 15.5 x 11.7″ (59 x 39 x 29cm)
Karu 26.4lbs (12kg), 28.7 x 15.7 x 26.6″ (73 x 40 x 67cm)
Max Temperature & Pre-heat
While Ooni claims a max temperature of 932F, the oven can actually reach temperatures higher than that. If that happens, it's recommended you stop adding fuel and wait for the temperature to drop. All Ooni modes have a similar preheat time, which can be as fast as 10 minutes, but it's recommended to allow closer to 15 – 20 minutes. You can use an infrared thermometer aimed at the stone to know when the temperature is ready.
Assembly and First Cook
What's in the box?
The Fyra comes with everything you need to start making pizza except wood pellets and a pizza peel (and ingredients).
Included in the box is the oven itself (legs come attached), the stone baking board, wood pellet hopper, oven door, fuel grate and burning tray, chimney and chimney cap, flame keeper, and the manual and essentials guide with tips and recipes.
Important safety information
Because the Fyra reaches such a high heat, you should follow some basic safety guidelines:
Use only outdoors, and place at least three feet away from any walls or other structures.
Don't use in heavy winds.
If the ideal 932-degree temperature is exceeded, stop adding fuel and wait for the temperature to decrease.
When in use, the oven should be placed on a sturdy surface capable of supporting up to 66 pounds. Surfaces made of wood, stone, marble, or stainless steel are recommended. Plastic or glass surfaces should be avoided. Optionally, Ooni offers tables in medium ($199.99) or large ($249) size for use with your oven.
Do not leave the oven unattended while in use.
Keep children and pets away from a lit oven.
Don't touch the oven while in use. Once you've stopped adding fuel wait at least two hours before handling or cleaning to make sure the oven has cooled.
Setting up your Ooni Fyra
Assembling the oven and getting it up and running is a straightforward process.
The oven's three legs come folded up out of the box so the first step is to unfold those.
The fuel grate is placed inside of the burner tray and inserted into the back of the oven, while the square stone goes into the front of the oven.
The chimney is comprised of two cylinders that lock together and are attached to the top of the oven, along with the hopper.
The flame keeper, which helps maintain a high temperature and decrease the fuel required, fits into slots inside the oven itself.
And the door fits into a slot above the oven's front opening,
Seasoning the oven
Before your first cook, you'll need to season your oven so that oils and other contaminants from the manufacturing process are burned off. Seasoning your oven also allows you to work with the oven and understand how it operates before using it in a real-life pizza cooking situation.
To season your oven, follow the lighting instructions below and let the oven burn for approximately 30 minutes. Allow the oven to cool and wipe the inside of the oven with a dry paper towel.
Lighting the oven
Once your oven is assembled and placed on a proper surface, the first step to lighting it is to remove the chimney cap and make sure the chimney vent is open.
You'll want to keep the door on the oven to help retain heat unless you are adding, turning, or removing the pizza.
Remove the grate and add about two handfuls or 5oz of wood pellets. Place a natural fire-starter on top of the pellets, light it with matches or a lighter, and place the grate back in the oven.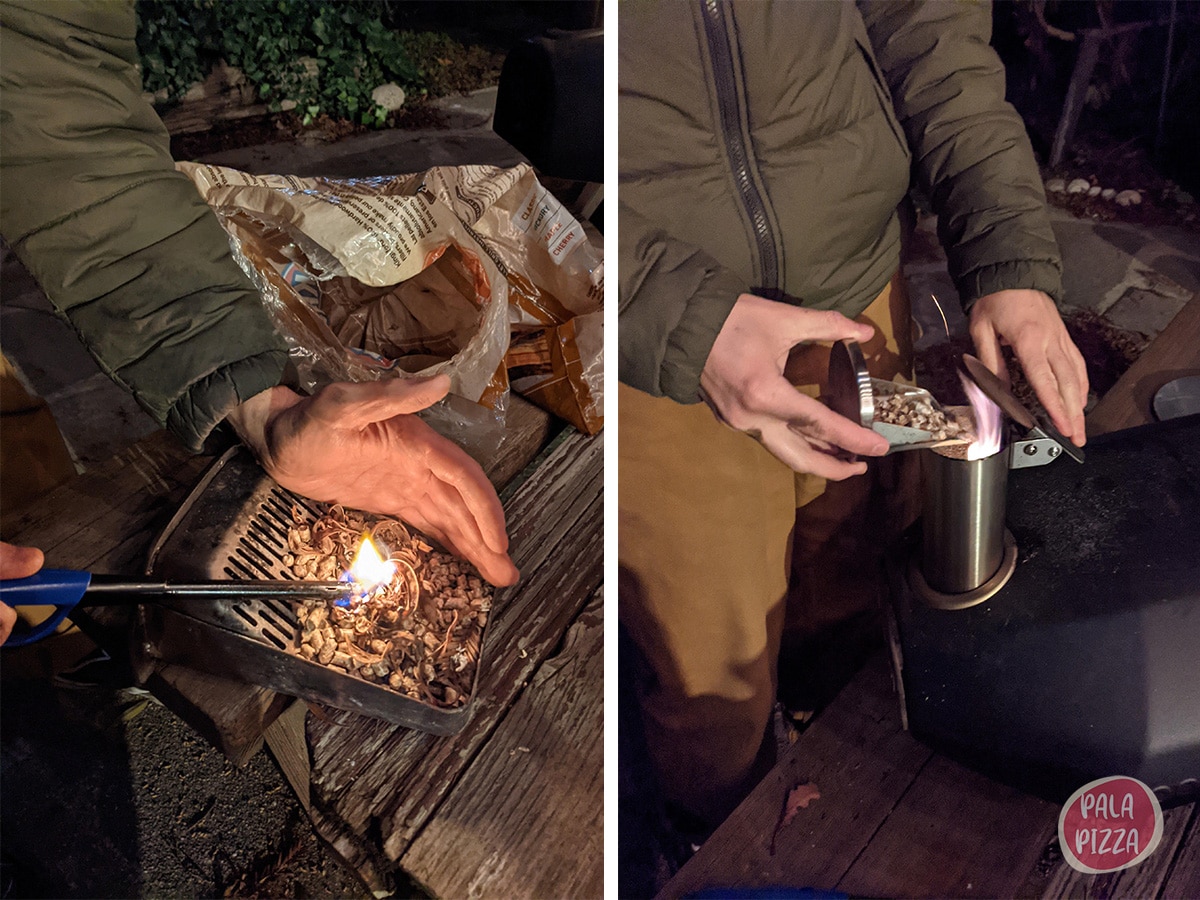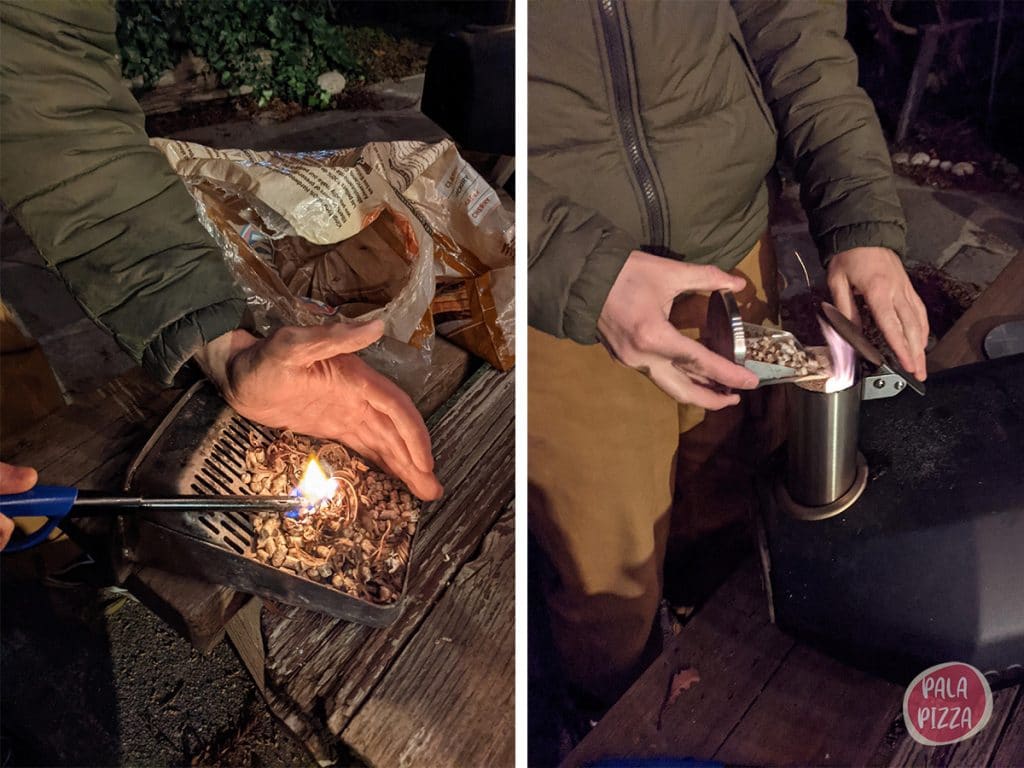 Let the pellets ignite. The door has a viewing hole that lets you check on the flame without having to remove the door.
As the pellets burn, gradually add more pellets to the hopper until you've reached the fill line. Make sure you keep pellets topped to that level throughout cooking for consistent temperature. A full hopper of pellets lasts about 15 minutes so make sure you keep adding before it runs out. Gravity will feed the pellets into the oven at the proper amount, don't force the pellets into the oven or you could smother the flames and reduce airflow.
Managing your flame
Once lit, the Fyra should be ready to cook in about 15 minutes. If you don't have an infrared thermometer you might want to add an extra five minutes to make sure the maximum temperature is reached. Inspect the flames, you want a rolling flame before you add the pizza. If there are small flames in the oven it likely means the pellets need more time to fully ignite.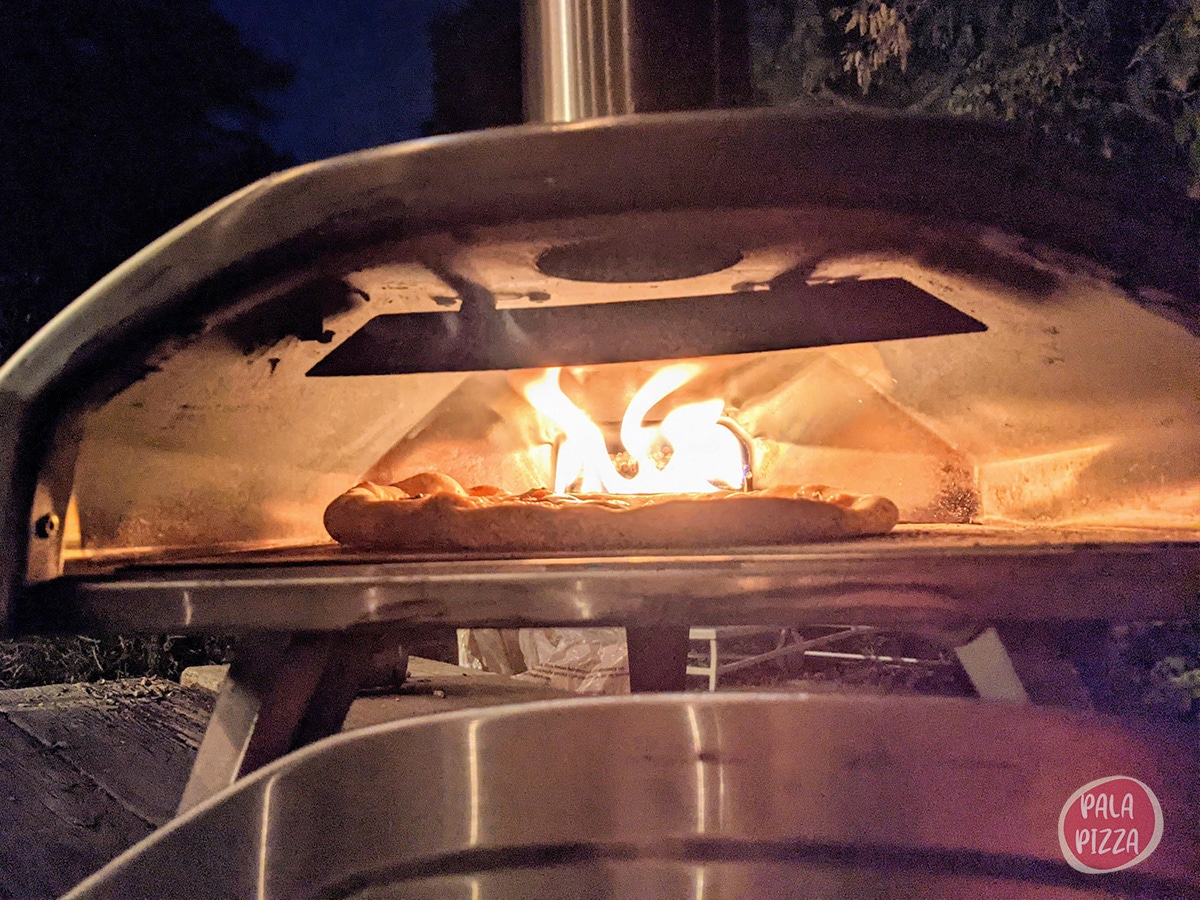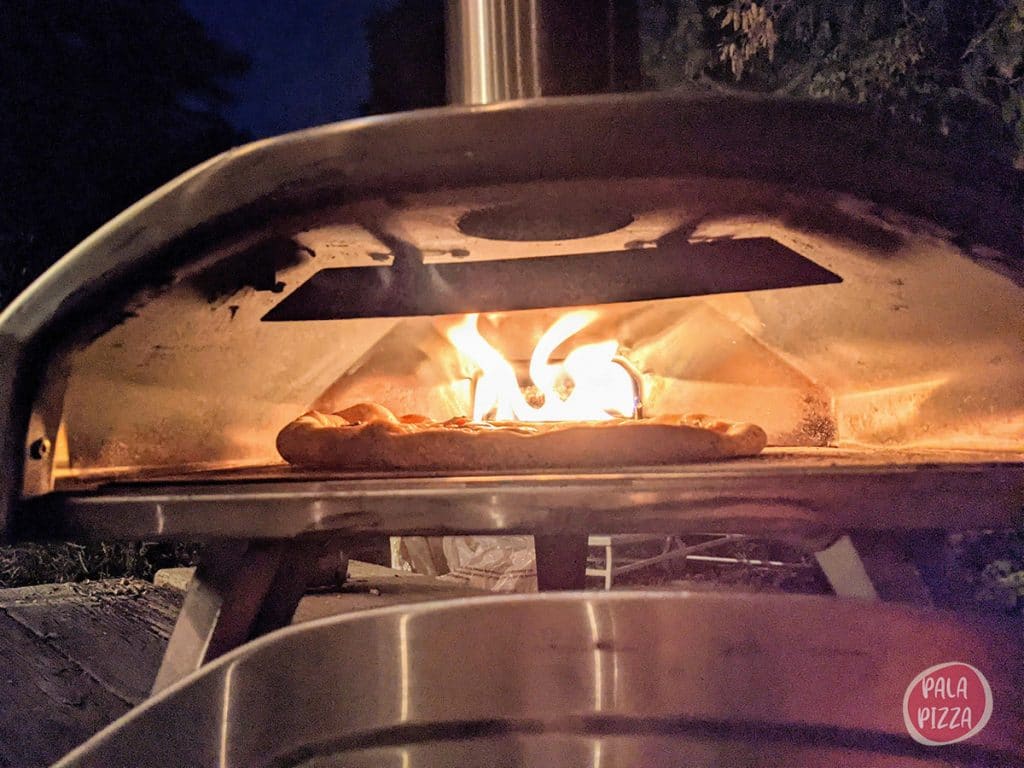 The chimney vent allows you to increase or decrease the airflow in the oven, which will affect how quickly the pellets burn and in turn the oven's internal temperature. If your flames aren't big enough, make sure the vent is open and the chimney cap is off for maximum airflow. If your toppings are cooking faster than the pizza base, close the vent to reduce the temperature. Lower temperatures also result in a smokier effect. Don't leave the vent closed for too long because it could cause the pellets in the hopper to expand and jam.
When adding pellets, start with a smaller amount, and as those start burning slowly add more. Adding too many pellets at once can smother the fire and result in the oven taking longer to get up to the ideal temperature. It could even create a fire that is too big and could result in injury to the oven or people. Gravity will feed the pellets from the hopper into the oven. Don't force the pellets down as you can smother the fire.
Adding Pizza
Wait for the oven to heat up before adding the pizza. You can add the pizza once the oven has reached at least 752 degrees (you'll need an infrared thermometer if you want to be precise) in the back of the oven. Otherwise, it's safe to wait 15 minutes provided you see rolling flames.
Place the pizza on the stone using a peel. The pizza should be done cooking in 60 seconds. For an even cook, rotate the pizza every 20 to 30 seconds.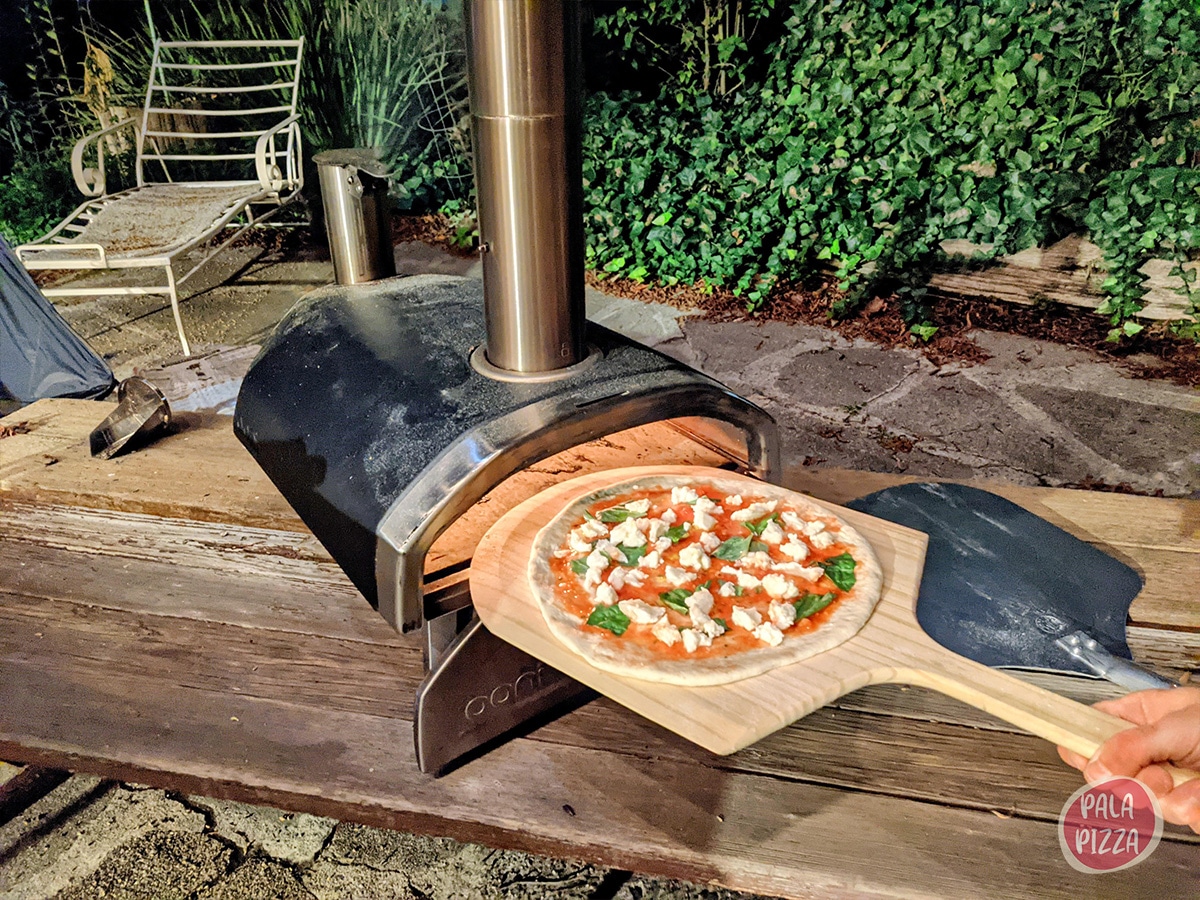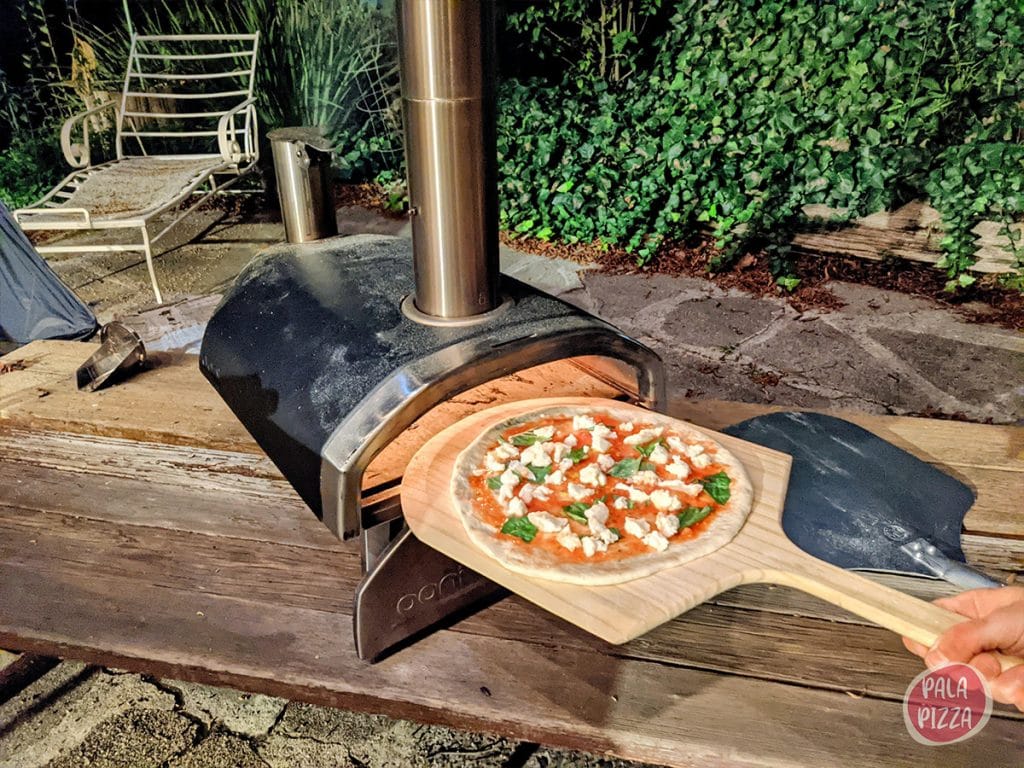 When removing the door for working with the pizza, you can place it on a slot at the bottom of the oven's mouth.
If you are cooking more than one pizza, close the door and wait a few minutes between pizzas to give the oven a chance to heat back up after having the door open.
Cleanup
Once you are done cooking your pizza simply wait for the rest of the pellets to burn. Allow your oven to cool for at least one hour. The oven should burn off any food, so there shouldn't be any cleanup. But if necessary, a dry paper towel should be used to wipe the oven. Never use water to cool or clean the Fyra.
Performance and tips while using
The quality of your pizza starts with your ingredients.

Ooni recommends using high quality of 00 flour, which has been finely ground to feel almost like baby powder.
When making your own pizza dough, let it sit at room temperature. A longer prove (the amount of time the flour is allowed to rest before it is baked) will result in a better, more complex crust flavor.

Make sure the pizza stone is at least 752 degrees before adding the pizza. For the most accurate reading use an infrared thermometer.
For an evenly cooked pizza, rotate your pizza after it's been in the oven for 20 – 30 seconds
Don't forget the oven is not just for pizza! You can cook just about anything in the oven. Any food that cooks at high temperatures will be good in the oven, including steaks, fish, and vegetables. For best results, you'll want a cast iron pan.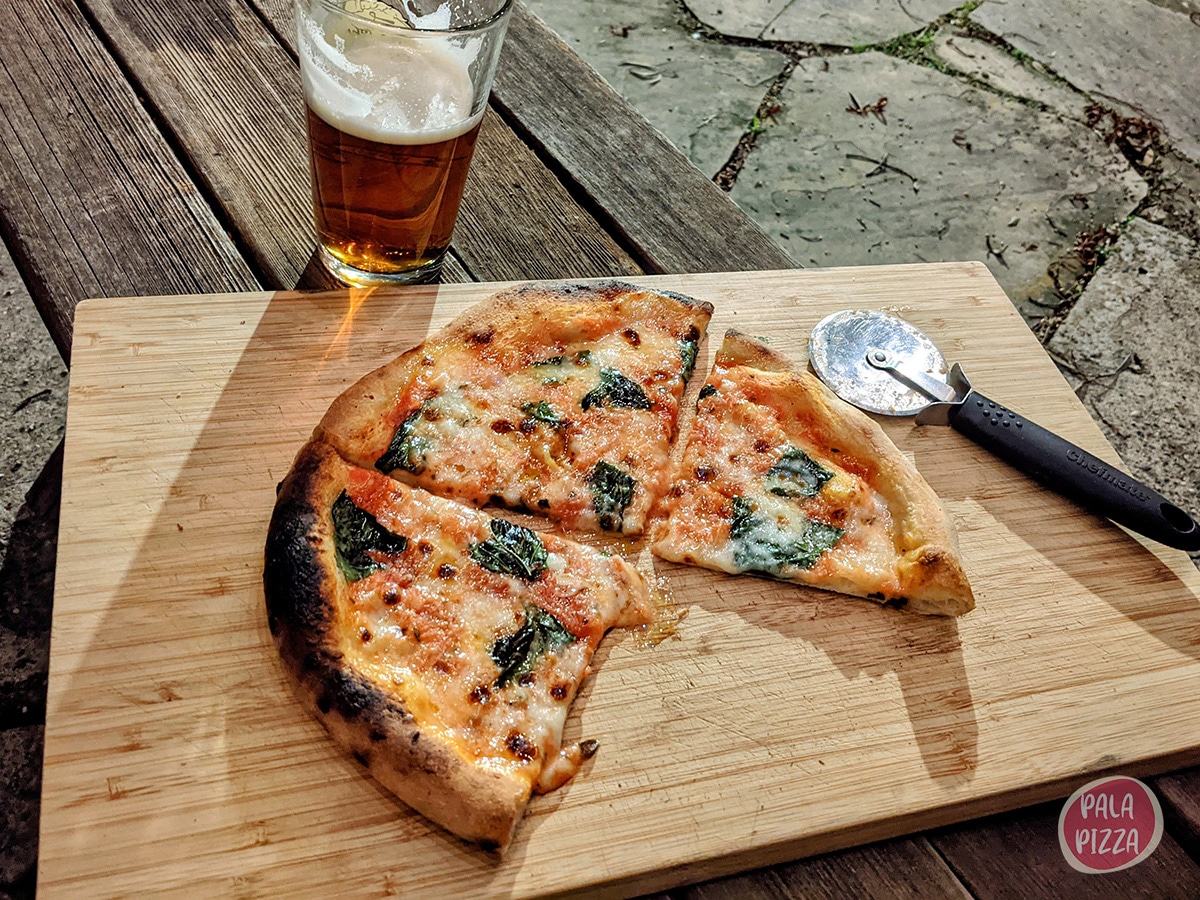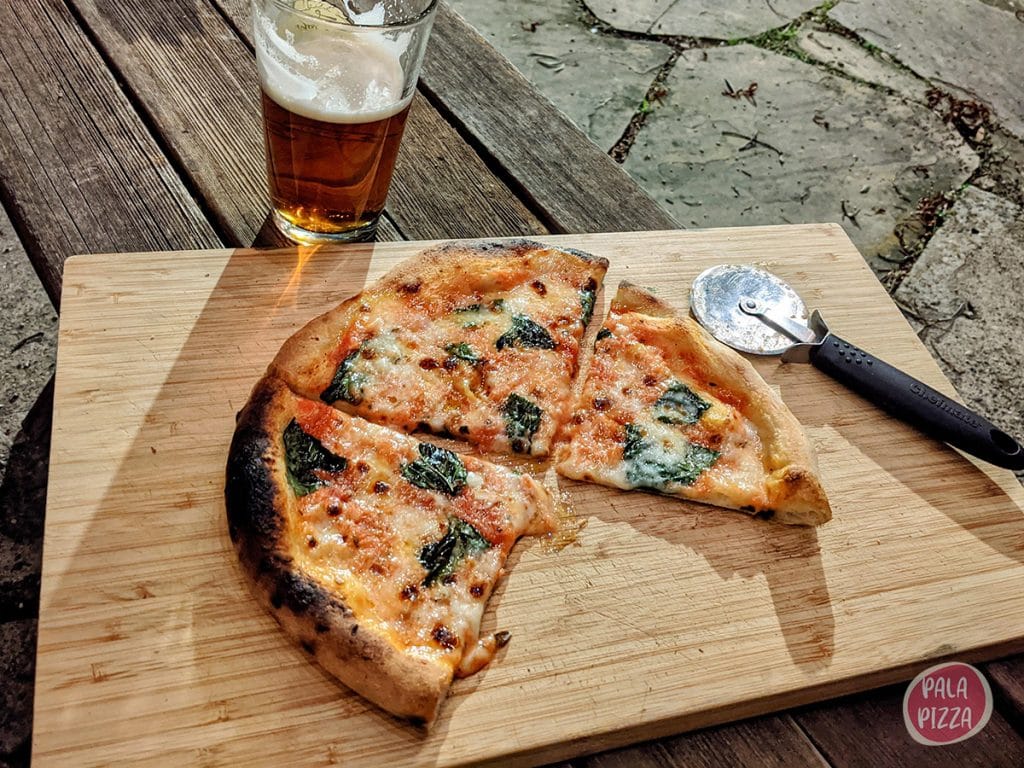 What we love
Portability – While the Fyra makes a great addition to your backyard, it's also easy to transport.
Affordability – Compared to other pizza ovens that get up 900 degrees, the Fyra is a fraction of the cost. Additionally, wood pellets are an economical fuel choice.
Guarantee – All Ooni ovens come with "The Ooni Great Pizza Guarantee" which means that if you aren't able to cook great pizza, you have up to 60 days to return it for free.
Community – Ooni goes to great lengths to foster an online community of pizza enthusiasts. You can find a range of recipes, learn tricks and tips, and more at the Ooni Community. There are also have tons of instructional videos to help get you started.
All in all the Fyra is an easy to use, affordable, and portable pizza oven. If you want to make traditional Neapolitan-style pizza at home and want an affordable, sustainable fuel choice then the Ooni Fyra is an excellent choice.