Tired of the standard pizza toppings? There is nothing wrong with pepperoni or mushrooms, but sometimes you want something a little different. By combining two favorite regional dishes, you can create an entirely new dish that is innovative and absolutely delicious.
Enter the Nashville Hot Chicken Pizza! This pizza combines all of the spicy elements of a Nashville hot chicken sandwich and the chew of a New York-style pizza. Simply make some Nashville hot chicken, cut it up, and throw it on top of homemade NY pizza crust along with some melty cheese and a small amount of homemade sauce.
Let's get into how to make this stunningly spicy 'za!
What Is Nashville Hot Chicken?
At its simplest, Nashville hot chicken consists of cayenne-battered fried chicken pieces topped with spicy oil for even more heat. There is no secret other than Nashville chefs using "tons and tons" of cayenne pepper for each piece of chicken. The majority of the heat is from simple cayenne.
After frying, the chicken is placed on top of white bread to soak up the oils. Spicy cooking oil tops the chicken, followed by some briny, salty pickles. This is Nashville hot chicken in its purest form, but you can also find Nashville hot chicken sandwiches and Nashville hot tenders with very similar seasonings.
Origin of Nashville Hot Chicken
Nashville hot chicken is a national landmark in the culinary world. Over 75 years ago, this dish was born in the heart of Nashville thanks to the popular womanizer, Thornton Prince. Despite the economic hardships of the time, Prince, a man described as tall, handsome, and smooth-talking, had a fantastic social life. He was spotted at all the clubs, always taking home new women each evening.
One night, ladies' man Prince left his "steady" girlfriend at home in favor of going out with another woman. Furious, his girlfriend cooked some fried chicken for Prince the next morning with a large amount of spice on top and in the batter. This was meant to scorch Prince's mouth, leaving him in pain. Instead, Prince took one bite of the spicy, juicy fried chicken and fell in love all over again.
It was this idea that spawned success at Prince's restaurant, then called the BBQ Chicken Shack. Today, Prince's Hot Chicken Restaurant remains in the Prince family and still serves up this fiery chicken to countless customers each day. Now that's a revenge recipe!
How Spicy Is It?
The spice level of Nashville hot chicken depends on the consumer's tolerance. Many say that the dish is not very spicy since only cayenne is typically used. Others say that it is incredibly hot because of the sheer amount of cayenne used. Either way, exercise caution when consuming this dish, even if you can handle spice pretty well.
Different recipes use different levels of spice, so just know that all Nashville hot recipes can vary in their Scoville scale. Beware if you are getting the real thing because those little chickens can really pack a punch!
Turning a Chicken Dish Into Pizza
When combining two dishes into one, you always want to keep classic elements of both and marry them together. For example, we are making a pizza with a small amount of traditional tomato sauce and mozzarella cheese. The only difference is the toppings used, which are meaty chunks of Nashville hot chicken, spicy oil, and pickles. This way, you have elements that make both dishes unique, until they are combined into one insanely delicious pizza.
Best Nashville Hot Chicken Recipe?
Unless you live near a legit Nashville hot chicken restaurant, you will want to make your own for the most accuracy. If you know how to make fried chicken, you shouldn't have an issue making Nashville hot chicken. The process is mostly the same aside from a few added steps.
If you want to use the exact same recipe as us, feel free to follow Joshua Weissman's recipe. This is a totally authentic recipe that is attainable for most people at a basic cooking level. It's simple, spicy, and totally worth making yourself.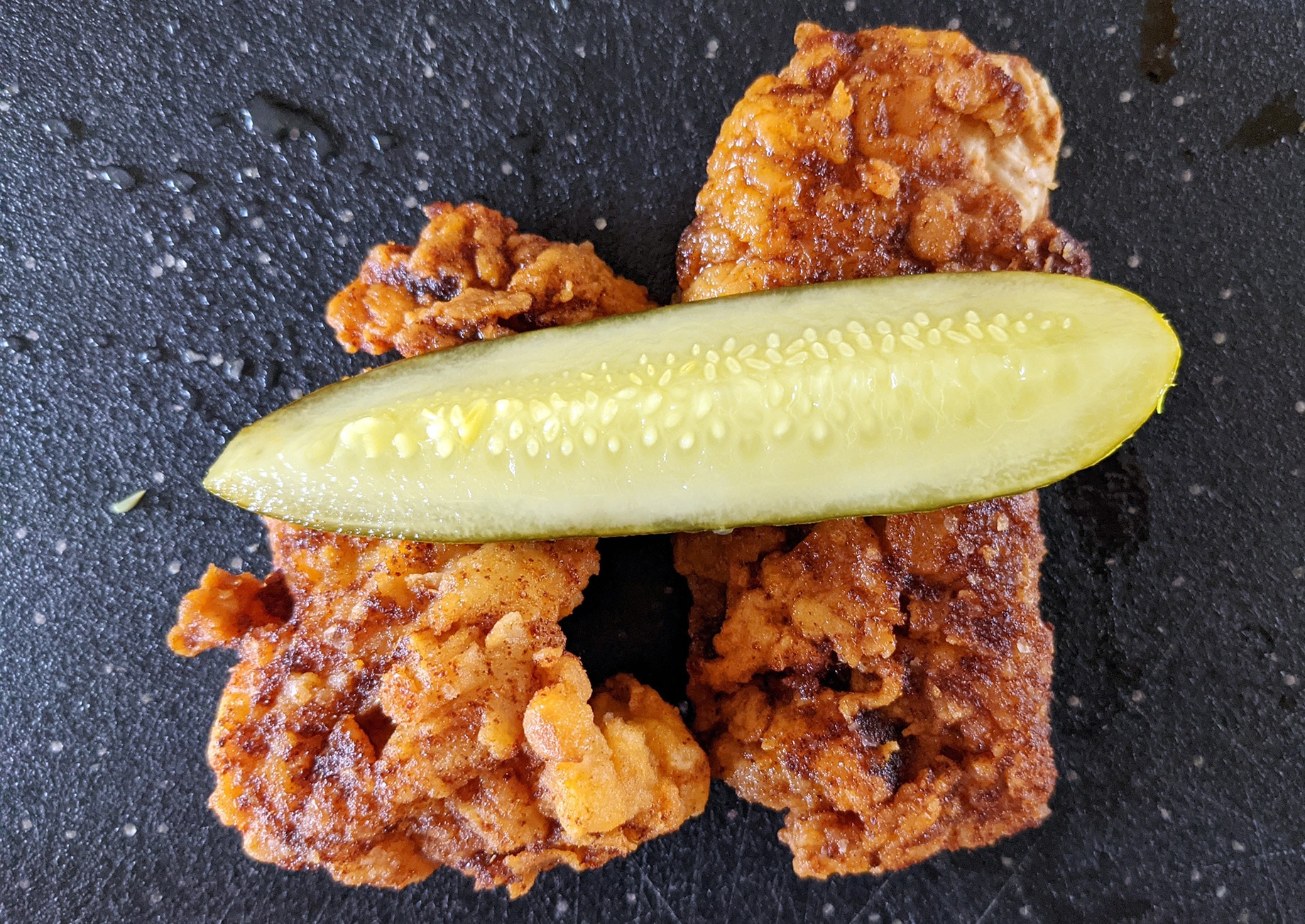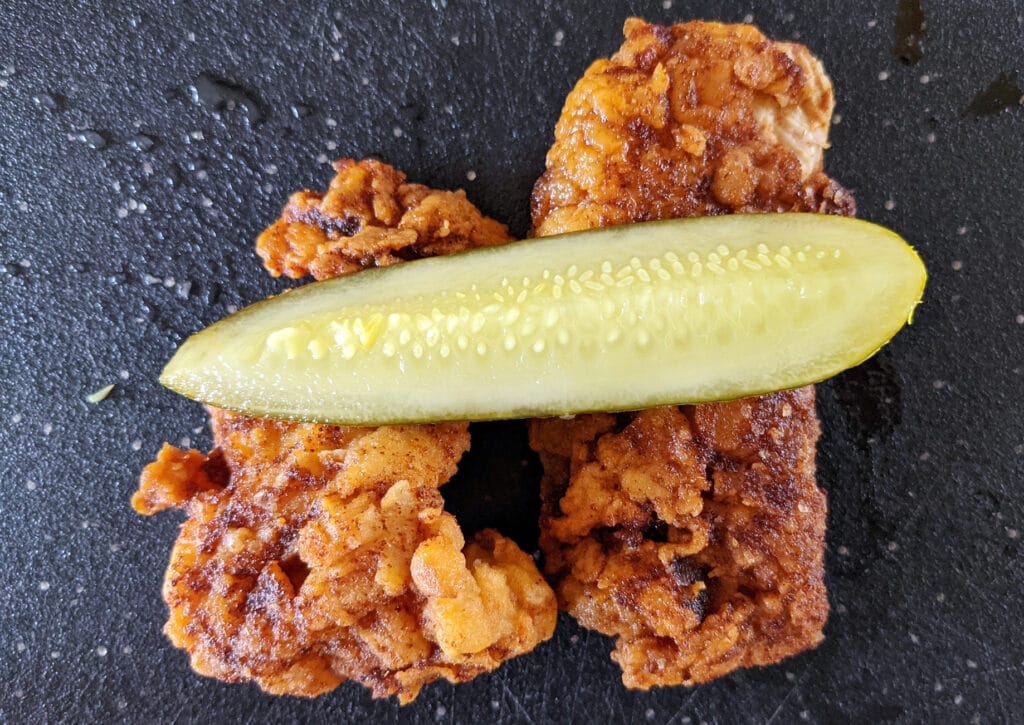 What Type of Pizza Dough to Use?
For this particular Nashville Hot Chicken Pizza, we opted for a New York-style pizza dough. We found that the pliability of well-hydrated dough was the perfect vessel for hot chicken. Even though the toppings are heavy, the crust holds up the weight nicely because of the NY-style dough.
You could try another dough, such as Detroit style, and it would also come out delicious. It's all based on your tastes and preferences. However, if you are not sure where to start, begin with New York-style dough for your first attempt and try others later on!
Nashville Hot Chicken Pizza Toppings
To stay true to the original Nashville hot chicken, be sure to keep it simple. The classic chicken dish only requires a few ingredients to make it spectacular, so we want the same simplicity for the pizza.
Ready the following toppings for Nashville Hot Chicken Pizza:
Homemade pizza sauce
Fresh whole milk mozzarella
Nashville hot chicken, cut into bite-sized pieces
Spicy oil from the chicken
Briny pickles
And that's it! If you have trouble eating spicy foods, you can serve this pizza along with a cooling dip for dunking. That means ranch dressing, sour cream, or a yogurt-based dressing can effectively cool down your spicy tongue. There's no judgment here!
Enjoy Your Pizza!
Marrying two amazing American classic dishes into one is the type of perfection we all strive for. Combining chewy, nuanced New York-style pizza with spicy Nashville hot chicken is the perfect union that you've been looking for. The best part is that it is easy to make, and extremely easy to eat. Now, let's get into making some specialty pizza!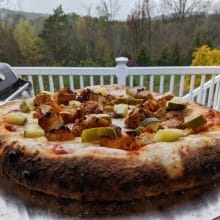 Nashville Hot Chicken Pizza Recipe
Why isn't Nashville hot as popular as buffalo for pizza? It should be. I used a very small amount of pizza sauce for the base, whole milk mozzarella, homemade hot chicken, pickles, and then drizzled with some leftover spicy oil. The perfect combination of heat and tang.
Print
Pin
Rate
Follow my pizza journey
I bought 15 pizza ovens to hands-on test.
It's a hobby, not an obsession! Here are the best pizza ovens.
Ingredients
2

oz

pizza sauce

A homemade sauce from a can of high-quality whole tomatoes is really simple, but if you want a typical store-bought sauce, we prefer Rao's Homemade.

7

oz

whole fat mozzarella

If using pre-shredded cheese, RINSE the cornstarch off and dry before using. This will create a much better cheese melt.

330

g

NY style pizza dough

I opted for NY style so the crust would hold up better to the weight of chicken, however Neapolitan will also work.

Nashville Hot Chicken

I used Josh Weissman's recipe.

Pickles

Chopped, bite sized.

Spicy oil

Drizzle (leftover from above chicken recipe)
Seriously. I have a lot of pizza ovens.
Let me show you the best after hundreds of hours testing. Read my in-depth pizza oven reviews!
Instructions
Flatten and stretch dough into 14" pies.

Prepare your pizza by ladling sauce onto stretched dough. Starting from the outside and moving inward, spread a light even layer of cheese. Evenly top with a healthy amount of Hot Chicken.
Indoor oven
Preheat to 550F for at least 30 minutes with pizza steel or stone on top rack. Turn on broiler, and let preheat another 10 minutes.

Using a pizza peel, carefully move pizza to oven and cook for about 6 minutes, watching closely for crust color and cheese burn. Avoid rotating when baking in home ovens as temperature loss from opening the door often does more harm.
Outdoor pizza oven
Preheat your Ooni (or other portable outdoor pizza oven) for 25 minutes. The oven should reach near 800F in this time. Place pizza in oven and cook for 2 minutes (+/- 30 seconds depending on color) rotating as needed.

TIP: if using an Ooni Koda or another gas model oven, reduce the heat to low just as you place the pizza in; this creates really great crust color without burning the cheese too early. This may increase cook time slightly.
Finishing Touches
Let pizza cool for one minute on a wire rack/

Top with chopped pickles and drizzle with spicy oil; slice and serve.
Notes
If using an outdoor pizza oven, such as Ooni Koda, the baking process will only take a couple minutes max. If using an indoor oven at 550F, it will take closer to 5-7 minutes.