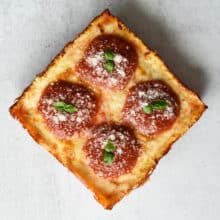 Mini Detroit Pizzas
I started making mini Detroit pizzas recently which have been a huge hit. These personal-sized pizzas have a whole lot of crust, which is arguably one of the most important parts of a Detroit pizza. You'll need a special pan to make these, but I find myself making the mini-versions of this legendary pizza more often than regular. Even better, by parbaking the dough, you can churn out a bunch of these for a party. And these little pizzas are sure to be a huge hit!
Print
Pin
Rate
Follow my pizza journey
I bought 15 pizza ovens to hands-on test.
It's a hobby, not an obsession! Here are the best pizza ovens.
Equipment
1 6"x6" Detroit Style Pan

We used a Lloyd's Pan, often considered one of the best out there for commercial or home use. Other types of pans can be used, but will lack the proper crust-forming characteristics of Detroit style pizza.

1

Outdoor pizza oven

(Optional). I like to cook this in my outdoor pizza ovens, frequently rotating the pan every couple minutes. However home ovens work just as well for this style of pizza.
Ingredients
Dough (makes four doughballs. Use one ball per 6×6 Detroit pan)
350

g

Bread Flour

255

g

Water (warmed to 90°F)

10

g

Kosher Salt

3.5

g

Instant Dried Yeast
Toppings
3

oz

Whole Milk Low Moisture Mozzarella

(freshly shredded, or if you use bagged just make sure to rinse the starch off first). 75% of your total cheese.

1

oz

Monterey Jack or white cheddar,

25% of your total cheese.

Basil

Parmesan cheese,

Optional
Seriously. I have a lot of pizza ovens.
Let me show you the best after hundreds of hours testing. Read my in-depth pizza oven reviews!
Instructions
Make the dough.
Combine the flour and salt in the bowl of a stand mixer fitted with a dough hook attachment. Stir to combine.

Heat water in microwavable safe bowl for 30 seconds. Temperature should be between 85F and 95F. Add yeast to water and let sit for 5 minutes. We're not looking for a full activation, just a bit of a jumpstart.

Slowly add water/yeast mixture to the stand mixer, mixing on low until it forms a smooth consistency, about 10 minutes. Note: dough will be very wet and sticky, and the bottom will stick to the bowl. You may need to scrape the bottom up with a spatula.

Turn mixer off. Scrape the dough out onto the counter. With wet or lightly oiled hands to reduce sticking, continue kneading for 3 minutes to build the gluten. Flip the mixer bowl over top of the dough to keep it moist, and let it rest for 30 minutes.

Grease your 6×6 pans with a stick of butter or olive oil.

After 30 minutes, divide the dough into 4 equal 145-150g balls. Knead them back into a ball and place them into the greased pans. Cover, and let rest for an hour at room temperature.
Stretch and cold ferment.
Gently stretch the dough to fit the edges of the pan. The dough will shrink up a bit, which is fine at this stage.

Cover again and place in the refrigerator for 1 to 2 days to cold ferment.

Let dough come to room temperature on the counter for 3-6 hours. If you do a longer 6 hour ferment, gently press the dough down with your fingers halfway through. This prevents bubbles from expelling air and gives a better final crumb.
Parbake.
Preheat the oven to 550°F with a pizza steel/stone. If using an outdoor pizza oven, preheat until 700-750 degrees, about 20 minutes.

Place the pan onto the pizza stone and bake for 5 minutes (3 minutes for pizza oven). If you do not own a pizza stone, place the pan on the bottom of your oven (not a rack) and bake for 5 minutes.

Carefully remove the hot pan from oven. Remove the dough from the pan and place onto a wire rack, allowing it to briefly cool, about 5 minutes.
Toppings, in order; then bake.
Put the dough back into the pan and add the shredded mozzarella, ensuring most of it touches the edge of the pan. Then add the Monterey Jack/cheddar cheese. If you're using sauce from the fridge, add it now (pre-bake) on top of the cheese. If you're making fresh sauce, add it post-bake.

For home ovens: place pizza in oven for another 7 minutes on the stone. (toss the broiler on for the final minute or two if the cheese is not browning fast enough). For outdoor pizza ovens: bake for 4-5 minutes, rotating pan halfway through, and covering with tinfoil if browning too quickly.

Remove from oven and use a thin metal spatula along the edges to separate the pizza from the pan. Slide onto a wire rack to rest for 3 minutes. Top with fresh sauce (if you didn't already add it); top with basil and parmesan. Slice, and enjoy.