Love to save money but rarely utilize your leftovers? Eating the same thing, in the same way, multiple times throughout the week can get boring and repetitive. However, transforming your leftovers into a completely new dish is the best way to consume all that hard work sitting in your fridge. Enter the "Leftover Taco" Enchilada Pizza.
This pizza utilizes a homemade NY-style crust, enchilada sauce from-scratch, and your leftover taco meat from Taco Tuesday! Feel free to use ground beef, chicken taco meat, pork al pastor, or even taco meat made from Impossible grounds! Your "Leftover Taco" Enchilada pizza will turn out delicious, no matter what your favorite taco filling is.
Utilizing Leftovers in a New Way
How many readers save leftovers, thinking they are going to eat them, only to throw it out with fuzzy spots on it two weeks later? It's more common than you think, however, many forget just how much money is going into the trash by throwing away leftover food. And yes, some of us do not like leftovers because of how repetitive they can be.
The remedy is to use leftovers in a new, flavorful way than they were originally served. Let's say you had Taco Tuesday at your house and you have tons of meat and toppings left. You are already tired of tacos since you maxed out on them only a few days ago.
Adding your leftovers to a Mexican-inspired pizza transforms those leftovers into something exciting. The flavors of the meat are enhanced by the sauce, cheese, and toppings. And don't forget to utilize any toppings you have on top of your pizza! Crisp lettuce, cilantro, diced tomato or onion, and salsa goes great on top of Enchilada Pizza after baking.
What Type of Enchilada Sauce to Use?
Instead of marinara or pizza sauce, we'll be using a homemade, spicy red enchilada sauce. You may have seen those large cans of red or green enchilada sauce at the grocery store, but we opted for a homemade version.
Why go for a homemade option? Well, you are already using leftovers for this recipe. Try and incorporate the best ingredients you can for the tastiest pie possible. If your leftovers taste too similar to the meal before it, you are less likely to enjoy it, especially if you're not a lover of leftovers.
If you are a fan of a certain store-bought enchilada sauce, use it! Any red enchilada sauce will work in this recipe. However, if you do want to make it homemade with guajillo chiles, here is how to do it.
Enchilada Sauce Recipe
Ingredients to make it:
6 guajillo chilies
Juice of ½ lime
1 cup water
1 garlic clove (peeled)
1 teaspoon peppercorns
1 teaspoon cumin seeds
2 teaspoons dried oregano
1 bay leaf
Salt
Directions for making it:
Soak chilies in some boiling water for 15 minutes. Drain. Add all the ingredients to a blender and blend on high until pureed, adding more water 1 tbsp at a time, if needed.
Use this recipe for all of your enchilada needs!
What Type of Dough is Best?
Avid readers know how important choosing a pizza dough is for a new pizza recipe. Our favorite styles include Detroit-style, NY, Neapolitan, and Chicago-style. They are all delicious and unique in their own ways, and they all make a fine pizza pie.
When a pizza has lots of delicious toppings, oftentimes we opt for NY-style crust, which is exactly what we did here for the "Leftover Taco" Enchilada Pizza. It is a very enjoyable crust with a chewy, well-hydrated texture that is bendable. So, when you grab a hot slice of enchilada pizza, you can fold it up and eat it like a traditional NY slice.
That's not to say you couldn't try this recipe with another type of pizza dough. Detroit-style dough is another great pizza type for lots of interesting toppings. It is filling and airy, perfect for taco meat and other iterations.
Elements of an Enchilada, On Pizza
Now that we know what type of dough to get ready, let's talk about toppings. Of course, the first and most important element to have ready is leftover taco meat. Our leftover meat was made from Impossible grounds, seasoned to perfection with taco seasonings such as chili powder, cumin, and cayenne.
The taco meat can certainly be cold, right out of the fridge when topping the pizza. All the toppings will warm in the hot oven, so there is no need for reheating.
Next, let's think about what else we want on our pizza. We have the enchilada sauce and taco meat covered, but we will need some other ingredients to round out the flavors. And let's not forget the Oaxaca cheese!
Other toppings on this pizza include pickled jalapenos, freshly made pico de gallo, guajillo enchilada sauce, and freshly chopped cilantro. The briny jalapenos contrast the salty meat while adding a bit of heat to the pizza. Pico and chile sauce give the right amount of freshness and moisture. Freshly chopped cilantro brings the taco flavors all together at the very end of cooking.
After baking, if you'd like to add some shredded lettuce, more pico, crema, or any other cold element, you can do that, too! These toppings add to the taco experience, but they are certainly not necessary. The hot and cold contrast of these toppings makes this pizza stand out even more!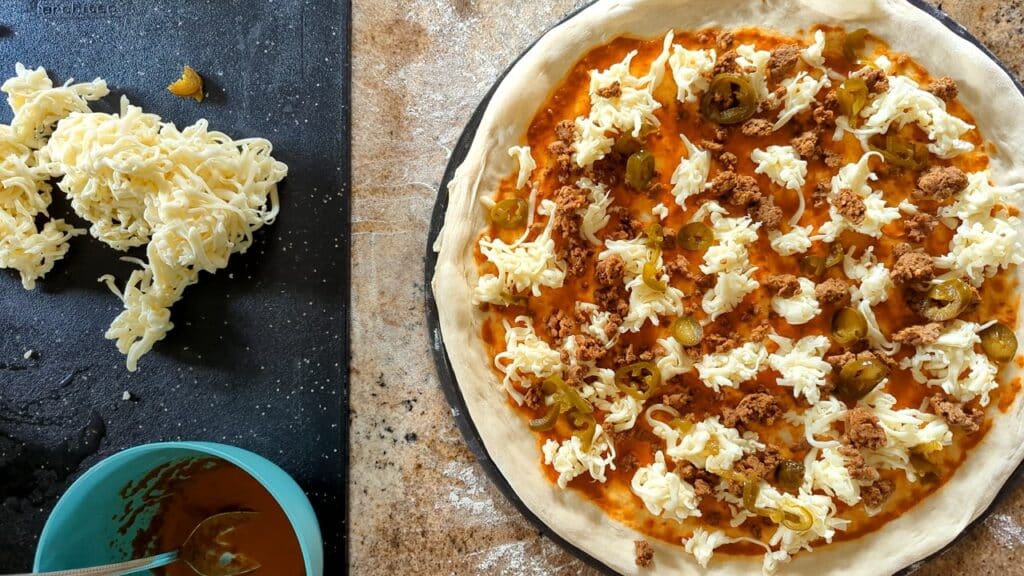 How to Make Leftover Taco Enchilada Pizza
Start by making NY-style pizza dough. You can find that exact recipe here. This is a tried and true pizza dough that is designed for pizza ovens, but you can make it on the hottest setting in your kitchen oven, too.
Next, just before the dough is ready, make the enchilada sauce using the aforementioned recipe with guajillo chiles. Once complete, set it aside.
When you are ready to assemble the pizza, spoon some sauce on top of the rolled-out dough. Spread using a spoon. Top with Oaxaca cheese.
Next, add the leftover taco meat and pickled jalapenos evenly over the top.
Preheat the pizza oven to 700 degrees F.
Bake using the rotating tool for about 4 minutes total. This keeps the pizza evenly browned.
Remove from the oven and cool slightly on a wire rack. Top with extra sauce, fresh pico, and cilantro. Serve in slices and enjoy!
Enchi-lotta Flavors!
We have learned today how to utilize leftovers and turn them into something even more delicious than the original dish. If you are ever struggling to eat your leftovers, throw them on a pizza and call it a day! "Leftover Taco" Enchilada Pizza is the perfect way to save money by not wasting leftovers. Plus, you'll have multiple pizza nights per week with this method!
Now, let's get into the recipe.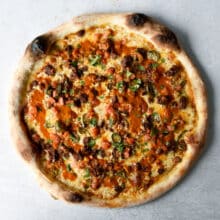 "Leftover Taco" Enchilada Pizza
Using New York dough and homemade enchilada sauce, this pizza features the flavors of taco night using leftover Impossible taco meat, pickled jalapenos, and lots of fresh cilantro.
Print
Pin
Rate
Follow my pizza journey
I bought 15 pizza ovens to hands-on test.
It's a hobby, not an obsession! Here are the best pizza ovens.
Equipment
Halo Versa 16 Pizza Oven (Optional)

For this bake, I used the Halo Versa 16 but any 16" pizza oven will work. I also include steps to use a regular kitchen oven and pizza steel.
Ingredients
For the Guajillo Enchilada Sauce:
6

guajillo chiles

Juice of 1/2 lime

1

cup

water

1

garlic clove,

peeled

1

tsp

peppercorns

1

tsp

cumin seeds

2

tsp

dried oregano

1

bay leaf

Salt,

to taste
For the Pizza:
2

cups

Oaxaca cheese,

shredded

Leftover taco meat

3/4

cup

pickled jalapenos

3/4

cup

pico de gallo,

plus more for garnish

2

tbsp

freshly chopped cilantro, for garnish
Seriously. I have a lot of pizza ovens.
Let me show you the best after hundreds of hours testing. Read my in-depth pizza oven reviews!
Instructions
First, make your NY-style dough a day ahead of making the pizza.

On the day of making your pizza, make the enchilada sauce.

Soak the chilies in boiling water for 15 minutes. Drain. Add all ingredients to a blender and blend on high until pureed, adding more water 1 tbsp at a time, if needed. Set aside.

Next, stretch out the dough until 16" round.

Top the dough with enough sauce to cover the bottom. Next, top with the cheese, then taco meat, then pickled jalapenos.

Preheat the pizza oven to 700 degrees F (alternatively, preheat your kitchen oven with a pizza steel in it to 550F for one hour)

Add the pizza and cook, rotating frequently, for about 4 minutes until cooked through (if using a kitchen oven, bake for 6 minutes, finishing with the broiler if more browning is needed)

Once the pizza is cooked, remove to a wire rack. Top with more pico, more sauce, and freshly chopped cilantro.