I love making pizza at home. There is nothing quite as delicious as a fresh, hot pizza that you made from scratch. However, a really good pizza dough takes a bit of a commitment (I personally enjoy the process!) and is not always the easiest thing to do during a busy week.
Luckily, you can make pizza with store bought dough. It is an easy shortcut that you can use, enabling you to make your own homemade pizza but without spending all the time waiting for the dough to be ready. I will tell you all about how to make homemade pizza with store bought dough, which ones are best, and which ones to avoid.
The Best Grocery Store Pizza Dough
I strongly urge you to first see if your local pizza shop sells dough. Most pizza restaurants will sell you just a ball of dough and this is likely better than any you will get in the grocery store since you not only know it's fresh, but it's also of the highest quality. It is still easier than making it yourself but will have a professional, homemade taste. This is almost always your best choice when buying dough.
Fresh Grocery Store Pizza Dough
The first step to making homemade pizza with store bought dough is to find a really good grocery store dough. Most grocery stores have fresh pizza dough in the refrigerated section of the store. I have seen small bags of dough near the deli section of the store and I have also seen pizza dough stored near the butter. Every grocery store seems to keep their pizza dough in a different spot so be sure to ask an employee where to find it.
Frozen Pizza Dough
Pizza dough may also be in the freezer section of your store. Frozen pizza dough works well enough and will thaw pretty quickly. If you are planning to make pizza, put the frozen dough in the fridge the night before to thaw. There are many decent frozen types of pizza dough available in grocery stores, but if you're looking for something really high quality, New York Dough Company ships their frozen dough. You'll pay a pretty penny for it, though!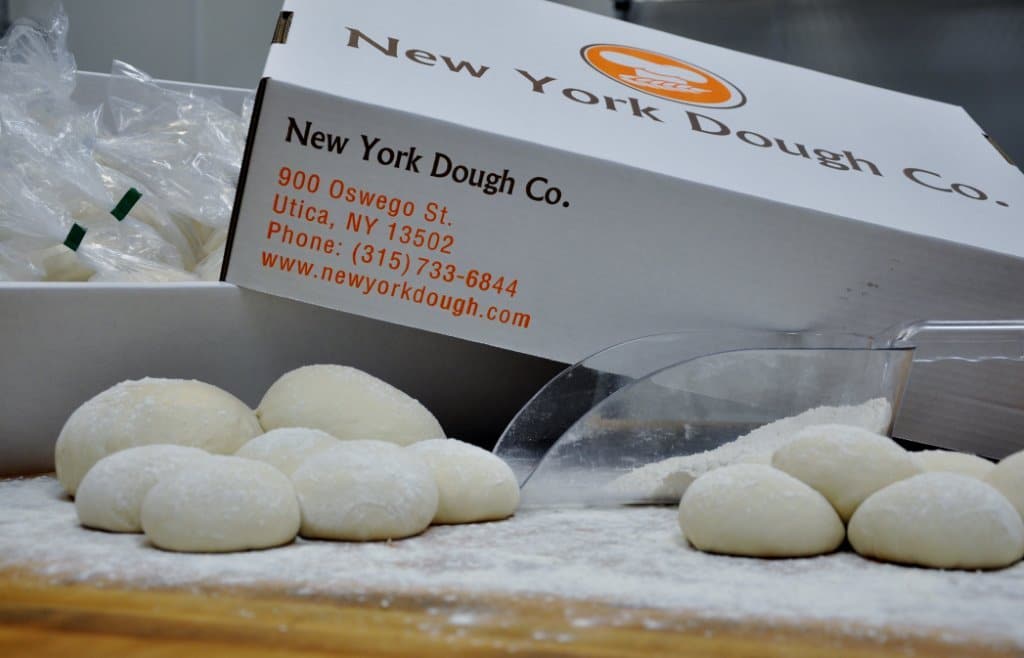 Check the Ingredients
When choosing a grocery store pizza dough, look at the ingredients. Try to find a dough that has no added sugar and is made with olive oil. These two key ingredients will ensure the dough tastes authentic and delicious. Added sugar makes dough taste too sweet and you can tell with the first bite that it is not homemade. Dough made with vegetable oil or canola oil will also taste a little off. Keep these tips in mind when searching for a grocery store dough and you will surely find one that
Extra Ingredients
Buying pizza dough will save you a lot of time but you will still need a few other ingredients to make your pizza. Here is what you need to make pizza with store bought dough:
Pizza dough– fresh or frozen
Pizza Sauce– homemade or jarred
Shredded cheese– Mozzarella cheese is most commonly used to make pizza but shredded parmesan and sometimes cheddar are also great.
Pizza toppings– you will need your favorite pizza toppings and plenty of them! The best part about making pizza at home is that you can add whatever toppings you want and as many as you want. Have fun!
Cornmeal or Semolina Flour– a little sprinkle of cornmeal or semolina helps prevent the store bought dough from sticking to the pan or the pizza stone as the pizza bakes. This is not 100% necessary but it definitely helps. Semolina is always superior to cornmeal, but may be a bit more difficult to find.
Once you have all the ingredients you need, you are ready to make some delicious homemade pizza!
7 Steps to Make Pizza with Store Bought Dough
Time to make pizza! Are you excited? I always get excited when making pizza. No matter how many times I have made pizza at home, I still get pumped for that fresh baked, irresistible taste. Here is how I make pizza dough with store bought dough.
Let the store bought dough sit at room temperature for about an hour. This will help it get soft and also allow it to rise. Many pizza doughs come completely ready to use, already risen. If this is the case, it will usually say so on the pizza dough package. You can skip this hour on the counter if your store bought pizza dough has already risen.
Preheat your pizza oven or your regular oven. Pizza needs to bake at very high temperatures so you want to get that oven nice and hot!
Sprinkle a little flour on a flat, clean work surface and use a rolling pin to gently roll the dough into a circle. You can pick the dough up and stretch it with your hands as well. If you use your hands, keep the dough moving so it doesn't rip or tear.
Place the rolled out pizza dough on a baking sheet. If you are using a pizza oven, put the pizza dough on a pizza peel so you will easily be able to slide it into your oven. Don't forget the cornmeal/semolina on the peel first!
Top your pizza dough with sauce, cheese and pizza toppings. This part is completely up to you. Use your favorite toppings and make your pizza exactly the way you want it.
Bake your pizza according to your pizza ovens directions. Some pizzas will bake in 5 minutes, others will take ten. The best way to know if your pizza is done is to look at the cheese and the crust. The cheese should be completely melted and turning brown in some spots. The crust should be a golden brown color as well. When the pizza looks like that, it is done!
Remove the pizza from your pizza oven and let it cool for about 5 minutes before cutting yourself a big slice. You don't want the pizza to be too hot or you may burn your mouth! Also, the cheese will cut better when it has a few minutes to cool.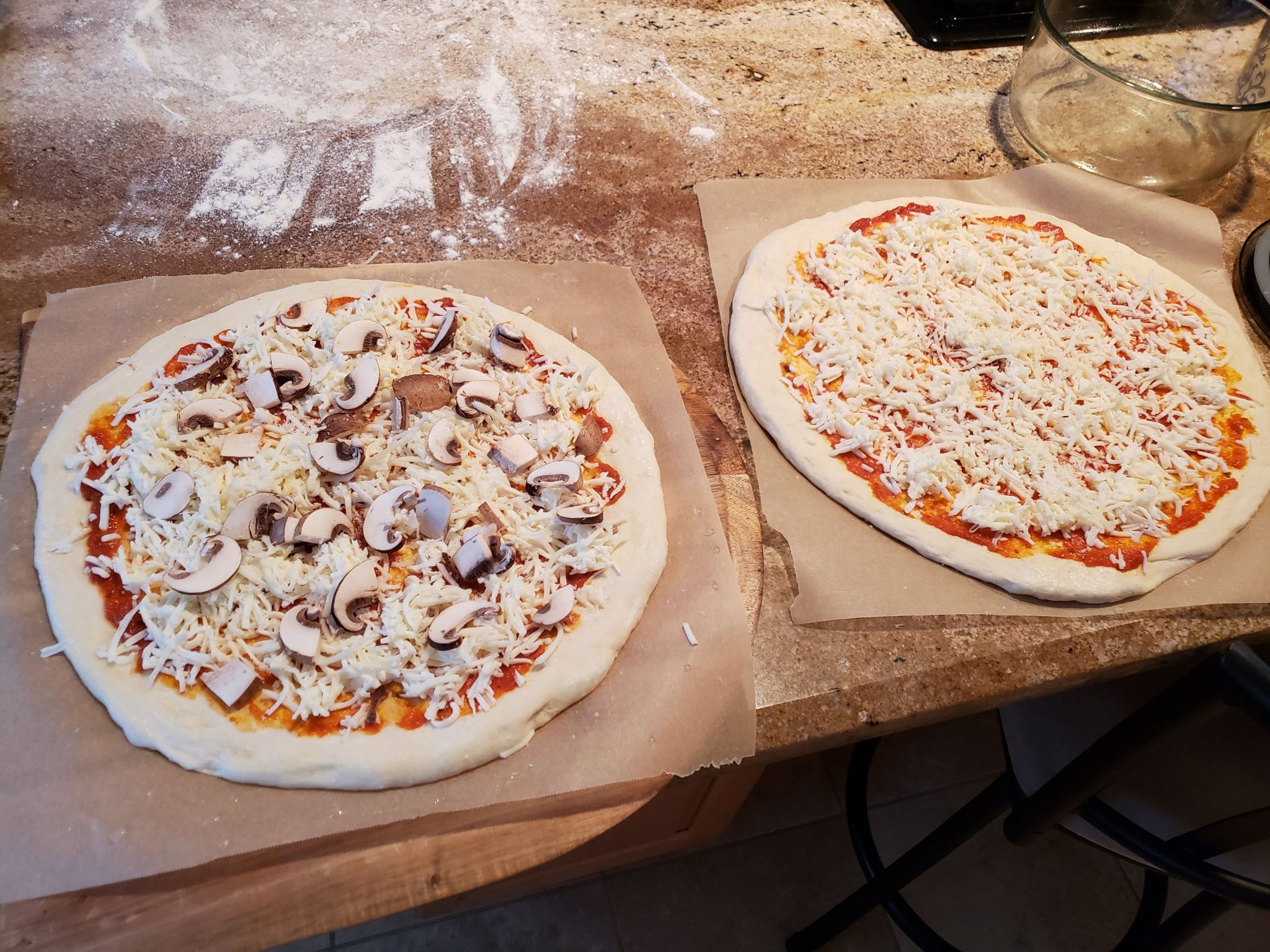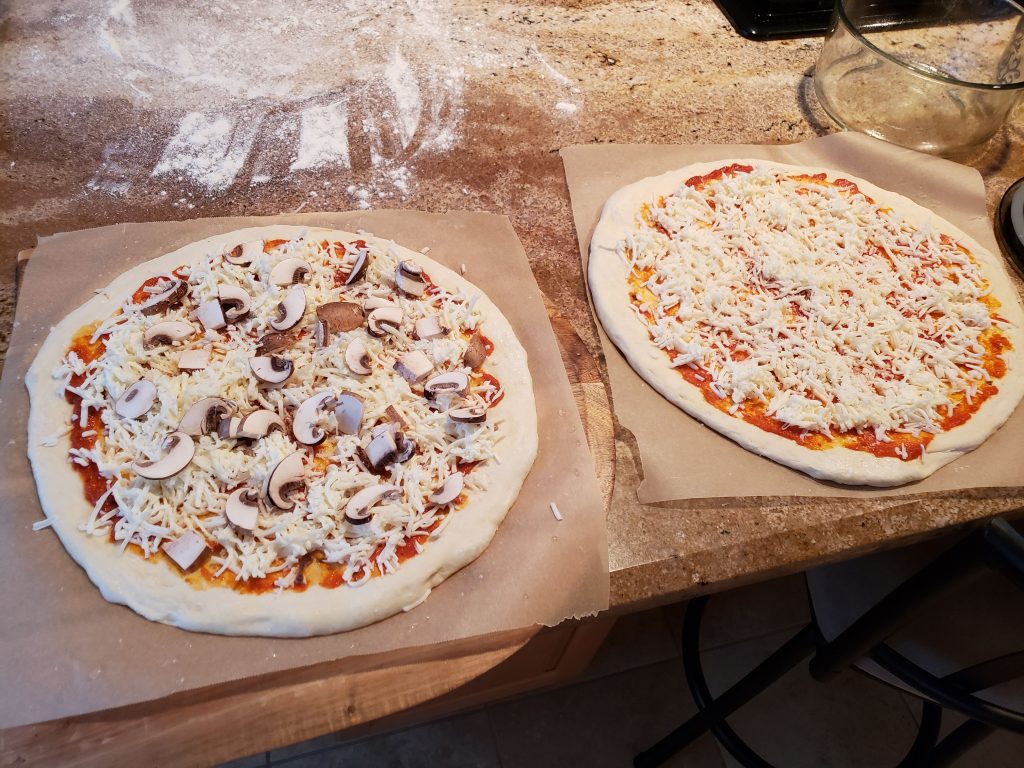 As you can see, making pizza with store bought pizza crust is very much like using homemade pizza crust. The benefit is that you do not need to measure and knead the dough or wait while your pizza dough rises. You can simply start rolling, topping and baking.
Tips for Using Store Bought Pizza Crust
Making pizza with store bought pizza crust is very similar to making pizza with homemade crust. However, we have a few tips and tricks to make it easier to use and also ensure it tastes homemade. Take a look at these little tricks to making homemade pizza using store bought crust.
Bring the dough to room temperature so it's more workable and has time to proof a bit more.
Store bought pizza usually rolls easily with a rolling pin. It has a tendency to tear when using your hands to stretch it. Stick with the rolling pin for the best results.
Sprinkle the crust with a light dusting of garlic powder and parmesan cheese. Do this before adding the sauce or cheese. This little bit of extra seasoning makes the dough taste better.
Add the toppings to the pizza and then let the pizza sit at room temp for about 30 minutes, if you have time. This will give the crust time to puff a little bit, proofing more. It will make the crust bake lighter and airier.
Spread the sauce over the dough and then sprinkle it with some fresh herbs. The simple addition of herbs makes the pizza taste authentic and homemade.
If you have any great tips you'd like to share, please let me know. I am always interested in hearing how you make your pizzas taste even better.
Also, be sure to let us know how your pizza made with store bought crust turns out. We know it will be fantastic! It will taste fresh and homemade. It is also cheaper and more fun than ordering a pizza. Get creative with the toppings and enjoy!