OUR RATING OF THE GOZNEY DOME PIZZA OVEN
Gozney Dome's innovative pizza oven can sling pies like the best in the world. Whether you consider yourself a pizzaiolo or are completely new, the Dome is easy to use, affordable enough, and outperforms everything we've tested.
The good.
Unrivaled performance for the cost.
Accessory ports for add-ons like cold-smoking.
Sexy design
Multiple fuel choices
The bad.
They can go out of stock quickly
Heads up - these ovens sell out quickly.
Tom Gozney, the founder of Gozney, built his first pizza oven by hand and now runs one of the most well-known and award-winning pizza oven brands. There's no question I already love their smaller Roccbox pizza oven – it's essentially become the backbone of my backyard entertainment. However, there seemed to lack a product that fit between the "portable" oven market and the (heavy) authentic wood-fired oven market. Enter the Dome.
This exquisitely crafted product has all the characteristics of the absolute best high-end ovens matched with a multitude of features to take your pizza game to the next level – regardless of skill. The biggest portable pizza oven manufacturers (Gozney Roccbox, Ooni, Bertello, etc) quickly realized just how popular gas was becoming in the industry. Wood-fired is the heart and soul to Neapolitan, but the convenience of gas just too great. Gozney designed the Dome to perfectly fit both styles of cooking. And I'm about to give you everything single detail, good or bad.
Design and Features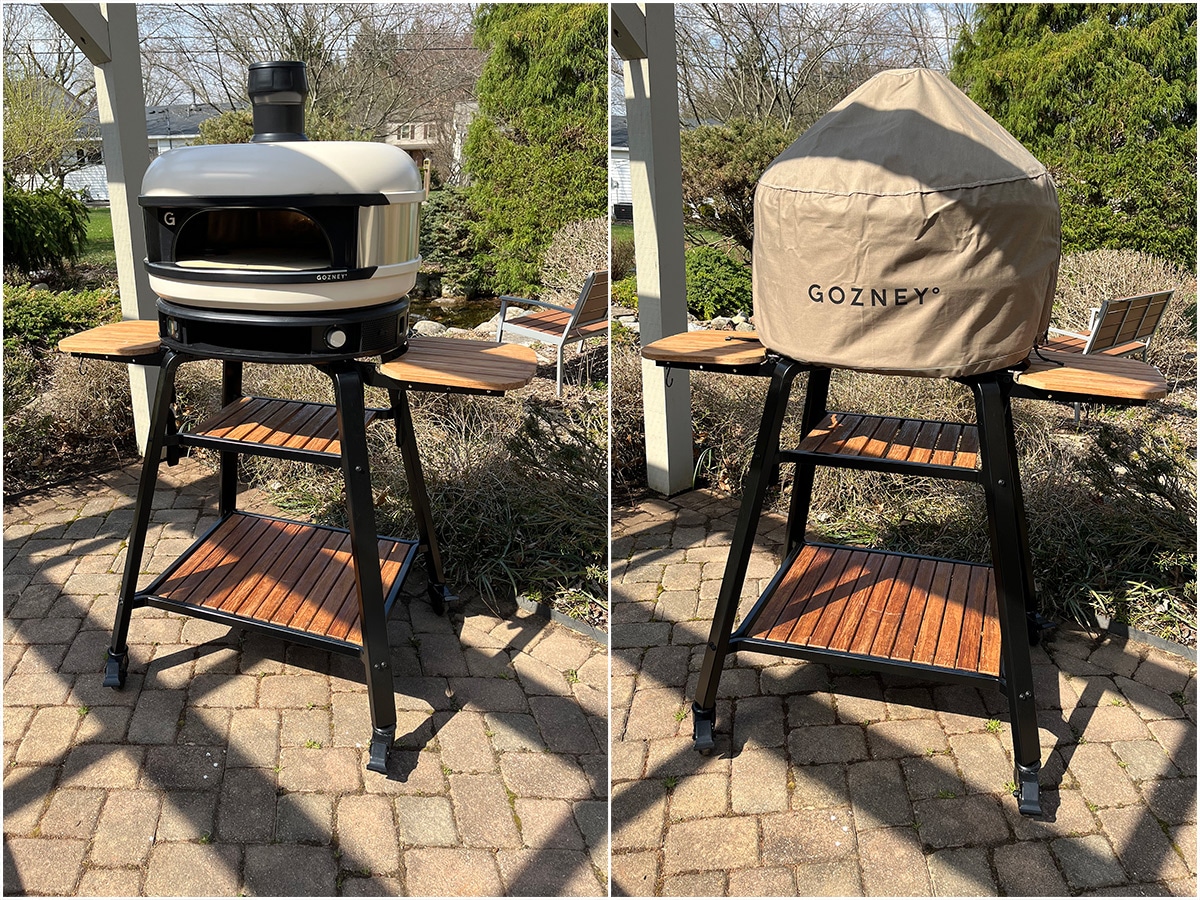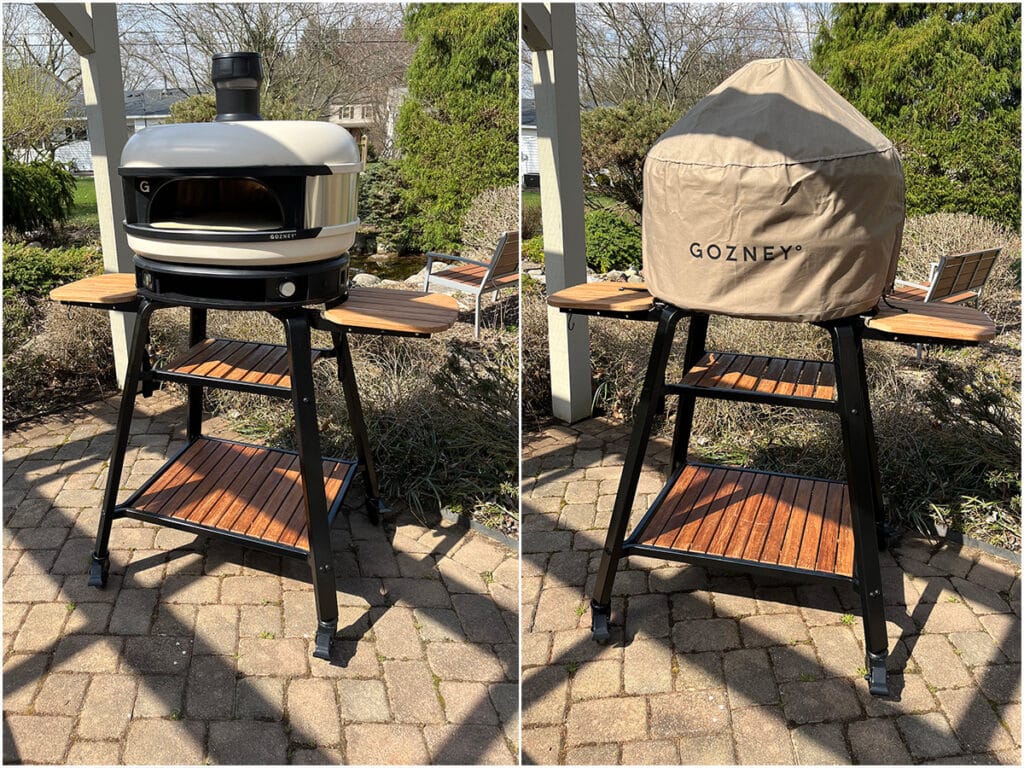 This oven looks SO GOOD. I didn't care whether the Bone color was in stock at the time or the Olive, they both look awesome. It's an incredibly refreshing design compared to the stainless steel overload in the outdoor pizza oven space. One look at this thing in person and you're hooked.
While the Gozney Stand's price seems a bit steep to me, I really like how it's apparent that it was designed for the oven and not just an oven sitting atop of a table.
Check the stock status before they sell out again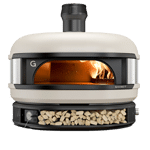 FREE Shipping
5 Year Warranty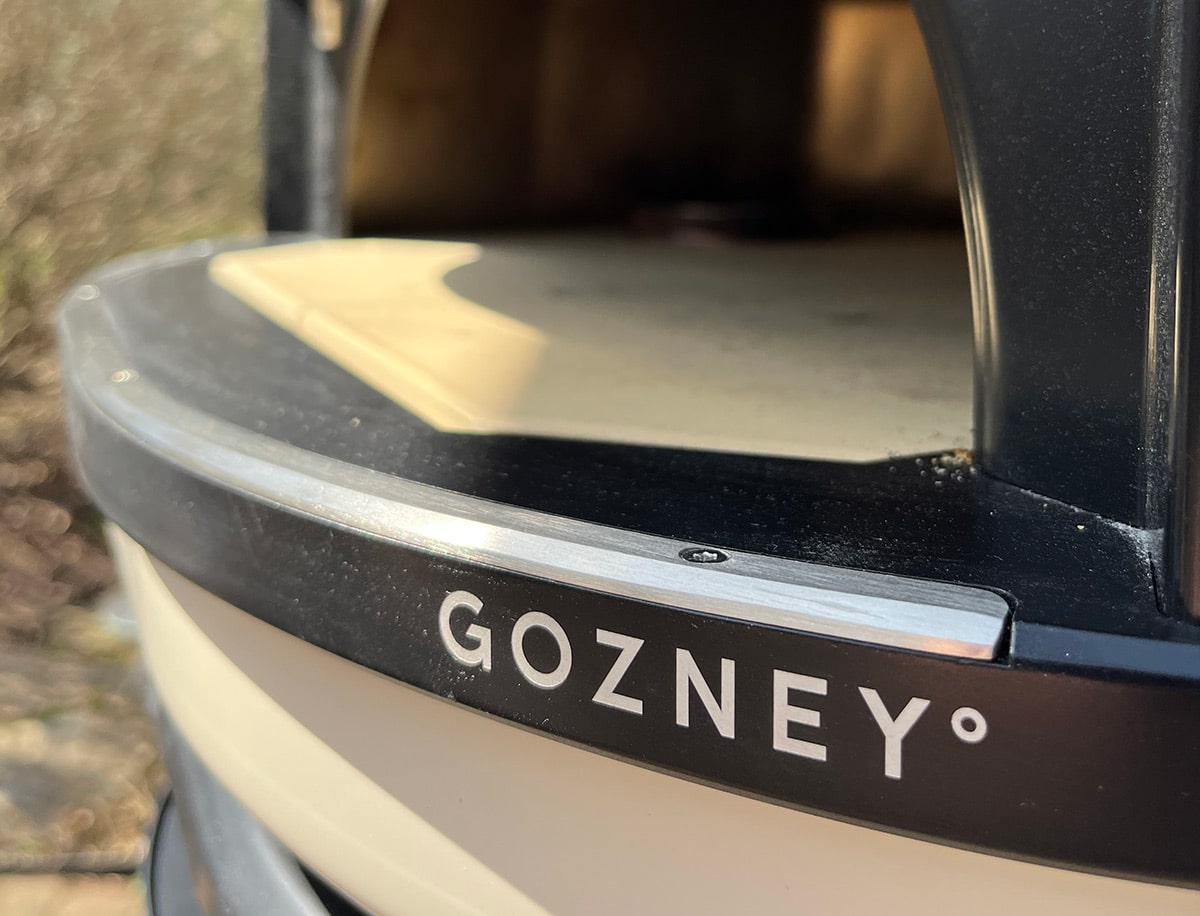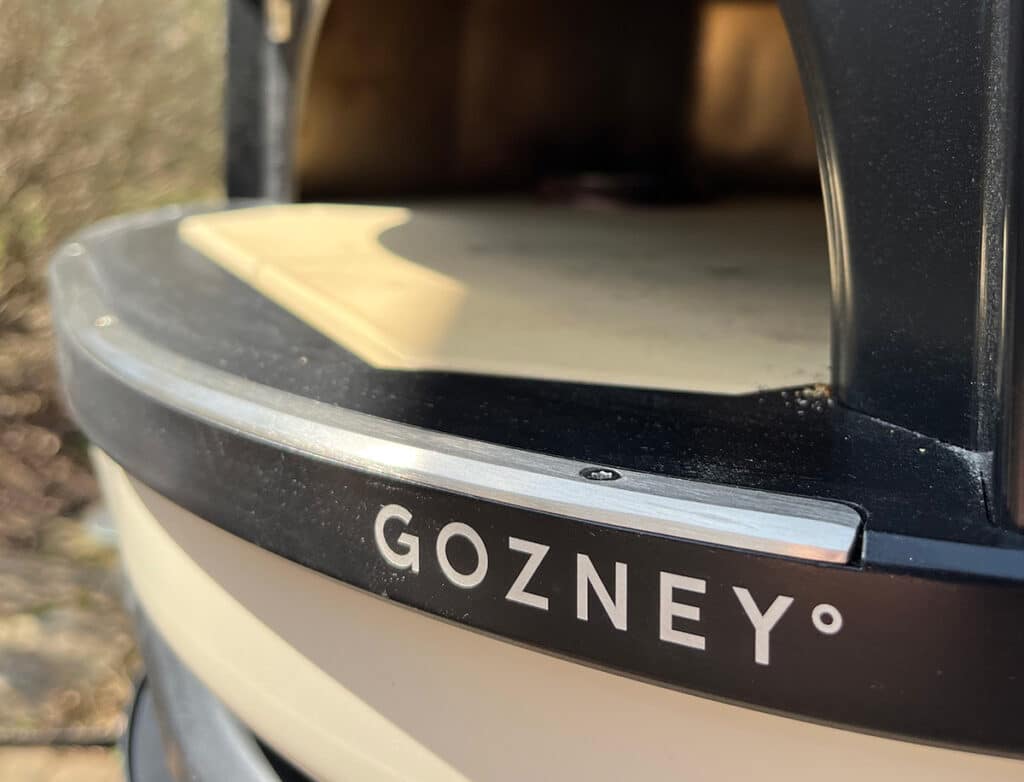 Fuel Source Options
The Dome currently has two distinct options (apart from color): traditional wood-fired or multi-fuel, the latter of which can be used with wood or propane. The multi-fuel oven is able to achieve this convenience by simply alternating the opening/closing of a hole the cordierite stone. This is essentially a little round puck of stone that you plop into the hole on the gas side when cooking with wood, or vice versa. It's as simple as that to change the oven between fuel types.
New as of this year, the multi-fuel Dome has a choice between propane or natural gas. So if you plan on incorporating your Dome into an outdoor kitchen setup with a hard line of natural gas, this is the perfect option to save money on fuel and have a permanent supply.
At the time of this write-up, the multi-fuel Dome cost $1800 while the wood-only Dome costs $1500. Now, for my humble opinion, the extra $300 is a no-brainer to have such a versatile convenience. Even if your one of those guys who swear by wood-fired only, you'll find yourself using this a lot more when a weeknight pizza can be had in under an hour.
Digital Thermometer
Why is it that digital thermometers are even lacking on most of today's $600-$1500 ovens? What year is it?? It seems like such an easy and obvious feature to make pre-heating a bit more concise. Not only will it tell you when the ambient temperature reaches 900F, but there are also two built in meat probes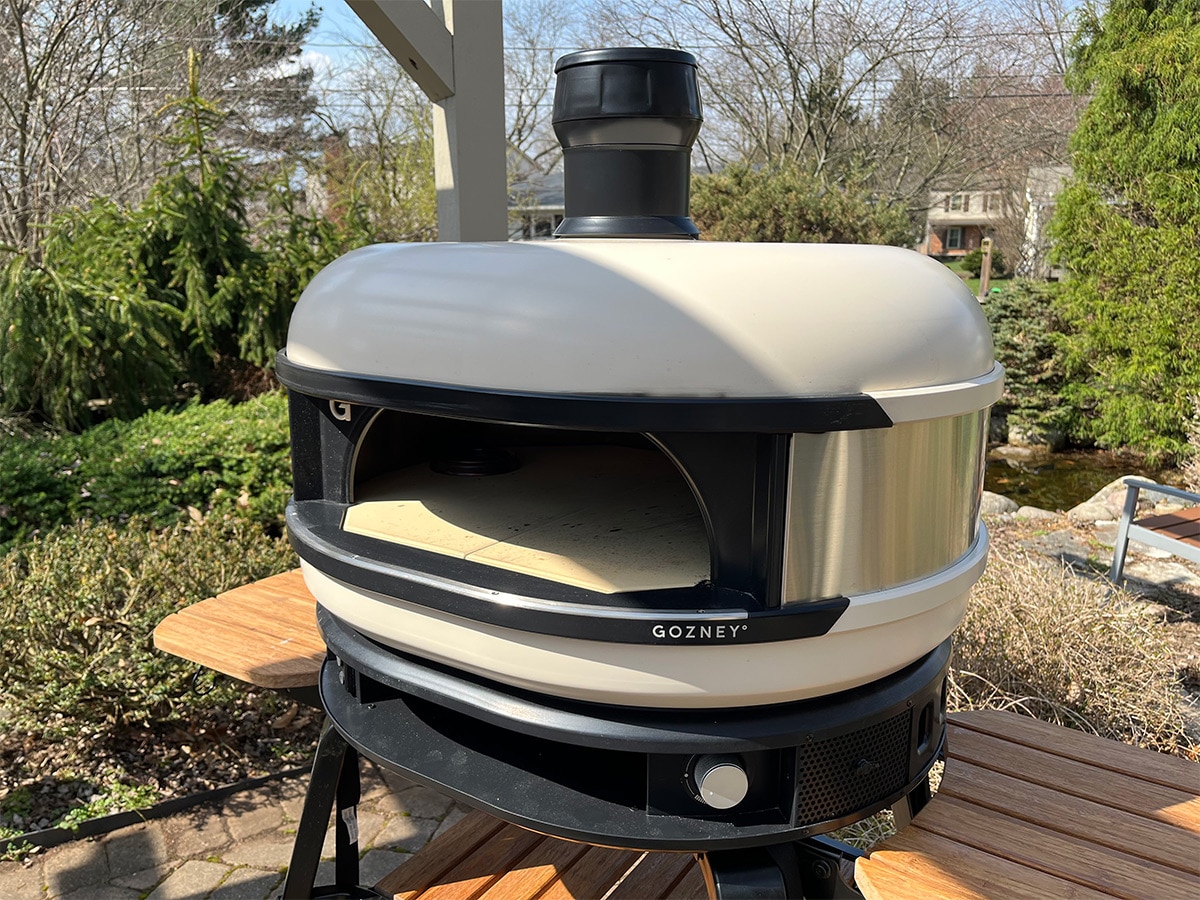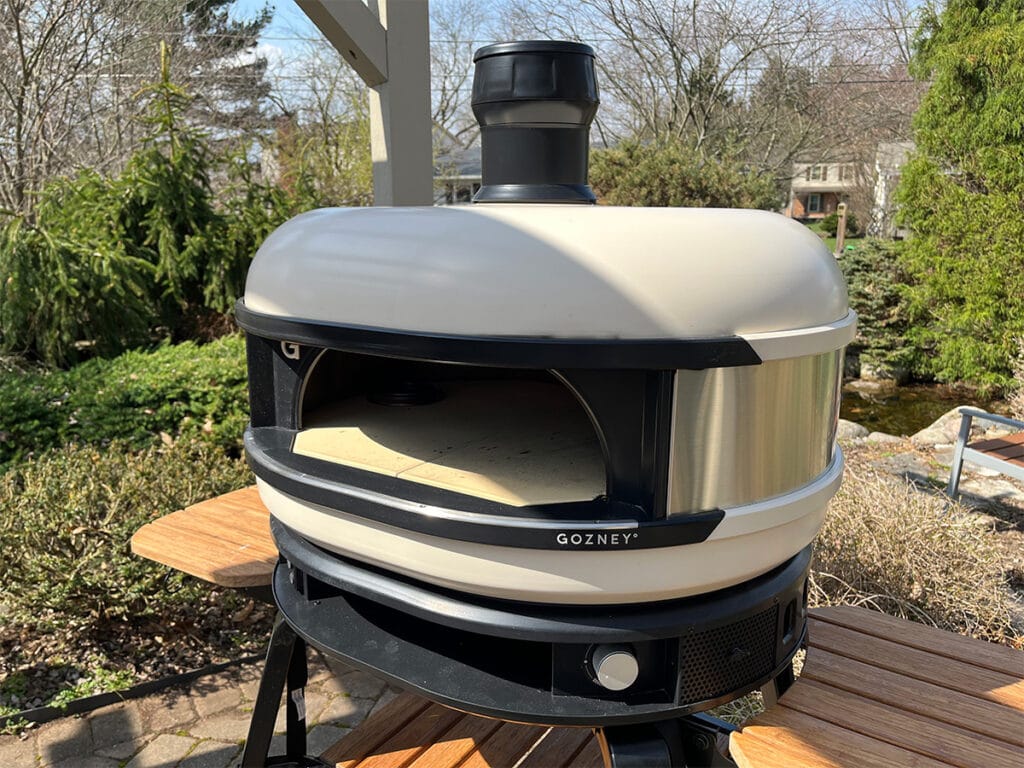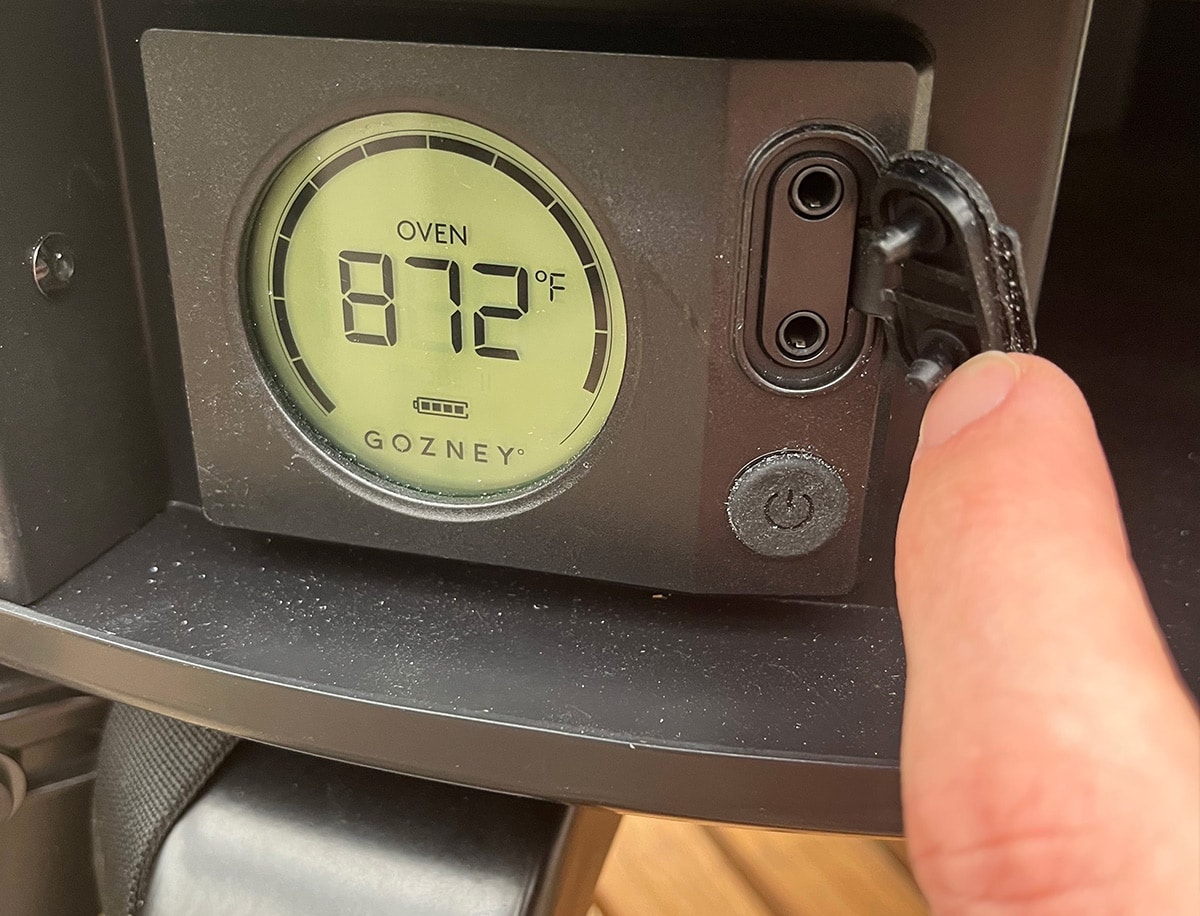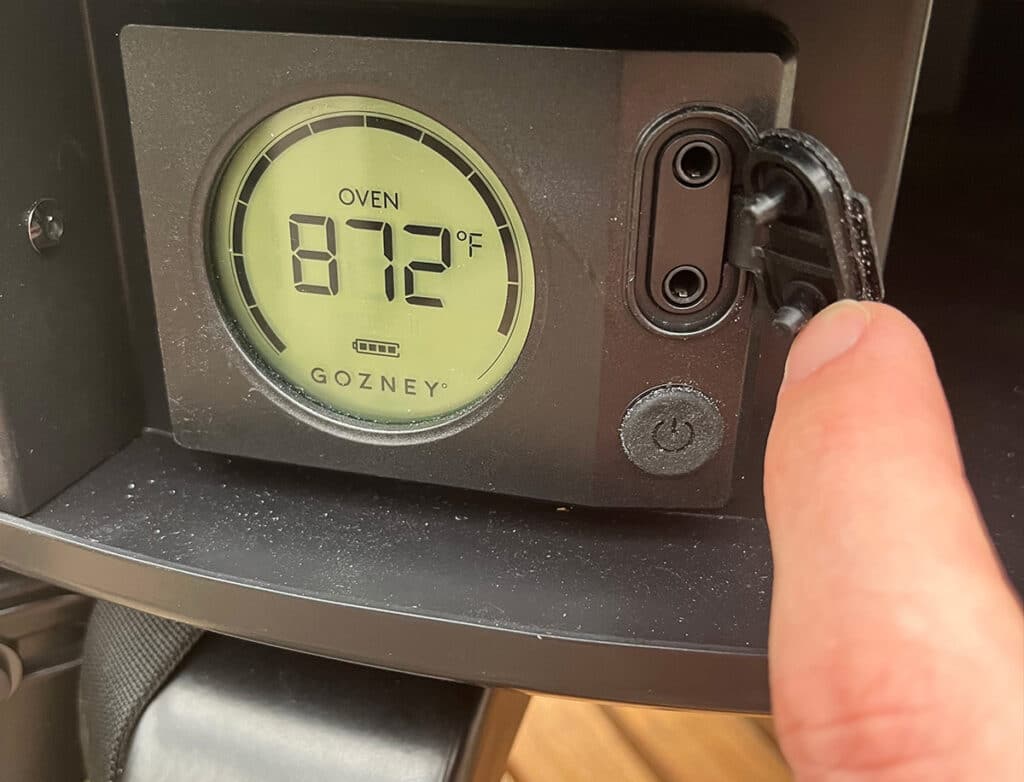 Steam Injector and Accessory Port
Gozney really designed this Dome to be an end all be all outdoor cooking appliance. There's a steam injector in the top of the Dome near the flue to add more moisture when baking crusty breads. Combine this with the excellent heat retention, and you can bake, roast, steam, and even cold smoke a huge variety of foods. The quick-connect accessory port gives Gozney the ability to add even more attachments down the road. As of right now, they have a cold smoking attachment and an automated pellet burner.
Usability and Technicalities
Alright, so we talked about some of the cool features and design aspects of the Gozney Dome, now it's time to get into the stuff that matters most when making pizza: heat retention, size of the cooking surface, max temperature, preheat time, and of course, how well it actually performs.
The Gozney Dome weighs 128 lbs, which is about 3x more than the Roccbox and some of the Ooni's. Sure, it's a larger oven overall with exterior dimensions of roughly 26″ x 25″ x 29″, but a LOT of that weight is in the ceramic dome and corresponding insulation. This Dome will remain hotter for much longer than the cheaper stainless steel bodied portable ovens. In fact, Gozney tested this and found out that it will take around 4.5-5 hours to drop from 400c to 100c.
The Dome has a max temperature of 950F which is on par or slightly above most similar priced competitors. Most manufacturers say the oven preheats much faster than what is realistic – especially when cooking pizza. I suppose the ambient temperature may reach 850+ in as little as 25 minutes, but the stone rarely does. Being the Gozney Dome has a larger interior dimension of 21.65″ x 18.5″ x 7.5″ (when compared to Roccbox/Ooni), I feel much more comfortable waiting 45 minutes to preheat for a good Neapolitan pizza.
Was this review helpful?
If you use one of the links below to purchase the Gozney Dome, I will receive a small affiliate commission which I will use for more coffee, fueling more pizza oven reviews, and forcing me to eat more pizza.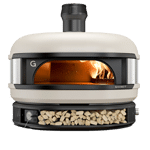 FREE Shipping
5 Year Warranty
Assembly and First Cook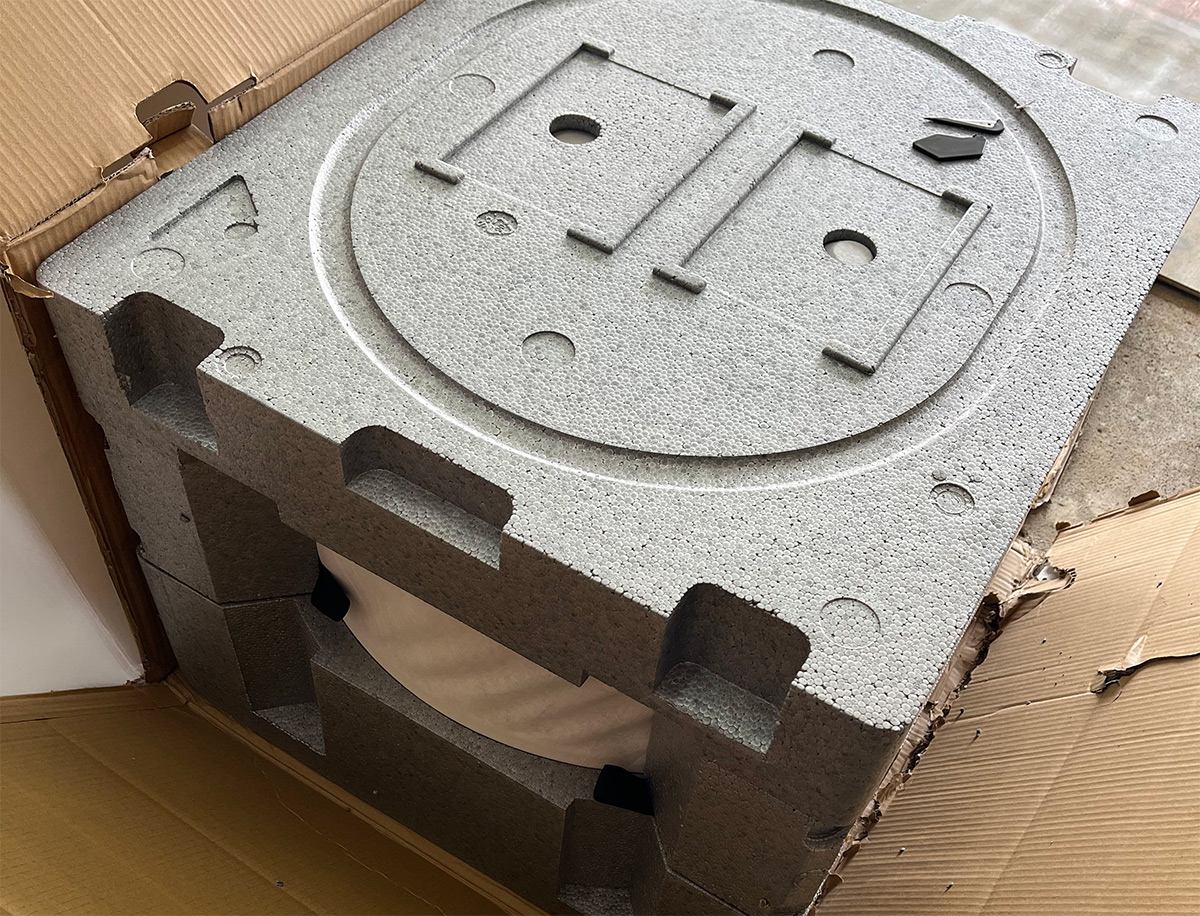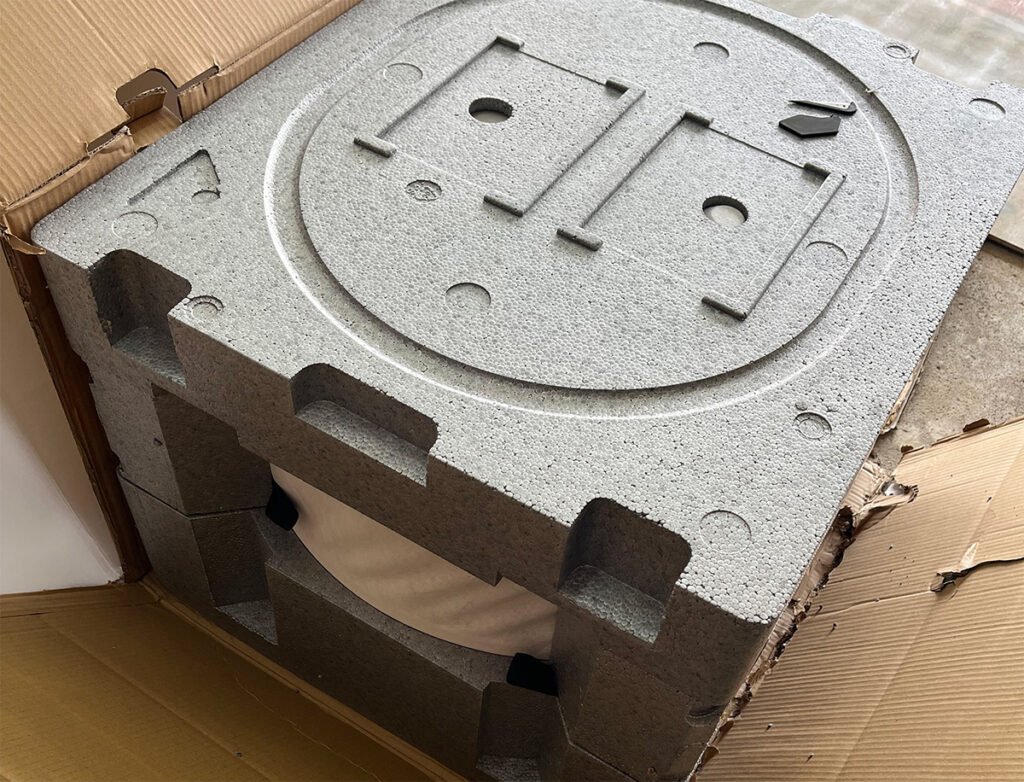 What's in the Box?
Gozney Dome outdoor oven
Detachable flue and cap
Dock and Accessory Port
Digital thermometer, display unit and batteries
2 x temperature probes for checking the internal temperatures of food items
Manual Air Regulation Vent and Ashtray Module
Manual
Integrated gas burner and regulator (dual-fuel ovens only)
Ignition and flame regulation dial (dual-fuel ovens only)
1 x stone floor puck to switch between wood and gas (dual-fuel ovens only)
Setting up the Gozney Dome
This is essentially a no-assembly-required product. After unboxing the oven, either place it on the Gozney Stand (if you purchased it) or find another suitable heavy duty table. I personally think the Dome Stand is a bit pricey, especially when there are much cheaper full stainless steel food prep tables that work just as well, but it sure does look good.
Once you have your cooking platform all set, there are a few batteries we need to insert for the thermometer and ignitor. The thermometer display is magnetically held in place, so just grab a hold of it and lightly pull it off the unit. There will be a small plug on the back, which you can unplug; then, add two AA batteries and stick it back on the unit. The ignitor assembly is located in the back compartment which you will need to use the included Torx head to open. If you're unfamiliar in what an ignitor looks like, I definitely recommend reading the instructions or watch this short video on where to add the battery.
After that, all that's left is simply inserting the exhaust flue, connecting a propane tank, and ensuring the "puck" is in the correct placement for fuel type.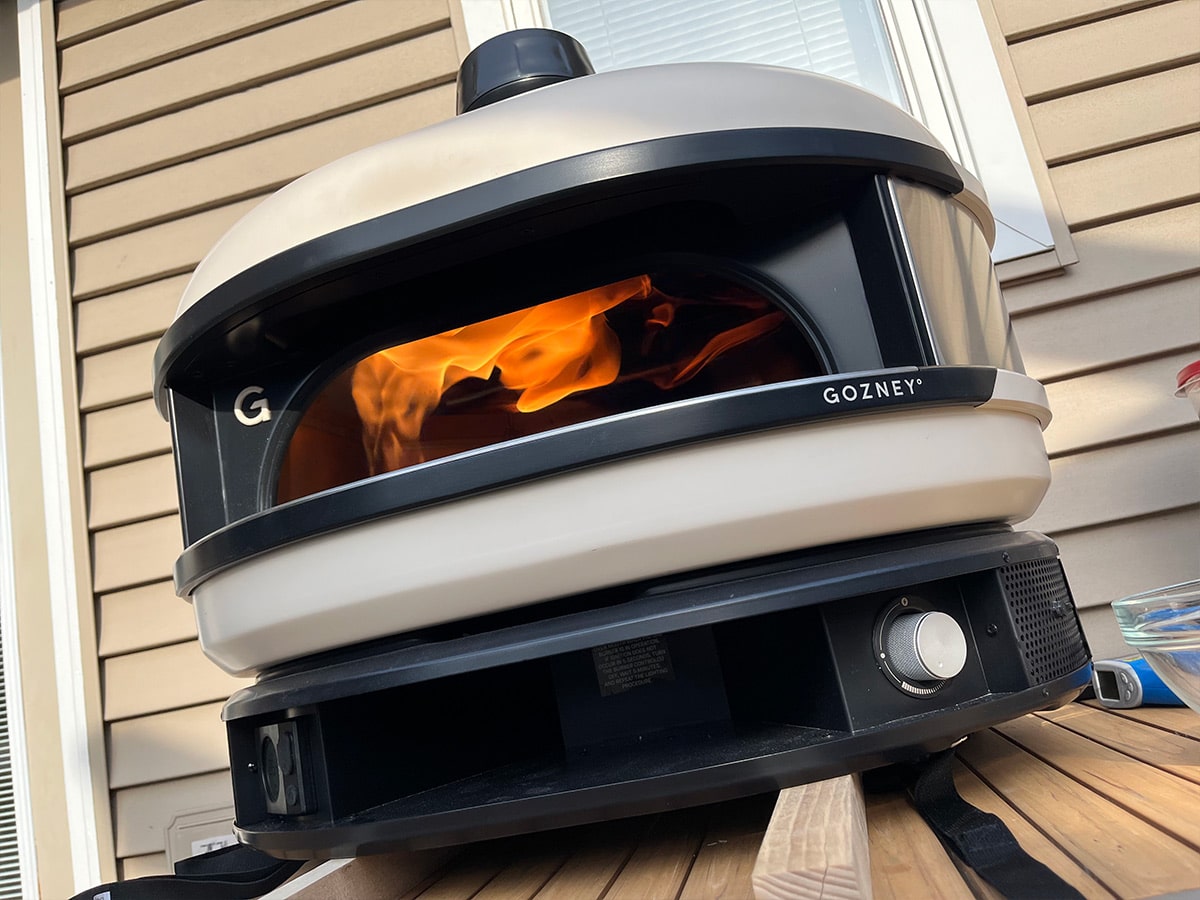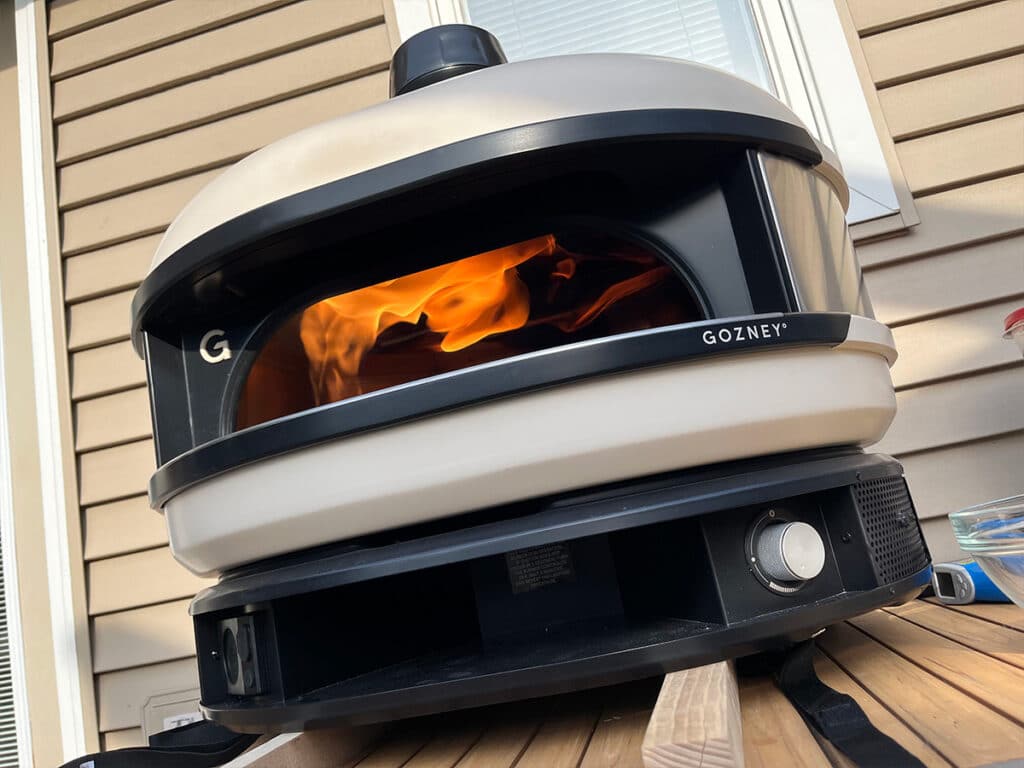 Lighting the Dome Oven
I always suggest that people "season" their new ovens, whether the manufacturer recommends it or not. Gozney calls it "curing" the oven (which may be a more suitable name, but whatever) and they recommend 30 minutes on new ovens or ones that haven't been used in a while. An important thing to note is that they do not recommend having the temperature reach above 530F during the curing phase, so keep a close eye to ensure it doesn't get to hot. Because of this step, curing the oven with gas is way easier.
I used gas for the main part of this review, and it's as simple as turning the propane on, pushing the ignitor dial inward until you hear the pilot light click, and then rotate the dial 90 degrees counterclockwise until the pilot lights. At this point you can release the dial and continue turning it until the flames catch.
Was this review helpful?
If you use one of the links below to purchase the Gozney Dome, I will receive a small affiliate commission which I will use for more coffee, fueling more pizza oven reviews, and forcing me to eat more pizza.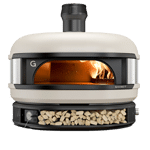 FREE Shipping
5 Year Warranty
Adding Pizza
After curing the oven, it's time to crank the heat up. The ambient temperature on the thermometer reaches temp before the stone on the further end does, which is why I tend to let it go a bit longer (about 45 minutes) than some other people might. The ample room inside the Dome makes it so easy to rotate pizzas and it seems much less likely to instantaneously burn the crust like some smaller ovens can do. The flames tend to curl up onto the ceiling of the Dome, so you may need to turn the flame down a bit if your toppings look like they are about to burn.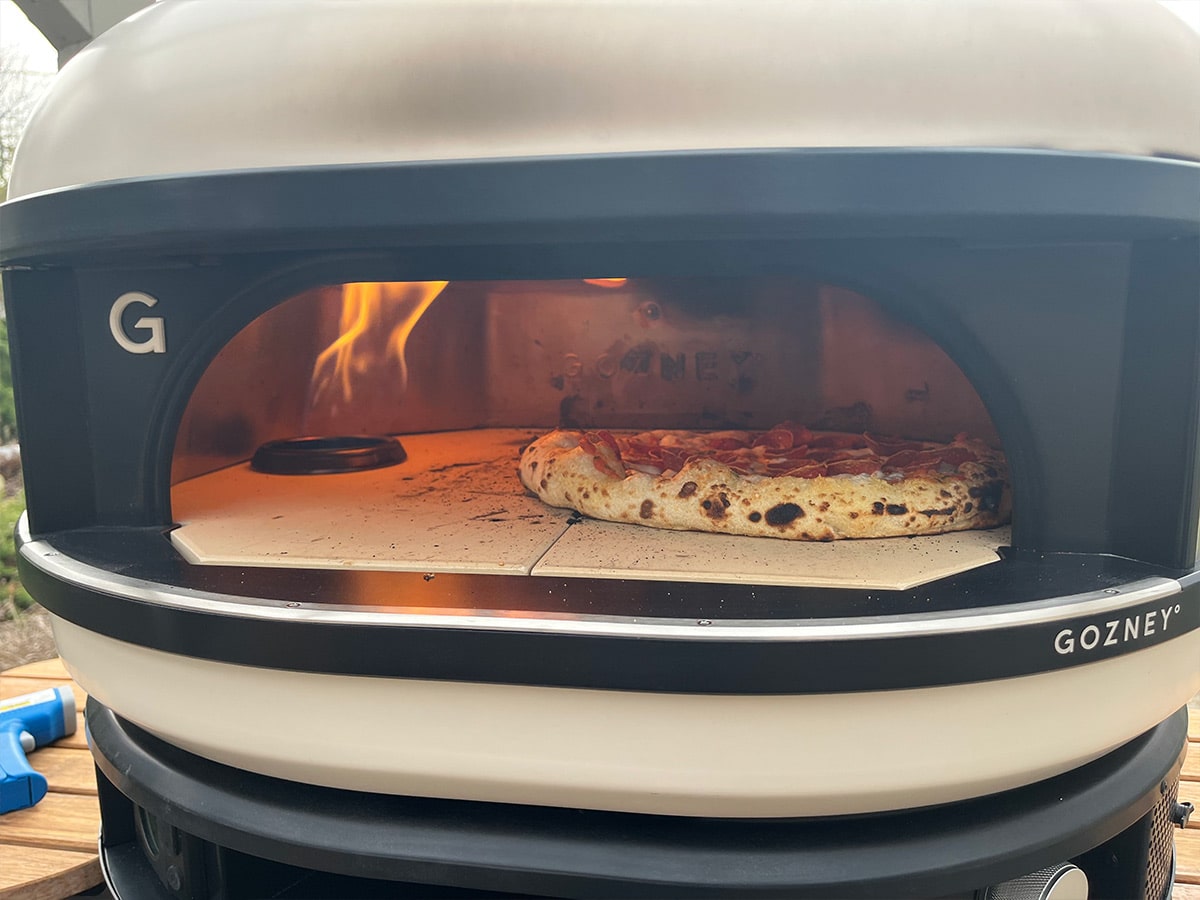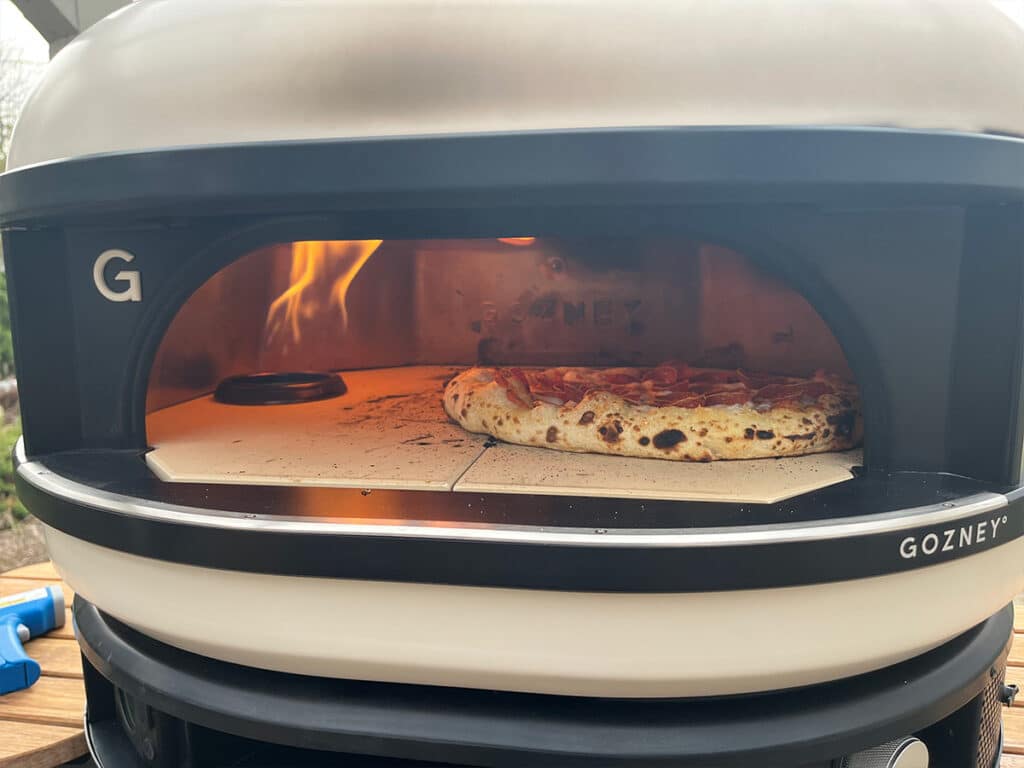 Cleanup
There will be more cleanup when using wood, naturally, but general soot build-up can happen with both fuel types. Most of it can be burnt off when cooking and brushed away or vacuumed out. For heavy build up, heat it up to 750F+ for a couple hours, then allow to cool before brushing off. For the outside of the dome, you can use a general non-bleach cleaner or Bar Keeper's Friend. The front of the dome just above the opening is prone to getting smoke and soot build-up, so I recommend keeping on top of it and giving it a good wipe down every now and then.
Performance
I mean, this one takes the cake. Everything about this oven wins. Sure, it's more money than the Ooni's but you get miles more in return, and it's cheaper than Forno Bravo's who lack the innovation that Gozney brought with the Dome. Not only will you make better pizzas in this oven, you'll find yourself wanting to bake sourdoughs, sear steaks, and smoke salmon. The Gozney Dome is now our #1 pizza oven.