Imagine that you are walking down the street on vacation in Mexico. You see food street vendors all around and you're wondering what is going to be the most delicious option. Then, you see a vendor shucking corn, drizzling lime, crema, and cheese over the top. Upon taking a bite you realize you have a new favorite food – elote, or Mexican-style street corn!
Elote is one of the most beloved street foods to make its way across the US. It is a light and healthy snack, perfect for watching a ball game, eating on a stick, or just enjoying the summer weather. Since elote is so yummy, we decided it is only right to create a pizza that tastes like elote. We introduce to you our Mexican Street Corn Pizza, AKA Elote Pizza! Let's get into how to make this decadent, yet light pizza pie.
What is Elote?
Elote is a dish made of roasted corn, salt, chile powder, cilantro, butter, cotija cheese, lime juice, and crema or mayonnaise. The word elote comes from the Nahuatl word elotitutl, which means a "tender cob." Corn has been a staple in Latin American's diets for centuries, as it was one of their main crops throughout history.
Since corn was indigenous peoples' most abundant crop, many folks would sell corn dressed in lime juice right outside their fields to celebrate the harvest. Later on, street vendors would begin selling corn dressed in lime, mayo, and cheese. The popularity of this street food took off because of how easy it is to eat on the go.
Today, you can find elote all over Latin America, as well as in the United States at baseball games, state fairs, and many backyard BBQs. The ease and convenience of this dish are unparalleled. Not only that, but the flavor of elote is so great, that it's no wonder it has become one of the most popular summer dishes in North America.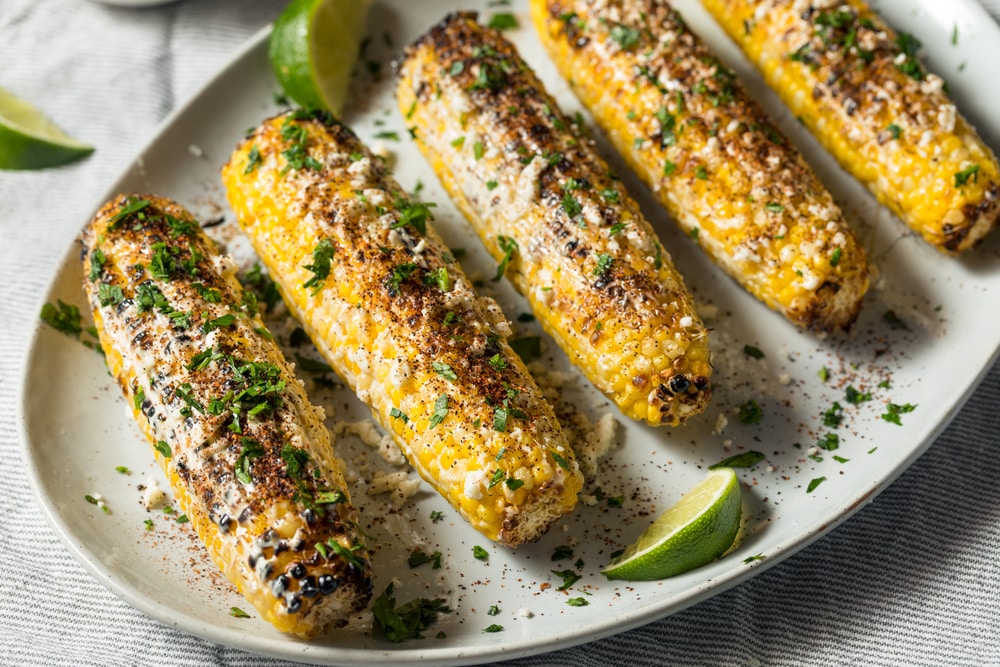 How Do You Make Elote?
Making elote is very simple because rarely do folks deviate from the original recipe. The flavors blend so well; the tart lime with the creamy crema, the crunchy corn with the soft cheese. The herbaceous punch from cilantro. The spicy chile pepper and the fatty butter. Everything is so perfect, and many of the ingredients you likely already have in your pantry!
First, to make elote, you'll want to grill your corn over direct heat. This will give it char marks and add tons of flavor to the dish. Once cooked, you can either leave the corn on its cob or cut it into a bowl before topping it with ingredients. Then, top with crema or mayonnaise, lime juice, salt, butter, chile pepper, and cotija, and top it all off with some cilantro.
Leave any ingredients that you do not enjoy off of your elote. Don't like cilantro? No problem! Need less spice? Use a less spicy chile powder or paprika instead! Don't have time to grill your corn? No biggie! Keeping a loose adaptation of this classic elote recipe will still capture the simplicity and deliciousness of this dish.
Why Put Elote on Pizza?
Fresh ingredients always work well on pizza. Pizza is so adaptive that you can put anything you like on top and it will always taste good. However, you should make Elote Pizza because it is the most perfect pizza pie for summertime!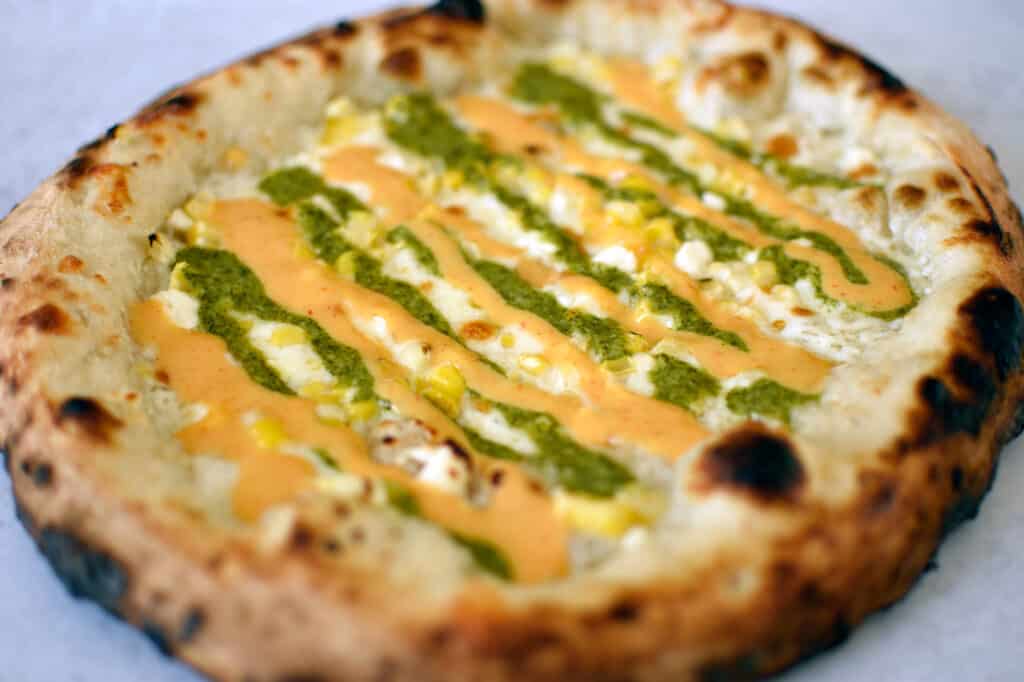 Elote is the ultimate backyard BBQ side dish, so we would be doing it a disservice if we DIDN'T turn elote into pizza. While you are enjoying all your summer foods, it is important to try new things to evolve your pizza making to the next level. With all that said, crunchy corn on top of pizza is a delicacy that everyone should try once!
Perfect Crust for Elote Pizza
While there are tons of different crust recipes out there for pizza, we recommend using Neapolitan pizza dough for Elote Pizza, much like this recipe here. A Neapolitan dough is great because it is a cold fermented dough. This means you assemble the dough with slightly less yeast, allow the dough to sit overnight in the fridge, and by the next day, it will have risen nicely.
The other reason we love Neapolitan dough is for its flavor. From the 24-hour cold fermentation, an umami flavor is produced within the dough. Fermentation means lots of flavors, usually by way of funk. The funkier your dough tastes, the longer it has been fermented. This type of dough only enhances the Elote Pizza experience.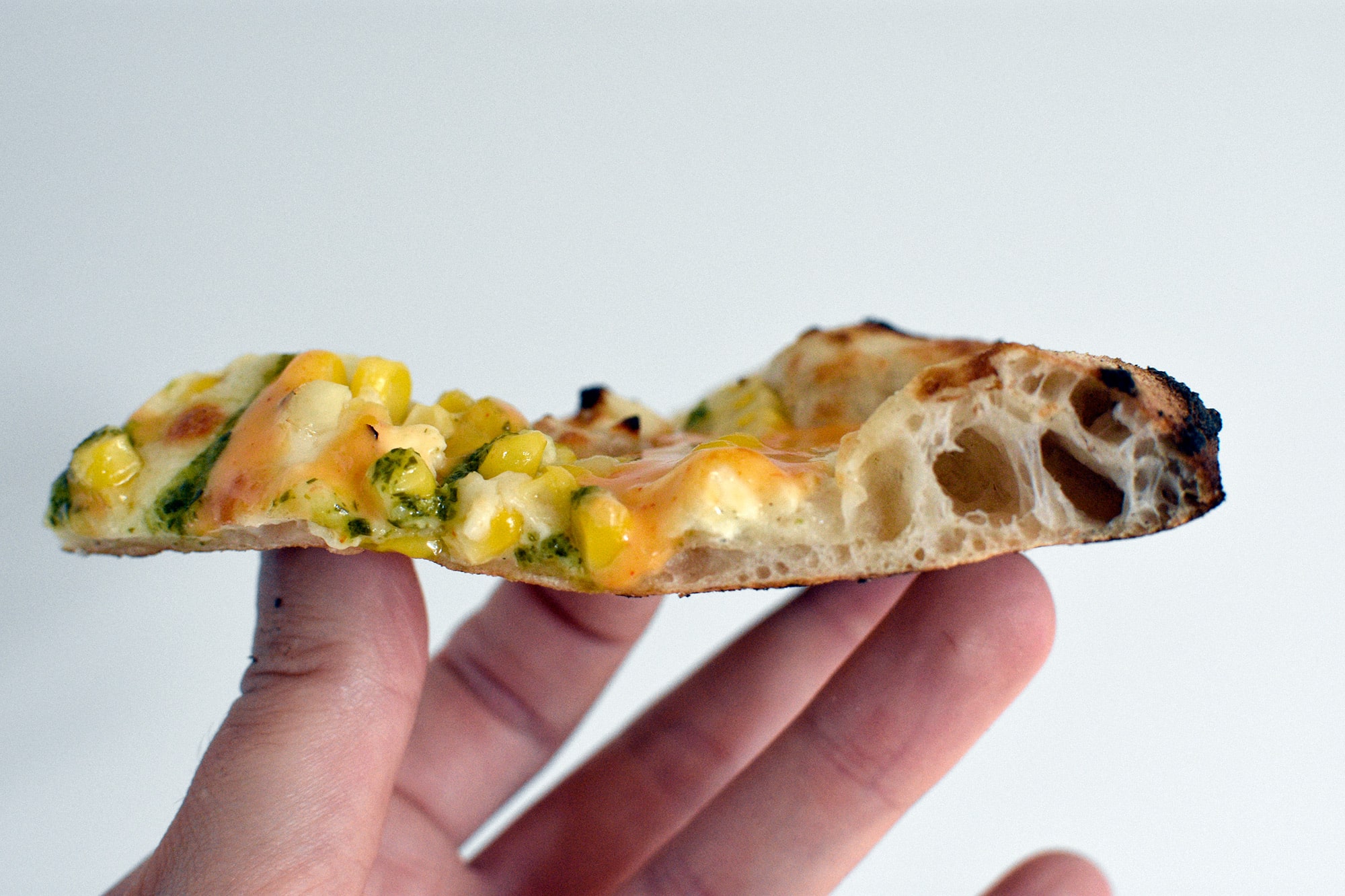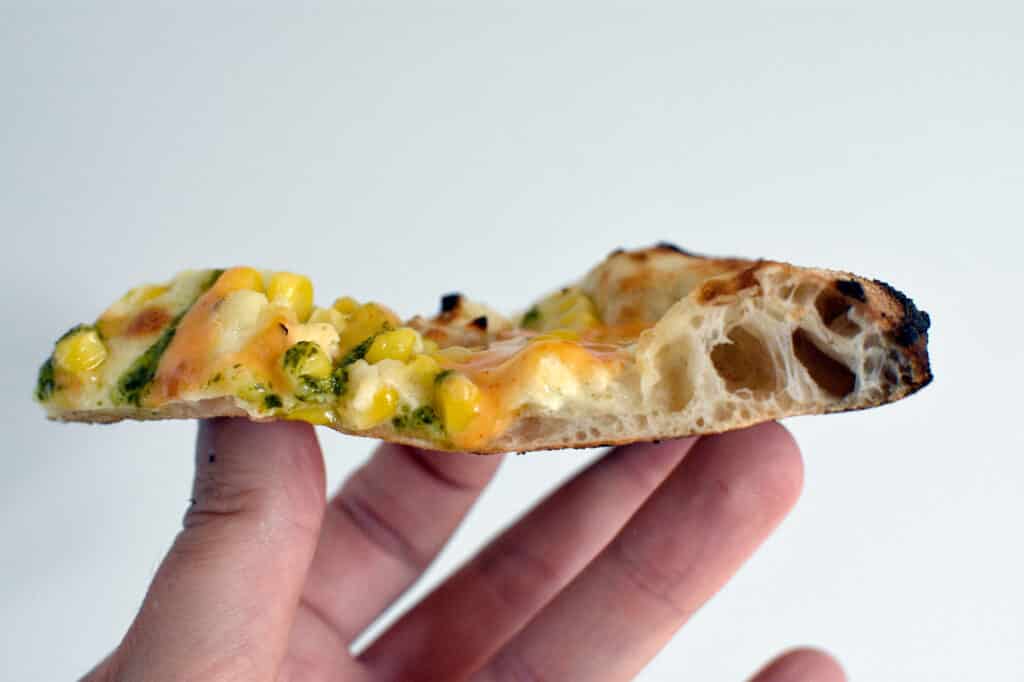 Of course, you can also use any dough you like for this Elote Pizza. We also recommend NY-style crust or even Detroit-style. Any way you cut it, and no matter the dough used, this will be your favorite pizza of the entire summer.
Putting it All Together
To make this Elote Pizza the best you possibly can start with your fermented Neapolitan dough. Stretch it out thin to get it ready for toppings. Instead of pizza sauce, we use a lime crema mixture to line the pizza. This adds tons of creaminess and tartness as a base.
Next, we topped the crema with feta and mozzarella. The feta gives off the same vibe as the cotija and the mozzarella adds the pizza cheese element we need. Topping the cheese is some nicely charred grilled corn, which looks so beautiful on top of this pizza.
Lastly, we turned the chile and the cilantro elements into sauces for the pizza once it's cooked. The cilantro sauce consists of cilantro, lime juice, garlic, EVOO, and salt and is drizzled beautifully over the top. The chile powder we mixed with Kewpie mayo (the best mayo ever!) for a spicy mayo topping. This sauce, again, gets drizzled over the top before serving.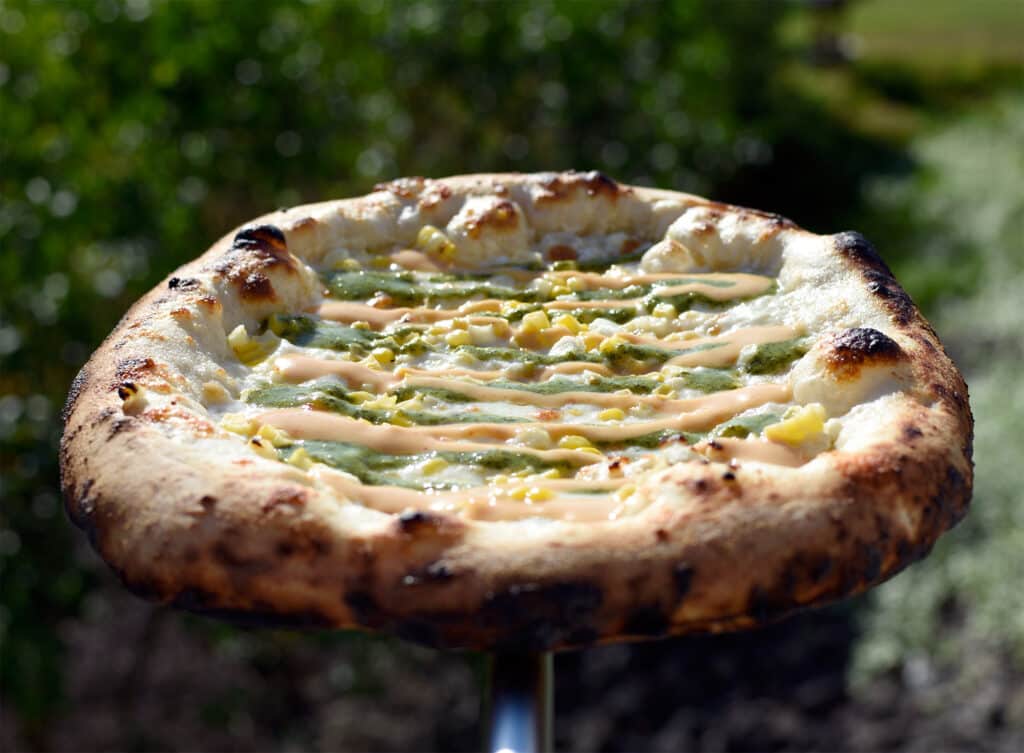 Mexican Street Pizza
Mexican Street Corn Pizza, AKA Elote Pizza, is the perfect homemade pizza pie for this summer. It has the freshest summer corn, lime crema, two kinds of cheese, and two sauces that everyone will absolutely love. Take note of street vendors; they often have the best food because it is made with love. Now, let's get into this exact Elote Pizza recipe!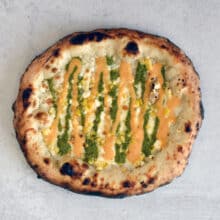 Wood-Fired Elote Street Corn Pizza
Believe it or not, corn is a very common topping on pizza around the world – except for the United States. What better way to introduce corn on pizza than with a Mexican street food staple that no normal human would refuse: elote. And all of the flavors work exceptionally well on pizza dough.
Print
Pin
Rate
Follow my pizza journey
Servings:
1
12″-13″ Pizza
I bought 15 pizza ovens to hands-on test.
It's a hobby, not an obsession! Here are the best pizza ovens.
Ingredients
1

270g

Neapolitan pizza dough ball

1/4

cup

Crème fraîche

Sub with sour cream

3

oz

Whole milk mozzarella

3

oz

Feta or Cotija cheese

crumbled

1

ear

Corn

Grilled, then cut off the cob
Spicy Kewpie
1/2

cup

Kewpie mayo

2

tbsp

Sriracha
Cilantro Sauce
1

bunch (~4oz)

Cilantro

Some stems are perfectly fine to include

1/3

cup

Olive oil

Extra virgin

3

tbsp

Sour cream

Adds a very slight creaminess to the sauce while thickening it

1

Garlic clove

1/2

Lime

Juiced

Salt

To taste
Seriously. I have a lot of pizza ovens.
Let me show you the best after hundreds of hours testing. Read my in-depth pizza oven reviews!
Instructions
Lime Crema
In a bowl, whisk in the juice of one half of a lime with the crème fraîche. Add a pinch of sea salt to taste.
Spicy Kewpie
In a separate small bowl, mix kewpie with sririacha. Pour into a squeezable bottle.
Cilantro Sauce
Add all incredients to a food processor. Blend on high until smooth, about 1 minute. Pour into a squeezable bottle.
Pizza Time
Flatten and stretch dough into a 12-13" pie. Holding it up to a window, you should be able to see light through the dough if it's stretched enough.

Prepare your pizza by spooning lime crema onto stretched dough and then sprinkling feta. Starting from the outside and moving inward, spread a light even layer of mozzarella. Add grilled corn.

Preheat your Ooni (or other outdoor pizza oven) for at least 30 minutes. The oven should reach near 900F in this time. Using a pizza peel, place pizza in oven and cook for 2 minutes (+/- 30 seconds depending on color) rotating as needed.

Remove pizza from oven and place on wire rack to cool for 2 minutes. Using your two squeeze bottles (or a spoon to drizzle), drizzle the cilantro sauce and spicy kewpie across the pizza. Slice and serve.
Notes
This is a Neapolitan recipe that uses 00 flour, so high heat is a must; home ovens are insufficient. Be sure to preheat an outdoor pizza oven to 900F before cooking. If you only have a home oven and pizza steel/stone, check out our NY Style recipe which works great with this.