A pizza that covers all flavor profiles is truly a work of art. Salty, sweet, savory, and tangy ingredients combine to create a symphony of flavor on your tongue! That is exactly what this Cranberry Goat Cheese & Caramelized Onion Pizza brings to the table. Once you've tasted this delectable pie, it will be your new go-to pizza recipe!
This fresh and fabulous pizza is made with our famous NY style pizza dough, a light amount of your favorite pizza sauce, cranberry-studded goat cheese, deeply caramelized onions, fresh arugula, lemon zest, and a balsamic drizzle! This pizza really hits all the marks for an elevated, upscale homemade pizza experience.
What Kind of Pizza Sauce Pairs with Goat Cheese?
Not only is pizza sauce affordable, but there are so many varieties at the grocery store. Because this Cranberry Goat Cheese & Caramelized Onion Pizza is all about the toppings and uses very little sauce, you can just use your favorite tomato-based pizza sauce from the market. We use a small amount for an acidic base. You can also very easily make your own no-cook pizza sauce. Simply combine tomato sauce, a small amount of tomato paste, minced garlic, and some fresh oregano. Stir to combine and thats it! The typical flavor from tomato pizza sauce comes from oregano and basil, and using the fresh stuff packs a herbaceous punch! Or, if you have 30 minutes to spare, take a shot at making the ultimate pizza sauce.
A white sauce can work as well, or you can even go sauceless since there is so much rich flavor in this pizza.
When to Put Goat Cheese on Pizza
Traditional pizzas use mozzarella, parmesan, provolone, and other lovely melting cheeses to illustrate that picture-worthy cheese pull. There is a time and a place for extra cheesy, conventional pizza. And now is not one of those times.
Using goat cheese adds an element of creaminess that mozzarella cannot offer. It has a tang and a funk that pairs perfectly with fruit, which is why it is often found on charcuterie boards alongside preserves (and why we recommend using cranberry goat cheese!) Despite being a delicious cheese, it's meltability is far different than traditional pizza cheese.
For this reason, you will have to carefully watch your pizza as it bakes. In this recipe, we put the goat cheese on before baking so that the top browns slightly, adding a deeper, richer flavor to the end result. This way, you get pockets of caramelized goat cheese in every bite. Plus, it looks pretty and produces a flavor you truly cannot beat!
Caramelzing Onions for Pizza
If you have never made caramelized onions before, they are worth the time and patience. As onions slowly saute in fat, they continuously release natural sugars so that the end result is jammy, sweet, and well browned. Don't turn the heat up too high, otherwise your butter will burn and the onions will not have the proper time to completely caramelize to a delicious jam-like consistency!
You want the onions to be fully caramelized before adding them to the pizza. While the pizza oven will warm the onions, they will not continue to cook much due to the quick cooking time. The caramelization may take a large portion of your cooking time, but trust us, the flavor is worth every second.
To caramelize onions for your pizza, add a few tablespoons of butter to a pan over medium-low heat. Add evenly-sliced onions and cook, stirring frequently, for up to 45 minutes. If the pan gets too hot, lower the heat to the low setting and add a splash of water. You'll know the onions are done once they turn soft, jammy, and deep brown in color. Add a pinch of salt to taste and they're done!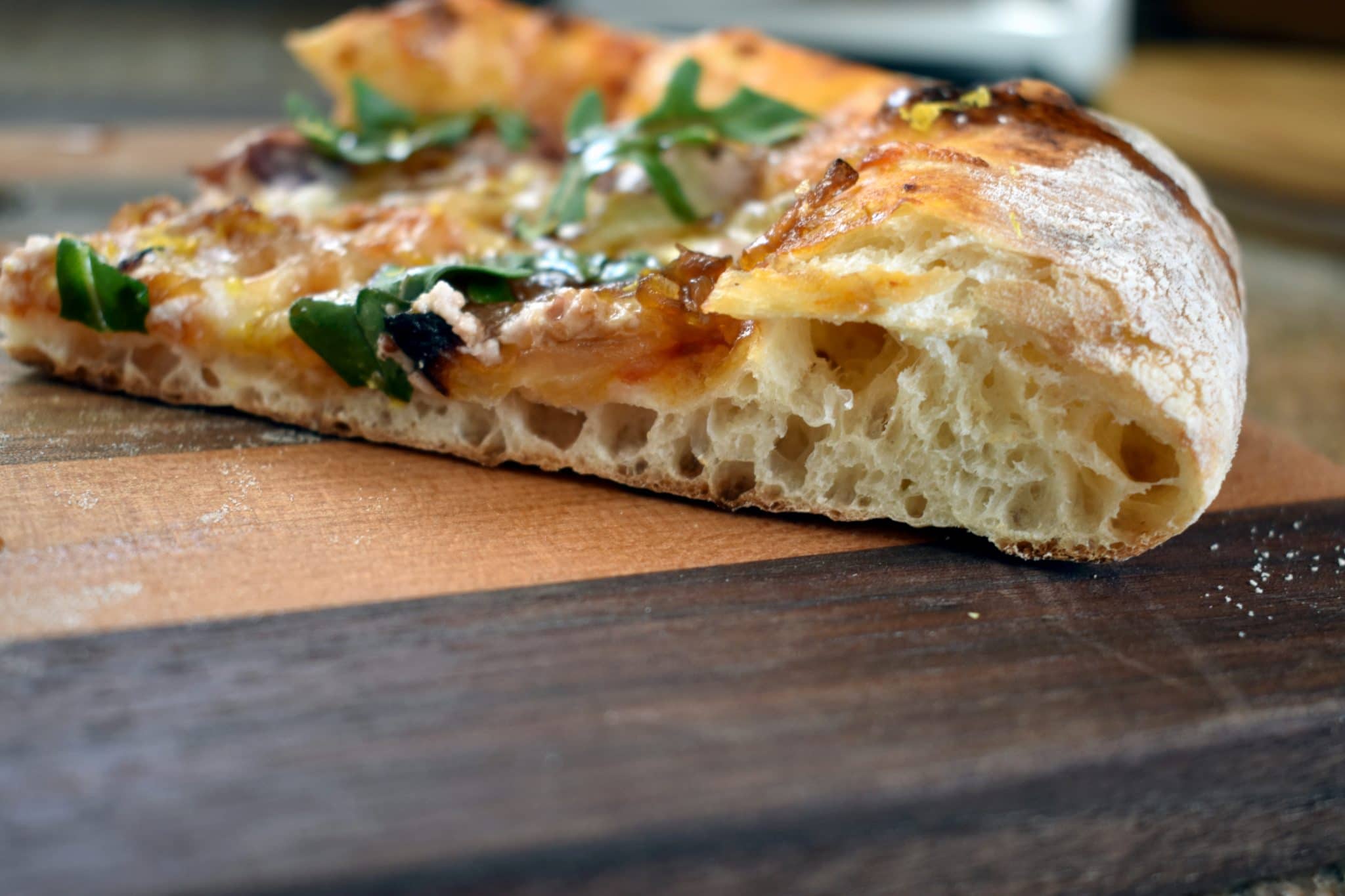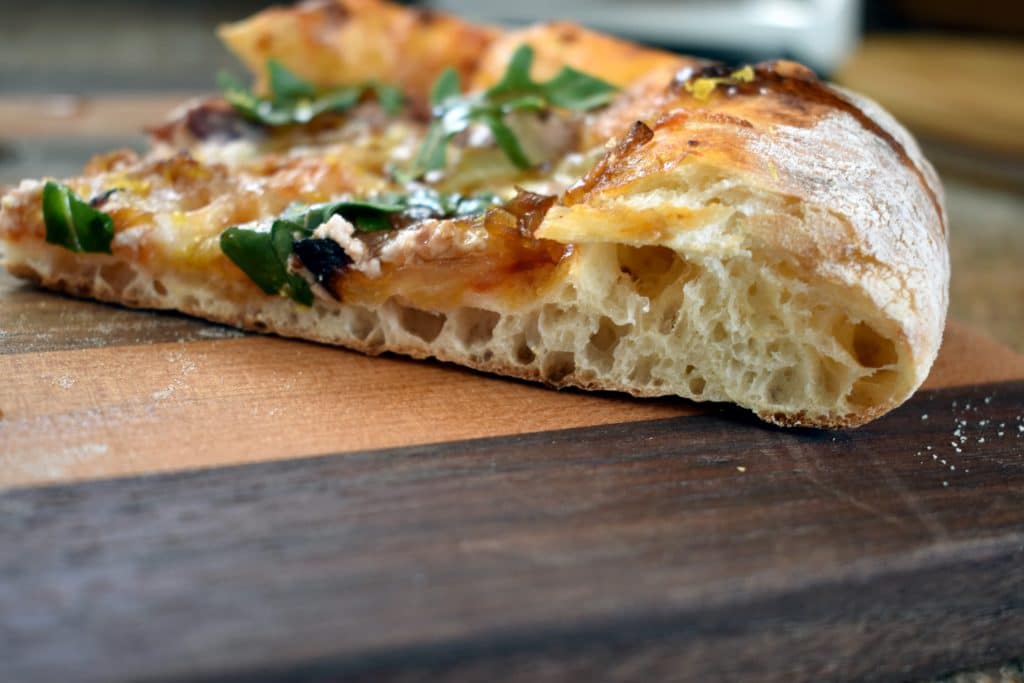 Toppings, Toppings, Toppings!
What sets this Cranberry Goat Cheese & Caramelized Onion Pizza totally apart from others are the toppings after it's removed from the oven. This pizza has a lot of rich ingredients, from the sauce, to the crust, to the goat cheese with cranberries. To combat the richness, you need a pop of freshness to perfectly balance the flavors.
The fresh toppings are not random. In fact, they are completely strategic! Peppery, bright arugula brings a delightful green bitterness that rounds out the richness. Lemon zest does the same, yet adds a little more freshness and tang. The zest is added after baking because cooking it makes the lemony bite less intense. This tang pairs perfectly with the sweetness of the cranberries and caramelized onions.
Finally, the balsamic drizzle brings it all together. If you do not have an aged balsamic vinegar in your pantry right now, add it to your shopping list! Aged balsamic transforms any recipe you create into something truly spectacular. A light drizzle goes a long way on this pizza, creating an almost dressing-like quality when combined with the greens on top. It is perfection in every bite!
Why All These Flavors Work Together
Rounding it all out, the flavors of this Cranberry Goat Cheese & Caramelized Onion Pizza work perfectly for many reasons. Happy palates typically love a dish with flavors that dance on the tongue. When you are experiencing salty, sweet, tangy, and fresh ingredients all at once, you immediately and inherently want more!
Not only are the flavors developed purposely for this reason, but the temperature difference of the hot pizza and the cool, fresh ingredients make this pizza irresistible. The heat from the crisp crust and cheese warm the lemon zest, which immediately creates a fresh lemony aroma in your kitchen. Crisp arugula brings a cold vegetal element against the melty goat cheese.
With the warm and cold, the fresh and rich, and the crisp and raw elements, you will never crave another type of pizza again! You'll start to keep leftover caramelized onions and cranberry goat cheese in the fridge at all times, and that's totally okay. We support your pizza journey!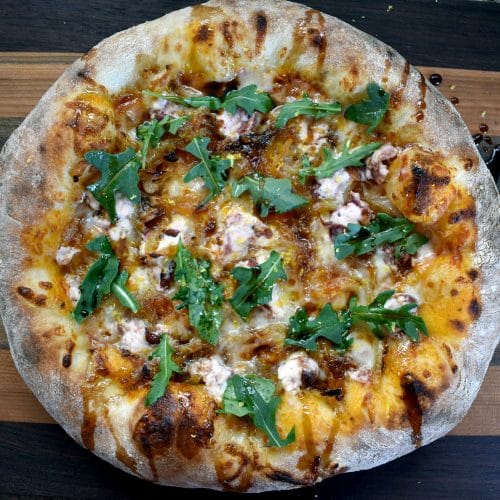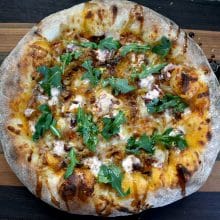 Cranberry goat cheese & caramelized onion pizza
Cranberry goat cheese, caramelized onions, chopped arugula, and lemon zest, drizzled with balsamic vinegar. YEESH, this one is packed with flavor. The arugula and lemon zest help balance out the sweetness from the cranberries and caramelized onions pretty well, but feel free to use plain goat cheese as well.
Print
Pin
Rate
Follow my pizza journey
I bought 15 pizza ovens to hands-on test.
It's a hobby, not an obsession! Here are the best pizza ovens.
Ingredients
1-2

oz

pizza sauce

For this recipe, we need about half the amount of sauce you would normally use on a standard pizza. We're looking for just a small touch of acidity as the base to the cornucopia of flavor we'll be topping it with.

3

oz

cranberry goat cheese

Substitute: plain goat cheese

1

Half

Onion

caramelized

2

tbsp

Butter

330

g

NY style pizza dough

Arugula

to taste

Lemon zest

to taste

Balsamic Vinegar

drizzle
Seriously. I have a lot of pizza ovens.
Let me show you the best after hundreds of hours testing. Read my in-depth pizza oven reviews!
Instructions
Heat pan over low heat and melt butter. Add onions and cook, stirring frequently, until fully caramelized but not burnt. If onions begin browning too quickly, add a splash of water.

Flatten and stretch dough into 14" pies.

Prepare your pizza by ladling sauce onto stretched dough. Starting from the outside and moving inward, spread an even layer of the goat cheese and caramelized onions.
Indoor oven
Preheat to 550F for at least 30 minutes with pizza steel or stone on top rack. Turn on broiler, and let preheat another 10 minutes.

Using a pizza peel, carefully move pizza to oven and cook for about 6 minutes, watching closely for crust color and cheese burn. Avoid rotating when baking in home ovens as temperature loss from opening the door often does more harm.
Outdoor pizza oven
Preheat your Ooni (or other portable outdoor pizza oven) for 25 minutes. The oven should reach near 800F in this time. Place pizza in oven and cook for 2 minutes (+/- 30 seconds depending on color) rotating as needed.

TIP: if using an Ooni Koda or another gas model oven, reduce the heat to low just as you place the pizza in; this creates really great crust color without burning the cheese too early. This may increase cook time slightly.
Finishing Touches
Let pizza cool for one minute on a wire rack.

Top with arugala and the zest of a lemon; drizzle with balsamic
Notes
If using an outdoor pizza oven, such as Ooni Koda, the baking process will only take a couple minutes max. If using an indoor oven at 550F, it will take closer to 5-7 minutes.