We're back with yet another hotdog pizza! Our Chicago Dog Detroit Pizza was a hit, so of course we had to try the next Big 'Dog on the list. Coney dogs might be one of the most famous types of hot dog in the USA. They are meaty, savory, and messy, comprising of a hot dog, a bean-less chili or "meat sauce" (depending on the region), white onion, yellow mustard, and (sometimes) cheddar cheese. These dogs are seriously delicious, so of course, we are making this dish into a pizza!
How on earth do we capture the flavors of a Coney dog and transform it into a Detroit-style pizza? This really is a fantastic creation of American food duality. Pizza and hot dogs are a main staple for a lot of us, so it makes sense to combine them into one transformative dish. Lets get into making a Coney Dog Detroit Pizza.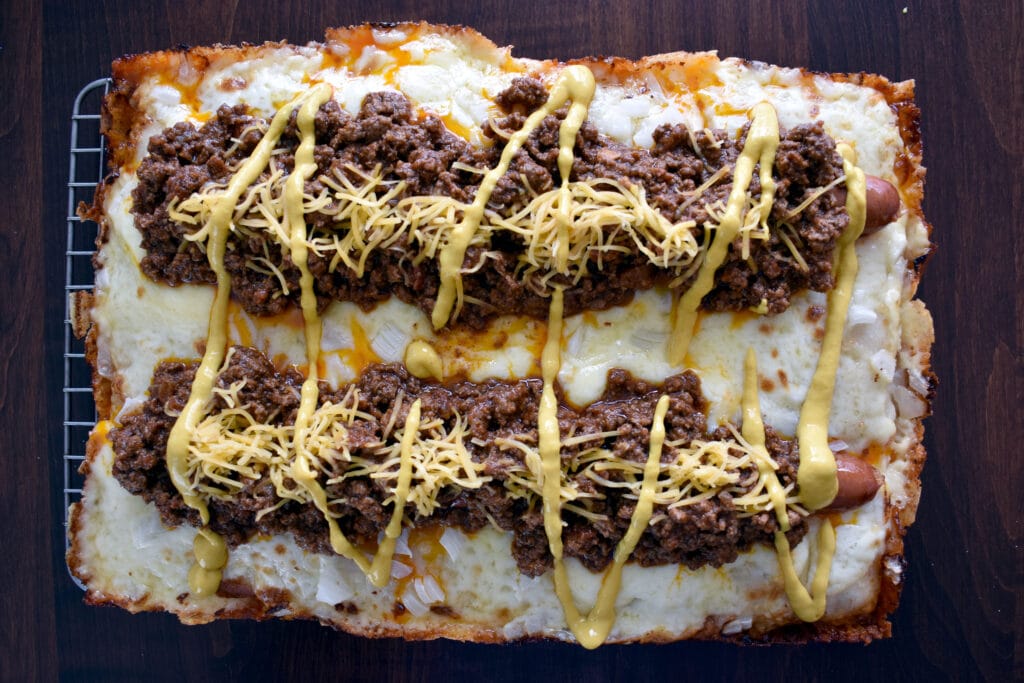 What is a Coney Dog?
Coney dogs were born at the start of the 20th century. With immigrants fleeing from the Baltic wars, people from Greece and Macedonia made it to the states and independently began creating versions of Coney dogs. There are versions from Indiana, Michigan, Texas, Ohio, Minnesota, and Oklahoma, which are generally the same with slight ingredient differences.
The Coney dog got its name from generations of family stories. Upon arrival at Ellis Island, many immigrants spent time visiting NYC and Coney Island, which brought fond memories of starting anew. The creation of the Coney dog symbolized that epic journey to a better life.
One day in the early 1900s, a Polish-Jewish immigrant became the first to sell hot dogs at Coney Island. His name was Nathan Handwerker, and he was the originator of the famous all-American "Nathan's" hot dogs, which are still ultra-popular today. Since then, the word hot dog has become synonymous with the term "Coney", and you will often hear hot dogs referred to as a Coney, no matter the toppings.
A specific Coney dog is it's own entity, with ingredients that show it's Greek and Macedonian heritage. It always consists of the same elements with a few varied opinions on the specific ingredients.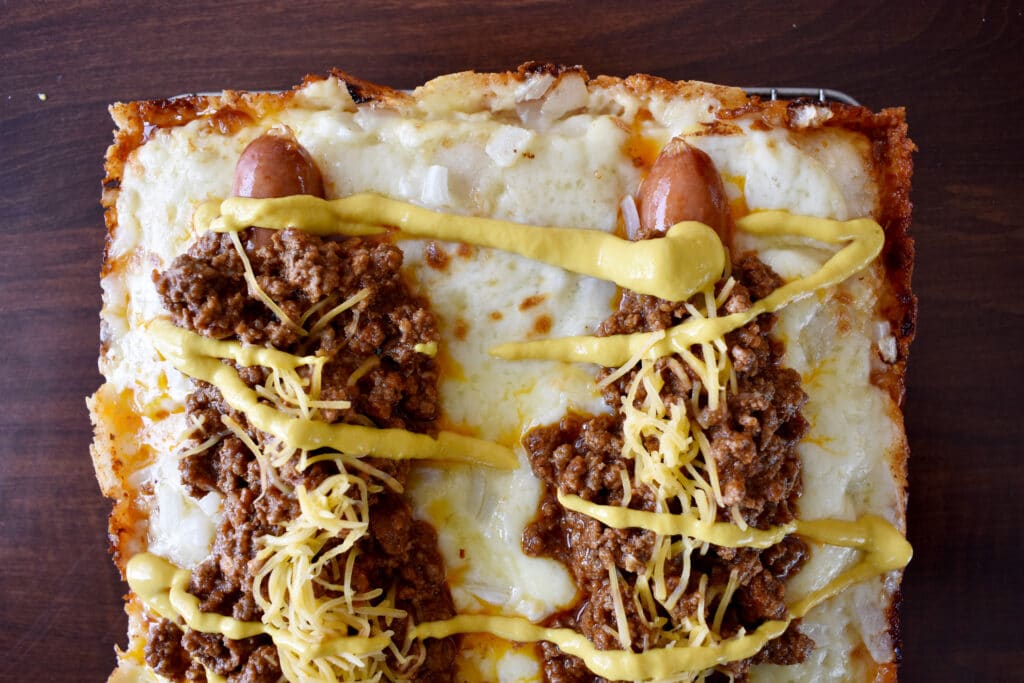 Ingredients of a Coney Dog
Many of us may see a Coney dog and think, "thats a chili dog!" While that statement isn't wrong, there are so many differences between a standard American chili dog and a Coney dog. Let's look at the specific ingredients needed to make an authentic Coney dog.
Natural-Casing Hot Dog
In many places across the country, you will see varied accounts of which hot dog is best for Coney dogs. Heck, some forgo hot dogs in favor of seasoned sausage! It really depends on the region, however, most commonly you will see Coney dogs made with a natural-casing beef or pork Vienna sausage, of German origin.
Vienna Sausage is one of the most popular brands of hot dogs and sausages. They are thin, parboiled, and perfect for making Coney dogs. To make Vienna sausages, natural lamb casing is used for the outside and ground beef or pork is used for the inside. This is not the only variety used for Coney dogs, as some use Vienna-style sausages from other retailers with slight differences. This will all depend on the region you are getting your Coney from.
Beanless Beef Chili

Here, we can get into some regional debate. Depending on where you are from, you might have a widely different view of what Coney dog chili is. Some call it "meat sauce" while others call it chili. Either way, Coney dog chili is always made without beans. Many authentic chili recipes consist of ground meat, but also ground beef heart. Most Michigan Coney dogs are still prepared this way.
The chili or meat sauce is typically thin with small pieces of ground meat. It is heavily seasoned and very fatty, perfect for topping a hot dog. It can be referred to as a sauce just because of how thin it is compared to traditional chili. Many recipes use tomato paste as a key ingredient, but we take one extra step by using the highest quality tomatoes instead: San Marzano's. Since we're using a homemade tomato sauce instead of paste, we can simmer the chili longer to marry the flavors without it becoming too thick.
Cheddar Cheese
Oftentimes, you can find shredded cheddar cheese atop Coney dogs. It is an optional ingredient, but it really sends a Coney dog over the top. Also, it is a nod to the American chili dog, which is almost always topped with cheese. But hey, Americans love cheese and we put it on just about anything. This also helps our purposes because we will eventually be topping our Coney Dog Detroit Pizza with cheddar, in addition to the Detroit-style pizza staple, Wisconsin Brick cheese!
Diced Onions
You will always find diced raw onions on top of a Coney dog. It's that fresh crunch that cuts through the richness of the chili and hot dog so well. Diced onions are imperative to a Coney dog, so they are topping our hot pizza as soon as it's out of the oven to retain the freshness. You don't want to skip out on the onions!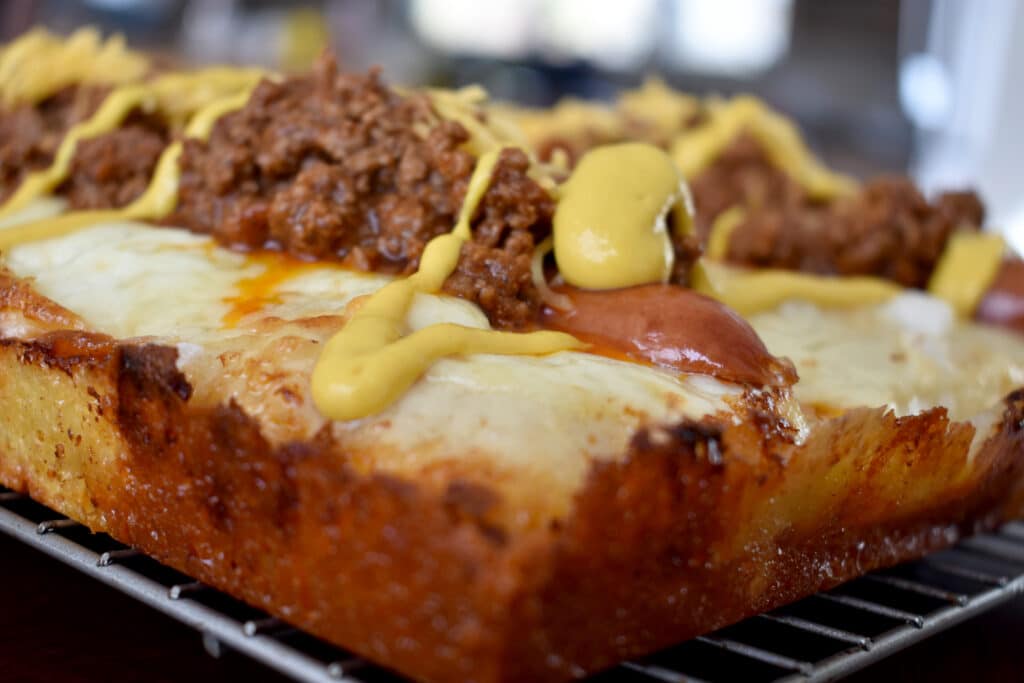 Yellow Mustard
Finally, a Coney dog is topped with stripes of yellow mustard. Sausage and mustard go together like spaghetti and meatballs, so it only makes sense to top a Coney dog with mustard. You can find Coneys without mustard, but it is usually just a preference. Most Coneys come with mustard inherently unless you ask for no mustard.
Detroit Pizza
You can read all about what Detroit pizza is here. It makes sense to combine Detroit-style pizza with a Coney dog because they are both famous in Michigan. Most folks who go on a culinary tour of Detroit will sample both Detroit pizza and Coney dogs. They are very well-known in that area of the US.
It all starts with a thick pizza crust. Then, cheese, sauce, and toppings are added before baking once more to melt the cheese. The result is a focaccia-like handheld meal that is cheesy and crispy from the pan-style crust. Combining these two dishes is very representative of the Midwest, USA.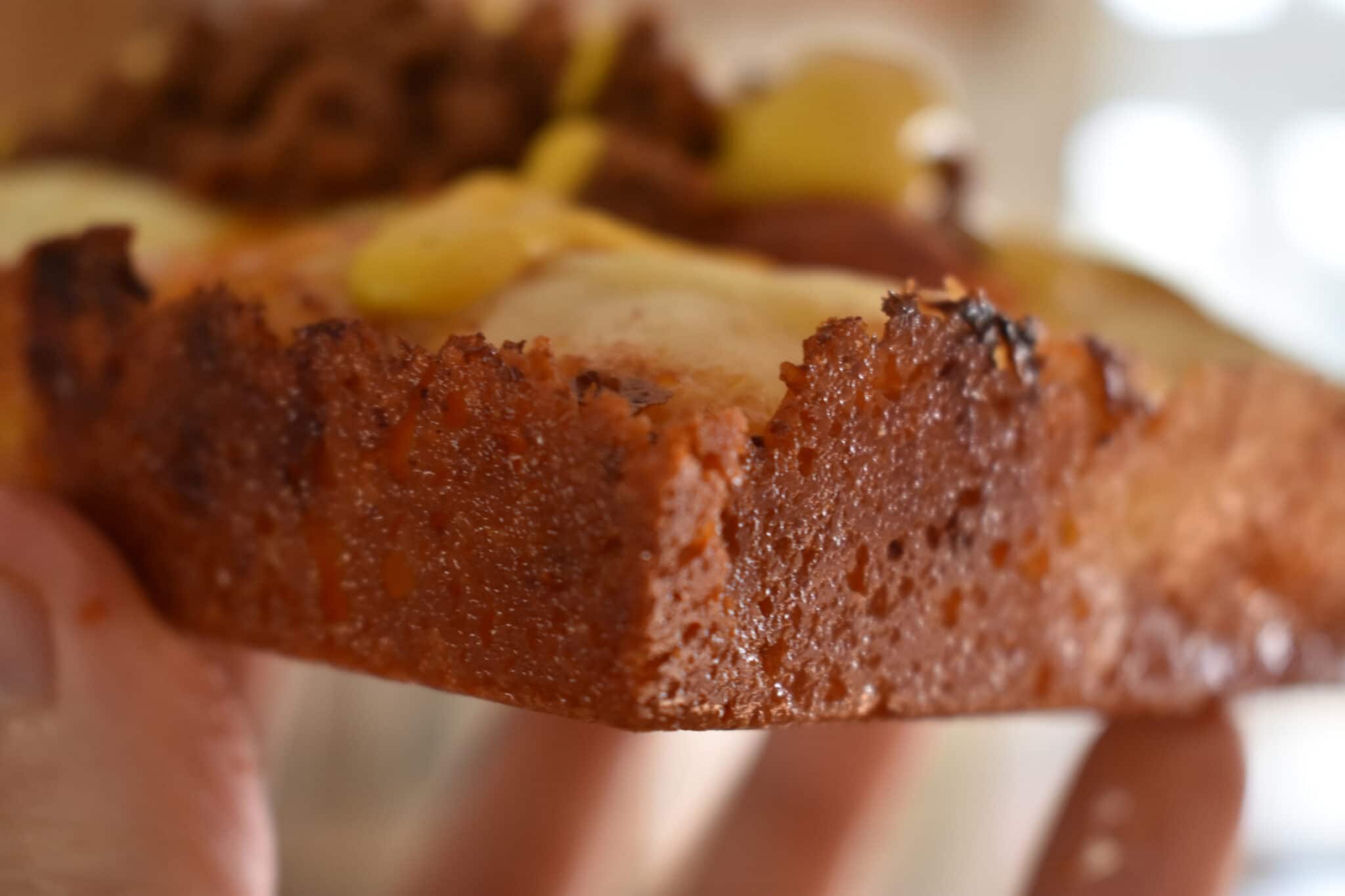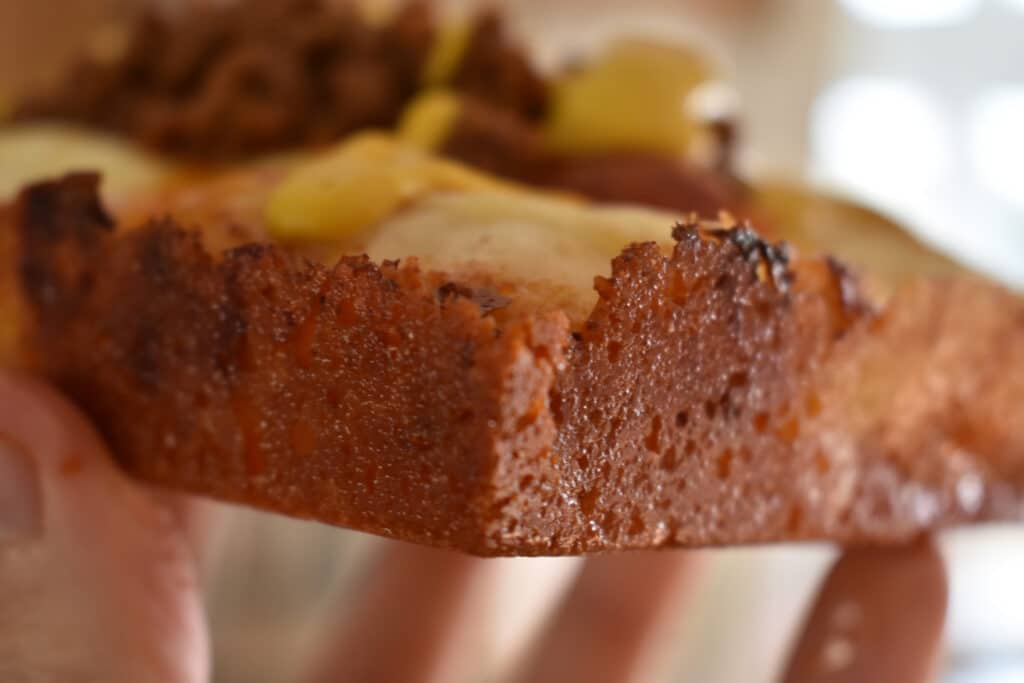 How to Transform a Coney Island Dog into Detroit Pizza
First, you will ready your Detroit pizza dough and par-bake it in it's Detroit pizza pan. Then, a nice layer of meat sauce goes on top, followed by halved authentic natural-casing hot dogs. After, top with both Wisconsin Brick (authentic to Detroit pizza) and cheddar (authentic to Coney dogs).
Detroit pizza makers always spoon their pizza sauce on top of the pizza in lines, so that is exactly what you want to do with the Coney meat sauce. By this point, the pizza should be looking authentically Detroit-style. After the final bake, the diced onions and mustard decorate the top of the pie.
The End Result
In the end, this pizza should look like a Detroit-style pizza with Coney dog ingredients. It is the perfect marriage of two beloved American dishes. And if you're not sure about hot dogs on pizza, it's almost the same as putting Italian sausage on top of your pizza! This is truly an amazing combination of flavors and textures. Now, let's learn exactly how to make this Coney Dog Detroit Pizza!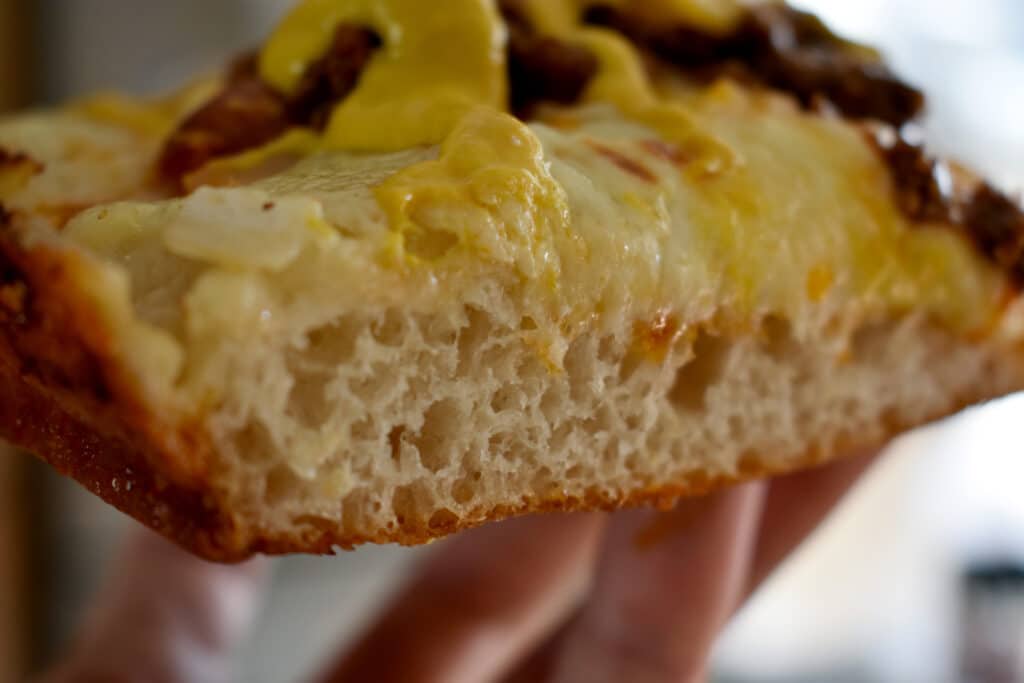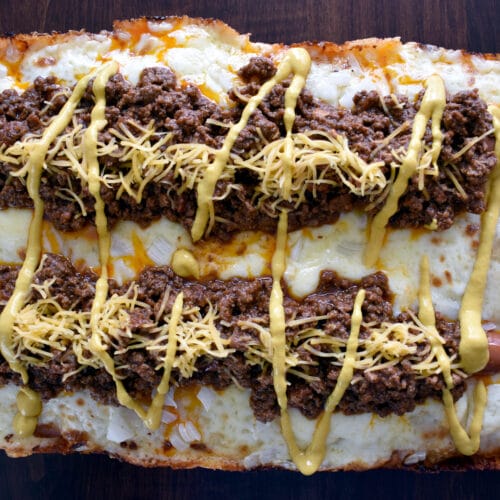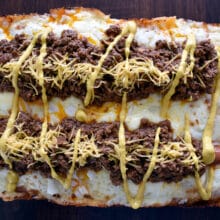 Coney Dog Detroit Pizza Recipe
Two Detroit favorites are combined into one peculiar pizza. The backbone of this flavorful Coney Dog chili is made with a thick San Marzano pizza sauce, resulting in a perfect harmony between hot dog and pizza. Detroit-style pizza authenticity is kept true by using Brick cheese, thick stripes of sauce, and of course, the crispy edges. We achieve Coney Dog authenticity with a bean-less chili, white onion, cheddar cheese (depending on area), and natural casing dogs. If you're from Detroit, you're required to give this a try. If you're not, you're still required.
Print
Pin
Rate
Follow my pizza journey
I bought 15 pizza ovens to hands-on test.
It's a hobby, not an obsession! Here are the best pizza ovens.
Equipment
1 10"x14" Detroit Style Steel Pan

We used a Lloyd's Pan, often considered one of the best out there for commercial or home use. Other types of pans can be used, but will lack the proper crust-forming characteristics of Detroit style pizza.
Ingredients
Toppings
Wisconsin Brick Cheese

Cubed. Substitute with white cheddar, pepper jack, or havarti

2

Natural Casing Hot Dogs

1

Small White Onion

Diced

1/4

cup

Shredded Cheddar Cheese

1-2

tbsp

Yellow Mustard

For finishing
Coney Dog Sauce
1

lb

Ground Beef

8

oz

Ultimate Homemade Pizza Sauce

Substitute with jar sauce

1/2

cup

Beef Stock

1/2

tsp

Onion Powder

1/2

tsp

Garlic Powder

1/2

tsp

Celery Salt

Substitute with 1/2 tsp Celery Seed + 1/2 tsp Salt

1/2

tsp

Ground Cumin

1/4

tsp

Black Pepper

1

tbsp

Chili Powder

1

tbsp

Worchestershire Sauce
Seriously. I have a lot of pizza ovens.
Let me show you the best after hundreds of hours testing. Read my in-depth pizza oven reviews!
Instructions
Make the dough.
Combine the flour and salt in the bowl of a stand mixer fitted with a dough hook attachment. Stir to combine.

Heat water in microwavable safe bowl for 30 seconds. Temperature should be between 85F and 95F. Add yeast to water and let sit for 5 minutes. We're not looking for a full activation, just a bit of a jumpstart.

Slowly add water/yeast mixture to the stand mixer, mixing on low until it forms a smooth consistency, about 10 minutes. Note: dough will be very wet and sticky, and the bottom will stick to the bowl.

With the dough still in mixer bowl, fold into a ball, cover with plastic wrap, and set on counter for 1 – 2 hours to kick-start fermentation. You should notice some rise in the dough but not doubling in volume.

Place in refrigerator for 1 to 2 days.
Stretch dough in pan.
Let dough come to room temperature on the counter for 3 hours.

Preheat the oven to 550°F. If using an Ooni or other outdoor pizza oven, preheat until 700-800 degrees, about 20 minutes.

Grease your square pan by rubbing a stick of butter across the whole surface or by using 2 tbsp of oil.

Scrape the dough out of the bowl and into the pan. Because of the high hydration in this recipe, you may need to wet your hands prior to handling. Flatten and stretch the dough to fit the pan as close as possible (a tiny bit of shrinking may happen, that's fine). Let sit for ½ hour, then stretch again ensuring dough touches edges of pan.
Make the Coney Dog sauce.
In a dutch oven or medium pan, sear ground beef over medium-high heat until browned. Add all of the spices and Worchestershire sauce, mix well, and continue to cook 2 minutes.

Mix in beef stock and tomato sauce. Simmer uncovered until desired thickness, about 15-30 minutes.

In a seperate pan or grill, quickly sear hot dogs to crisp the casing, then slice in half lengthwise.
Toppings, in order; then bake.
Place pan on the bottom of your oven to par-bake the dough for 5 minutes.

Carefully remove the hot pan from oven. Add cubed brick cheese, ensuring cheese touches the edge of the pan. Add diced white onion across the whole pizza.

For home ovens: place pizza in oven for another 10 minutes on the bottom rack. (toss the broiler on for the final minute or two, and place on a higher rack, if the cheese is not browning fast enough). For outdoor pizza ovens: bake for 7 minutes, rotating pan halfway through.

Remove from oven and use a metal spatula to separate the pizza from the pan. Slide onto a wire rack. Add sliced hot dogs lengthwise across the pan, in a line. Top the hot dogs with Coney Dog sauce in two large stripes. Drizzle with yellow mustard and top with shredded cheddar cheese. Slice, and enjoy.