Here in America, we put ranch dressing on just about everything. You will find it as a dipping sauce for fried foods, freshly cut veggies, and even as a sandwich topper. One of the most classic American food combinations consists of chicken, bacon, and ranch dressing,
You will find this combination of foods in sandwiches, chili, salads, and so much more. Today, we are placing that combo on top of a chewy, crisp NY-style pizza dough! Read on for this insanely delicious Chicken Bacon Ranch Pizza recipe.
A Classic Combo
Chicken, bacon, and ranch just happen to be ingredients that marry together very well in a variety of ways. The mild-flavored chicken absorbs any flavors you pair it with while offering protein and fullness to the meal. The bacon adds a much-needed salty, smoky kick that you cannot find in any other food. Finally, the ranch is the creamy coolness that marries everything together.
You might find chicken, bacon, and ranch flavors in casseroles. Also, you might find bacon-wrapped, ranch-seasoned chicken breasts. All of these ingredients make for an awesome weeknight meal because they come together quickly without much effort or a long cooking time. Now, the only question is, what type of ranch should you keep on hand?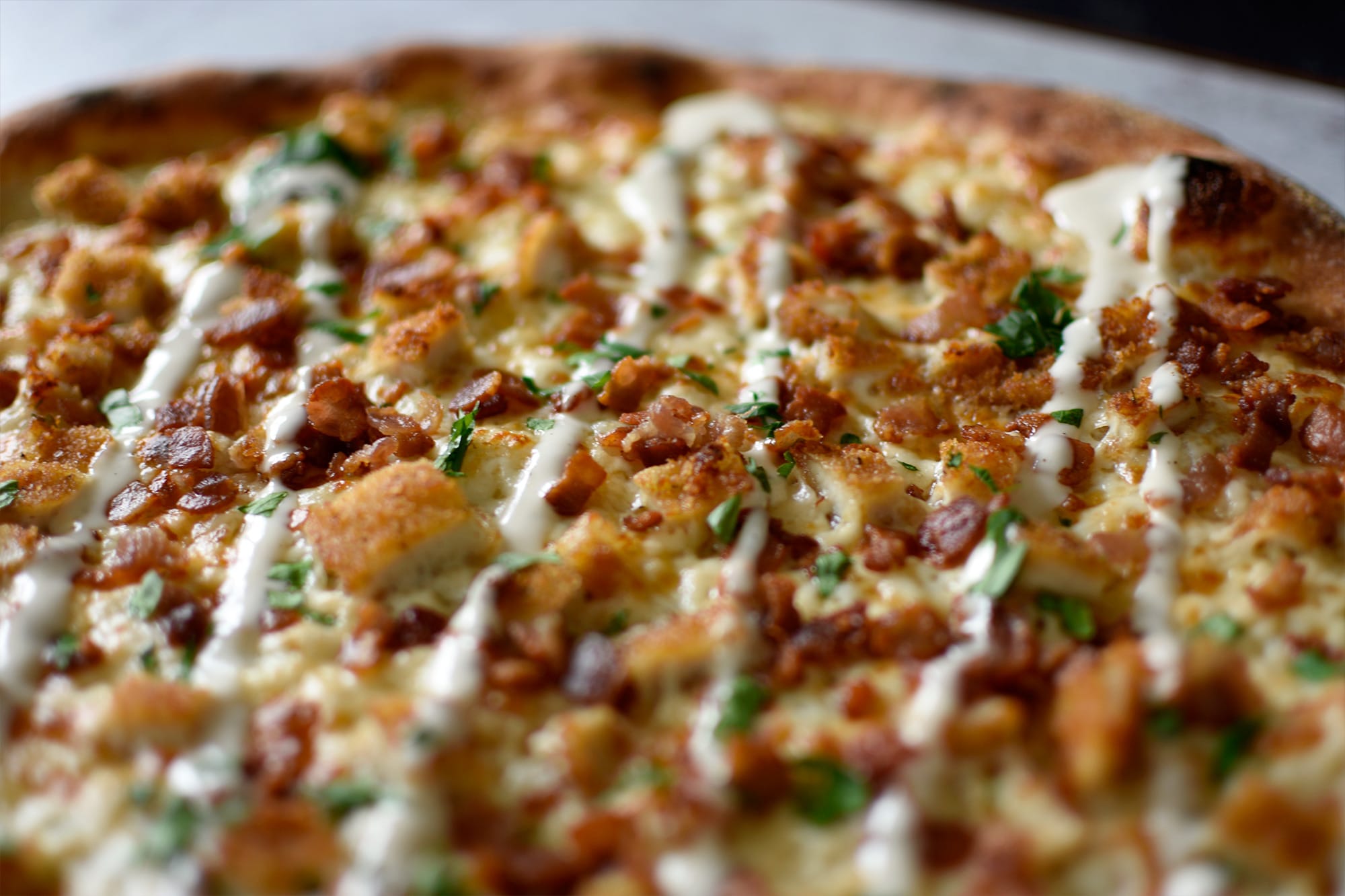 Ranch Seasoning vs. Dressing
At your local grocery store, you will find a variety of ranch-flavored products. There are at least 15 brands of ranch dressing in the condiment aisle alone! While that is a lot of ranch, we recommend slowly going through the brands and finding a brand that you enjoy. Of course, there is also the ranch seasoning packet.
Ranch seasoning consists of all the dry spices needed to make ranch. Many people use it as a spice blend, flavoring veggies, chicken, dips, and other diverse recipes. At its core, ranch seasoning is meant for adding to mayo/sour cream to create your own "homemade" ranch. Both seasoning and dressing are delicious options. Use whatever you like as your preference!
Alternatively, you could also make your own ranch from scratch. It consists of only a few ingredients, such as mayo or sour cream, buttermilk, lemon juice, fresh herbs, salt, and pepper. Those with an extensive herb garden can easily make ranch and keep it in the fridge for up to 1 week. If you do this, be sure to save some for your Chicken Bacon Ranch Pizza!
What Type of Chicken to Make?
Chicken Bacon Ranch Pizza benefits from high-quality ingredients, so be sure to use good, flavorful elements. The better the ingredients, the better the end result. No matter the chicken recipe you choose, be sure to trim any fat or undesirable pieces that you don't want on your pizza.
This is a good time to use a marinated or grilled chicken recipe. You can also use leftover rotisserie chicken, which is what I did to make this awesome chicken bbq pizza. To keep with the ranch theme, you could always marinate your chicken in ranch seasoning, which will highlight the drizzle of ranch at the very end. Fried chicken on pizza is also amazing, but if you want to keep this pizza light for summer, use a grilled chicken recipe.
Why NY-Style Crust?
We specifically chose to use NY crust for this pizza. New York pizza crust is a well-hydrated, thin, foldable pizza dough that works very well with lots of toppings. Some might argue that pizza is just an open-faced sandwich. With a lot of toppings on top, they have the option of falling off of your pizza. With NY dough, you can fold it in half and keep all your toppings inside.
Whenever you are creating a thin-crust pizza with lots of toppings, use our NY-Style Pizza Crust. It is a tried and true recipe that works best in a screaming-hot pizza oven. The heat from the pizza oven creates a bubbly, crisp, yet foldable pizza thanks to the well-hydrated dough. Most pizza dough is not easy to fold, making NY crust a unique work of food art.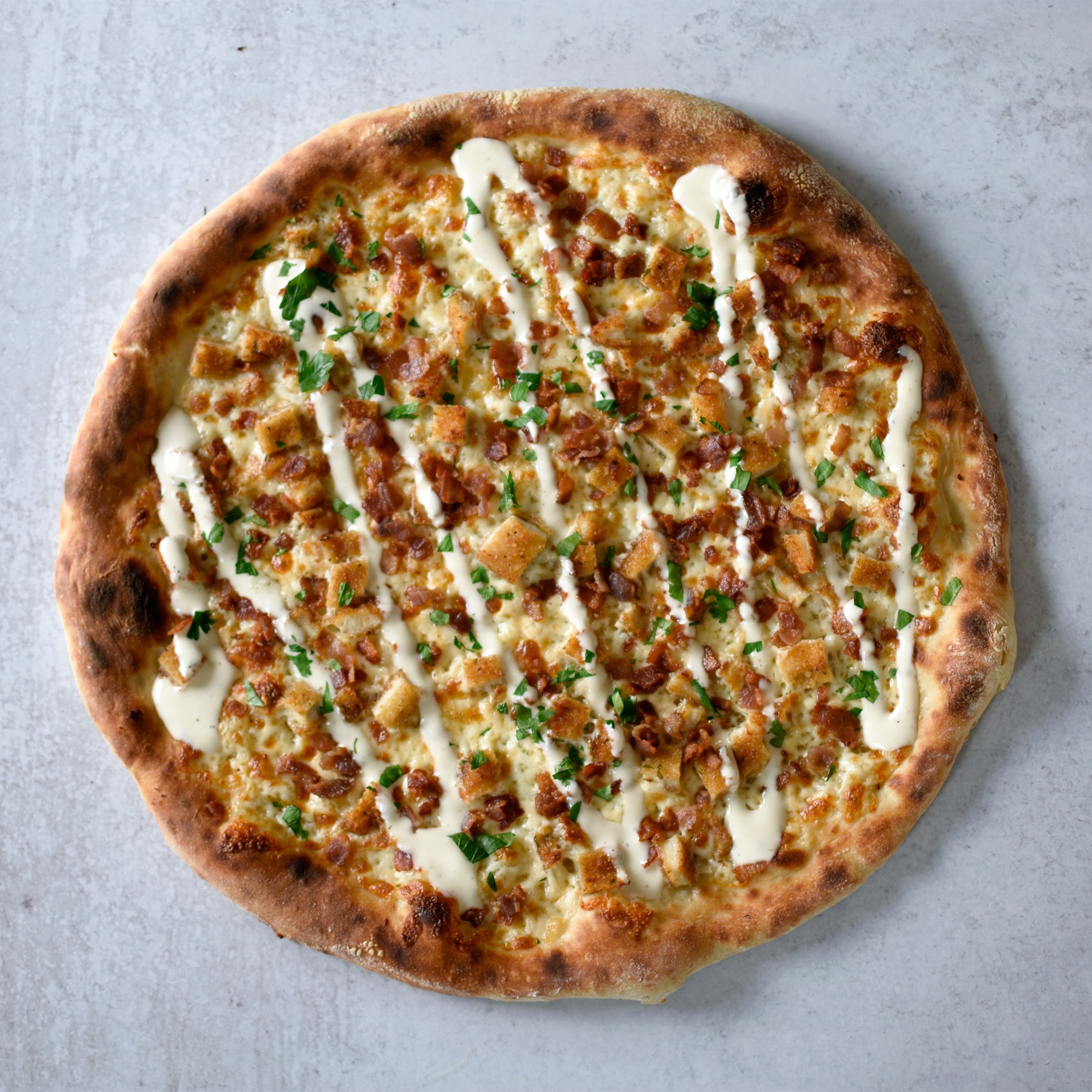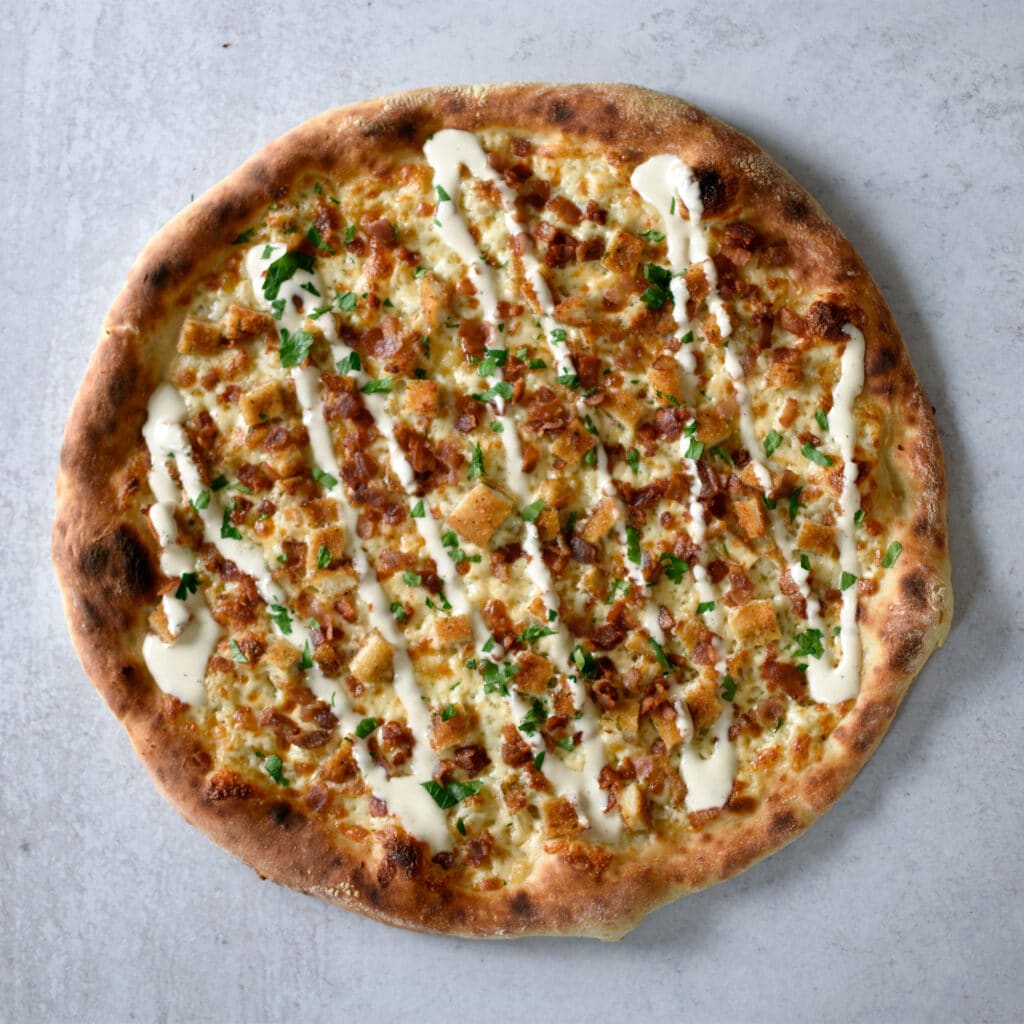 Ranch vs. Pizza Sauce
Chicken Bacon Ranch Pizza forgoes any pizza sauce as a base. Because bacon is so fatty and delicious, the need for sauce dwindles. Plus, you will be adding a healthy drizzle of ranch over the top of the finished pizza. Therefore, no pizza sauce is necessary.
Once the crust is stretched out and you are ready to add toppings, drizzle a bit of extra virgin olive oil over the top to keep the crust moist. After, add the toppings and bake. Once out of the oven, that is when you can add the magic of ranch to moisten the pizza and add tons of flavor! Plus, is there anything more beautiful than an herby ranch drizzle?
Chicken Bacon Ranch Pizza Ingredients
You will only need a few ingredients for this amazingly easy Chicken Bacon Ranch Pizza.
1 batch of NY-style pizza dough, prepared
Fully cooked chicken of your choice, cut into bite-sized pieces
Fully cooked bacon of choice, fried until just barely crispy (it will continue to crisp in the oven)
Shredded mozzarella cheese
Your favorite ranch dressing, for drizzling
The Newest Classic
From casseroles to sandwiches to pizza, the combination of chicken, bacon, and ranch is not to be messed with. These rich flavors combine to create the most delectable dishes. Feel free to be creative with even more additional fresh toppings such as bell pepper, onion, or mushrooms on your Chicken Bacon Ranch Pizza. After all, you will not be able to stop making these pizzas once you start! Now, let's get into the recipe!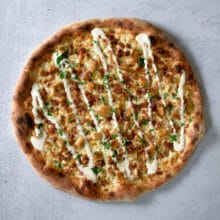 Chicken Bacon Ranch Pizza
An iconic trio of ingredients. Salty and savory, this chicken bacon ranch pizza will be in your dreams. By pairing this with our NY style pizza dough recipe, I gaurantee it will be the best chicken bacon ranch pie of your life.
Print
Pin
Rate
Follow my pizza journey
I bought 15 pizza ovens to hands-on test.
It's a hobby, not an obsession! Here are the best pizza ovens.
Ingredients
420

g

NY style pizza dough

5

oz

Whole Fat Mozzarella Cheese

If using pre-shredded cheese in a bag, RINSE the cornstarch off and dry before using. This will create a much better cheese melt.

5

oz

Smoked Jack Cheese

Shredded.

1

cup

Chicken, cooked

Shredded or cubed

4

slices

Bacon

Ranch dressing

To drizzle

Parsley

Chopped, to taste

1

tsp

Lemon zest
Seriously. I have a lot of pizza ovens.
Let me show you the best after hundreds of hours testing. Read my in-depth pizza oven reviews!
Instructions
Slice the bacon into bite sized pieces. In a medium pot over medium heat, add bacon and cook until browned and crispy. Remove bacon with a slotted spoon and place onto a paper towel lined plate.

Flatten and stretch dough into 15-16" pies, sprinkling bread flour on the dough as needed to avoid sticking. If cooking in indoor oven, place dough on pizza peel prepared with a sheet of parchment paper. If using an outdoor oven, just place on a pizza peel.

Starting from the outside and moving inward, spread a light even layer of cheese onto the dough. Evenly spread chicken and bacon across pizza.

Choose ONE coothing method below.
(Option 1) Indoor oven
Preheat to 550F for 45 minutes with pizza steel or stone on bottom rack.

Using the pizza peel, carefully move pizza to oven (parchment paper should make it slide easily – you can leave it on the paper or remove the paper after 1 minute of cooking), and cook for about 6 minutes, watching closely for crust color and cheese burn. Avoid rotating when baking in home ovens as temperature loss from opening the door often does more harm. If top needs more color, turn on broiler for 1-2 minutes towards the end.
(Option 2) Outdoor pizza oven
Preheat your Ooni (or other portable outdoor pizza oven) for 25 minutes. The oven should reach near 850F in this time. Reduce the flame to very low. Place pizza in oven and cook for ~3 minutes (+/- 30 seconds depending on color) rotating as needed.

TIP: if using an Ooni or another model of outdoor pizza ovens, reduce the heat to low just as you place the pizza in; this creates really great crust color without burning the cheese too early. This may increase cook time slightly.
Finishing Touches
Let pizza cool for one minute on a wire rack or cutting board.

Drizzle ranch across pizza and top with parsley and lemon zest; slice and serve.
Notes
If using an outdoor pizza oven, such as Ooni Koda, the baking process will only take a couple minutes max. If using an indoor oven at 550F, it will take closer to 5-7 minutes.