The king of comfort food has arrived! What happens when you mix Chicken & Waffles with pizza? Well, you get Chicken & Waffles Pizza, of course; the most insanely delicious combination you have ever tasted!
We're talking a Detroit crust, chicken gravy as sauce, cheddar cheese, fried chicken, chopped waffles, and maple syrup to top it all off. This is the most decadent pizza on earth. If you are in need of some serious comfort food, this Chicken & Waffles Pizza will change your life. And if you're just not feeling the Detroit-style, feel free to follow the recipe with our New York style pizza dough!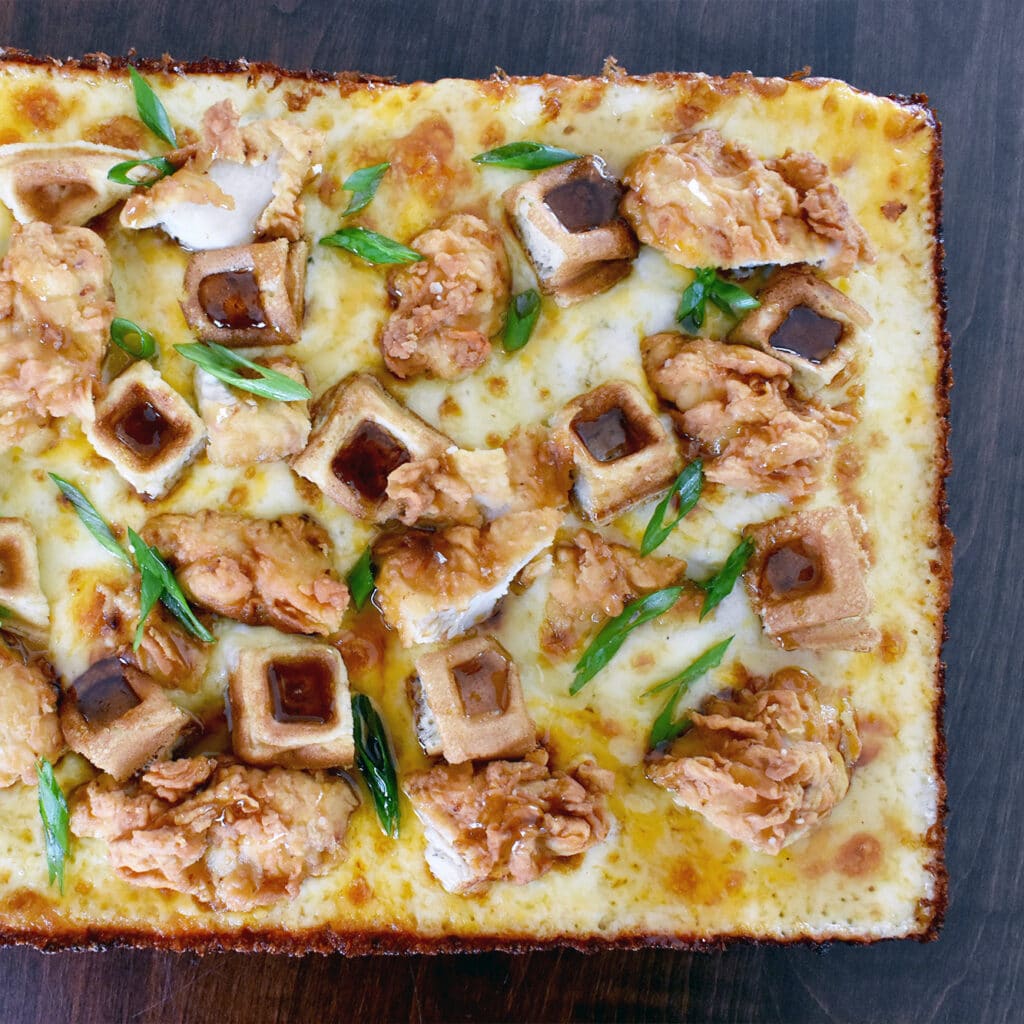 Origin of Chicken & Waffles
Chicken and waffles are an older combination than you think! It originated in 1600s Dutch Country in Pennsylvania. Their old tradition featured a waffle, topped with stewed pulled chicken and covered in gravy. By the 1860s, chicken and waffles were Dutch Country's most popular Sunday meal. Despite originating in Pennsylvania, chicken and waffles are commonly found in the Northeastern United States.
Waffles grew in popularity when Thomas Jefferson bought four waffle irons in Amsterdam in 1789. This cemented waffles as a popular American staple. The version of chicken and waffles that we're most familiar with uses fried chicken and originated in the American South. Prior to the civil war, chicken and waffles were an extravagant breakfast, usually prepared by the cooks who worked in the plantation houses. The first cookbook to mention chicken and waffles was from 1871 and titled, "Mrs. Porter's Southern Cookery Book."
This soul food version became nationally popular in Harlem, New York in 1938. It consists of a breakfast waffle, covered with butter and syrup, and served with fried chicken. This combination is now found in soul food restaurants across the country and is beloved by many. In the 1970s, chicken and waffles became popular in Los Angeles due to the opening of former Harlem resident Herb Hudson's restaurant, Roscoe's House of Chicken and Waffles, which has grown to host many locations across the country.
Today, you can find chicken and waffles in many specialty restaurants and almost all soul food shops. Its popularity lives on and will continue for generations to come. If you have never tried chicken and waffles, now is the time!
Why Detroit Crust?
For our decadent Chicken & Waffles Pizza, we opted for Detroit crust. There are a few reasons for this:
It is thick so it can hold toppings
The crust stands up to the flavors
The mouthfeel is incredible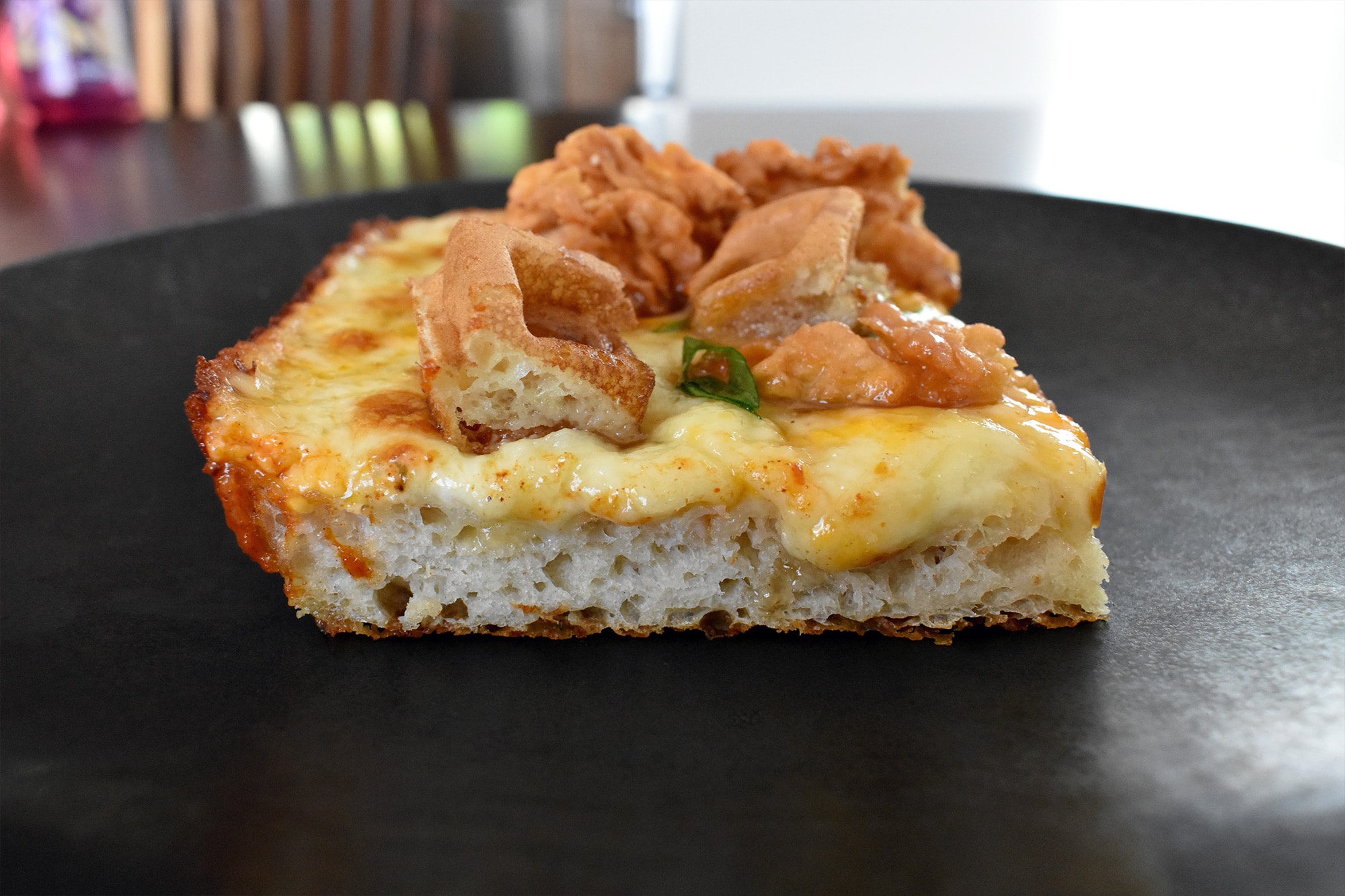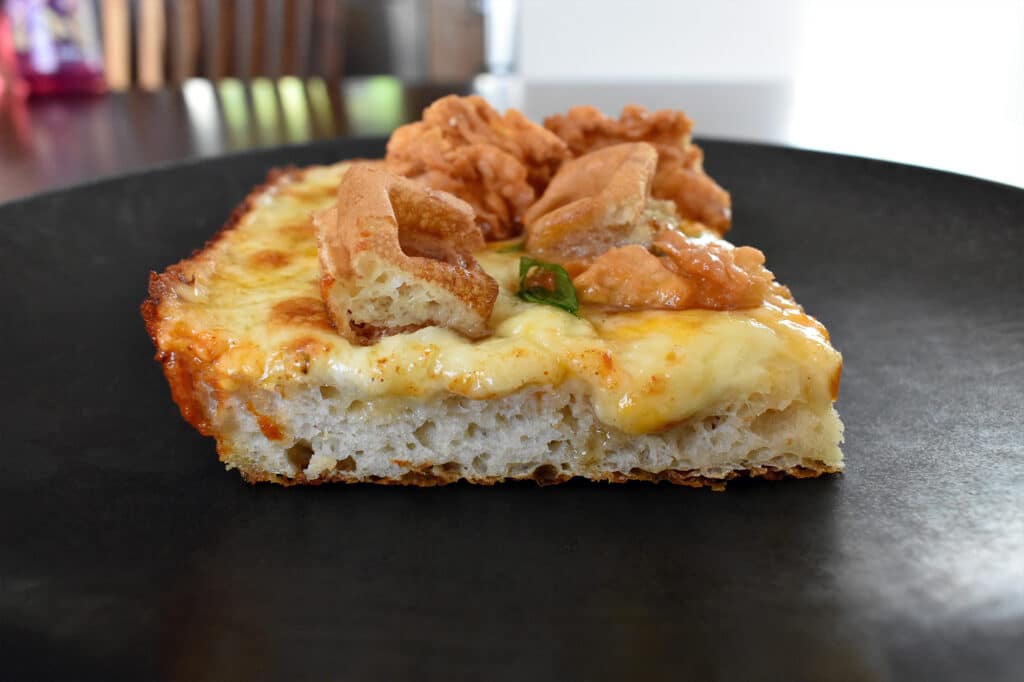 We love to make this pizza using Detroit crust for that ultra-crispy bottom, however, there is another option. Feel free to use NY-style pizza dough as well. It is much thinner, but because of the high hydration in the dough, you can fold it and eat it easily with all the toppings inside. Just be sure to cut down on the cheese a little if using NY pizza dough. As long as the toppings are the same, use whichever dough you prefer!
What Type of Waffles to Use?
Chicken and waffles are open to interpretation when it comes to the waffle aspect. Sometimes, people serve their chicken with an ultra-thin, crisp waffle. Other times, it is a thick, fluffy Belgian waffle. Heck, you might even find people making Eggos with their fried chicken! In the end, it all depends on the shape of the waffle maker a restaurant or home cook owns.
For heft and decadence, we use Belgian waffles on top of the Chicken & Waffles Pizza. This is because they are lightly sweet, perfectly chewy, and light. You can make it from scratch, use a warmed high-quality frozen variety, or use a waffle from your favorite local breakfast restaurant. Just simply chop up the crisp waffle and use it to top your pizza!
Ingredients in Chicken & Waffles Pizza
There are quite a few ingredients in this pizza, but each of them is well worth it! You will need ingredients for the crust, the fried chicken gravy, and the toppings. Here is the ingredient list for each element!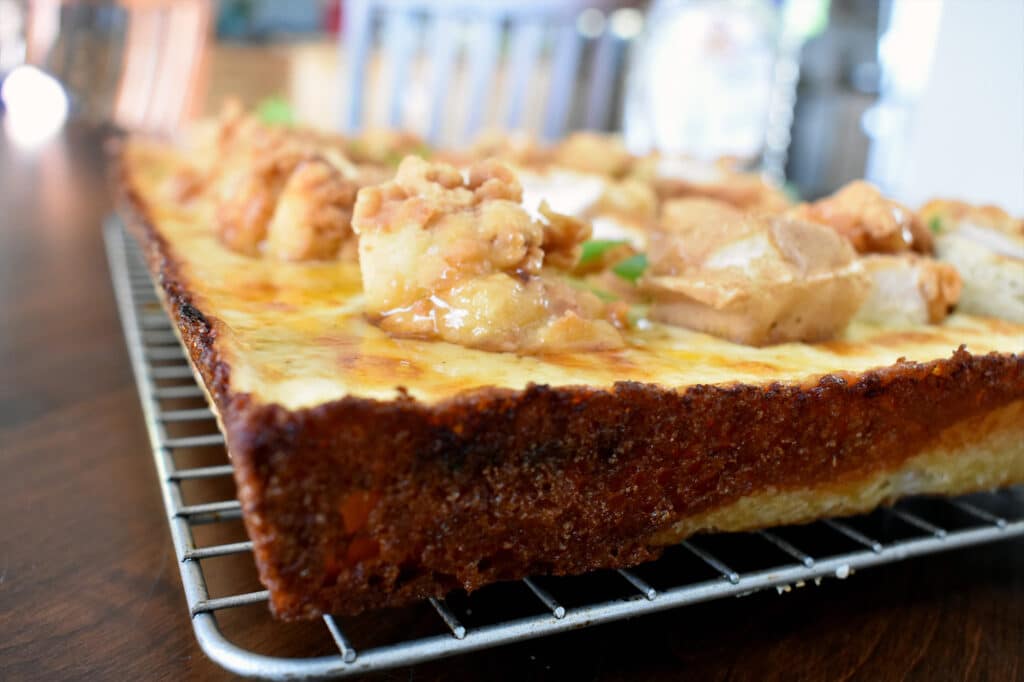 Detroit-Style Crust
For the detroit style dough, you'll need only four ingredients. For a more in-depth dive into making Detroit dough, check out our guide to making the best Detroit-style pizza at home.
350 g bread flour
255 g water (warmed to 90°F)
10 g kosher salt
3.5 g instant dried yeast
Fried Chicken Gravy
We recommend that you make your own homemade chicken gravy. However, if you have leftovers from your favorite chicken joint, that will work too. Remember, this is the sauce replacement.
2 tbsp olive oil
1 medium garlic clove
1 sprig fresh thyme
2 tbsp flour
1/2 tsp salt
3/4 cup chicken stock, low sodium
1/2 cup whole milk
Toppings
Arguably the most important part of the Chicken & Waffles Pizza is the toppings! The chicken is likely the first thing on everyone's mind. We used Joshua Weissman's Nashville Hot Chicken recipe but left out all the hot spices. It makes for the perfect, crispy fried chicken.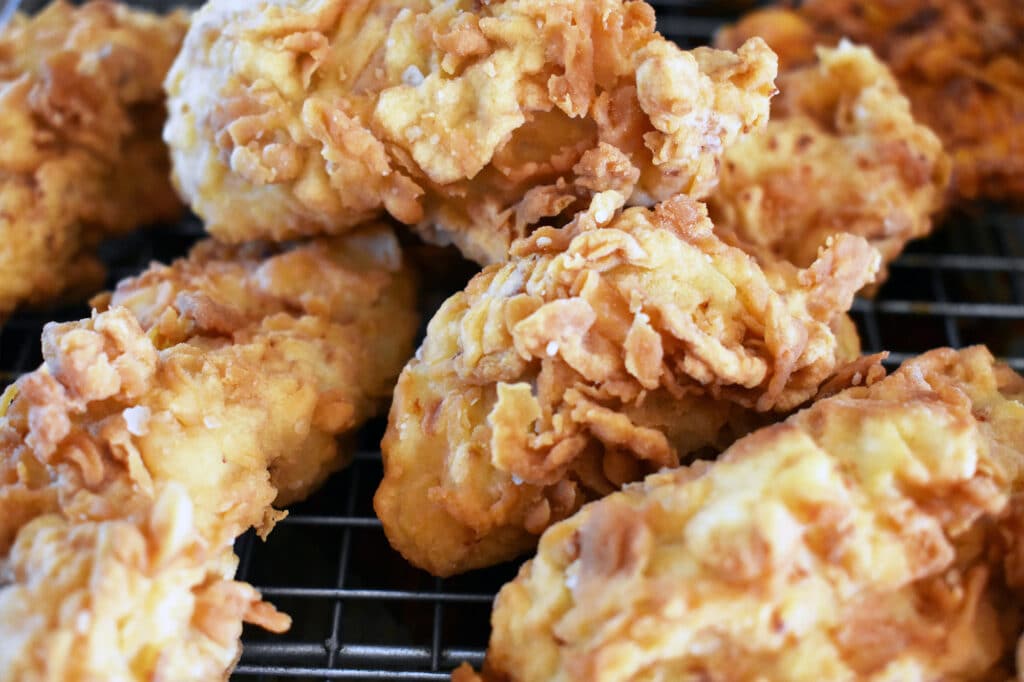 The other toppings to consider are:
6 oz cheddar cheese, shredded
6 oz mozzarella cheese, shredded
1 Belgian waffle, chopped into bite-size pieces
Fried chicken, chopped into bite-size pieces
1 green onion, sliced
1/4 cup pure maple syrup, drizzled
The cheddar cheese is the perfect compliment to this pizza so do not skip it! It adds a depth of flavor that mozzarella does not have on its own. Also, don't miss out on the maple syrup. The touch of sweetness cuts through all of the richness in this Chicken & Waffles Pizza.
A New Classic
Chicken & Waffles Pizza is the new classic comfort food. Fried chicken gravy, chicken, cheddar, waffles, and maple syrup combines into the most perfect pizza you have ever had. A Detroit crust is the best, tastiest vessel to eat this insanely delicious combination. Now, let's get into this recipe!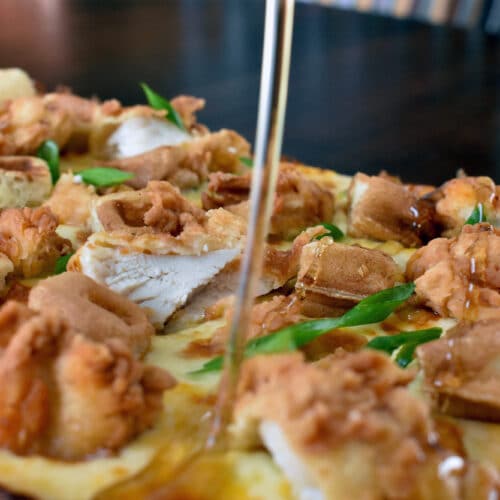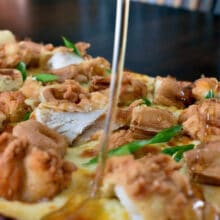 Chicken and Waffle Pizza
This iconic combo is transformed into an indulgent slice of comfort. To avoid an overly sweet pizza, we build a sauce base from fried chicken gravy which works exceptionally well with both the chicken and waffle components. Cheddar cheeses melt beautifully and add more depth of flavor than mozzarella can do on its own. Finely sliced green onion adds a pop of color and freshness, and of course, pure maple syrup is drizzled on top. The new king of comfort food!
Print
Pin
Rate
Follow my pizza journey
I bought 15 pizza ovens to hands-on test.
It's a hobby, not an obsession! Here are the best pizza ovens.
Equipment
1 10"x14" Detroit Style Pan

We used a Lloyd's Pan, often considered one of the best out there for commercial or home use. Other types of pans can be used, but will lack the proper crust-forming characteristics of Detroit style pizza. In a pinch, a well oiled baking pan can work.

Outdoor pizza oven

(Optional). I cooked this in my Ooni Koda 16", frequently rotating the pan every couple minutes. However home ovens work just as well for this style of pizza.
Ingredients
Dough
350

g

Bread Flour

255

g

Water (warmed to 90°F)

10

g

Kosher Salt

3.5

g

Instant Dried Yeast
Fried Chicken Gravy (Sauce Replacement)
2

tbsp

Olive Oil

1

Garlic Clove

Medium

1

sprig

Fresh Thyme

2

tbsp

Flour

1/2

tsp

Salt

3/4

cup

Chicken Stock

Low sodium

1/2

cup

Whole Milk
Toppings
6

oz

Cheddar cheese

Shredded

6

oz

Mozzarella cheese

Shredded

1

Belgian Waffle

Chopped into bite-size pieces.

Fried Chicken

Chopped into bite-size pieces. I used Josh Weissman's nashville hot chicken recipe (but skipped adding the spices).

1

Green Onion

Sliced

1/4

cup

Pure Maple Syrup

Drizzled
Seriously. I have a lot of pizza ovens.
Let me show you the best after hundreds of hours testing. Read my in-depth pizza oven reviews!
Instructions
Make the dough.
Combine the flour and salt in the bowl of a stand mixer fitted with a dough hook attachment. Stir to combine.

Heat water in microwavable safe bowl for 30 seconds. Temperature should be between 85F and 95F. Add yeast to water and let sit for 5 minutes. We're not looking for a full activation, just a bit of a jumpstart.

Slowly add water/yeast mixture to the stand mixer, mixing on low until it forms a smooth consistency, about 10 minutes. Note: dough will be very wet and sticky, and the bottom will stick to the bowl. You may need to scrape the bottom up with a spatula.

Turn mixer off. With the dough still in mixer bowl, and with wet hands, fold into a ball. Cover with plastic wrap, and set on counter for 1 – 2 hours to kick-start fermentation. You should notice some rise in the dough but not doubling in volume.

Place in refrigerator, covered, for 1 to 2 days.
Stretch dough in pan.
Let dough come to room temperature on the counter for 3 hours.

Preheat the oven to 550°F. If using an Ooni or other outdoor pizza oven, preheat until 700-800 degrees, about 20 minutes.

Grease your pan with a stick of butter or Crisco. Scrape the dough out of the bowl and into the pan. Because of the high hydration in this recipe, you may need to wet your hands prior to handling. Flatten and stretch the dough to fit the pan as close as possible (a tiny bit of shrinking may happen, that's fine). Let sit for ½ hour, then stretch again ensuring dough touches edges of pan.
Gravy.
Heat olive oil in saucepan over medium until shimmering. Add minced garlic, cook for 30 seconds. Add thyme and pepper, and cook for an additional 30 seconds. Mix flour in and continue cooking 1 minute.

Slowly whisk in chicken stock and milk and continue whisking until smooth and bubbly and desired consistency is achieved, about 2 minutes (remember – sauce will thicken as it cools). Turn off burner and add salt. If it becomes too thick, whisk in milk, 1 tbsp at a time.
Bake.
Place pan on the bottom of your oven to par-bake the dough for 5 minutes.

Carefully remove the hot pan from oven. Ladle a couple spoonfuls of the gravy onto the dough and spread evenly. Add shredded mozzarella and cheddar, ensuring cheese touches the edge of the pan (note: cheddar crisps better on the edges than mozzarella, so keep that in mind as you spread the cheese). If you're using leftover fried chicken, add it to the pizza now so it heats up; if you made it fresh for this recipe, add it after baking.

For home ovens: place pizza in oven for another 7 minutes on the bottom rack. (toss the broiler on for the final minute or two if the cheese is not browning fast enough). For outdoor pizza ovens: bake for 5-6 minutes, rotating pan halfway through, and covering with tinfoil if browning too quickly.

Remove from oven and use a thin metal spatula along the edges to separate the pizza from the pan. Slide onto a wire rack to rest for 3 minutes. Add fried chicken, chopped waffles, and green onion. Drizzle maple syrup over pizza, ensuring to fill the waffle cups as you go! Slice, and enjoy.