The Chicago-style hot dog is one of the most famous types of wiener in the country. There is a stereotypical pop from the juicy Vienna hot dog, offset by spicy sport peppers, yellow mustard, and tangy bright green relish. You cannot visit Chicago without trying one of these amazing dogs.
But what if you combined multiple midwest delicacies into one amazing dish? Our Chicago Dog Detroit Pizza is exactly that. It combines the amazing elements of a Chicago dog on top of crispy, chewy Detroit-style dough. Let's get into how to make this midwest creation!
The History of a Chicago Dog
German immigrants introduced the Vienna-style frankfurter to the Chicagoland area in the 19th century. Samuel Ladany and Emil Reichl, who were Austrian-Hungarian immigrants, debuted their original frankfurter recipe at the World's Columbian Exposition in 1893. It was such a hit that they went on to start their own frankfurter company, Vienna Beef. And if you don't know, real Chicago-style dogs are always made with Vienna-brand hot dogs!
Then, in 1929, Fluky's fast food restaurant became the first to sell a true Chicago-style hot dog. Many fresh toppings were piled on the hot dog to make it more nutritious and filling because, at the time, it was the very beginning of the Great Depression. Food was scarce and people did not have a lot of money, hence why inexpensive hot dogs became a regular meal.
Abe 'Fluky' Drexler used his father's old vegetable-selling cart to add tons of toppings which were at the time considered strange. His vegetable-topped hot dog was referred to as a "depression sandwich" and was sold for a nickel apiece. This was the main food source for many poor people at the time.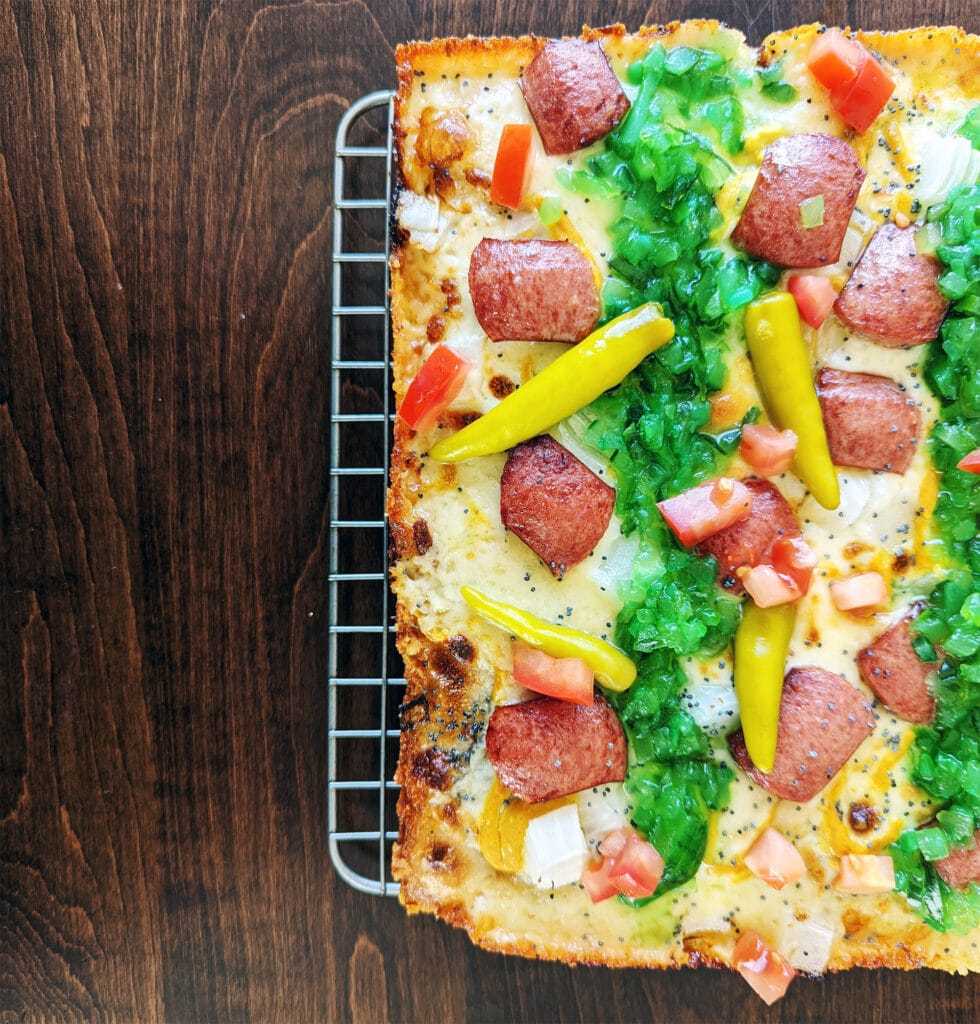 Chicago Dog Ingredients
The Chicago dog's humble history adds to its appeal. While the ingredients used for the hot dog in the 30s and 40s were meant to save money, the same ingredients are used today. Not many restaurants shy away from the classic toppings. Chicagoans like their tradition to be upheld!
On a true Chicago dog, you will find:
A poppy seed bun
All-beef Vienna hot dog
Mustard
Sweet pickle relish
Chopped white onion
Celery salt
Tomato
A dill pickle spear
Some older stands, such as Fluky's, used to put cucumber slices on the dog instead of the pickle. Now, pickle is more widely accepted as traditional. It should be noted that the pickle relish on these dogs is sometimes bright neon green. Many will say this is the most traditional relish!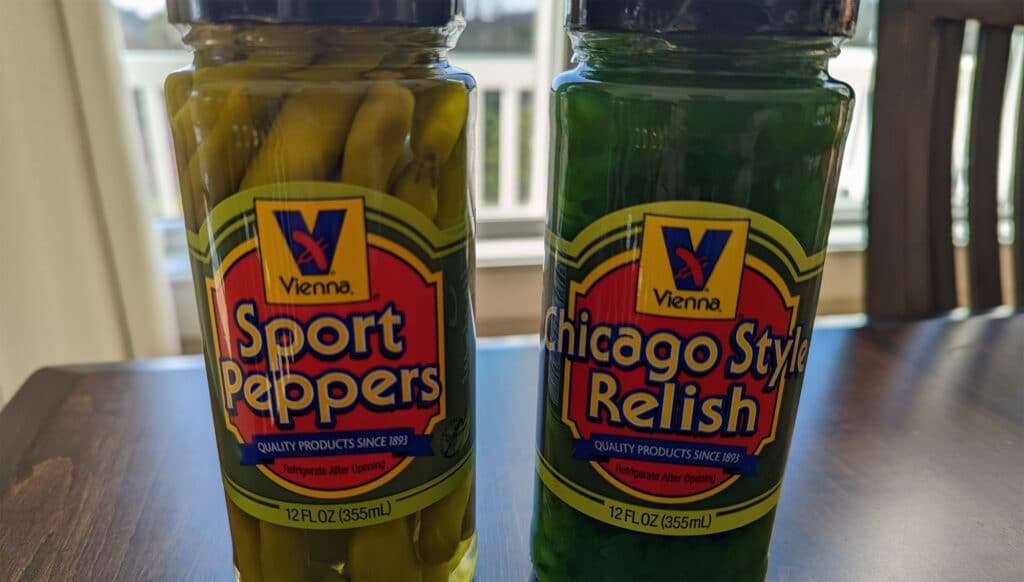 No Ketchup
Die-hard Chicago dog enthusiasts will tell you that under no circumstances can someone put ketchup on their hot dog. At some famous Chicago hot dog stands, such as Gene and Jude's, they will berate you if you even ask for ketchup. They do not keep ketchup in store, even for fries. This is something to note before going to a Chicago dog stand.
Different folks will tell different reasons as to why ketchup is not allowed on Chicago dogs. The most accepted reason is that ketchup is sweet. In addition to the sweet relish, the hot dog becomes too sweet with both condiments. It then throws off the balance of the entire meal. Of course, if you like ketchup, eat your hot dog however you like. For this pizza's purposes, no ketchup will be used.
Detroit-Style Crust
A Detroit-style crust is thick, hardy, and holds any ingredients you throw on top. For this reason, Detroit crust is the perfect vessel for your Chicago dog ingredients. You end up with a focaccia-like texture and thickness, ideal for holding tons of delicious toppings. It truly is a midwest mash-up!
When making this Chicago Dog Detroit Pizza, you will want to par-bake your crust before adding the toppings. This is standard when making Detroit pizza because you want a hardy base to ensure your ingredients don't sink into the dough. Once the crust is halfway cooked, remove it from the oven and add your Chicago-style toppings, then place it back into the oven to finish cooking. The result is truly something you've never seen before!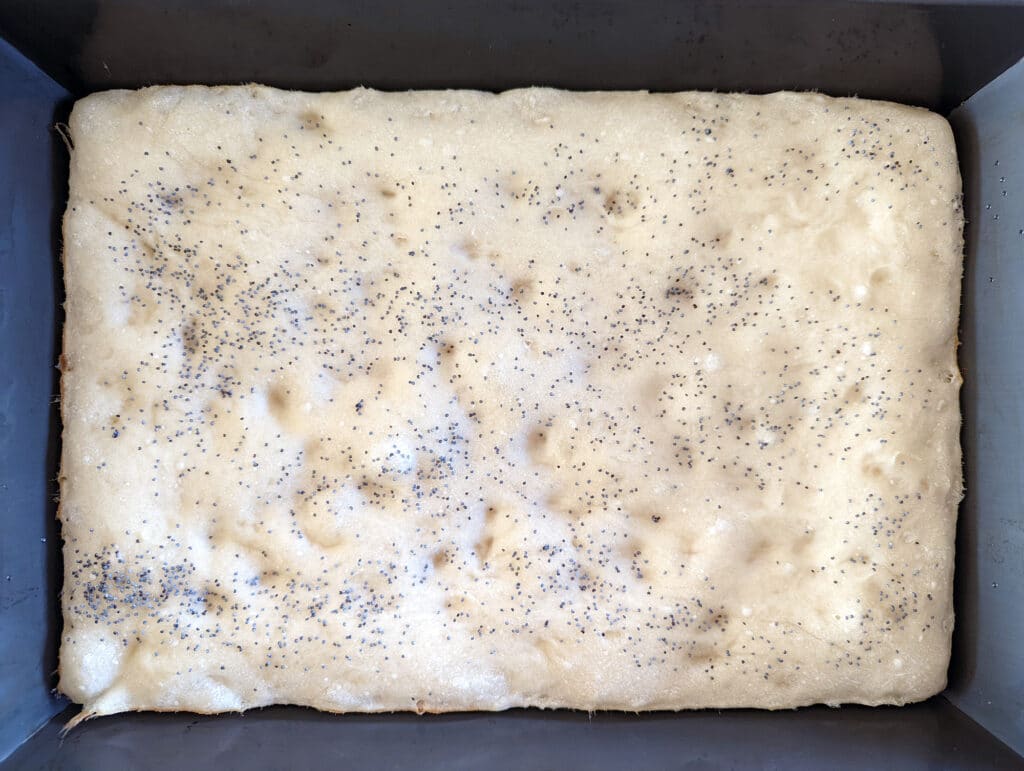 Putting It All Together
Now is the time when we must put the Chicago dog and the Detroit pizza together. We wanted to add all elements of a Chicago dog without missing one ingredient. For that reason, we par-bake the dough for 5 minutes before topping it with a nice coating of poppy seeds. Chicago dogs are always sold on a poppy seed bun, so this is meant to mimic that idea.
Next, a melty layer of Wisconsin Brick cheese, traditional on a Detroit pizza, is blanketed over the dough, then topped with a light drizzle of yellow mustard. Don't overpower the whole pizza with mustard, we just want a fine drizzle for flavor here.
Finally, we top with all the Chicago fixin's. First, natural casing hot dogs, then stripes of Chicago-style relish (similar to the stripes of pizza sauce on a Detroit pizza), sport peppers, tomato, white onion, and a dash of celery salt. Lastly, pickle spears are served on the side. Place the pizza back in the oven for a few minutes to melt the cheese and warm the toppings.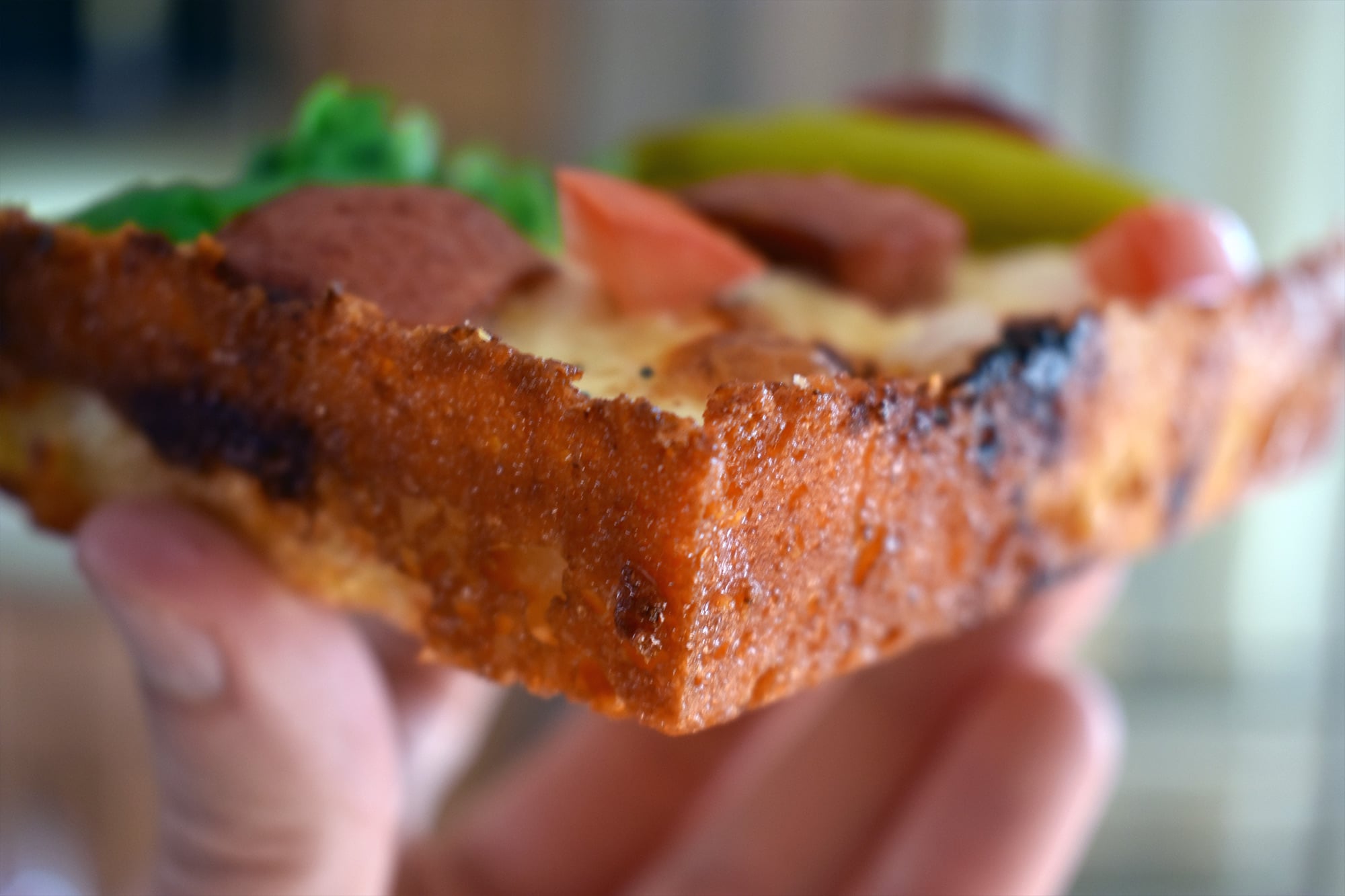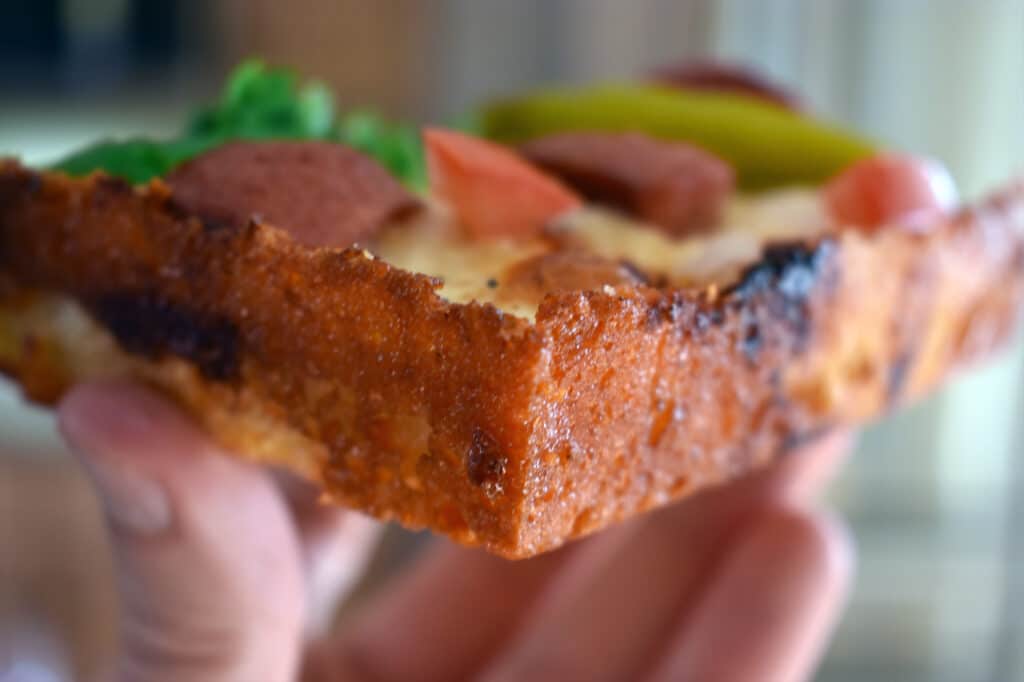 The Perfect Marriage of the Midwest
Chicago and Detroit are two prominent midwest cities, and it makes sense to combine their two notable dishes. You will be shocked at how this amazing pizza tastes exactly like the best of a Chicago dog and a Detroit pizza. Represent the midwest food scene and make this Chicago Dog Detroit pizza today! Here is how.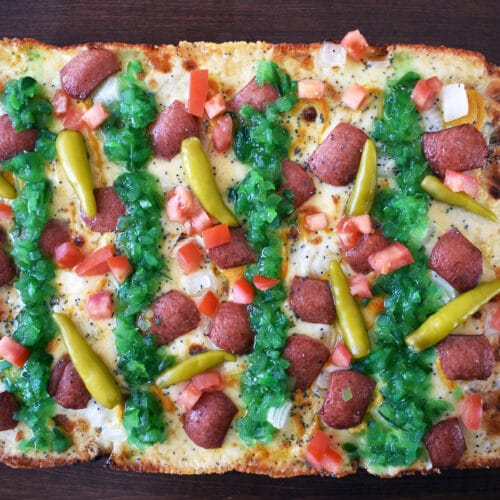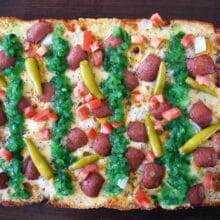 Chicago Dog Detroit Pizza Recipe
Rather than putting Chicago vs Detroit in a match to determine the better pizza, we married the two cities in a more unique way! This pizza was "dragged through the garden" to Chicago's standards of a superior hot dog, including sesame seeds, pickles, bright relish, white onion, tomatoes, pickled sport peppers, and of course, an all-beef natural-casing hot dog. Authentic Chicago Dog elements atop a crispy edged Detroit pizza crust. Try it – it works!
Print
Pin
Rate
Follow my pizza journey
I bought 15 pizza ovens to hands-on test.
It's a hobby, not an obsession! Here are the best pizza ovens.
Equipment
1 10"x14" Detroit Style Steel Pan

We used a Lloyd's Pan, often considered one of the best out there for commercial or home use. Other types of pans can be used, but will lack the proper crust-forming characteristics of Detroit style pizza.
Ingredients
Toppings
Low Moisture Whole Milk Mozzarella

Shredded or cubed

Wisconsin Brick Cheese

Cubed. Substitute with white cheddar, pepper jack, or havarti

2

All Beef Hot Dogs

Sliced

Sweet Relish

The neon green Chicago relish is authentic, but difficult to find. Substitute with your favorite sweet pickle relish.

Pickled Sport Peppers

Substitute with pickled jalapeno

1

Roma Tomato

Diced, seeded

1

Small White Onion

Diced

1

tsp

Poppy Seeds

1-2

tbsp

Yellow Mustard

1

Dash

Celery Salt
Seriously. I have a lot of pizza ovens.
Let me show you the best after hundreds of hours testing. Read my in-depth pizza oven reviews!
Instructions
Make the dough.
Combine the flour and salt in the bowl of a stand mixer fitted with a dough hook attachment. Stir to combine.

Heat water in microwavable safe bowl for 30 seconds. Temperature should be between 85F and 95F. Add yeast to water and let sit for 5 minutes. We're not looking for a full activation, just a bit of a jumpstart.

Slowly add water/yeast mixture to the stand mixer, mixing on low until it forms a smooth consistency, about 10 minutes. Note: dough will be very wet and sticky, and the bottom will stick to the bowl.

With the dough still in mixer bowl, fold into a ball, cover with plastic wrap, and set on counter for 1 – 2 hours to kick-start fermentation. You should notice some rise in the dough but not doubling in volume.

Place in refrigerator for 1 to 2 days.
Stretch dough in pan.
Let dough come to room temperature on the counter for 3 hours.

Preheat the oven to 550°F. If using an Ooni or other outdoor pizza oven, preheat until 700-800 degrees, about 20 minutes.

Grease your square pan by rubbing a stick of butter across the whole surface or by using 2 tbsp of oil. Sprinkle a light dusting of poppy seeds on the bottom of the pan.

Scrape the dough out of the bowl and into the pan. Because of the high hydration in this recipe, you may need to wet your hands prior to handling. Flatten and stretch the dough to fit the pan as close as possible (a tiny bit of shrinking may happen, that's fine). Let sit for ½ hour, then stretch again ensuring dough touches edges of pan.

Place pan on the bottom of your oven to par-bake the dough for 5 minutes.
Toppings, in order; then bake.
Carefully remove the hot pan from oven. Add shredded mozzarella and cubed brick cheese, ensuring cheese touches the edge of the pan. Drizzle yellow mustard. Lightly dash a bit of celery salt across the dough. Add sliced hot dogs and white onion.

For home ovens: place pizza in oven for another 10 minutes on the bottom rack. (toss the broiler on for the final minute or two, and place on a higher rack, if the cheese and hot dogs are not browning fast enough). For outdoor pizza ovens: bake for 10 minutes, rotating pan halfway through.

Remove from oven and use a metal spatula to separate the pizza from the pan. Slide onto a wire rack. Add Chicago relish in stripes across the pizza (to mimic the style Detroit uses with pizza sauce). Top pizza with tomato, sport peppers, and another light dusting of poppy seeds. Slice, and enjoy.