Imagine the best tacos of your life. They likely included juicy, flavorful meat, lots of melty cheese, and a spicy sauce for dipping. Foodies know that the most delicious (and popular) tacos that are popping up all over the US are birria tacos, or heavily spiced shredded beef (amazingly tender from a stew) stuffed into a tortilla with a healthy amount of cheese. If you haven't heard of these delicacies, look them up now!
Birria is one of the most scrumptious food trends in the last few years. Really! The meat is rich, the cheese is a-plenty, and everything is dunked right into a drinkable stew. These tacos are so fabulous, we just had to make a pizza inspired by birria. We introduce to you our amazing Birria Pizza! Here's all you need to know about this sinfully decadent recipe.
What is Birria?
Birria originated from the Mexican state of Jalisco, although it has spread across many parts of Mexico as of today. There are many different variations of birria. At it's core, birria is a slow-cooked meat stew that is shredded and served with its braising liquid. The meat can be served on it's own, in a taco, quesadilla, or even on a torta.
Birria was first conceptualized when Spanish conquistadors arrived in modern-day Mexico. The Spaniards brought goats and livestock with them on their trip, but the goats bred and multiplied at a very fast rate upon arrival in Mexico. Unsure of what to do with all these goats, the natives began eating them. However, they did not like the gamey flavor that goat provided, so lots of spices were added to cover up the strong gamey accent.
The goat also produced a tough texture when cooked, so slow, low cooking was key. Hence, birria is a slow-cooked meat dish that braises in a very flavorful, spicy liquid for many hours until it is fall-apart tender. A small cup of the braising liquid is served on the side, often called consume. This is meant for dipping your meat or tacos to add even more rich, savory flavor and moisture.
Birria became so popular that the idea spread from Jalisco all across Mexico. In the 1950's, a woman named Guadalupe Zarate opened a birria stand in Tijuana using beef instead of goat. Beef was much more affordable than goat at the time, hence, Tijuana-style beef birria was born. More recently, the Los Angeles food scene has picked up birria and catapulted it to success in the US with the quesabirria (a birria quesadilla) served with consume for dipping.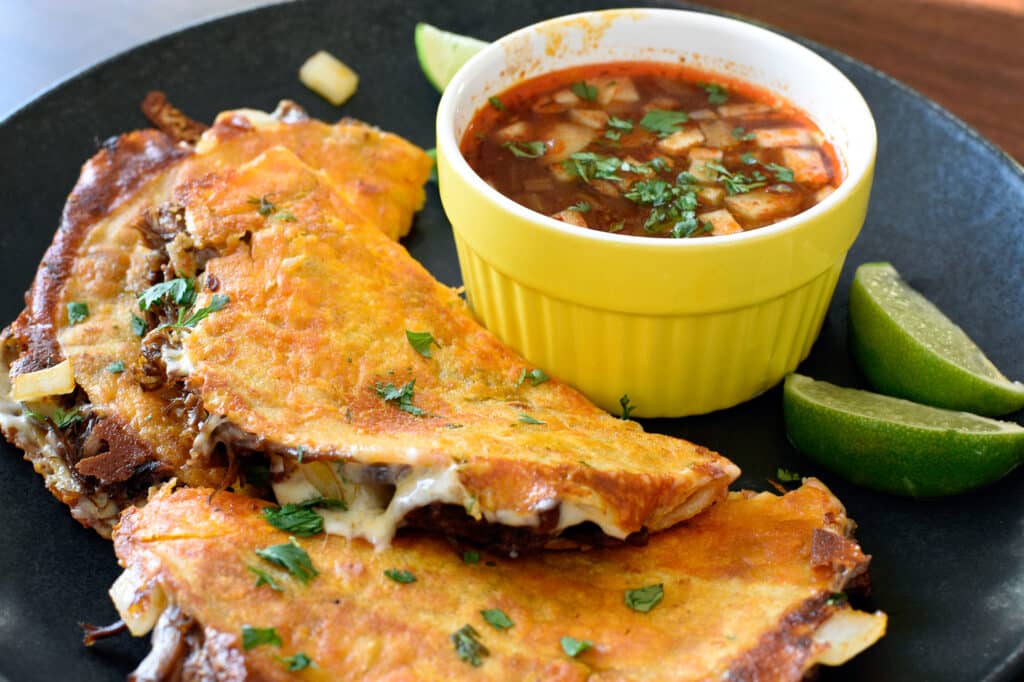 Birria Seasonings
If you have seen birria before, you'll know the meat and consume are tinged red from spicy chiles. The flavor of birria is just as intense as the red color and the delectable smell combined! Depending on the area from which you purchase the birria, the ingredients may change slightly.
You will often see these ingredients/seasonings in birria:
Dried red chiles
Guanjillo peppers
Chipotle in adobo
Tomato
Vinegar
Mexican oregano
Marjoram
Bay leaves
Onions
Garlic
Cloves
Cumin
Cinnamon
Be sure to avoid using any thickeners when making birria. The braising liquid is not meant to be a "gravy" per se; it is meant to stay thin for dipping. Ingredients such as flour, cornstarch, pumpkin seeds, or cornmeal can have a thickening affect, so be extra careful to avoid these in your birria.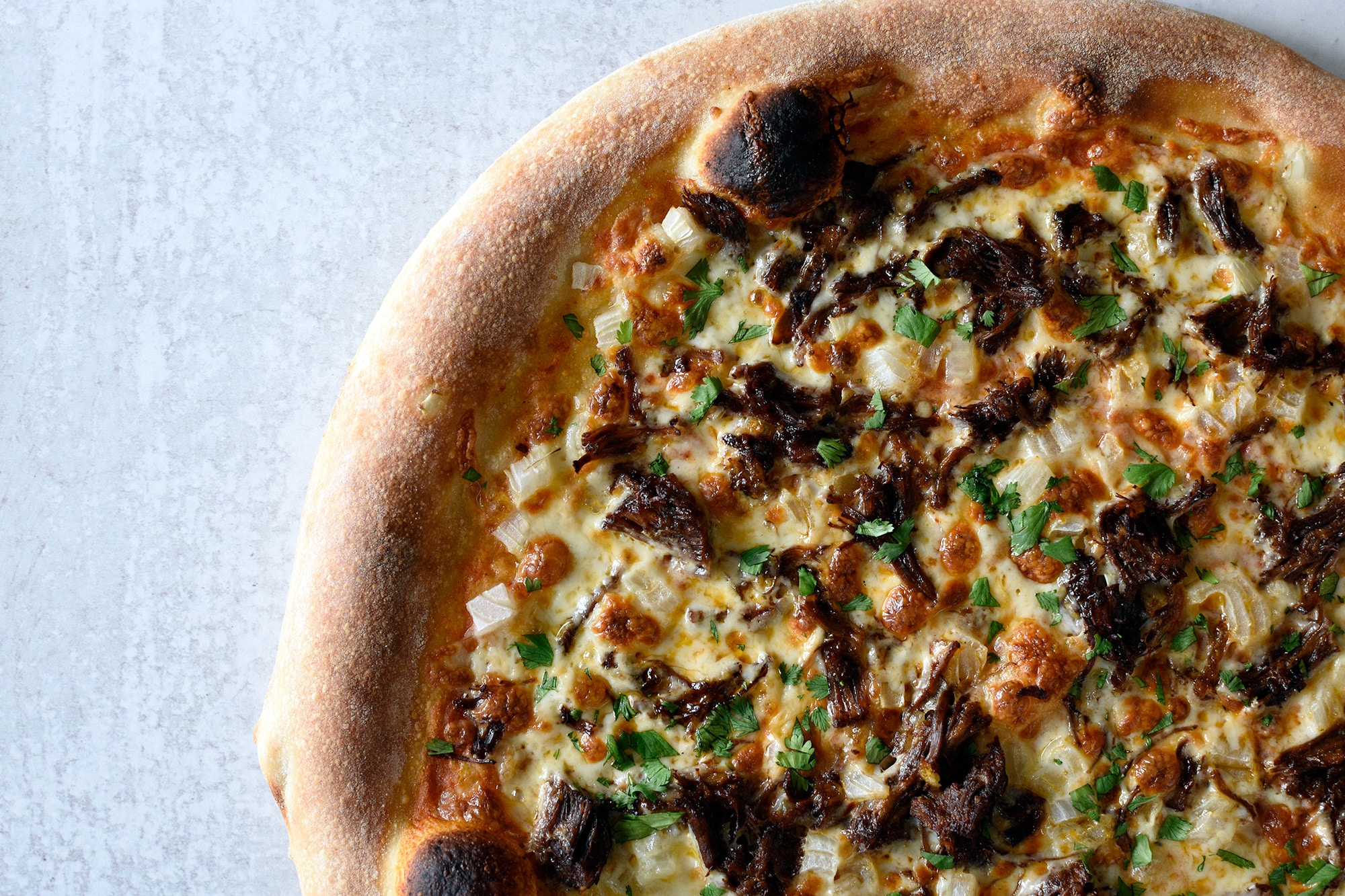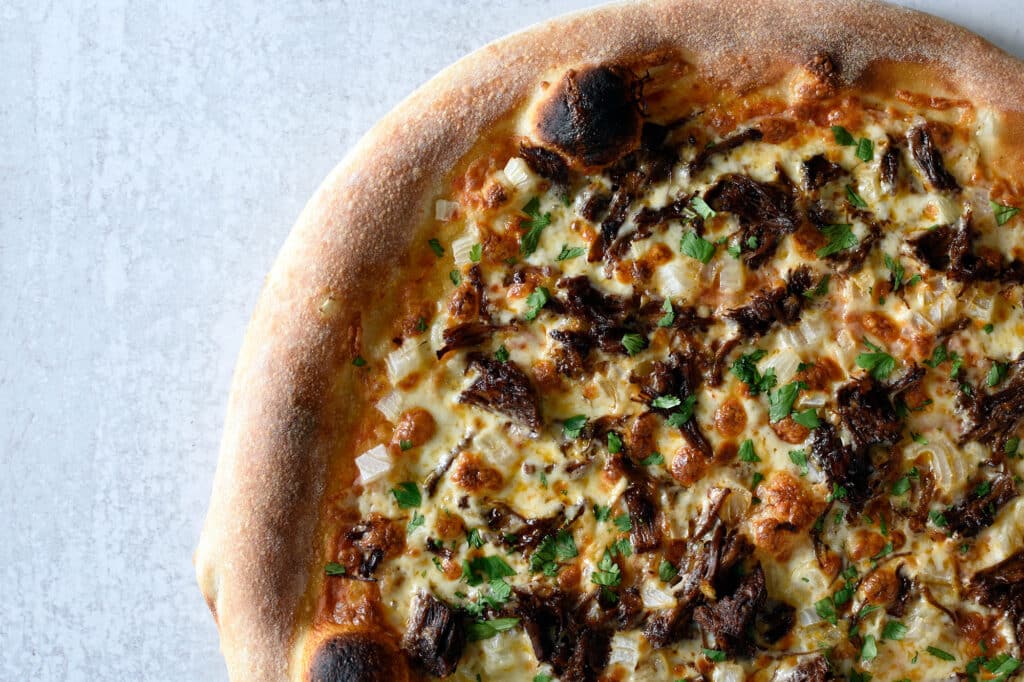 What Kind of Meat to Use in Birria?
As mentioned above, there are a few different meats that have been use over time to make birria. The bottom line is that you want to use a tougher cut of meat to lend well to the slow cooking process.
Beef
Beef is the most common meat to make birria in the United States. Tougher cuts of beef lend itself well to the long cooking process. Red meats are better for birria than lean or white meat, so stick to a rich, tough cut of beef if making Birria Pizza at home. My go-to is a well marbled chuck roast.
Goat
Goat is the original birria meat, but can be slightly harder to come by. The toughness of the meat and the gamey flavor equates to the original birria recipe from centuries ago, so use goat if you want to be as authentic as possible.
Mutton
Mutton or sheep is even harder to come by in the US. You can sometimes find it in international markets a little more easily than your local supermarket. Mutton can be even tougher and gamier than goat, but if that's what you are looking for, go with mutton for your birria recipe.
Cow's Head
In Mascota, Jalisco, Mexico, many classic birria recipes are made using cow's head. The cheek in particular is considered a delicacy and is so flavorful and tender once cooked. The organs, tendons, and bones lend a flavorful richness to the consume while cooking.
Making Birria into Pizza
So, with everything we now know about birria, we can start veering off the railroad tracks a bit. The actual recipe of the birria meat and consume will not change, but the way in which we eat it will. Instead of loading up a quesabirria, we will be loading the meat onto a pizza crust, cooking it, and then dipping your slice into the flavorful consume. That's Birria Pizza!
Of course, we also want to capture the other elements of a quesabirria or birria taco, so the next most important element is the cheese. Instead of mozzarella for this pizza, we will be using oaxaca cheese, the mexican melting cheese responsible for insanely long cheese pulls. Have your camera ready so you can capture just how cheesy this pizza is!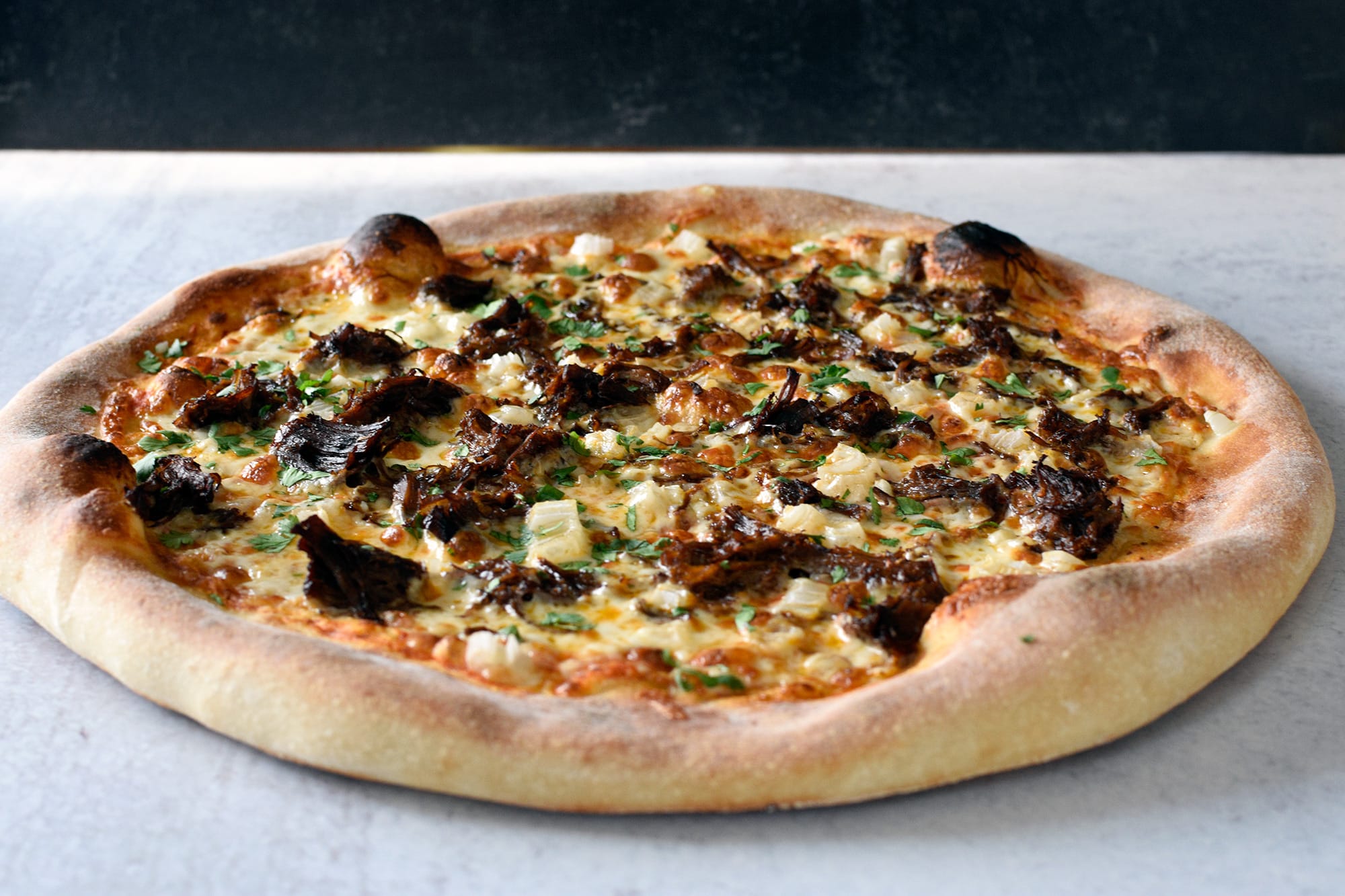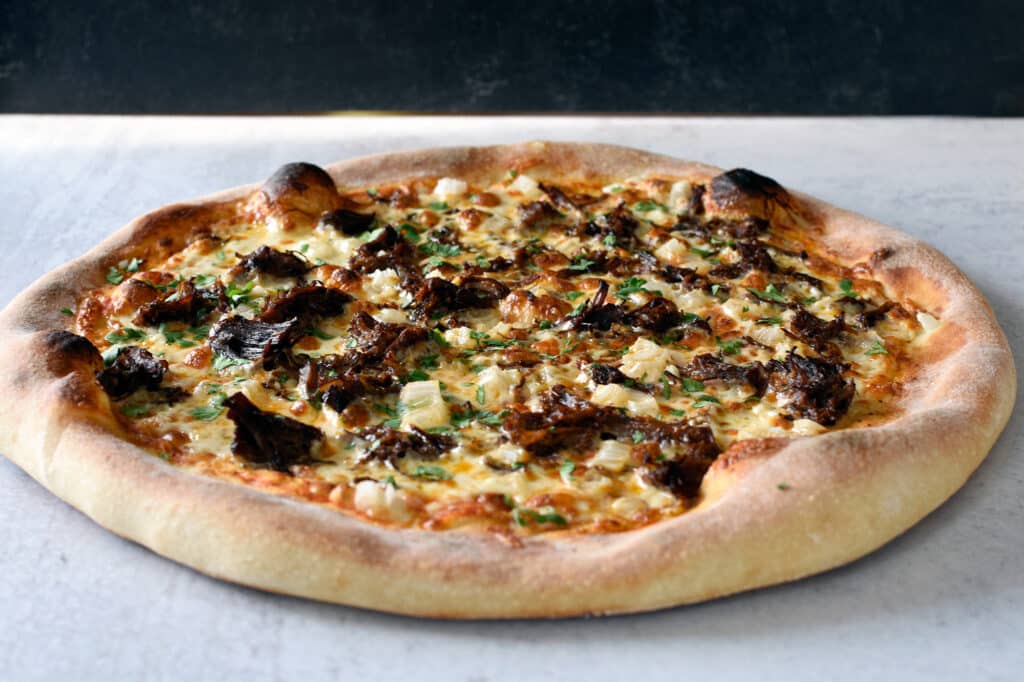 Birria Toppings
With all of the richness of the meat, consume, and cheese, there must be some fresh, bright ingredients to contrast the heavy flavors. You will often find the consume with added diced white onion and cilantro for a zingy contrast. Quesabirrias also usually have diced onions and cilantro inside, much like a Mexican-style taco.
For this Birria Pizza, be sure to top with tons of fresh cilantro, diced white onion, and lots of limes. Rich foods can become too heavy if they do not have a tangy or fresh ingredient to balance it, and these zesty ingredients are perfect for bringing out the chile-centered flavors in the meat.
What Type of Crust to Use?
For this delicious Birria Pizza, we used NY-style pizza dough and cooked it in the Ooni Koda 16, however the recipe below has steps for a regular kitchen oven as well. Usually for specialty pizzas with lots of ingredients, NY dough is the way to go. It is thin and foldable, so you can eat it like a folded sandwich to keep the ingredients inside. The dough is also strong enough to hold all the toppings without becoming floppy or unsteady. It is also the perfect texture for dipping into the flavorful consume!
For the best NY-style pizza dough recipe, click here.
Homemade Birria Pizza
Now that we know what birria is, where it came from, and why it is so delicious, we are officially ready to make this birria pizza. Whether you have had traditional birria in Mexico or American-ized LA-style birria, you know that it is one of the most delicious ways to prepare a tougher cut of meat. Now, lets make this insanely scrumptious Birria Pizza!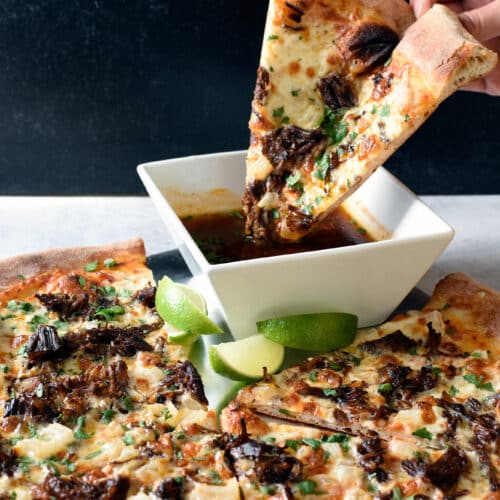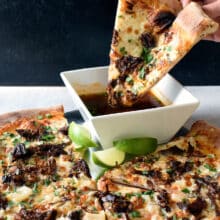 Birria Pizza
The trendy birria tacos are here to stay. This savory and cheesey overload was transformed into a pizza that stays true to its authenticty. You won't know which one you're eating, and you won't care.
Print
Pin
Rate
Follow my pizza journey
I bought 15 pizza ovens to hands-on test.
It's a hobby, not an obsession! Here are the best pizza ovens.
Ingredients
420

g

NY style pizza dough

5

oz

Oaxaca cheese

Shredded.

3/4

cup

Shredded Birria beef

<- Recipe from "i am a food blog" (hands down the best).

1

cup

Birria stew

From the same recipe above.

Cilantro

Chopped, to taste.

1/2

small

White onion

Chopped.

1

Lime

Wedged, for serving.
Seriously. I have a lot of pizza ovens.
Let me show you the best after hundreds of hours testing. Read my in-depth pizza oven reviews!
Instructions
Make the birria per recipe linked above. Reserve 1 cup of the stew into a serving bowl, and another 3 tbsp for topping the pizza. Remove and shred the beef.

Flatten and stretch dough into a 15-16" pie, sprinkling bread flour on the dough as needed to avoid sticking. If cooking in indoor oven, place dough on pizza peel prepared with a sheet of parchment paper. If using an outdoor oven, just place on a floured pizza peel.

Add 3 tbsp of the stew/consume onto the pizza as a sauce replacement. Starting from the outside and moving inward, spread a light even layer of cheese onto the dough. Evenly spread beef and white onion across pizza.

Choose ONE coothing method below.
(Option 1) Indoor oven
Preheat to 550F for 45 minutes with pizza steel or stone on bottom rack.

Using the pizza peel, carefully move pizza to oven (parchment paper should make it slide easily – you can leave it on the paper or remove the paper after 1 minute of cooking), and cook for about 6 minutes, watching closely for crust color and cheese burn. Avoid rotating when baking in home ovens as temperature loss from opening the door often does more harm. If top needs more color, turn on broiler for 1-2 minutes towards the end.
(Option 2) Outdoor pizza oven
Preheat your Ooni (or other portable outdoor pizza oven) for 25 minutes. The oven should reach near 850F in this time. Reduce the flame to very low. Place pizza in oven and cook for ~3 minutes (+/- 30 seconds depending on color) rotating as needed.

TIP: if using an Ooni or another model of outdoor pizza ovens, reduce the heat to low just as you place the pizza in; this creates really great crust color without burning the cheese too early. This may increase cook time slightly.
Finishing Touches
Let pizza cool for one minute on a wire rack or cutting board.

Top with cilantro. Serve with lime wedges and stew/consume to dip.
Notes
If using an outdoor pizza oven, such as Ooni Koda, the baking process will only take a couple minutes max. If using an indoor oven at 550F, it will take closer to 5-7 minutes.