OUR RATING OF THE Big Horn PIZZA OVEN
The BIG HORN pizza oven is dirt cheap compared to other options, and you can tell when looking closely at this oven. Time will tell how long it holds up, but for now, it gets hot enough to make a pizza.
The good.
Extremely budget-friendly at $199 
Compact and lightweight at 25lbs and has foldable legs.
The bad.
Construction has some rough elements that feel really low budget and previous customers have complained of faulty parts, most often the door and door handle.
Temperature drops between pizzas, so the oven must be allowed to reheat.
More poorly insulated compared to the Ooni Fyra.
The company has a website, but the pizza oven is not listed on it (at the time of writing). Instead, they sell through Amazon and other third-party sites. As a result, it is unknown if you can even order replacement parts (stones are very prone to breaking).
3.5
You get what you pay for.
The Ooni Fyra is a much better alternative.
So, who is Big Horn Outdoors, and since when are they in the pizza oven game? Well, they might not be a dedicated pizza oven manufacturer, but they're not entirely new to the business. Big Horn is an outdoor lifestyle brand that sells smokers, grills, barbeques, and fire pits. So it makes sense that they would also turn their skills towards pizza ovens. Their first try, Big Horn Outdoors Wood Pellet Pizza Oven, is proving to be a popular seller on Amazon.
One of the main reasons for this is obvious: the price. This wood pellet pizza oven sells for $200, substantially less than similar products by more well-known companies. The Ooni Fyra, as a compact pellet oven of similar size and function, is its direct competition and it sells for $350.
So what's the difference? Why is the Big Horn so much cheaper? Does it have anything else going for it apart from the price? Or is it that cheap for a reason? Well, to answer those questions, we've taken a closer look at this popular product. We've given it a go, and we're here to tell you what's good, what's bad, and if it's worth your time.
Not in the mood to read? The Ooni Fyra is a superior pellet oven and worth the extra cost. You won't regret it.
Sale
But…if you're really looking for budget savings, the Big Horn does an ok job.
Sale
Design and Features
Fuel Source
This oven uses wood pellets, an efficient and economical option for people who love wood-fired pizzas but don't have the budget, space, or motivation for a log-burning oven. Pellet ovens tend to be cheaper than log burners and also more compact, making them a great portable choice for camping and road trips.
The pellets are made of hardwood, so they still give off that delicious aroma while burning and infuse food with the authentic, smoky wood-fired flavor.
Size and Weight
21.6"L x 14.2"W x 24"H
Pizza stone dimensions 12″ x 12″
Cooking capacity 10″ pizzas
Weight 25 lb
Appearance and materials
This oven has a basic minimalist appearance with brushed stainless steel, the cordite pizza stone is thin – but fine enough – and all the elements fit together nicely. If I can go on a quick rant here about pizza oven manufacturers and why they decide to go with thin stones. Thinner stones preheat faster, but if you make more than one pizza at a time it can be difficult to maintain temperature between cooks (something Bertello solved with their new Grande 16″ oven thanks to an under-stone burner). A thicker stone would take longer to preheat but will hold up much better to multiple pizzas. But anyways.
Once you start using the oven, some parts begin to feel of lesser quality. The door is tricky to remove and replace securely, especially when hot. And some of the edges inside the oven are sharp – so care is needed when cleaning or assembling the oven.
Functionality
This pizza oven comes with basic instructions on how to use it, but they're not very comprehensive, and there is a learning curve involved before you can get the best results, as there is with all pizza ovens.
This oven burns through pellets quite quickly, and it's not always easy to see when the fire is running low or burning out. So chefs will need to monitor the fire and the pellet hopper and feed the fire regularly, which will initially involve some trial and error. Similarly, figuring out the timings of how long a pizza takes to cook and how long it needs to reheat between pizzas will take some time to learn.
But the good news is once you've mastered those things and got your method down, then using this oven is very simple.
Max Heat and Preheat Time
The company claims that the Big Horn Outdoor Pizza Oven takes 18 minutes to preheat where it will reach a maximum temperature of 860°F (460°C), and cooks a pizza in 1 ½ to 2 minutes. My experience, like most ovens, is to go over that time. At the 18 minute mark, my pizza stone was barely 700F. Depending on the height of the flame, if you launched a pizza right now you could end up with nicely charred toppings and cheese but a raw dough. After about 25 minutes the stone was closer to 800F, and results in a better bake. With all this said, 860F max temperature is pretty low for a pizza oven, and I think this is due to the lack of insulation. You pay ~$150 more for the Ooni Fyra because of insulation that lets it reach 950F (and of course a reputable company with replacement parts).
The Big Horn pizza oven also cools down as it bakes, and when you open the door to check, turn and remove the pizza. So it will require some time to heat back up to optimum temperature before you can put the next pizza in. So long as you keep the fire stoked and burning, this should take between 5 and 10 minutes.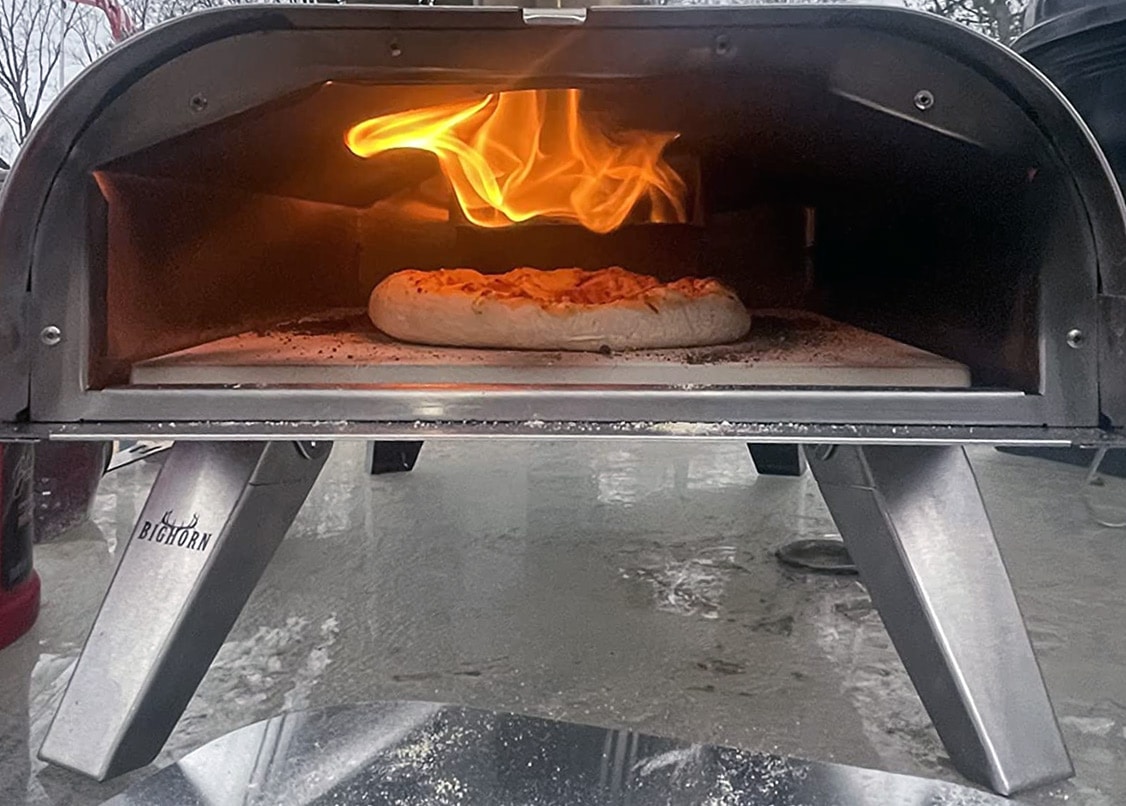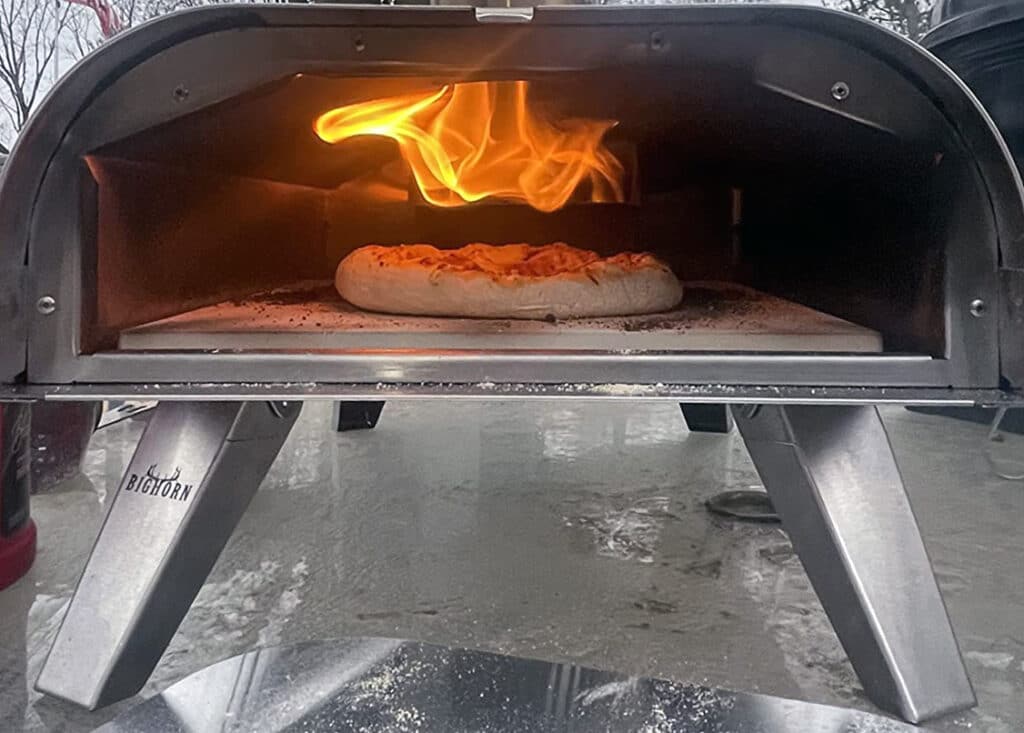 Set Up and Use
Set Up
The Big Horn pizza oven comes in about 12 pieces! This is a lot more than other pizza ovens I reviewed. A fair bit of assembly is required, and the instructions that come with it are not the most comprehensive. Luckily the process is pretty intuitive and mainly consists of sliding elements into place without needing tools. However, you will need a screwdriver to fix the pellet hopper into place.
If you struggle with the assembly, have a look online, there are plenty of unboxing videos that'll talk you through the assembly process better than the instructions do.
As you're putting it all together, note the handle which allows you to open and close the hopper and fire tray when they're hot. And also, the stopper at the end of your chimney which doubles as your pellet scoop.
How to Use
As we mentioned, this oven has a learning curve, and you'll need to get used to it to get the best out of it. But basically, you'll want to remove the fire tray from the rear of the oven and add 300g of pellets. Light these using a blowtorch and get a good burn going across the whole top layer before sliding the burner back into place. You'll see smoke coming out of the top of the chimney. Once this smoke turns to flames, add two more scoops of pellets to the hopper.
After 18-25 minutes, your oven should be ready to go. Check the temperature with a digital thermometer and if it's good, slide your pizza in there and close the door. With the door closed, you can't see how your pizza is cooking, and you'll want to check it regularly. But opening the door too often will lower the temperature of your oven. So, check it after 30 seconds and turn it if necessary, again after another 30 seconds, then every 20 seconds until it's done. Once you get to grips with your oven, you'll learn how long to leave it between checks and how regularly you need to turn it.
Once your pizza is cooked – around 2 minutes – remove it from the oven and enjoy. Allow the fire to burn out, and let the oven cool down completely before cleaning.
Cooking multiple pizzas
This oven is not the best for cooking multiple pizzas for a big crowd but it is possible. The best way to go about it is to constantly maintain that fire and have all of your ingredients ready to go, so you're being efficient with the pellets and not wasting time between bakes.
Get it burning nice and hot to start with, and then add another scoop of pellets to the feeder every time you take a pizza out of the oven. Close the door and give it five to ten minutes to heat back up. Once it's at temperature, add another pizza and bake. As you remove that second pizza, add another scoop of pellets and close the door for another 5-10 minutes. Repeat this process for as many pizzas as you want to cook, and don't let the fire burn down.
What We think
While the Big Horn Outdoors Pizza Oven undoubtedly works and can make good pizza, we don't find it very enjoyable to use. Some elements feel clunky and low quality, and maintaining the temperature was more difficult than the Ooni equivalent. We understand that it's a budget oven, but $200 is still $200, and if you're spending money, you want to get something that feels worth it.
In my opinion, people looking for a pizza oven of this size and specs should opt for the Ooni Fyra instead. Yes, it's more expensive, but for the extra money you get an oven that:
Reaches a higher temperature of 950°F
Is better insulated yet still manages to be lighter and more portable at 22lbs
Has a gravity-fed pellet hopper to take all the hassle out of maintaining the fire.
Comes from a reputable, industry-leading company with proven, great customer care and replacement parts, should you need them.
We definitely think all that is worth the extra $150. And if you're someone who wants a real wood-fired oven over wood pellets, the Stoke pizza oven made it on our list of best wood-fired pizza ovens and is of similar price point.
However, if you've only got a small budget or are dead set on getting the Big Horn, you won't be on your own. It's undoubtedly a popular oven and gets far more great customer reviews than bad ones. So just remember to take your time getting used to it and playing with the pellets and timings. Follow our top tips to get that fire burning right and watch some how-to videos online. They'll fill in the gaps that the manufacturer's instructions don't cover.
Top Tips
The trick with this oven is to be constantly watching and maintaining that fire. So resist the urge to light it and head back into the house to prep your pizzas. Get everything ready beforehand, then light the fire and stay with it, feeding it as necessary.
Add a new scoop of pellets every time you remove a pizza from the oven.
If your pellets aren't burning hot enough and you start to see smoke instead of flames coming out of the chimney, open the door and the cover of the pellet hopper simultaneously and boost the fire with a blast of oxygen. Close it up again once you see flames.
The outside of this oven gets very hot, don't touch any part of it except the wooden door handle once the fire is lit. Be sure to use the tool provided for opening the pellet hopper and fire tray.
Extra gadgets
There are a few extra items that will help you get the most out of this pizza oven. Consider purchasing: