If you're a fan of good pizza, you'll know the challenge of trying to make something to a restaurant standard in your own home. While new portable outdoor pizza ovens can be purchased for a few hundred dollars, some people just are not ready to make that kind of leap right away. If this is the case, you'll be trying to make a good pizza in your home oven, and the best way to go about that is with a pizza stone or pizza steel.
Pizza stones and steels work by mimicking the conditions of the wood-fired and brick ovens that restaurants use. They absorb the oven's heat and transfer it directly to the base of the pizza, cooking the dough in a quick, even way that prevents moisture from accumulating. This results in the perfectly cooked, crispy-based pizza of your dreams.
Well, that's the theory. But not all pizza stones are the same. They aren't the same material, thickness, durability, or cost, and they don't all cook pizzas to the same standard.
So we're here to talk you through those differences, let you know what to look out for, and help you choose the stone or steel that's right for you, your lifestyle, and your budget. Read on for our roundup and review of the best pizza stones and steels.
Not interested in reading? Here are my top picks after testing:
Steel vs. Stone vs. Cast Iron: What's the difference?
First things first, what are the types of pizza stones, how do they work, and what is the difference?
Pizza Steels, sometimes called baking steels, are sheets of solid steel or steel alloy which are highly conductive. They absorb heat easily, heat up quickly, and cook excellent pizzas rapidly. They don't lose heat easily, so they remain at the same temperature when you place the pizza dough onto them. They begin cooking the pizza immediately and seer away any moisture that forms on the bottom of the dough, giving you a crispy crust any restaurant would be proud of.
They are fast, effective, easy to clean, and highly durable – it's near impossible to break a pizza steel. In addition, they can double as a skillet to be used on your grill and cook other items such as bread and pastries.
However, there is one – and only one – negative; the cost. Pizza steels are more expensive than stones and can set you back between $60 and $250. So they are an investment, but it is one that should last you a lifetime.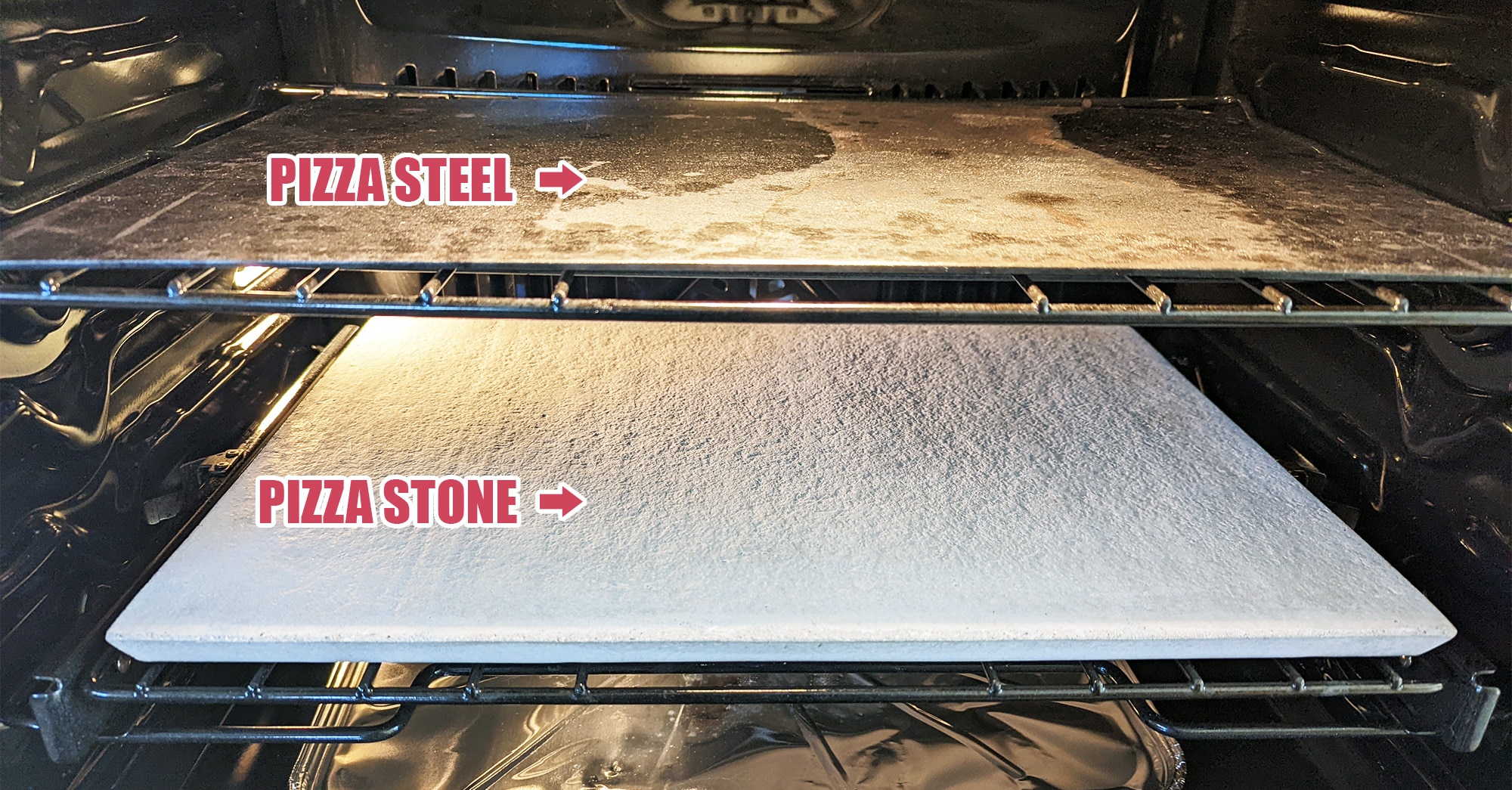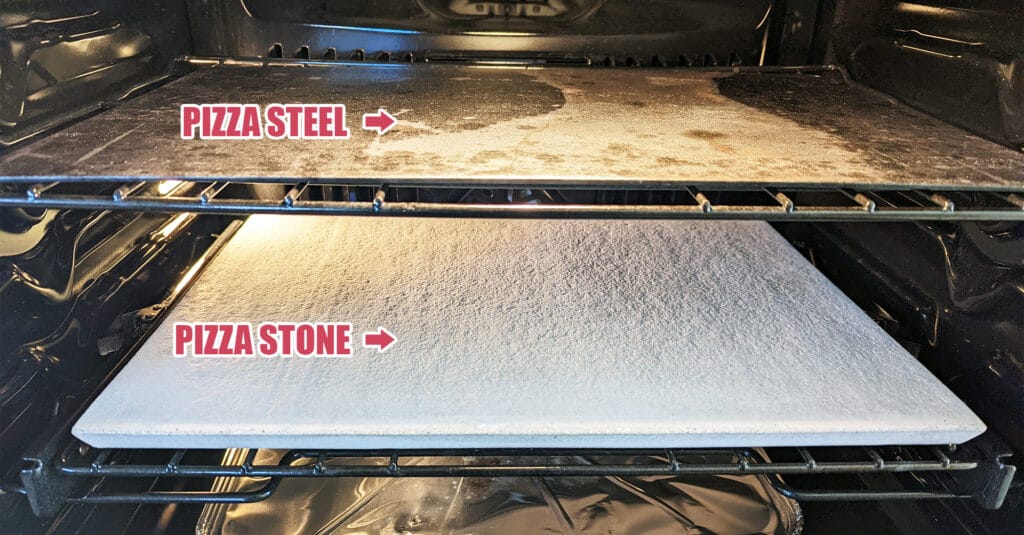 Pizza Stones can be made from various materials, including clay, ceramic, and cordierite. They work in the same way as steels – by absorbing the oven's heat and transferring it to the base of the pizza. However, the materials tend to be porous, which can also aerate the dough as it cooks, wicking moisture away from the crust and leaving you with a deliciously light, crispy pizza.
Stones are an excellent choice for casual home cooks because they make delicious pizza, come in a wide variety of sizes and shapes, and are more reasonably priced than pizza steels. They work for baking too, and because they don't heat up quite as hot or cook as fast as steel, they are often better for cooking more delicate bread and pastries.
But they do have some downsides. They preheat slower and the thinner stones cool slightly when the dough is placed upon them. This means they're not as good for cooking many pizzas one after the other. If you buy a good quality stone – one that's about 3/4″ thick – this is no longer a problem. Since they're porous, they do stain. And lastly, they're less durable. Pizza stones can break if dropped and are prone to thermal shock, which causes them to crack if exposed to rapid temperature change.
Cast Iron doesn't make for very efficient pizza stones, however, cast iron pizza pans are very effective. Cast iron heats up quickly and holds the heat like steel, while the raised sides of the pan keep your pie where it's supposed to be rather than dripping all over your oven. They also tend to have handles which make them easier to maneuver than steels and stones. In addition, cast iron pans are easy to clean, versatile enough to be used on a hob, grill, oven, or even on an open fire, and nearly impossible to break.
They are an excellent choice for people who don't make pizza often but want a quality piece of equipment that can cook many other things.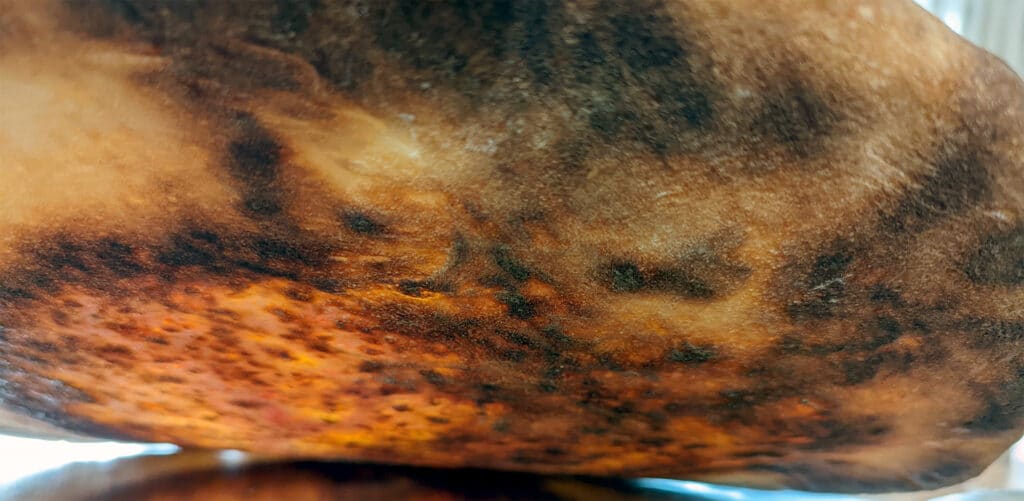 What do you need to consider when purchasing a pizza steel or stone?
Materials. Steel and cast iron are better conductors – sometimes up to 20 times better – than clay, ceramic, or cordierite – so they will get hotter and cook faster than stones. This can be good, but it can lead to burnt bases of more delicate pastry items and breads.
Thickness. The higher quality a pizza stone or steel is, the thicker it will be. This means it will hold the heat better and be less likely to cool down when the dough is placed upon it. However, thicker stones are more expensive.
Weight. A cast iron pizza pan is a heavy piece of equipment, as is a quality pizza steel, and they can be difficult for some people to maneuver. Pizza stones tend to be lighter and more mobile.
Price. Pizza stones and steels come in a wide variety of prices, and only you know which will work for your budget. Stones tend to be cheaper, starting at around $30, however, they are less durable. On the other hand, pizza steels tend to be more expensive, but it's an investment that should last you forever.
Ease of use. Pizza stones and steels are easy to use, but some require more care and maintenance than others. For example, pizza steels and cast iron pans are easy to clean with a damp cloth or a stiff brush but require regular seasoning. Stones must be handled more gently and are prone to thermal shock, but they don't need seasoning.
Durability. Steels and cast iron pizza pans are fairly indestructible, but stones – even the higher quality ones, can chip, crack and break if dropped or exposed to sudden temperature changes.
Size and shape. Pizza stones come in a variety of sizes and shapes. We recommend square or rectangular stones, these give you more room to work and a larger cooking area than round ones. But always check the size and depth of your oven before purchasing.
Versatility. Decide whether you only need a stone that works in an oven or if you want a stone that works on a hob, grill, barbeque, or campfire too. Both pizza steels and stones can be used to bake bread and pastries, but stones tend to be better for more delicate baking.
Best Pizza Steels
After thoroughly testing each product, the following pizza steels are our top recommendations.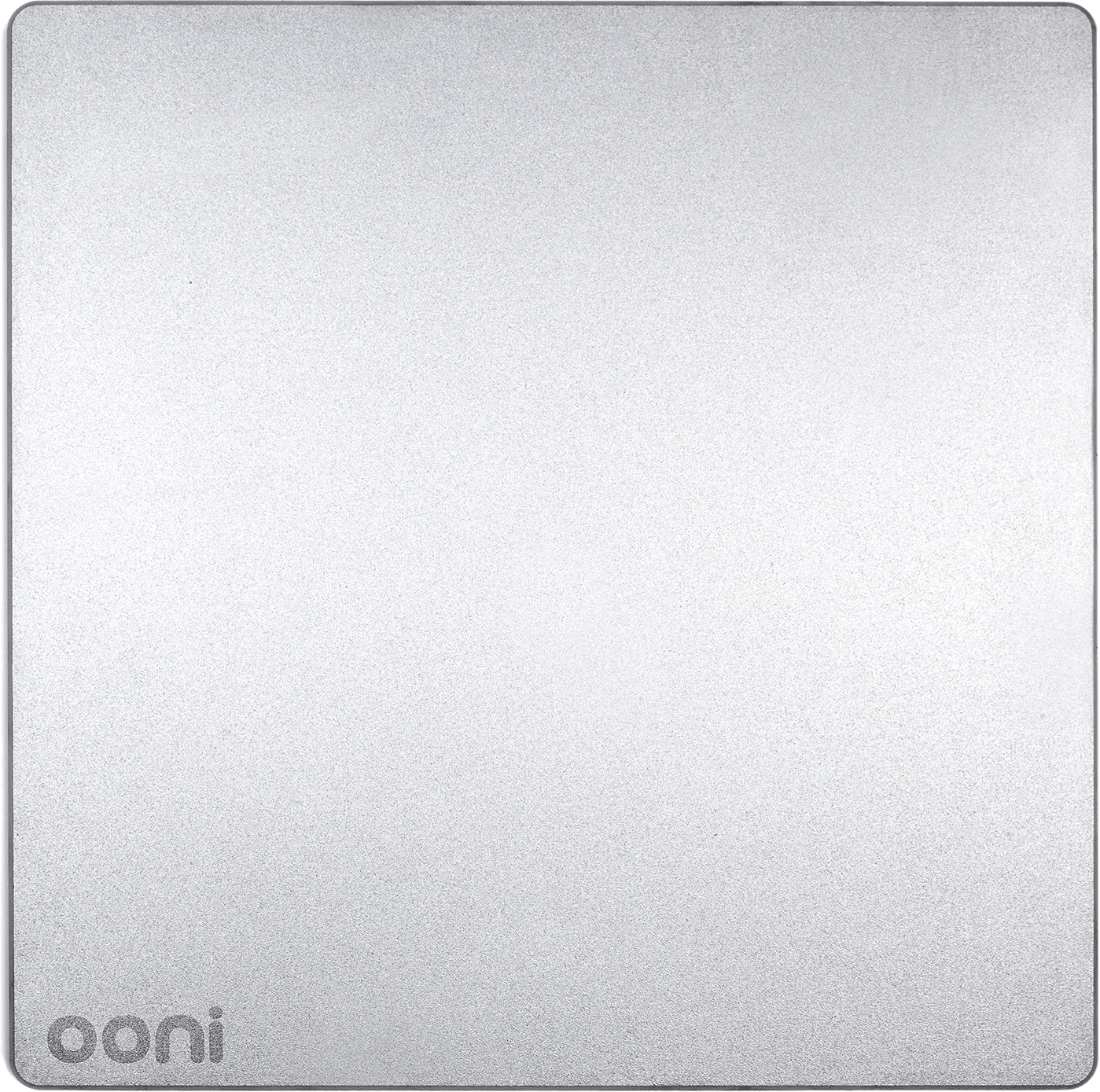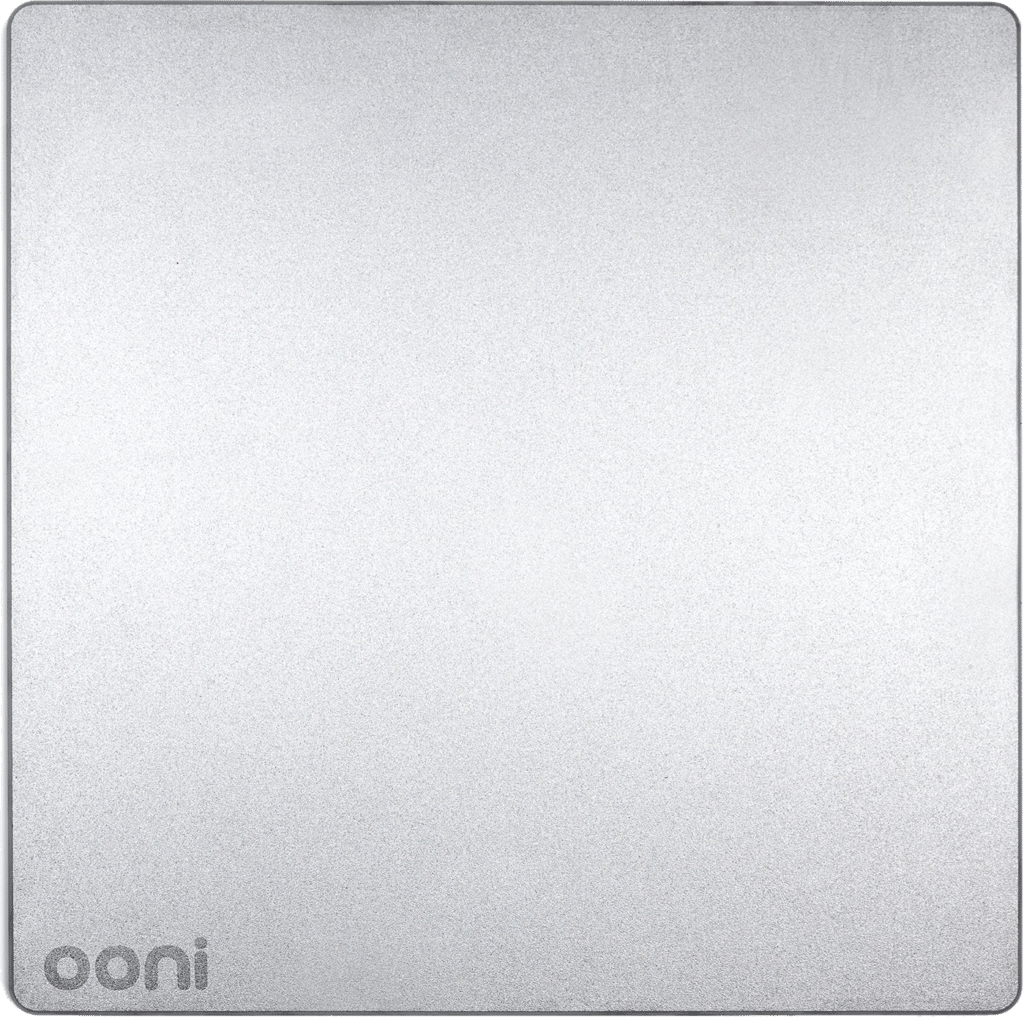 Ooni Steel 13
Size:
13.46" x 13.46" x 0.24"
Weight:
11.51lbs
Price:
$99
---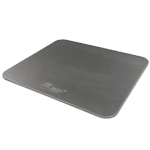 Original Baking Steel
Size:
16″x14″ by 1/4"
Weight:
16 lbs
Price:
$119
---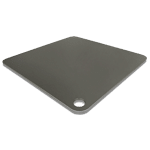 Thermi-Chef Deluxe
Size:
14″x20″ by 3/16"
Weight:
13.7 lbs
Price:
$69
---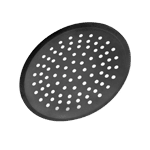 Made-In Pizza Steel
Size:
11.5″ dia. by 2mm
Weight:
2.6lb lbs
Price:
$49
---
If you're choosing a pizza steel, why not go for the original? Baking Steel is the innovative company that first saw the possibility of switching from stone to steel to make the perfect pizza.
The steel was the brainchild of founder Andris Lagsdin. He combined an education in the culinary arts with a family history in the steel industry and changed home pizza-making forever. With a hugely successful Kickstarter campaign, the Baking Steel company was born and now has seven steels for sale in different shapes and sizes.
The one we love is the Original Baking Steel. It's a great size at ​​16″ x 14″ x ¼", and is the lowest priced Baking Steel option. It's superconductive, and if you preheat it to 500°F, it delivers all the power of a 900°F restaurant pizza oven. It heats up quickly and holds its heat to create a light, crispy, delicious crust every time. It's virtually unbreakable, can be used to cook on induction hobs, grills, and campfires, and makes great rustic bread as well as pizza. What more could you want?
What we like:
Heats up fast to make excellent restaurant quality pizza every time.
Durable, US-made steel comes pre-seasoned and ready to go.
Versatile – can be used on hobs, grills, and campfires and makes bread and baked goods as well as pizza.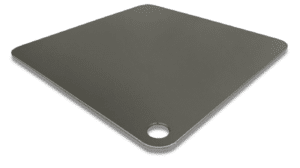 The ThermiChef Deluxe from Cooking Steels is for people who want great pizza and want it fast. It can cook a pizza to wood-fired oven-like perfection in under 5 minutes. Made from ultra conductive low-carbon steel, it is larger than the Original Baking Steel at 14″x20″ and comes in a choice of thicknesses.
The 3/16″ thickness is perfect for people cooking one or two pizzas, while the ⅜" option is for those who need their steel to retain heat as they cook multiple pizzas one after the other. The ThermiChef will allow you the versatility to cook on the hob or grill or oven and can be used for other baked goods.
Check out the website for even more choice of sizes and shapes. And for any bargain hunters, Cooking Steels also offer factory second steels at up to 50% off. These are discounted due to visual defects – such as scratches on one side of the steel – but nothing that will affect the performance. Perfect for anyone who wants to snag a great bit of equipment on a budget.
What we like:
Makes excellent restaurant-quality pizza in under 5 minutes.
Super durable, highly conductive US-made steel comes in a choice of thickness to suit your needs.
Can be used on a grill, stovetop, or in the oven.
If anyone knows pizza-making, it's these guys. Ooni is revolutionizing homemade pizza with their lineup of portable pizza ovens, and more recently released their first indoor product: the Ooni Steel 13.
The 13×13 pizza steel is made from 430-grade stainless steel and definitely appears higher quality than the others on this list, mainly due to the sand blasted finish.
Ooni is known for being a premium brand, and sometimes at a premium cost – but I feel like the price mark is excellent for this product.
The Made-In Steel is a little different from the others on our list. Rather than a solid sheet of steel, this innovative piece of kit is much thinner and contains 86 holes in its base. These holes allow air to circulate to the pizza base during cooking, keeping moisture moving away from the dough and leaving you with a restaurant-quality crispy crust.
These holes make this steel much lighter than the solid sheets and keeps the cost down too. And while you might expect this to mean it is less sturdy than traditional steel, it actually feels very solid and is still virtually indestructible.
This steel can be so thin and light because it's made of carbon steel alloy rather than pure steel. It can reach incredibly high temperatures – it's safe to 1200°F – making this an excellent choice for lovers of Neapolitan-style brick oven pizza.
It's the only round steel on our list with an 11.5″ cooking surface diameter and a handy lip around the edge which keeps your pizza in place and stops toppings sliding off during cooking. Super versatile, it can be used on gas, electric, and induction hobs as well as grills, ovens, and open fires.
This is the ideal steel for those who don't want the hassle of a bulky, heavy slab of steel and would rather have something much easier to maneuver.
What we like:
Much lighter than the solid steels at only 2.6 lbs while still being sturdy and durable.
Carbon steel alloy heats up fast and is oven safe up to 1200°F.
The cheapest steel on our list (but less thick, so won't hold heat as long).
Best pizza stones
After thoroughly testing each product, the following pizza stones are our top recommendations. Unlike the best pizza steels where all four of our recommendations were in no particular order (because we really liked all of them), one pizza stone in this list below stands well above the rest.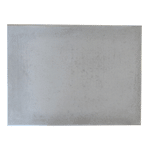 Fibra-Ment
Best overall
Size:
20″ x 15″ by 3/4"
Weight:
20 lbs
Price:
$86
---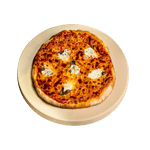 Honey-Can-Do
Budget-friendly (round)
Size:
16" dia by 0.6″
Weight:
7.28lb
Price:
$39.99
---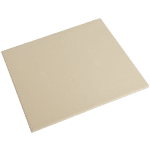 King Arthur
Budget-friendly (rectangle)
Size:
14″x16″ by 0.6"
Weight:
9.34lb
Price:
$59.95
---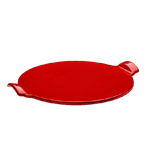 Emile Henry
When looks matter
Size:
16.5 x 14.5 x 1.5″
Weight:
5.7lb lbs
Price:
$59.95
---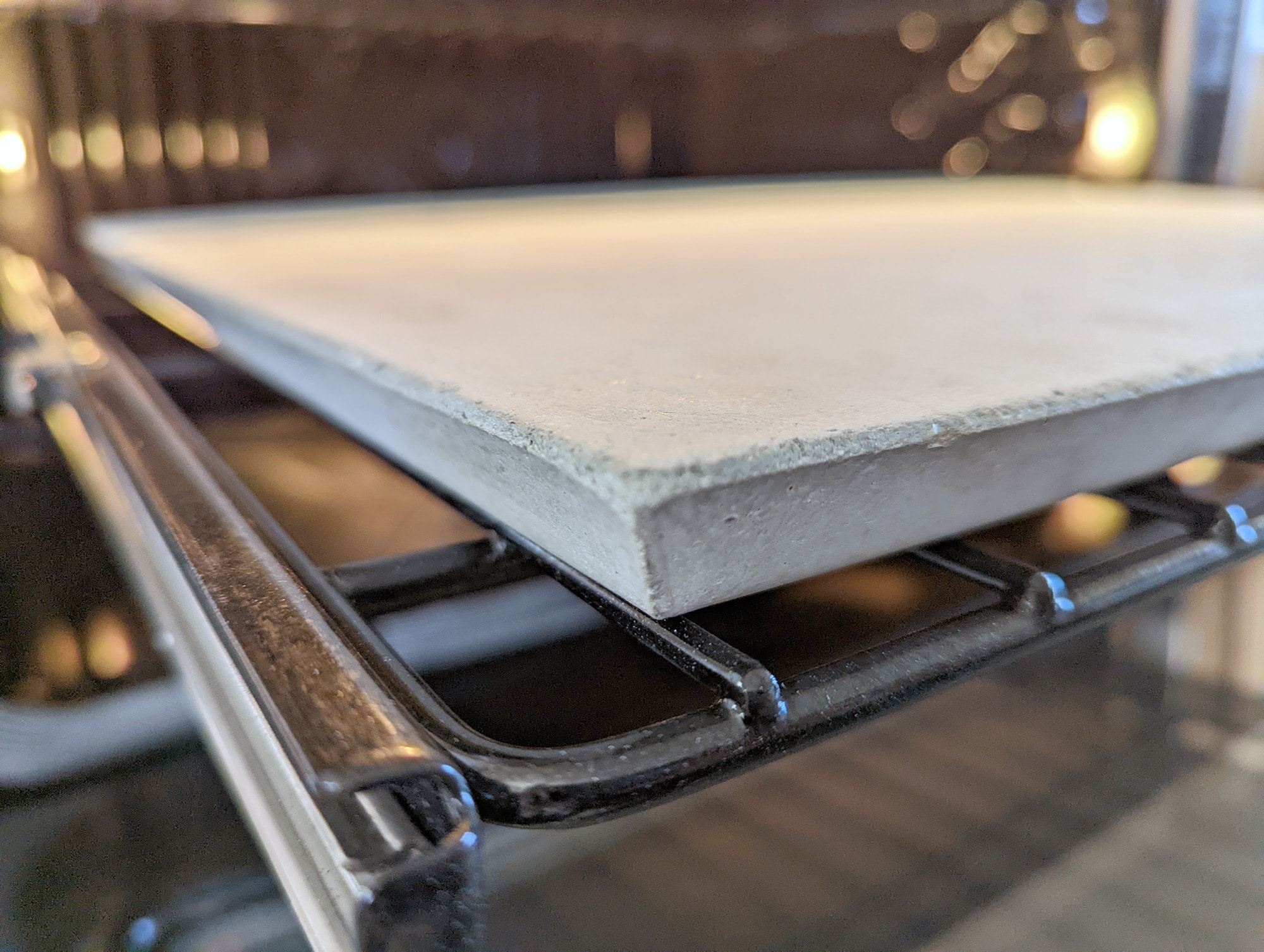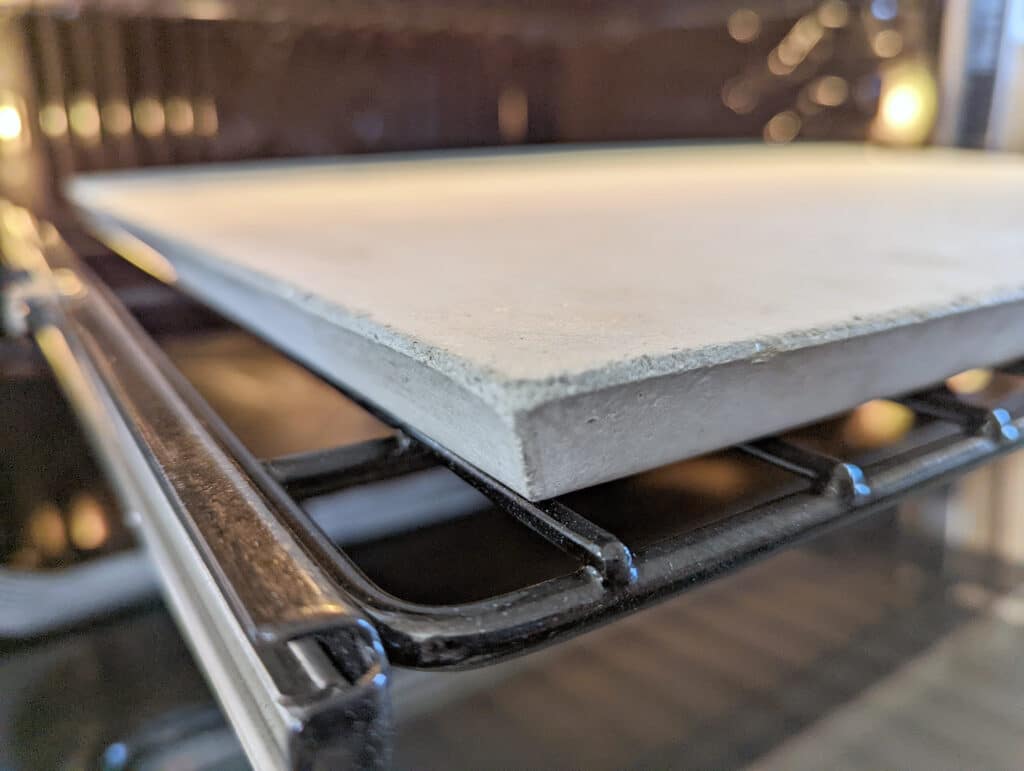 Let's start with one of the industry leaders. FibraMent Baking Stones regularly top the lists for being some of the best pizza stones on the market. The blend of materials used in their patented formula creates delicious pizzas (and other baked goods) time and time again. At 3/4″ thick, FibraMent Baking Stones are easily the best performing pizza stone I've ever used. It's about 3x as thick as some others on the market and holds heat exceptionally well.
The ¾" thickness cuts down on the chance of cracking and holds and distributes heat evenly, yet it's not so thick that it takes forever to heat up. It can go from room temperature to pizza ready in 35-45 minutes, after which it can cook a pizza in around 10 minutes.
The surface of this stone is rougher than most, with craggy channels that allow more movement of air and steam to escape as it cooks, resulting in a deliciously crisp bubbled crust.
Slightly less conductive than steel, this pizza stone is excellent for baked goods that take a little longer to cook and are at risk of burning on the quick cook steels. It can even be used to bake perfect flaky croissants. This stone performed absolutely wonderfully for cooking New York style pizzas in my test.
FibraMent Baking Stones for home oven use come in a range of shapes and sizes. But we love the versatility of FibraMent Baking Stones designed for use on gas or charcoal barbeque grills. It's the same ¾" thick stone but comes with a metal flame diverter pan on which the stone rests. This allows you to use the stone safely on an outdoor grill or remove the pan and use it in your home oven.
Note: The diverter pan makes it slightly larger than the stone itself.
What we like:
¾" thick stone heats up in under 45 minutes and can cook a pizza in 10 minutes.
Patented design allows steam to escape and creates deliciously crisp bubbled crusts.
Thanks to the add-on tray, it is one of few pizza stones that can be used on a barbeque.
Honey-Can-Do Round Pizza Stone, 16"
Makes restaurant quality pizzas, bread, pastries and vegetables
Durable, non-cracking; crafted from a blend of lead-free clays
Absorbs oven heat and transfers it evenly.Do not clean the stone with soap
The Honey-Can-Do 16″ Round Pizza Stone is an excellent product for anyone new to home pizza baking. It's a good size for individual pizzas, and it's the most budget-friendly pizza stone on our list at only $31.
But don't worry, you're still getting a great stone for that price. The blend of clays used to make the stone are adept at absorbing and distributing heat for an even bake that can make great pizzas, pastries, and breads.
It only weighs 7lbs, so it's much lighter than the FibraMent option and easier to maneuver and store. However, this lightness comes at the price of heat retention. While this stone is excellent for one pizza, it starts to lose its stored heat after several, so if you're going to be cooking multiple pizzas one after the other, maybe consider a thicker stone.
What we like:
Budget-friendly.
Light at only 7.28lbs.
Cons
It's not as thick as some of our other stones and doesn't retain heat so well.
Not ideal for cooking multiple pizzas, one after the other.
If you want the option of a pizza stone you can use on a grill without adding the FibraMent metal tray, then the King Arthur Pizza Stone might be the one for you. This rectangular pizza stone is made of cordierite, is flame resistant, and can withstand heat up to 1400°F. Use it in your oven, on the hob, or on a grill to create tasty, brick-oven style pizzas and a range of other breads and pastries. Cordierite absorbs and spreads heat to give an even bake with less risk of scorching than with more conductive steels.
This stone can be rinsed with water to clean and left to air dry, but manufacturers suggest using baking paper between the dough and the stone to avoid staining.
If you struggle to use this stone or get your dough right, check out King Arthur's recipes, tutorials and videos to help you out. These guys know their stuff.
What we like:
Budget-friendly.
Light at only 9.34lbs.
Cons
It's not as thick as some of our other stones and doesn't retain heat so well.
Not ideal for cooking multiple pizzas, one after the other.
Emile Henry Flame Top 14.5" Pizza Stone, Burgundy Red
MADE IN FRANCE. Made of all natural materials and manufactured using Emile Henry's proprietary...
DESIGNED TO USE IN THE OVEN or ON A BBQ GRILL. Safe to use on gas, charcoal and natural wood...
GLAZED PIZZA STONE IS DURABLE AND SCRATCH RESISANT. Cut directly on the glazed pizza stone...
The Emile Henry Flame Stone is the only glazed pizza stone on our list, and with that ceramic glaze come a whole heap of positives. Unlike raw stones, this one is not porous, it will not stain or absorb odors. You can knead dough right on the surface and chop ingredients directly on it without fear of chipping, scratching or damaging the stone. Its slick, non-stick surface is easy to clean with a wet cloth and detergent, but the best part? It's dishwasher safe! And it's the only stone on our list that can say that.
Inside the ceramic glaze is natural clay, an effective heat absorber that works to create evenly baked, crispy pizza crusts and rustic breads. The handles are convenient, and it's one of our lightest stones, too, making it a great oven-to-table platter. Carry your pizza straight out of the oven, slice it directly on the stone, and serve. The stone will retain heat and keep the pizza warm until it's eaten.
Super-versatile, it is designed for oven use up to 500°F or on gas, charcoal, or natural wood grills up to 900°F. It can also be used under the broiler on a BBQ or even in a microwave!
What we like:
Easy clean and dishwasher safe.
You can chop pizzas and ingredients directly on the board without damaging it.
Versatile, it can be used in ovens, under the broiler or gas, charcoal, and wood grills, even in the microwave.
Cons
It is prone to thermal shock, so follow the instructions and don't overheat or heat up too quickly.
Doesn't hold enough heat to perform as well as thicker stones.
Tips for Using Pizza Steels and Stones
So there you have it, our top choices for the best pizza stones and steels in 2022.
Once you've made your purchase and are ready to get baking, remember: your pizza stone, steel, or cast iron pan will come with manufacturers instructions which you should always read and remember. Following the instructions is the best way to get the best out of your equipment and avoid damaging it.
However, if you don't have time for that (or you've lost the instructions), here are a few tips and tricks to help you get the best out of your steels and stones.
Preheating
You need to preheat your pizza stone or steel before putting the dough onto it. Otherwise, your pizza will just sit there as a moist lump of dough. It'll probably stick to your stone, will cook slowly, and will have a soggy unpleasant crust.
Putting the dough onto the stone when it's hot means the base begins cooking immediately, resulting in a crisp, evenly baked crust.
Generally, you should preheat a stone to 500°F, but check your guidelines to be sure.
Cooking fresh pizzas
While your pizza stone is preheating, roll out your fresh dough to just smaller than the size of your stone and get your favorite toppings on there.
Transfer the pizza to the pizza stone. The easiest and safest way to do this is to invest in a pizza peel or wooden pizza paddle.
Keep an eye on your pizza while it cooks, and remove it once the crust and the cheese turn golden brown. Again using a pizza paddle is the safest and easiest way of removing your pizza from the oven.
Switch the oven off.
Slice, serve and enjoy your pizza while your stone cools down in the oven.
Cooking frozen pizzas
Using a pizza stone to cook a frozen pizza is an excellent idea because the stone removes moisture and ice particles while baking, giving you a crispier finish than you get from just oven cooking.
With a pizza steel, the process of cooking a frozen pizza is the same as a fresh one. Preheat, cook, and enjoy.
But with a pizza stone, you need to defrost your pizza first. Putting a frozen pizza onto a hot stone can cause thermal shock, which may crack your stone. So allow your pizza to reach room temperature – naturally or in the microwave – then follow the steps above.
Maintaining Pizza Steels and Pizza Stones.
Pizza stones and steels aren't cheap, so you want to make sure you look after them as well as you can. Again following your manufacturer's instructions is key, but a few simple tips are:
Cleaning
Stones, steels, and cast iron pans need different cleaning procedures. Steels and pans can generally be wiped with a wet cloth or brushed with a stiff nylon brush to get any cooked matter off. You don't need to do any more than that, as the non-slip surface will stop anything from sticking too firmly. Detergent should not be necessary, and you should avoid it if possible as it can affect the treatment of the steel or iron.
Stones, on the other hand, need a bit more care. They are generally made of a porous material, so you can't submerge them in water or use dish soap on them as it will soak into the stone, and your next pizza will have a soapy flavor. So:
Allow your stone to cool completely before cleaning.
Use a small amount of warm water and a stiff brush, plastic scraper, or scourer to remove any cooked food.
Scrub gently but firmly.
Rinse.
Allow to dry naturally before storing.
The exception is glazed stones like the Emile Henry, which can be fully submerged, cleaned with dish soap, or put in the dishwasher.
Seasoning (pizza steels)
Pizza steels and cast iron pans need seasoning from time to time to prevent them from rusting or corroding and to keep the surface non-stick. Most modern steels and pans come pre-seasoned but check the manufacturer's details to be sure.
Seasoning is simple:
Clean your steel thoroughly – this is the only time to use dish soap.
Rinse and dry.
Apply a thin layer of cooking oil, spreading it around with a paper towel.
Place the steel in the oven and heat to 370-400°F.
Bake for 1 hour.
Switch off the oven and leave to cool completely before storing.
Note: this is for pizza steels and cast iron only. Pizza stones do not need seasoning. Applying oil to a stone will soak into the pores and prevent your stone from working effectively.
Preventing cracking (stones)
Handle your pizza stone carefully and avoid dropping, knocking, or banging it, which can all lead to cracking and breaking.
But the most common reason for a pizza stone cracking is thermal shock which occurs when the stone changes temperature too quickly. So to avoid this:
Always put your stone into a cool oven and preheat slowly.
Allow the stone to cool down naturally and slowly.
Never submerge a stone in hot or cold water.
Never put a frozen or chilled pizza onto a hot stone. Always make sure your dough and ingredients are at room temperature.
Note: this is not the same for pizza steels and cast iron pans, which are almost impossible to crack.
Is discoloration normal?
Yes, over time, pizza stones – and steels to a lesser degree – will darken and discolor. This is normal and won't affect how well your stone works or the flavor of your pizza. If you're concerned about keeping it pristine, consider placing baking paper between the stone and your pizza when cooking.
That's it
That's all our advice for today, so away you go to choose the best pizza stone or steel for you, and happy baking!