If you want to make backyard pizza but don't fancy shelling out for a pizza oven, consider baking them on the grill instead. Making pizza on a BBQ grill is a fun, budget-friendly way to create good pizza without purchasing a whole extra oven.
Adding a pizza stone to your grill helps speed up the cooking time. The stone absorbs heat, transferring it directly to the base of the pizza, cooking it quickly with a crisp, perfect crust. However, the top-down heat will be significantly less than a traditional pizza oven, so I'll include some tips and tricks to improve the cooking performance.
Here, I list some of my favorite pizza stones (and a steel) that can be used on the grill. Plus, I look at how they measure up compared to pizza ovens. Let's get started!
Why use a pizza stone on a grill?
Grills generally can't reach the temperatures needed to create the perfect pizza. If you've got or have used a backyard pizza oven, you'll know they can reach temperatures of around 900°F, while a grill doesn't get much over 500°F. Cooking at lower temperatures means your pizzas cook slower, allowing moisture to collect at the base and running the risk of a soggy crust. Moreover, pizzas made with 00 flour benefit immensely from a 2 minute-or-less bake to prevent a dense crust.
Pizza stones can help avoid this issue. They absorb and retain heat, raising the cooking temperature of your grill, distributing the heat equally, and helping your pizza cook quickly and evenly. Pizza stones also prevent moisture from collecting. Instead, they dissipate the moisture, leaving you with the light, crisp pizza base of your dreams.
Now, pizza stones for grills cannot exactly replicate the conditions needed to bake the perfect pizza. For example, on most grills, you'll need to lift the lid to keep an eye on it, which will drop the temperature and reduce the top heat. However, despite not being perfect, a stone will undoubtedly raise the game of your grilled pizzas, and it's a handy tool to add to your backyard cooking kit!
Note: while a grill with a top temperature of 500°F can cook great bread flour pizza, we'd recommend avoiding 00 flour as this requires higher temperatures to cook perfectly.
Best Pizza Stones and Ovens for BBQ Grills
There are plenty of pizza stones, steels, and accessories on the market, but we've narrowed the list down to four of our favorite grill stones, to give you an idea of what you could be using and what their benefits are.
FibraMent Barbecue Grill Pizza Baking Stone
Barbecue Grill Pizza Baking Stone
FREE Shipping, as always, from SourdoughBreads
Be sure to measure your barbecue grill before ordering. This stone is 16.25 inches in diameter...
FibraMent Baking Stone for Barbecue Grills comes in a protective metal pan
This one comes from my favorite brand of pizza stones, FibraMent. They make a great range of commercial-quality pizza stones for home ovens and grills and are certified by the NSF to ensure they meet all food safety standards.
The ¾-inch thick stones are made of a patented blend of raw materials that produce the perfect thermal conductivity and heat retention to guarantee a fast, even bake of pizzas, bread, pastries, and other baked goods. In addition, the rough, textured surface of the stone cooks a noticeably better pizza crust than other stones we've tried.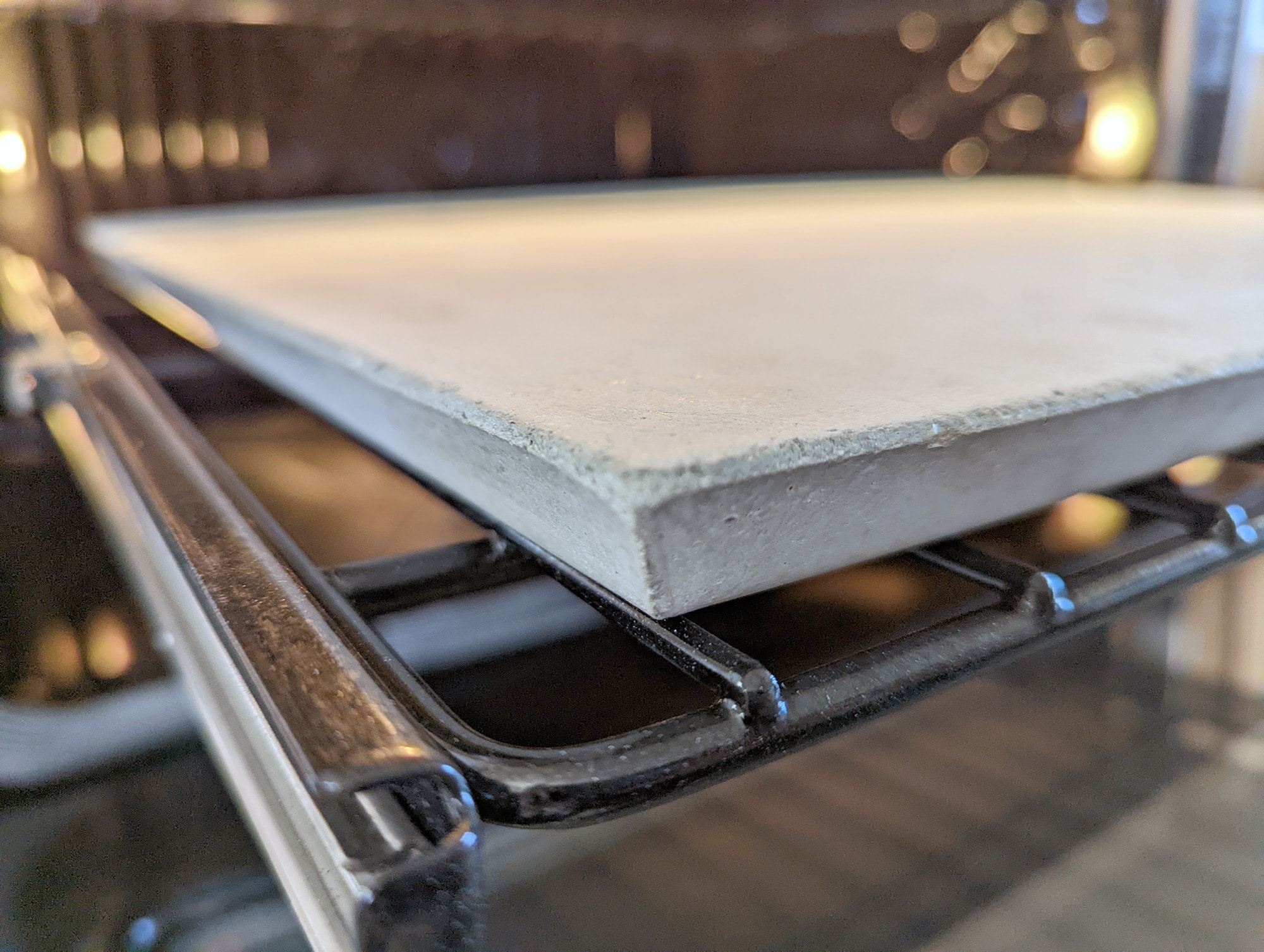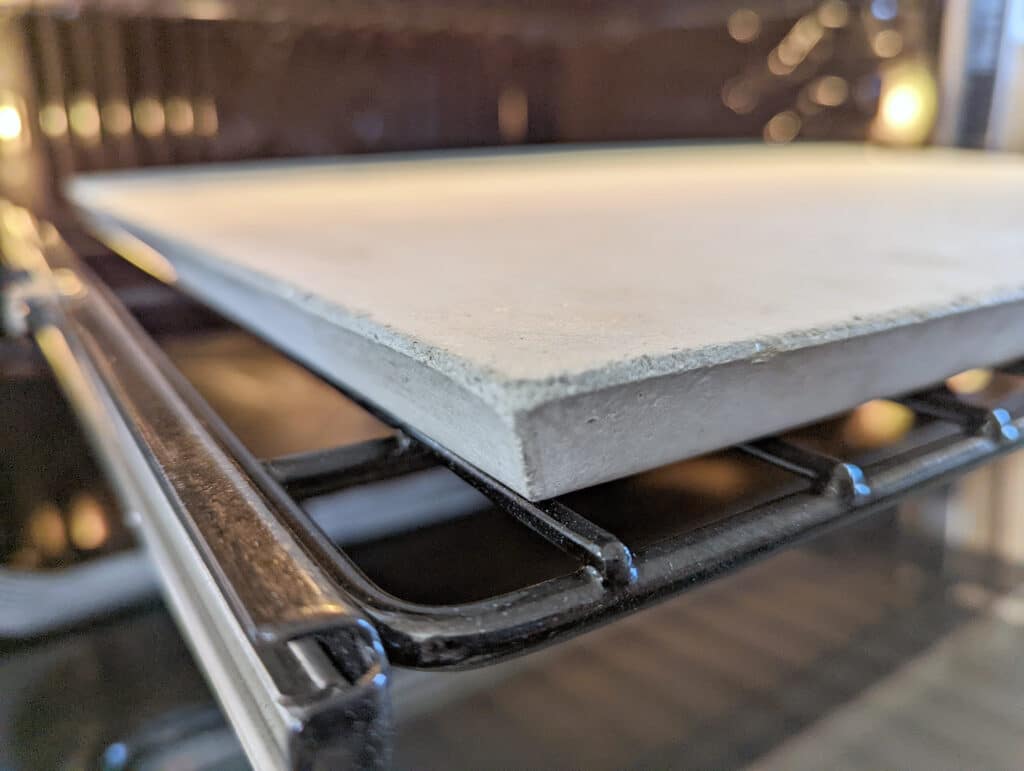 This stone is specifically designed for use on a BBQ grill and comes with a metal fire guard pan which protects the stone from direct contact with the flames. You can also use this stone in your domestic oven by removing this metal pan.
This stone's cooking diameter is 15 ½", but the flame diverter pan increases the diameter to 16 ¼". The stone will also require roughly one inch of space on either side for proper air circulation, so ensure your grill is large enough to accommodate it before purchasing. If not, FibraMent offers a 14 ¼" option, and if that doesn't work for you, they can custom-cut a stone to your required dimensions.
Size: 16 ¼"
Price: $133
Best For: commercial quality, BBQ specific pizza stone.
This one is a pizza steel rather than a stone. Pizza steels are made from metal rather than the ceramic or cordierite that stones are generally made from. Steels are a popular choice with home pizza baking because they perform the same function as stones but often heat up faster. Steels can also be cleaned easier than stones and are more durable. It's near impossible to break a pizza steel, while stones will crack if dropped and are prone to thermal shock if exposed to rapid temperature changes. The downside is that steels are often more expensive than stones, but that extra cost gets you a piece of equipment that should last you a lifetime.
This steel is made by industry leader, Ooni, so you can be sure you're getting a high-quality product. It's a square steel, 13 ½ x 13 ½" in size and 0.24″ thick. It weighs 11.5 lbs and is made from stainless steel with a blasted finish. It's specifically engineered for use in temperatures up to 530°F so it is ideal for grills and home ovens
You'll need to preheat the stone for around half an hour to get it up to the ideal temperature then it'll cook you excellent pizzas in less than 10 minutes.
Size: 13.5 x 13.5 x 0.24
Cost: $100
Best for: durability
Get the Ooni Steel here (best price).
BakerStone Professional Series Pizza Oven
This clever device is a step up from a basic pizza stone and closes the gap between a grill and a pizza oven as much as possible. While pizza stones undoubtedly improve the cooking process at the base of your pizza, there is still an issue of the pizza not cooking from the top since the grill is open in a way that pizza ovens are not. This grill accessory attempts to solve that problem.
The BakerStone is a box lined with five pizza stones on the base, ceiling, and three sides. The base works the same way as a basic pizza stone, while the other four sides reflect heat back toward the pizza, ensuring that the top and sides cook as rapidly as the base.
It's perfectly simple to use, just place the box on your grill and preheat for around 15 minutes. The built-in thermometer will tell you when the box is up to optimal heat – it can get as high as 800 ᵒF. Then slide the pizza in, turning as necessary, and enjoy a beautifully baked pizza with a crispy crust and juicy toppings in less than five minutes. You can also use the Bakerstone to roast trays of vegetables, meat, and seafood.
This impressive piece of kit gets your grill as close to a wood-fired pizza oven as possible and will dramatically improve the quality of pizza you can make on a BBQ. The downsides are that, unlike basic pizza stones, this one cannot be used in your domestic oven. It's also a larger piece of kit that will likely take up most, if not all, of your grill. So you won't be cooking up hot dogs and burgers simultaneously. But these are small prices to pay for pizza oven quality bakes on a budget.
Size: Internal stone dimensions: 15.25 L x 15 W x 3.25 H
External dimensions: 23.2 L x 16.3 W x 6.4 H
Price: $175
Best For: converting your grill as near as possible into a backyard pizza oven.
Weber Gourmet BBQ System Pizza Stone with Carry Rack
Sale
This simple, straightforward pizza stone is perfect for chefs on a budget. It's the cheapest stone on our list, but that doesn't mean it compromises on quality. It's made by Weber, the undisputed king of grills, so you can be sure you're getting a quality product.
It's made from cordierite, the most common material for pizza stones renowned for its heat retention and conductive properties. In addition, the stone comes with a metal frame which allows you to carry it easily from grill to table. Plus, it can be used in a domestic oven as well as on a BBQ.
This stone has a diameter of 13.4 inches, but extra space must be allowed for the handles, which increases the width of the stone to 16.7″, so be sure to account for that when checking if it will fit your grill.
Size: Stone: 13.4 diameter x 0.43" thick.
With handles: 16.7 wide x 13.4 x 2 tall
Price: $48
Best for: a quality pizza stone on a budget
Using pizza stones on a grill vs pizza ovens
So how do pizza stones compare to dedicated backyard pizza ovens? Well, we have to be honest and say that pizza ovens do an unarguably better job of cooking pizzas to restaurant standards. This is because pizza ovens are custom designed for that job, so their performance is understandably higher. However, there are definitely some benefits to using a pizza stone instead.
The primary benefit is the cost. Portable pizza ovens typically cost between $400-$900, although you could easily spend twice that. In comparison, the Weber Gourmet Pizza Stone will set you back less than $50.
Another benefit is that you save space. If you don't want or don't have the room for another backyard appliance besides your grill, then a pizza stone is ideal. You can store it easily in a kitchen cupboard and get it out only when needed.
Stones can also make backyard pizzas an addition to your usual BBQ fare without taking over all together. You can whack a pizza stone on your grill next to the burgers and sausages and cook everything at once, or at least one after the other. Whereas with a dedicated pizza oven, you're more likely to just serve pizzas unless you want to run your oven and grill simultaneously.
And lastly, you can use these pizza stones in your domestic oven too. With the exception of the BakerStone, these pizza stones can all be used in your kitchen oven to create better pizzas indoors, regardless of the weather or season. A pizza stone left in your oven can also help you when baking or cooking other dishes, as it evens out the temperature and removes cold spots.
Ultimately it comes down to how often you see yourself making pizzas. If you're only going to do it once in a blue moon, then it does not make sense to splash out on a pizza oven. But, on the other hand, if you see yourself making home-baked pizza every week and throwing pizza parties all summer, then a pizza oven is worth the extra cost.
And if you're unsure which is likely to be true, why not start with a pizza stone on your grill, and see how you get on? It's a fun, affordable way to get started on your pizza making journey.