Until recently, if you wanted to make classic Neapolitan-style pizza at home, you needed to build your own brick oven or pay loads of money to have one delivered and installed.
But a new day is upon us. A warm, sunny day filled with cold beer as you cook outdoors and impress friends with authentic neapolitan pizza – WITHOUT emptying your bank account. This new breed of affordable outdoor pizza ovens allow any skill levels to make pro-level pies that can go pound for pound with anything you can get in a restaurant. Additionally, the ovens in this article emphasize portability, so you can make the same great pizza whether you're in your back yard or out camping.
So harness your inner pizza chef and join me on my journey as I break out the peel and hand-test every pizza oven.
Portable Outdoor Pizza Ovens: Comparison Chart
Before we get into my experiences with each oven, take a quick look at this spec chart to get a broad view of our top picks.
| | Ooni Koda 16 | Bertello | Roccbox | Ooni Fyra |
| --- | --- | --- | --- | --- |
| Rating | Read our review | Read our review | Read our review | Read our review |
| Fuel source | Gas | Wood, charcoal, pellet, gas | Gas or wood | Wood pellet |
| Size | 25″ x 23.2″ x 14.7″ | 22″ x 14″ x 10.5″ | 16.3″ x 21″ x 18.6″ | 22.7″ x 15.5″ x 28.6″ |
| Weight | 40.1lbs | 32.2lbs | 44lbs | 22lbs |
| Oven material | Powder-coated carbon steel | double-walled stainless steel | 304 grade stainless steel | Powder-coated carbon steel |
| Cooking surface material | 0.6″ cordierite stone | Cordierite stone | 0.75" cordierite stone | Cordierite stone |
| Cooking surface size | 16.7″ diameter | 12.5″ x 13.5″ | 12.4″ x 13.4″ | 13.2″ |
| Max heat | 950ºF | 930ºF | 950ºF | 932ºF |
| Preheat time | 20 min | 20 min | 15 - 20 min | 15 - 20 min |
| Warranty | Up to three years | 60-day return window | Up to five years | Up to three years |
The 4 Best Portable Outdoor Pizza Ovens
#1: Ooni Koda 16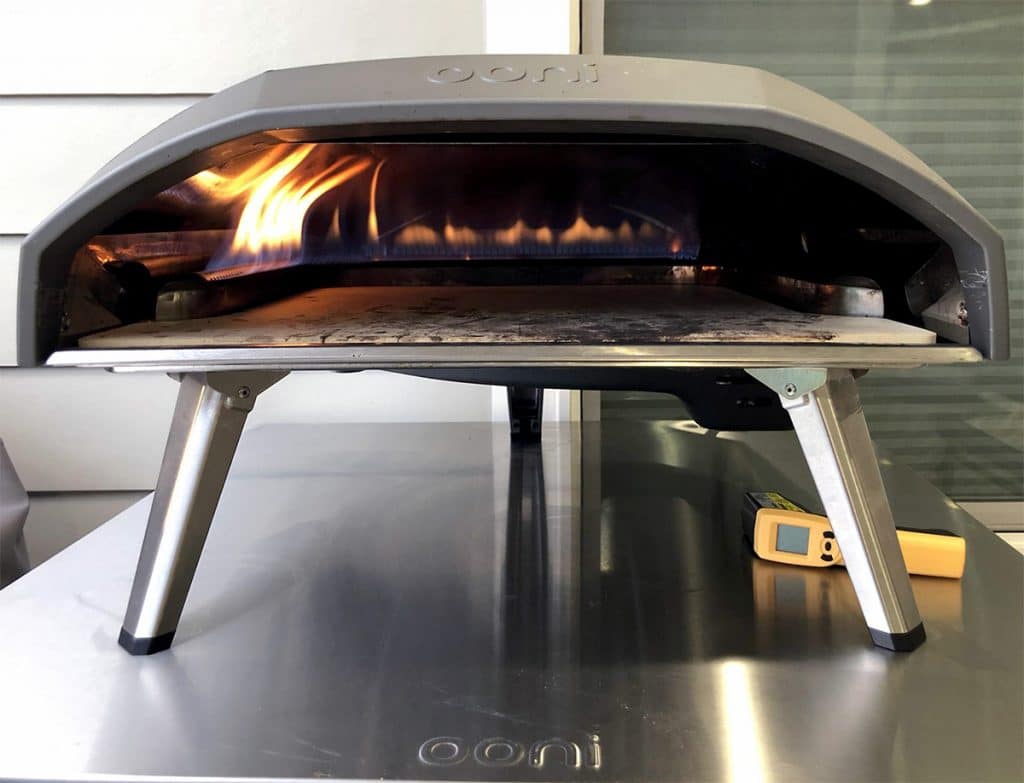 Ooni Koda 16 At a glance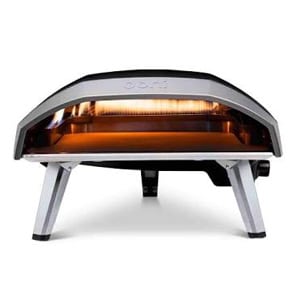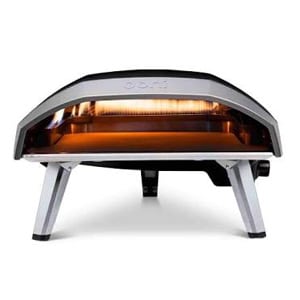 Our best pizza oven is the Koda 16, manufactured by Ooni. The company started its journey with a successful Kickstarter campaign for the world's first outdoor wood pellet pizza oven and has since gone on to become one of the most beloved pizza oven manufacturers, bringing backyard ovens to just about anyone, anywhere, thanks to the portability.
The Koda 16 is their largest model, so named because you can make up to 16-inch pizzas in it. It is ready to go out of the box, no assembly required and features folding legs for easy transport and storage. What's truly incredible about this oven, is that even with it being larger and able to accommodate 16″ pizzas, it weighs less and is much easier to transport than the Roccbox.
But portability isn't the only reason this oven tops our list. The Koda has been designed to maximize heat circulation in a very different way than any other oven on the market. Its pipe-style burners are in a unique L-shape that allows for single-turn, even cooking. Most pizza ovens have a single super hot flame in the back of the oven, which means you have to turn the pizza regularly – sometimes 3 times to get even cooking.
It runs on propane gas, with a built-in gas ignition. And because gas burns clean, there's no ash or residue to clean. Gas also gives you much greater control over the heat, so you can lower the temperature for things like turkey or big briskets. The Koda 16 is also compatible with natural gas using the Ooni natural gas conversion kit, which is sold separately for $49.99.
Because it's larger, it does take a bit longer to warm up. Ooni recommends 20 minutes, but if you don't have an infrared thermometer I recommend bumping that up closer to 25 minutes.
Overall the Ooni Koda 16 is an impressive pizza oven that's as beautiful as it is useful, and is my clear favorite.
#2 Bertello Outdoor Pizza Oven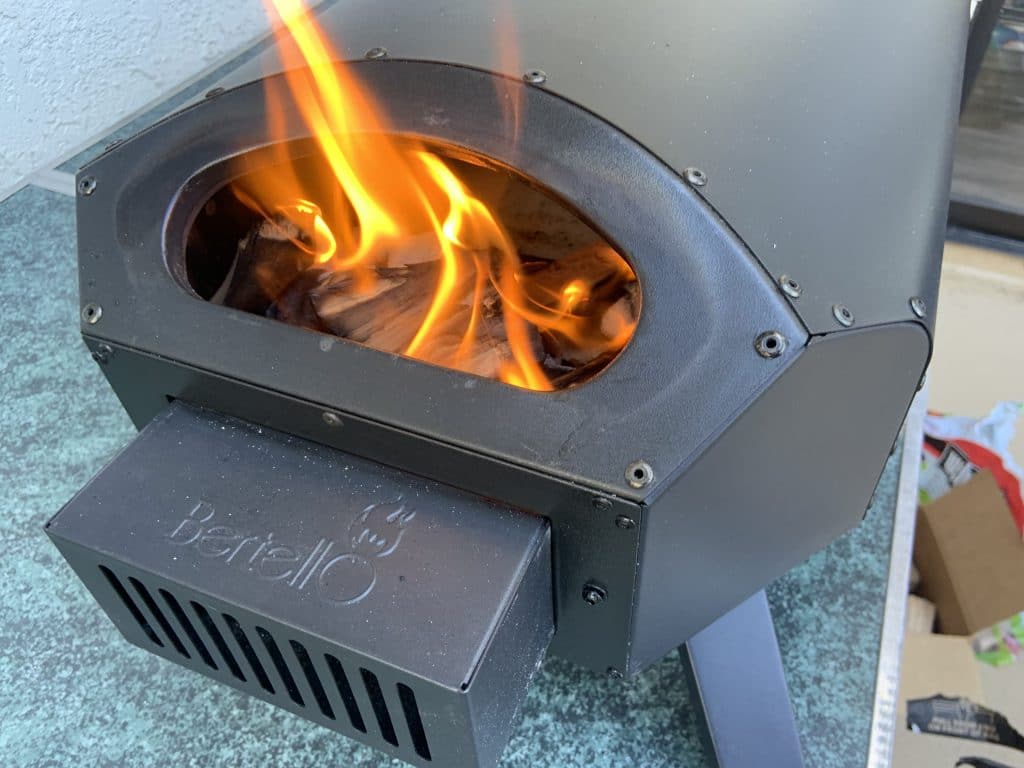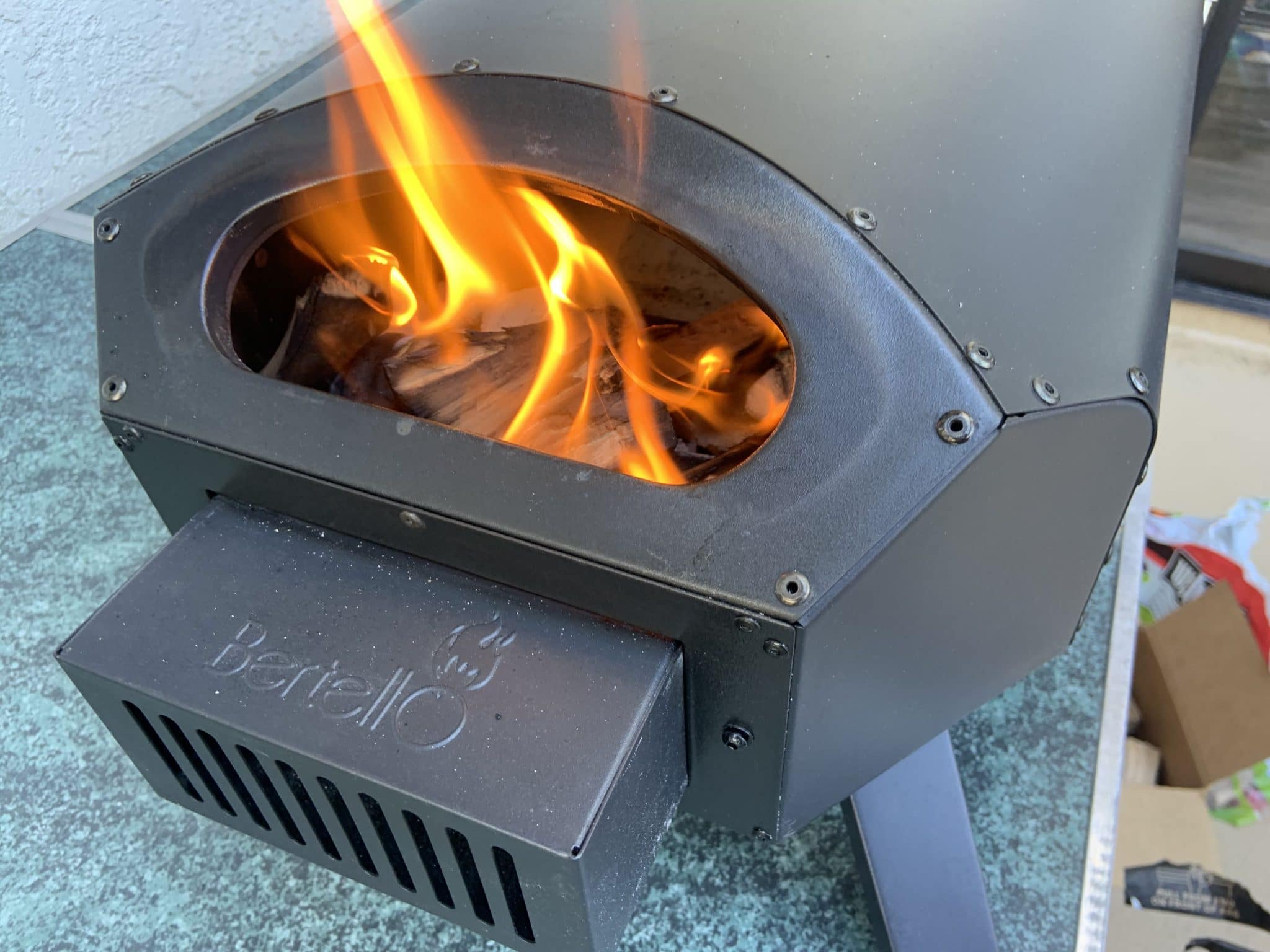 Bertello at a glance
Fuel type – multi-fueled – wood pellets, charcoal, wood, or gas
Weight – 32.2 lbs
Max pizza size – 12"
Max heat – 930
Price – $299
Preheat time – 20 minutes
Pizza cook time – 1 minute
Warranty – 60 Day Full Return Policy
Bertello is another oven that traces its founding to a Kickstarter launch (formerly named Napoli in 2017), and then later featured on the TV show Shark Tank. At $299, it is one of the most affordable choices on the market that also happens to be one of the most versatile.
It works with wood, charcoal, or wood pellets out of the box, with a gas add-on sold separately for about $100. This flexibility is the main selling point. In our test, we found that using a combination of charcoal and wood pellets was the best – the charcoal works as a starter and then the wood pellets keep a long-burning flame while also adding that smoky flavor. The gas add-on works great, but as mentioned above in the Koda section, it's a torch-style burner which is less effective than the pipe burners.
It's also not quite as sleek as the Koda or Roccbox, but it still reaches the high temperatures necessary to cook Neopolitan-style pizza. All in all the Bertello is a simpler design, but we liked the lower price-point and the flexibility of different fuel types (even if I prefer gas 95% of the time!).
#3: Roccbox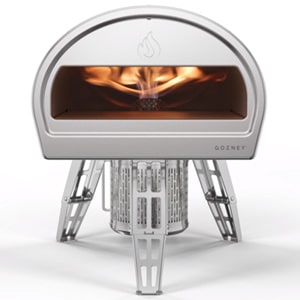 Gozney Roccbox At a glance
Fuel type – Gas or wood
Weight – 44lbs
Max pizza size – 12"
Max heat – 950ºF / 500ºC
Price – $499
Preheat time – 15 – 20 minutes
Pizza cook time – 1 minute
Warranty- up to five years
The Roccbox pizza oven is way sexier than the Bertello, looking more like a rocket ship than an oven – especially when that torch-style burner is on full blast.
It's manufactured by Gozney, which began in 2010 as The Stone Bake Oven Company. Founder Tom Gozney got his start hand-building brick pizza ovens for restaurants. Within two years they launched a pre-cast stone oven which became Gozney Professional Ovens in 2012, making commercial-grade wood and gas stone ovens.
In 2016, the Roccbox, aimed at residential use, was launched via an Indiegogo crowdfunding campaign. According to the Gozney team, it was "Engineered to replicate the performance of Gozney's professional ovens, used by leading chefs and restaurants all over the world." The campaign raised $1.2m in 45 days.
One aspect this oven has over the Ooni is that the outside features a "Safetouch" silicone jacket, which means it is super-insulated. The coating not only locks in the heat but prevents the outside of the oven from getting hot, so it's safer, especially for families with young children or pets. On the flip side, the Ooni ovens can get pretty hot to the touch. It appears this is a large reason why the Ooni is so lightweight and portable, while the Roccbox is heavier.
It comes with a gas burner but offers an optional, detachable wood hopper. Burners can be easily removed to change between gas or wood and cleaning. It's available in a really unique bright green or standard black, features fold-out legs, and a built-in thermometer. As a bonus, the Roccbox comes with a pizza peel and bottle opener. I particularly like where their heads are at for the latter – nothing better than having a beer while cooking pizza, and they know it!
Overall the decision between the Roccbox and the Ooni Koda was tough, and at a similar price-point either is a solid choice. In the end, it came down to preferring the larger cooking surface, the portability, and the look and feel of both the inside and outside of the Koda.
#4 Ooni Fyra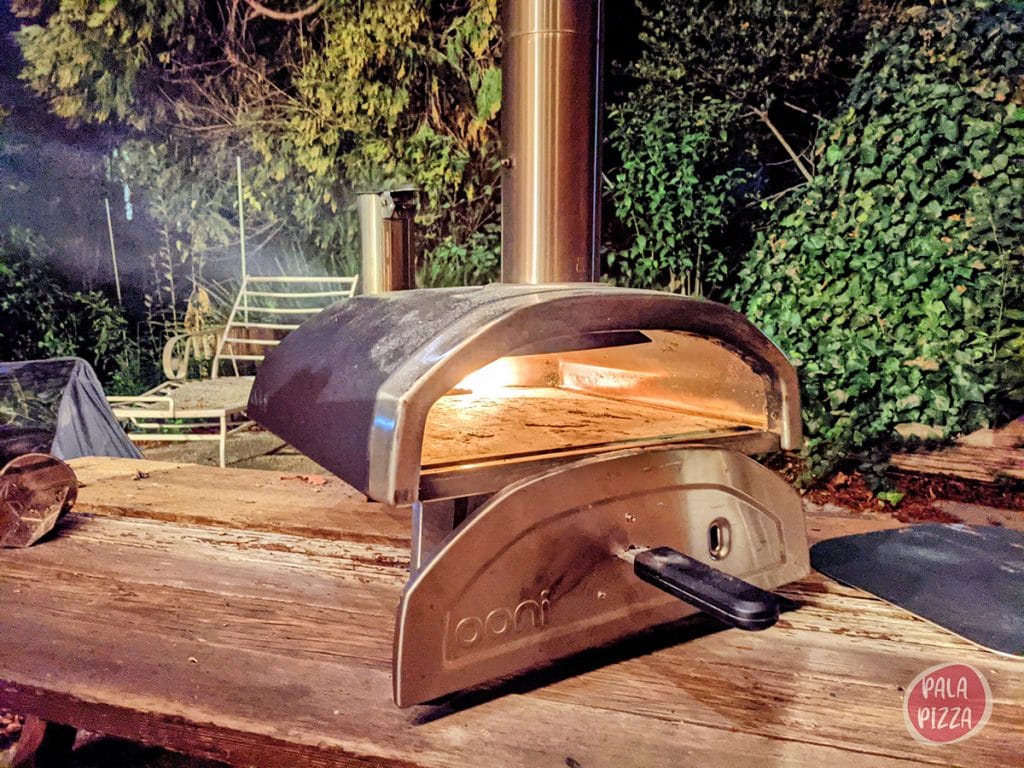 Ooni Fyra at a glance
The Ooni Fyra is a continuation of their original Kickstarter model, which uses wood pellets as the fuel source. It's less expensive than the Koda or Roccbox, and comparable to the Bertello. It's limited to wood pellets as a fuel source, but with folding legs and just 22 pounds, it is the most portable outdoor pizza oven.
It's another sleek model from Ooni, designed to maximize high temperatures and low maintenance. The wood pellets give you the authentic wood-fired taste but it's easier to light than traditional wood fired.
If portability and affordability (and not breaking the bank) are important to you then this might be the model for you.
The Ones That Didn't Make The Cut
The four outdoor pizza ovens listed above are what I personally recommend after countless hours researching, hands-on testing, and eating a lot of really good pizza. Now you may be wondering: what about X? (where X is any other pizza oven you heard of). Let's talk about a few of them.
Ooni Pro: This is Ooni's most expensive oven product, clocking in at $600 – and that's BEFORE you buy the $100 gas add-on! You would think this is the Cadillac of portable pizza ovens since it makes 16″ pizzas and has hybrid fuel options. However, what we found during testing is that the Ooni Pro appears to have an undersized burner for the size of the oven, at least when comparing it to other models. Check out our full review.
Ooni Karu: Similar to Ooni Pro, the Karu offers multiple types of fuel but is only a 12″ model, resulting in cheaper prices around $350. The Karu seems to do three things pretty well (making pizza with wood, charcoal, and gas with the torch burner), however the Koda does one thing exceptionally well thanks to the L-shaped pipe burners. I often find myself comparing things to our top pick, but I suppose that's ok. Check out our full review.
Pizzacraft Pizzeria Pronto: When you look at this product, you would not expect the price to be what it is. It's an outdated product design compared to the top picks above, only reaches temperatures of 700F, and costs over $350. Due to the low temperatures, Neapolitan pizza is out of question for this oven, but it can still make some great NY styles. Check out our full review.
What About The Best GRILL Pizza Ovens (Inserts)?
If you have your heart set on making Neopolitan-style pizza at home but find the above choices either too large or too expensive, a pizza oven insert could be a good fit.
Instead of stand-alone ovens, these inserts are designed to be used with backyard grills. Getting them to reach the max temperatures of specialty-designed pizza ovens will be more of a challenge, but if you already have a grill (especially a large one with three or more burners) and are worried about another appliance, they might be a good fit.
Bakerstone Pizza Oven box
Our first choice for a grill insert pizza oven is the Bakerstone Pizza Oven box, which fits on an outdoor grill that has at least three burners. It's designed to increase convective, conductive, and radiant heat to reach temperatures of 600 – 800 degrees and cook a pizza in 2 – 4 minutes. The cooking surface is 14.9" x 13.8," so you can make a 12" pizza with room to spare.
It comes with a dust cover for storage as well as a wood peel and stainless steel turner/spatula. It is made in China and does require a bit of assembly.
This option is a good choice if you are looking to save some money and already have a grill, just make sure your grill is large enough to fit it.
Bakerstone Pizza Oven box at a glance
Fuel type – NA
Size – 21.4 x 16.3 x 6.2″
Weight – 28 lbs
Material – Porcelain Enameled Steel
Cooking surface material – Refractory Stone
Cooking surface size – 14.9" x 13.8″
Max pizza size – 13"
Max heat – 600 – 800 F depending on the burner
Price – $149.99
Preheat time – Approximately 20 minutes on an average grill
Pizza cook time – 2-4 minutes
Warranty- 1-year manufacturer's limited
KettlePizza Gas Pro Pizza Oven Kit
The KettlePizza pizza oven kit for propane and natural gas cooking grills" is basically a pizza stone and a separate stainless steel piece that fits on your grill. You place the pizza on the .5-inch cordierite stone and the baking steel cover right on the grill, focusing the heat to make sure the top of the pizza gets as hot as the base. The KettlePizza kit is available for both gas and charcoal grills.
It is made in the USA, features a high-temperature thermometer, and comes with a heavy-duty cardboard carrying case. The baking steel comes pre-seasoned, but it's recommended you season it after each use.
KettlePizza Gas Pro Pizza Oven Kit at a glance
Fuel type – NA – Available for charcoal or gas grills
Size – 17 x 24 x 3.5 inches
Weight – 16 pounds
Material – 0.135 inch thick American Made stainless steel
Cooking surface material – .5" cordierite stone
Cooking surface size – 15″
Max pizza size – 14"
Max heat – 750 degrees
Price – $224.95
Preheat time – 20 Minutes
Pizza cook time – 2 – 3 minutes
For The High Rollers
The following pizza ovens didn't make the Best List due to their comparatively higher price and similar performance. These wood ovens weigh much more and take up considerably more space. These are full-size ovens and can cook more than one pizza at a time. If you are willing to spend a bit more money and have the space, these high-end ovens perform at a high level, look great, and are suitable for professional-level backyard cooking.
ilFornino Professional Series Wood Fired Pizza Oven
The ilFornino Professional Stainless Steel Wood Burning Pizza Oven has a double-wall made of stainless steel and four inches of ceramic fiber insulation with a 1.5" refractory stone cooking surface. Without a stand it weighs 200 pounds and is 46″ x 30.5" x 19″ to the base of the chimney, and the chimney itself is 32" high and 4.5" in diameter. It can cook five 10" pizza's at a time.
Forno Bravo Primavera 70
The Forno Bravo Primavera 70 wood oven is available in seven different, hand-crafted stucco finish colors, giving it the look of a traditional brick oven that will match your needs. It's 28" cooking surface can handle two 10" pizzas at a time. For fans of author and chef Peter Reinhart of Pizza Quest, this is the oven he has at home.
As you can see there is no shortage of quality outdoor pizza ovens out there to choose from. Which one is right for you depends on your needs.
What makes a good outdoor pizza oven?
There are several factors to keep in mind when deciding what oven is right for you. Here are the most important criteria we used when putting these rankings together.
Fuel Source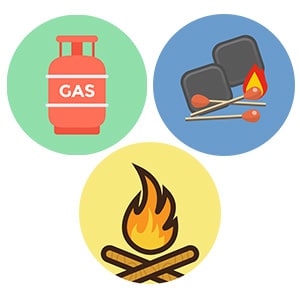 When it comes to the fuel used to heat your oven, there are a few options.
The primary choices for fuel are gas, wood, charcoal, or wood pellets. Some of these ovens allow for more than one fuel type, although it often requires an additional component. The ovens that work with wood will also use charcoal. A combination of wood and charcoal often works best. It allows the charcoal to burn evenly and provides a base on which you can place the wood for a burst of heat and wood flavoring.
Here are some things to keep in mind when thinking about fuel sources.
Gas
These ovens run on the same propane gas tanks used by most outdoor barbecue grills. Gas is often the easiest to start, stop and control your oven. It provides a convenient fuel source and because you have much greater control over the temperature, it makes it easier to cook food that requires a lower temperature than wood or charcoal.
One thing to keep in mind is that if portability is important to you, don't forget about having to transport the gas tank, although some of these models allow a smaller tank to be used.
And make sure you have enough fuel. Nothing is worse than running out of gas when you are hosting a party and have hungry guests. Ensuring you don't run out of gas is key to getting the full use from the oven.
The other potential drawback of gas is that you'll miss out on the woody, smoky flavor that you'll get when using wood and charcoal. But while you might lose a bit of the authentic brick-oven taste, for many the convenience makes up for it
Wood and charcoal
Using wood and charcoal is the closest you'll get to the authentic Neopolitan, wood-fired brick oven taste.
When using wood as a fuel source, you'll need small pieces of wood cut up to pieces not much larger than six inches. Dense, slow-burning wood like oak, ash, or beech works best. If you have access to a wooded area, you can likely scavenge for free wood.
You can use the same lump charcoal popular for BBQ grills. It burns evenly and imparts a bit of a smoky flavor. When you want to cook something at a lower temperature, charcoal can burn much more slowly and if you limit the charcoal amount can result in lower temperatures.
Cooking with a combination of wood and charcoal is recommended by several users. In this scenario, you start by lighting the charcoal and allow it to catch and burn until the briquettes have fully caught. At this point, you add the wood. The wood will burn much quicker and at a higher temperature, so you can use it to add a burst of heat.
Wood Pellets
Somewhere in between the authenticity of wood as a fuel source and the convenience of gas are wood pellets. Wood pellets are made of highly-compressed sawdust and other waste material that comes from milling lumber. They are relatively inexpensive and easy to store and use. And because they are used from waste material, they are the least impactful on the environment.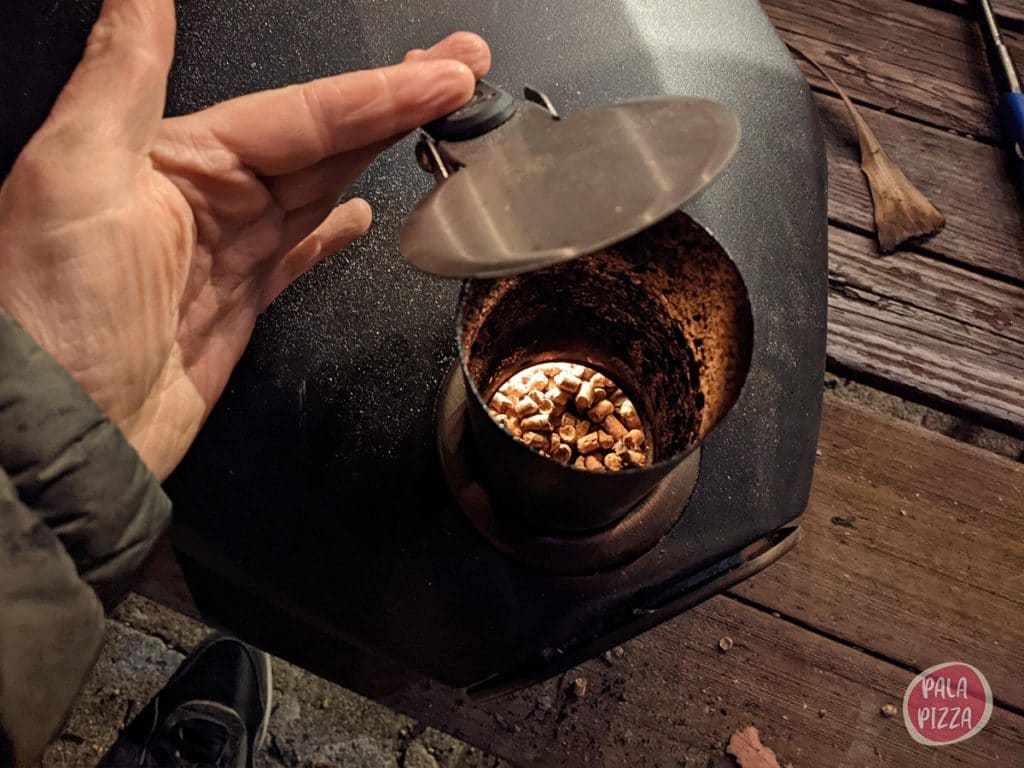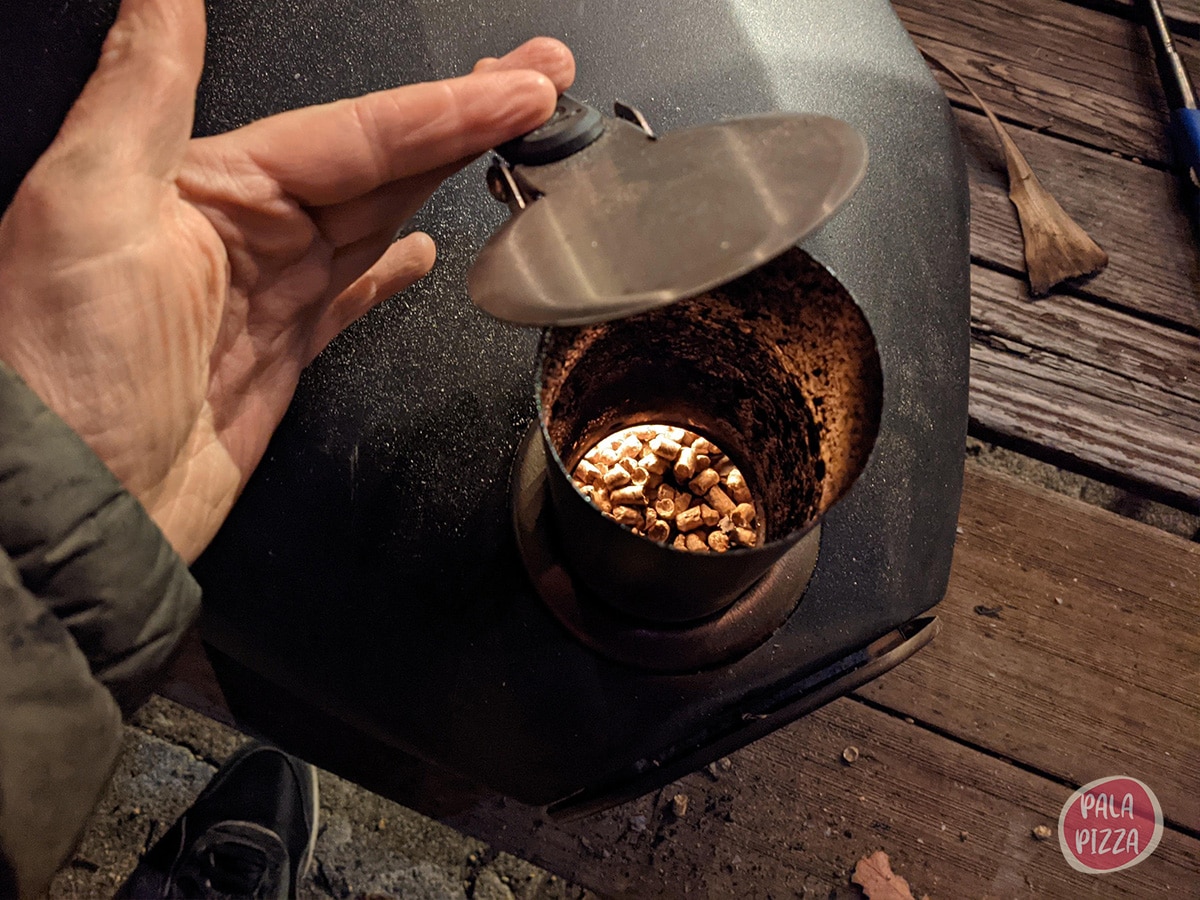 Think about the potential benefits and drawbacks of each fuel source as you think about what oven is right for you.
Size matters
Obviously, the bigger the oven, the more food you can cook in it at once. Because the pizzas cook in just minutes, you'll likely never feel the need to cook two at once. But if you plan on cooking meats, vegetables, or other side-dishes, you might want to cook them at the same time (and want a bigger oven). A bigger size will also result in a longer warm-up time and require more fuel.
But perhaps the most important factor when thinking about size is the amount of space between the flame and the pizza as it cooks. Pizzas baked in a traditional Neapolitan oven are typically placed about 6″ away from the fire. This buffer area allows the pizza to bake at really hot temperatures without burning in one spot too quickly. Because of this, even if you order a 12″ pizza oven, realistically you are better off cooking 10 – 11″ pizzas (13″ pizzas for the 16″ ovens).
Burner type
The type of burner played a big role in determining our favorite pizza oven. From the diagram below, you can see two types of common burners found in portable outdoor pizza ovens today: Pipe burners (on the left) and torch burners (on the right). At a glance you might not notice much difference, since both will get your oven mighty hot. But the HUGE benefit with pipe burners is that you have more space outside of the "danger zone", which is the red hot area that is more likely to burn quickly. Moreover, it flawlessly bakes an entire half of the pizza thanks to the L shape, so you only have to turn your pizza once or twice as it cooks. With the torch style burners, you have to keep an eye out for that danger zone that is likely to burn crust and toppings, and turn more frequently to get an even bake around the pie.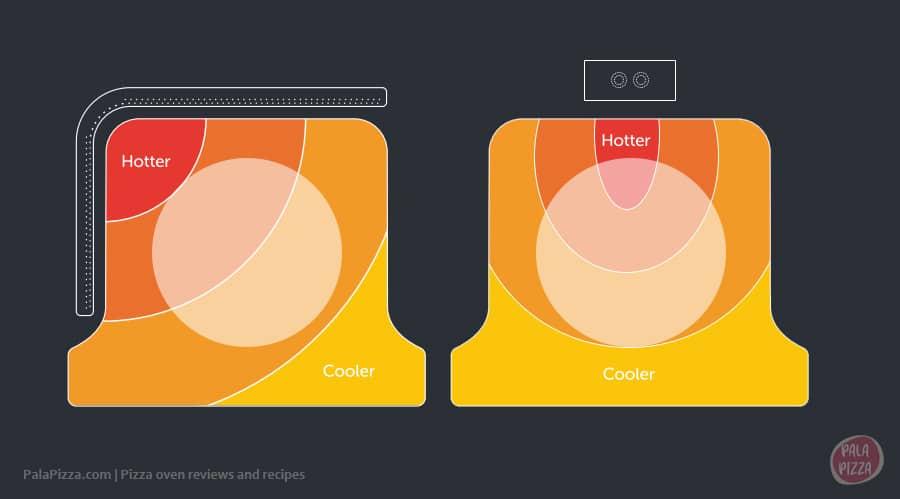 Insulation and air circulation
The best ovens have been designed to maximize, distribute and maintain internal temperature evenly throughout the oven. Because you don't want to put the pizza directly into the fire, these ovens are designed to pull the heat from the fire and circulate it throughout the cooking chamber. The high heat cooks the dough and ingredients and makes sure everything cooks evenly.
Most of these ovens have been designed to maximize airflow from the fire, through the oven, and out the exhaust. Some of the manufacturers even claim patented design and technology that maximizes airflow.
Insulation is key. Regardless of what fuels the oven, the oven must be properly insulated so that the heat is captured and evenly distributed throughout the oven. It will determine the max temperature, and affect how quickly your oven warms up and cooks.
Keep In mind that these ovens are dealing with extremely high temperatures, which is even more important if you have young children. If that is the case, you might want to prioritize an oven that limits how hot the exterior of the oven gets to minimize the chance of any accidents.
Cooking surface
The cooking surface also has a big impact on the final product. The right cooking surface ensures that the base of the pizza cooks, not just the top. This is one reason why it's important to make sure your oven's internal temperature is reached before adding your pizza.
You want the cooking surface to be able to reach and retain the high temperatures a Neapolitan-style pizza requires. Most, but not all, of the ovens covered here, have a cordierite stone cooking surface. Cordierite is an iron-rich mineral that can reach and retain high temperatures.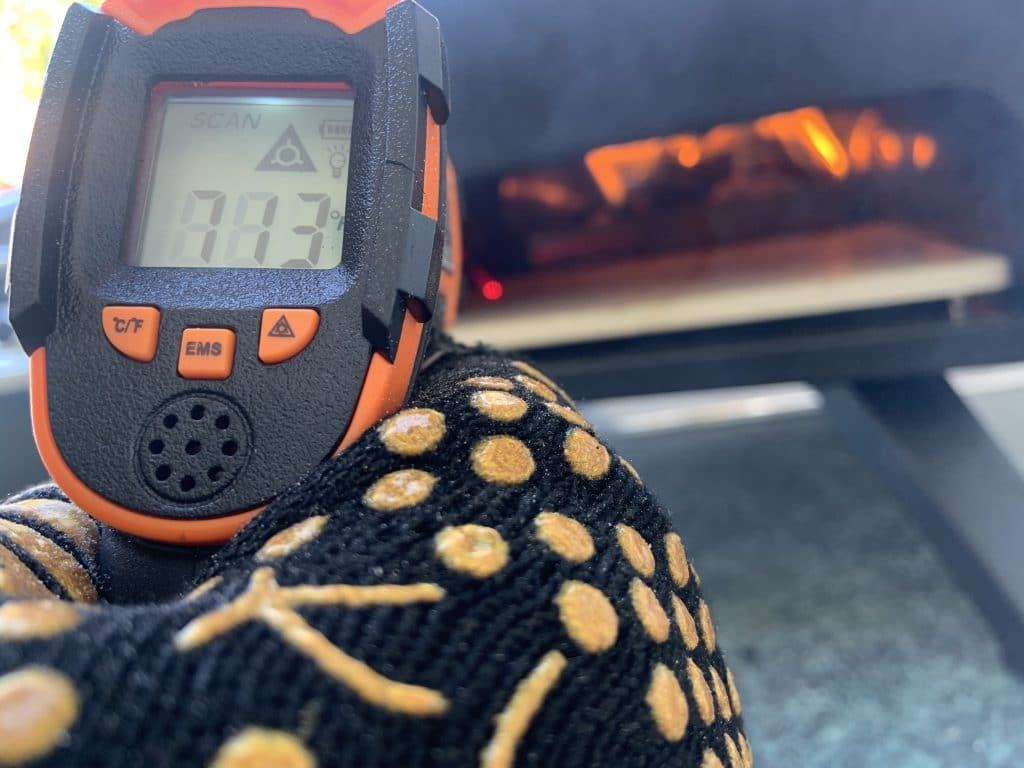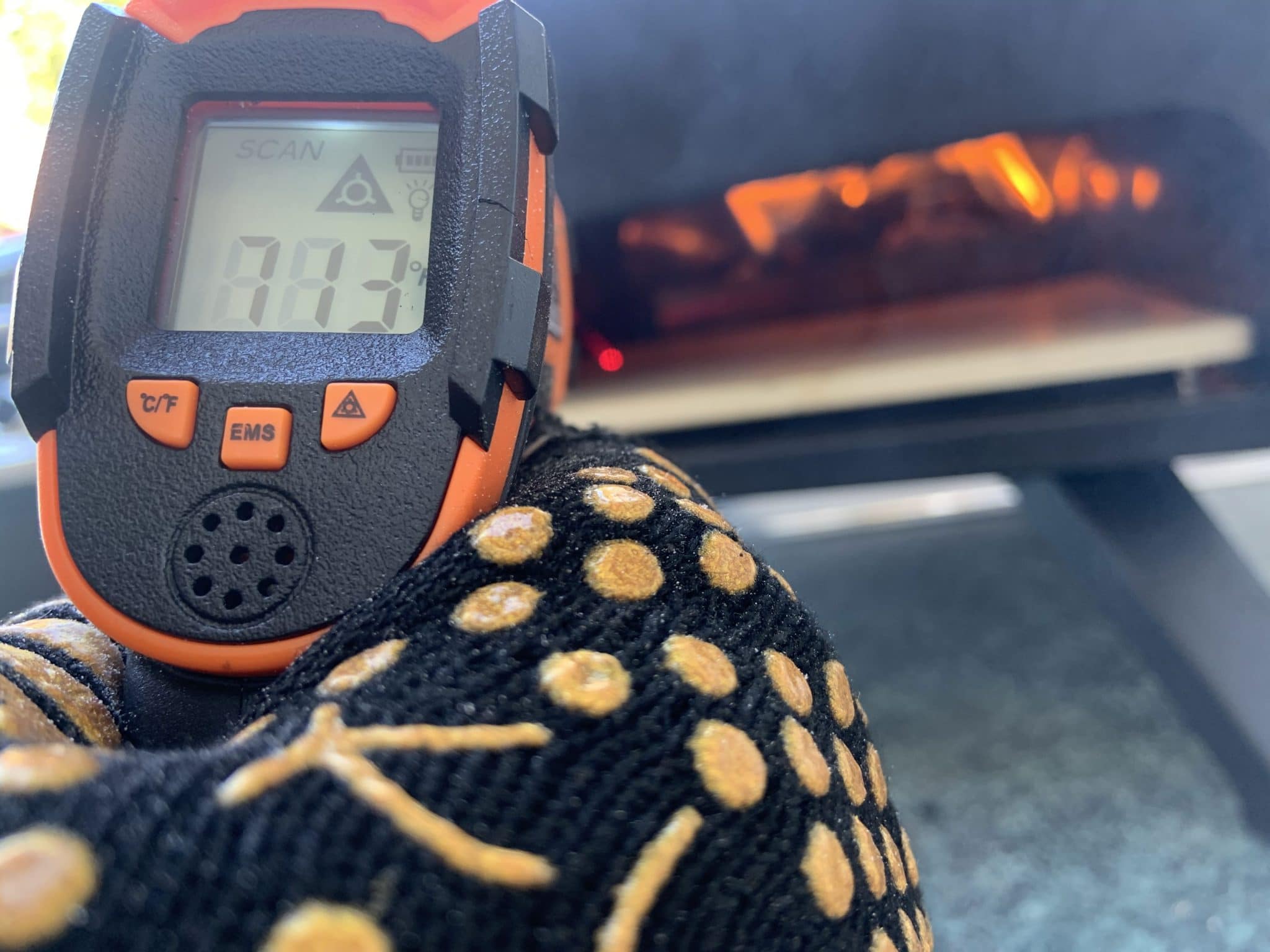 Ease of use
You don't want firing up the oven to be a chore. If you struggle to get the oven lit, keep the proper temperature, or with maintenance overall, it will decrease how much you enjoy the pizza-cooking experience. If this is the case, I strongly encourage you to go with a gas pizza oven. They are incredibly easy to light up and essentially maintenance free.
Affordability
Price is always an important factor when making purchasing decisions. While these ovens are certainly less expensive than building a whole brick oven, they are still several hundred dollars. You'll need to balance affordability with the features that are important to you. If you already have a grill, maybe an insert is "good enough" for your needs, and you don't need a dedicated oven.
And if you want the flexibility of multiple types of fuels, some of these ovens require additional components you'll need to buy. And it's not just the up-front cost of the oven. Keep in mind the cost of fueling the oven over time.
Maintenance
Nobody likes cleaning up, and the easier the oven makes it the better. Because of the high heat these ovens reach, most if not all the food product should be burned off while the oven is in use, meaning cleanup should be minimal. Nevertheless, maintenance and long term care should be a factor when finding the perfect oven. A thorough cleaning of your pizza oven should be done periodically, especially if you have a wood-burning model with a chimney.
Benefits of Using Outdoor Pizza Ovens
When it comes to flavor and consistency, there's no comparing pizzas that are cooked in a traditional oven to ones cooked at the high temperatures of outdoor pizza ovens. Whether powered by gas, charcoal, or wood, the high temperatures in the ovens below mimic the conditions of the brick ovens of Italy.
Conventional ovens usually have a maximum temperature of 500 degrees. The ovens in this article are meant to reach much higher temperatures, more than 900º Fahrenheit. These ovens can reach the proper cooking temperature for pizza in 15 – 20 minutes, and once they've properly warmed up they can cook a pizza in just 60 seconds. This high heat and quick cooking impart an unmistakable flavor to the pizza, as anyone who's had a traditional brick, wood-fired pizza can tell you.
Because of the new portable ovens, you no longer need a huge, expensive, permanent outdoor brick oven. While a brick oven can be aesthetically beautiful and cook great pizza, high costs and large size make them impractical for many.
Outdoor pizza ovens are becoming more popular every day for a variety of reasons mentioned above, in addition to:
Fun – These ovens are a great conversation starter, perfect for outdoor parties. You can create your own fantastic pizza that just about everyone will enjoy.
Family-friendly – Your whole family can take part in creating your pizza styles and toppings and watching pizza cook in a minute makes for a lot of fun.
Affordable – Compared to making your brick oven, these are a fraction of the costs. While some top-of-the-line ovens cost several hundred dollars, some alternatives make Neopolitan-style pizza available to just about any budget.
Easy – These ovens are designed with the user in mind and can be set up and cooking pizza in no time.
Flexible – These ovens aren't just good for pizza. Anything that cooks at high heat will taste great on one of these ovens, including seared steaks, roasted chicken, bread, and cookies.
Delicious! – Of course for many, the most important reason to use an oven is the unrivaled taste of a pizza cooked at high heat. Once you've had a pizza cooked at high temperatures you'll know why many see them as entirely different food than what's cooked in a regular oven.