So you've done the research, purchased your dream pizza oven, and are excited to start. But hang on, where are you going to put it? Gas and wood-fired pizza ovens are impressive, relatively expensive, and often heavy pieces of equipment, not to mention the amount of heat they kick out. Safety is a big concern when using these ovens, so you can't just put them down anywhere. You need to stand them on an appropriate surface or table to ensure your safety, to get the best out of your cooking experience, and of course, to make sure your brand-new pizza oven looks its best.
In this article, we'll discuss the best pizza oven tables specifically for Ooni Pizza ovens, however many other brands of portable pizza ovens will work with these as well. We'll look at what size you need and what materials, and tell you about five great tables that we personally recommend, including options for different tastes and budgets, so let's get into it!
Not interested in reading? Here are my top picks:
Sale
Do I Need A Pizza Oven Table?
You don't necessarily need a "pizza oven table". You just need a sturdy, heat-resistant surface that is large enough to accommodate your oven safely and give you space to work and store your utensils and equipment. This could be a fixed work surface or a barbeque island in an outdoor kitchen. However, if you don't have any such surfaces, pizza oven tables are a great alternative.
Pizza oven tables are a great way of freeing up room in your backyard. They prevent you from taking up counter or garden table space with your oven. And they give you somewhere to store the oven and its fuel when not in use. They're also easier to clean than regular tables and, if they come with wheels, tables and trolleys are a convenient way of making heavy ovens more portable.
What Type of Tables Work Best?
First things first, you need a sturdy, secure, heat-resistant surface to put your pizza oven on. Next, it needs to be big enough to hold your oven comfortably, and then you can begin to look for additional features that will make your cooking experience easier.
Table Materials
Since pizza ovens are heavy and produce a tremendous amount of heat, not every surface is suitable to hold them. Placing your oven on an inappropriate surface can damage your furniture and create an unsafe environment.
If you're placing your oven on a fixed countertop or island, the ideal materials are granite, stone, tile, or concrete. While for pizza oven tables, stainless steel is generally the most popular option thanks to its easy clean nature, weather, rust and corrosion resistance, and general durability.
Some materials to avoid are plastic and glass, which can melt, warp or break when exposed to high heat. Also, while wooden tables might be sturdy and look great, they are not heat resistant, and you risk burning, charring, or marking them while cooking. For this reason, it's also best to avoid putting your oven on garden furniture or picnic tables in campgrounds and parks. Instead, look for a better surface, put a heat-resistant tray/board between the oven and table, or bring your own pizza table with you.
Minimum Size of Table
Ooni ovens come in various shapes and sizes, so you want to be sure to purchase a table that will fit the model you choose.
Length/depth: Pizza ovens tend to be longer than they are wide, and many have a length/depth that surpasses your average countertop or work surface. This is why purchasing a table made specifically for pizza ovens is a good idea. A table of 30″ inches in depth will fit all Ooni ovens, although you can get away with a smaller size for some of the more compact ovens.
Width: Ooni ovens start at a width of 15″ and go up to 24″, so make sure your table will comfortably hold the model you choose. Then decide whether to get a table with additional space for food prepping and storage or one with only room for the oven. Choosing a table with extra prep space definitely makes your life easier, so we recommend opting for a table with a width of at least 30″, especially if you have a 16″ model pizza oven, because a 24″ width table just barely holds one (and it's a bit sketchy). If you have a 12″ model oven, then you can get by with a 24″ width table.
Height: you want your table to hold your oven at the perfect height to comfortably use and check on your pizza. Too low, and you'll be bending over the whole time. Too high, and you won't be able to see what's going on or use it safely. Ooni's popular modular table has a height of 35″, which is a great height.
Additional Features
Once you've picked your materials and size, it's time to think about the other features that will make your life easier. We've already mentioned getting a table that has extra space for prepping, but you should also consider getting a table with the following:
A rack to hold your propane tank or firewood
Wheels. That way, you can wheel it out when you want to cook and roll it back into the house, shed, or garage afterward. If you go for this option, ensure that the wheels have a locking or brake system to stop the table from moving during cooking.
Hooks or shelves to hold your tools, such as pizza peels, turners, stone brushes, etc.
The Best Tables for Ooni Pizza Ovens
So now we've discussed what to look for in a pizza oven table. Let's go ahead and look at our top five choices for tables.
Nuuk 30 Pizza Oven Stand
Sale
Best budget-friendly alternative to the Ooni modular table.
Pros
Similar in style and materials to the Ooni Modular table
Budget-friendly
Wheels and handles for easy maneuverability
Cons
We don't love the excessive tabletop branding
Shelves are not adjustable
This Nuuk Deluxe table shares many design similarities with the Ooni oven while coming in at a much more affordable price. It looks similar to the Modular Table and has the same powder-coated metal frame and stainless steel surface. Although, while the Ooni table's top surface is smooth, this one is branded up in a way we could live without!
There are two shelves, a lower one suitable for a propane tank or stack of firewood and a removable basket shelf ideal for holding your equipment. Also, like the Ooni, this table has hooks around the sides for you to hang your tools on.
The wheels make this table portable, while the two bakelite handles make it easy to maneuver. At 24″ x 30″ and with a weight capacity of 100lbs (and an additional 100 lbs on the bottom shelf), this table will fit all Ooni ovens, although it might not leave you much room for prepping around the sides. However, like the Ooni table, you have the option of combining two for a larger workspace, and at this price, you're more likely to be able to do that.
This table is also sometimes sold by Home Depot.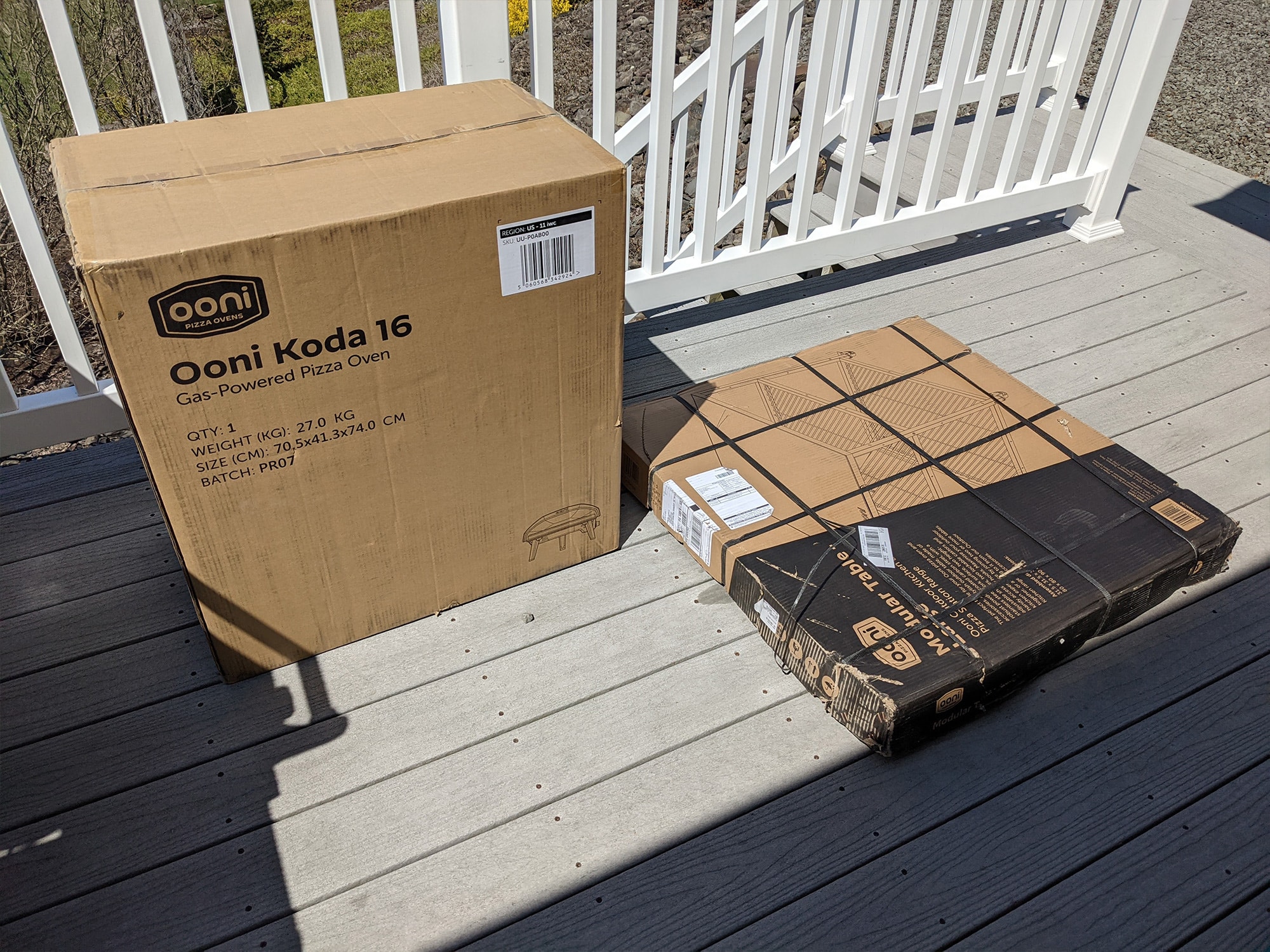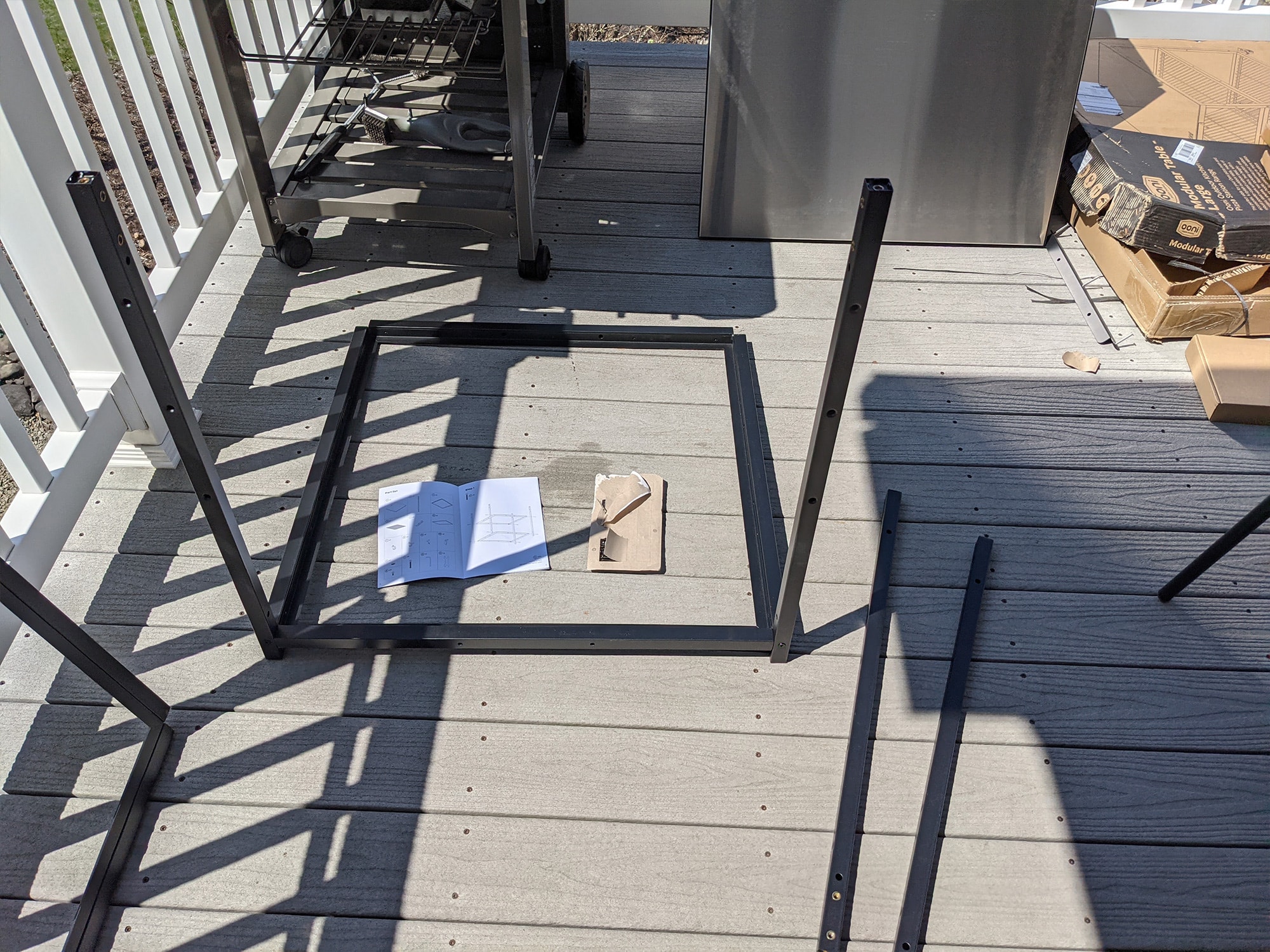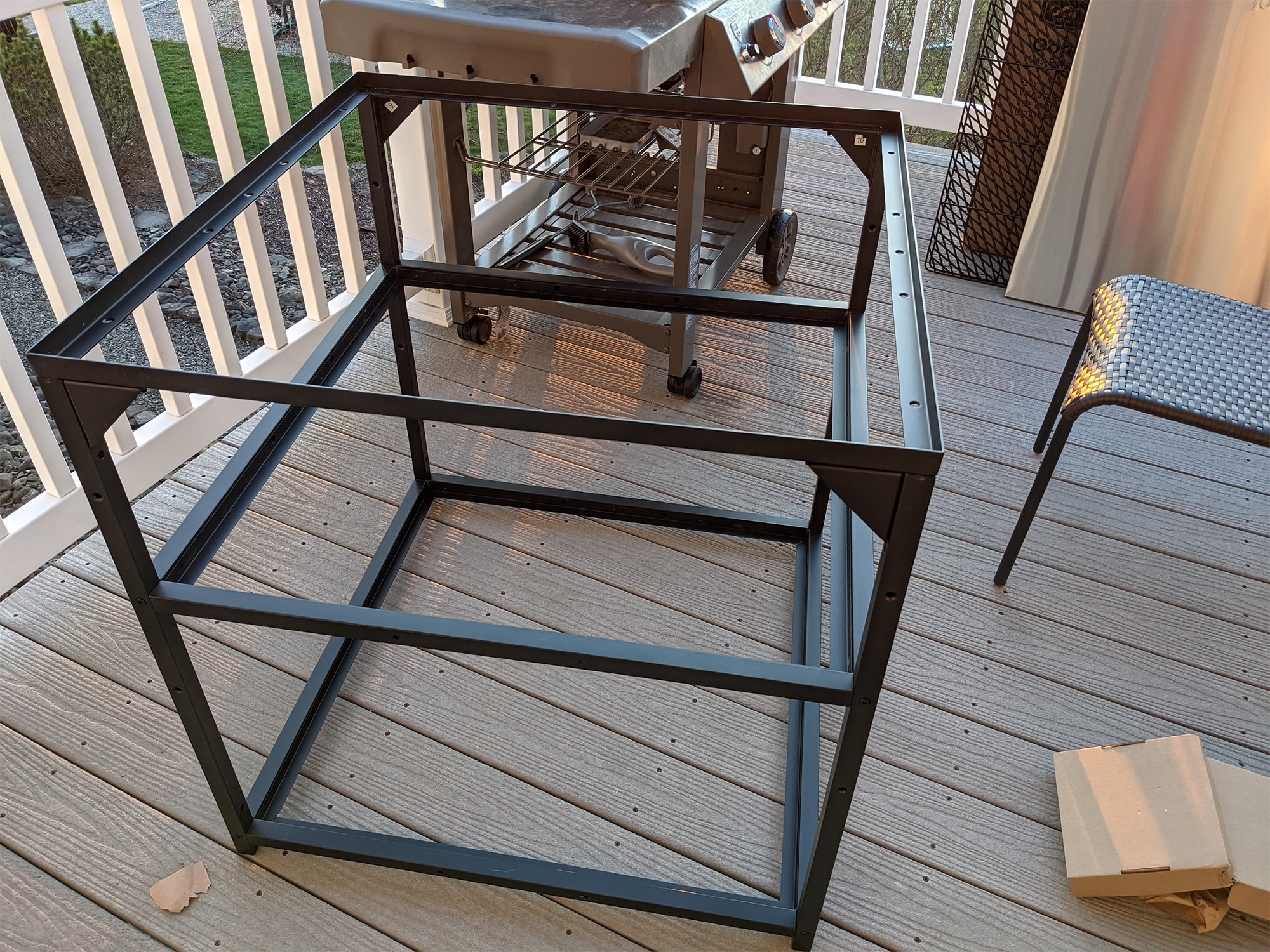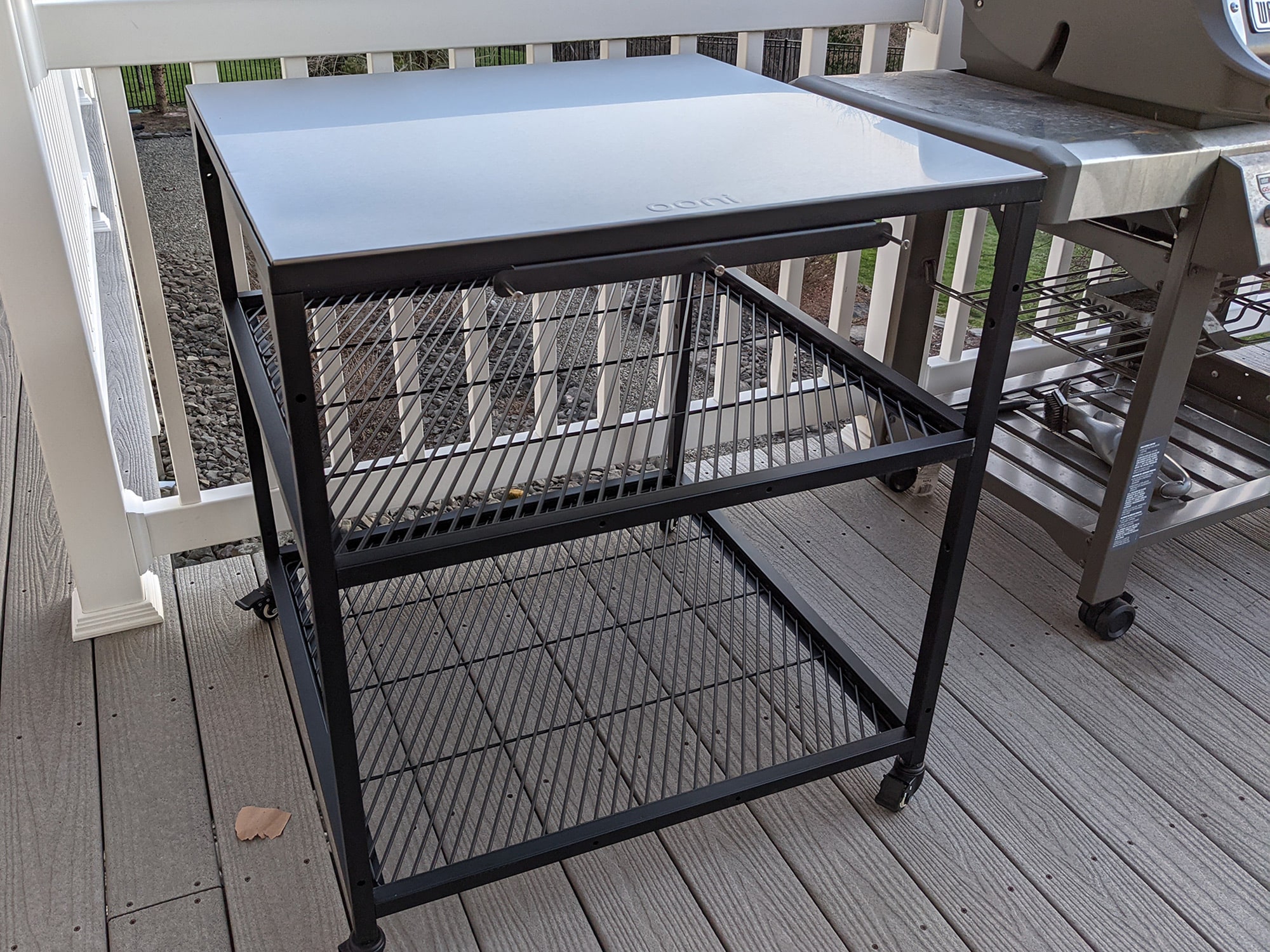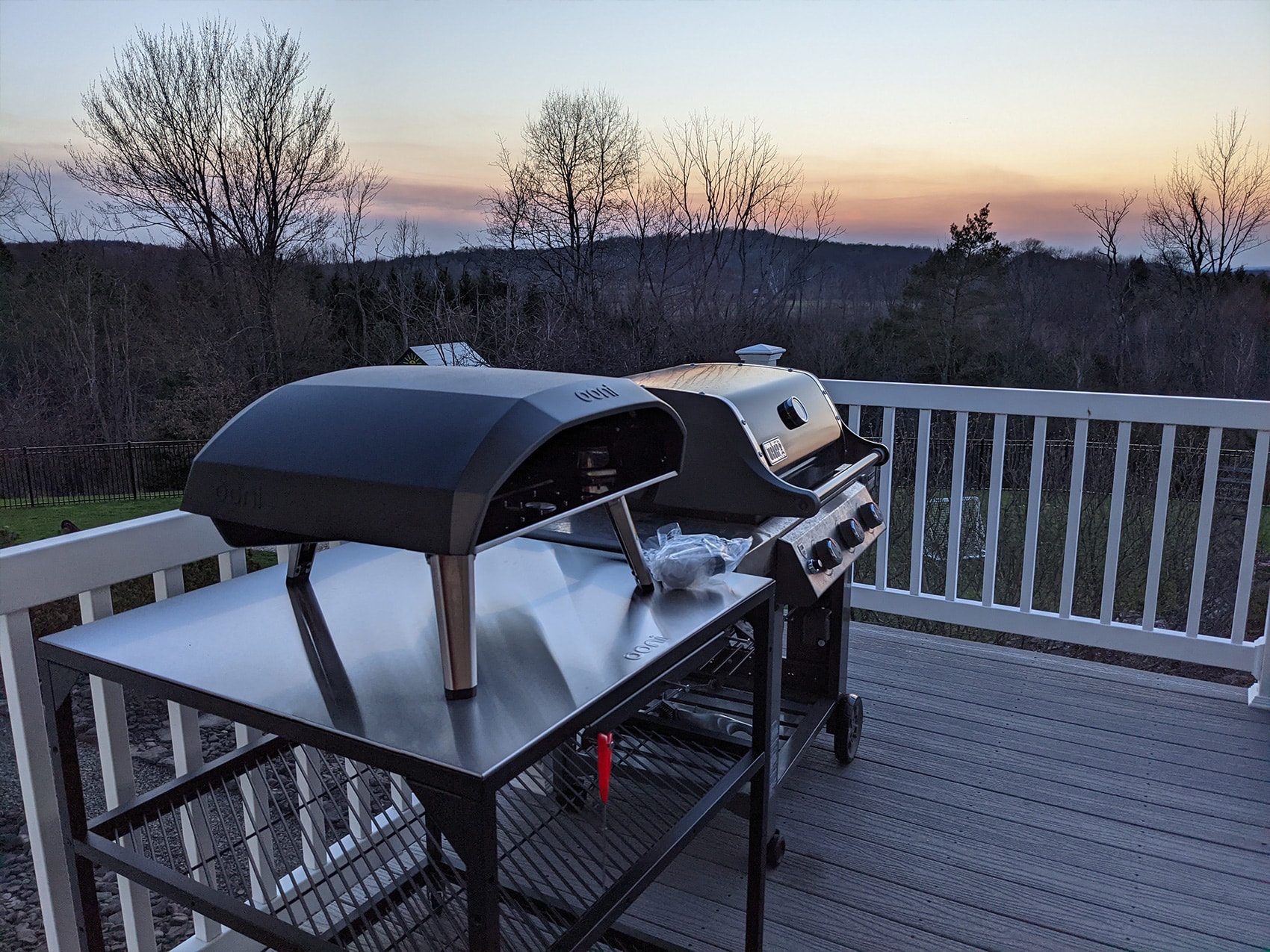 Best pizza oven table that's tailor-made for Ooni.
Pros
Sturdy, durable construction
Comes in a choice of sizes that can be connected for custom width
Has wheels for easy maneuverability
Cons
If you've bought yourself an Ooni, the logical thing to do is to look at the tables made by the Ooni company. Since Ooni are a high-quality, well-respected pizza oven manufacturer, you can trust that you're getting a piece of equipment that is not only high-end but suited to the exact purpose you need it for.
The Ooni Modular Pizza Oven Table is a quality piece of kit made from durable powder-coated carbon steel and topped with a stainless steel work surface. These materials are designed to handle outdoor lifestyles and won't rust or corrode if exposed to the elements. The table comes in two sizes and has a weight capacity of up to 132lbs. It's compatible with all Ooni ovens and many ovens of other brands. If you find yourself wanting even more prep space than this table provides, you can connect two together to create a custom cooking station.
Besides being stable, sturdy, and durable, this table has some excellent features, including two movable height shelves for storing firewood, a propane tank, or other equipment. In addition, it has hooks to hold your cooking equipment and optional stainless steel attachments such as a toppings station and utility box to ensure you have everything you need to hand. Lastly, the wheels make this table easy to maneuver, while the brakes ensure that it stays still while in use.
The only downside we can see to this table is that at $330 for the large and $280 for the medium model plus $50-100 for the attachments, it's at the higher end of the price spectrum.
Hally Stainless Steel Table
Best stainless steel kitchen table with tons of prep space.
Pros
Comes in a wide variety of sizes
Durable stainless steel
Wheels with a locking brake system.
Cons
This pizza table doesn't have the name-brand kudos of an Ooni table, but it does come with many of the same features. The sturdy table is made from easy-clean, rust-resistant, galvanized steel and has an adjustable shelf for storing your fuel source. 360° wheels offer super easy maneuverability, while a two-wheel locking system keeps the table securely in place while cooking. I love that you can wheel this up against the house out of the way and then pull it out whenever it's time to cook.
This table is available on Amazon in a range of six size options which should ensure that you can find exactly the configuration you're looking for. The largest tables have a weight capacity of over 500lbs and provide up to 70″ of width, giving you ample prepping space and making this more of a movable counter rather than a table.
VEVOR Folding Commercial Worktable
Sale
Best for a less permanent setup. Use on camping trips and picnics.
Pros
Folding table for a less permanent setup
Two sizes available
Adjustable feet ensure stability on uneven ground
Cons
Bottom shelf is not adjustable
No wheels
This high-quality folding table from Vevor is ideal for anyone who doesn't want their pizza oven table to be a permanent fixture. It also works for people trying to save space or wanting to take their whole setup away on picnics, cookouts, and camping trips.
And if you think that a folding table will be too flimsy to hold a pizza oven, don't worry. This one is definitely sturdy enough. Vevor specializes in tough equipment and tools, and this table is built to handle both commercial and domestic use. It comes in two sizes, the largest one having a weight capacity of 550lbs on the countertop and an additional 220lbs on the removable lower shelf. It's made from durable, easy clean, rust and scratch resistant 21 gauge stainless steel and can be exposed to the elements without corroding. The table also features extra thick legs and reinforced hinges for stability, while the individually adjustable feet mean you can set this table up securely even on uneven ground.
The downside is that this table lacks wheels for portability, and although the lower shelf can be removed, the height cannot be adjusted, which might mean some propane tanks don't fit. So we suggest checking the dimensions of your setup carefully before purchasing.
Flash Furniture Square High Table
Sale
Best for a unique table with a simple, cool look that's taller than most.
Pros
Stylish-looking table in a range of cool colors
Taller than your average pizza table
Most affordable table on our list
Cons
Doesn't have wheels
No prep or storage space
This one is for people who want their pizza table to be about more than just functionality. This great-looking table comes in nine funky colors, from black and white to bright blue, red, and orange. It's guaranteed to add a pop of vibrant style to your backyard.
Unlike the other tables on our list, the Flash Furniture table is perfectly square at 31.5″ x 31.5″. This is big enough to fit all Ooni ovens and might suit people looking to slot a table into a compact space. Designed for indoor and outdoor use, the easy clean, all-weather metal is resistant to the elements, while rubber stoppers on the feet protect your floors from scratches and stop the table from sliding during use.
A feature we really like about this table is that it's taller than most pizza oven tables. At just under 41″, it's 5 or 6 inches taller than the other tables on our list, ideal for taller chefs who want to check on their pizza without constantly bending over.
We also like that this table is the most affordable option on our list. The negative of this table is while the square design looks great and saves space, it doesn't leave you any room for prepping. It's also lacking the lower shelf that the other tables on our list have for storing propane tanks, wood, or utensils.
Conclusion
What do you think? Did we miss anything? Do you have an awesome pizza oven table that we didn't mention? Or does your ideal pizza table have another feature you can't live without? If so, we want to know about it! Get in touch via the comments below to let us know your opinions on pizza tables, pizza ovens, and anything else pizza related!